'TALES OF ARCTIC NIGHTS' GREENLAND WORKSHOP - UUMMANNAQ ANNEX
Price: €3490 pp (or $US equivalent) / Deposit: €1790 pp
AVAILABILITY
24th - 27th July 2020
North of Disko Bay, in a serene fjord, stands the island of Uummannaq. With its iconic, heart shaped peak, and surrounded by gigantic icebergs and towering mountains, Uummannaq is an incredible photographic destination. Far less-often visited than Ilulissat, this high Arctic community is a much truer representation of the Greenlandic lifestyle.
This is a perfect short annex to the main 'Tales of Arctic Nights' workshop in Disko Bay. It will give you beautiful variety in atmosphere and subject matter, and result in many more images and experiences.
Main Features
The perfect extension to the main workshop: 4 days and 3 nights in an astounding location just an hour and a half away.
Mesmerising landscapes of Uummannaq Fjord, gigantic icebergs, and the iconic, heart-shaped Mount Uummannaq.
Visits to land locations and small Greenlandic settlements in Uummannaq Fjord.
Perfect timing: Being situated north of Disko Bay, the time turns back and the first night of the workshop is yet again the first night the sun touches the horizon. This guarantees the best probability of magical midnight-sun light, allowing us to shoot for hours in optimal conditions.
Professional photo guidance by an award-winning nature photographer.
Comfortable accommodations smack in the center of town, local cuisine.
Day 1 Ilulissat to Uummannaq
Upon finishing the main 'Tales of Arctic Nights' workshop in Disko Bay, the annex participants will take a short flight to Uummannaq airport. We will settle in our hotel, have dinner in a nearby restaurant, and discuss the days ahead. After dinner we'll start our boat sail around Uummannaq Island.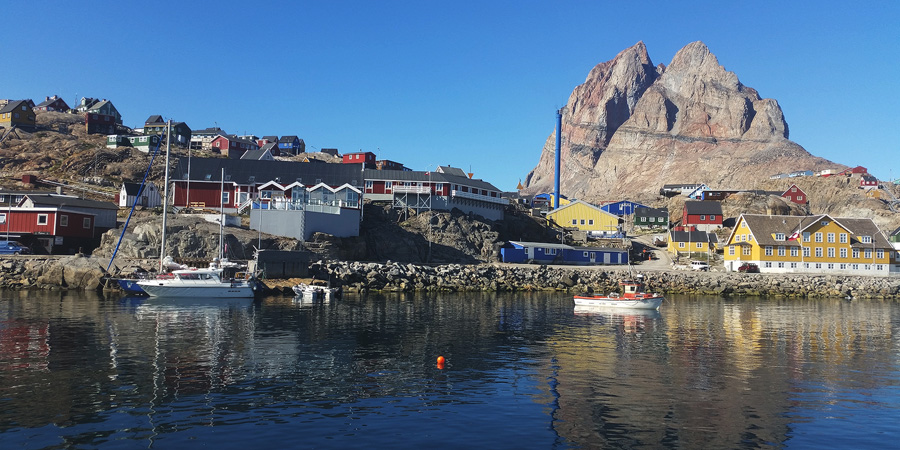 Days 1-3 Sailing and hiking around Uummannaq
Uummannaq Fjord is a wonderful location for sailing. We'll sail around the fjord in a fast boat, shoot icebergs, whales and of course, the iconic mountain, under beautiful Arctic light.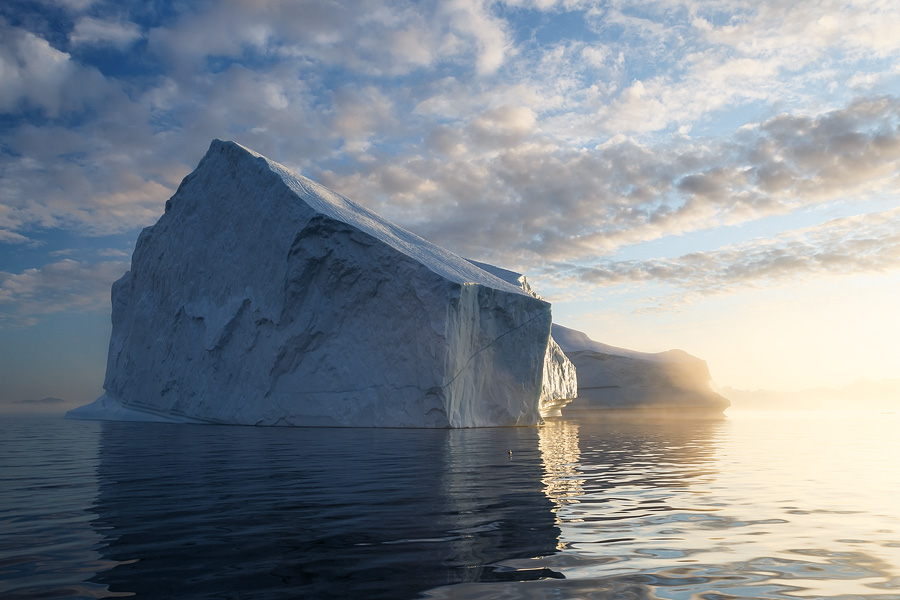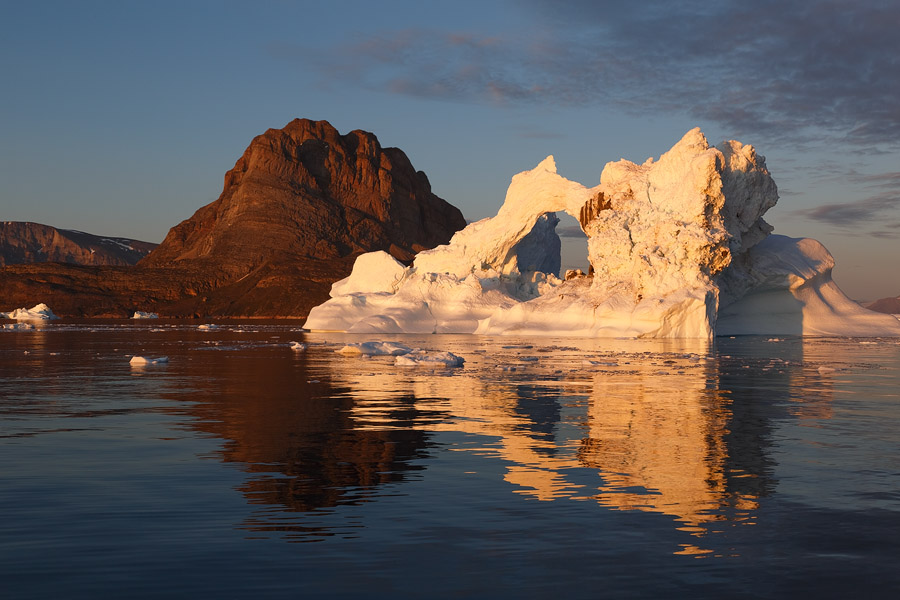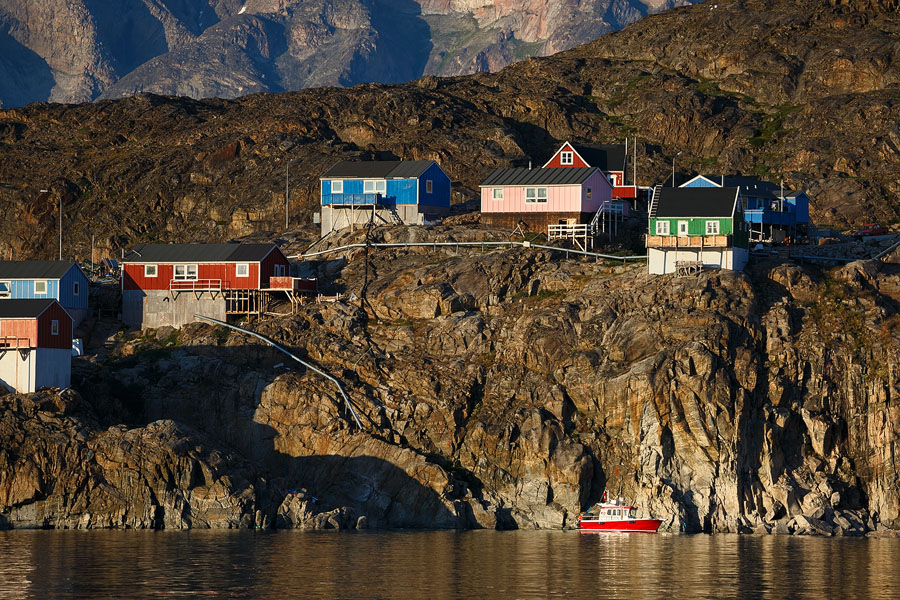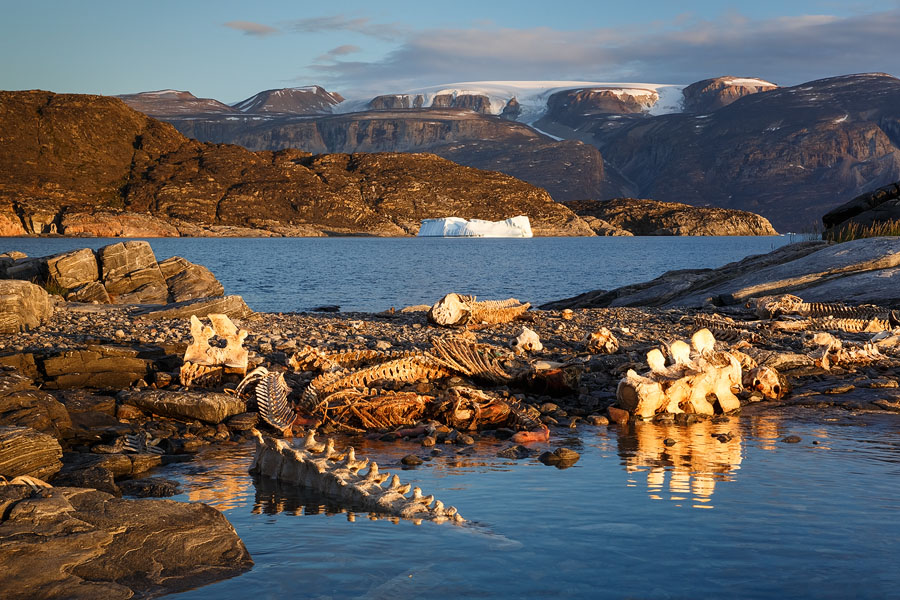 Day 4 Back to Ilulissat
Once we finish shooting on the last morning, we will head back to the hotel, pack our belingings and drive to the airport for your flight back to Ilulissat.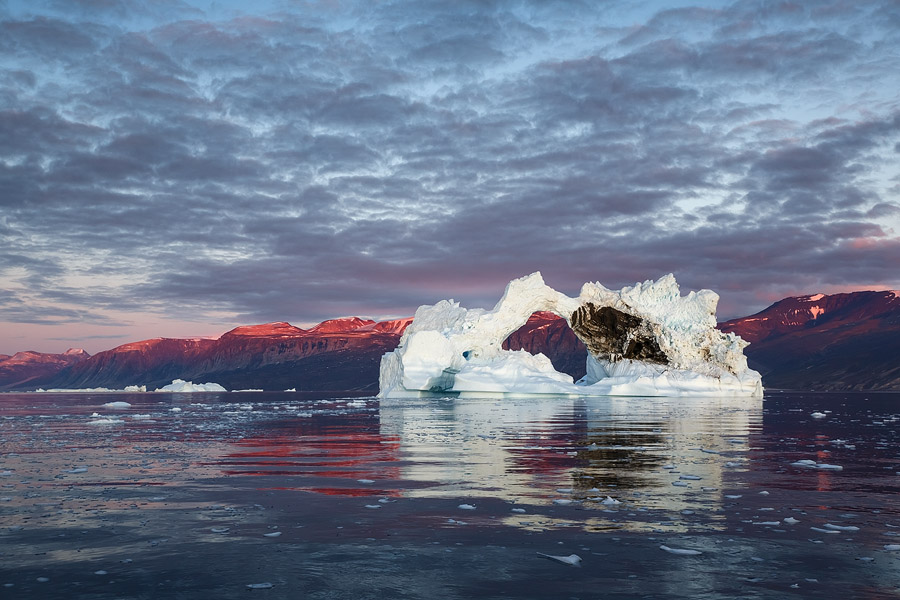 Total Price: €3290 per person in superior double room for participants registering by September 30th, 2018,
€3390 per person in superior double room for participants registering by February 28th, 2019,
€3490 per person in superior double room for participants registering afterwards.
Sign up as a group of 3 or more and receive a €150 discount each!*
Deposit: €1790
Maximum Number of Participants: 6
Physical Difficulty: Beginner. Very basic mobility is needed for the boat sail where we'll spend most of the shooting time. We will do some easy hiking around the island, but you can refrain from that if you wish. Weather conditions are usually wonderful this time of year, and the fjord is remarkably still, meaning the risk of motion sickness is minimal (I personally suffer from motion sickness, but never had any nausea, even without pills). Temperatures will probably range between 0 and 10 degrees Centigrade. There are no mosquitoes in Uummannaq!
*Multiple discounts may or may not apply, please consult me.
Workshop Price Includes
Wccommodation in Uummannaq. Don't expect splendor, but the rooms are clean, warm and welcoming. No single room is possible, but the whole guesthouse is ours.
Airport pickup and dropoff.
4 daily meals: Dinner the first evening; Breakfast, lunch, dinner and nighttime packed meals on days 2-3; Breakfast on day 4.
Professional photography guidance by an award-winning landscape photographer.
3 nights of boat sails, shooting icebergs and other landscapes in Uummannaq Fjord. Sails will usually range between 4 hours, covering sunset, sunrise and the Arctic night inbetween.
A visit to a traditional Inuit settlement in the Uummannaq Fjord.
Photography hikes around Uummannaq Island.
Post-processing lectures and critique sessions.
Taxes on all services listed above
Workshop Price Does Not Include
Airfare from Ilulissat Airport (JAV) to Uummannaq Airport (UMD). It is highly recommended to book flights as early as possible to secure your spot on the flights. Please contact me for help.
Thermal clothing and gear.
Insurance. It is mandatory to insure yourself against physical injury, and highly recommended to insure your photo gear. Tour leaders will not be responsible in case of any personal injuries or damage to photographic gear as a result of an accident during the workshop. A good insurance policy can make a big difference should something happen, and ensure a safe return home.
Extracurricular activities.
Alcoholic drinks.
Non-meal-time snacks
Non-meal-time soft drinks
Photography Equipment
A digital camera, preferrably a DSLR camera with a full-frame sensor, since these cameras have better low-light capabilities. However, a crop-sensor DSLR will also completely suffice. A compact camera can be used, as long as you understand its limitations.
NOTE: I highly recommend bringing two camera bodies. It will make your life much easier when shooting with multiple lenses, which is often desired.
A light tripod for shooting on land.
An ultra wide angle lens (preferably stabilized). For example, a Canon 16-35mm IS on a FF sensor camera, or a Nikon 10-24 on a crop sensor camera.
A mid-range zoom lens such as a 24-70mm (preferably stabilized).
A telephoto zoom lens, such as a 70-300mm or 100-400mm - the longer the better, preferably stabilized. I use a Canon 70-300mm in addition to a Sigma 150-600mm for telephoto shots.
Recommended: A filter set for landscape photography.

Clothing
Thermal gear is essential. I recommend bringing a few light thermal shirts, a fleece jacket and a down coat for the cold nights.
Warm gloves. It's important to use gloves which enable you to operate the camera while wearing them.
Thermal long-johns
Thermal socks. I recommend bringing at least 2 pairs.
A neck-warmer or a scarf
A good warm hat which covers your ears.
Hiking shoes.

Other
Pills against motion sickness, if you're especially prone to it.
Sun glasses
Sun screen
Payment Procedure
In order to secure your spot, you are required to transfer a deposit of €1790. This deposit will be refunded only in case the workshop gets cancelled for some reason. For your comfort, the deposit can be payed either through PayPal or via bank transfer (contact me for details).
The full amount (minues the deposit, after discounts if applicable) must be payed via wire transfer 90 days prior to the workshop starting date. You may pay with any major currency.
In the case you need to cancel your participation, a 67% refund (excluding deposit) will be given up to 75 days prior to the workshop starting date and a 33% refund up to 60 days prior to the workshop starting date.
I reserve the right to increase the price of the workshop if costs rise extremely due to unexpected changes in fees, taxes or exchange rates.

Disclaimer
The tour plan above is subject to change. If weather conditions are unfavorable we might not be able to fulfil some of the planned activities.
Important: In order to join the workshop, you will be required to sign a contract that establishes that the tour leaders are not responsible to physical or proprietary damages, and that you understand and accept several behavioral standards (including not taking excessive risk), necessary to ensure the workshop's success and your safe return.
Whale sightings aren't guaranteed, but they are very likely.
Space on the helicopters flying to Uummannaq Airport is limited. It is your responsibility to make sure you have a place on the flight. If you don't manage to get a spot on the helicopter, alternative transportation can be arranged from Qaarsut - please contact me for help.
Erez Marom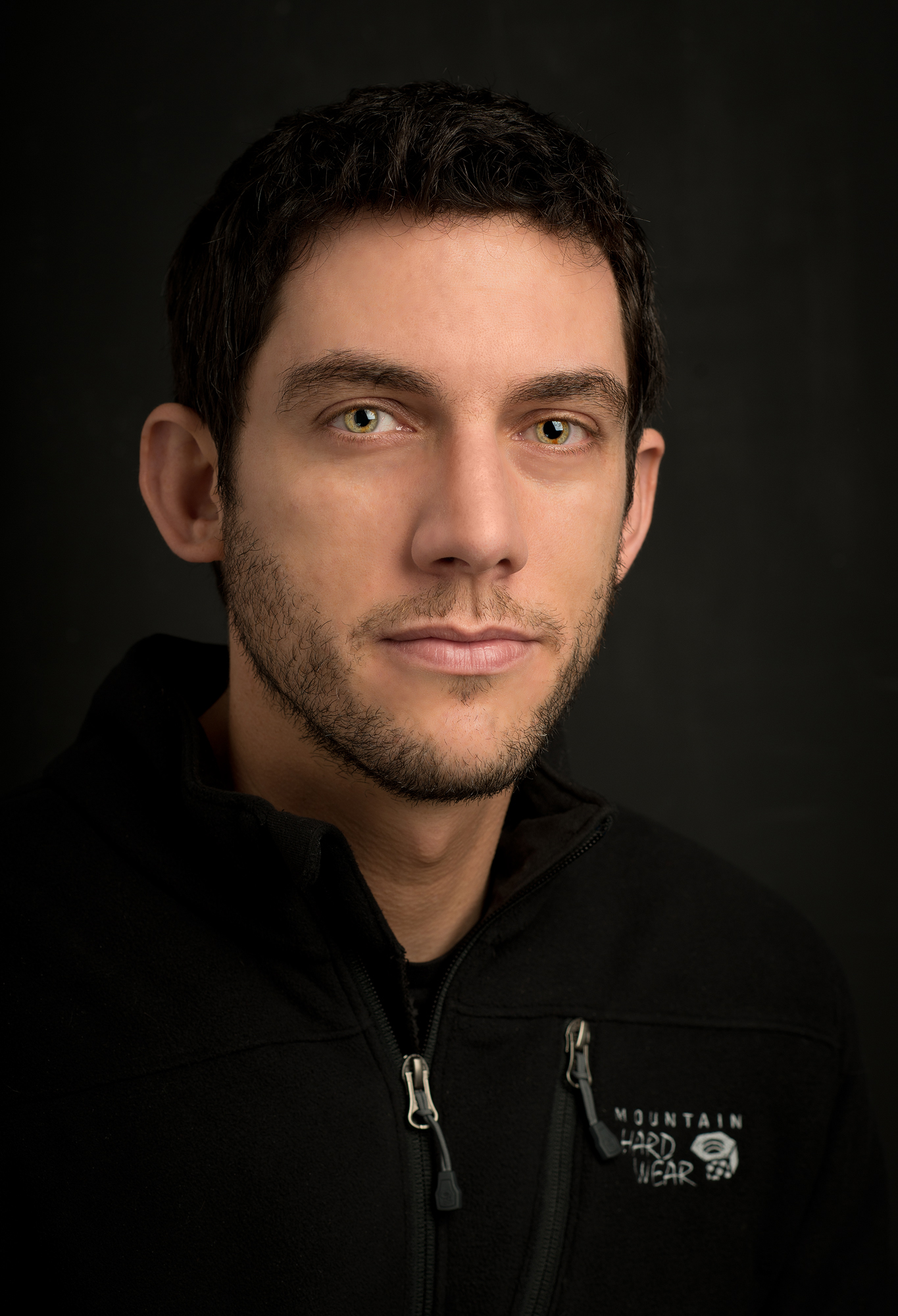 Born in 1980, Erez Marom is a full-time nature photographer, photography guide, writer and traveler-adventurer based in Israel. Specializing in landscape and wildlife photography, Erez spends much of his time in the field shooting the wildlife and scenery of his favorite locations in Israel and overseas.
In addition, Erez publishes articles and instructional texts in leading magazines and websites, and dedicates a considerable amount of his time to sharing his experience and knowledge by lecturing worldwide and traveling several times a year to guide his unique photography workshops.