'ARCTIC KINGDOM' - SVALBARD PHOTO WORKSHOP
Price: €9990 pp (or $US equivalent) / Deposit: €3990 pp
AVAILABILITY
21st - 29th April 2024
After four months of Arctic winter darkness, the Arctic arhipelago of Svalbard comes to life. Within a few weeks, its frozen wasteland bursts into life, displaying one of the world's fastest changing natural environments. From March to September, the Arctic arhipelago of Svalbard is accessible by sea, not long after it's repening, we will arrive there onboard the MV Villa.
The landscapes are harsh, icy, covered by the passing winter's snow. Glaciers adorn the fjords. The Polar bears awaken from their deep slumber to roam the ice, looking for food. Arctic foxes patrol their grounds, still camouflaged in their white winter pelts. Gigantic walruses huddle together, grunting and pushing their way around the earth.
Join professional nature photographer Erez Marom on a 9 days sail along the western coast of Svalbard, an island chain which inspired many explorers to venture into the icy north. Our ship is fully equipped to handle the icy water, offers a warm, welcoming base to allow us the utmost comfort in an otherwise hostile environment. This adventure will truly inspire you to stretch the limits of your imagination and photography.
Main Features
9 days and 8 nights of sailing aboard the MV Villa, along Svalbard's west coast.
Access to some of the most beautiful Arctic wildlife, including polar bears, walruses and Arctic foxes, still in their white winter pelts.
Professional crew of 8 plus 2 local wildlife guides, dedicated to giving you the Arctic experience of a lifetime.
Photo guidance and critique by an experienced, award-winning nature photographer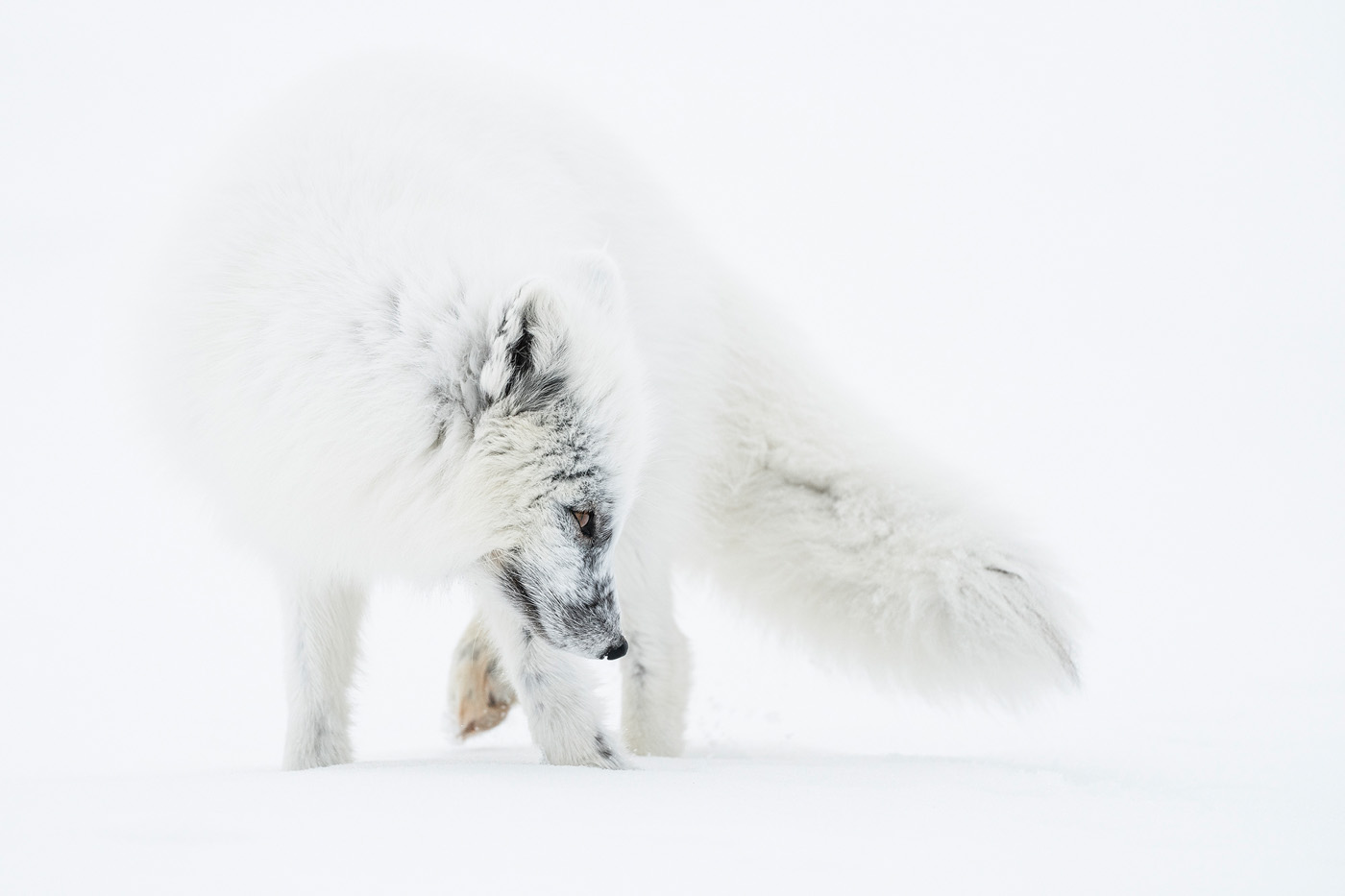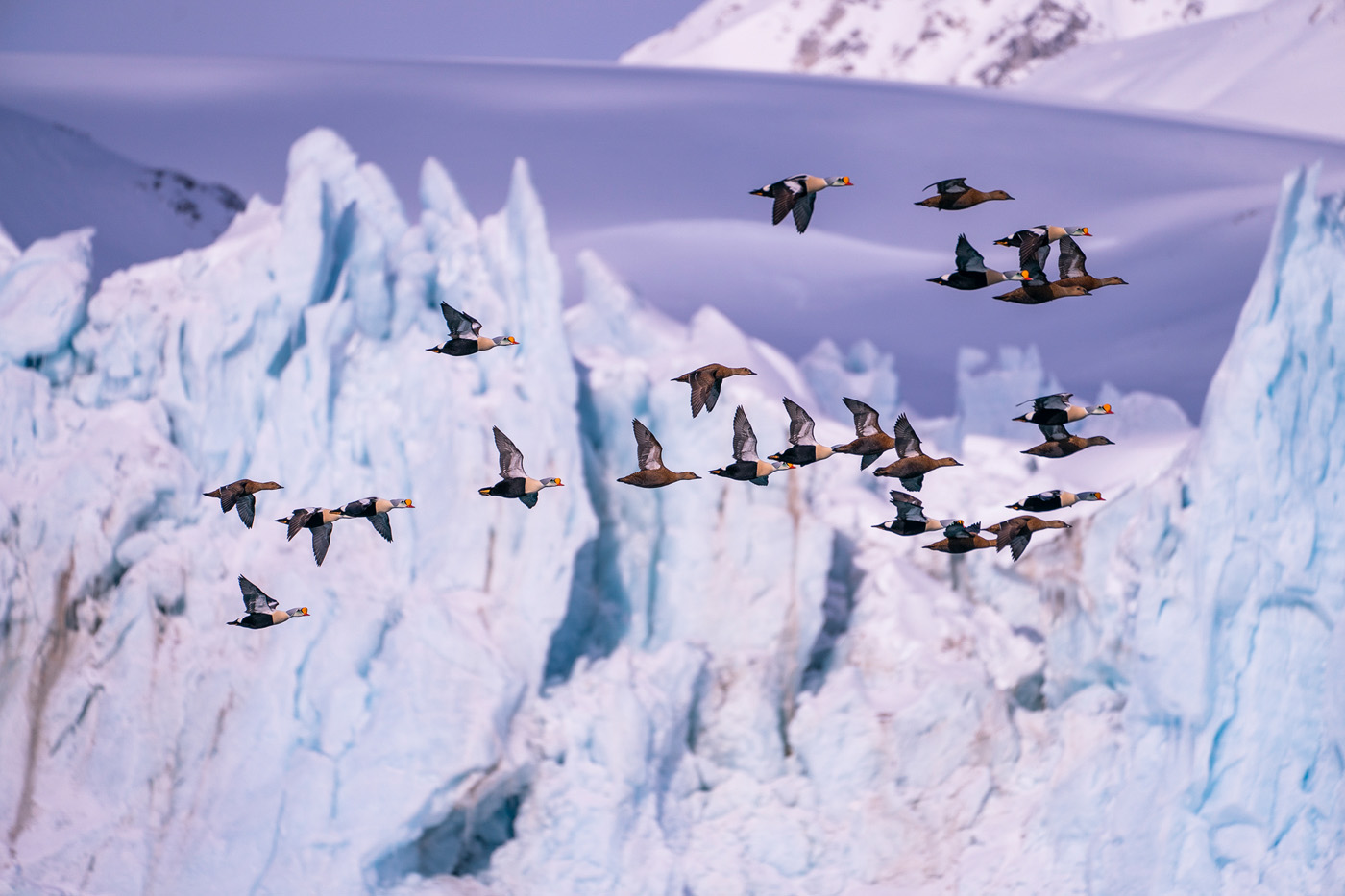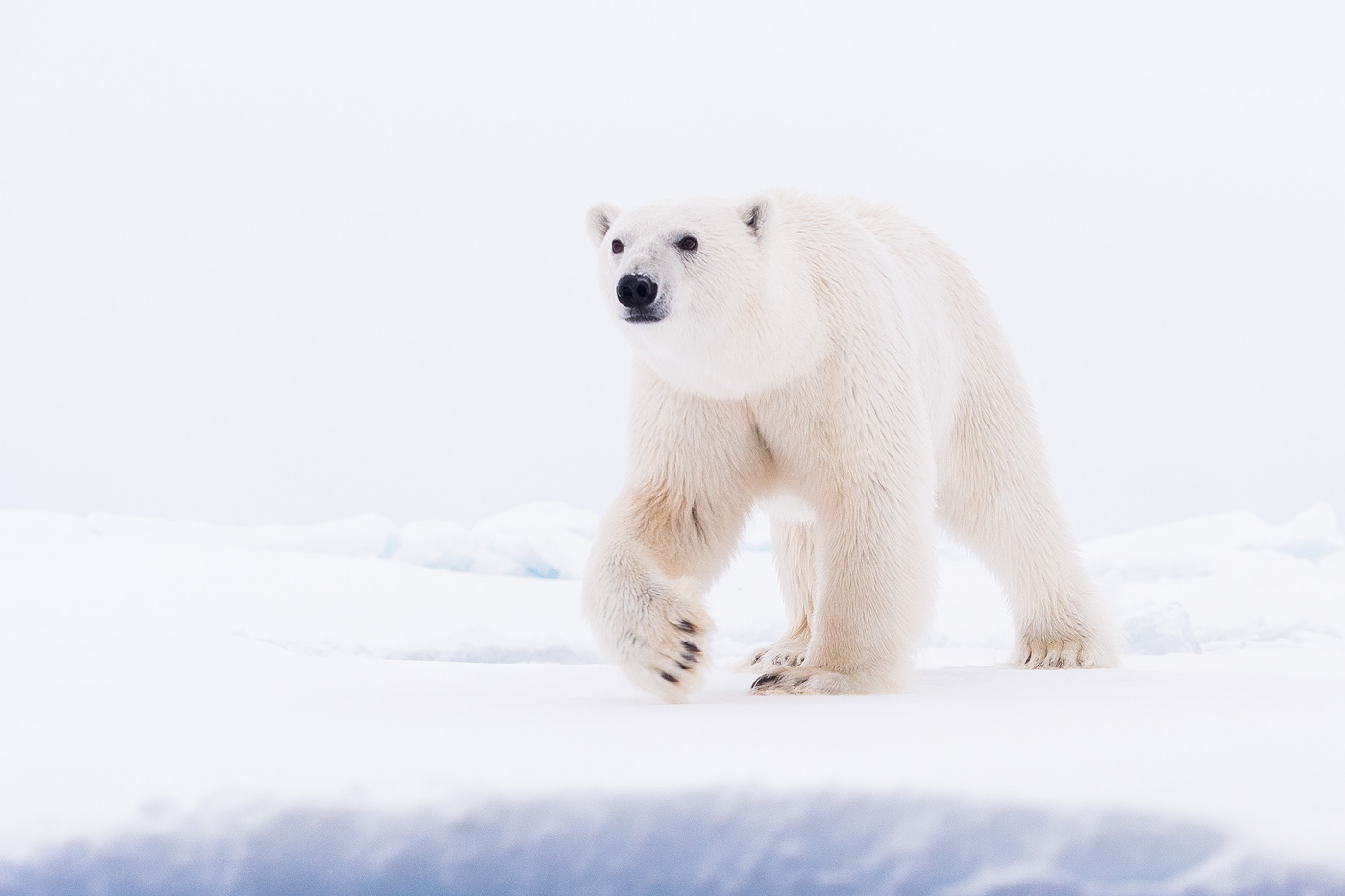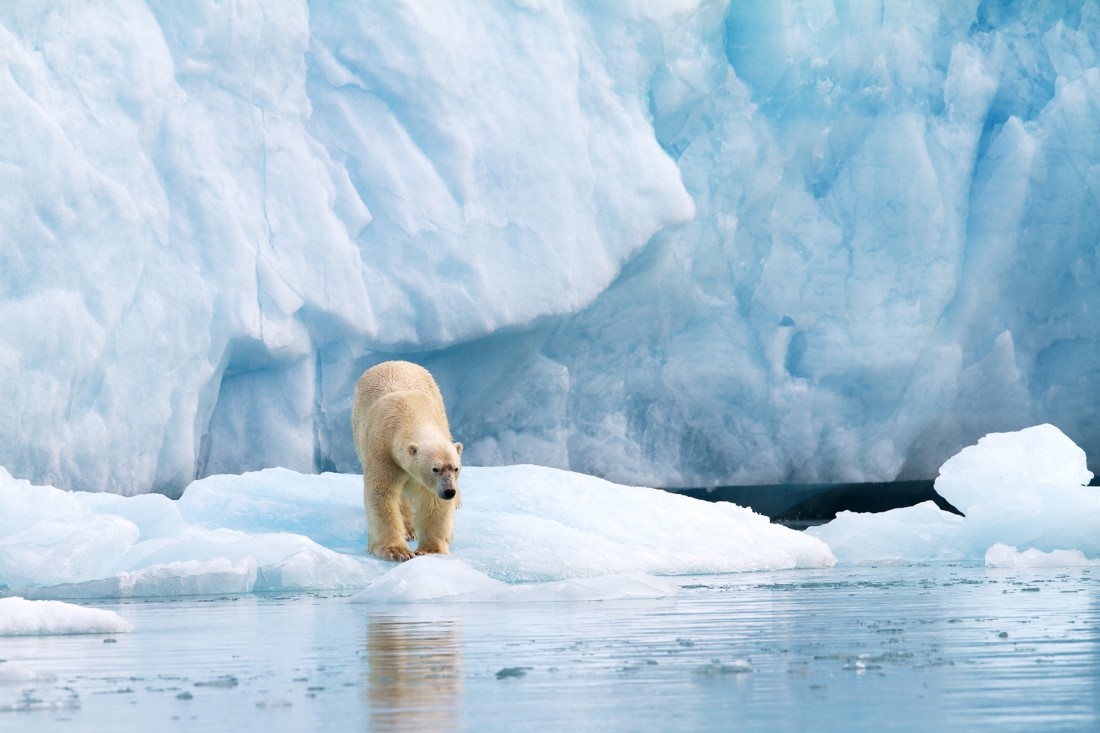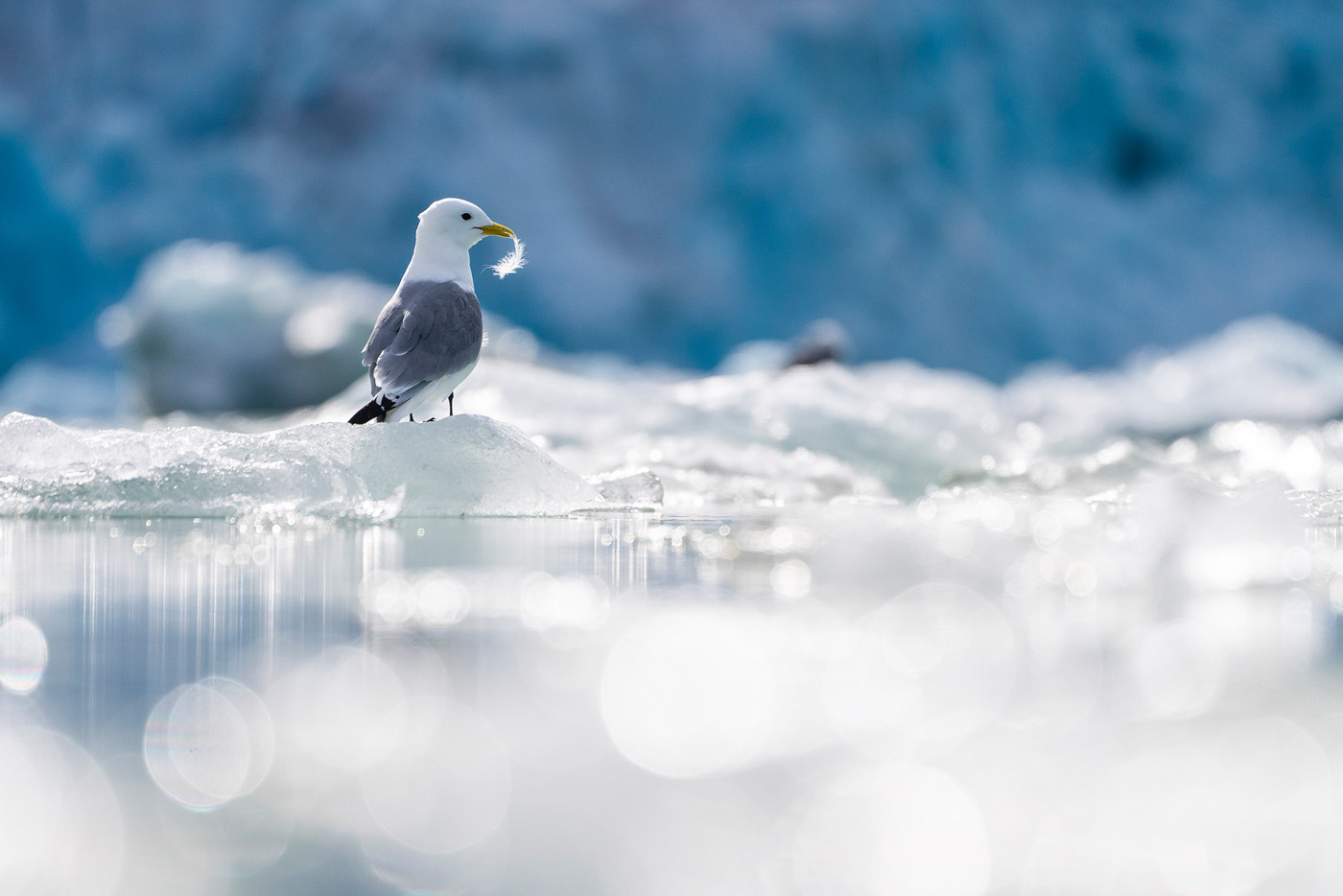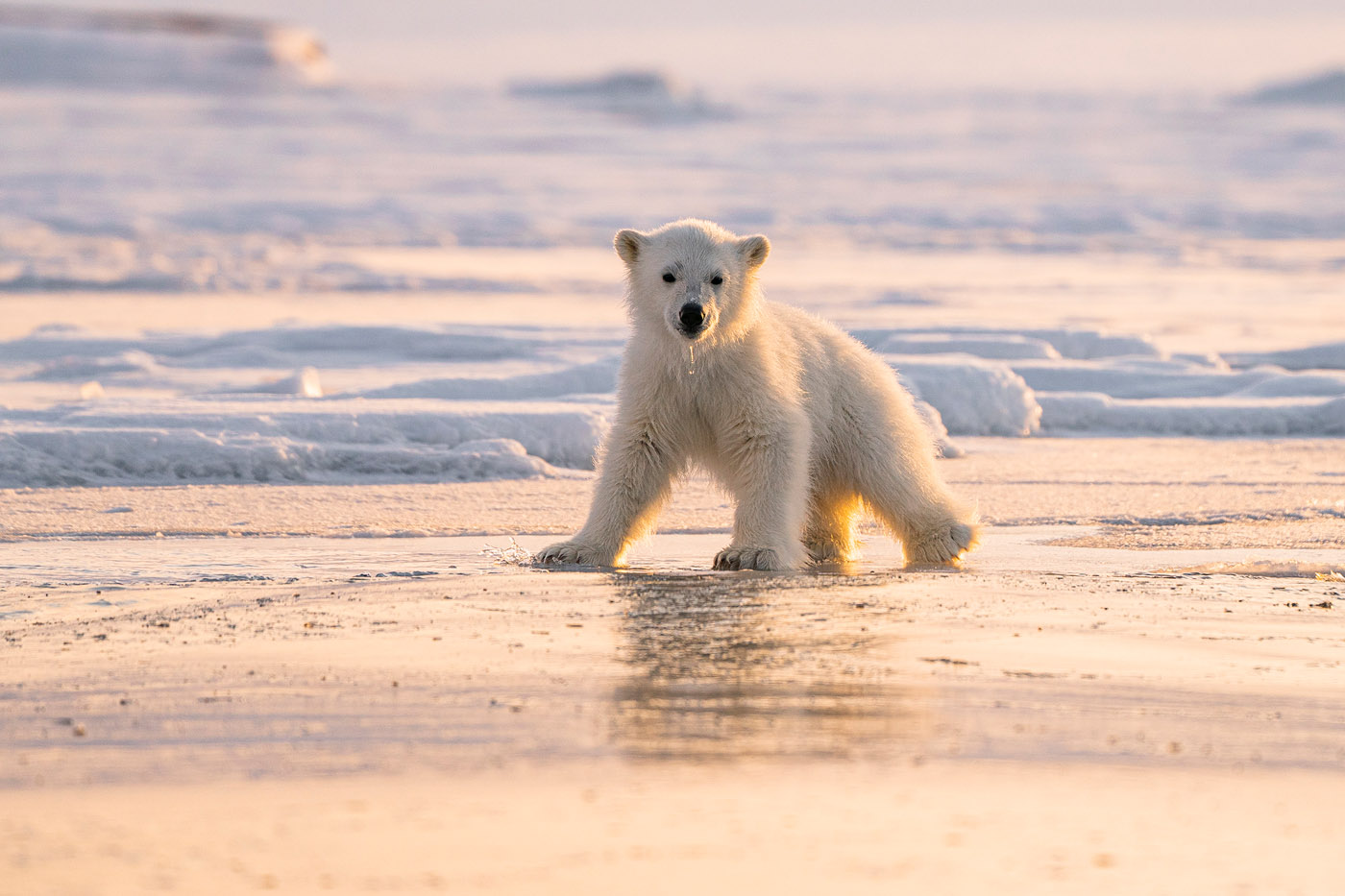 Day 0 Meeting in Longyearbyen
While the workshop officially begins on day 1 (April 21st), it is recommended to arrive one day prior to the sail (i.e. April 20th), to ensure you have all of your equipment, and to avoid missing the sail due to flight delays.
We will meet in a hotel in Svalbard's capital of Longyearbyen, have dinner and discuss the days ahead.
Longyearben is the administrative capital of Svalbard and a well-known Arctic destination. The world's northernmost town is home to an international population of approximately 2500 people.
Longyearben is unique in that is has a rich mining history, no street names, and only one grocery store. Shoes are still removed before entering restaurants and hotels.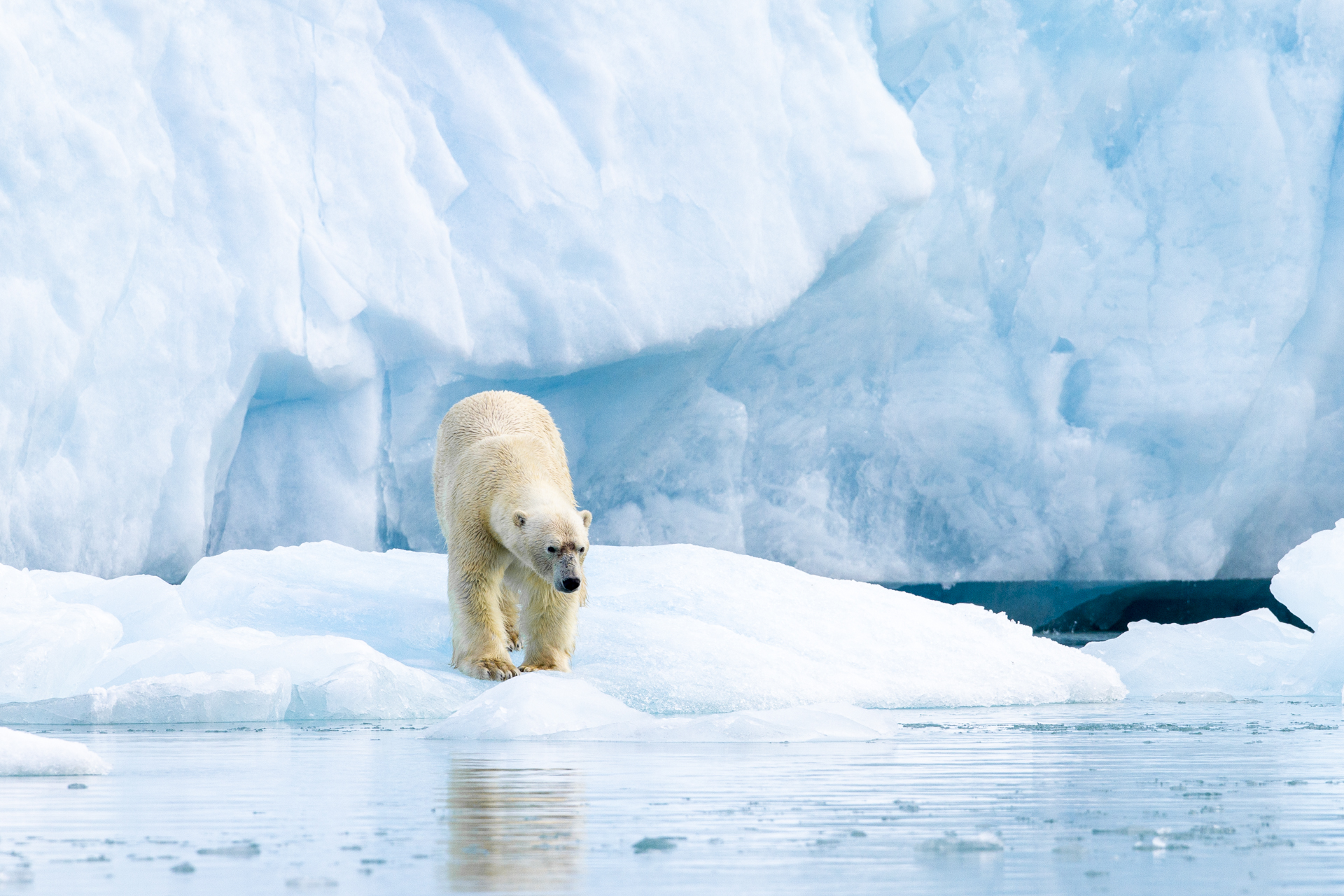 Days 1-9 Adventure Mode
At exactly 16:00 in the afternoon of day 1 we will assemble and board the beautiful MV Villa, our mothership for the 9 days's sail along Svalbard's western coast. We will settle in our rooms, depart the harbor and embark on our journey.
From our ice-strengthened ship, we will witness wildlife and beautiful mountains the moment we leave the dock. As we want to make sure we get the most of our trip, there is no daily schedule; there is no set plan, we will make it up as we go. The ship's crew has been exploring Svalbard for 20 years now and knows you have to be flexible to get the best and most out of your journey.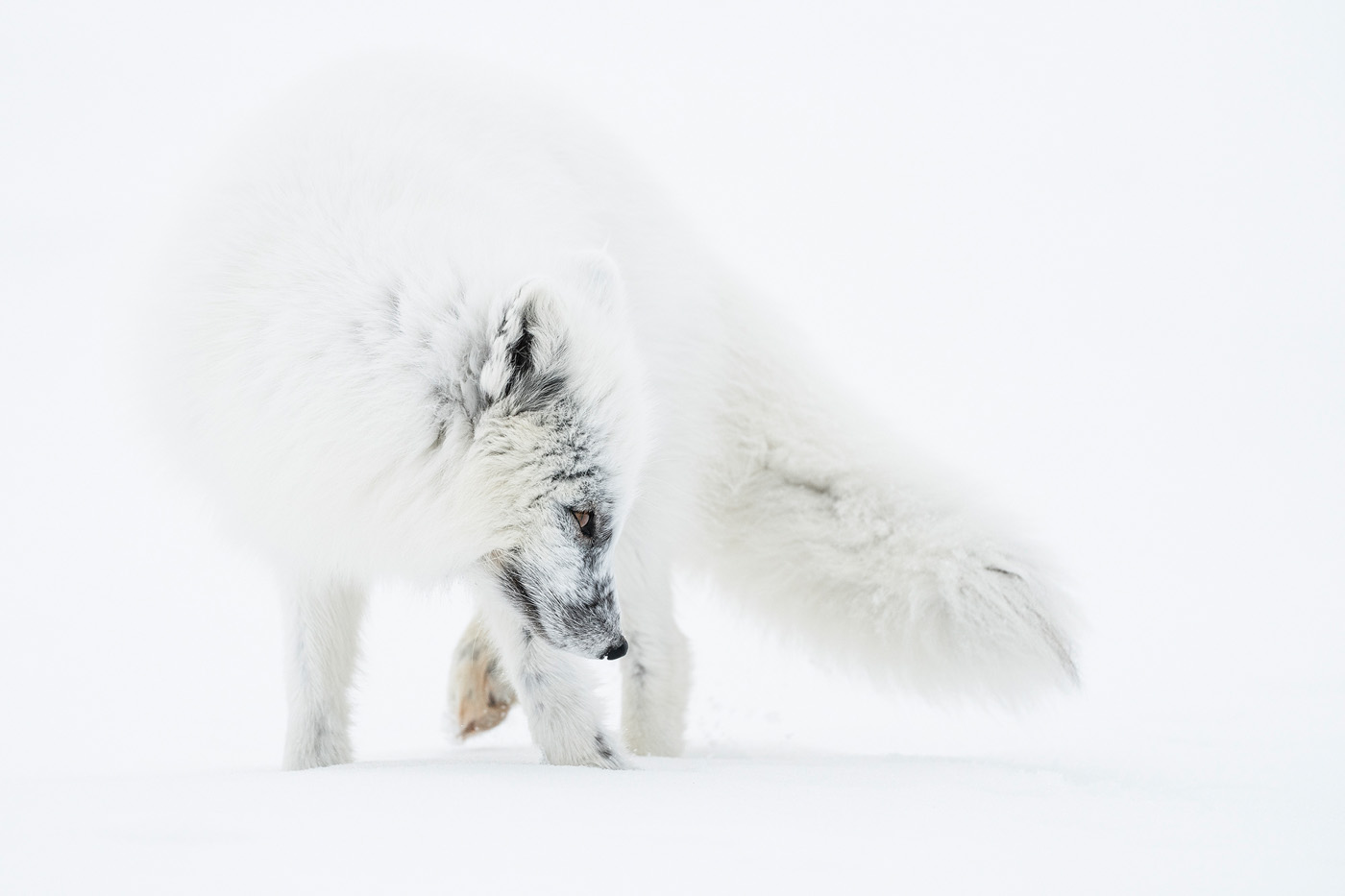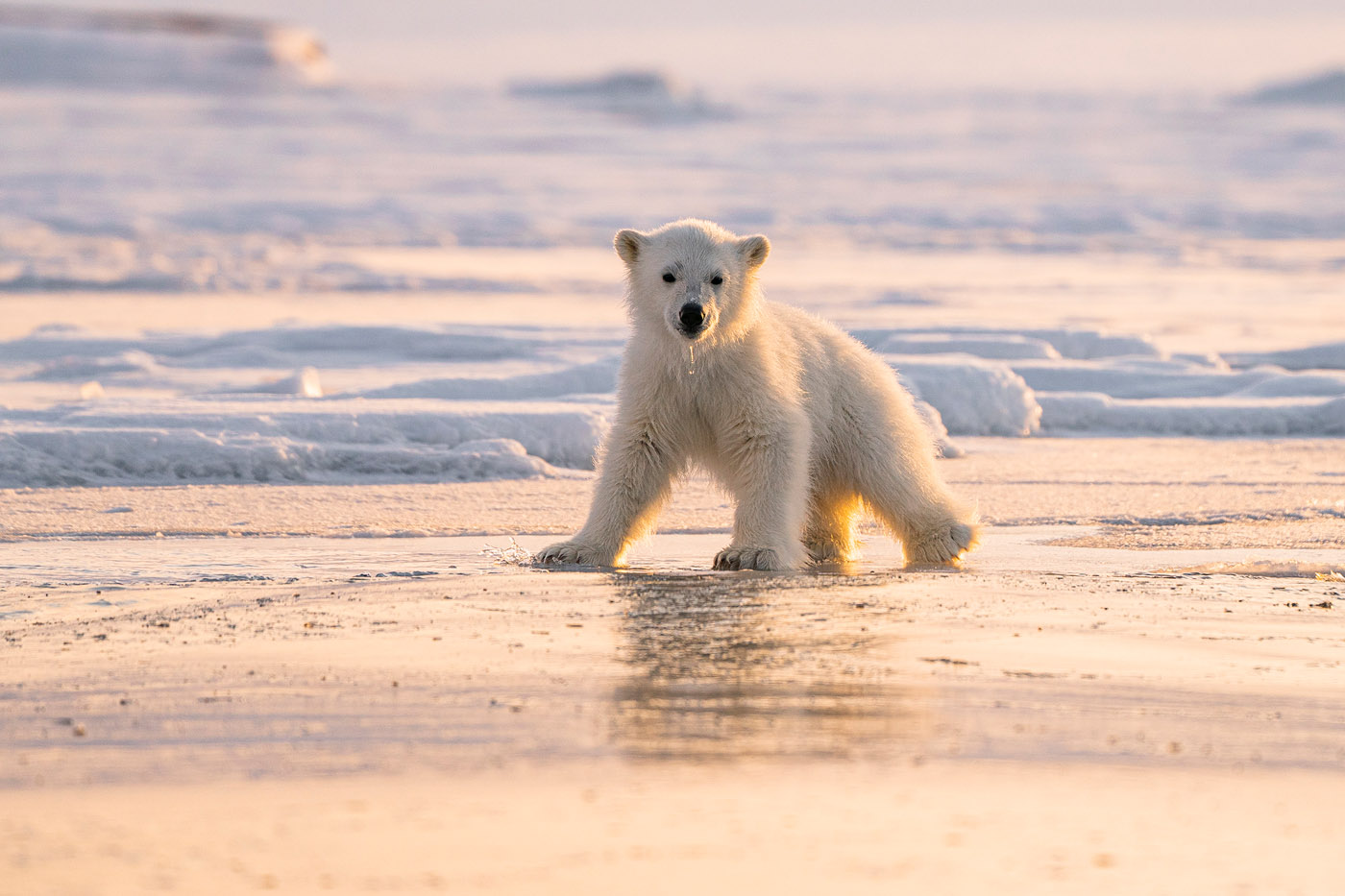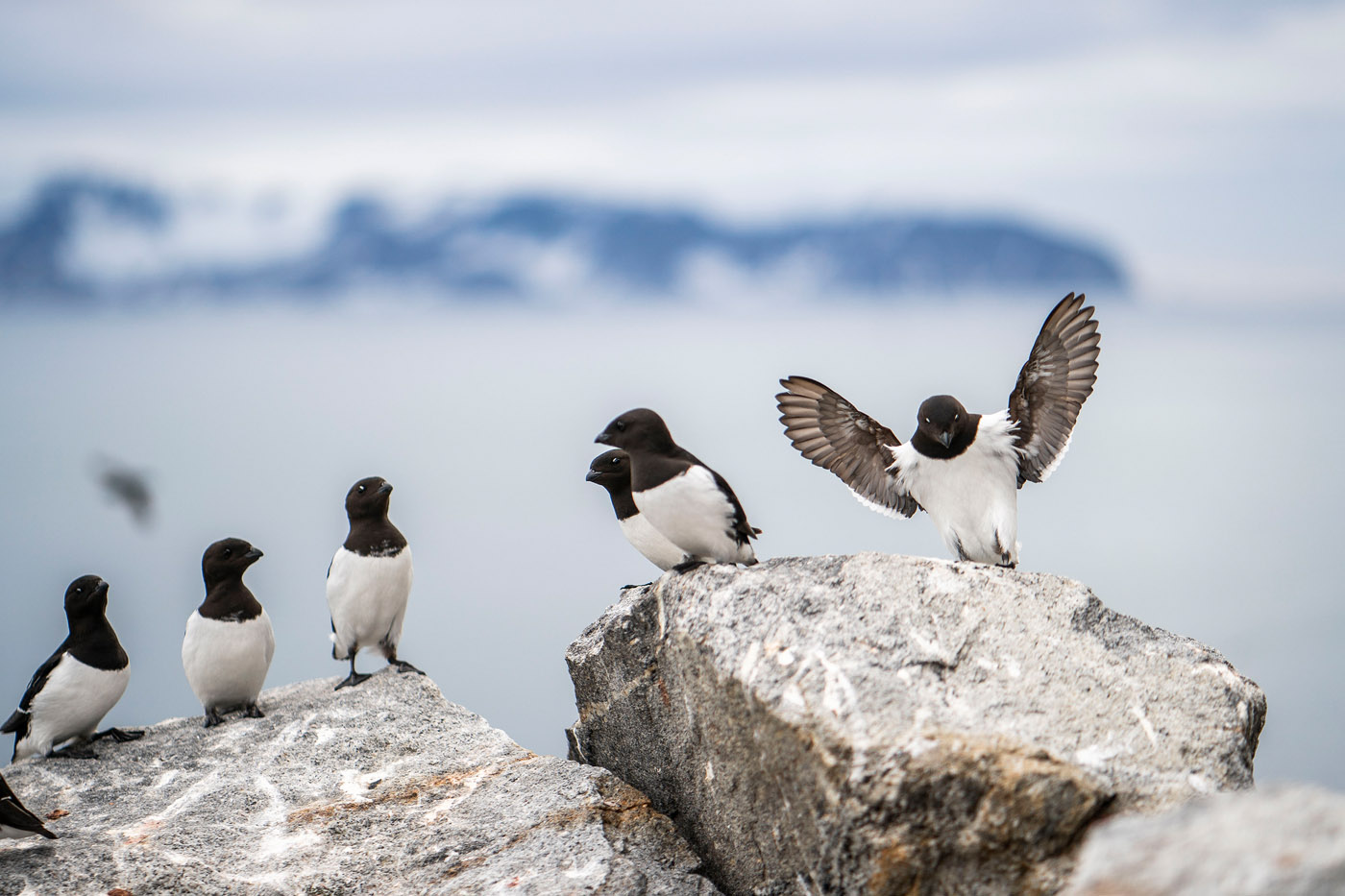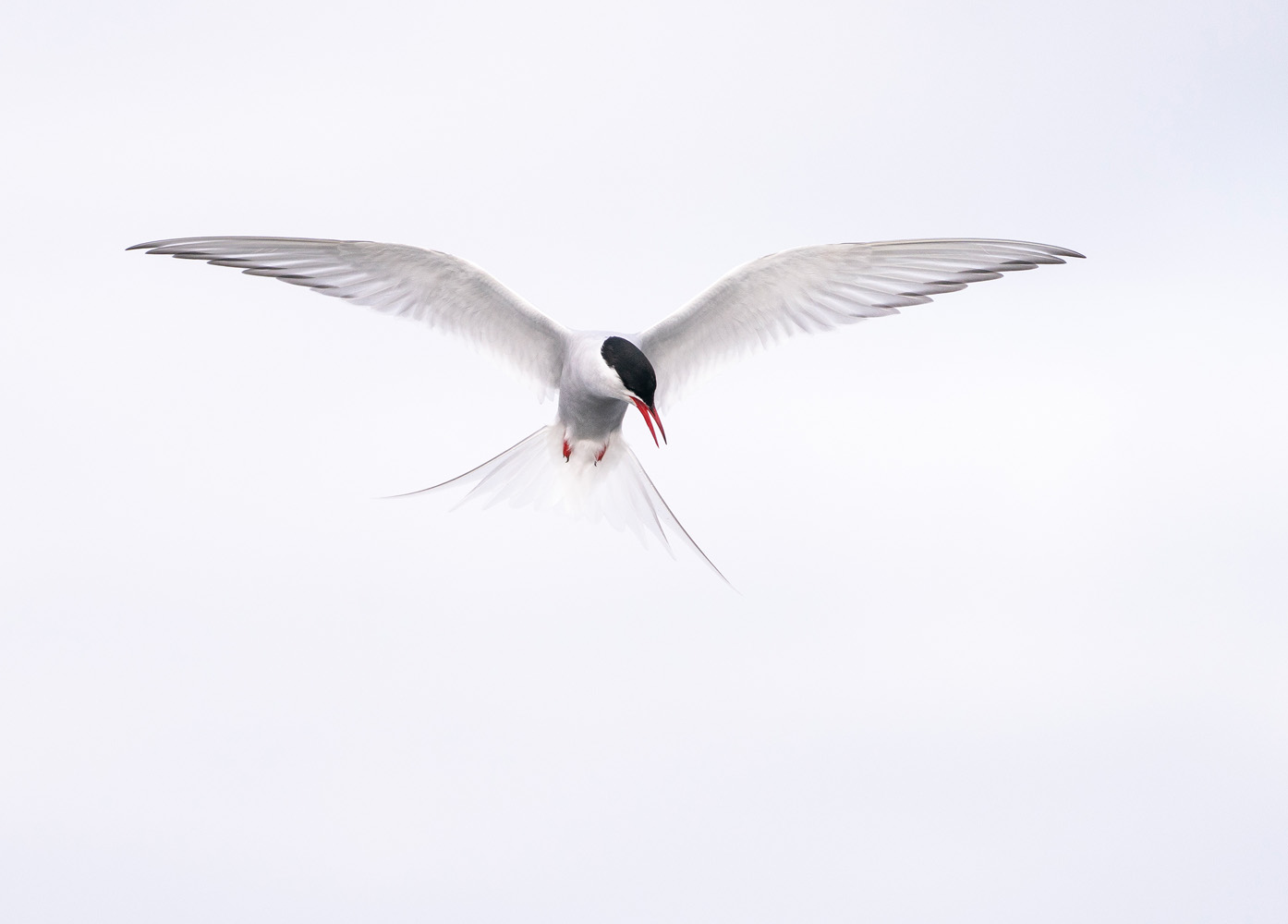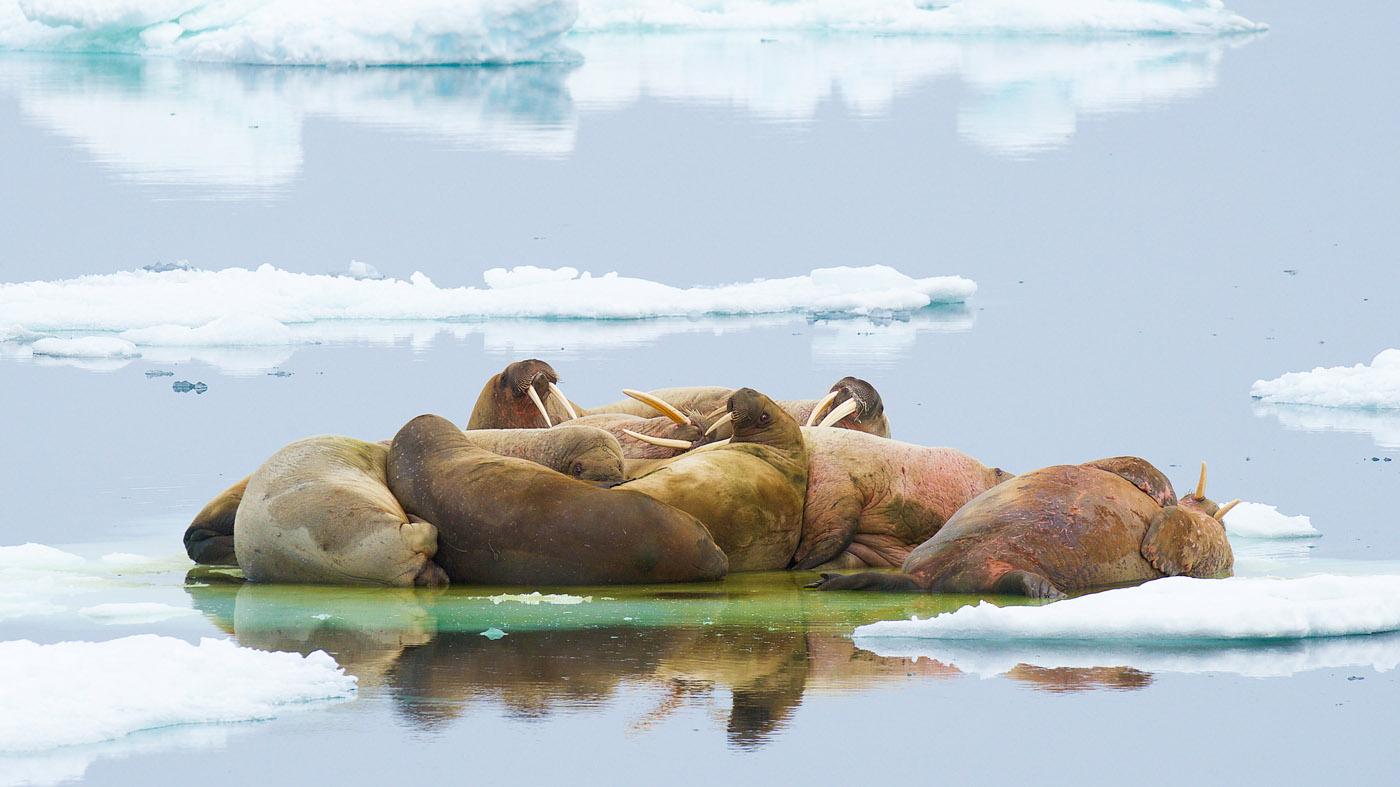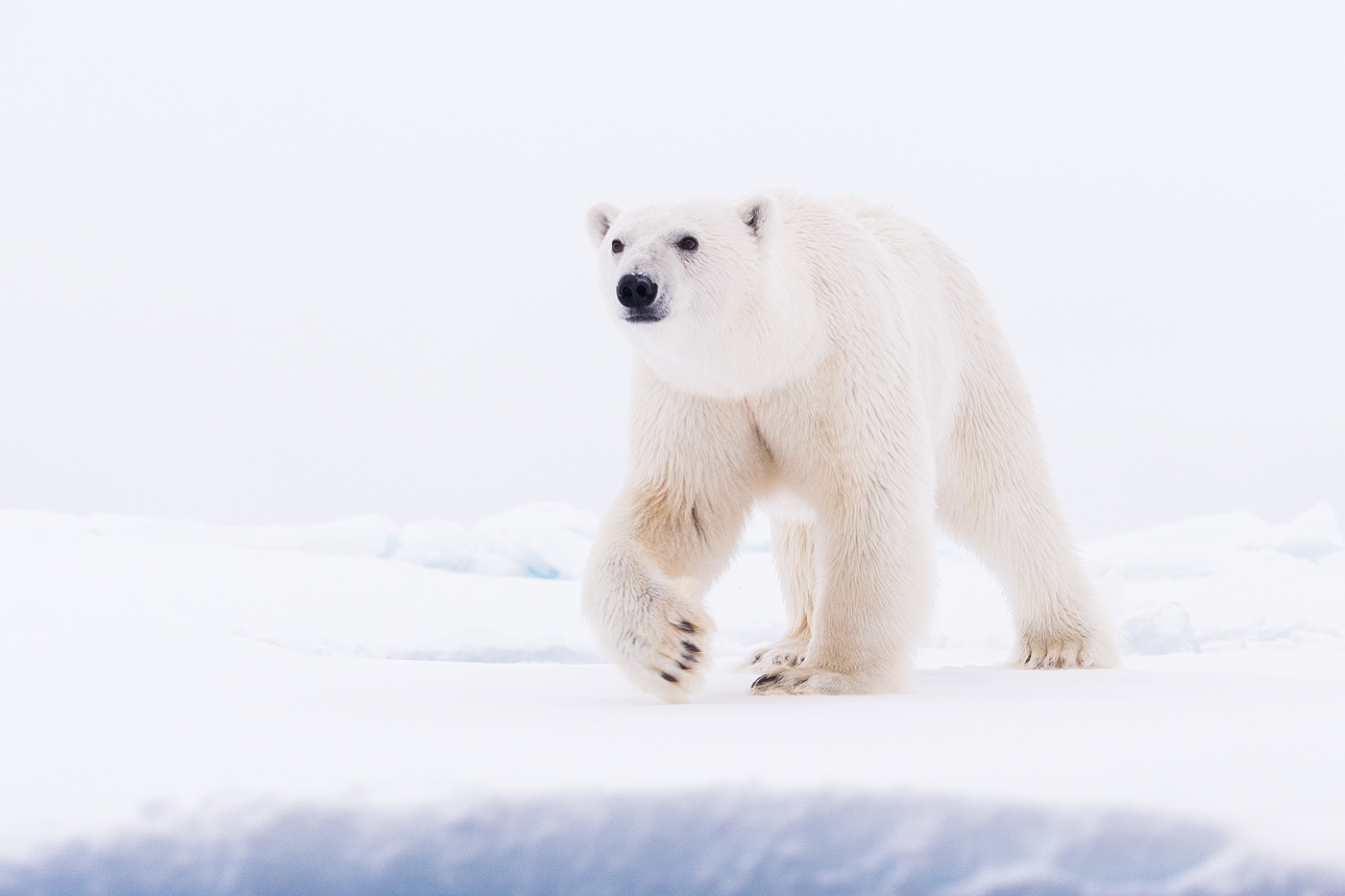 We expect to encounter ice (and a lot of it) around the archipelago, especially this season. The ice-strengthened hull of your expedition vessel will allow us to enter the pack ice as we endeavor to encounter wildlife that makes its home in this extreme environment. Cruising through the ice floes, we hope to spot polar bears hunting for seals. From our Zodiacs we may spot walrus resting on the ice or on the nearby beaches. Watching the magnificent wildlife from the exterior decks promises to be a highlight of our journey. Our skilled Captain will maneuver the ship in order to give us the best possible views. The open deck of MV Villa will offer you many unique photographic perspectives. The main emphasis during the workshop will be the polar bears, but we will also look for Arctic foxes (which will still have their white winter pelt in April), walruses, birds and other species.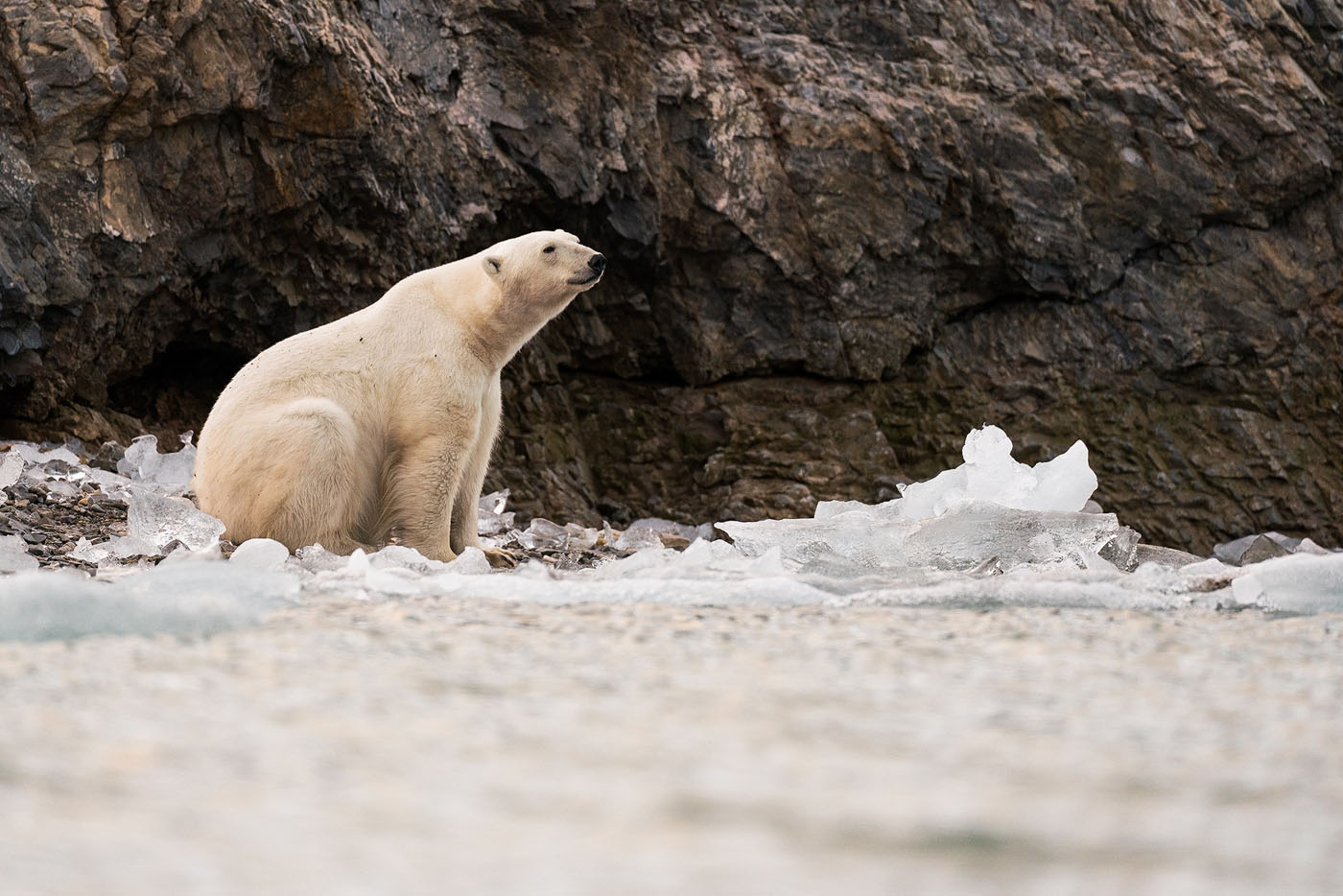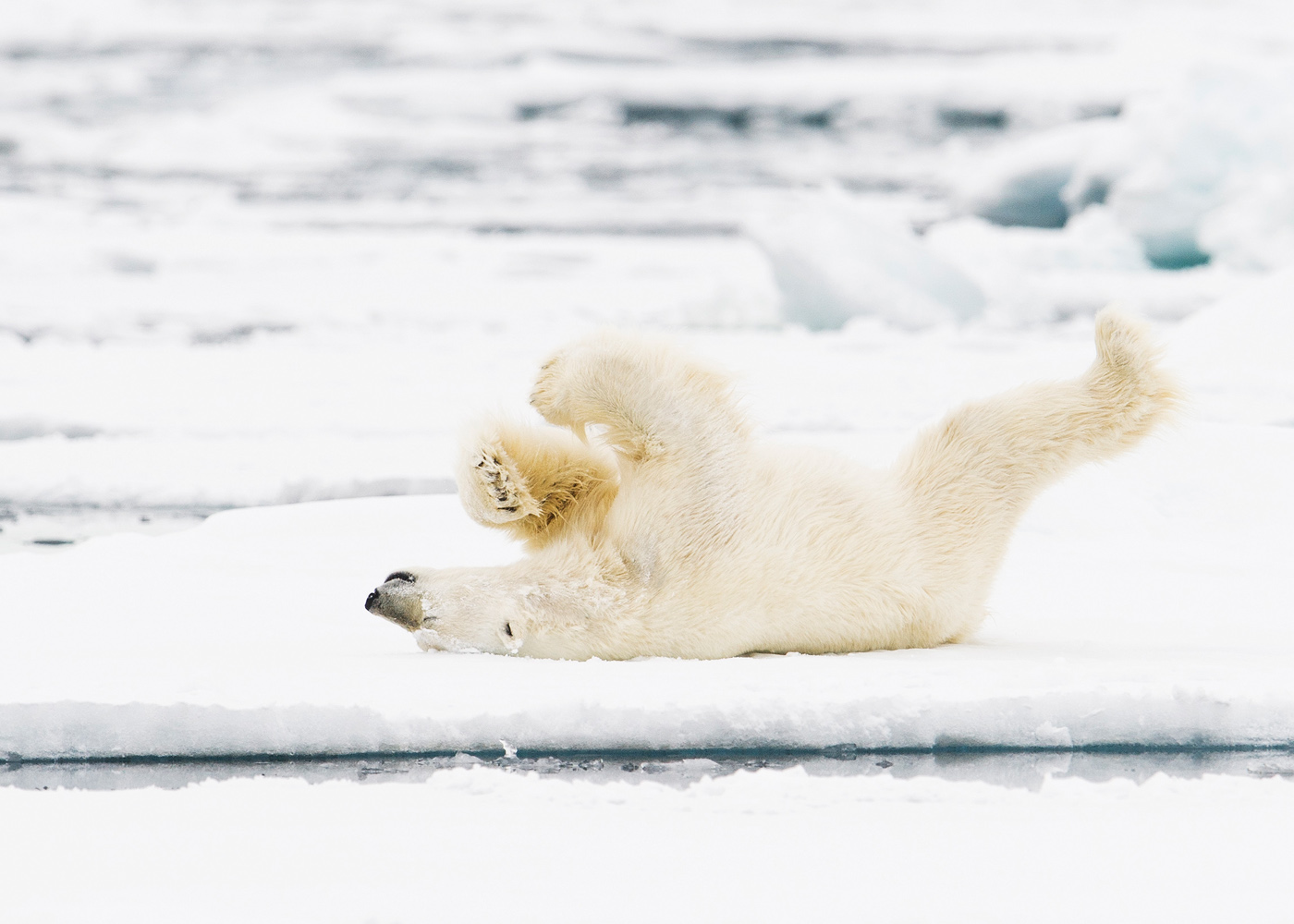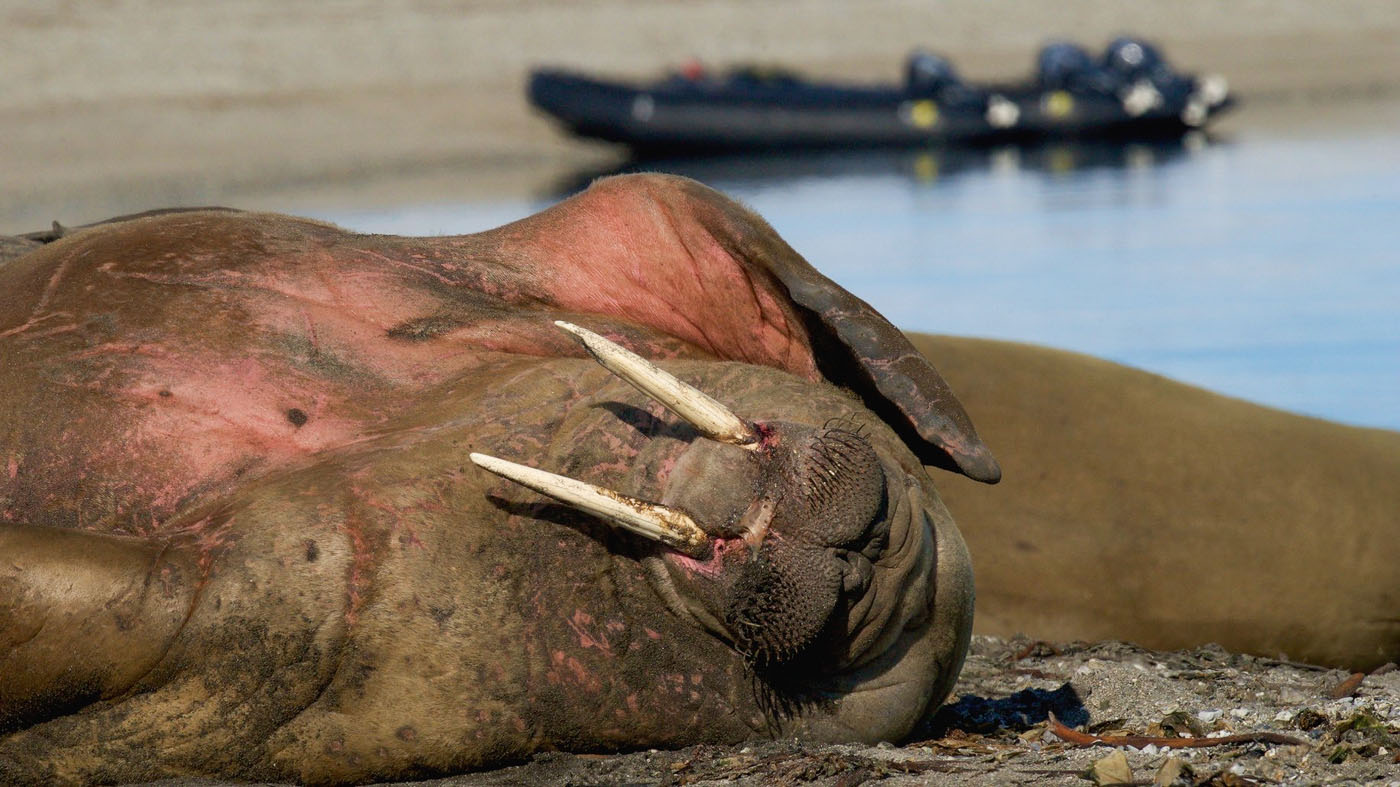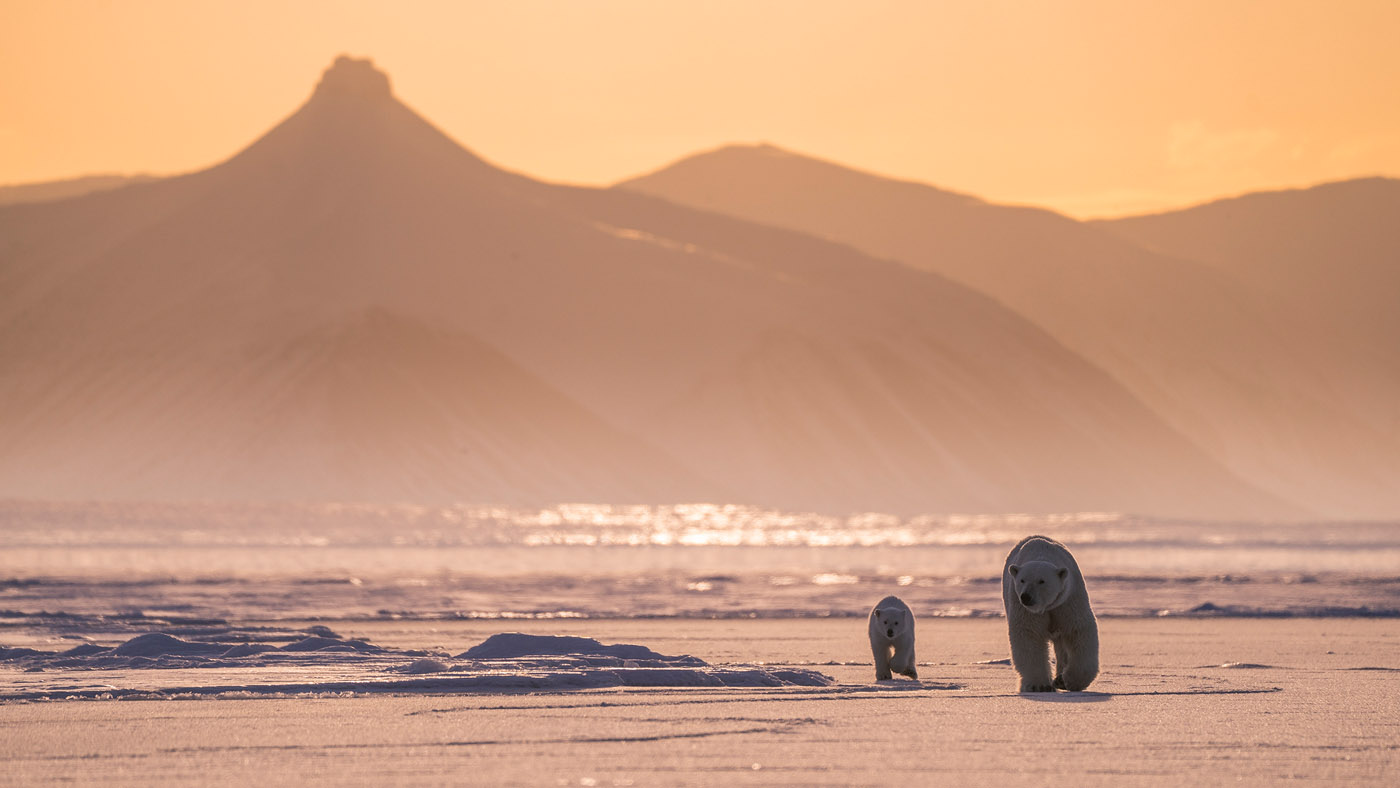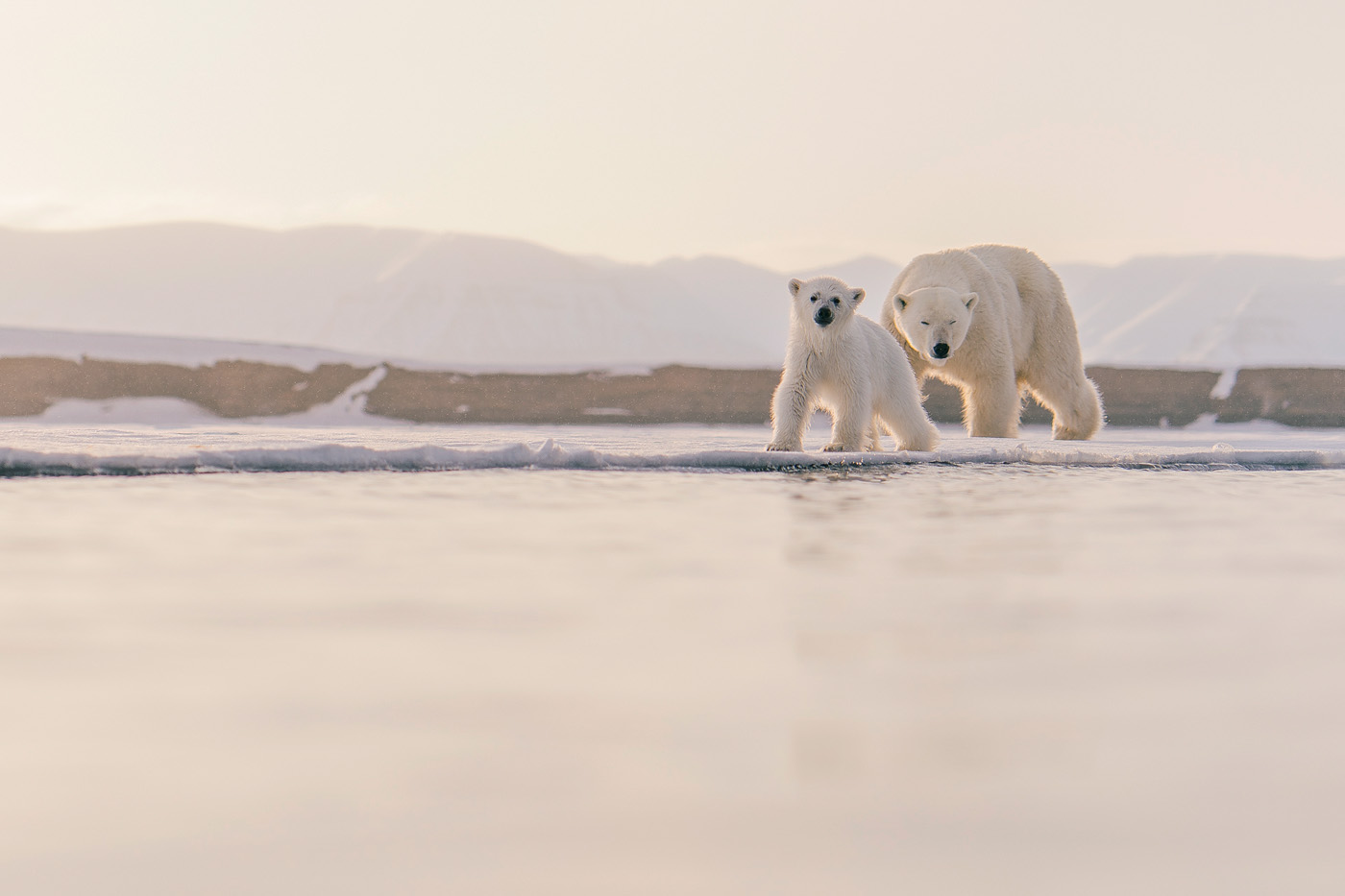 There are incredible landscapes on our way: mountains, glaciers, fjords, all in snow and under magical winter light. Aerial photography is especially recommended and will be done at every possible opportunity.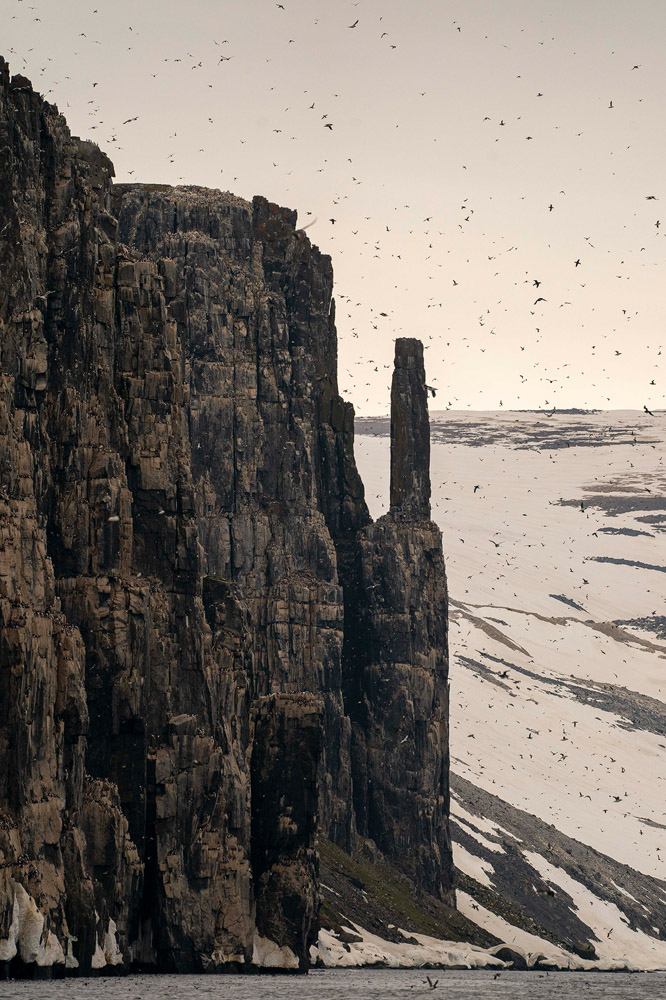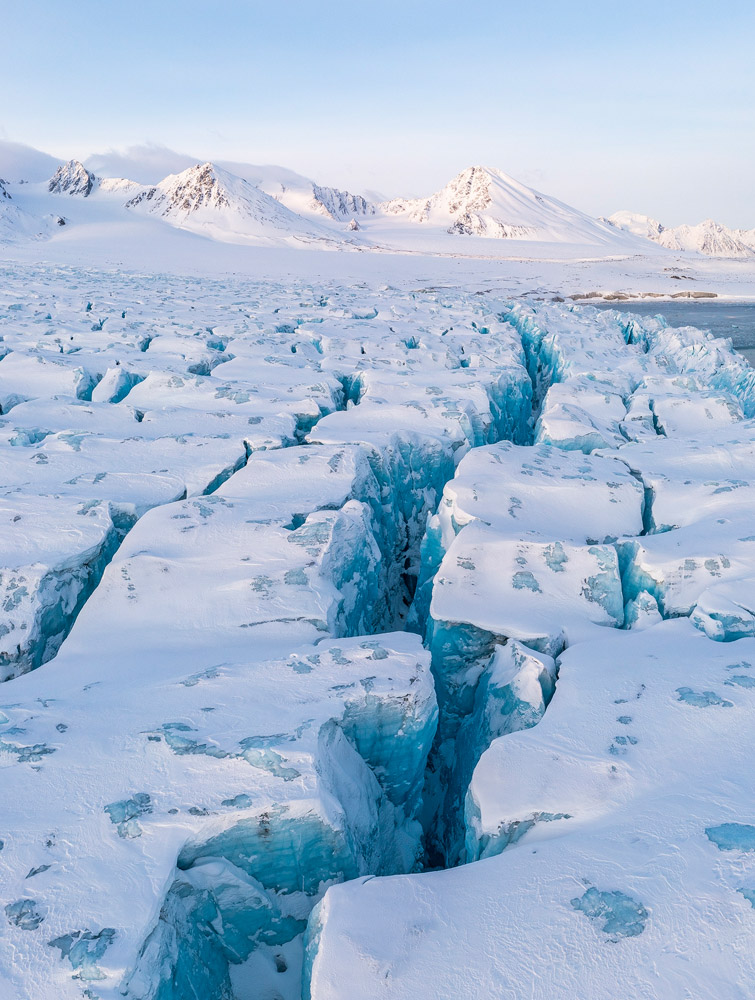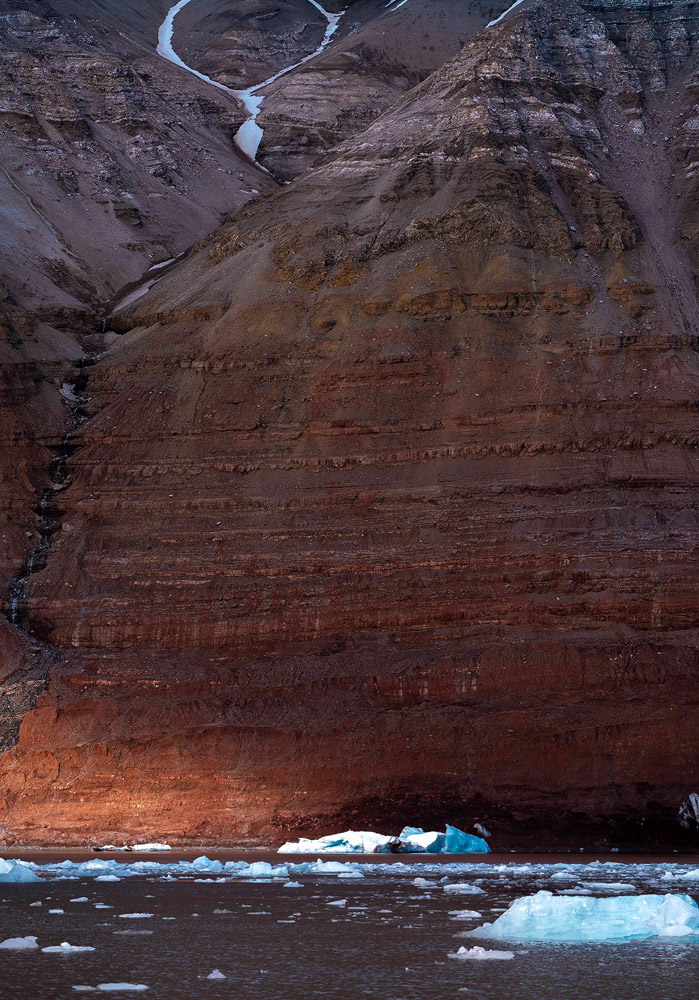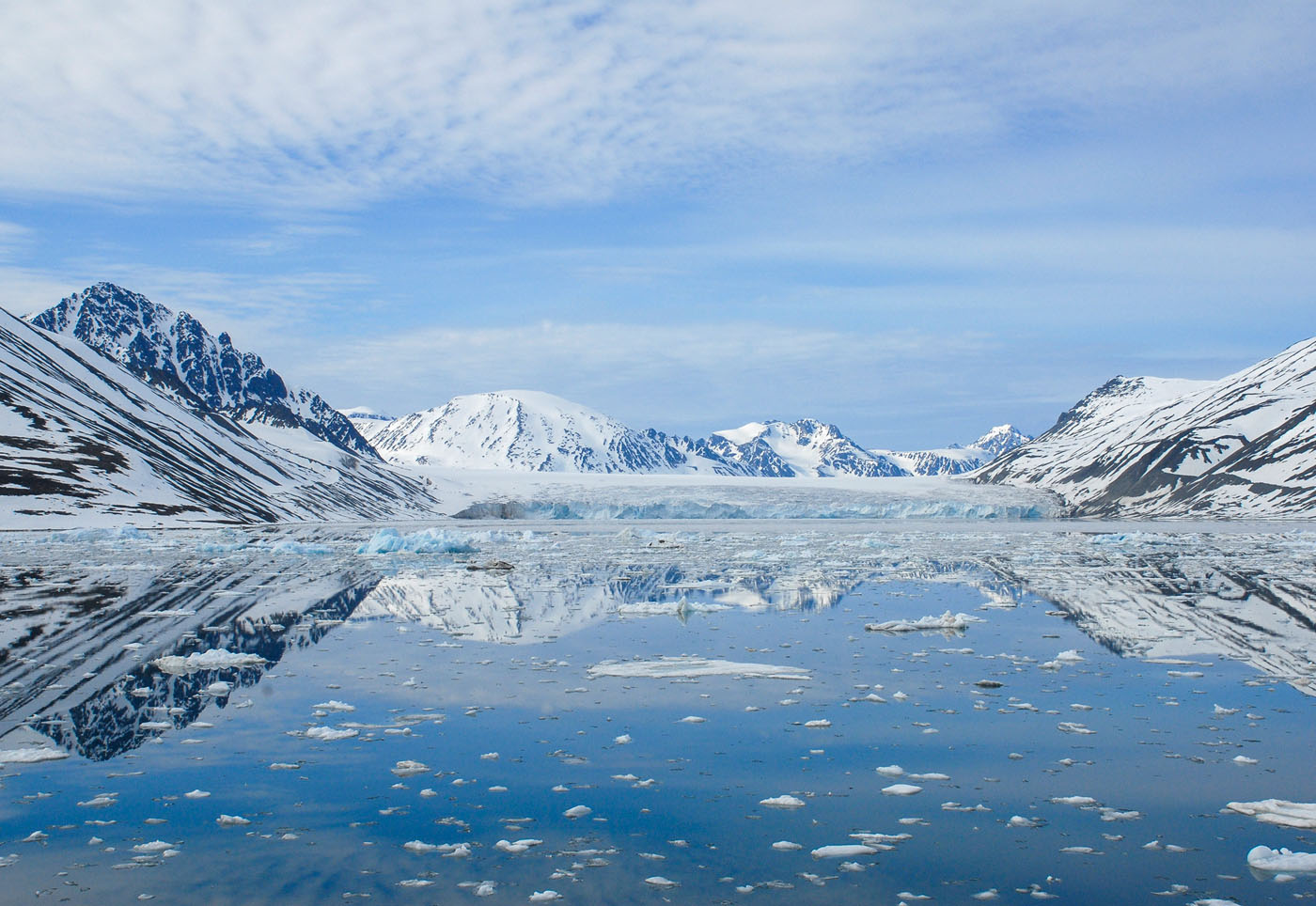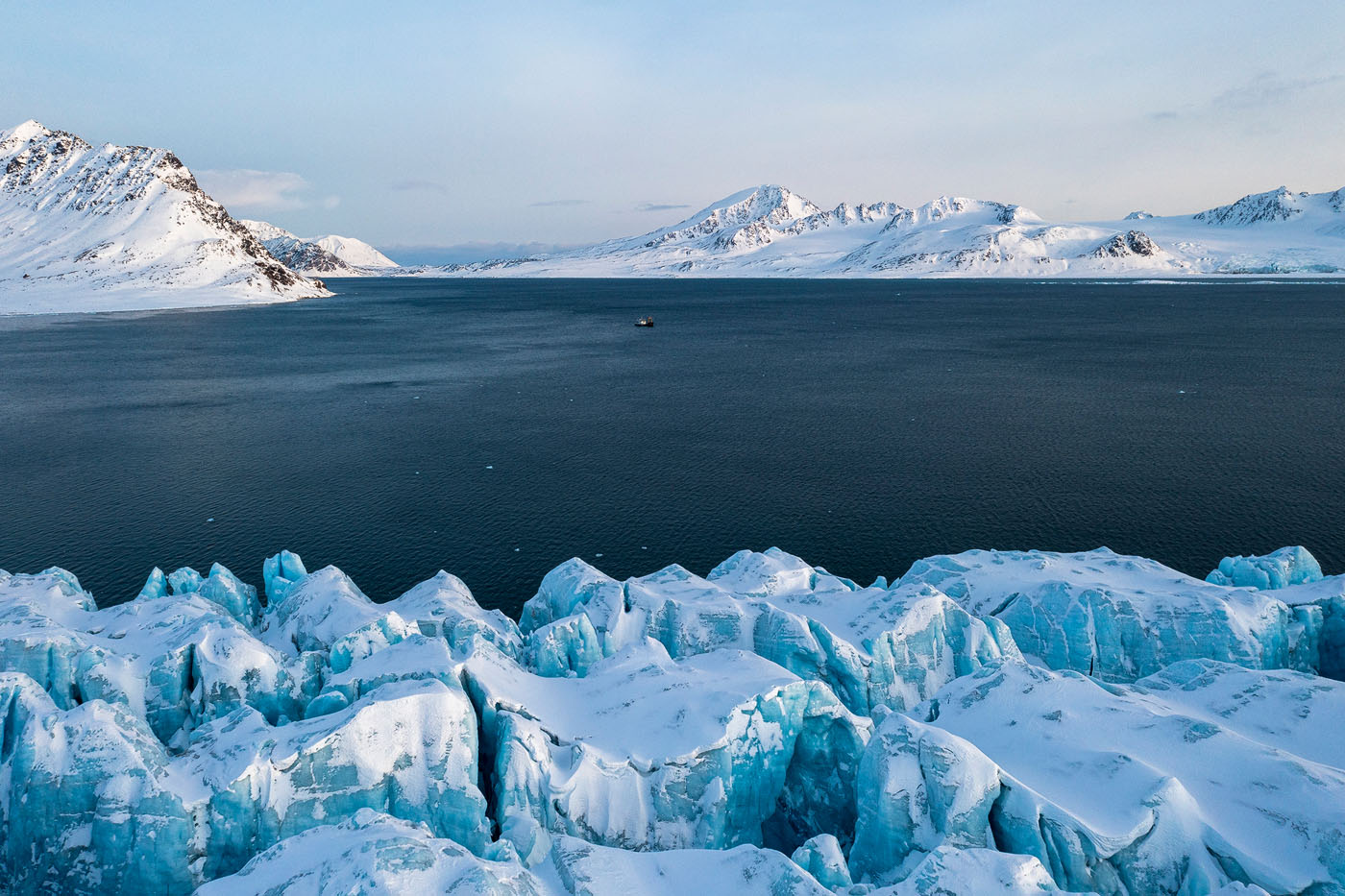 SAILING ITINERARY
In principle, our sail is extremely flexible. The crew is always vigil and on the lookout for bears and other wildlife, and if we get word of a good sighting closeby, we will head there to get the shots. That said, there is a general plan for the sail, a plan which puts the emphasis on both good wildlife statistics and great landscape photography. In the map below you will find an approximate route map for our trip. Note that this itinerary is most often used for 7-day sails whilst ours is no less than 9 days, which means we will have far more flexibility and may sail further than seen here. It depends on sightings and on the situation of the pack ice in this season.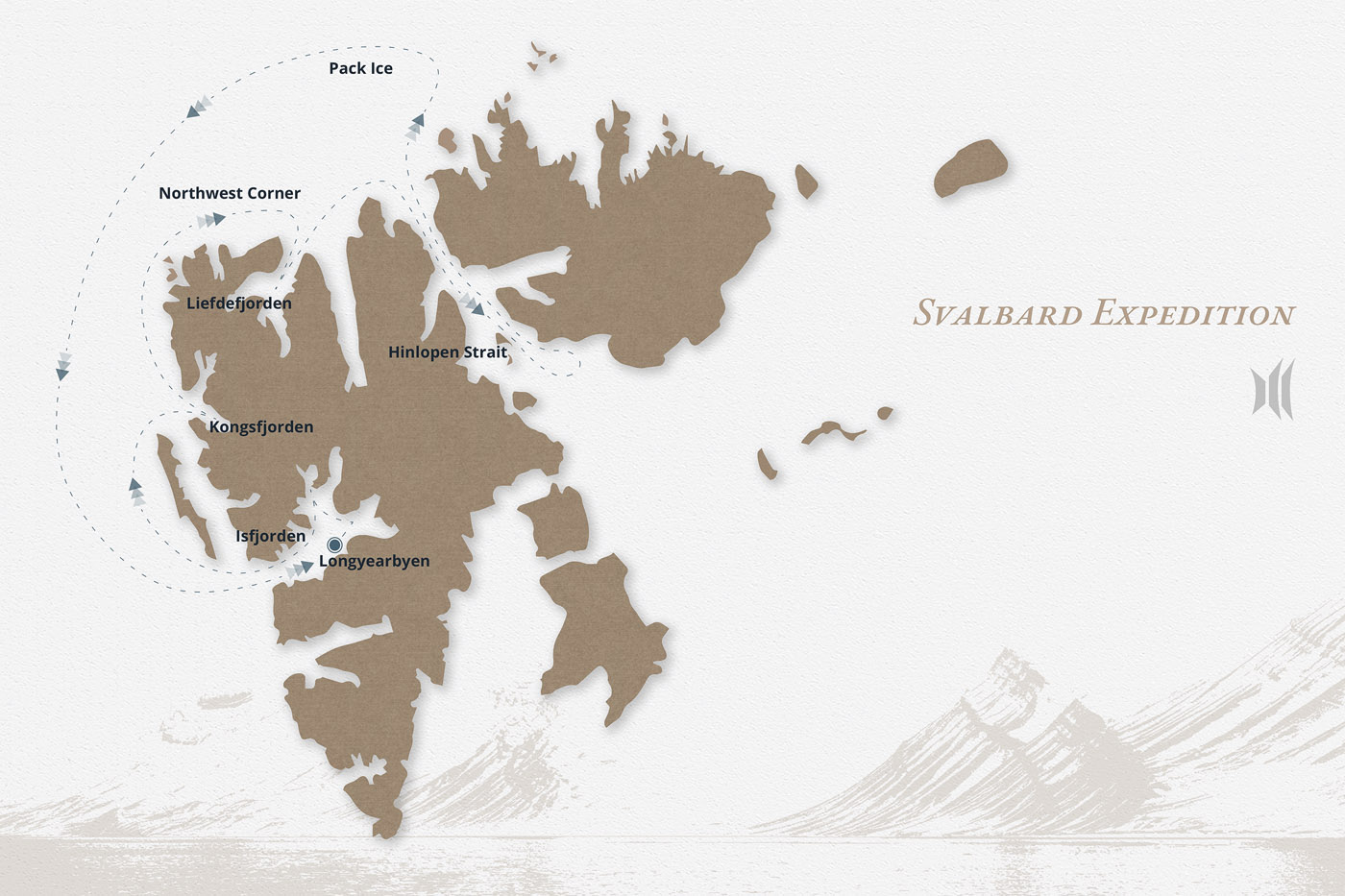 Flexibility is one of the key features of this expedition. The Captain and Expedition Leader decide where to land based on weather and sea conditions. This allows your leaders to make the best plans for visits to the most interesting areas based on updated local information. Given this flexible itinerary, a daily briefing will be held to outline the following day's plans.
Depending on the route our voyage takes, We may spend time exploring the following areas:
Danskøya & Amsterdamøya Islands
Danskøya Island, was the launch site for a failed attempt by Salomon Andrée and two companions to reach the North Pole by hydrogen balloon in 1897. Amsterdamøya Island was a Danish and Dutch whaling station in the early 1600s and is now the home to nesting Arctic terns.
Liefdefjorden
As the Villa enters this spectacular fjord, Zodiacs are launched for a cruise through the ice fields leading up to the Monaco Glacier. This scenic region is frequently visited by polar bears. Conditions permitting, we go ashore for a hike near the glacier or along the shoreline. We will explore this stunning fjord where photographic opportunities often include Arctic fox, whales, ringed seals and thousands of kittiwakes.
Kongs fjorden & Ny-Ålesund
We may choose to visit an international research station along the shores of this scenic passage, or view the small settlement from the deck of our ship. The mighty Kongs Glacier is a place where polar bears come to hunt for seals. Close by, the lush hills of Ossian Sars offers a breathtaking hike.
Hornsund
Hornsund is the southernmost fjord on Spitsbergen Island. The coastline features several bays with glacial valleys leading to high mountain peaks. A Polish research station has been operating here since 1957 working on meteorology, seismology and glaciology. Arctic fox, abundant seabirds and reindeer are frequently seen here.
Bellsund
Located between Isfjord and Hornsund lies the mighty Bellsund, entrance for Van Mijenfjord, Va Keulenfjord and Recherchefjord. Here you can find old hunter's cabins and remains of the era of early whaling that took place here and still stir the imagination. Akselöya separates the fjord entrances of Van Mijenfjordand and Van Keulenfjord.

OUR SHIP - THE MV VILLA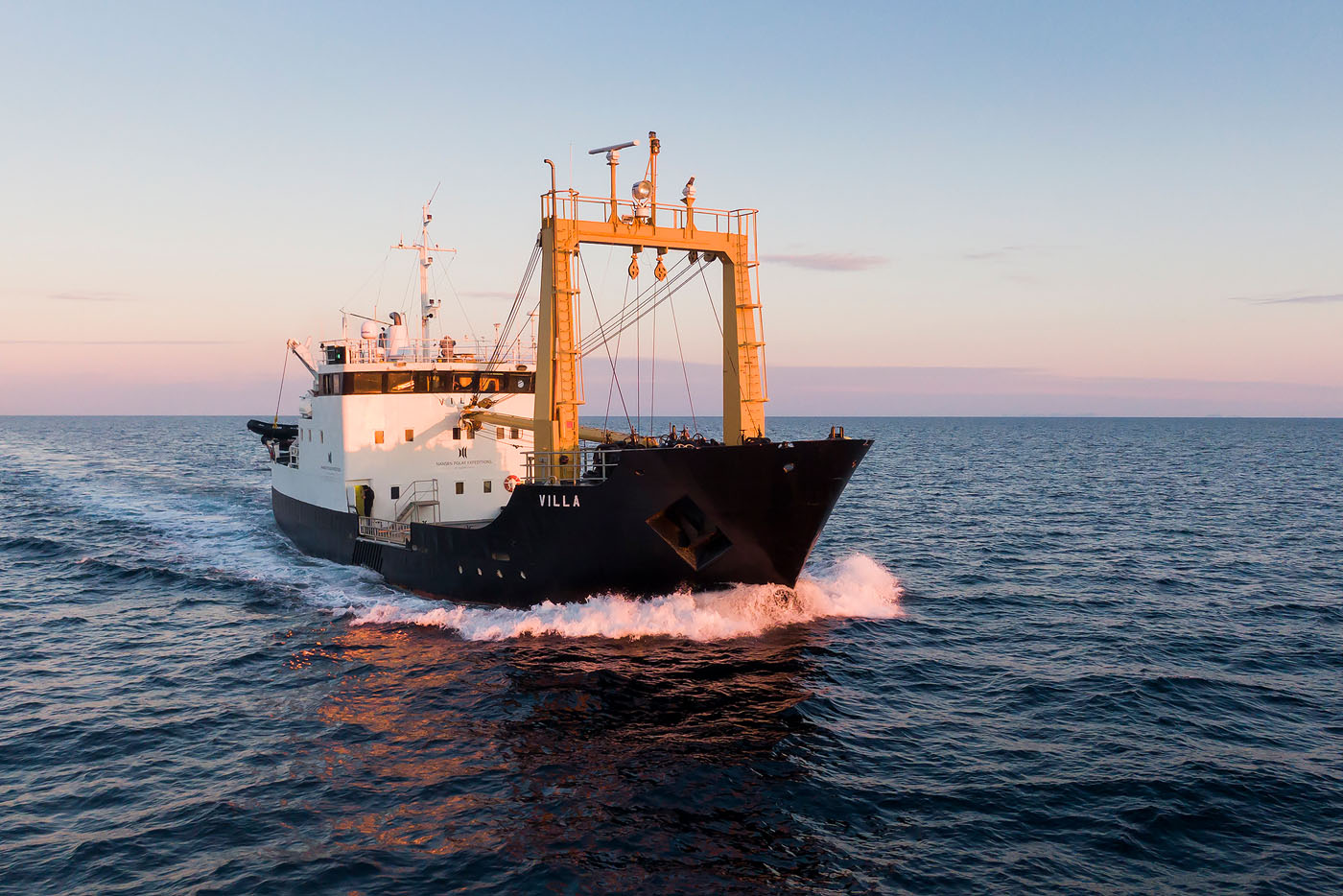 MV Villa operates in the Arctic Circle of the northern hemisphere. She spends spring and summer in Svalbard and the Norwegian Arctic, and autumn and winter in the fjords of northern Norway. The Villa boasts 120m2 of above-deck space and 160m2 of below-deck space. This allows for ample storage and protection of sensitive equipment in a dry environment. As an ice-strengthened ship (ice class B) with an installed ice keel and ice propeller, MV Villa is designed to operate in icy waters.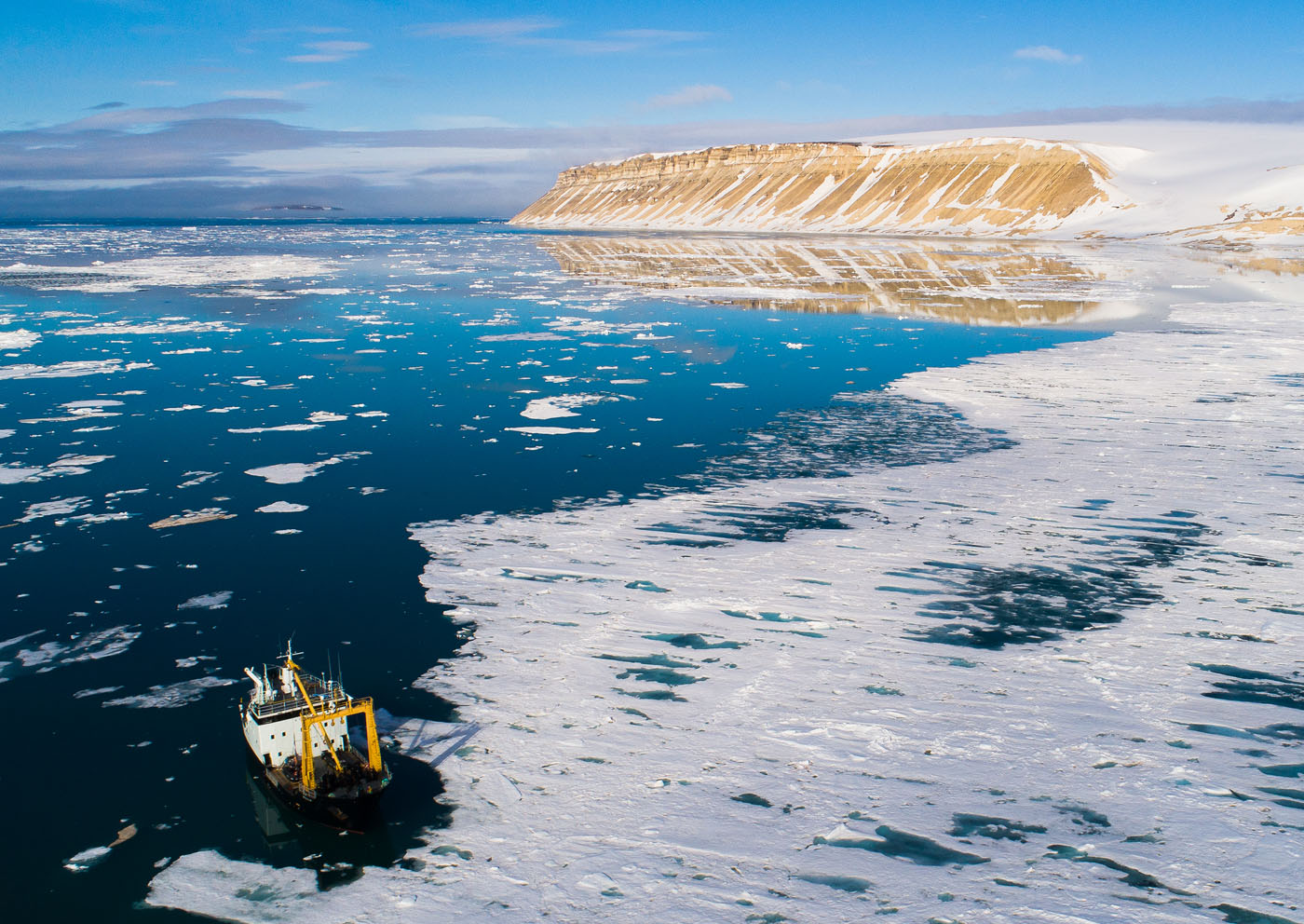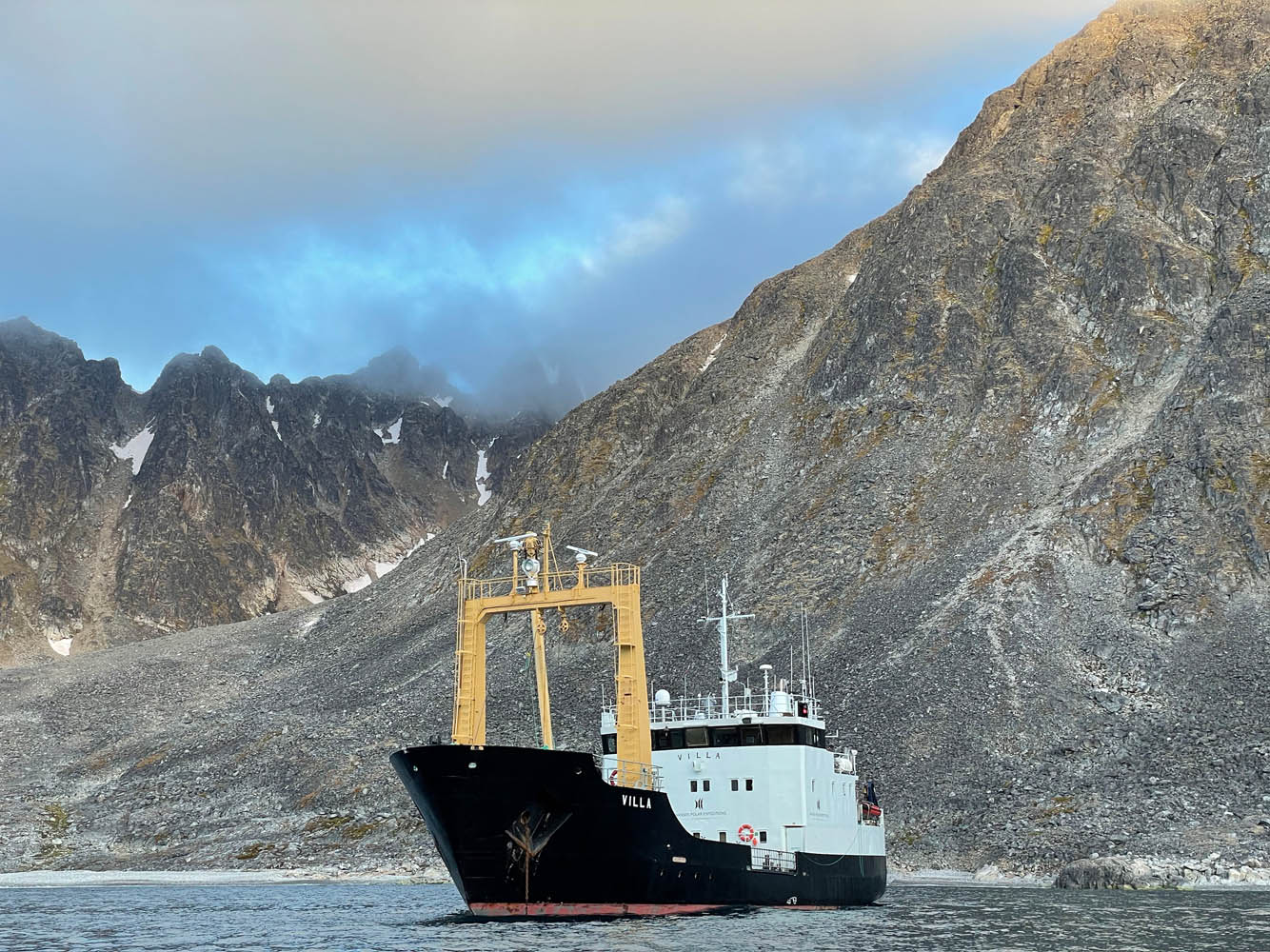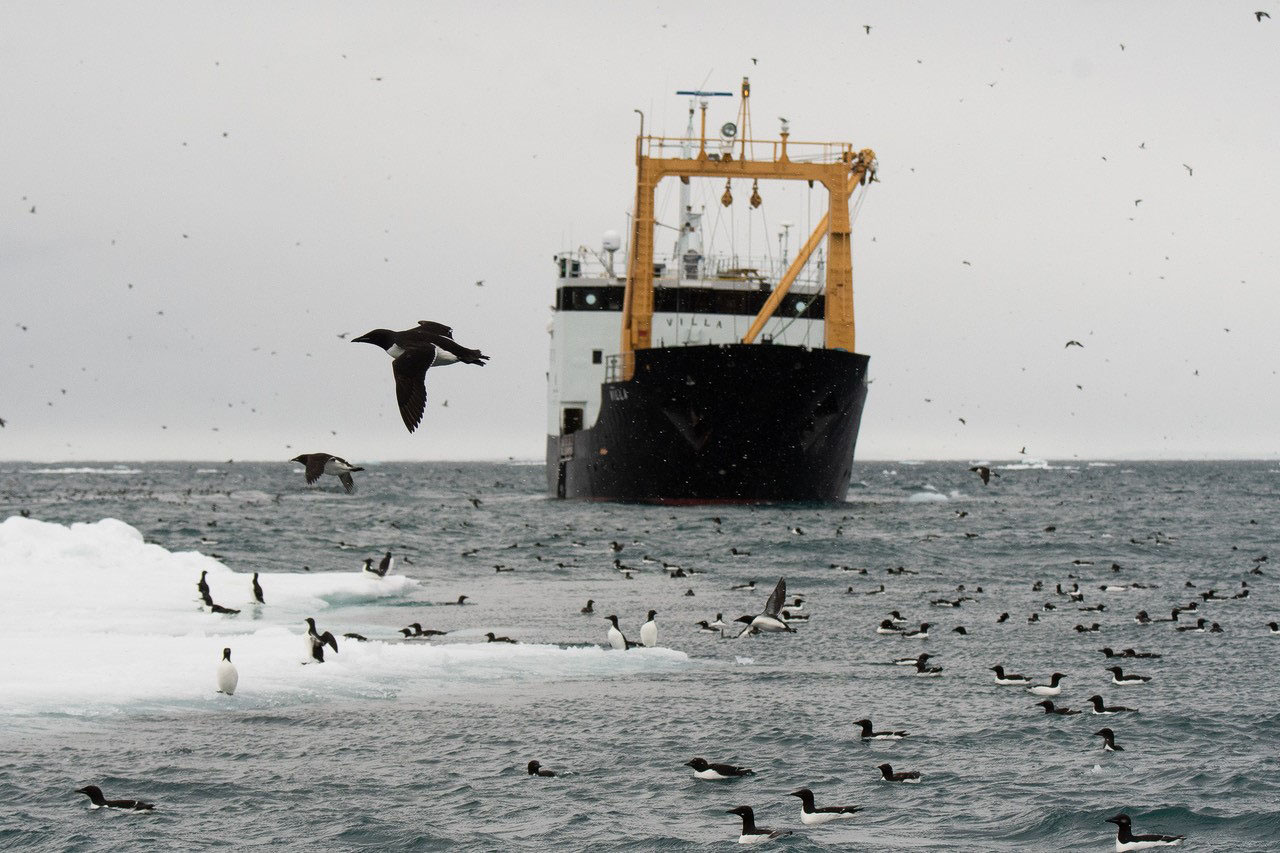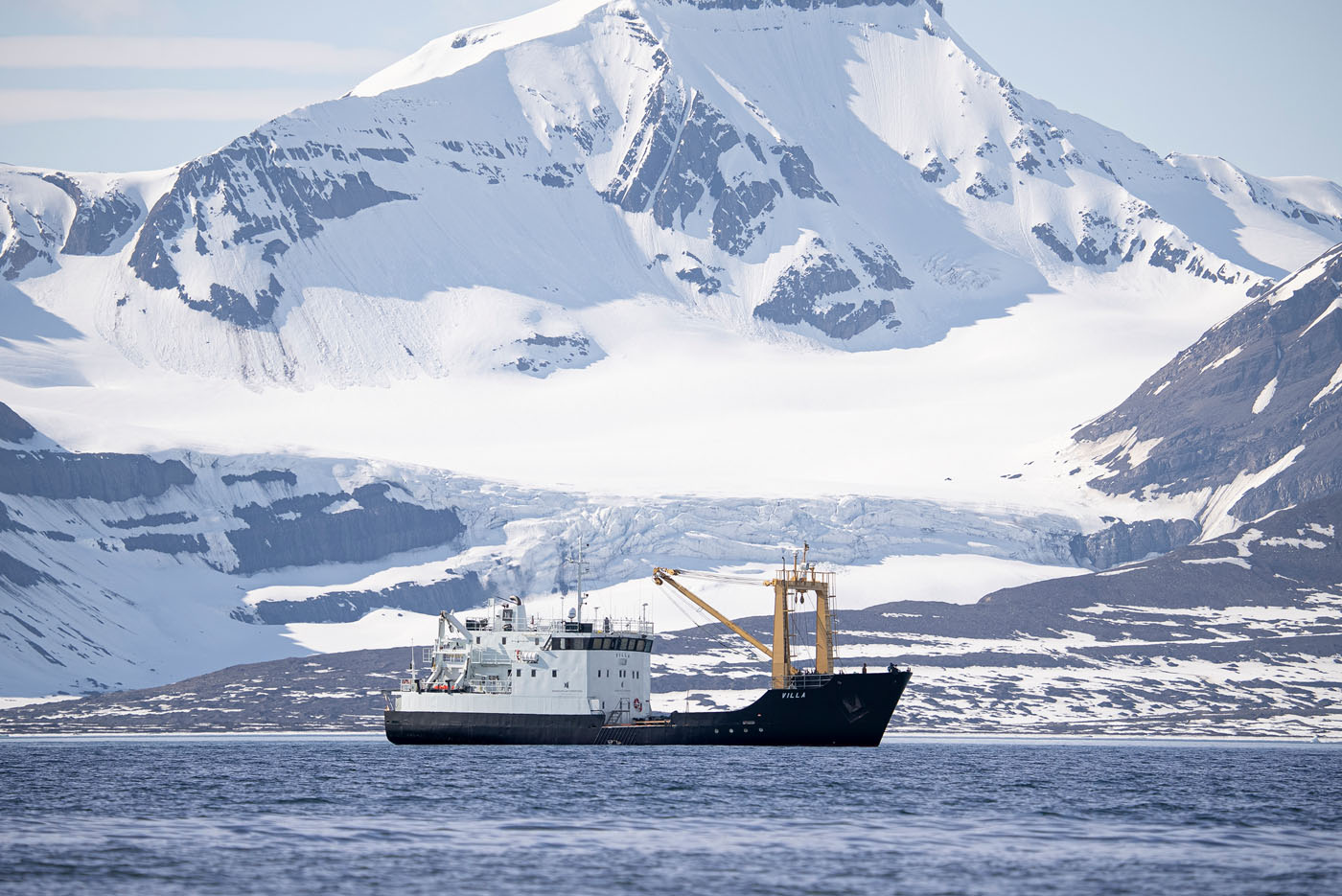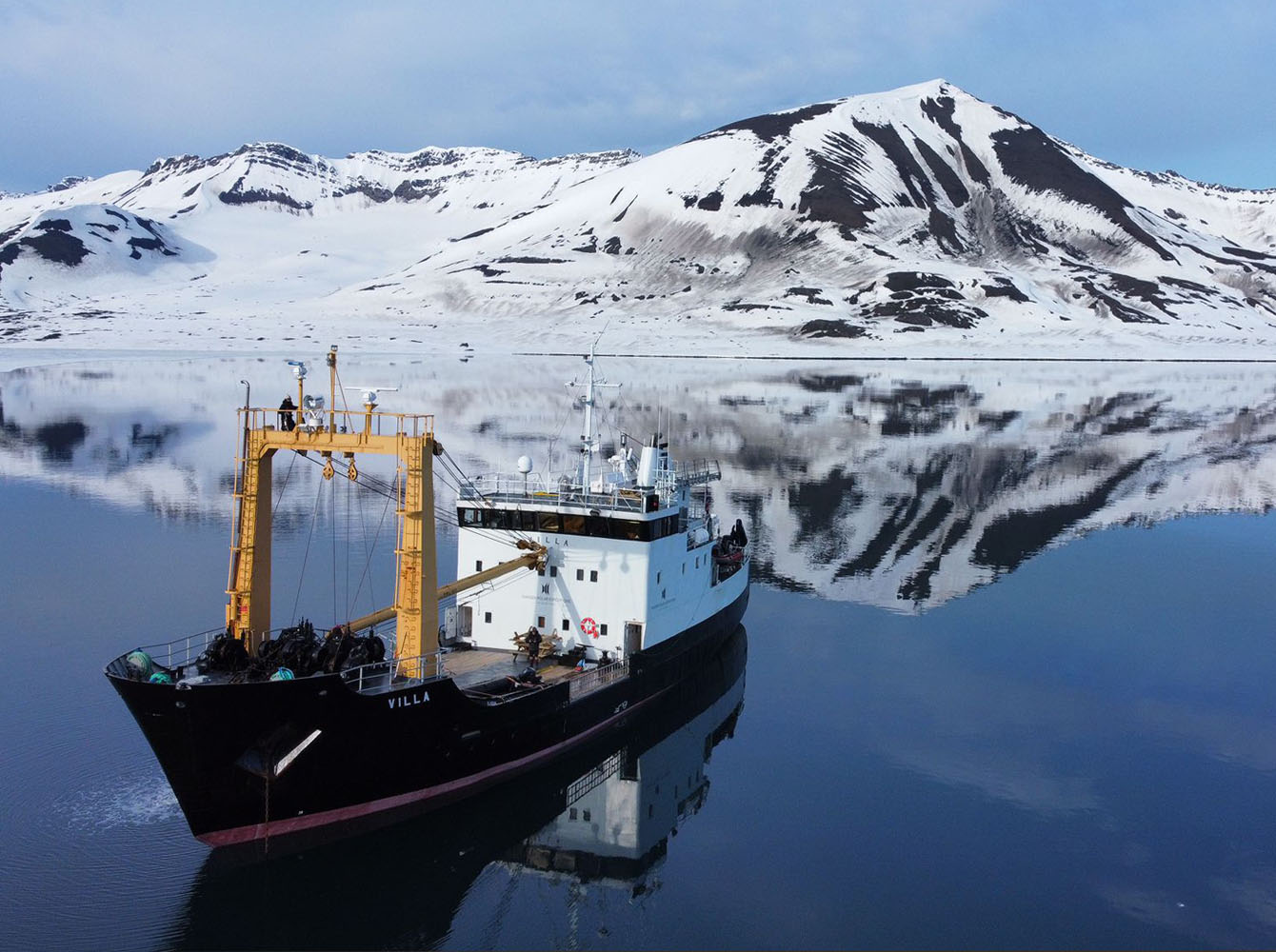 CABINS
MV Villa features accommodation for up to 12 passengers in 6 different cabins. On deck, suites Nansen and Amundsen offer private bathrooms whilst cabins Boyd and Shackelton share a separate shower room and bathroom between them, as do cabin Andree and Arnesen on deck 1. Named after the great polar explorers, all accommodations onboard feature an ever-changing view of the Arctic.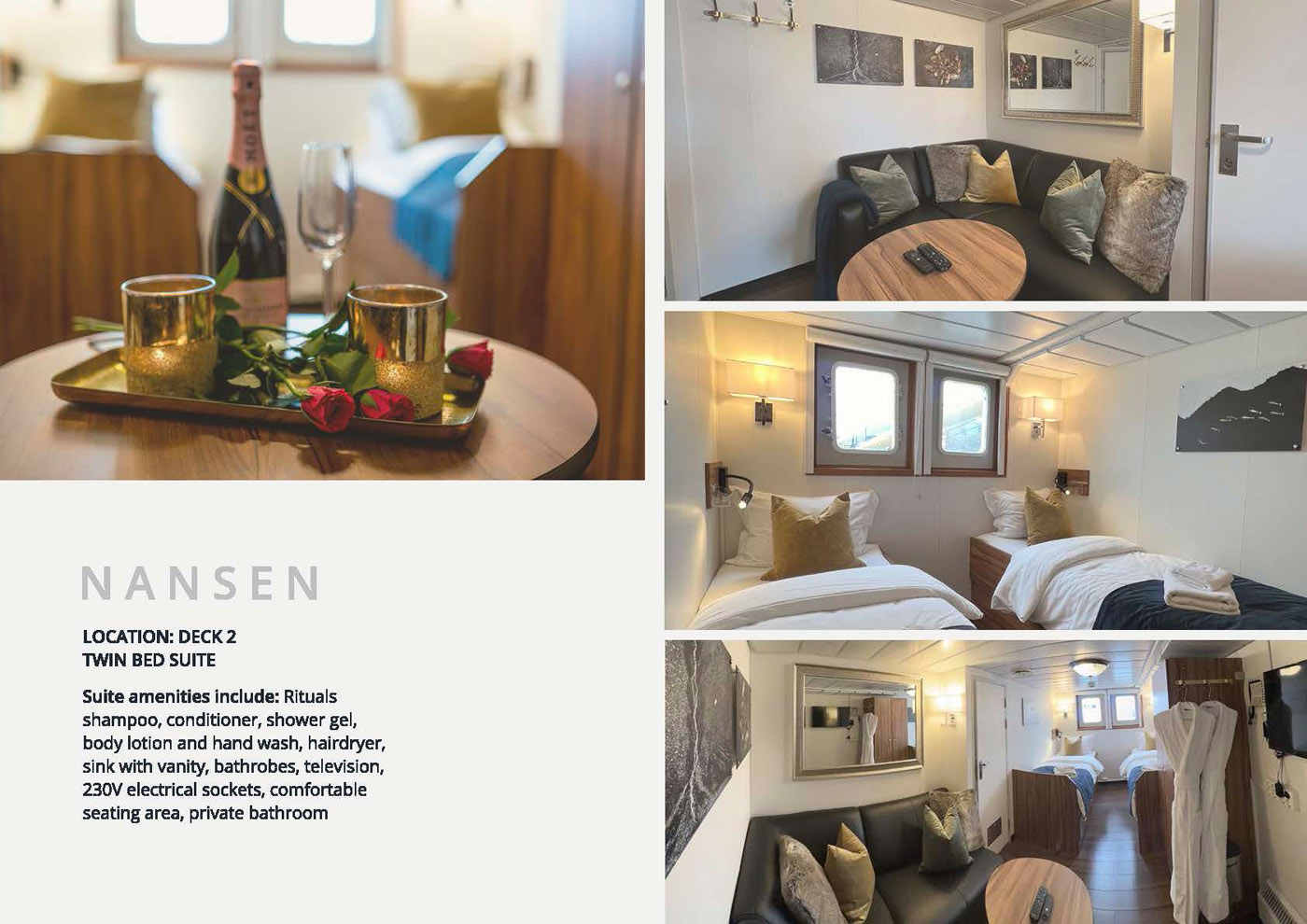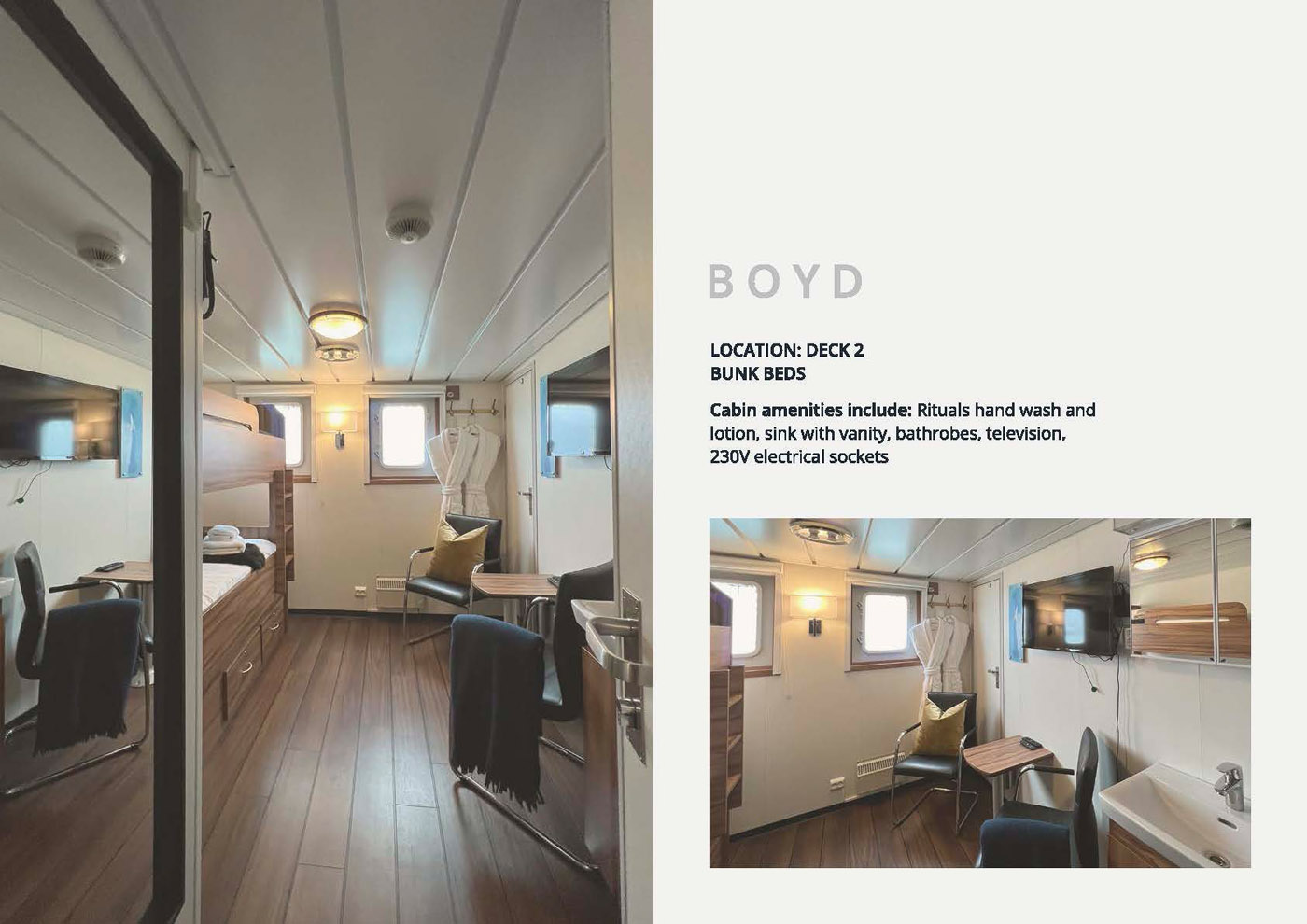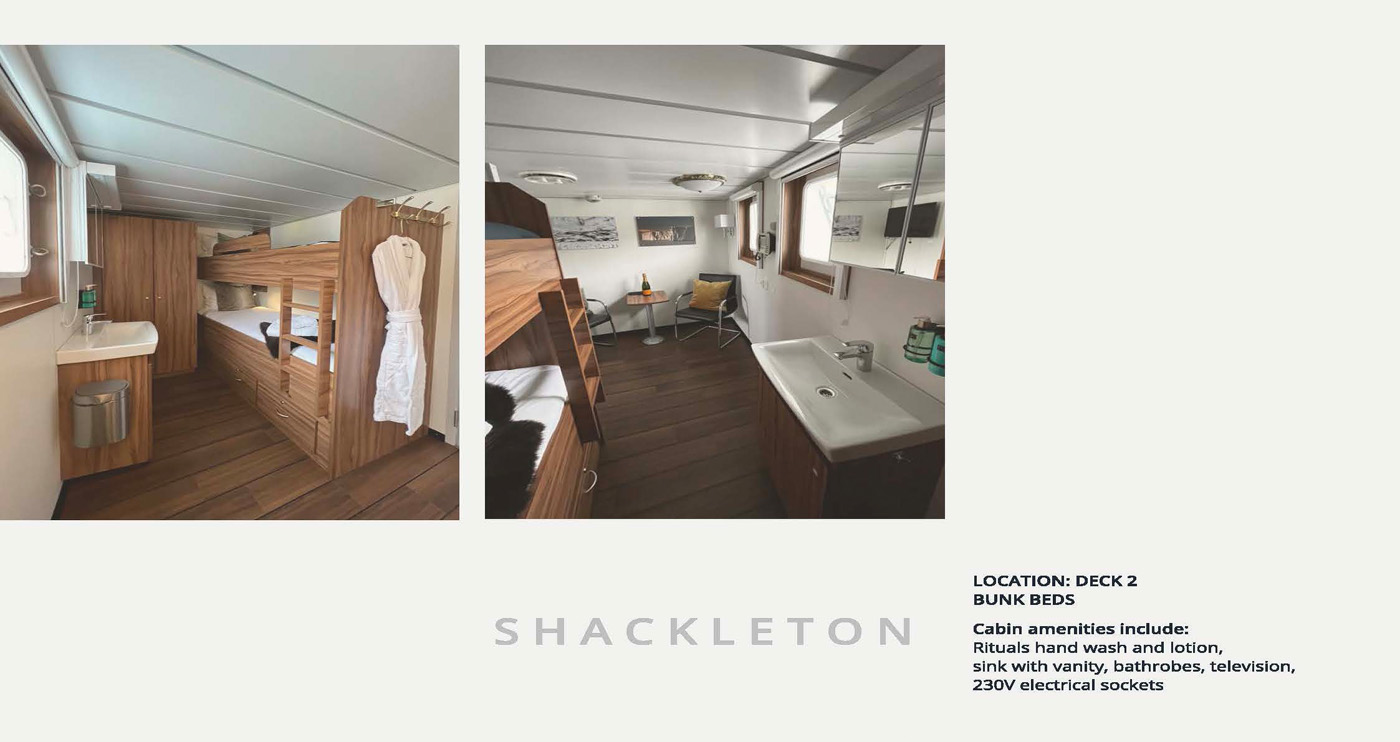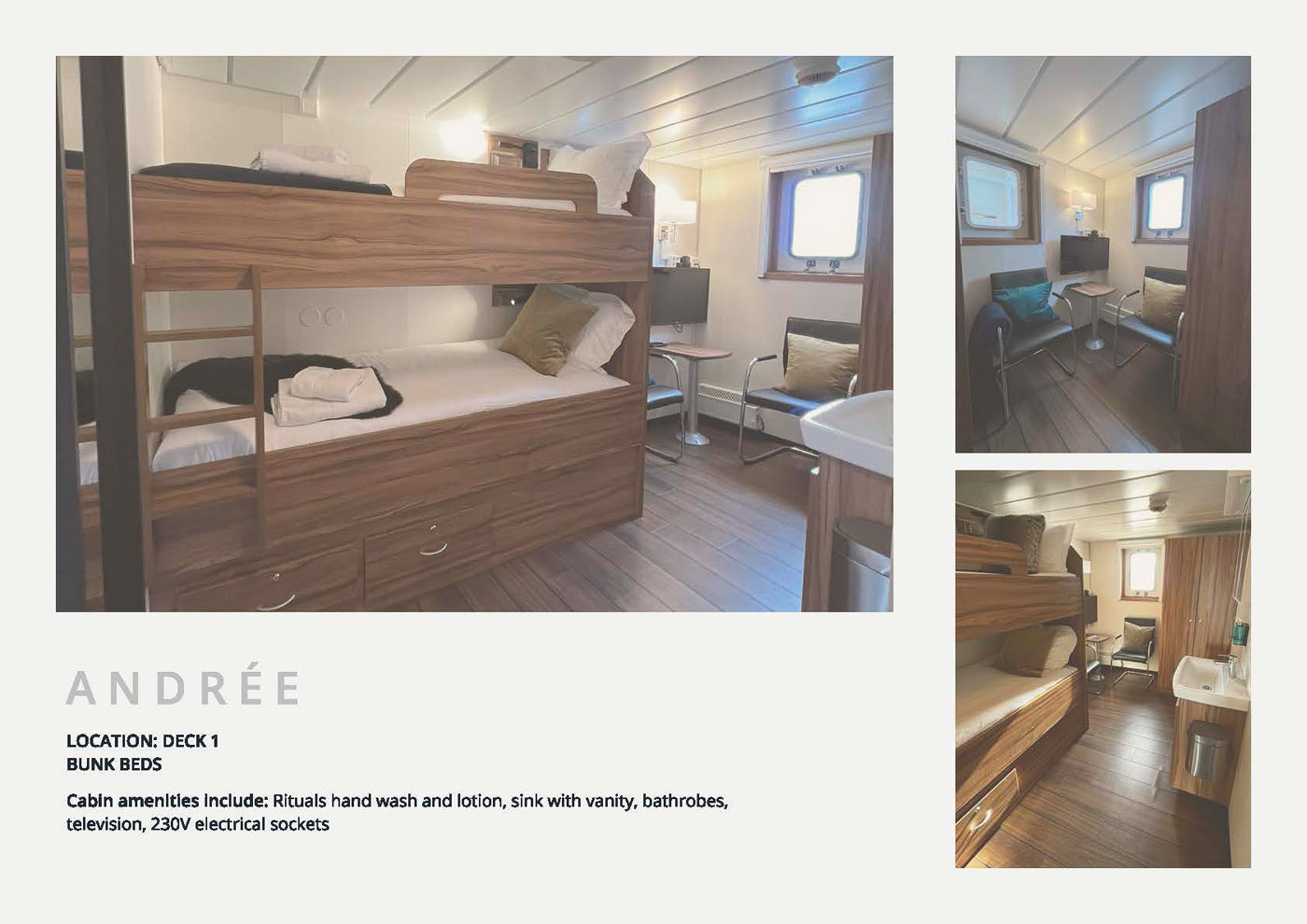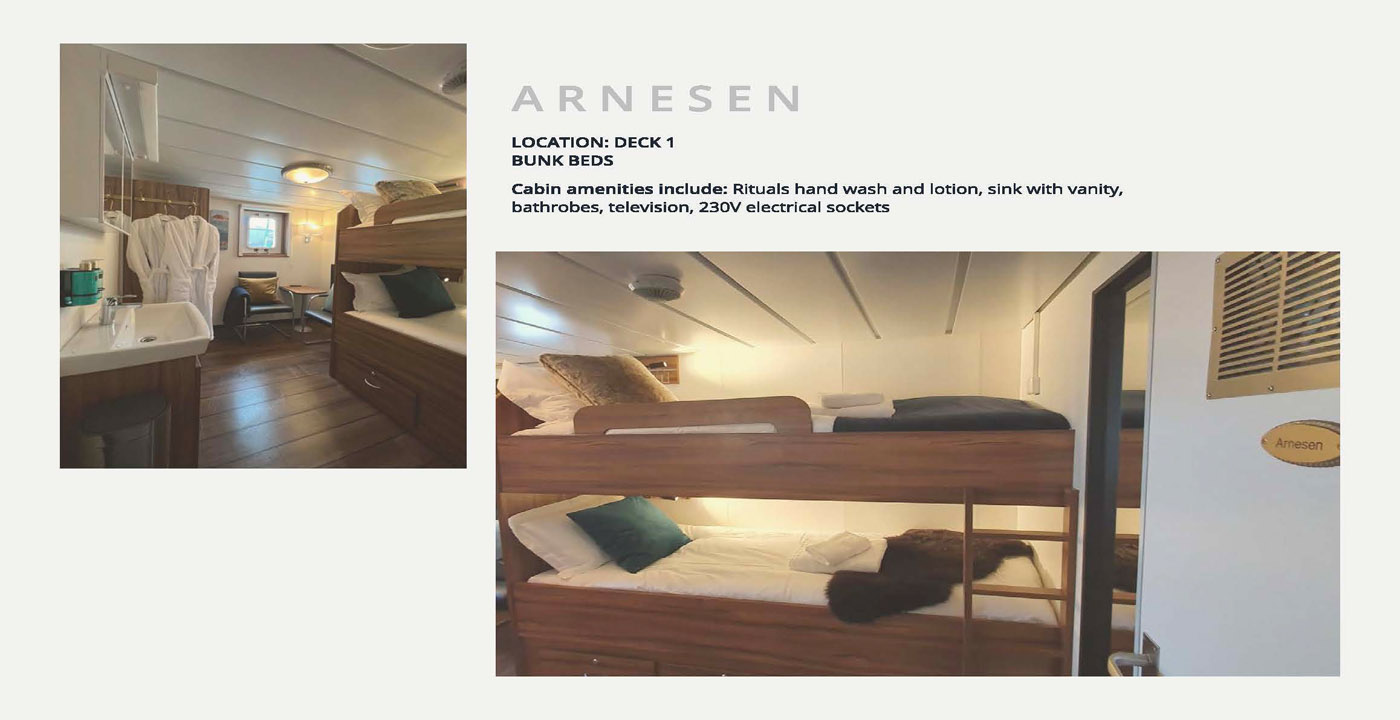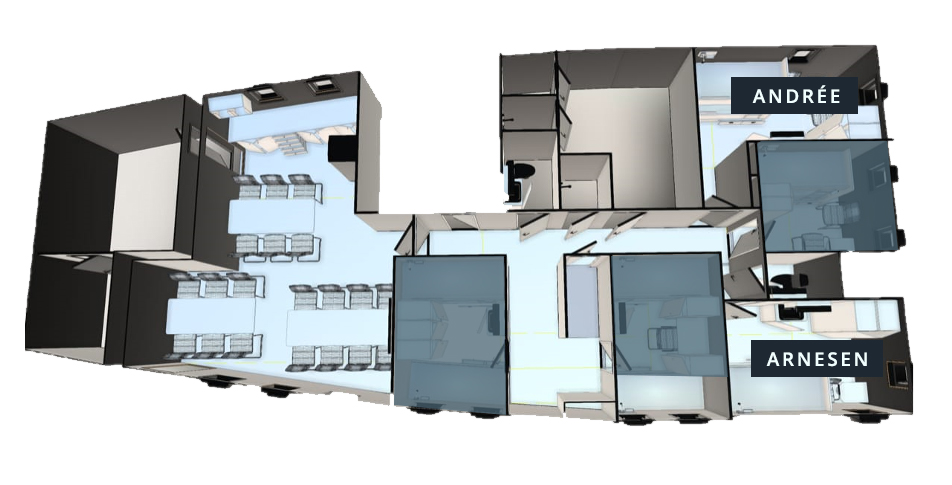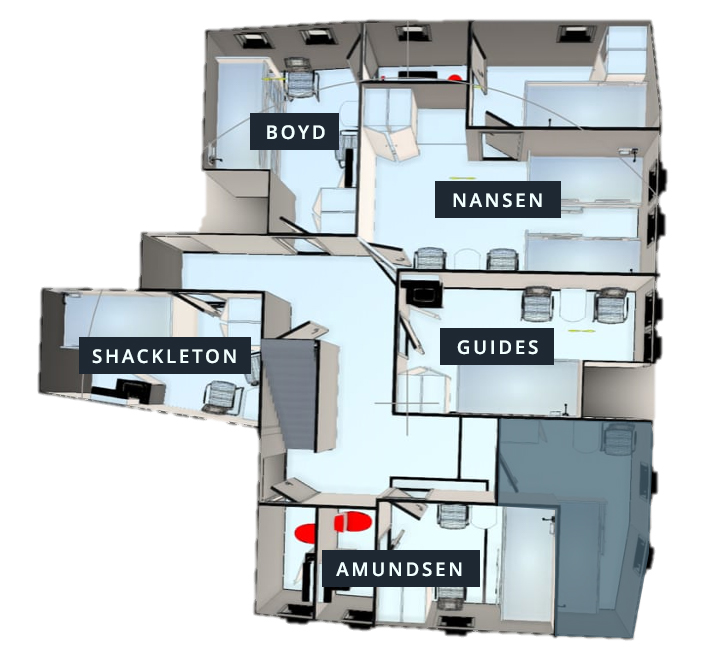 Total Price: €9990 per person in a 2-bed regular sharing cabin (bunk beds, shared toilet). Available cabins: Boyd, Shackelton, Andree (2 spaces), Arnesen (2 spaces).
€11250 per person in Amundsen suite (bunk beds, ensuite toilet. 2 beds available).
€12500 per person in Nansen Suite (side-by-side twin beds, ensuite toilet) SOLD OUT
Upon booking, please let me know which cabin you are interested in and I will accommodate, if available.
Due to the cabin limitation, single accommodation is not available (unless you pay for 2 places).
Deposit: €3990
Maximum Number of Participants: 11
Physical Difficulty: Beginner+. We will be onboard the ship unless we take the zodiacs. There will be no serious hiking. Temperatures can be quite low this time of year and will probably range between -15 and -5 degrees Centigrade.
*Multiple discounts may or may not apply, please consult me.
Workshop Price Includes
9 days and 8 nights aboard the MV Villa, an ice class B ship fully designed and equipped to operate in Svalbard's icy waters.
Wonderful food throughout the workshop.
Daily cabin housekeeping and turndown service.
Zodiac excursions to get up close with the wildlife.
Transfer to/from Longyearbyen Airport (LYR) or the hotel/accommodation you are staying in to MV Villa
Photography guidance by a professional nature photographer, accompanied by local experts
Critique sessions and post-processing assistance when possible.
Taxes on all services listed above
Workshop Price Does Not Include
Flights to and from Svalbard Airport, Longyearbyen (LYR).
Hotel accommodations and food on day 0 (April 20th, 2024).
Insurance. It is MANDATORY to insure yourself against physical injury, and highly recommended to insure your photo gear. Tour leaders will not be responsible in case of any personal injuries or damage to photographic gear as a result of an accident during the workshop. A good insurance policy can make a big difference should something happen, and ensure a safe return home.
Visa arrangements and charges should you need one. Svalbard is a visa-free zone, but travelers who have a visa requirement to enter mainland Norway/the Schengen area must have a Schengen visa if they travel via mainland Norway/the Schengen area.
Alcoholic drinks.
Non-meal-time snacks or soft drinks.
Gratuities to the local staff
Photography Equipment
A digital camera, preferrably a DSLR camera with a full-frame sensor, since these cameras have better low-light capabilities. However, a crop-sensor DSLR will also completely suffice. A compact camera can be used, as long as you understand its limitations.
An ultra wide angle lens. For example, an 11-24mm or 16-35mm.
A mid-range zoom lens such as a 24-70mm.
A telephoto zoom lens, such as a 70-300 or 100-400. A stabilized lens is recommended.
An stabilized ultra-telephoto lens such as a 150-600mm for wildlife shooting.
Highly recommended: a camera drone (contact me for help).

Clothing
Full thermal gear is essential. I typically wear a thick thermal base layer, a heavy fleece coat and a down coat.
Good quality warm gloves. It's important to use gloves which enable you to operate the camera while wearing them.
Thermal long-johns
Water resistant trousers (preferably thermal)
Fully waterproof rubber boots with sturdy, high-traction soles. Knee-high boots that are completely waterproof are important so that your feet will not get wet when you step into shallow water during landings. Contact me for recommendations.
Thermal socks. I recommend bringing at least 2-3 pairs.
A neck-warmer or a scarf
A good warm hat which covers your ears.

Other
Pills against motion-sickness.
Sun glasses.
Sun lotion.
Anything else to make your 9-day sail comfortable in the limited space available.
Payment Procedure
In order to secure your spot, you are required to transfer a deposit of €3990. This deposit will be refunded only in case the workshop gets cancelled for some reason. For your comfort, the deposit can be payed either through PayPal or via bank transfer (contact me for details).
The full amount (after discounts if applicable) must be payed via wire transfer 90 days prior to the workshop starting date. You may pay with any major currency.
In the case you need to cancel your participation, a 67% refund (excluding deposit) will be given up to 75 days prior to the workshop starting date and a 33% refund up to 60 days prior to the workshop starting date.
I reserve the right to increase the price of the workshop if costs rise due to unexpected changes in fees, taxes or exchange rates. This is, of course, highly unlikely.

Disclaimer
Though very improbable, workshop dates might shift a few days here or there, up to 6 months prior to start date. Please contact me if you have schedule limitations.
The tour plan above is subject to change. Weather and ice conditions in the Arctic can be unpredictable, and so in case of harsh weather, we may have to divert from our immediate plans.
Important: In order to join the workshop, you will be required to sign a contract that establishes that the tour leaders are not responsible to physical or proprietary damages, and that you understand and accept several behavioral standards (including not taking excessive risk), necessary to ensure the workshop's success and your safe return.
Wildlife sightings are, of course, not guaranteed. However, the crew will do their best to allow for as many sightings as they can.

Medication
The vessel has a well equipped medical suite, however there is no doctor available on board.The Captain and officers are well trained in first aid and shipboard medicine. Please make sure that you bring any medication you might need with you.

*Multiple discounts may or may not apply, please consult me.
Erez Marom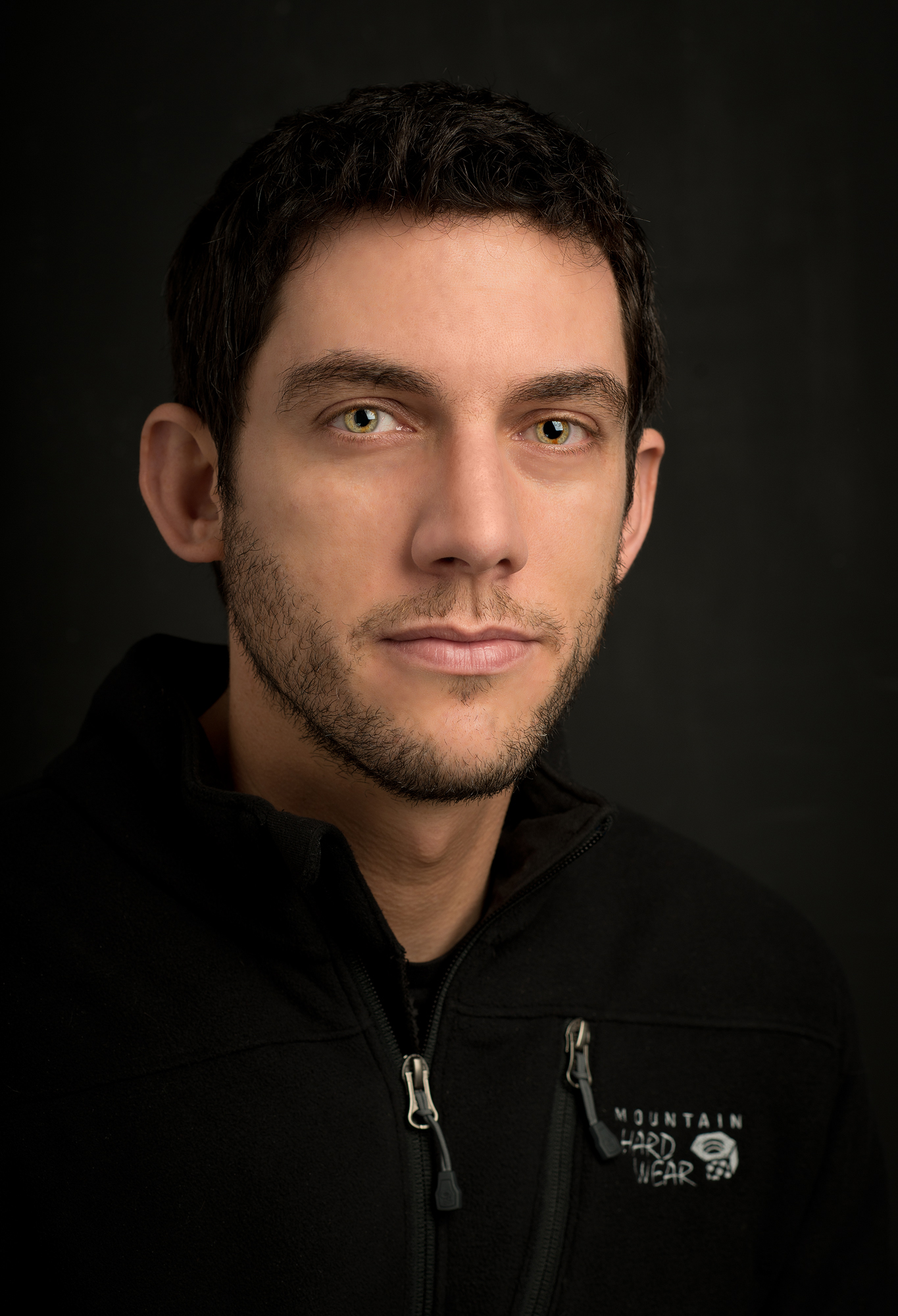 Born in 1980, Erez Marom is a full-time nature photographer, photography guide, writer and traveler-adventurer based in Israel. Specializing in landscape and wildlife photography, Erez spends much of his time in the field shooting the wildlife and scenery of his favorite locations in Israel and overseas.
In addition, Erez publishes articles and instructional texts in leading magazines and websites, and dedicates a considerable amount of his time to sharing his experience and knowledge by lecturing worldwide and traveling several times a year to guide his unique photography workshops.