'SIETE COLORES' - COLOMBIA PHOTO WORKSHOP
Price: €6790 pp (or $US equivalent, price valid until December 31st, 2021) / Deposit: €2790 pp
AVAILABILITY
6th - 17th August 2022
Colombia is bursting with natural wornders. Not only is it the 2nd most biodiverse country in the world, it also offers incredibly diverse and beautiful landscapes. In this 12-day workshop we will cover 4 of the most interesting natural environments a photographer can imagine: From the most beautiful river in the world - Caño Cristales with its 5 colors, numerous waterfalls and red riverbed, through the jurassic setting of Valle de Cocora with the tallest palm trees in the world, on to the badlands and cacti of Tatacoa Desert and finally the curious, gigantic monolith of El Peñón de Guatapé. Colombia's landscapes are incredibly unique and cannot be found anywhere else. We will shoot these 4 locations from the ground and using a drone, maximize our time and work on improving your shooting in a wonderful place.
Main Features
12 days in 4 of Colombia's most stunning and diverse locations: Caño Cristales, Cocora Valley, Tatacoa Desert and Guatape.
Small group size (max 7) guarantees unparalleled personal attention
August schedule promises full bloom of the red riverbed in Caño Cristales
Private transfers in luxurious vehicles, fully included 6 domestic flights to ensure quick arrivals to our locations and maximum devotion to shooting
Professional photo guidance by an experienced, award-winning landscape photographer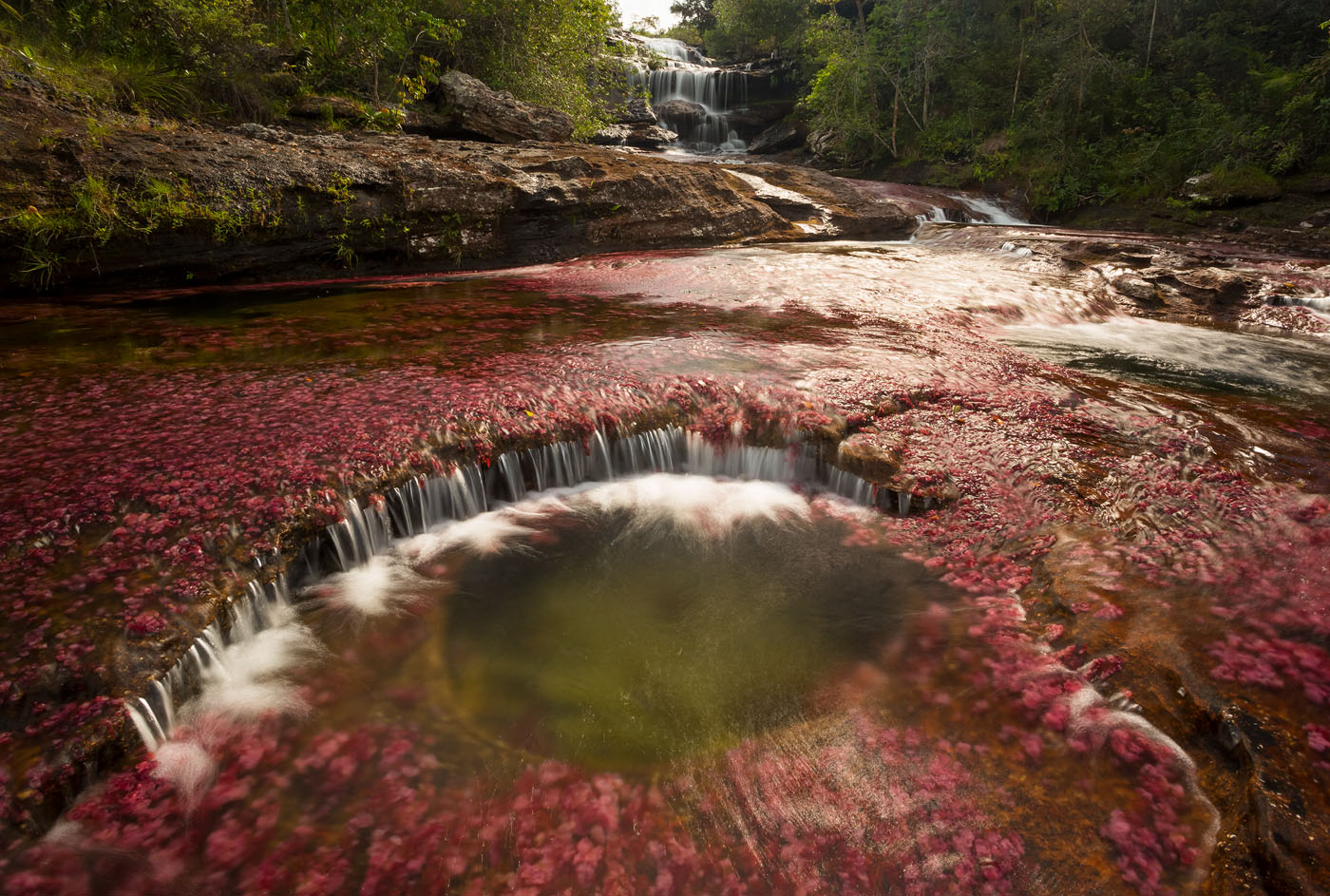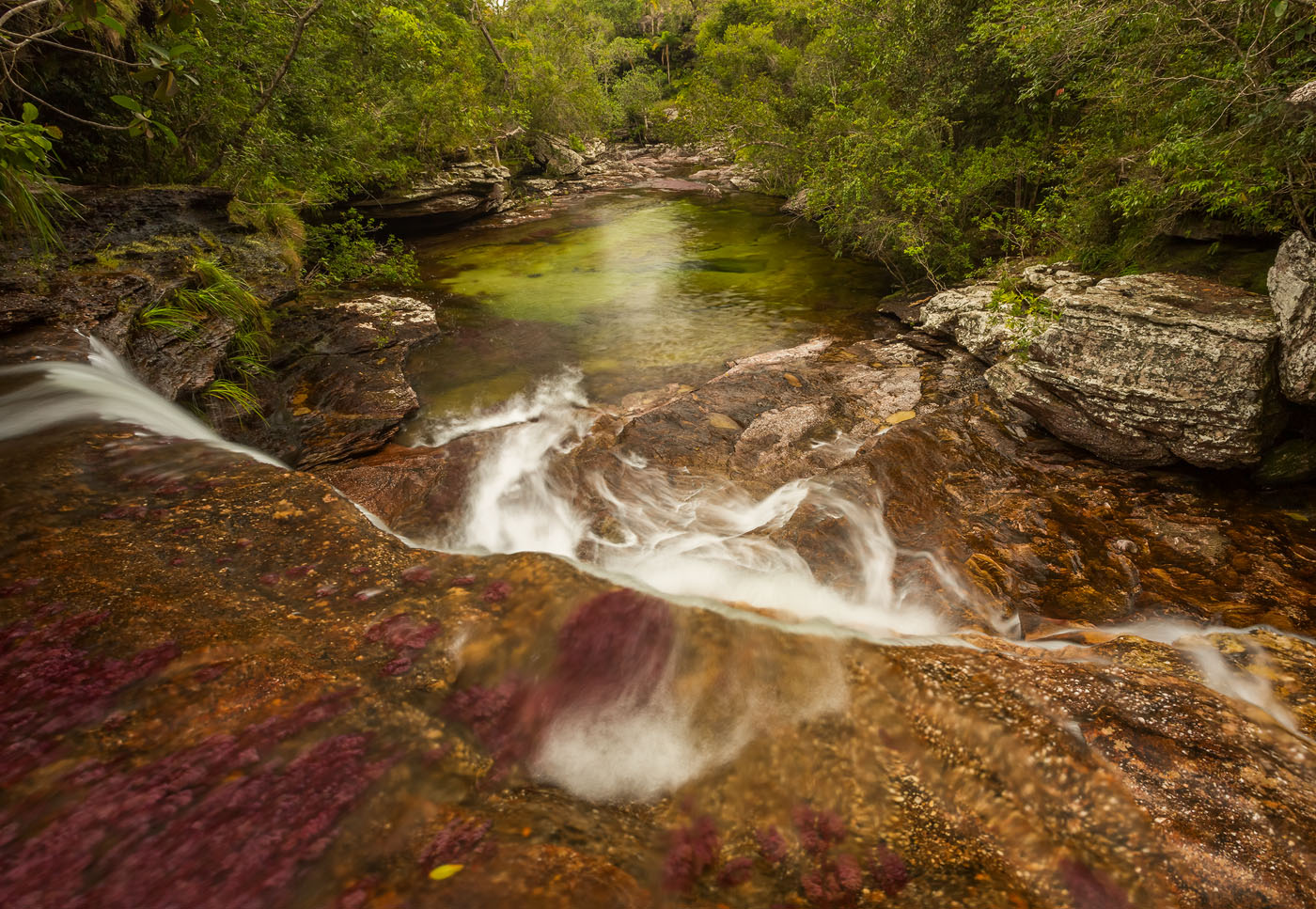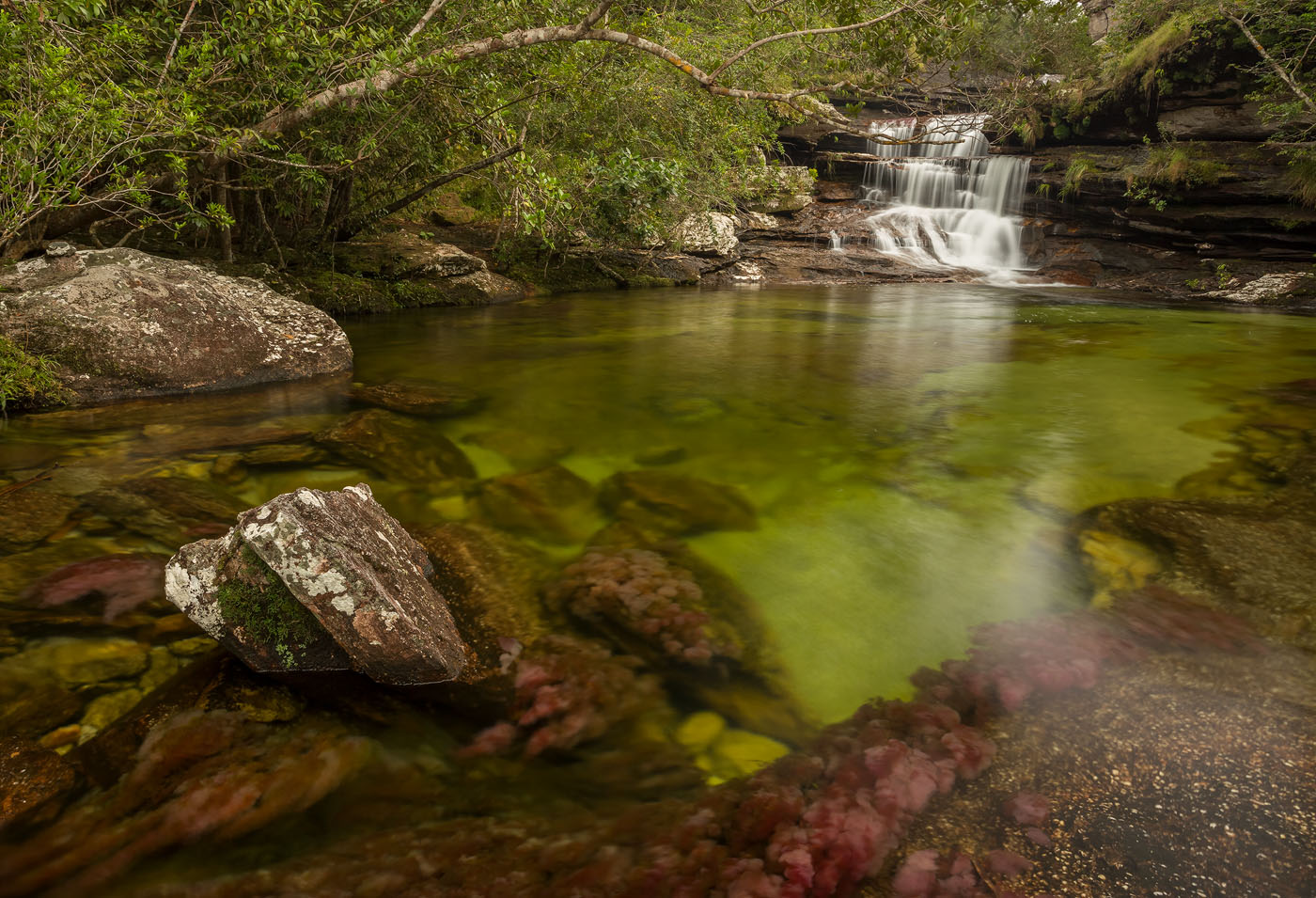 Day 1 Meeting in Bogotá
We will assemble in our comfortable hotel right next to Bogotá El Dorado Airport. We will have a meet-and-greet in the hotel's restaurant, and discuss the days ahead.
Day 2 Flight to La Macarena, Cristalitos
After an early breakfast at the hotel, we will hop on a plane for a short flight to La Macarena, a small, isolated town in the plains of central Colombia, south of Bogotá. Even though the town itself is tiny and dull, the upside of "La Mac" is that it is a base for visiting Caño Cristales, the so-called Most Beautiful River in the World, the Liquid Rainbow, the River of Seven Colors (or five, depends on whom you ask!). We will settle in our cozy hotel and go on a short hike to Cristalitos: an afluent of the main river, smaller but equally beautiful.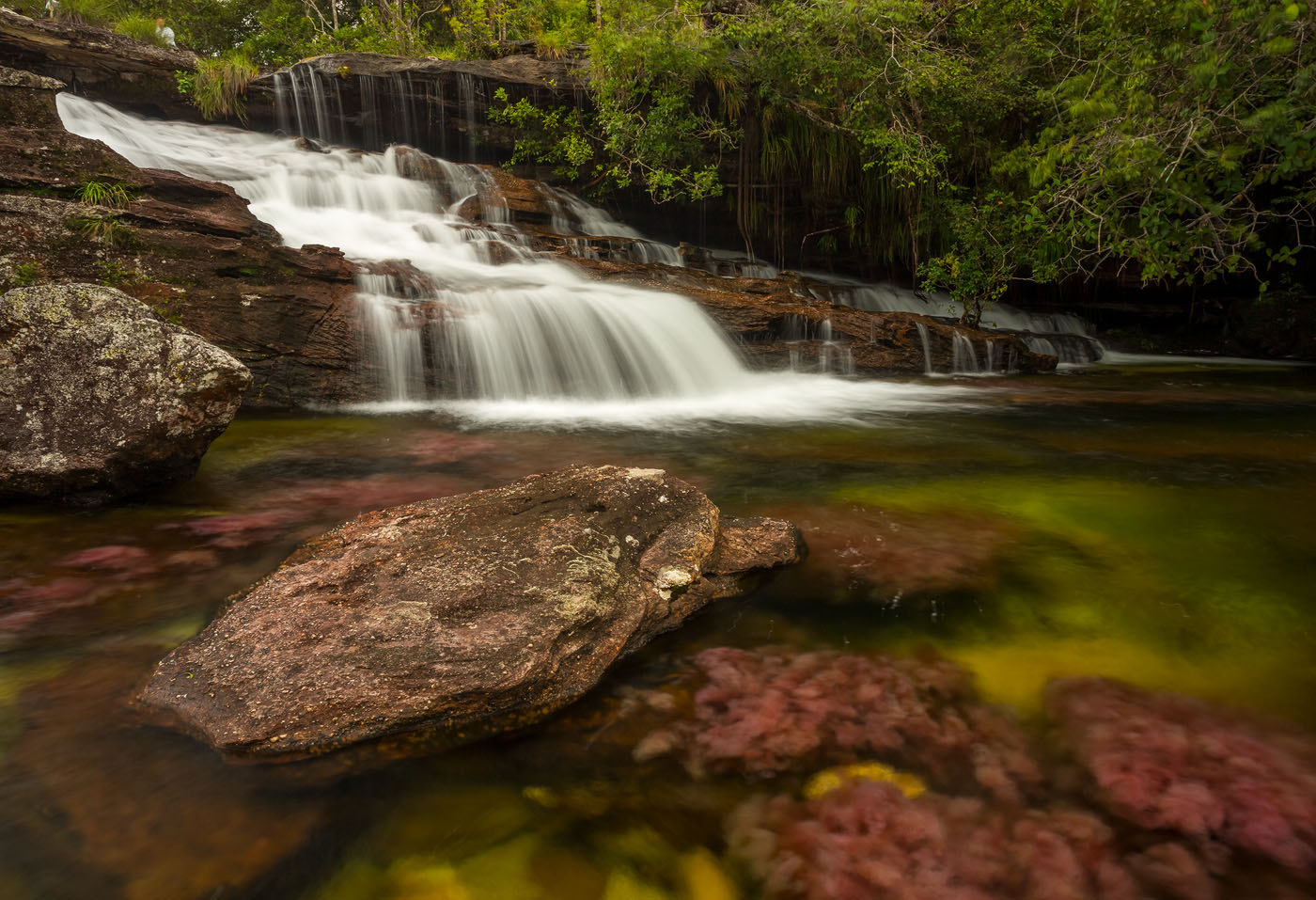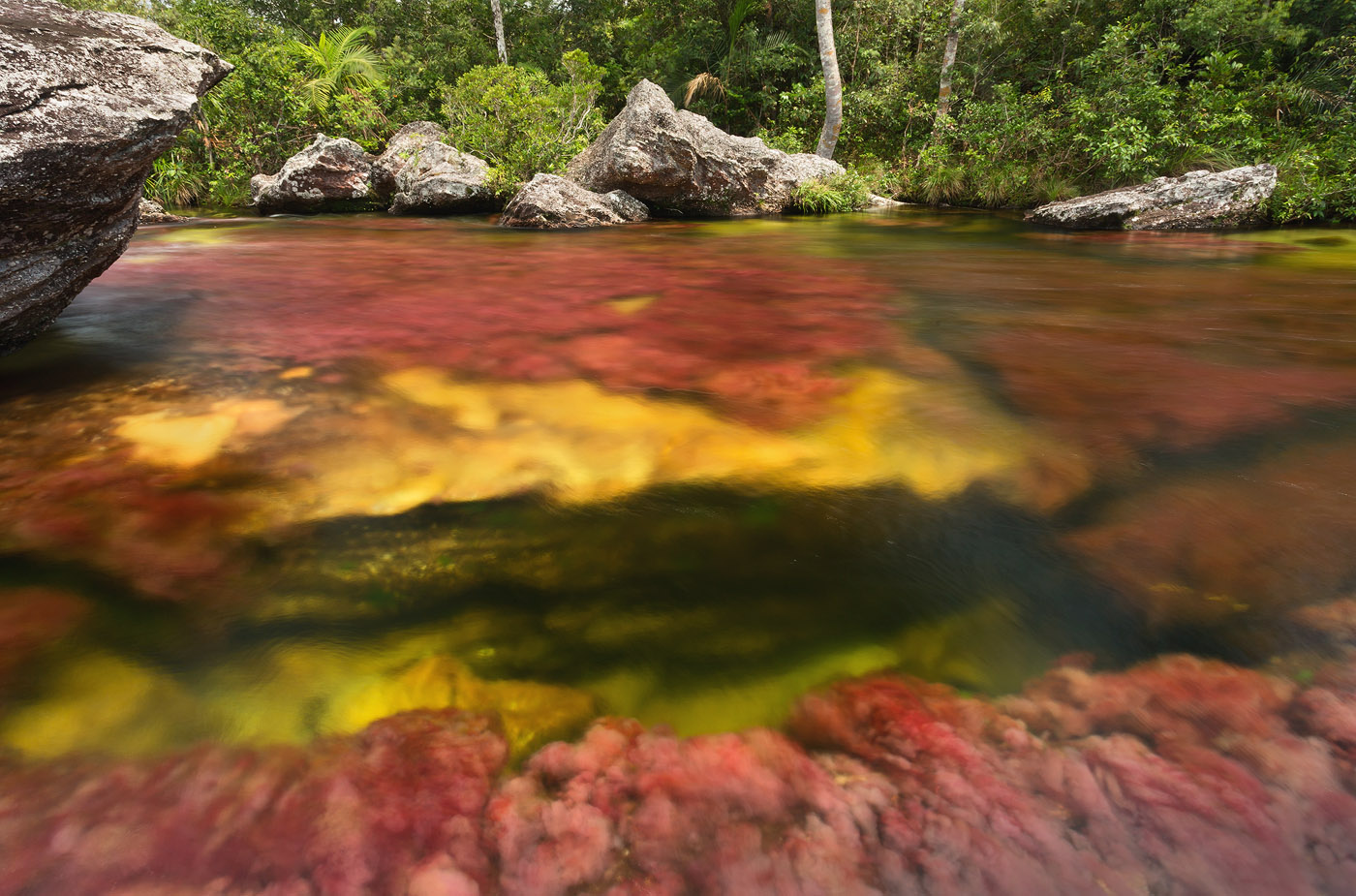 Day 3-4 Caño Cristales
Caño Cristales, arguably the most beautiful river in the world, is a tributary of the Guayabero river. The river is commonly called the "River of Five Colors" or the "Liquid Rainbow," and is noted for its striking colors.The bed of the river from the end of July through November is variously colored yellow, green, blue, black, and especially red, the last caused by Macarenia clavigera plants on the riverbed. Caño Cristales river has a wide variety of aquatic plants. The water of the river is extremely clear due to the lack of nutrients and small particles. Almost unique is the bright red - pink coloration of riverbed after the rainy period.
In addition, Caño Cristales has a wonderful mutitude of multi-level waterfalls, pools and intricacies that are a delight for landscape photographers. The locations are seemingly endless, and can be shot from the ground and from the air, by drone. To get to Caño Cristales, we must take a car ride, a boat ride and finally walk for about half an hour, but it will be very worth the effort. We will spend two full days shooting the many incredible features Caño Cristales offers.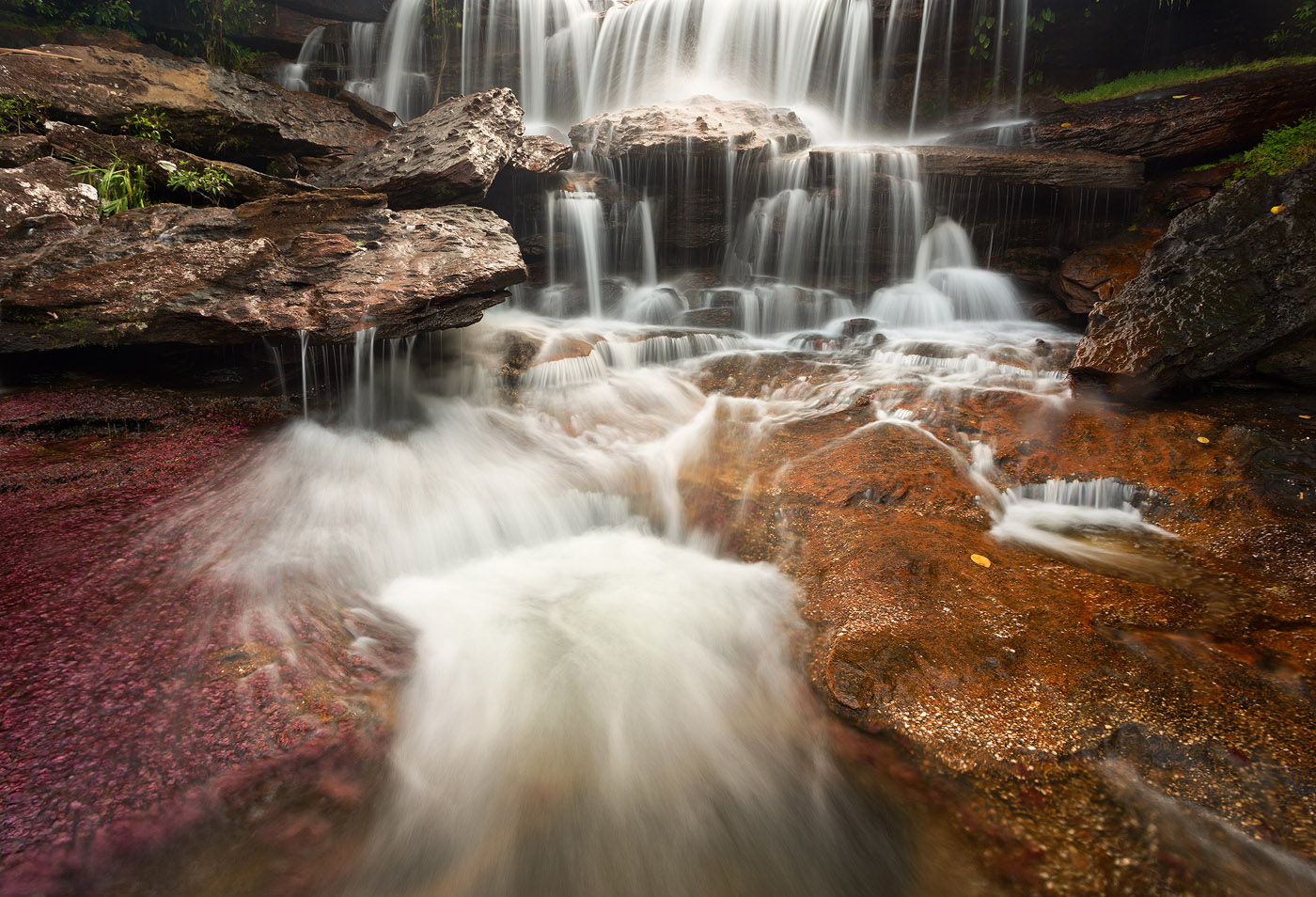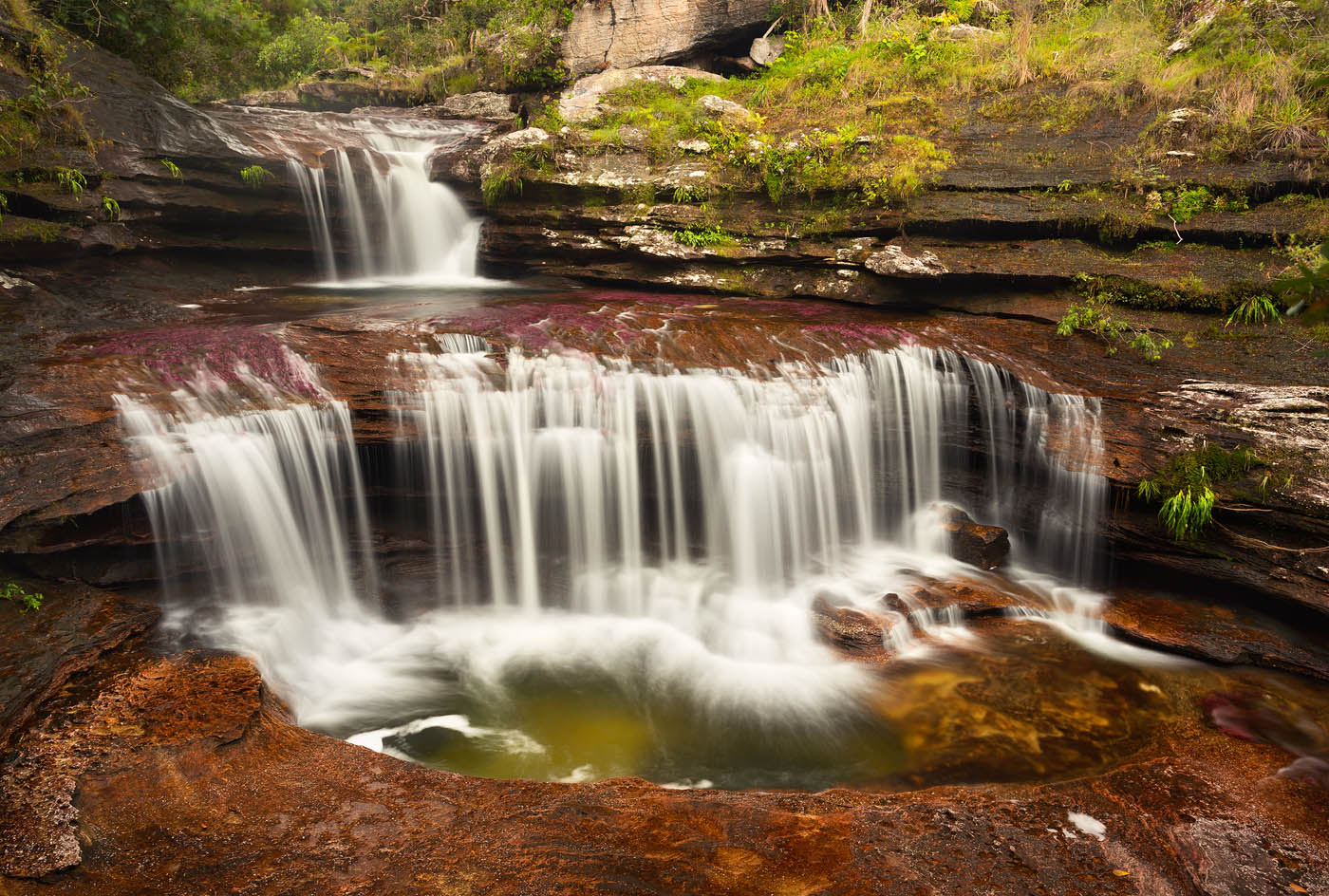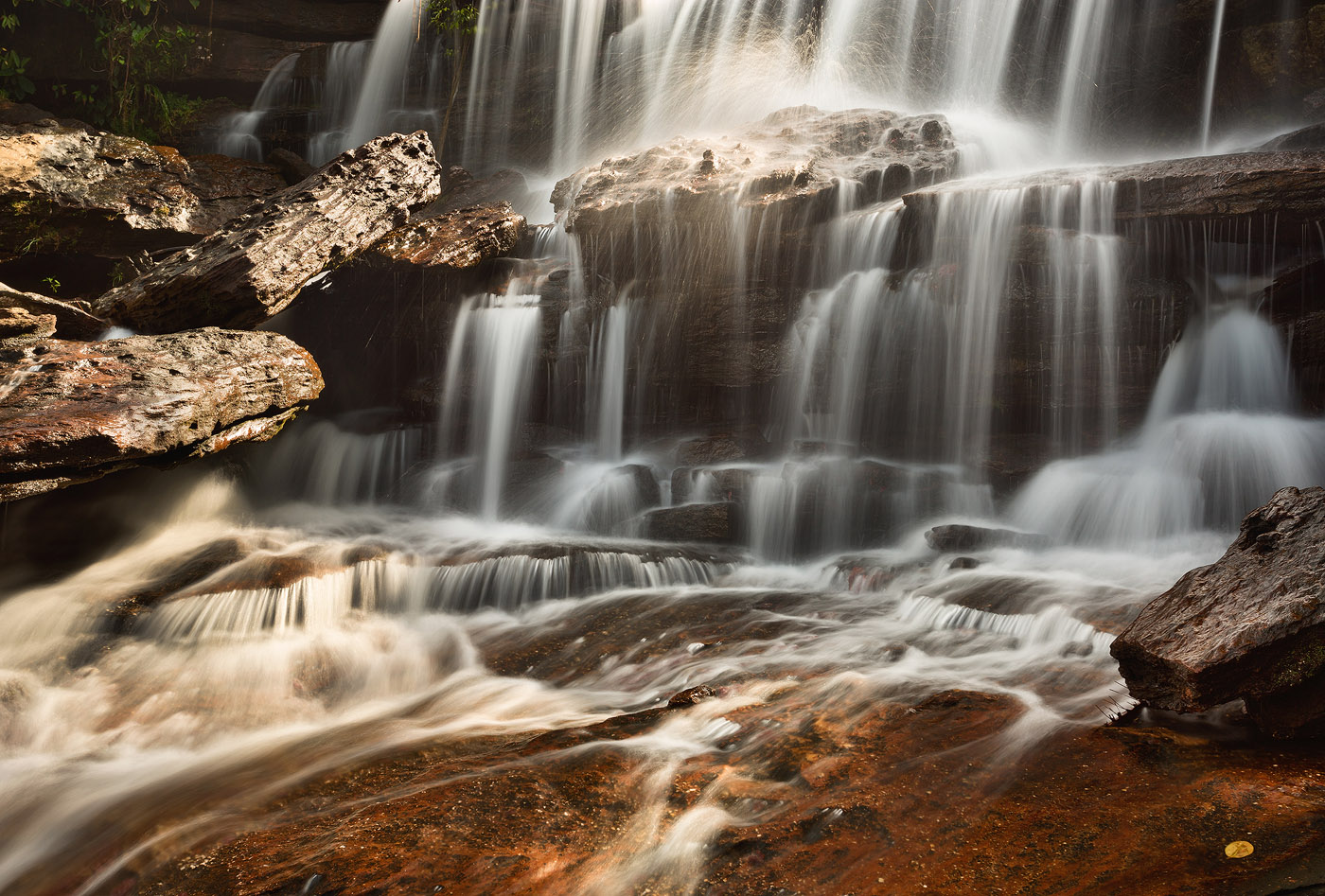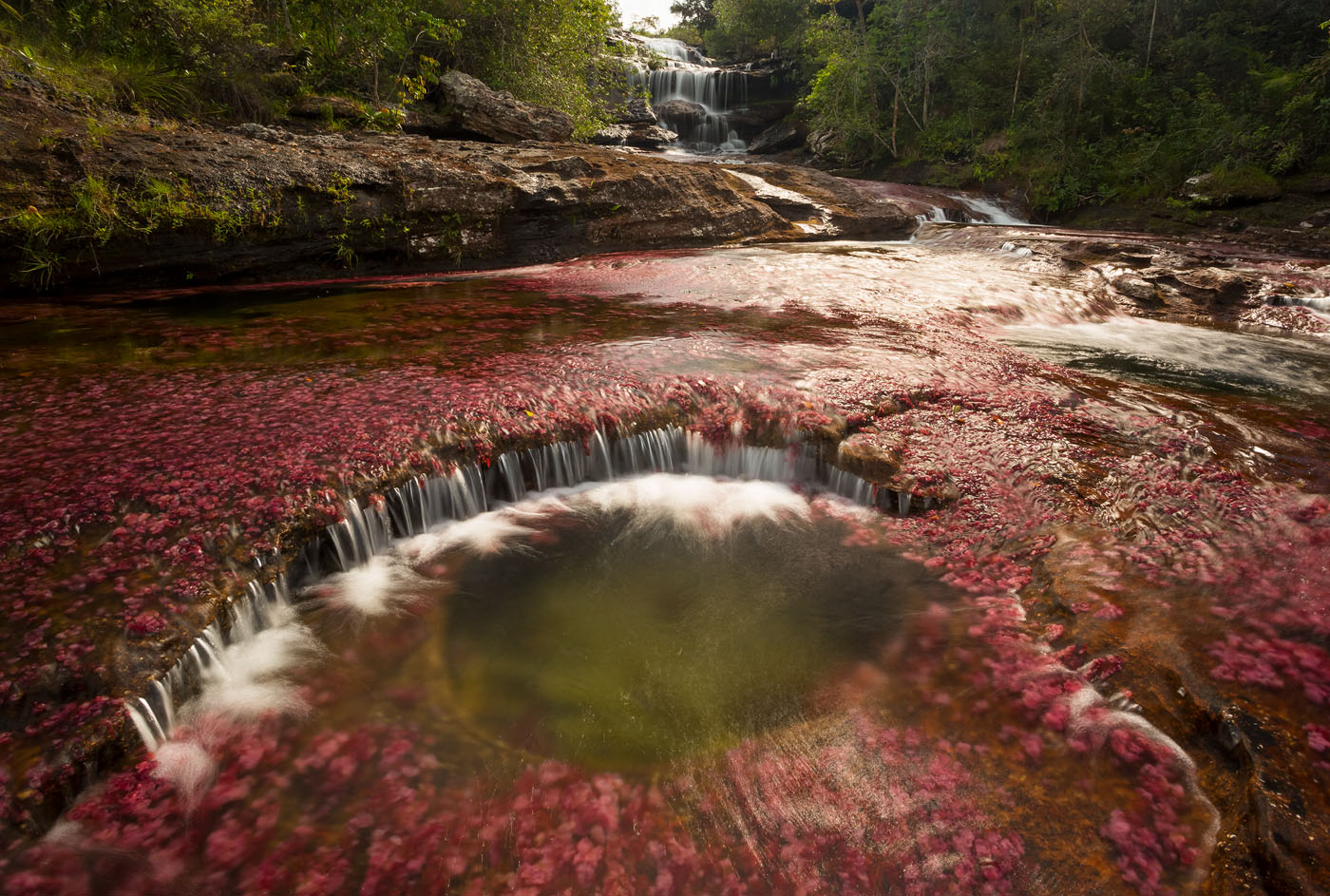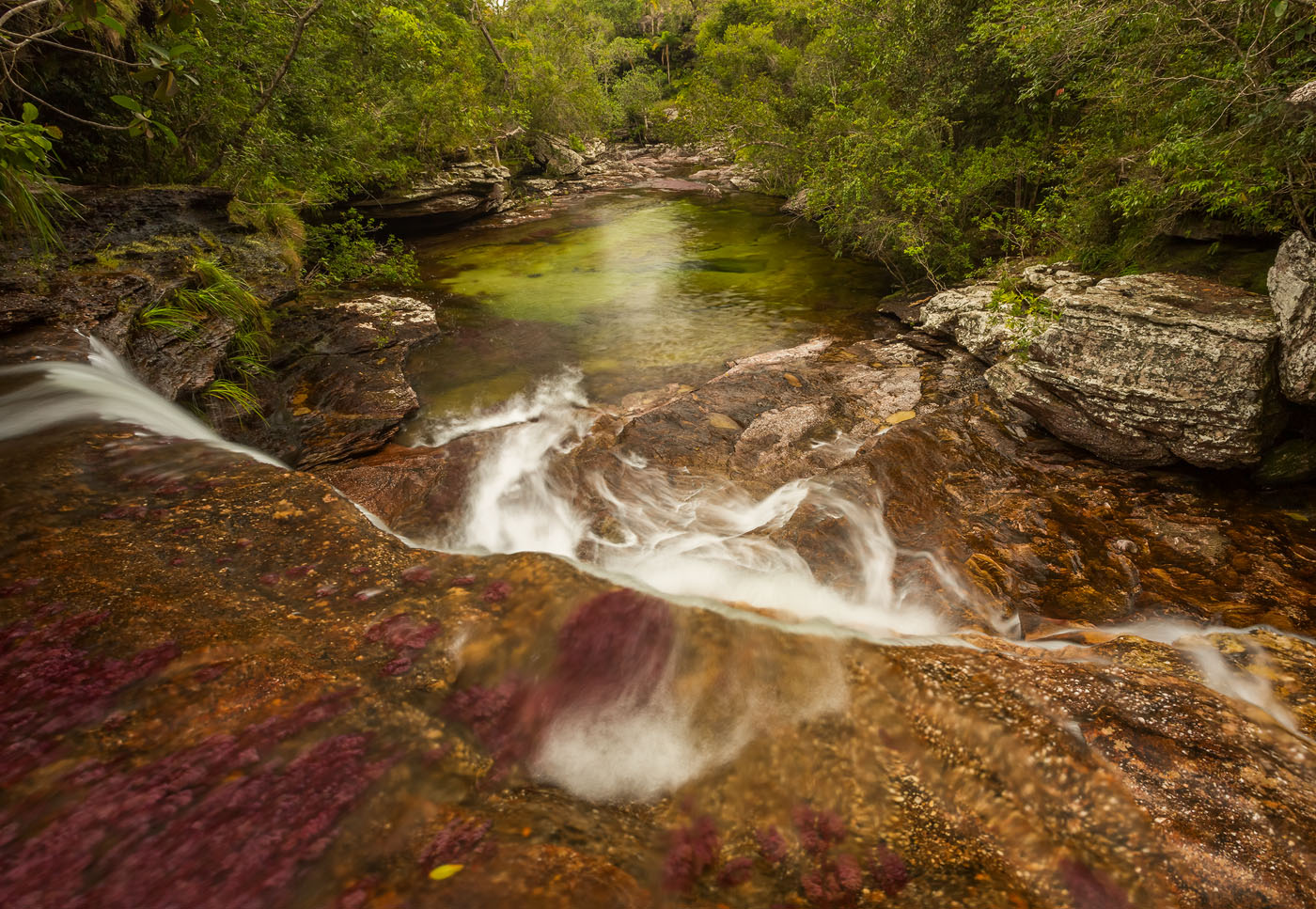 Day 5 Journey to Salento
After breakfast, we will leave La Macarena and catch a plane back to Bogota, and then another to Pereira, a city framed by the Andes mountains. We will then drive to our home for the next 3 nights: Salento, a picturesque town surrounded by beautiful nature.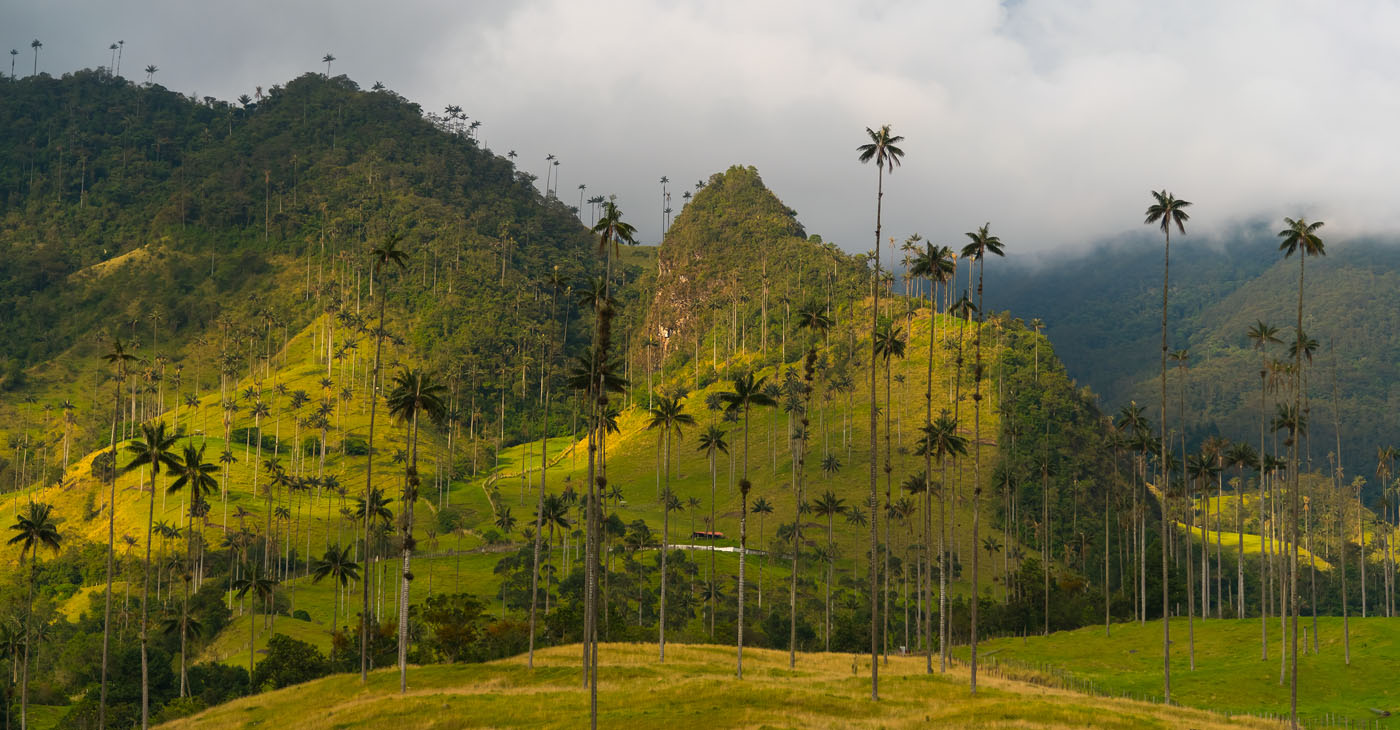 Days 6-7 Valle de Cocora
The Cocora valley (Valle del Cocora) is a valley located in the Central Cordillera of the Andean mountains. The valley is part of the Los Nevados National Natural Park, incorporated into the existing national park by the Colombian government in 1985. It is the main location where the national tree of Colombia, the Quindío wax palm can be found, as well as a wide variety of other flora and fauna (some endangered).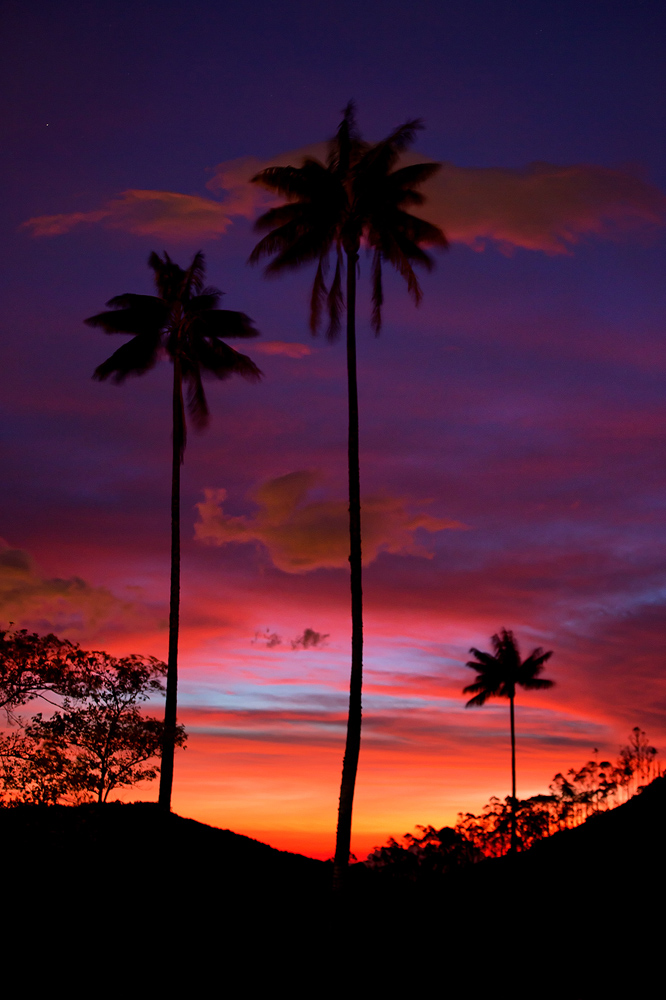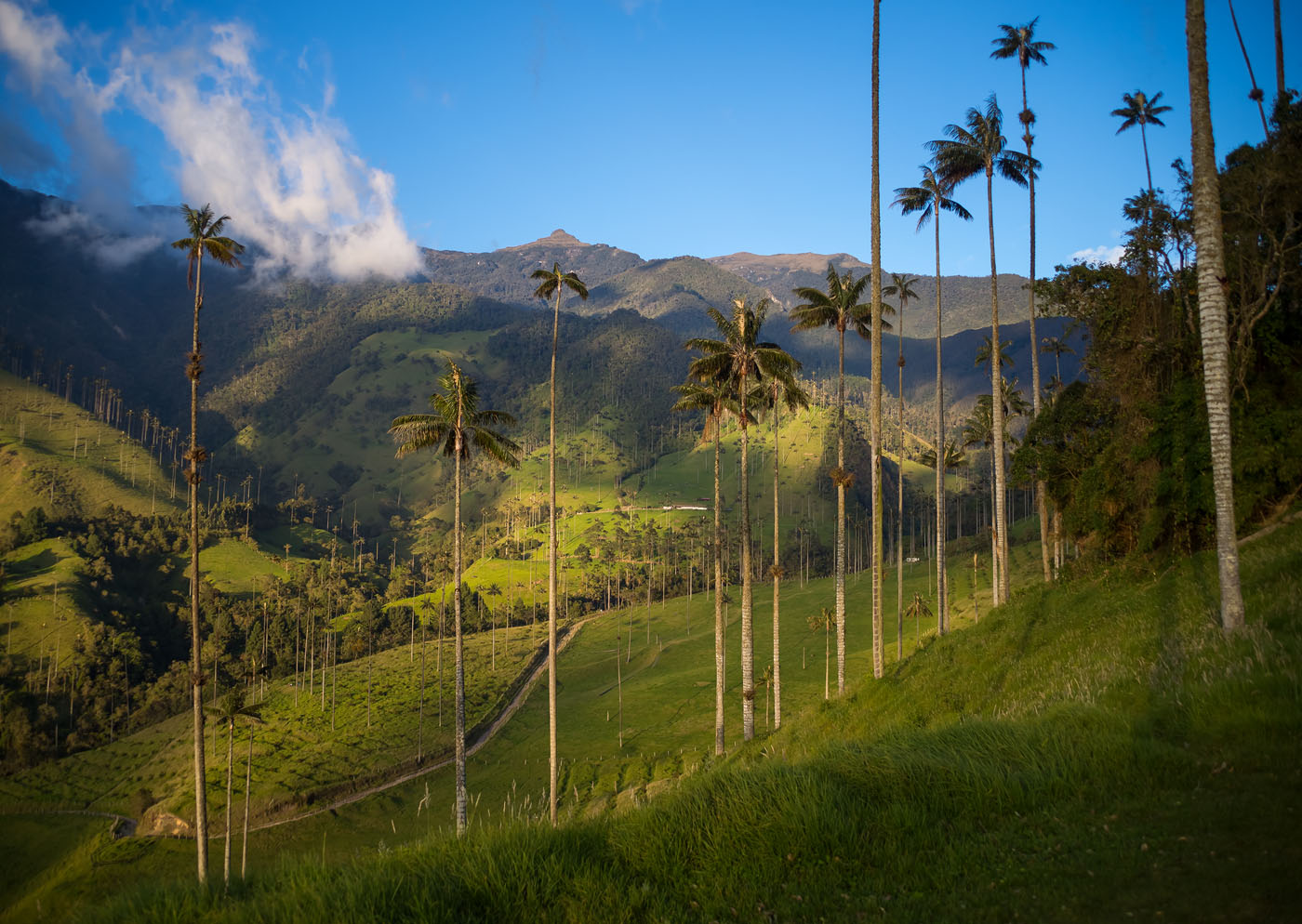 After two days of shooting Cocora Valley, eating trout and playing Tejo (a local game with explosives!), we'll move to our next destination.
Day 8 Guatapé
We will drive back to Pereira Airport, hop on a plane to Medellin, and immediately be picked up by a van to our next destination: Guatapé, where we'll settle in our hotel and drive to our afternoon shooting location.
The main natural feature in Guatapé is a striking one: El Peñón de Guatapé, a 200-meter monolith rising out of a water reservoir and surrounded by many islands and peninsulas.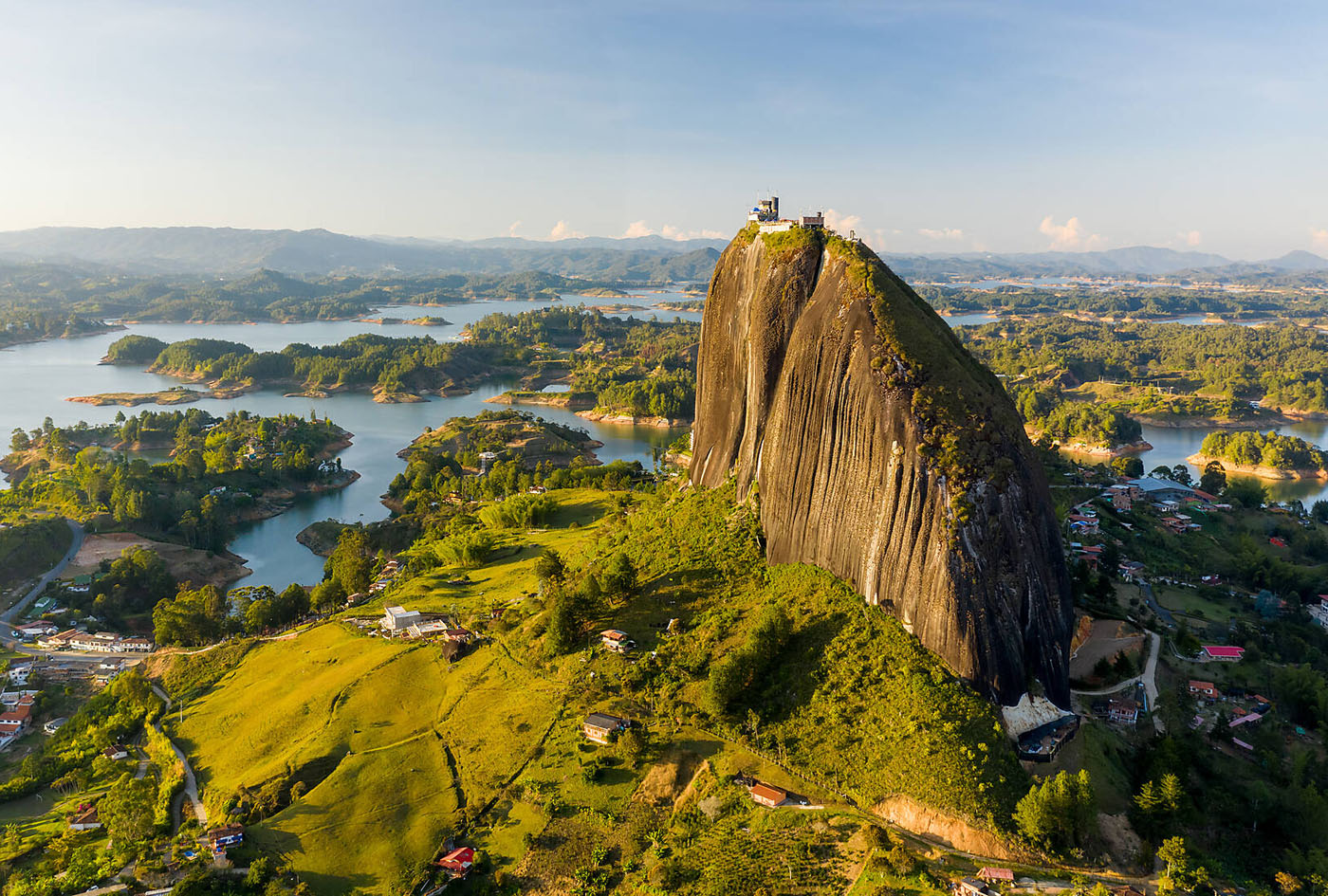 El Peñón is an incredible vantage point to shoot the surrounding islands and natural features.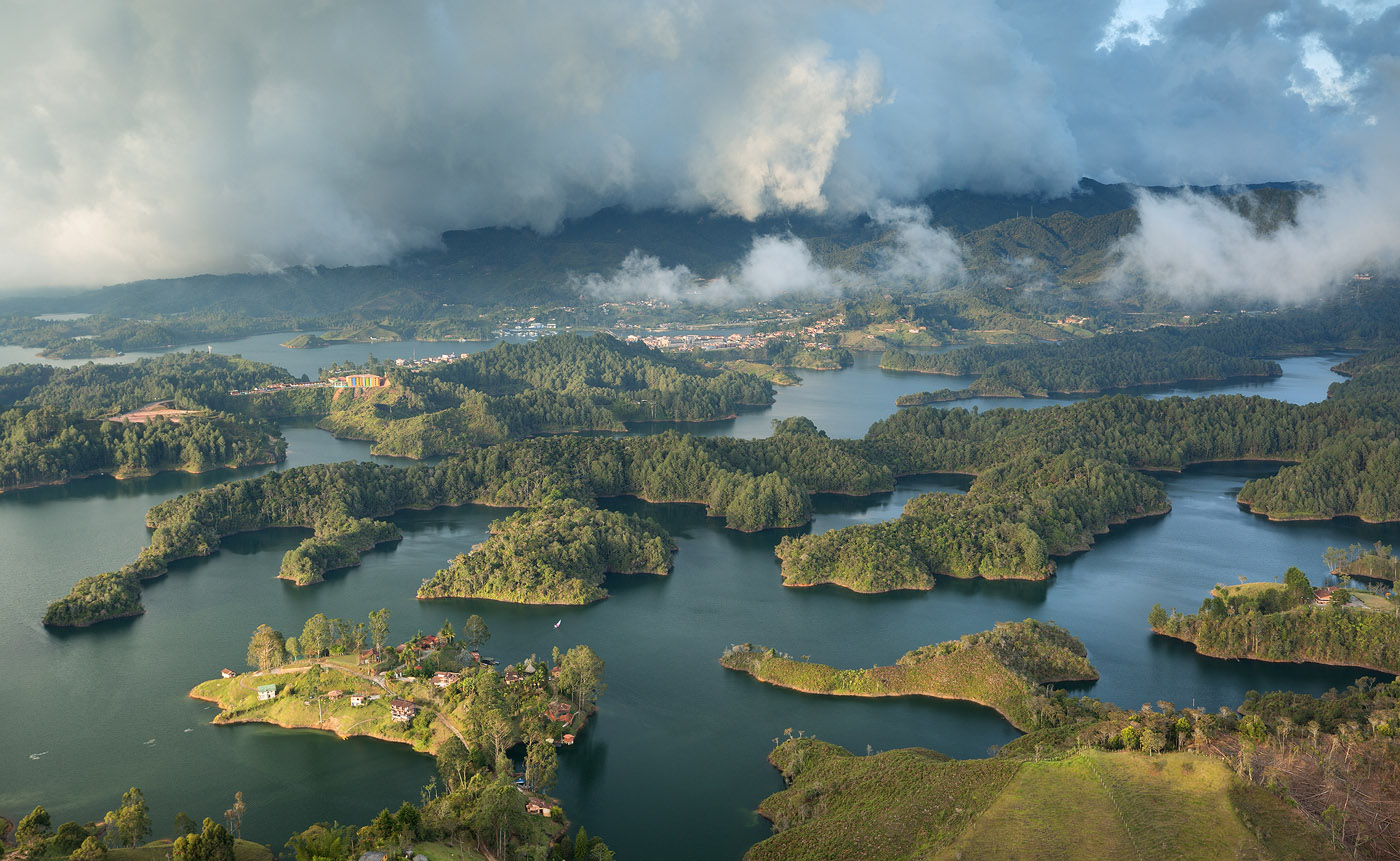 Days 9-11 Desierto de Tatacoa
After breakfast in our hotel in Guatape, we will board yet another flight, this time to Neiva, and from there we'll drive to Villavieja, our base for shooting our last subject: Tatacoa Desert.
The Tatacoa Desert is the second largest arid zone in Colombia, and is renowned as a rich deposit of fossils and a tourist destination. The desert has two distinctive colors: ocher in the area of Cuzco and gray in the Los Hoyos area. The Tatacoa covers 330 square kilometers around the town of Villavieja. The area is heavily eroded and crossed by dry canyons that develop transiently in the winter months. These shapes are created on clay surfaces, creating labyrinthine gullies in the landscape that can reach 20 meters deep.
We will spend 2 days shooting the desert and its beautiful badlands and cacti, early in the morning and late in the afternoon. We will shoot from the ground but a drone is a welcome addition and will supply original and unique perspectives in this infinite labyrinth.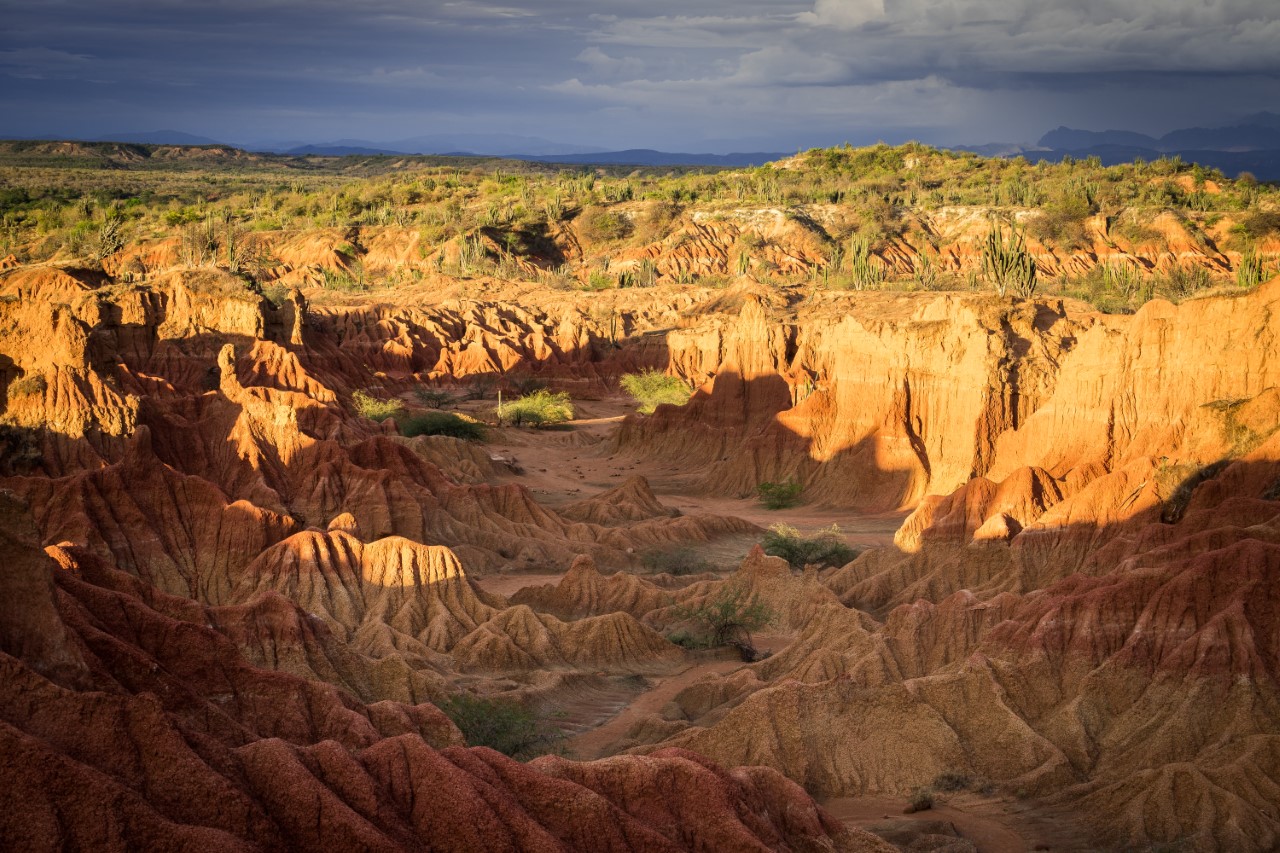 Day 12 Back to Bogota, Departure
We will catch an early morning flight back o Bogota Airport, arriving before noon, and after saying our goodbyes, you can take an early afternoon flight back home.
Total Price: €6590 per person (double rooms) for participants registering by December 31st, 2021;
€6690 for participants registering between January 1st and March 31st, 2022;
€6790 for participants registering afterwards.
Sign up as a group of 3 or more and receive a €200 discount* each!
Single room supplement: €650
Deposit: €2790
Maximum Number of Participants: 7
Physical Difficulty: Beginner+. We will be hiking in some of the location, but the hikes are fairly easy if you're moderately fit. Weather conditions in the Tatacoa Desert are hot and humid, but we will be shooting in the cooler morning and afternoon. To reach the top of El Peñol you must ascend 740 steps, but you have all the time in the world. Rain is possible but usually doesn't last long.
*Multiple discounts may or may not apply, please consult me.
Workshop Price Includes
Hotel accommodation. Hotels will be good, clean and comfortable, but in the smaller towns, accommodations will be simpler.
Breakfast, lunch and dinner throughout the workshop.
Travels in private, comfortable vehicles offering ample room for you and your photoraphy gear.
6 domestic flights to reach our destinations quickly and comfortably.
Professional photography guidance by an esteemed landscape photographer.
Critique sessions and post-processing assistance when and where possible.
Airport pickup and dropoff.
Entrance fees, road tolls and taxes on all services listed above.
Workshop Price Does Not Include
Airfare to and from Bogotá El Dorado Airport (BOG).
Insurance. It is MANDATORY to insure yourself against physical injury, and highly recommended to insure your photo gear. Tour leaders will not be responsible in case of any personal injuries or damage to photographic gear as a result of an accident during the workshop. A good insurance policy can make a big difference should something happen, and ensure a safe return home.
Alcoholic drinks.
Non-meal-time snacks or soft drinks.
Single room supplement (€650).
Photography Equipment
A digital camera, preferrably a DSLR camera with a full-frame sensor, since these cameras have better low-light capabilities. However, a crop-sensor DSLR will also completely suffice. A compact camera can be used, as long as you understand its limitations.
A stable tripod.
An ultra wide angle lens. For example, a Canon 16-35mm on a FF sensor camera, or a Nikon 10-24mm on a crop sensor camera.
A mid-range zoom lens such as a 24-70mm.
A telephoto zoom lens, such as a 70-200 or 70-300 (the longer the better). Doesn't have to have a wide aperture but a stabilizer is recommended.
Recommended: A filter set for landscape photography. A good filter set is worth its weight in gold for a landscape enthousiast. If you need to consult about buying a filter set, I'll be happy to help.
Highly recommended: a camera drone (contact me for help).

Clothing
Clothing for the different climate zones we will encounter: light, long-sleeve shirts, convertible pants,
Water resistant hiking trousers.
Comfortable hiking socks. I recommend bringing at least 2-3 pairs.
A wide hat which covers your ears.
Good, water resistant hiking boots
Sandals or water-shoes for Caño Cristales.
Light rain gear.

Other
Sunscreen
Insect repellent
Headlight
Rain cover for your photo bag
Payment Procedure
In order to secure your spot, you are required to transfer a deposit of €2790. This deposit will be refunded only in case the workshop gets cancelled for some reason. For your comfort, the deposit can be paid either through PayPal or a wire-transfer (please contact me for details).
The full amount (after discounts if applicable) must be paid via wire-transfer no later than 90 days prior to the workshop starting date.
In the case you need to cancel your participation, a 75% refund (not including deposit) will be given up to 75 days prior to the workshop starting date, a 50% refund up to 60 days prior to the workshop starting date and a 25% refund up to 45 days prior to the workshop starting date.
I reserve the right to increase the price of the workshop if costs rise due to unexpected changes in fees, taxes or exchange rates.
Disclaimer
Though very improbable, workshop dates might shift a few days here or there, up to 6 months prior to start date. Please contact me if you have schedule limitations.
The tour plan above is subject to change. In case of harsh weather, we may have to divert from our plan and do something else.
Important: In order to join the workshop, you will be required to sign a contract that establishes that the tour leaders are not responsible to physical or proprietary damages, and that you understand and accept several behavioral standards (including not taking excessive risk), necessary to ensure the workshop's success and your safe return.
*Multiple discounts may or may not apply, please consult me.
Erez Marom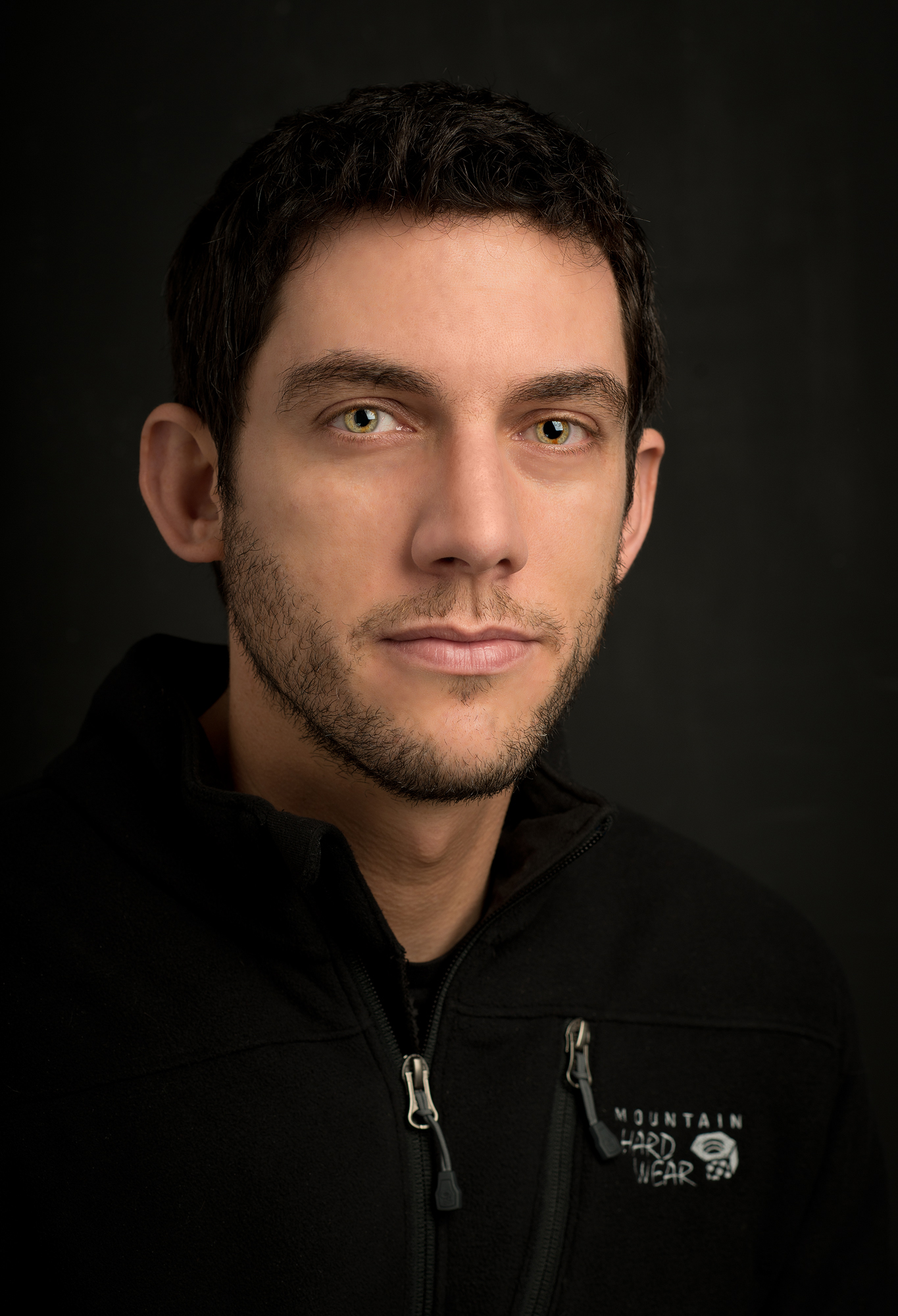 Born in 1980, Erez Marom is a full-time nature photographer, photography guide, writer and traveler-adventurer based in Israel. Specializing in landscape and wildlife photography, Erez spends much of his time in the field shooting the wildlife and scenery of his favorite locations in Israel and overseas.
In addition, Erez publishes articles and instructional texts in leading magazines and websites, and dedicates a considerable amount of his time to sharing his experience and knowledge by lecturing worldwide and traveling several times a year to guide his unique photography workshops.