'JUNGLE ROYALTY' - VIETNAM WILDLIFE PHOTO WORKSHOP
Price: €7790 pp (or USD equivalent, single rooms. Price valid until May 31st, 2024) / Deposit: €3790 pp
AVAILABILITY
10th - 19th March 2025
In the lush trees of Southeast Asia there are numerous surprises. Among those, three very special species that, although shy, are some of the most majestically beautiful species on Earth.
Characterized by their distinct coloration, interesting behavior and most of all, beautiful and complex songs, Yellow-cheeked gibbons are the first of these species. In the secluded Son-Tra Peninsula lives the Queen of primates: The Red-Shanked Douc, with their five colors and almost puppet-like appearence. Lastly, the super-rare Delacour's Langur offer incredible acrobatic abilities and its own kind of beauty.
In this 10-day photographic workshop, you will join a very small group and gain access to locations and close wildlife encounters completely unavailable otherwise. I have researched the area extensively and gained all the contacts and knowledge needed to grant you entrance to the secret shooting areas which will allow us unprecedented natural images of extremely endangered and rare wild animals.
Main Features
10 days in 3 of Vietnam's top wildlife shooting locations.
Private access to some of the rarest primate species in Southeast Asia.
Small group size (max 6 photographers) guarantees unparalleled personal attention and comfort during wildlife shoots.
Private transfers in comfortable 4X4 vehicles.
2 domestic flights to ensure quick arrivals to our locations and maximum devotion to shooting
Professional photo guidance by an experienced, award-winning nature photographer, and a leading local wildlife guide with 20 years of experience.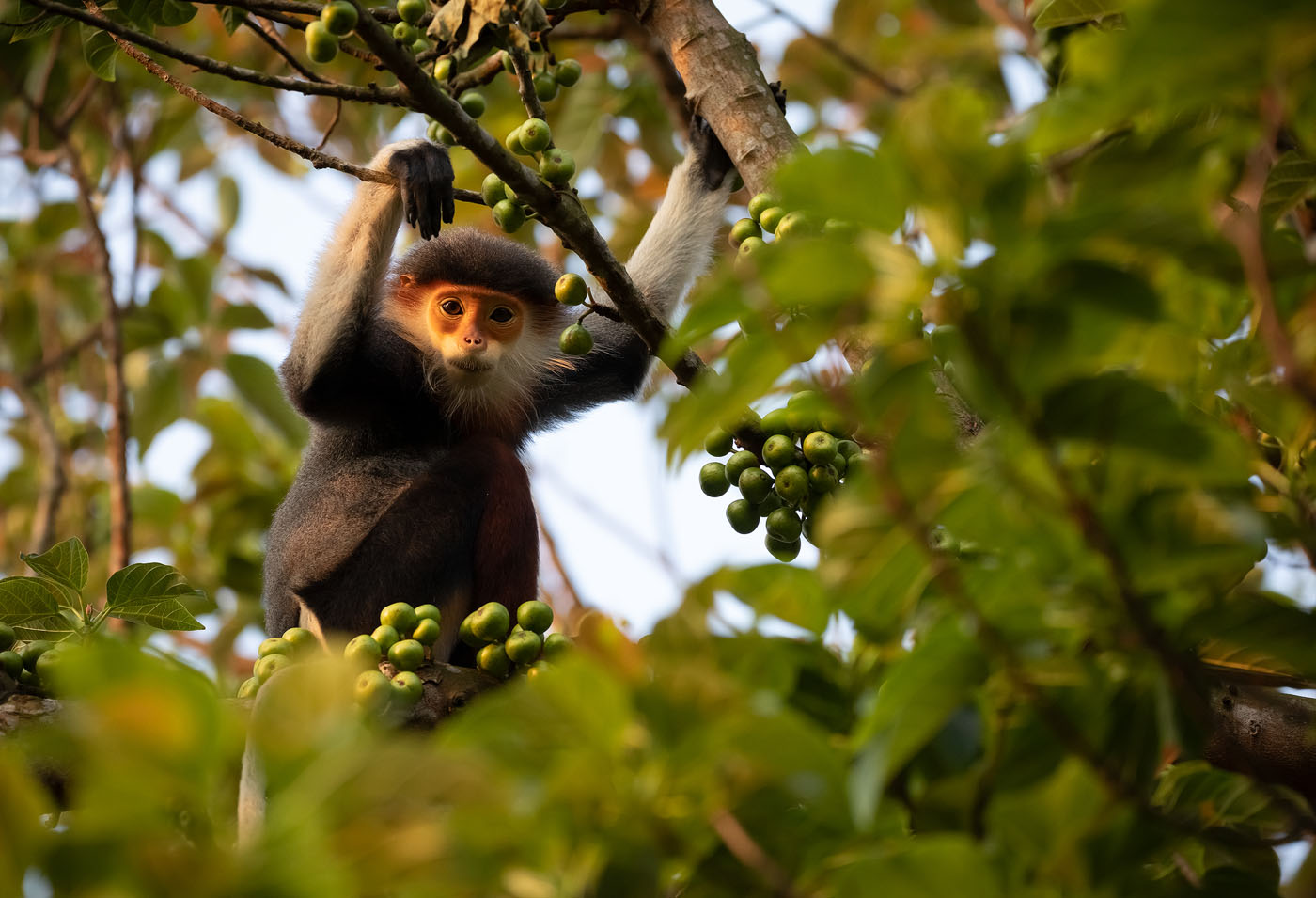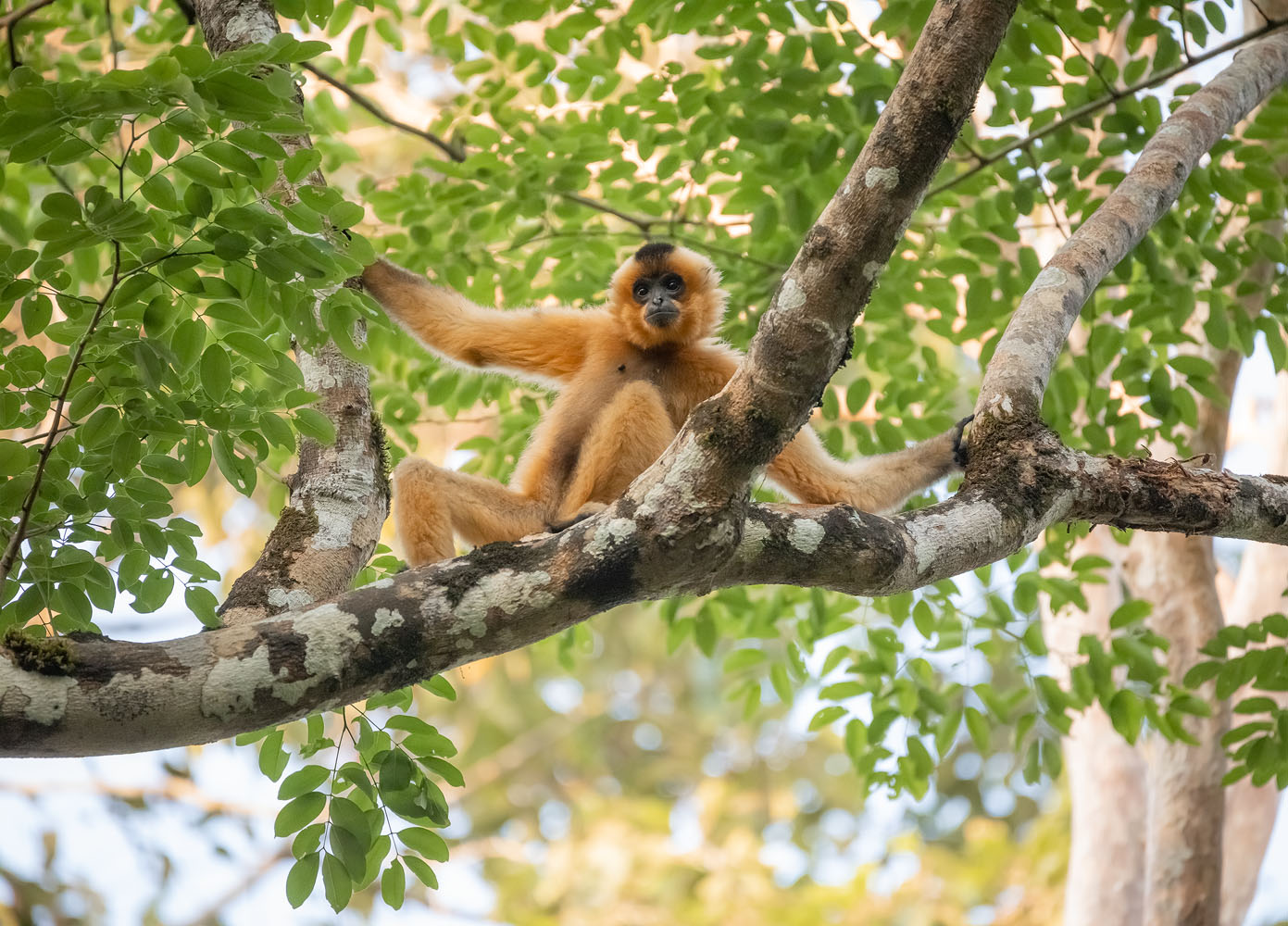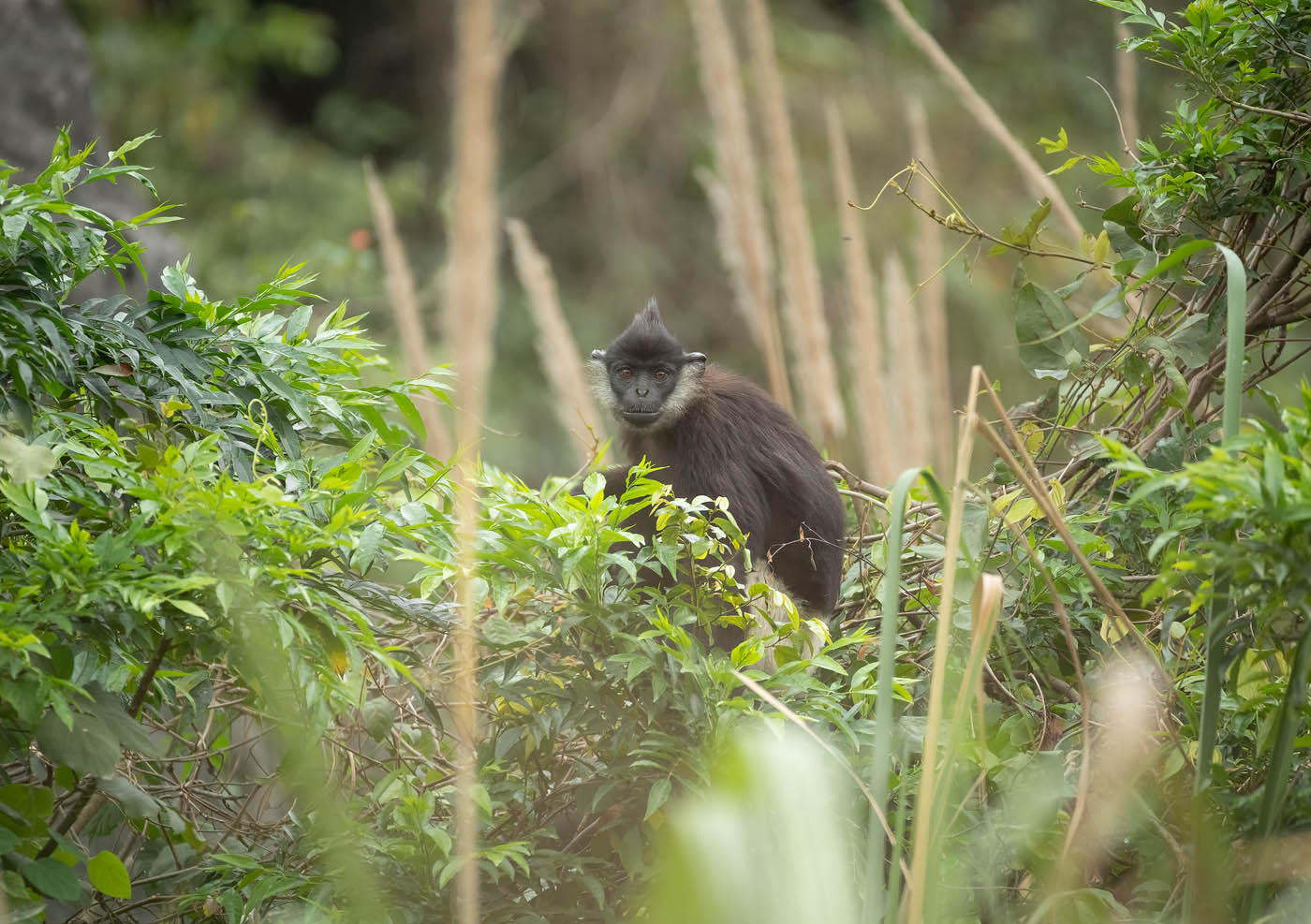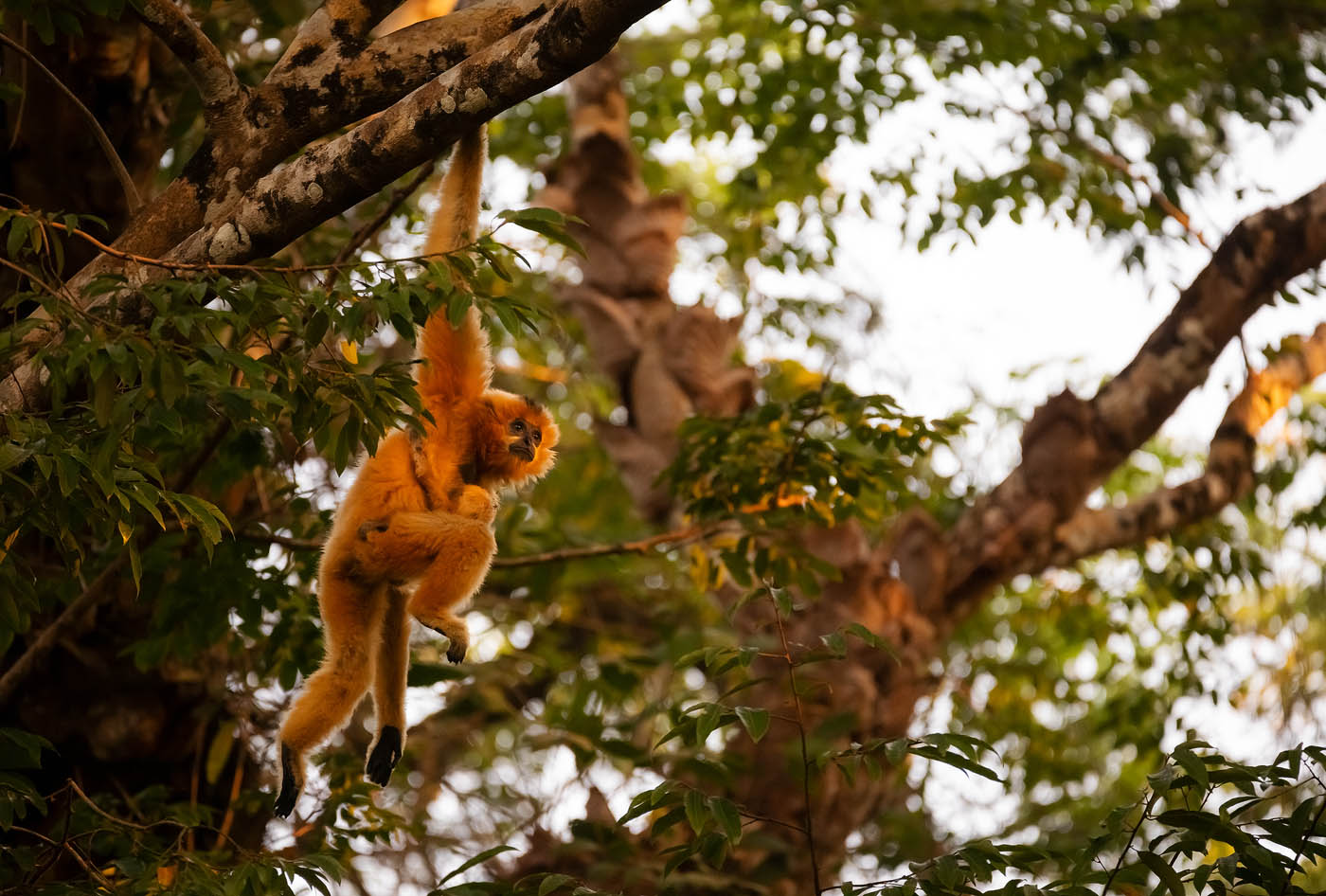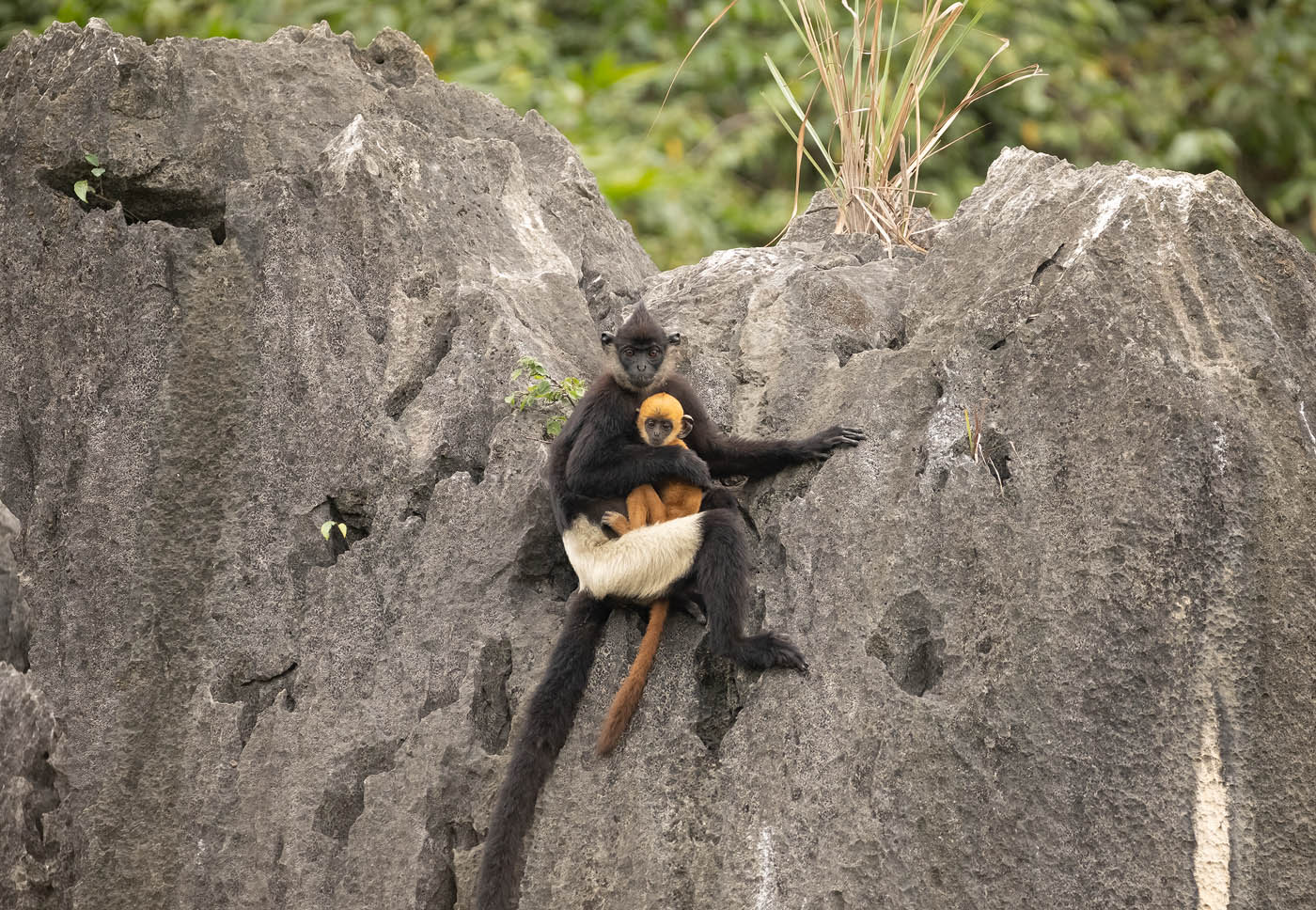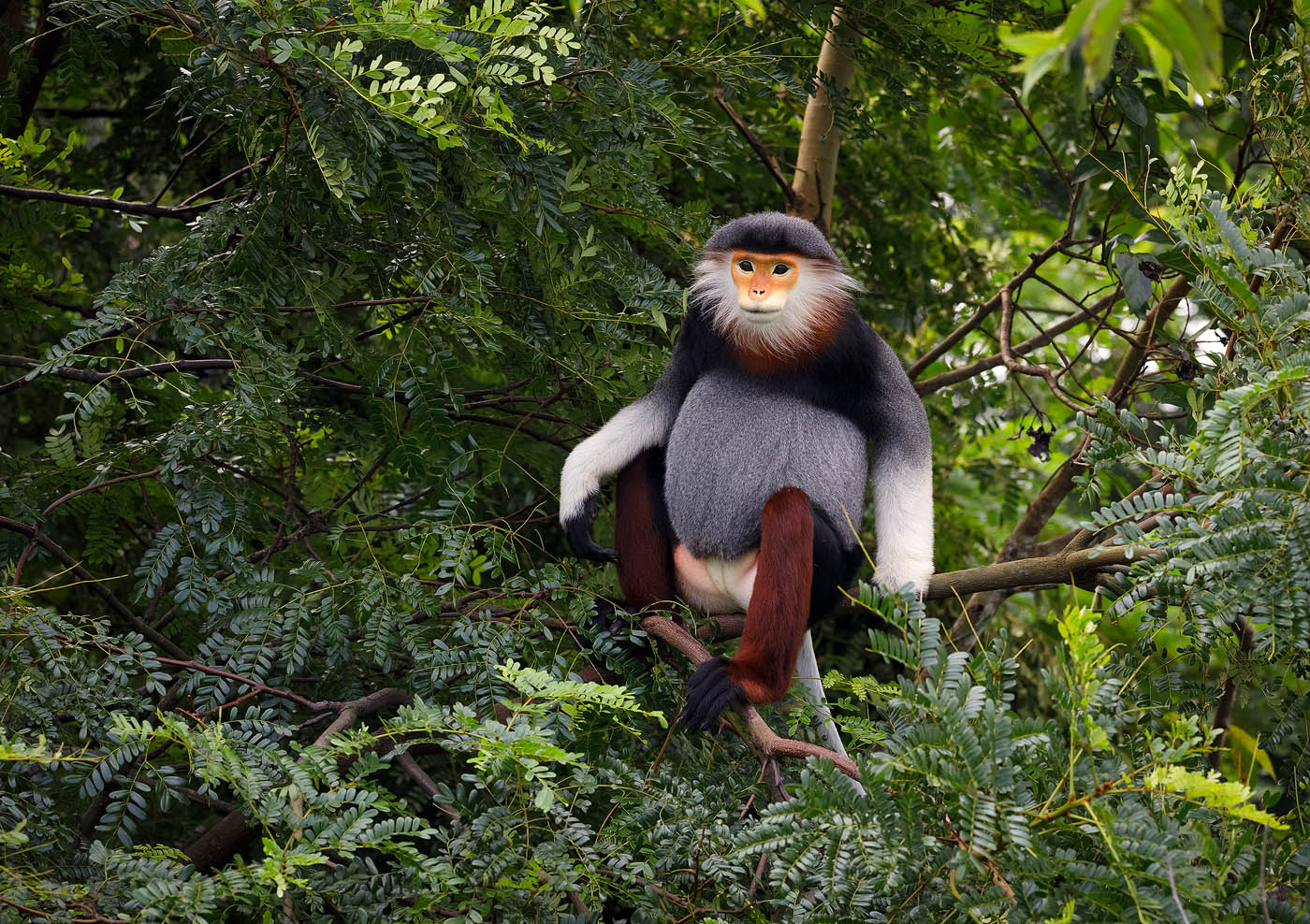 Day 1 Meeting in Ho Chi Minh City, Drive to Cat Tien
We will meet in the early afternoon in Ho Chi Minh City, and then do a few hours' drive east to Cat Tien National Park. We will settle in a hotel inside the park, which will allow us perfect access to the park's wildlife. We will then meet for an introductory dinner and discuss the plan for the days ahead.
Days 2-4 Cat Tien National Park
Cat Tien National park is home to a variety of species and a large, luch forest. It is also a point where beautiful yellow-cheeked gibbons gather and play among the trees. Each morning, we will start hearing the gibbons singing their elaborate and beautiful songs, communicating with other members of their extended family group. After allowing them to feel safe and comfortable in our company, we will start shooting. The location is perfect in that the trees are a perfect back drop to the gibbons, and even more importantly: the pink sunrise light is simply incredible.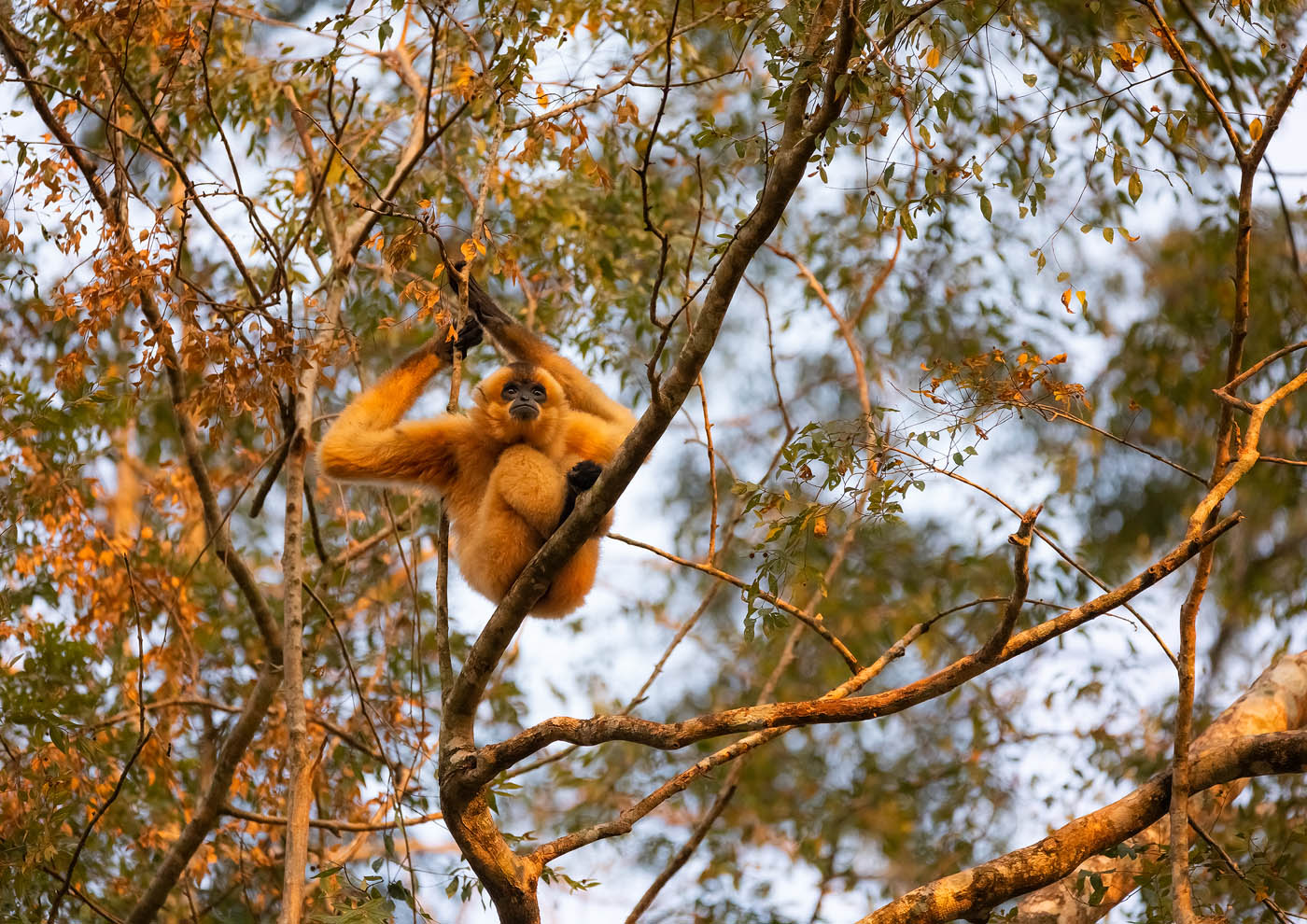 The yellow-cheeked gibbon is born blond and later turns black. Males carry this colouring through their lifespan and have the distinguishing golden cheeks. Females are born blonde to blend into their mother's fur but they later turn black. Females turn back to blond at sexual maturity, keeping only a black cap on the top of their heads.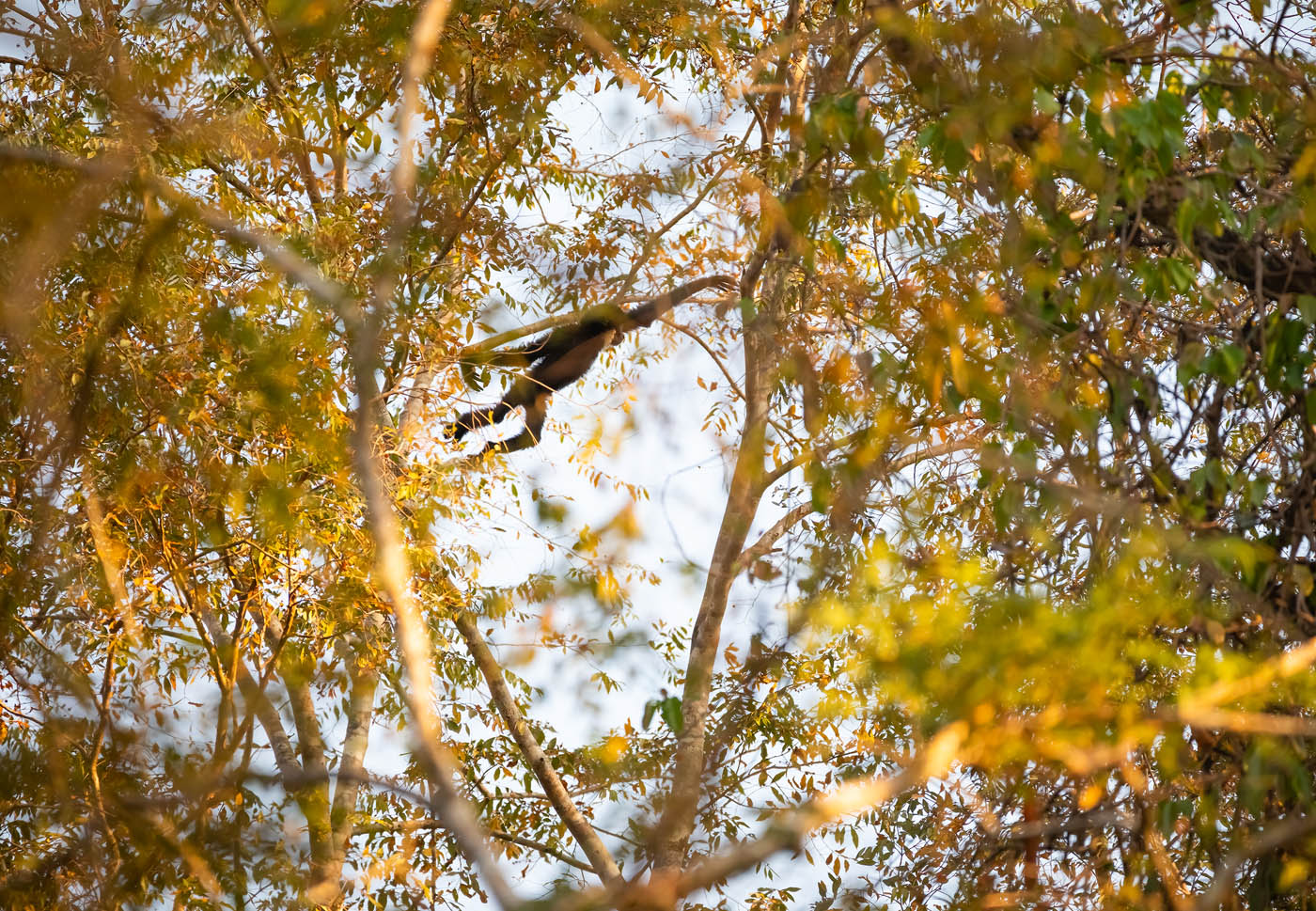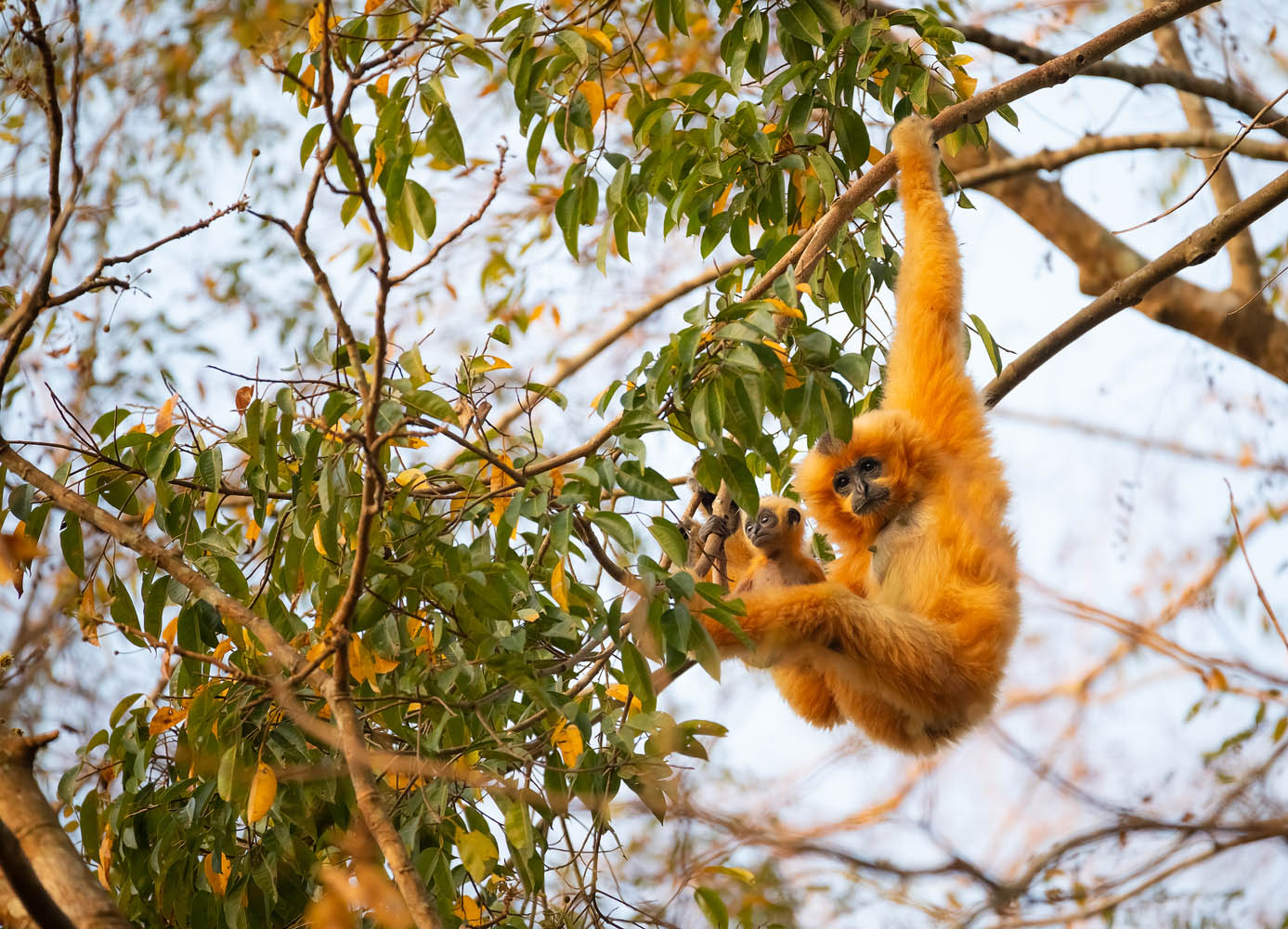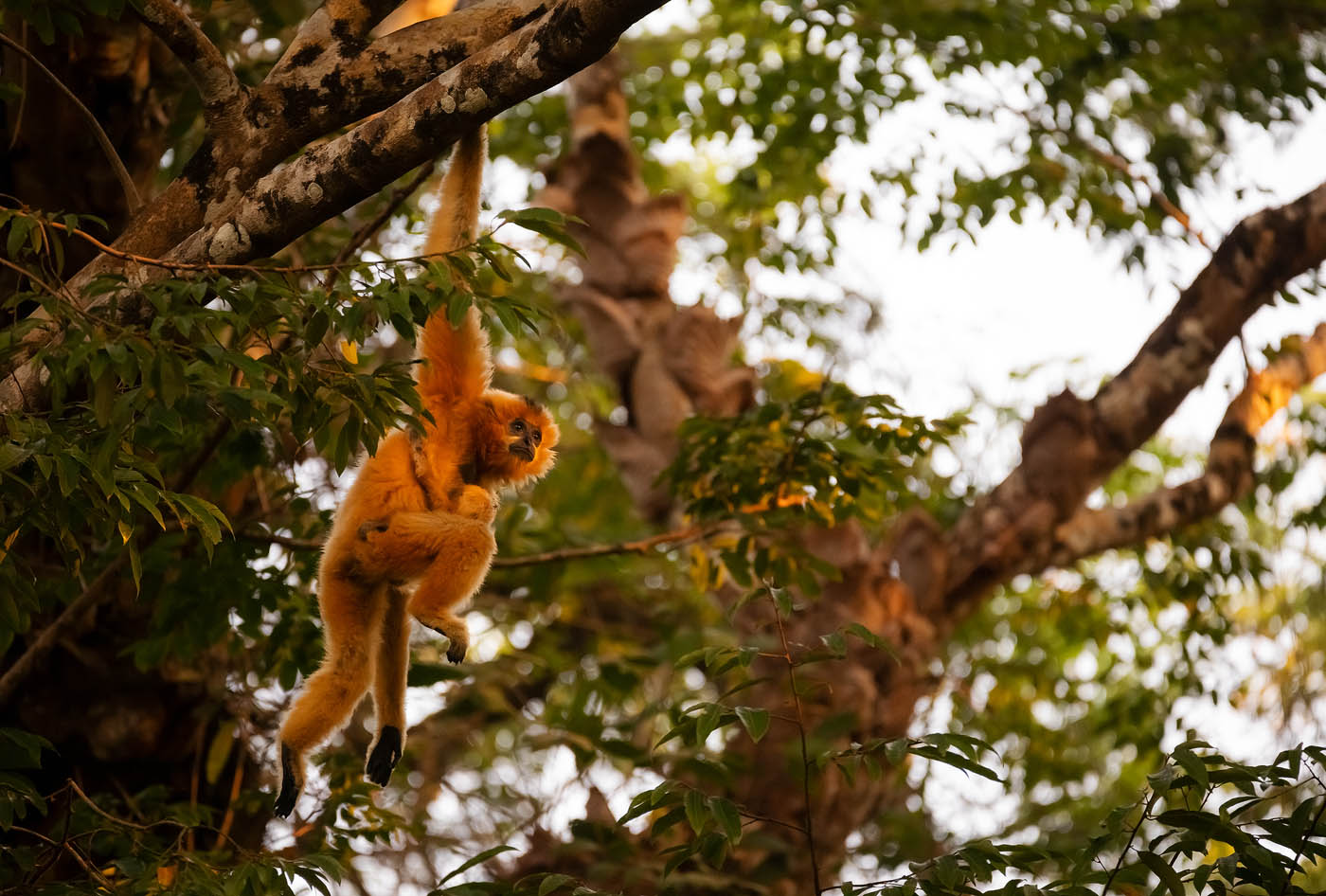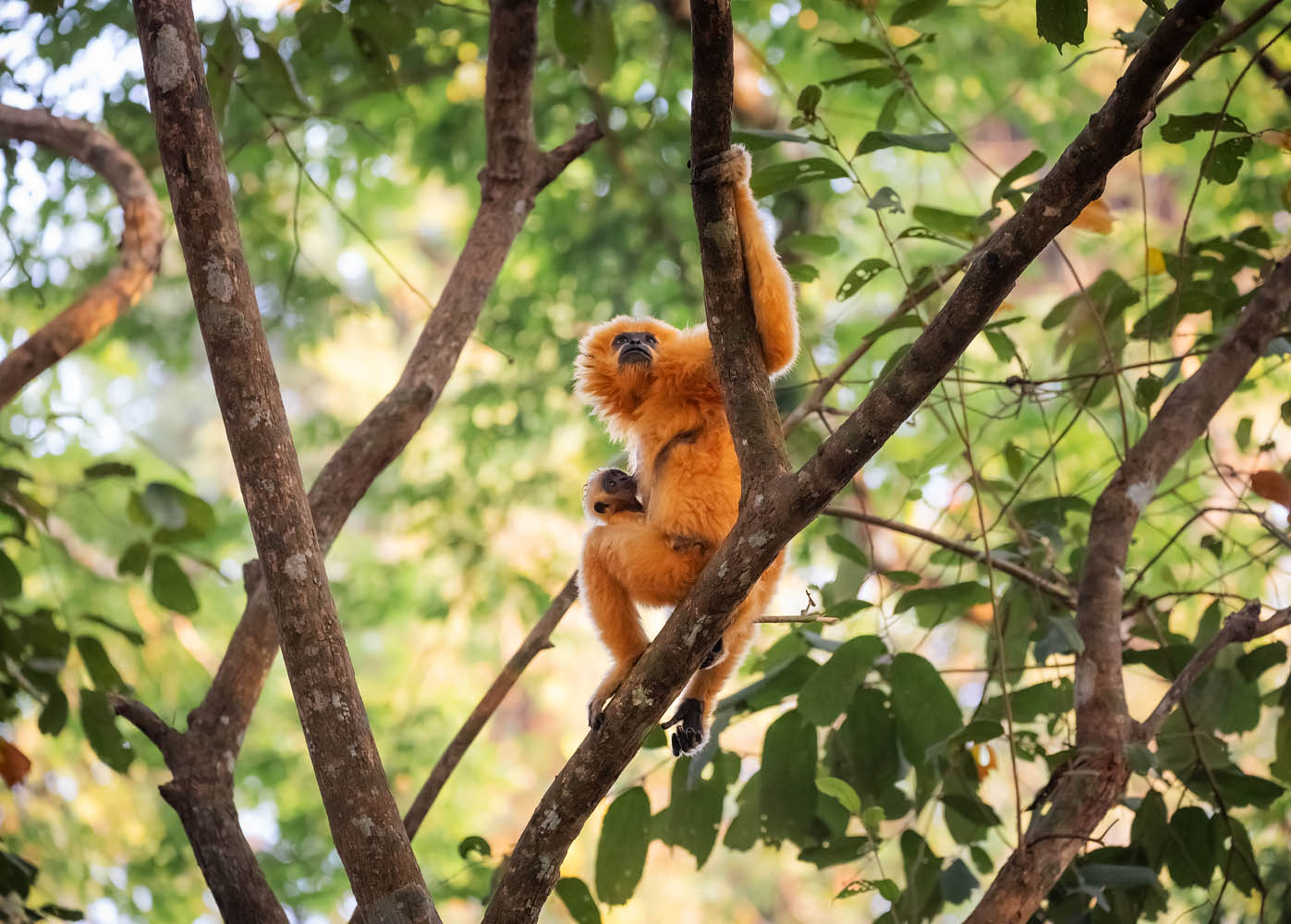 Gibbon groups vocalise loudly early in the morning. Their songs probably serve to defend resources such as territories, food trees, partners, but may also help to attract potential mates. Duetting occurs between mated pairs, the song is coordinated and contains sex-specific phrases. Their stay near the shooting location can be anything between an hour ot two and half of the day - giving us plenty of time and opportunities to shoot them swinging from tree to tree, playing and calling.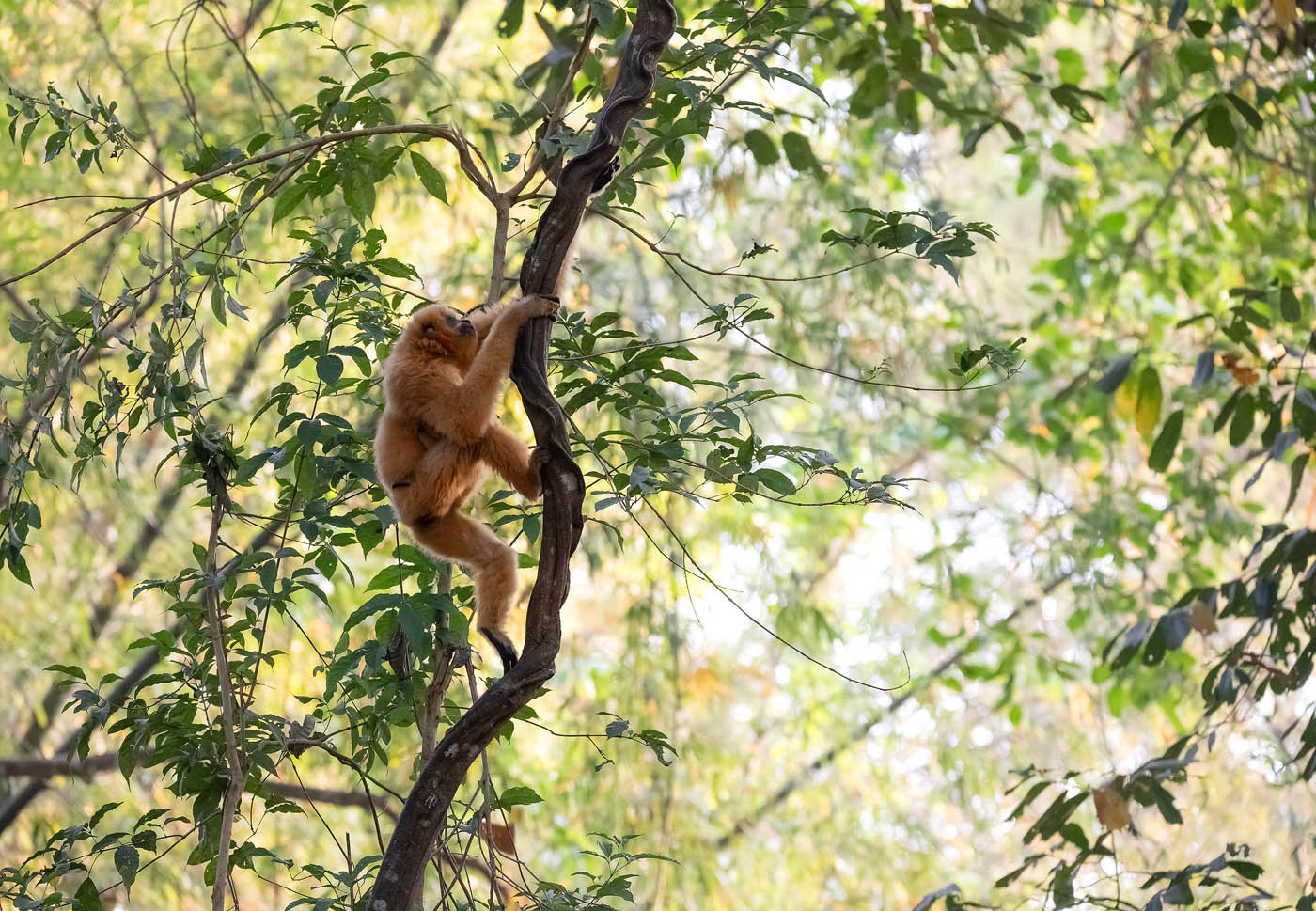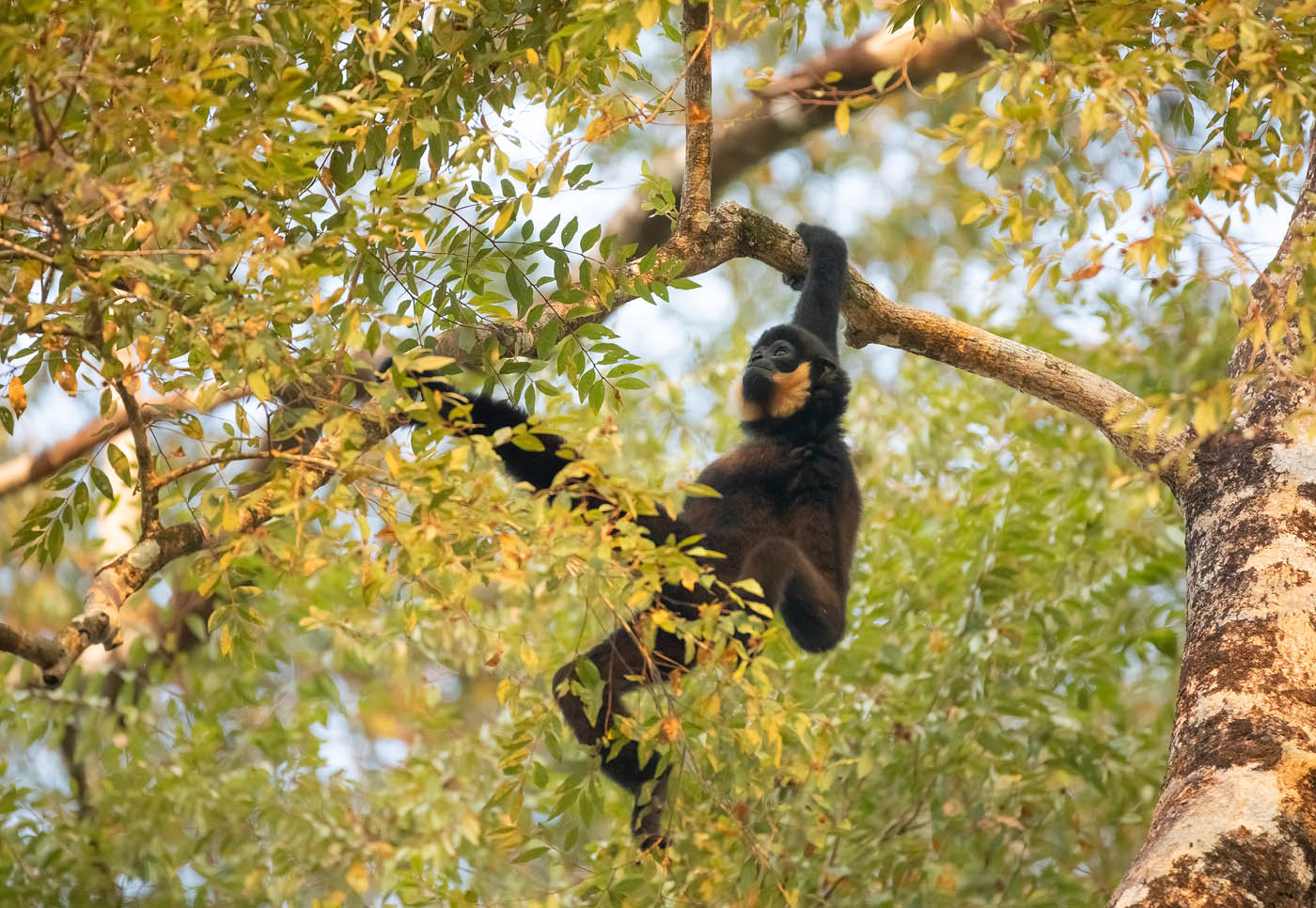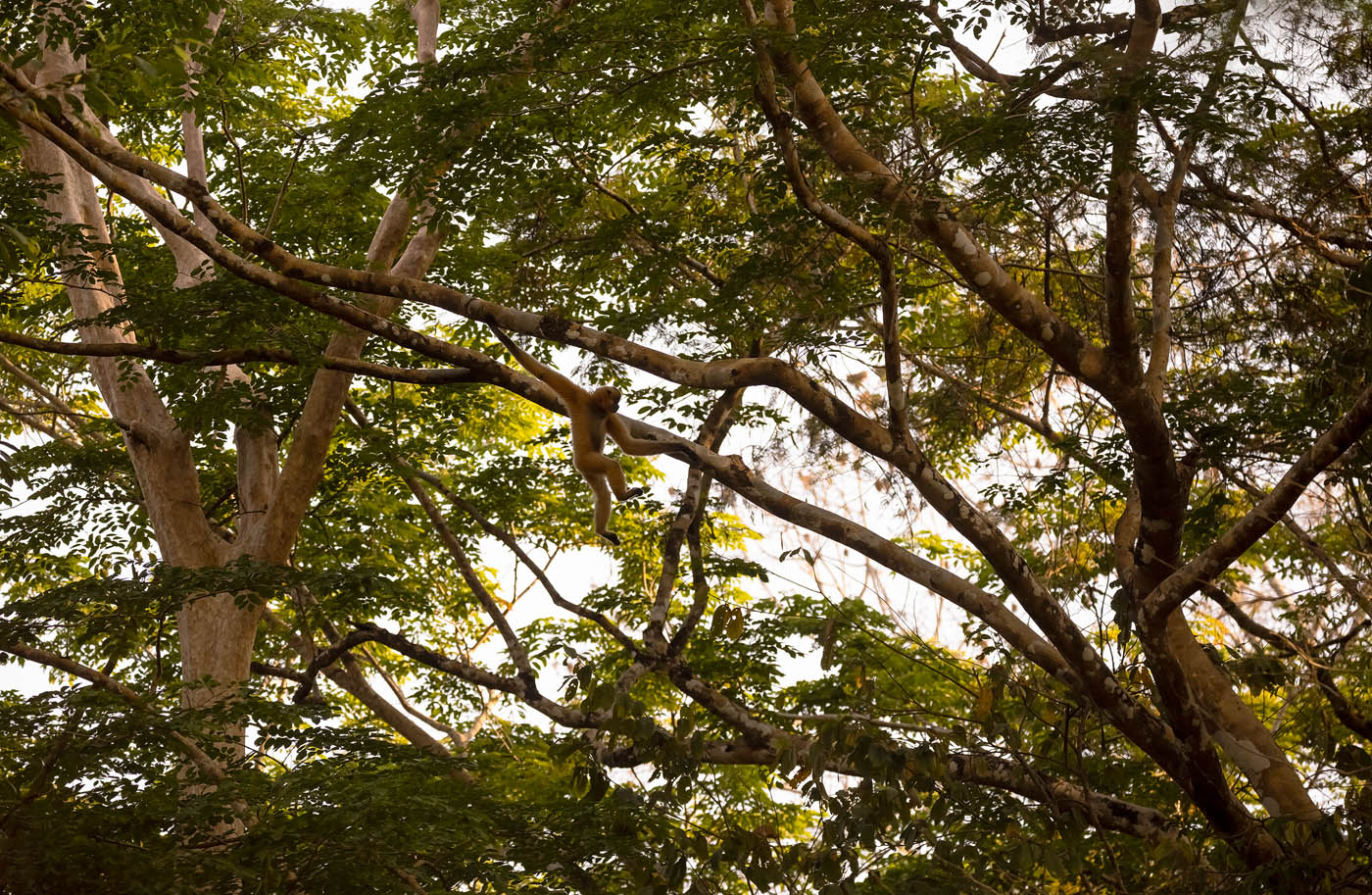 During the afternoons we will shoot a bit of landscape in the park's vast forest. Andasibe is also home to the extremely shy yet beautiful black-shanked Douc, and we might meet this guy as well. We will also hold image critique sessions, which are paramount to correcting your mistakes day to day. My experience dictates that these sessions result in a much-faster improvement.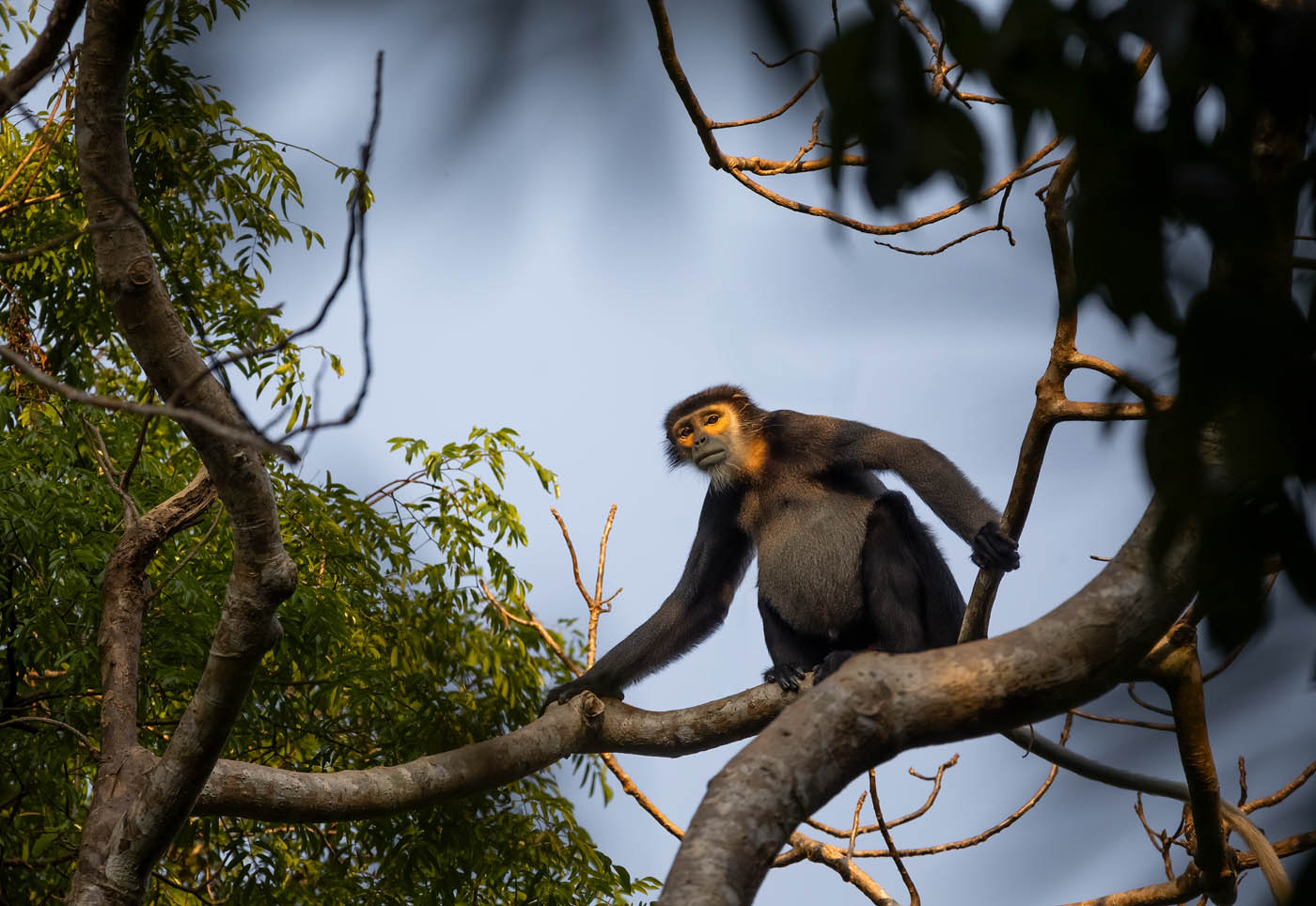 Days 4-8 Son Tra Peninsula
After a morning Gibbon shoot and breakfast on day 4, we will leave Southern Vietnam, and fly to our next shooting location: Son Tra Peninsula. We will settle in a beautiful, well-located hotel on the coastline of Vietnam 3rd-largest city, Danang, from which we will depart twice a day to encouter the world's most beautiful primate: the majestic red-shanked Douc.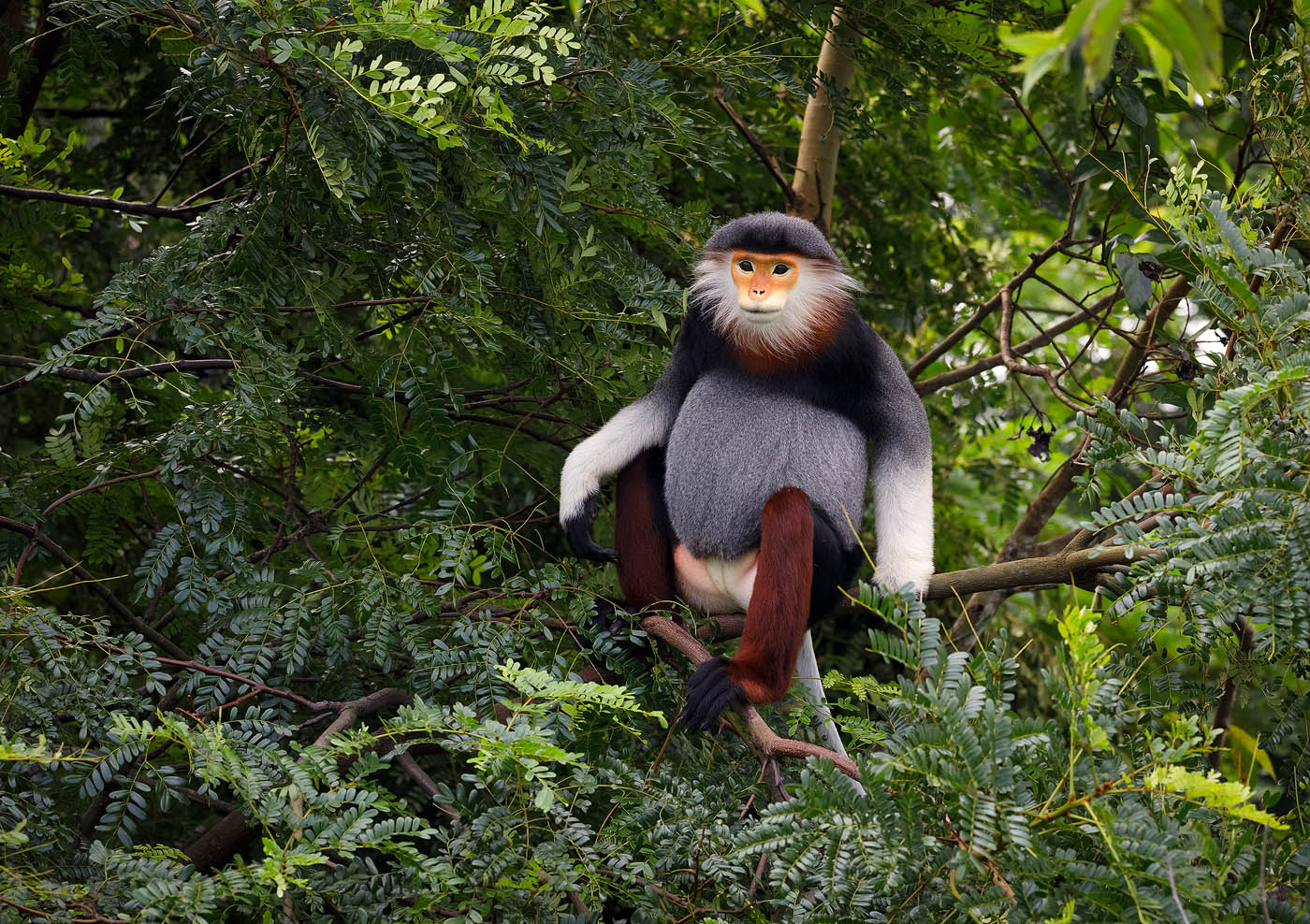 The red-shanked douc is an arboreal and diurnal Old World monkey endemic to Laos, Vietnam and Cambodia. They are known for their bright colors and express exhibit sexual dimorphism through their body size. The species have been declared critically endangered by the International Union for Conservation of Nature, with the main threats being from hunting, habitat loss and pet trade. Red-shanked doucs live in multilevel societies that average 18 individuals per family group. They are folivorous and their four-chambered stomachs that allow for bacterial fermentation help them with their high-fiber diet.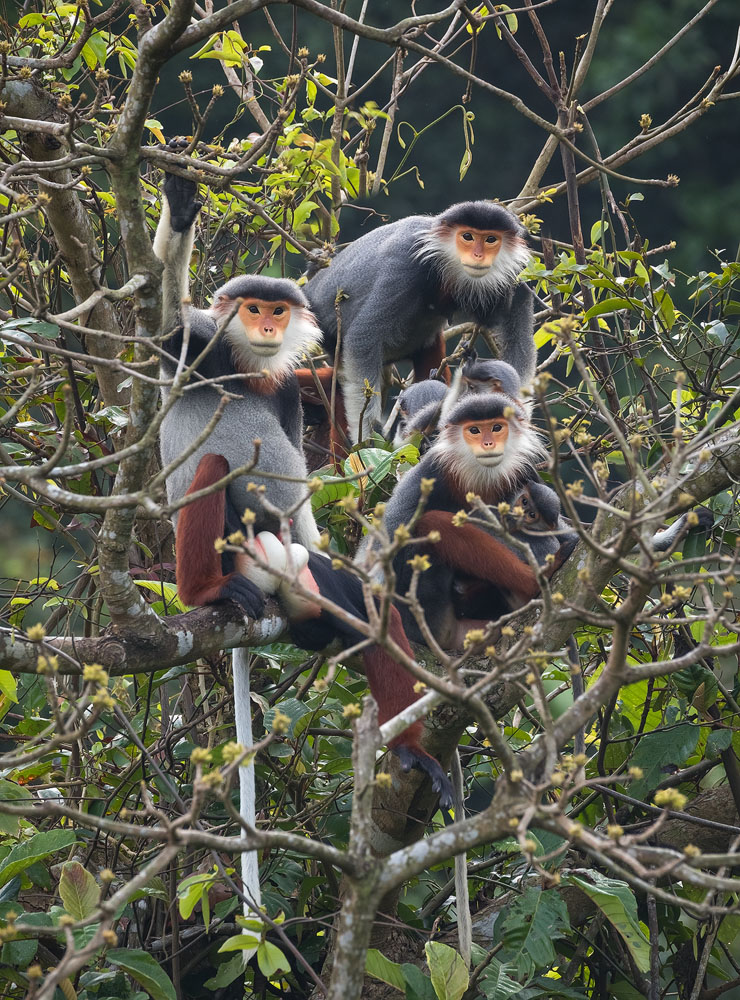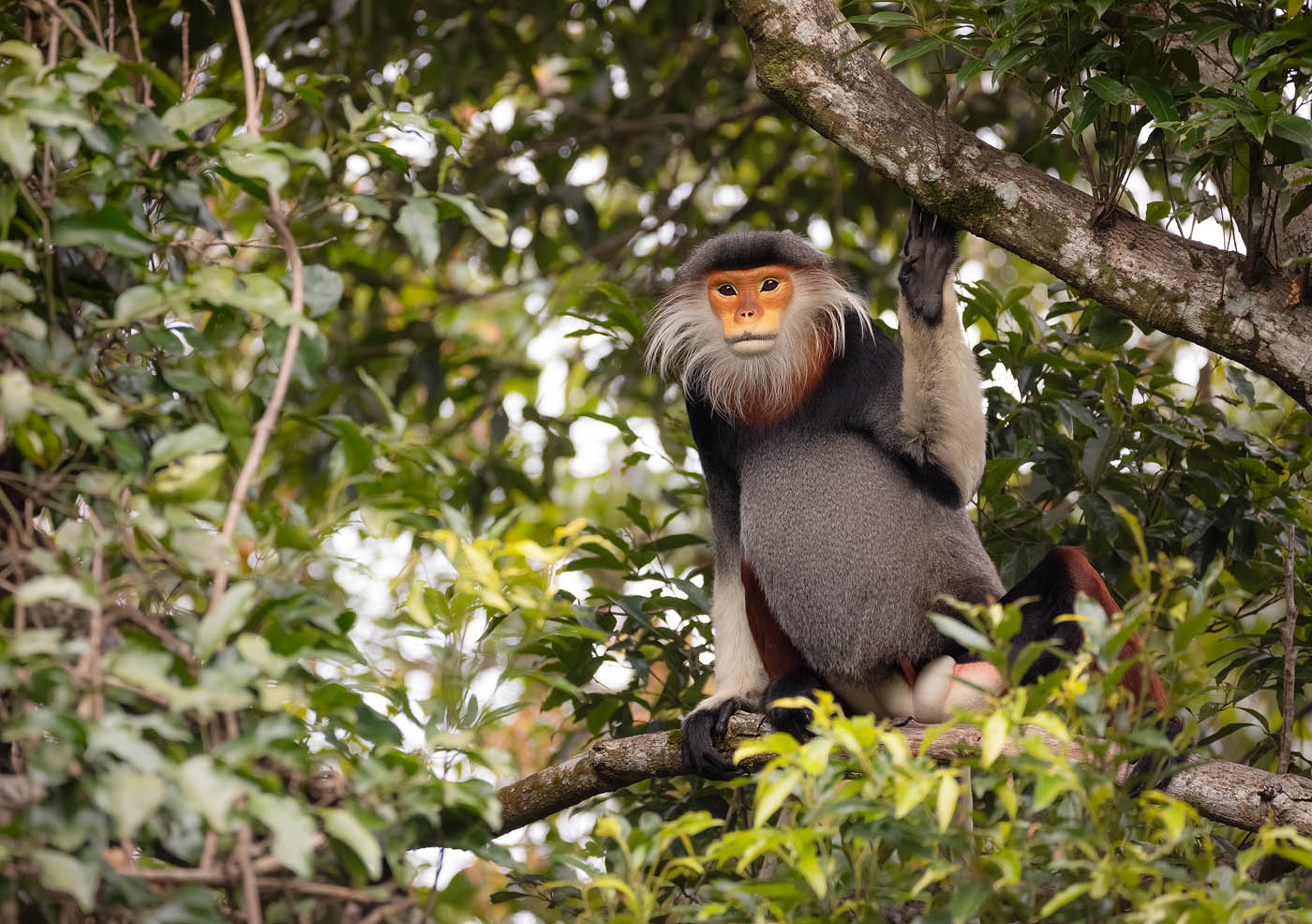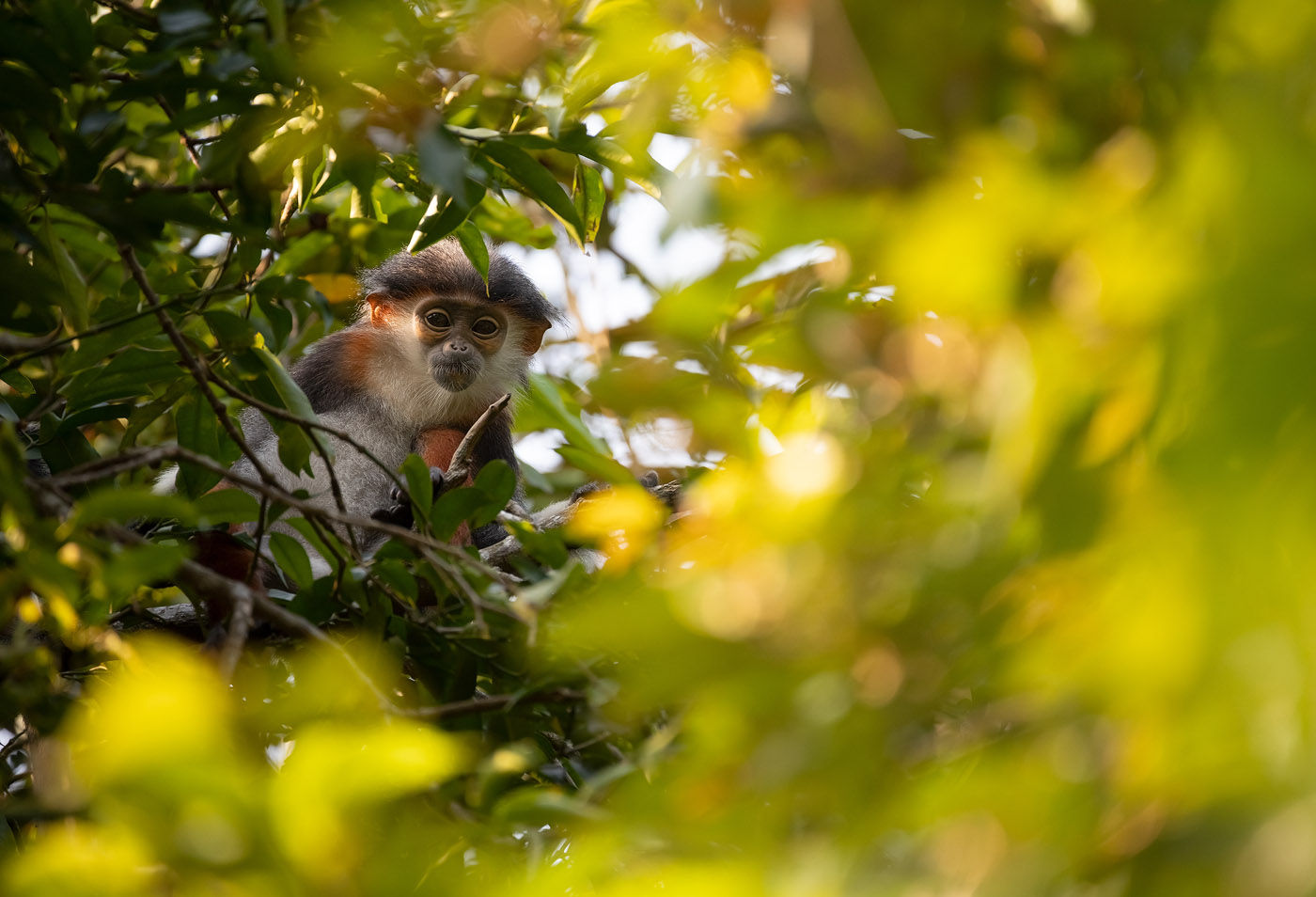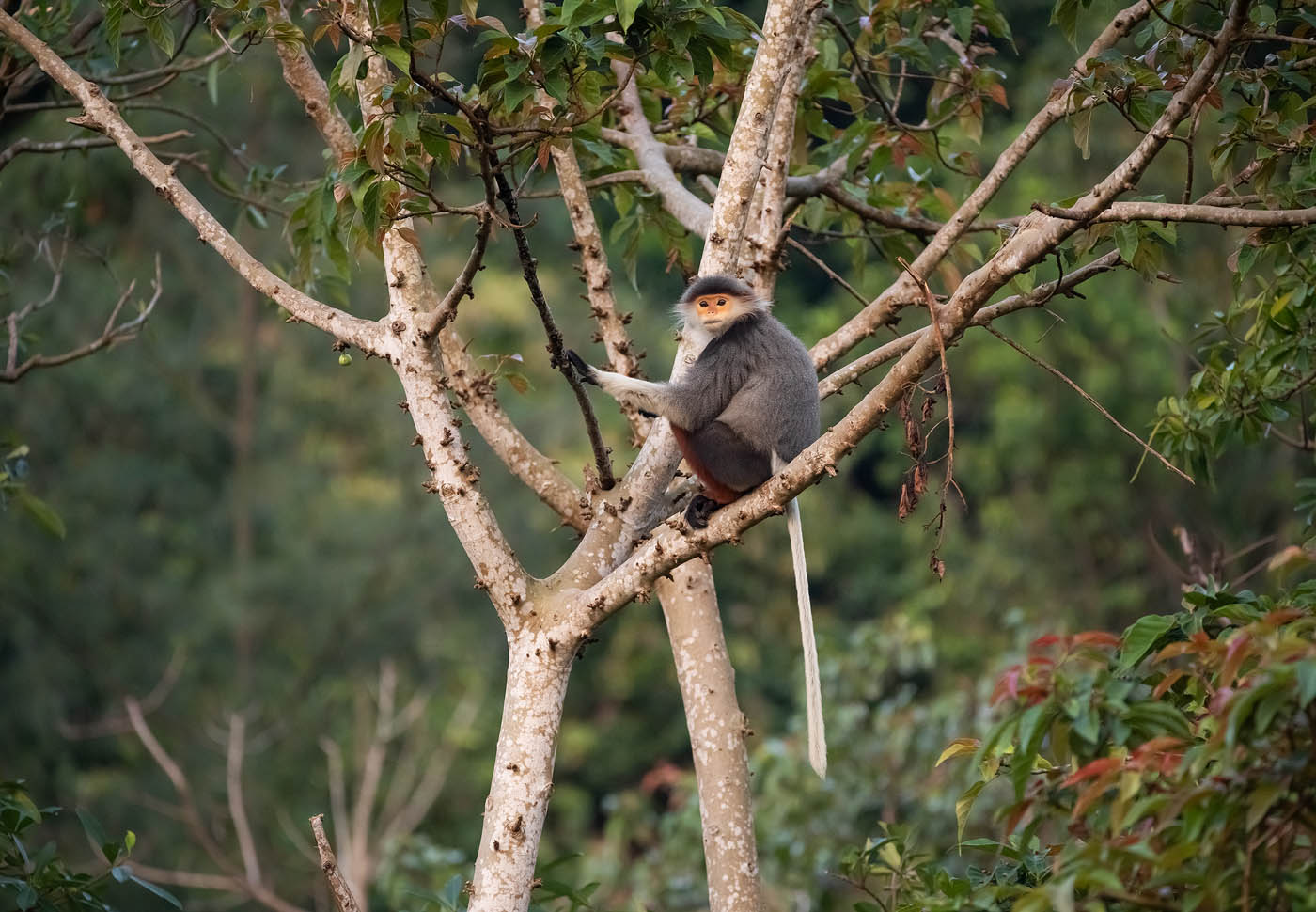 The red-shanked douc are among the most colorful primates. Dubbed "the queen of primates" thanks to their distinctive and unique 5-color appearance, they are also both interesting and funny in their demeanor. They interact with each other, jump from tree to tree (we will learn how to shoot these jumps!), feed and overall give a spectacular display of wildlife behavior.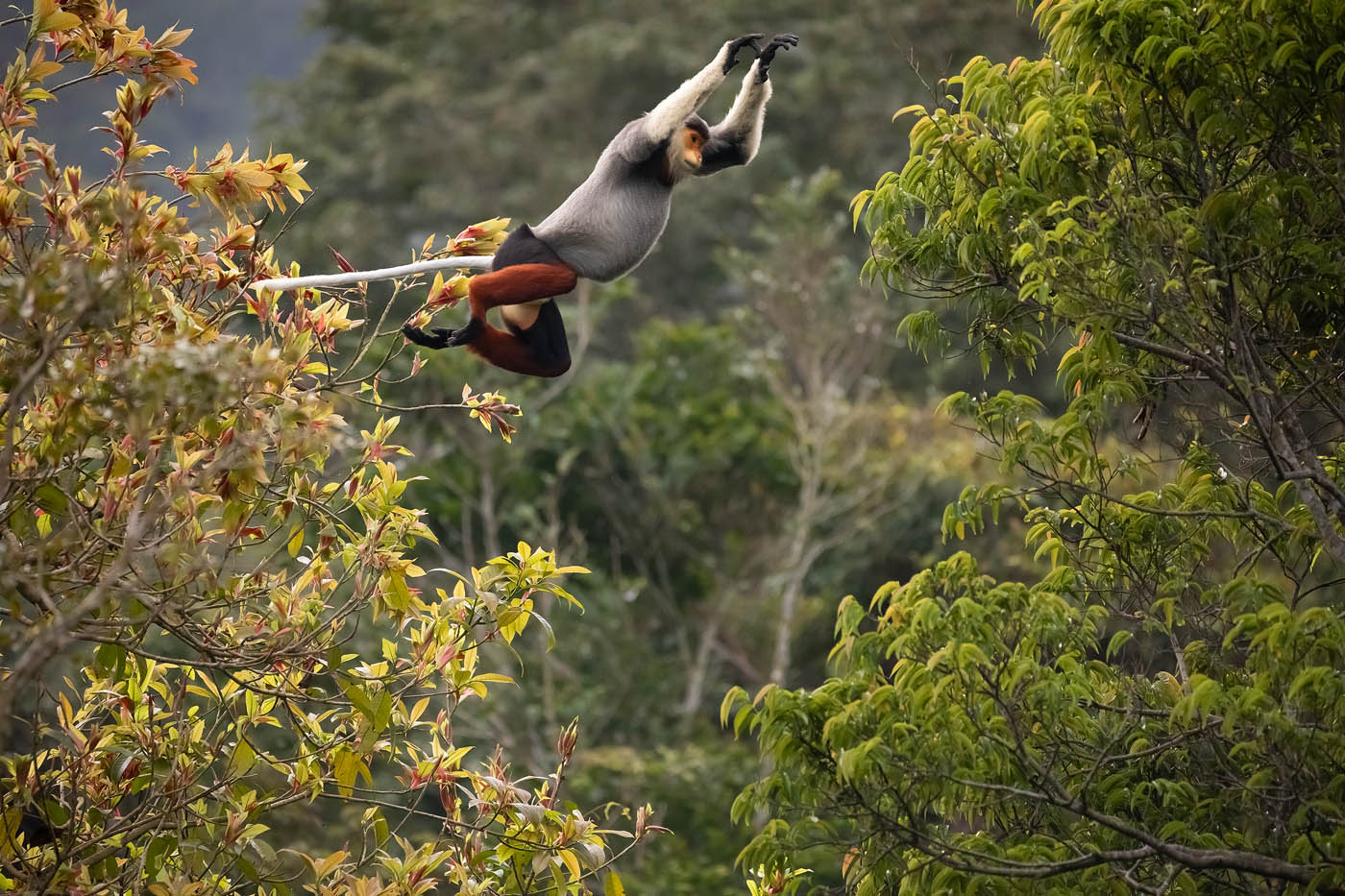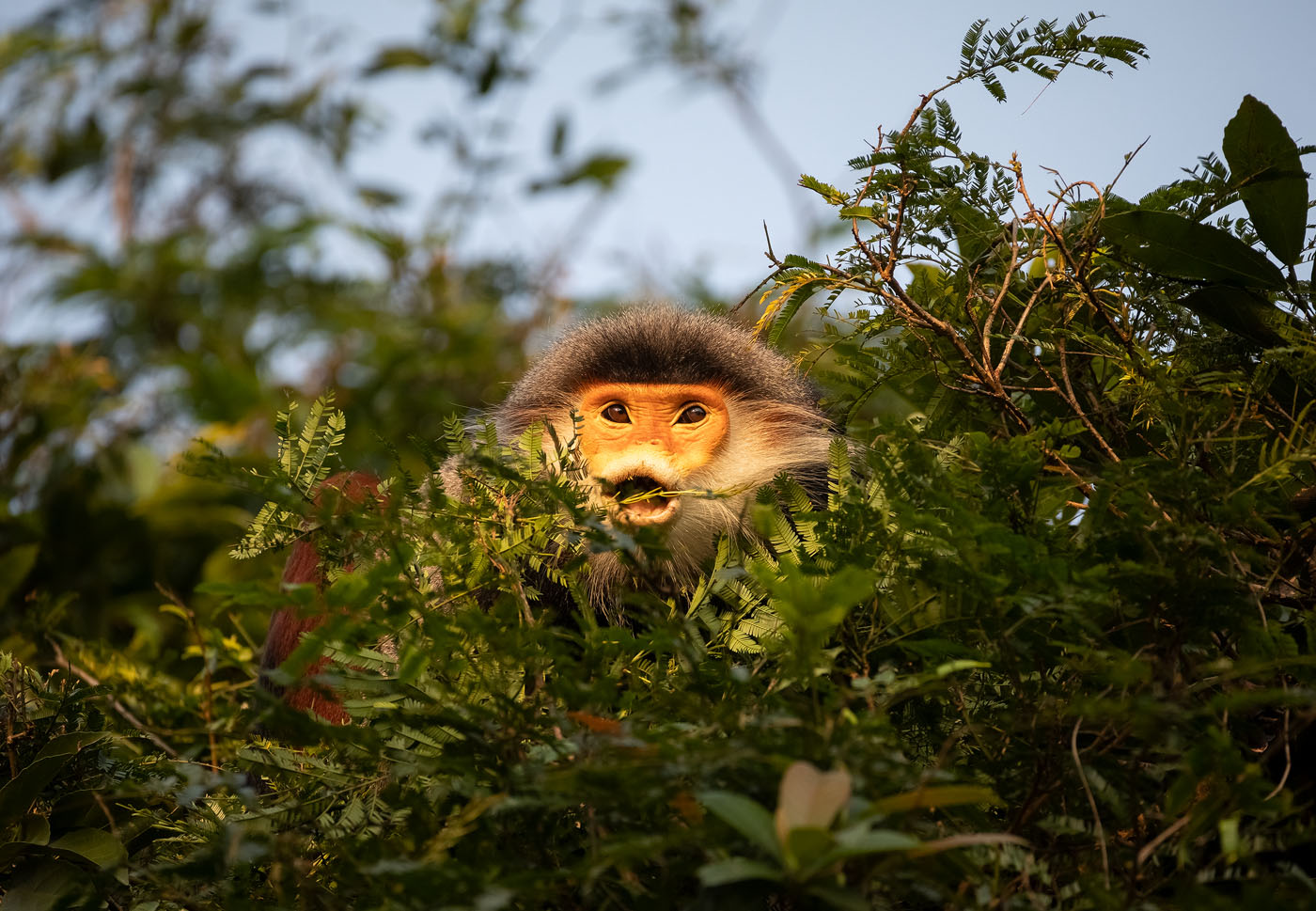 The red-shaked Doucs will undoubtedly be the highlight of the workshop. We will work hard to take advantage of all the opportunities possible, travel to restricted parts of the peninsula and use local scouts to find the Doucs quickly and efficiently. The expert local guides will choose our subjects considering location, weather, light and the behavior of the specific familes.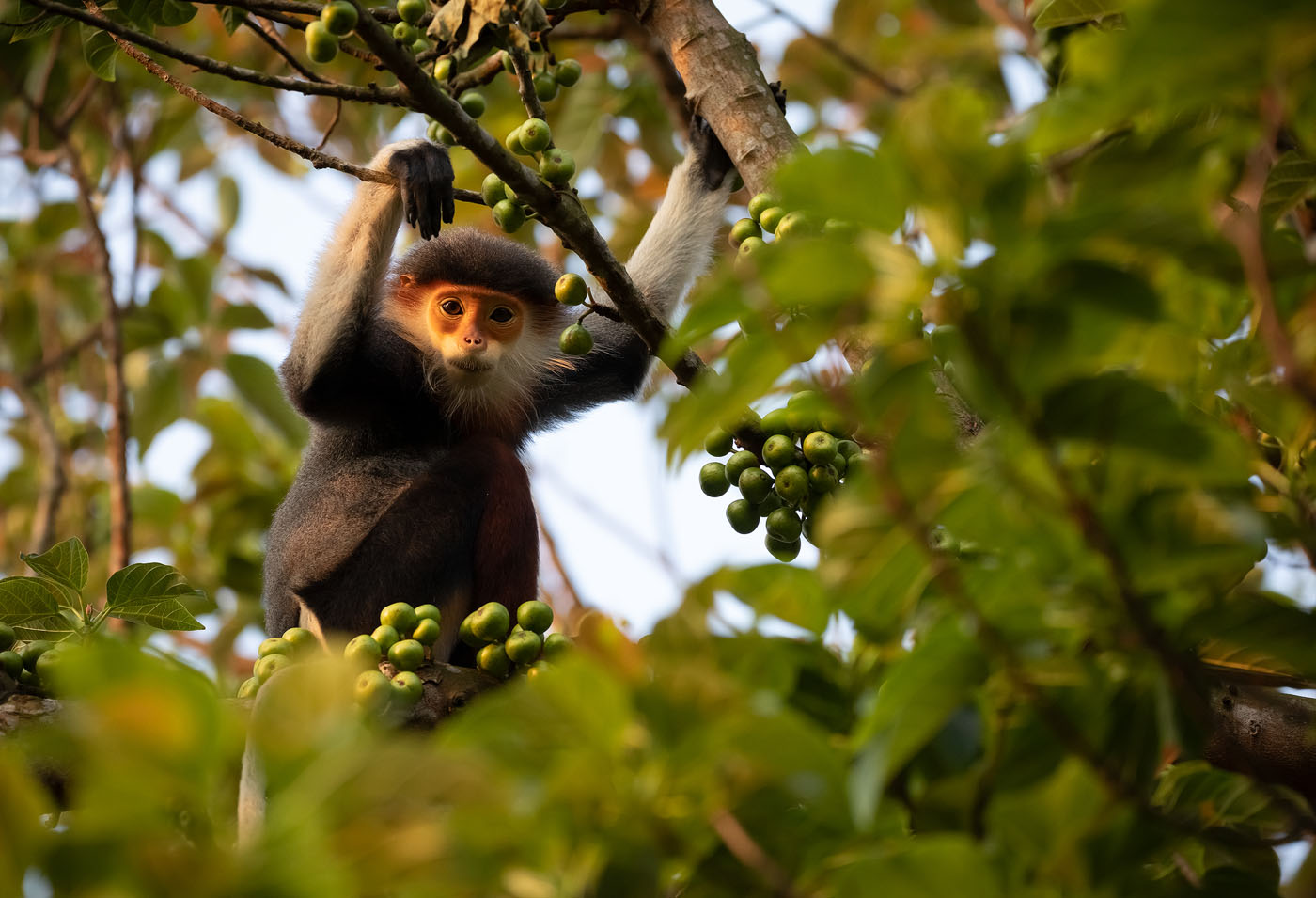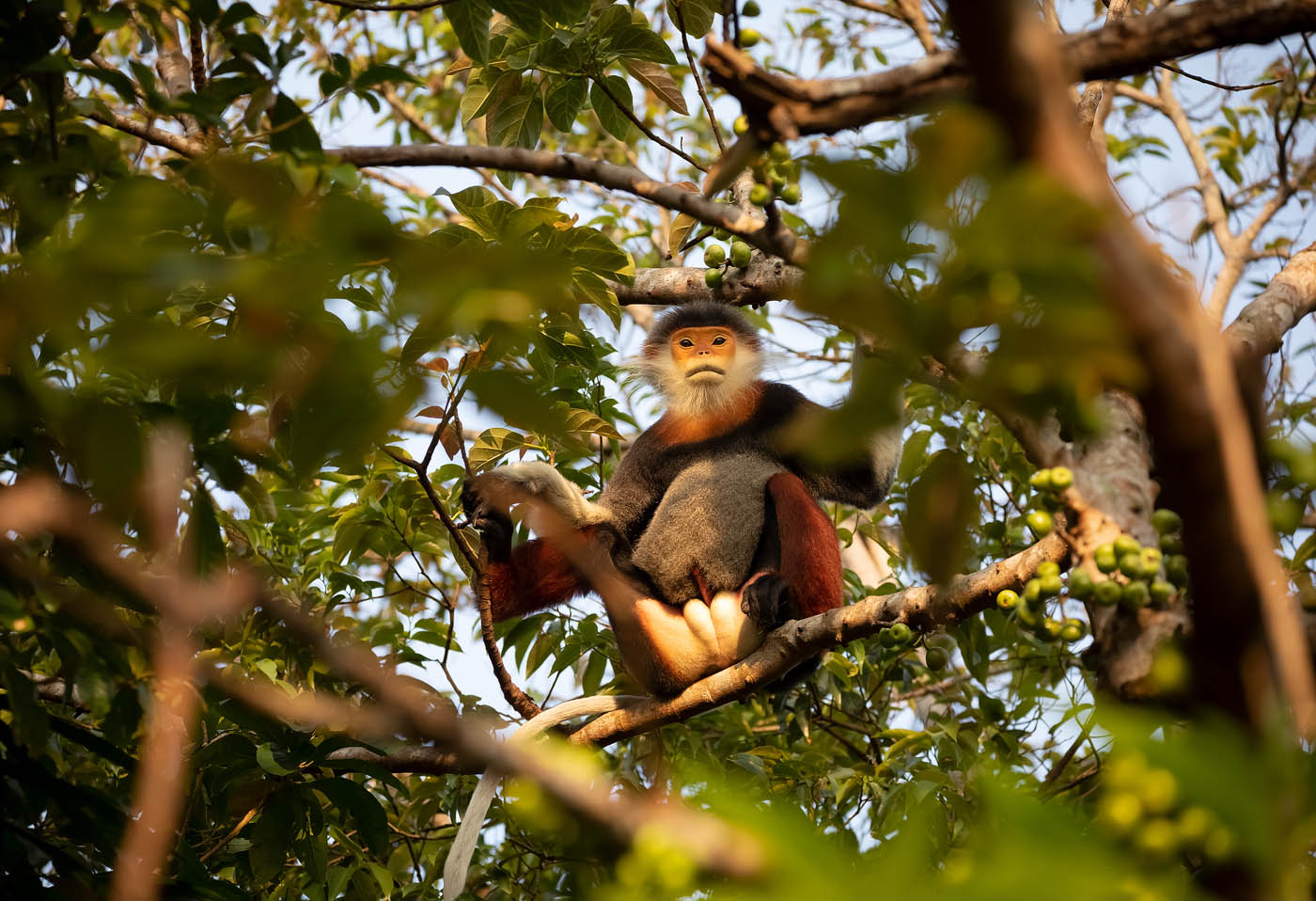 Days 8-10 Van Long Nature Reserve
We will depart Danang on the morning of day 8 and fly to Vietnam's capital of Hanoi. We will then drive a few hours to our final shooting destination: Van long, where we will shoot the final species on the trip: the super-rare and critically endangered Delacour's Langur.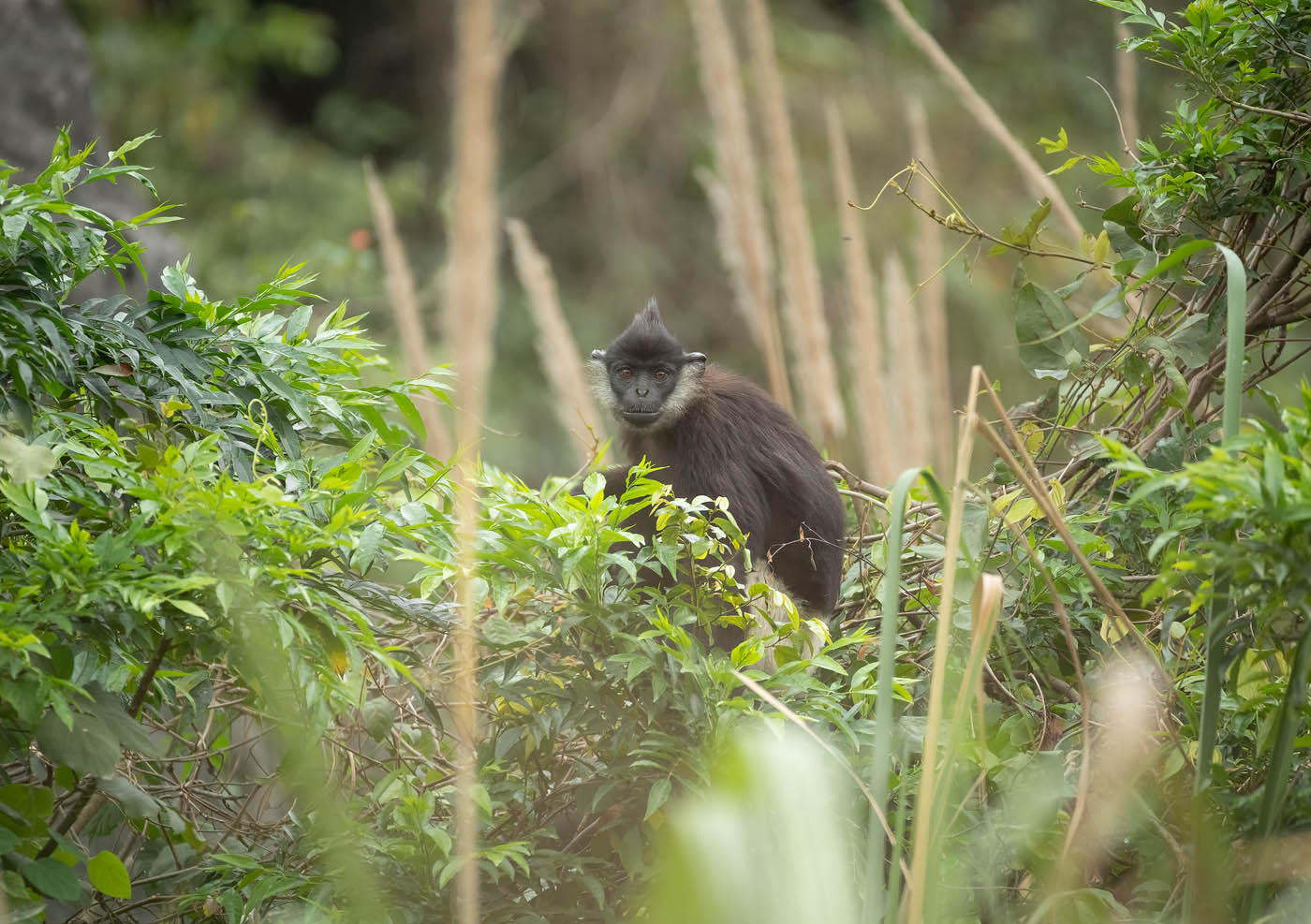 The Delacour's Langur is a critically endangered species of lutung endemic to northern Vietnam. Numbering only 200-300 individuals, the largest (and possibly the only viable) surviving population is thought to live in Van Long Nature Reserve. They have a rather unique hairdo, and white sideburns, which make them look (at least in my opinion) very cool, albeit in a 50's kind of way. Their babies are a striking orange color, which make them amazing photography subjects.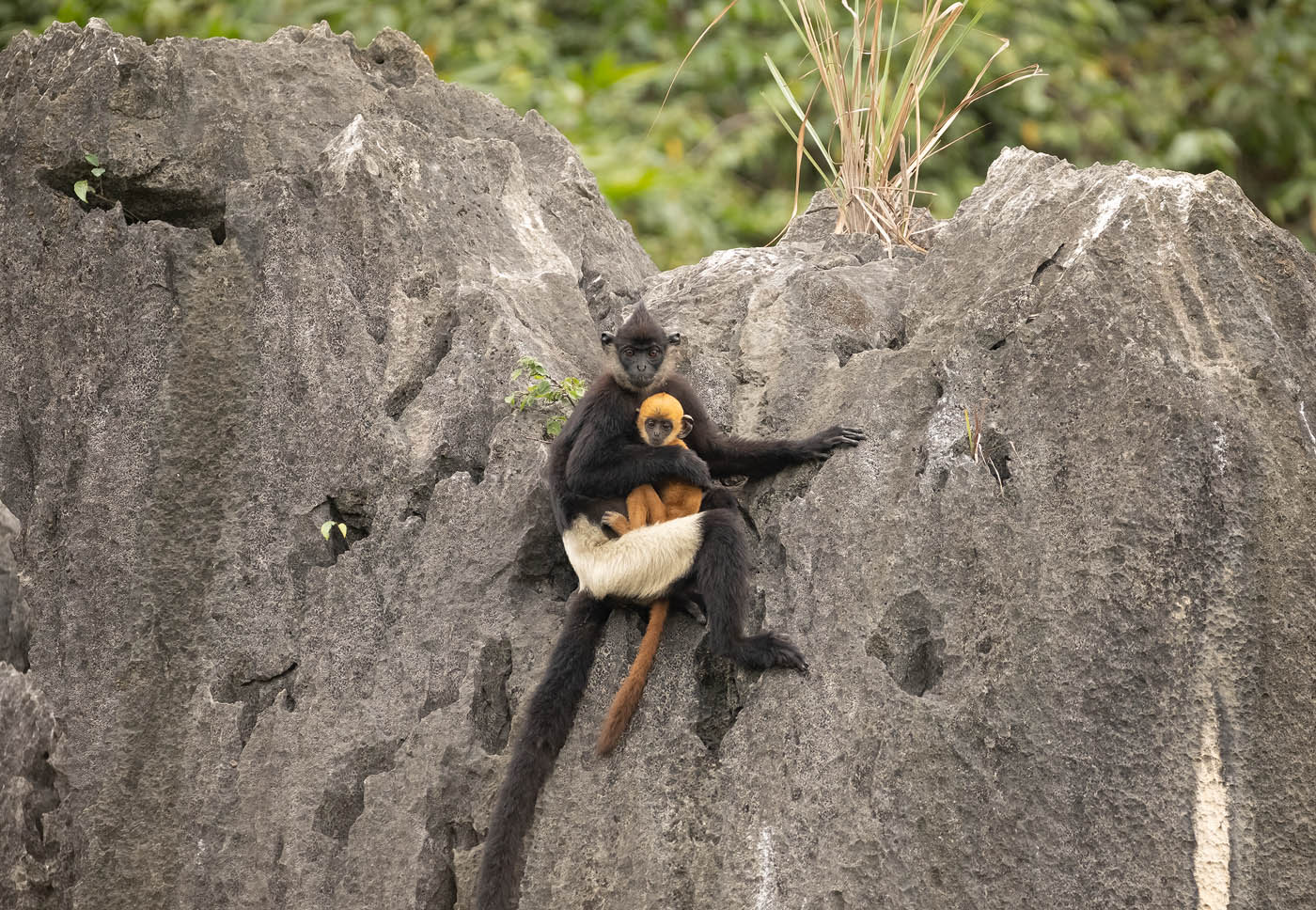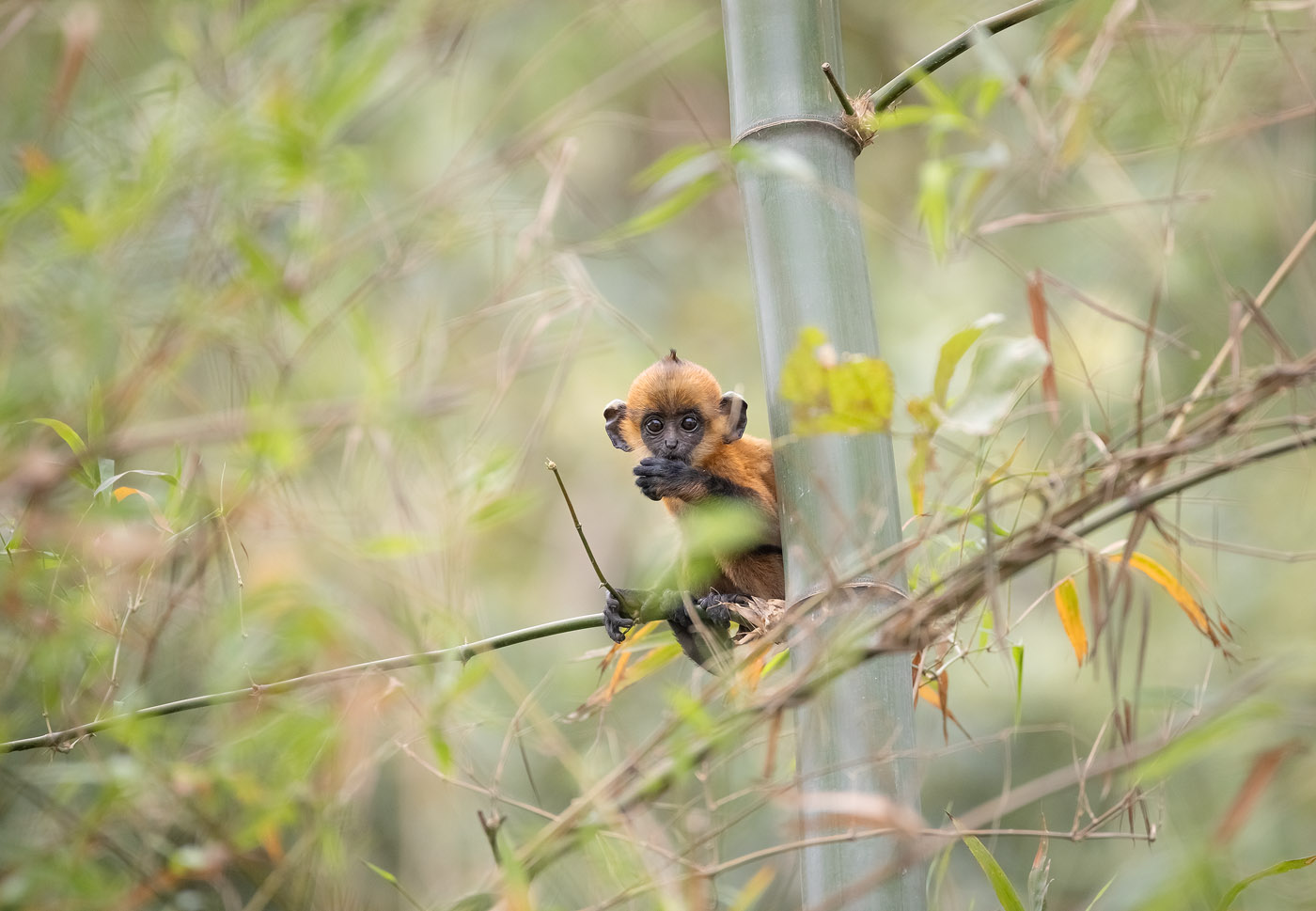 We will spend 2 full days shooting the Delacour's langurs. As with the other locations, we have private access to restricted parts of the reserve, where the langurs are more likely to venture down from the cliffs they dwell in, looking for food. There's a good chance hat we will see groups of up to 12 individals, sometimes just meters away, depending on our level of discretion and on the monkeys' mood.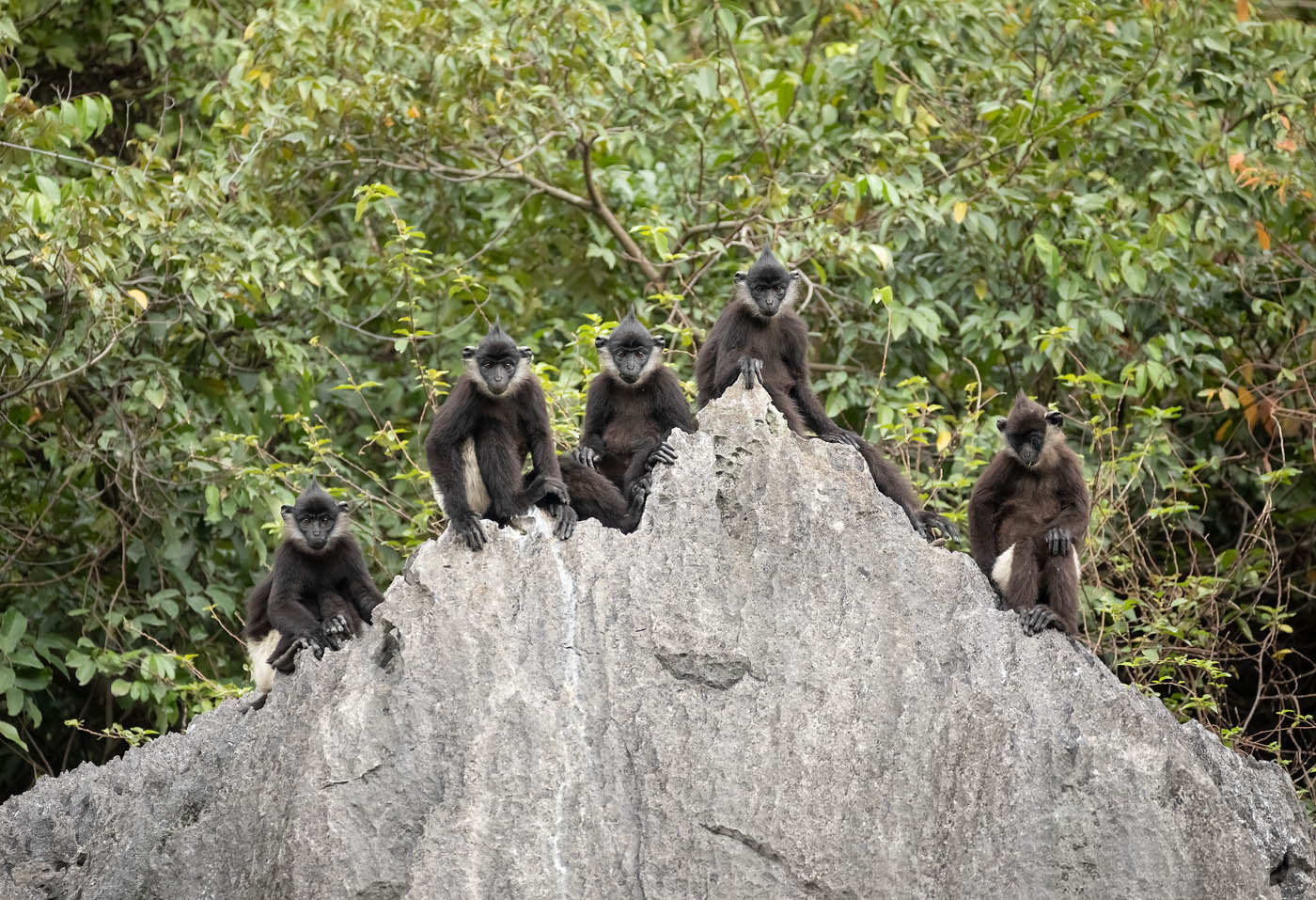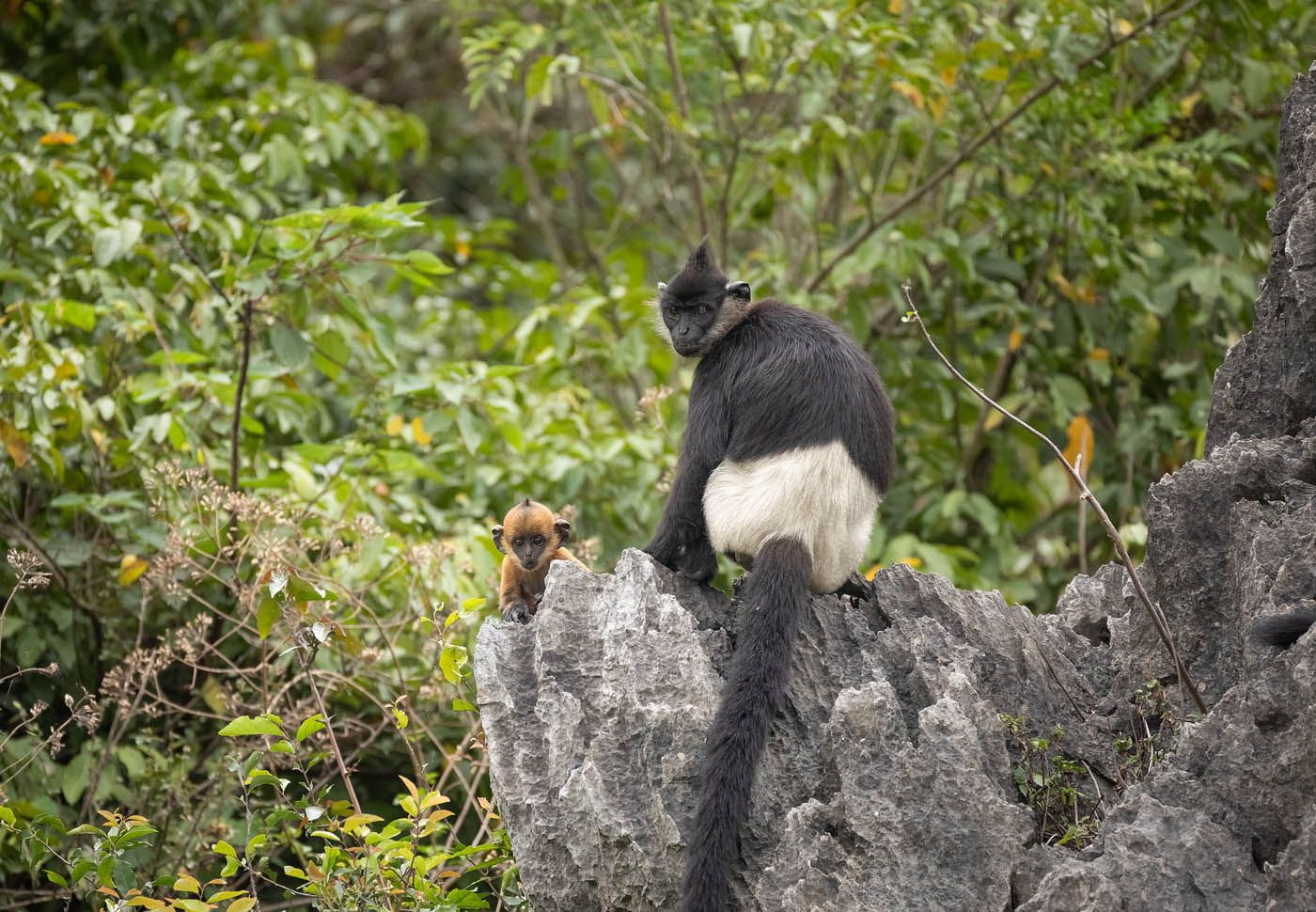 Day 10 Departure
After a morning/afternoon shoot in Van Long, we'll head to Hanoi airport for goodbyes and your flight home. We will reach the airport in the late afternoon or early evening.
Total Price: €7790 per person (single accommodations) for participants registering by May 31st, 2024;
€7890 for participants registering between June 1st and October 30th, 2024;
€7990 for participants registering afterwards.
Deposit: €3790
Maximum Number of Participants: 6 photographers (non-photographers are welcome at a reduced price, contact me for details)
Physical Difficulty: Beginner+. We will not be hiking much to get to the wildlife, but the daily early morning and afternoon shoots might be a bit exhausting. You may miss a shoot now and then if you feel tired. Vietnam is a third-world country, but I have gone through everything necessary and spared nothing to make your stay as comfortable and as enjoyable as possible.
*Multiple discounts may or may not apply, please consult me.
Workshop Price Includes
Single room accommodations. Hotels vary in quality from basic (Cat Tien), through decent (Van Long) to fancy (Danang), but they are always at the best location to reach the wildlife..
Breakfast, lunch and dinner throughout the workshop.
Travels in private, comfortable, 4X4 vehicles offering ample room for you and your photoraphy gear.
2 domestic flights to reach our destinations quickly and comfortably.
Professional photography guidance by a professional nature photographer, accompanied by local experts
Critique sessions and post-processing assistance when and where possible.
Entrance fees, road tolls and taxes on all services listed above.
Workshop Price Does Not Include
Airfare to Tan Son Nhat International Airport (SGN) and from Noi Bai International Airport (HAN). Note - the workshop begins and ends in different airports, and you'll need to book your international flights accordingly. Please consult me for help.
Insurance. It is MANDATORY to insure yourself against physical injury, and highly recommended to insure your photo gear. Tour leaders will not be responsible in case of any personal injuries or damage to photographic gear as a result of an accident during the workshop. A good insurance policy can make a big difference should something happen, and ensure a safe return home.
Alcoholic drinks.
Non-meal-time snacks or soft drinks.
Gratuities to the local staff
Photography Equipment
A digital camera, preferrably a DSLR camera with a full-frame sensor, since these cameras have better low-light capabilities. However, a crop-sensor DSLR will also completely suffice. A compact camera can be used, as long as you understand its limitations.
A stable, light tripod, preferably carbon-fiber. It's best to have a tripod which goes up to eye-level, to avoid crouching and preserve your back.
An ultra wide angle lens. For example, an 11-24mm or 16-35mm.
A mid-range zoom lens such as a 24-70mm.
A telephoto zoom lens, such as a 70-300 or 100-400. A stabilized lens is recommended.
An stabilized ultra-telephoto lens such as a 150-600mm for wildlife shooting.

Clothing
Light, breatheable shirts, light warm jacket
Convertible pants
A wide hat
Good hiking boots, socks
Light rain gear

Other
Sun glasses
Sunscreen
Insect repellent
A med kit which includes pills against traveller's diarrhea (Z-pak works great).
Rain cover for your photo bag
Payment Procedure
In order to secure your spot, you are required to transfer a deposit of €3690. This deposit will be refunded only in case the workshop gets cancelled for some reason. For your comfort, the deposit can be paid either through PayPal or a wire-transfer (please contact me for details).
The full amount (after discounts if applicable) must be paid via wire-transfer no later than 90 days prior to the workshop starting date.
In the case you need to cancel your participation, a 75% refund (not including deposit) will be given up to 75 days prior to the workshop starting date, a 50% refund up to 60 days prior to the workshop starting date and a 25% refund up to 45 days prior to the workshop starting date.
I reserve the right to increase the price of the workshop if costs rise due to unexpected changes in fees, taxes or exchange rates.
Disclaimer
Though very improbable, workshop dates might shift a few days here or there, up to 6 months prior to start date. Please contact me if you have schedule limitations.
The tour plan above is subject to change. In case of harsh weather, we may have to divert from our plan and do something else.
Important: In order to join the workshop, you will be required to sign a contract that establishes that the tour leaders are not responsible to physical or proprietary damages, and that you understand and accept several behavioral standards (including not taking excessive risk), necessary to ensure the workshop's success and your safe return.
*Multiple discounts may or may not apply, please consult me.
Erez Marom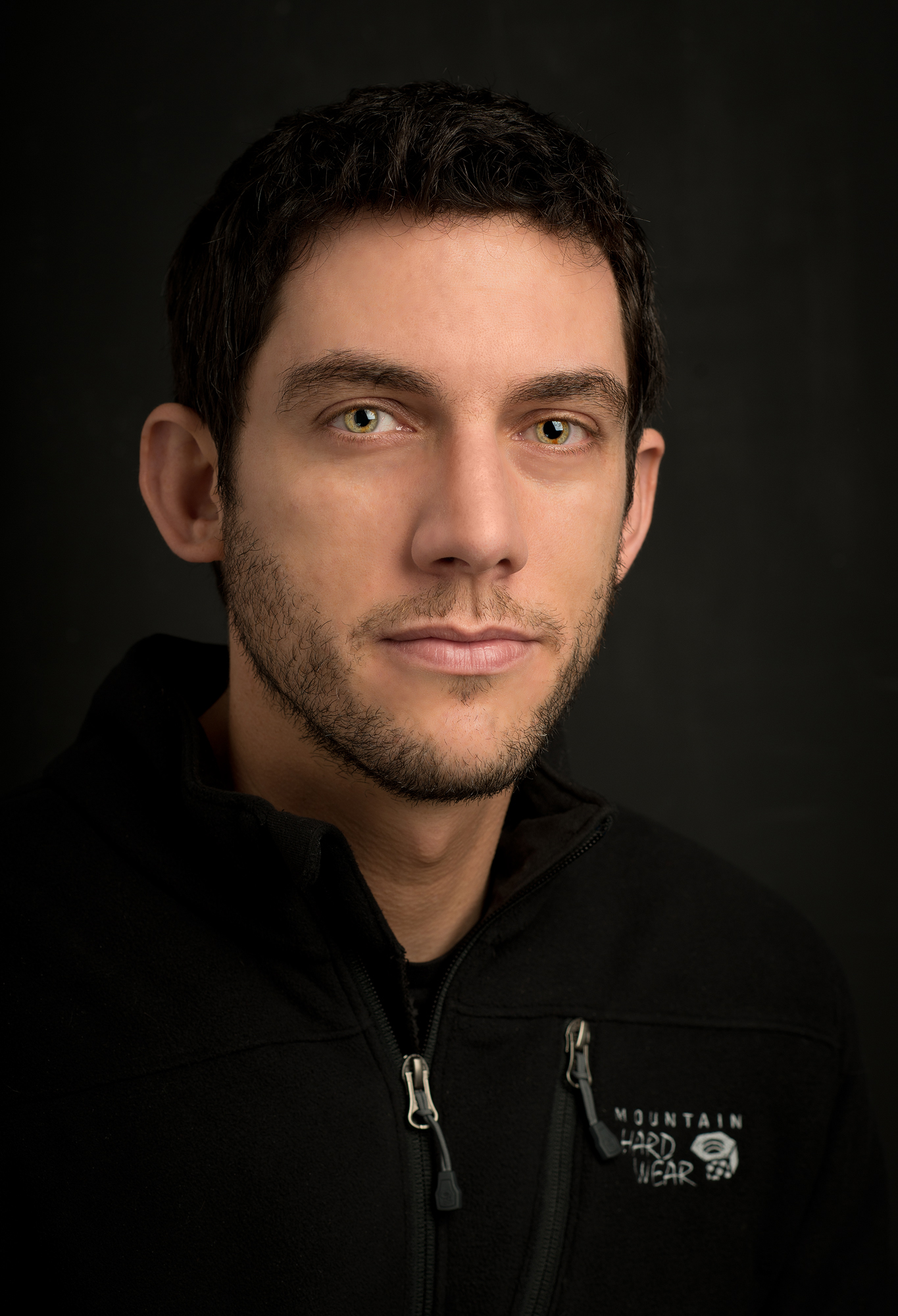 Born in 1980, Erez Marom is a full-time nature photographer, photography guide, writer and traveler-adventurer based in Israel. Specializing in landscape and wildlife photography, Erez spends much of his time in the field shooting the wildlife and scenery of his favorite locations in Israel and overseas.
In addition, Erez publishes articles and instructional texts in leading magazines and websites, and dedicates a considerable amount of his time to sharing his experience and knowledge by lecturing worldwide and traveling several times a year to guide his unique photography workshops.