'SONG OF BABAKUTU' - MADAGASCAR PHOTO WORKSHOP
Price: €13490 pp (or $US equivalent, price valid until October 31st, 2023) / Deposit: €4990 pp
AVAILABILITY
20th August - 6th September 2024 - Last Places
Madagascar is a place unlike any other. A secluded island, whose population has a mix of African and Asian origins, and whose nature is absolutely mind boggling, with astoundingly diverse landscapes and bafflingly weird wildlife. Numerous species of lemurs, chameleons, rock arches, baobab trees, the beautiful Red Tsingy in the north and so much more, Madagascar is a pearl of nature photography, and during this 17-day workshop we will see the best of the best.
Join professional, award-winning nature photographer Erez Marom on a trip of a lifetime to explore and enjoy one of the most incredible islands on Earth. Erez has meticulously scouted the locations we will visit, and made sure we will make the best possible use of your time. The trip is long and sometimes not easy, but the satisfaction you will get from such a high dosage of amazing nature is sure to be worth it.
Main Features
17 days in 5 of Madagascar's most stunning and diverse landscape and wildlife shooting locations.
Incredible endemic wildlife impossible to shoot anywhere else in the world, among which numerous species of lemurs and chameleons.
Small group size (max 7 photographers) guarantees unparalleled personal attention and comfort during the wildlife shoots.
Private transfers in luxurious 4X4 vehicles.
3 domestic scheduled flights in addition to 2 private flights, to ensure quick arrivals to our locations and maximum devotion to shooting
Professional photo guidance by an experienced, award-winning nature photographer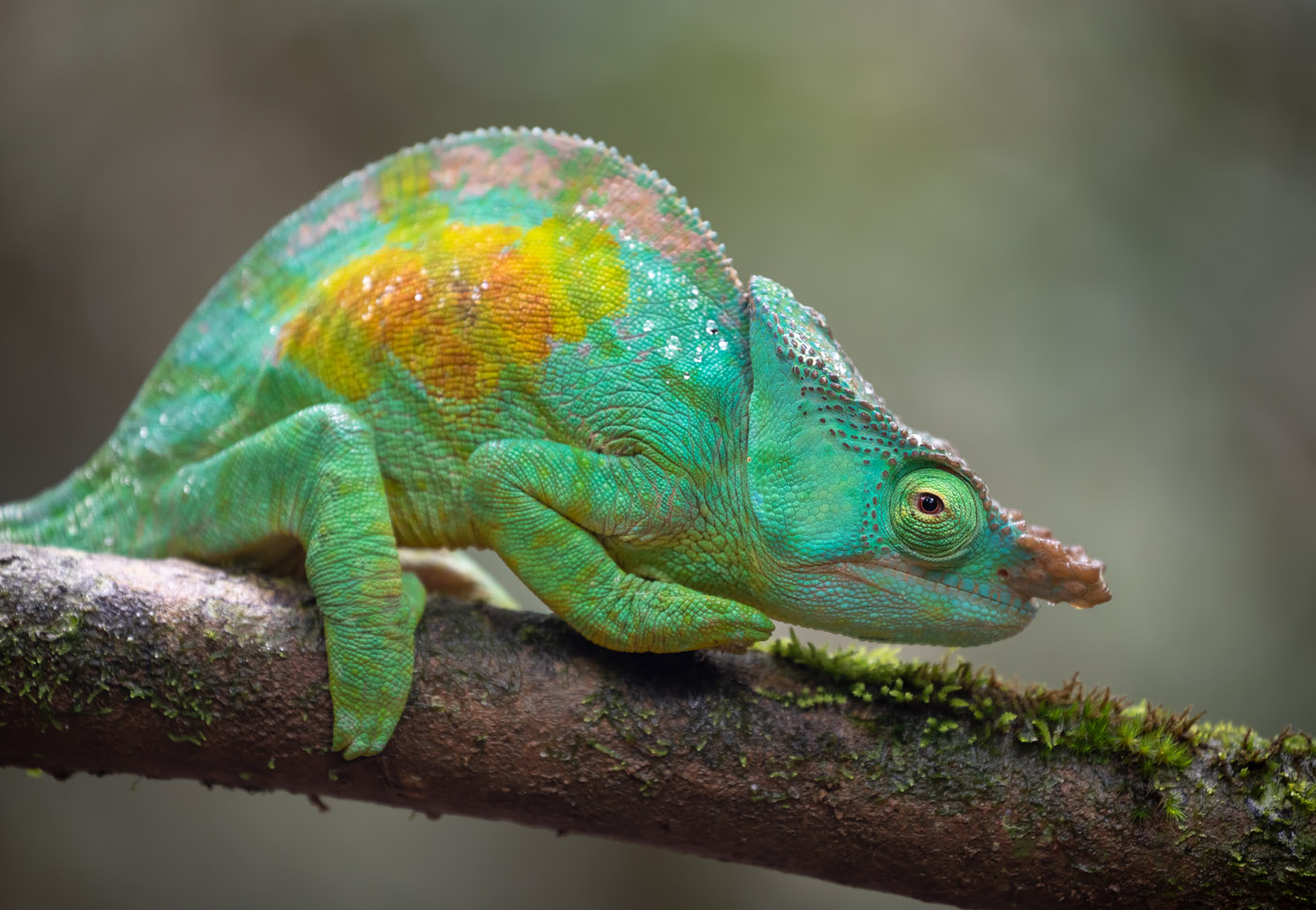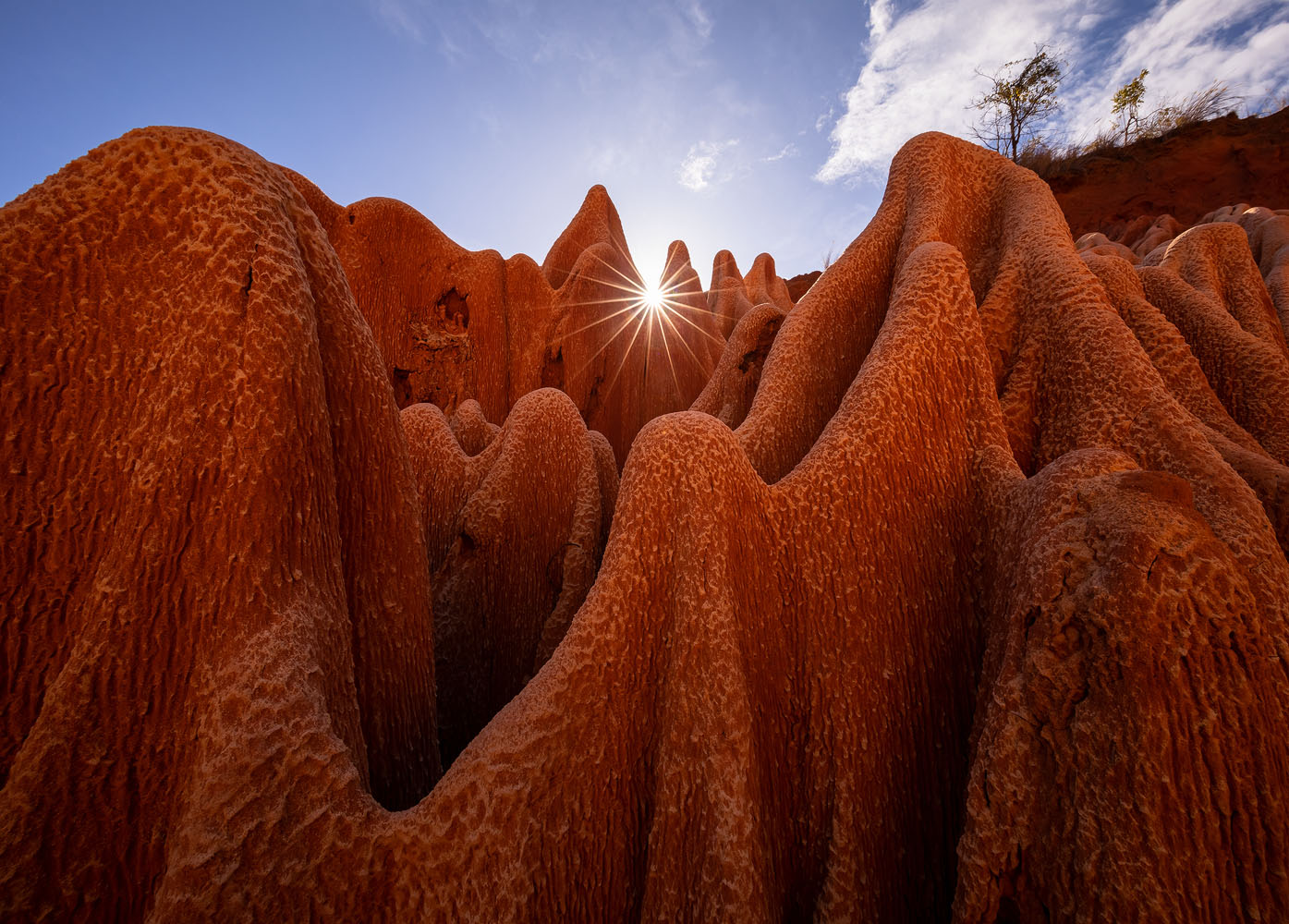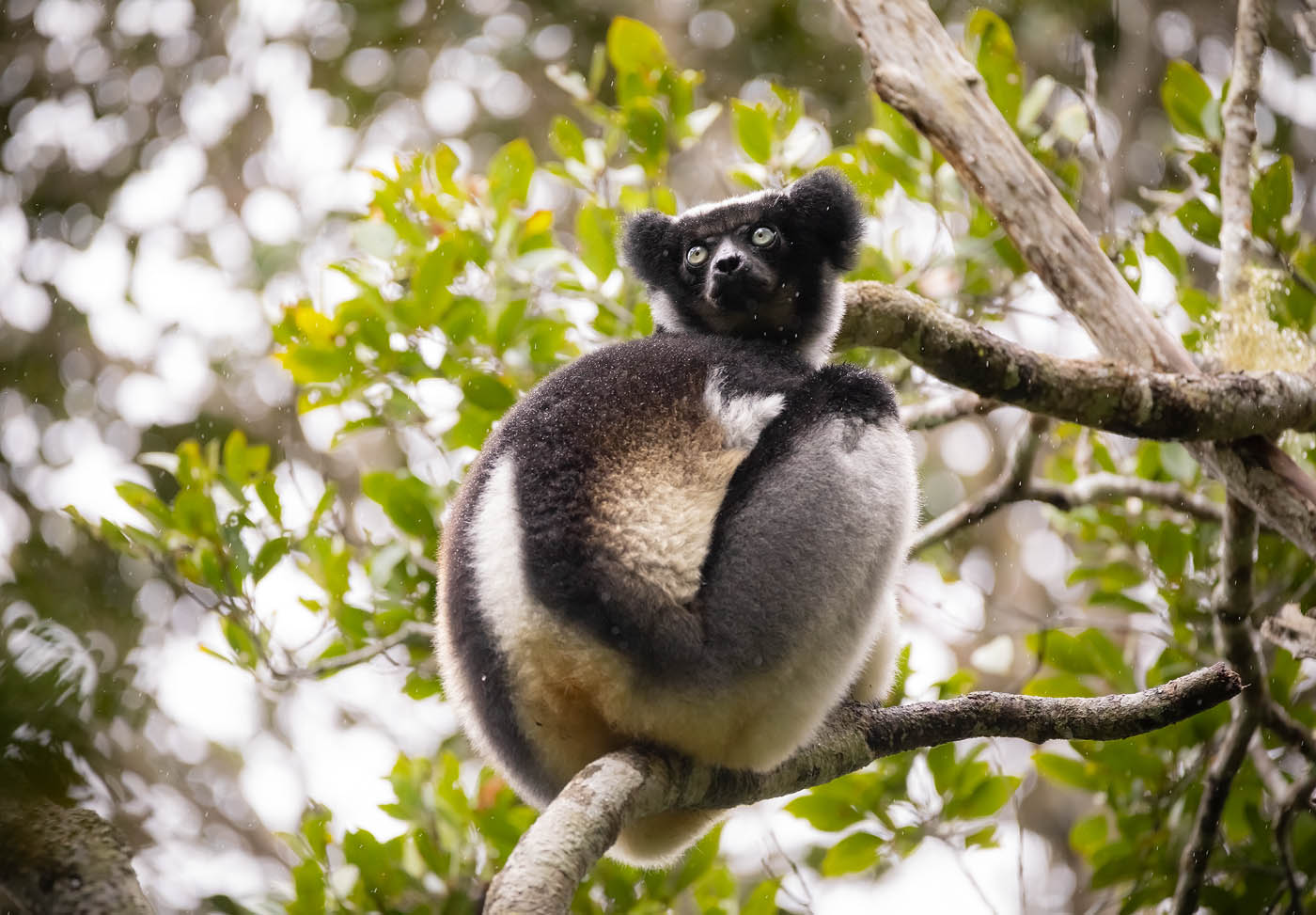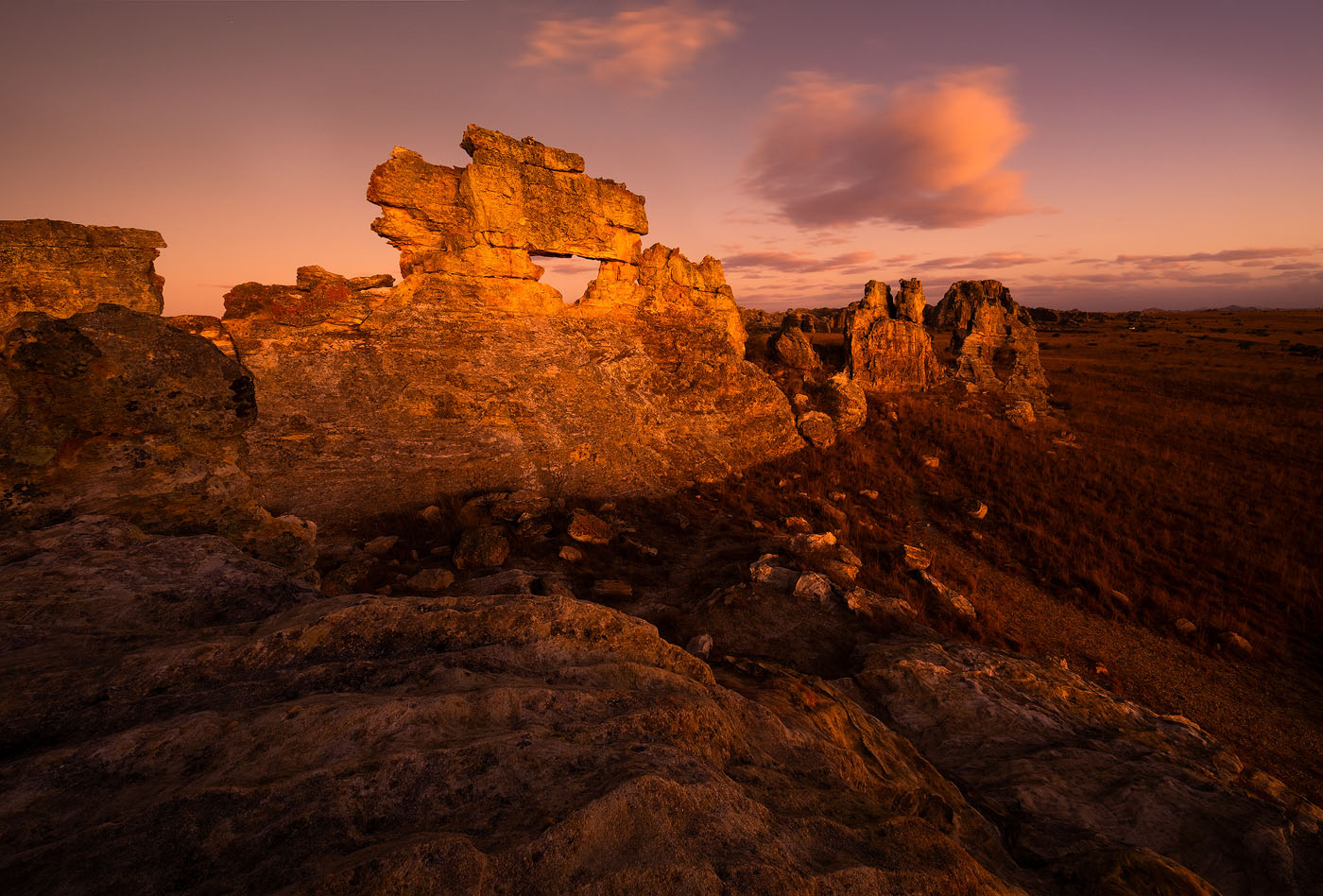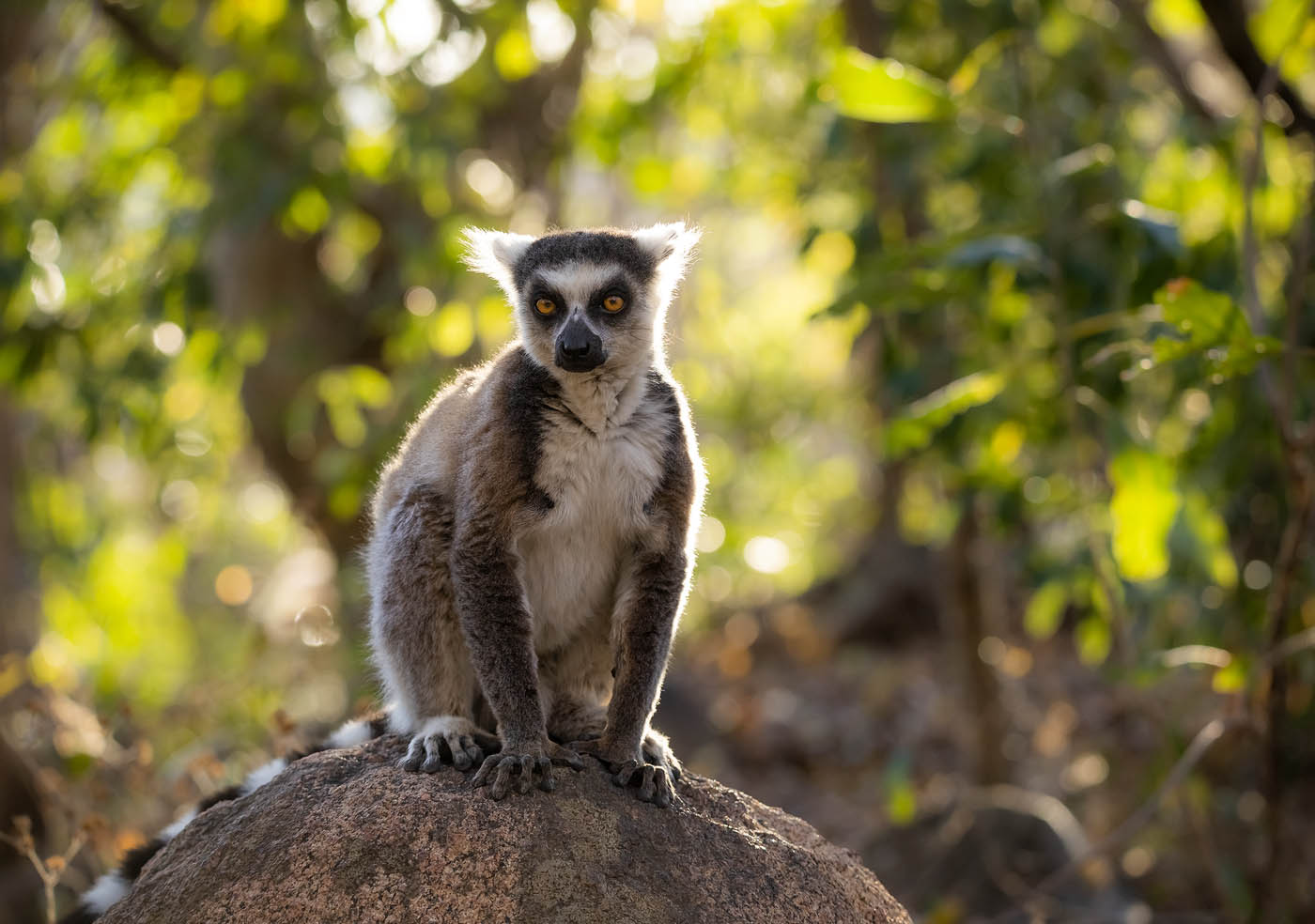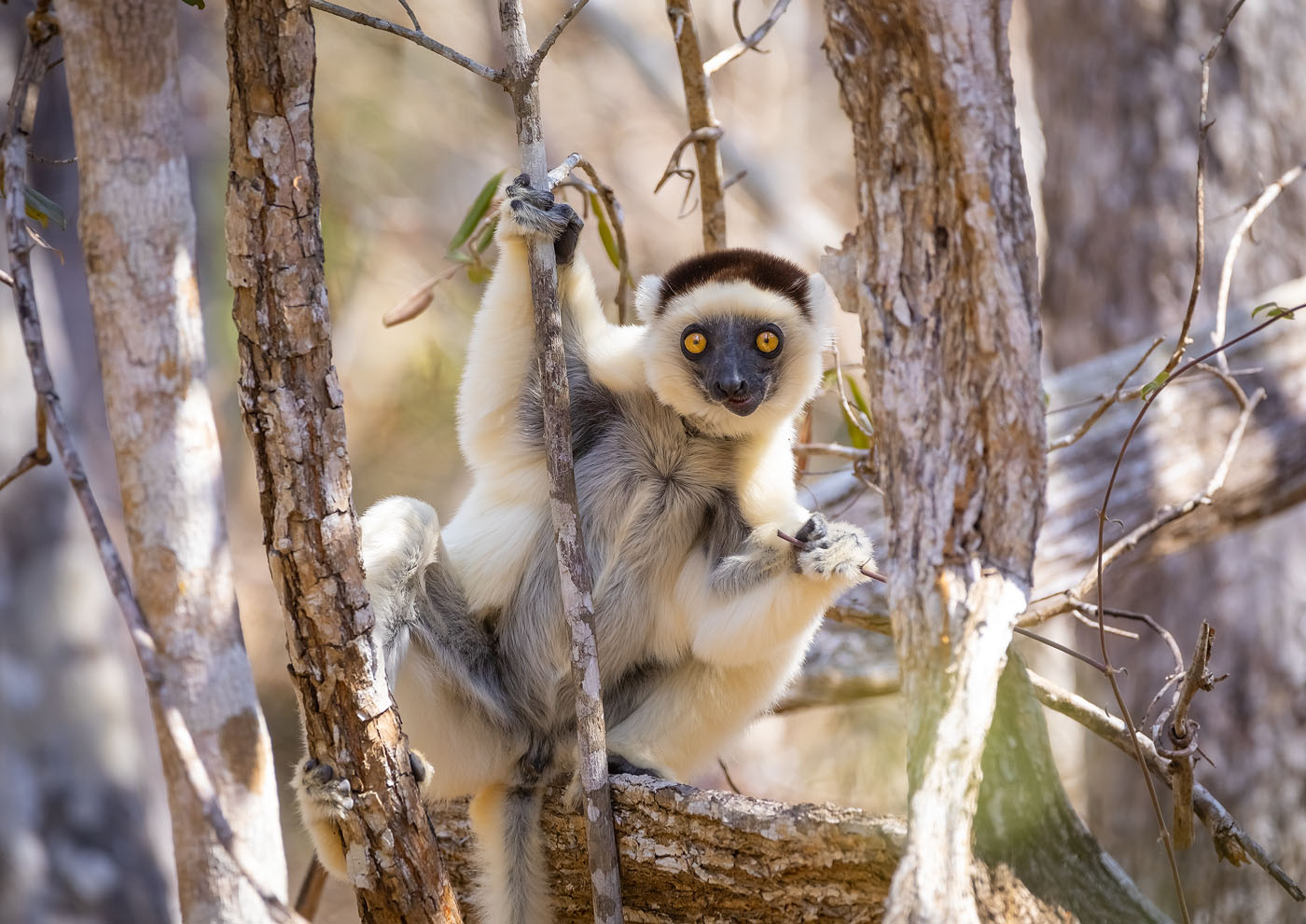 Day 1 Meeting in Antananarivo
Upon landing in Ivato Airport, you will be picked up and safely transferred to out hotel in Madagascar's capital of Antananarivo (also commonly known as Tana). We will meet for an introductory dinner and discuss the plan for the days ahead.
Days 2-5 Andasibe
After breakfast at the hotel, we will hop on our 4X4 vehicles and embark on a long drive to our first stop: Andasibe National Park. Andasibe is a wildlife shooter's paradise: with several of Madagascar's most beautiful lemur and chameleon species, this rain forest is the perfect environment for those who love to easily trek into thick vegetation in search of elusive animals. Brown lemurs, Diademed Sifakas and wooly lemurs roam the park and will be lots of fun to shoot.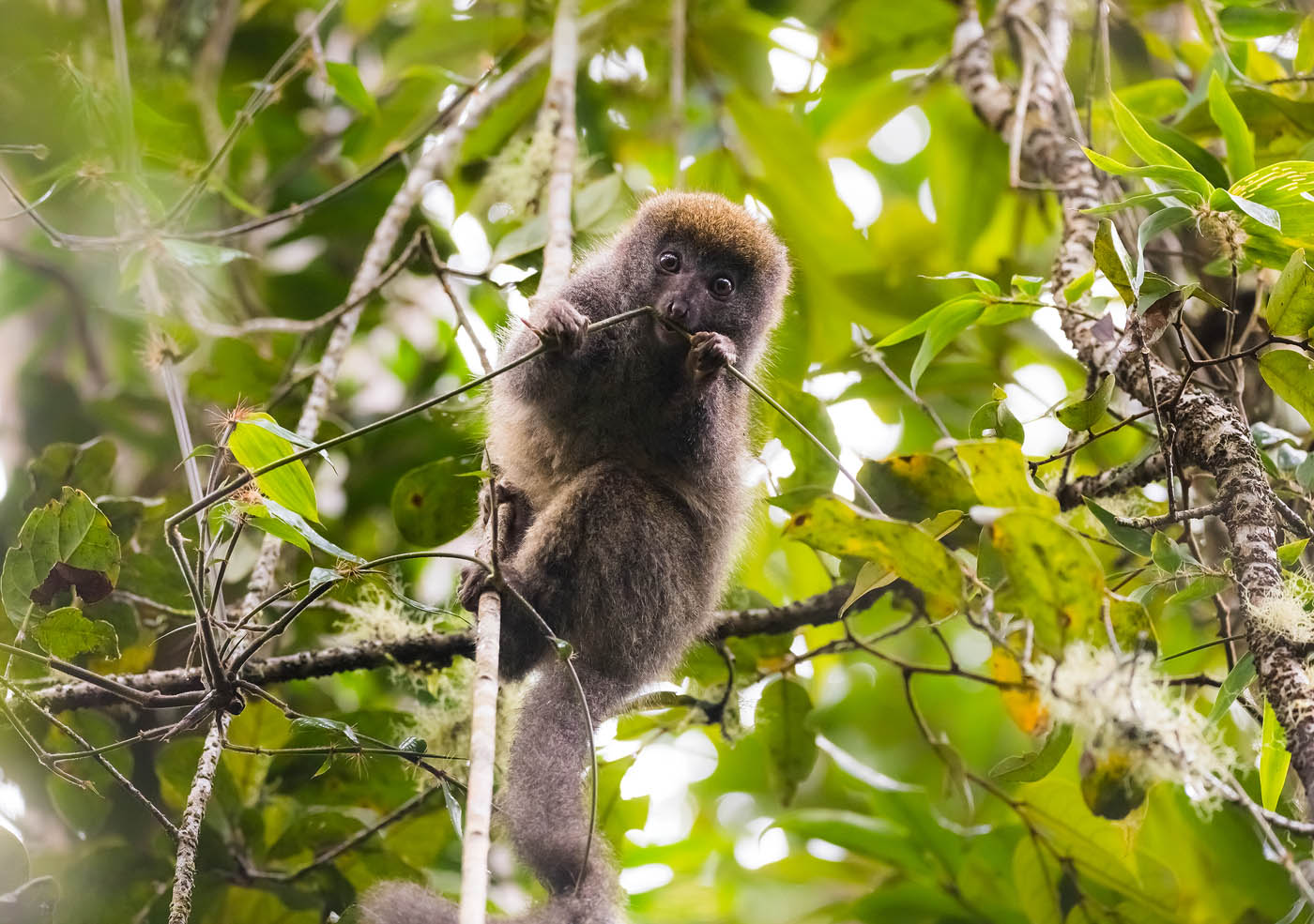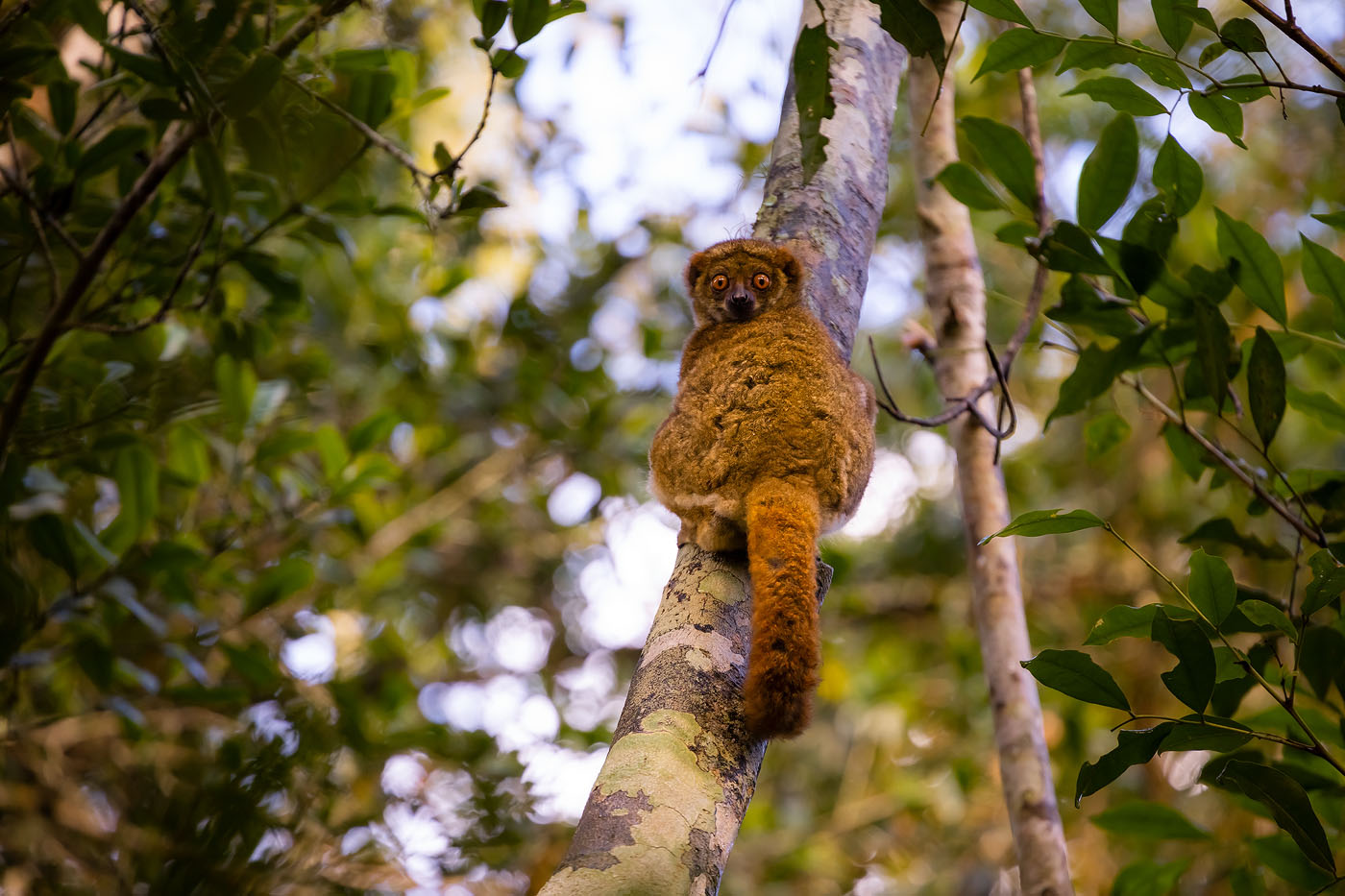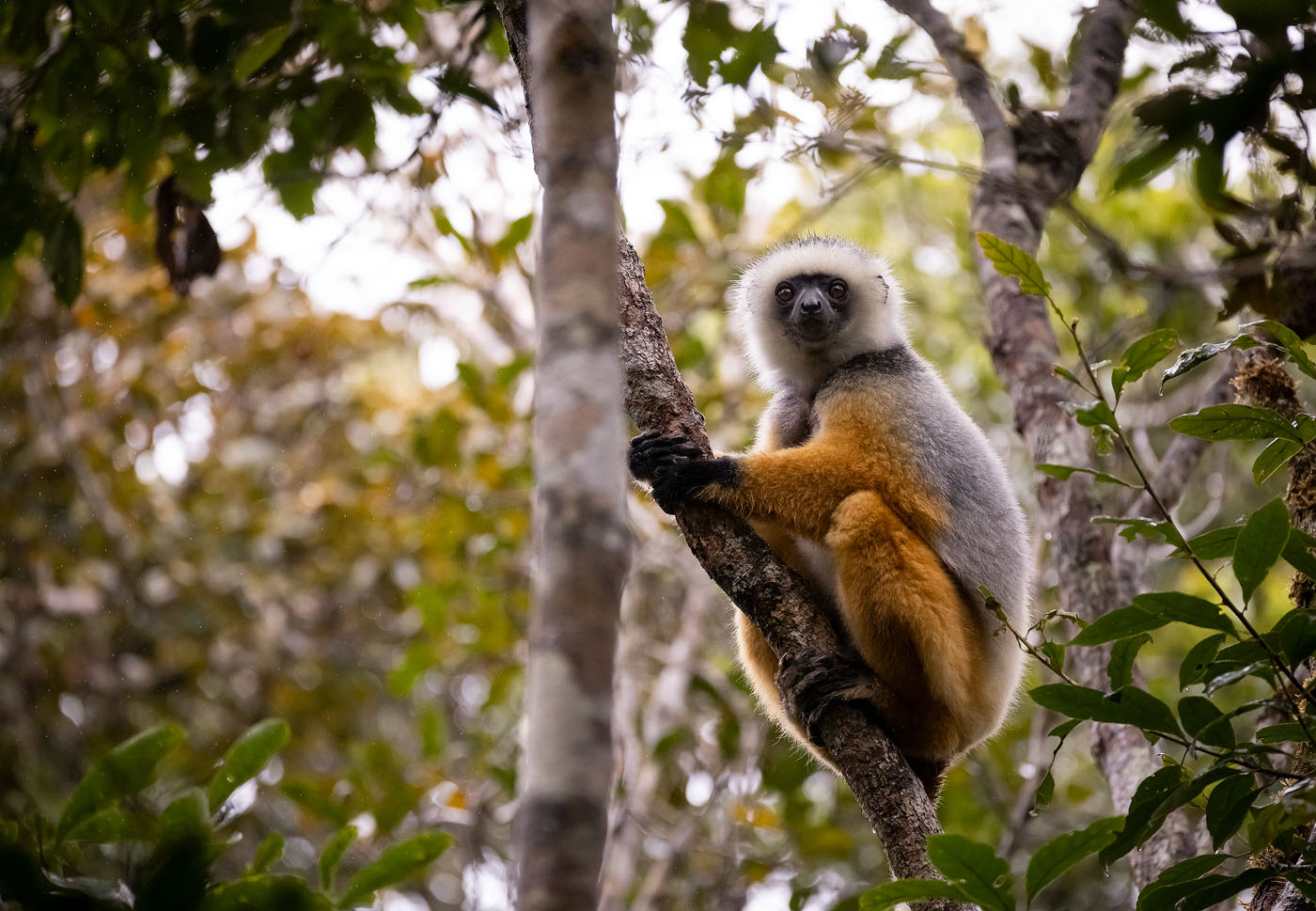 While all lemurs are beautiful, the most gorgeous species is also the one only found in Andasibe, and the largest living lemur: the Indri Indri.
Indris are one of the most beautiful animals you could hope to shoot. Their large, furry, black and white bodies and ears are only rivaled by their huge green eyes. While most of the time they take shelter high in the canopy, they have a habit of climbing down at certain hours, which we will take advantage of. Babakutu, as they are locally reffered to, sometimes burst into elaborate and beautiful songs.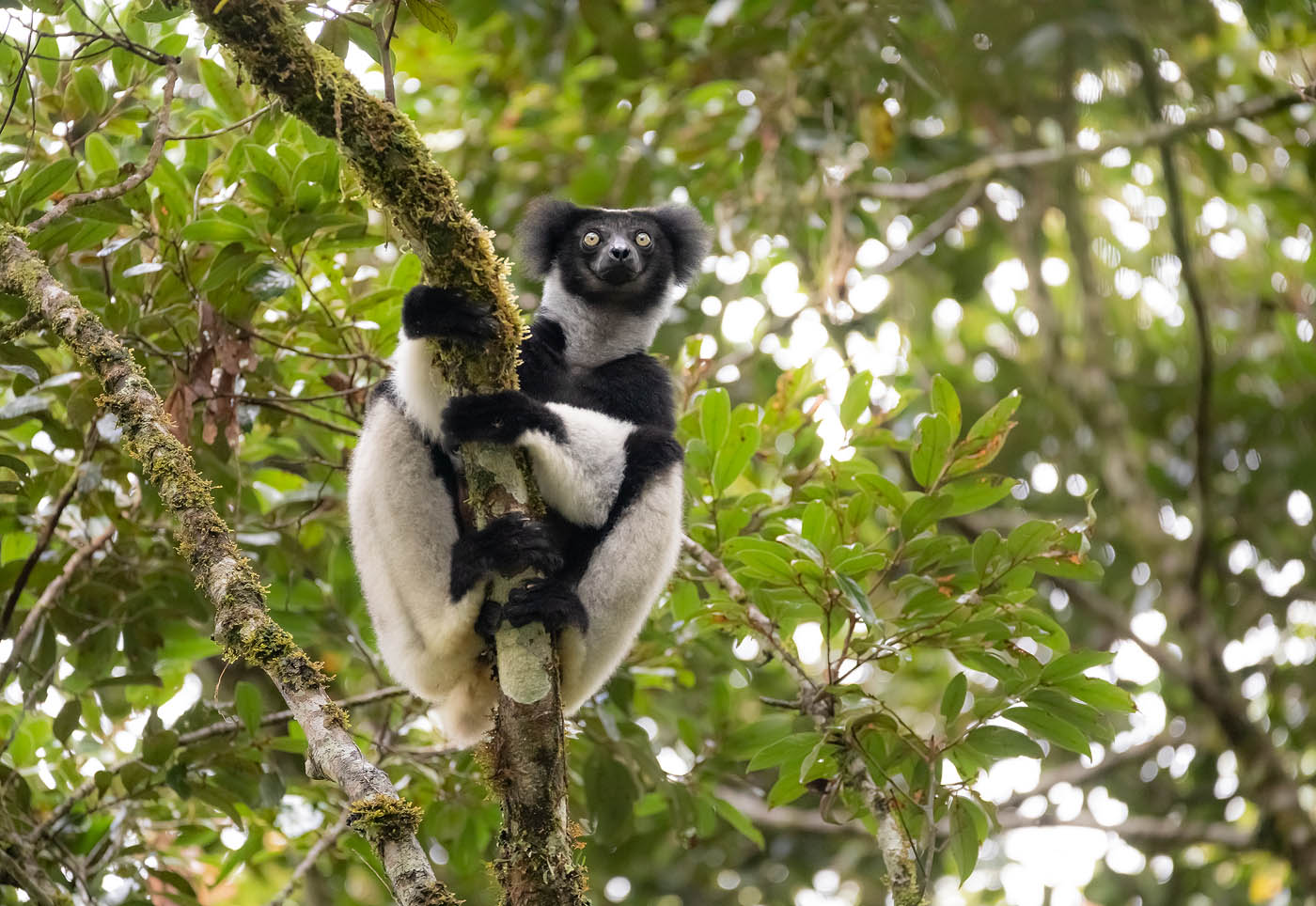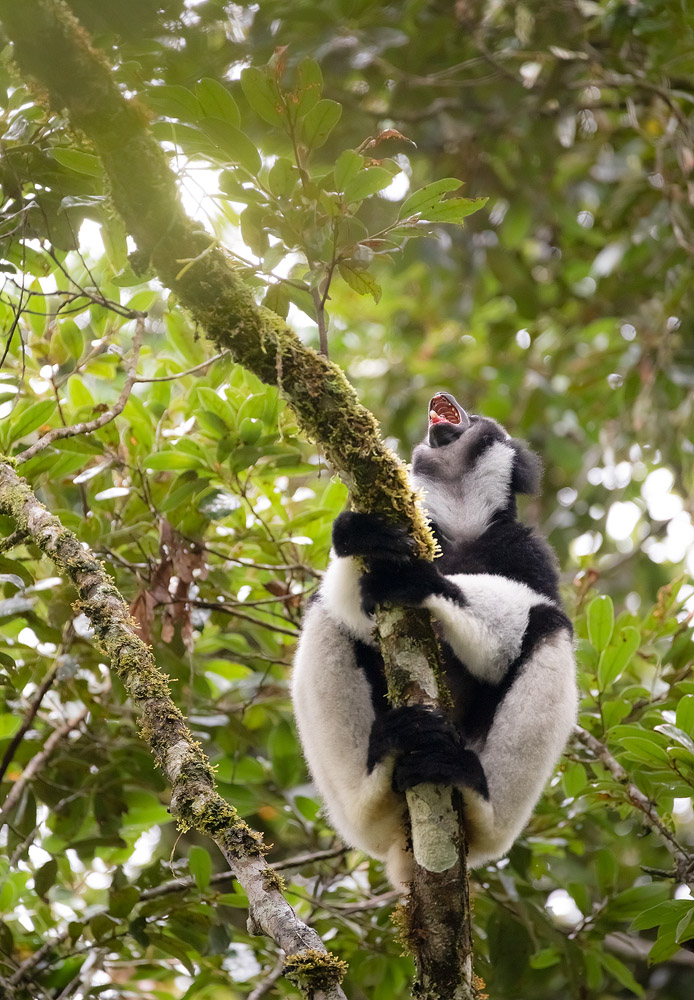 We will be in Andasibe in the right season to see some Indri Indri babies, if we're lucky enough!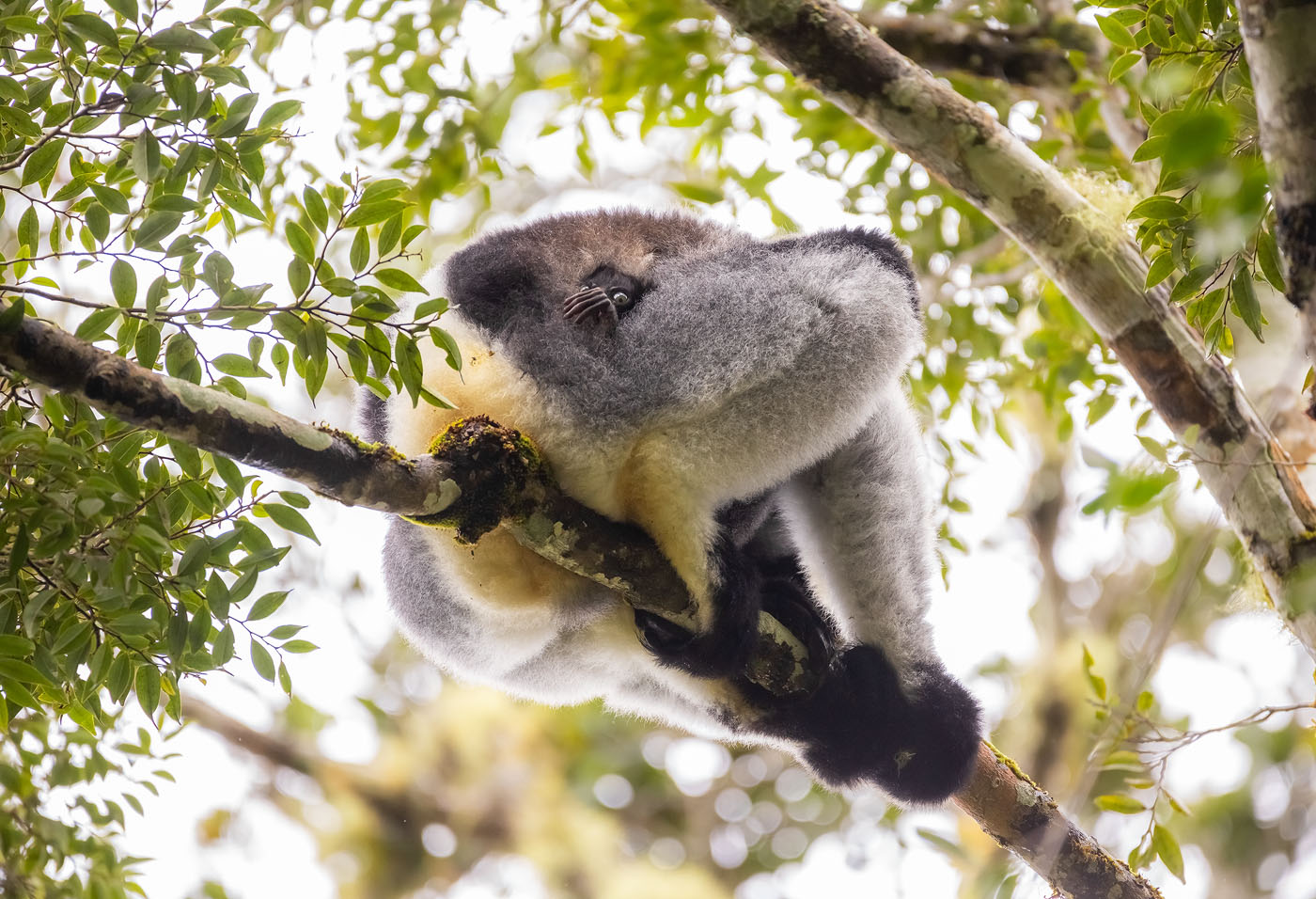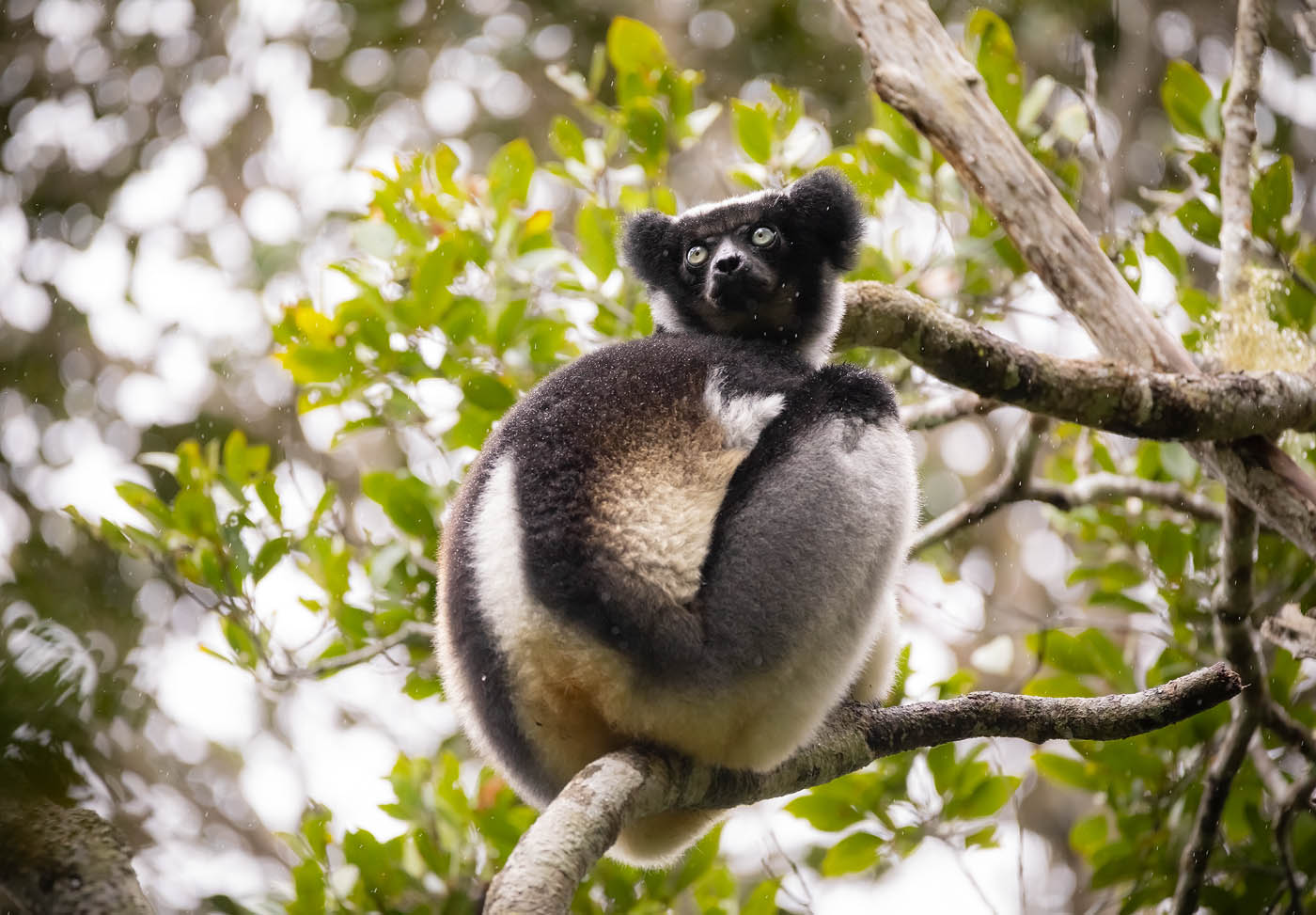 Andasibe is also home to several beautiful and interesting chameleon species. Out of these, the most amazing, without a doubt, is the male Parson's Chameleon. Its color palate is designed to get the female's attention, so beware, you may just fall in love with this guy! The female version is less colorful but also very pretty.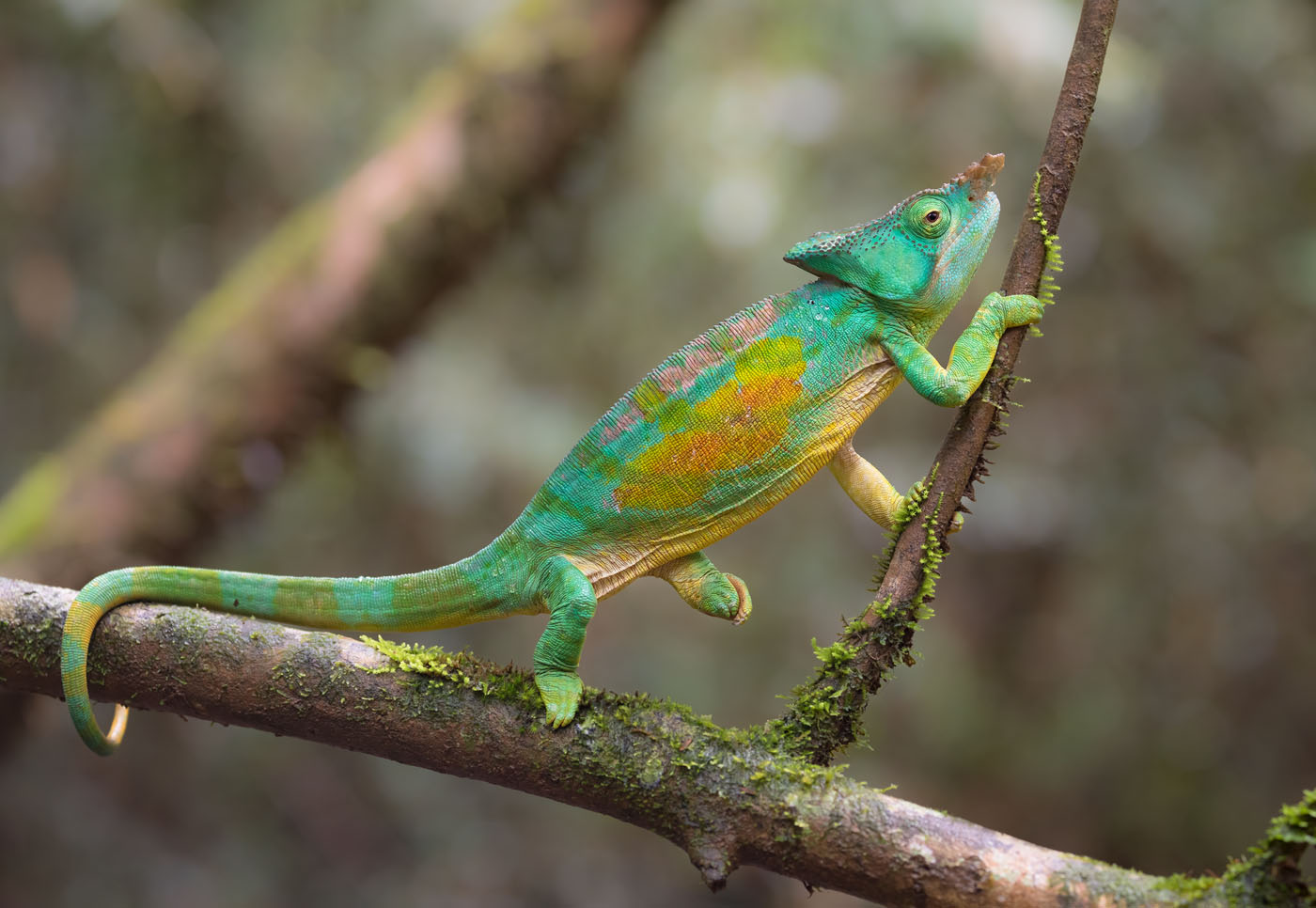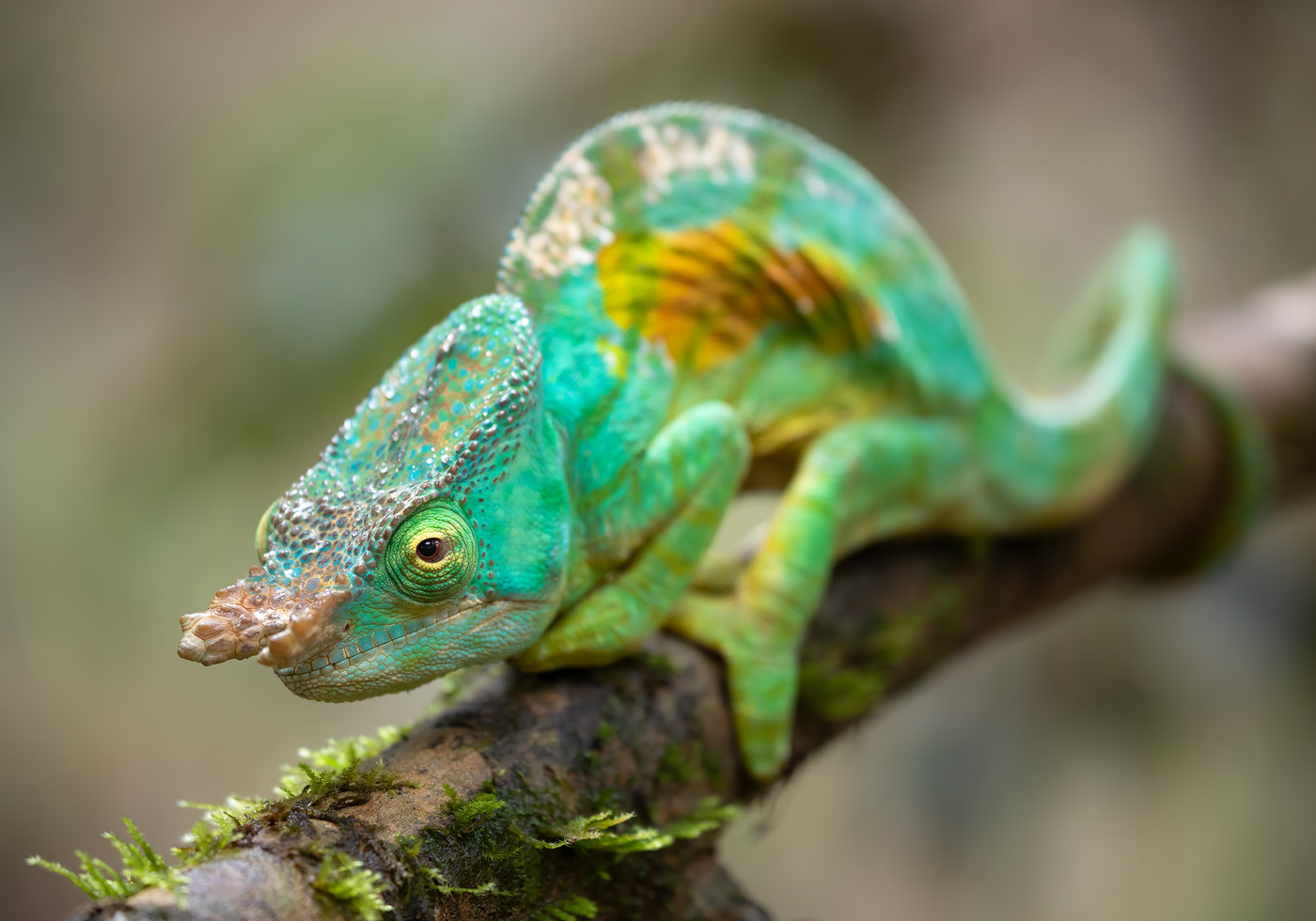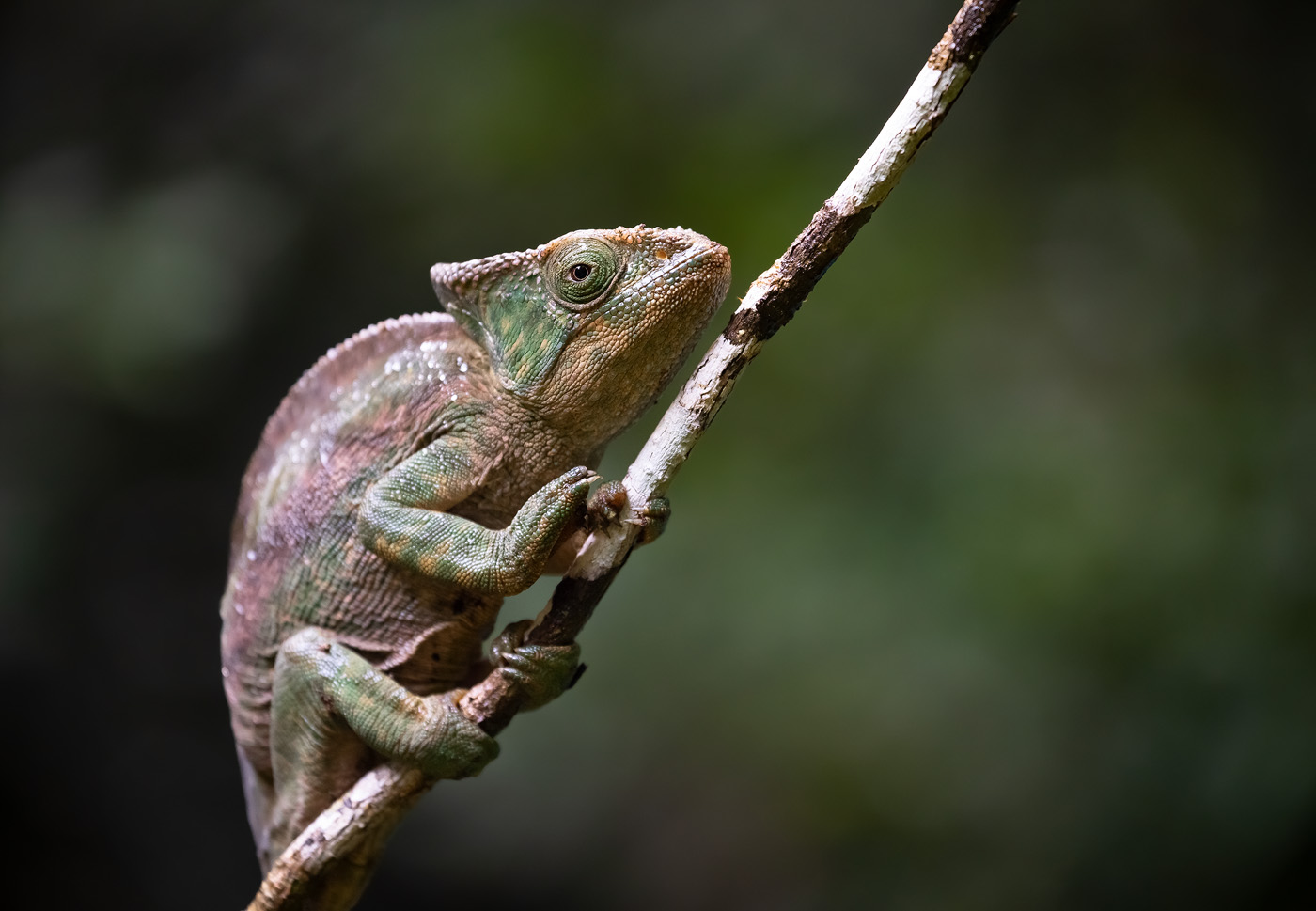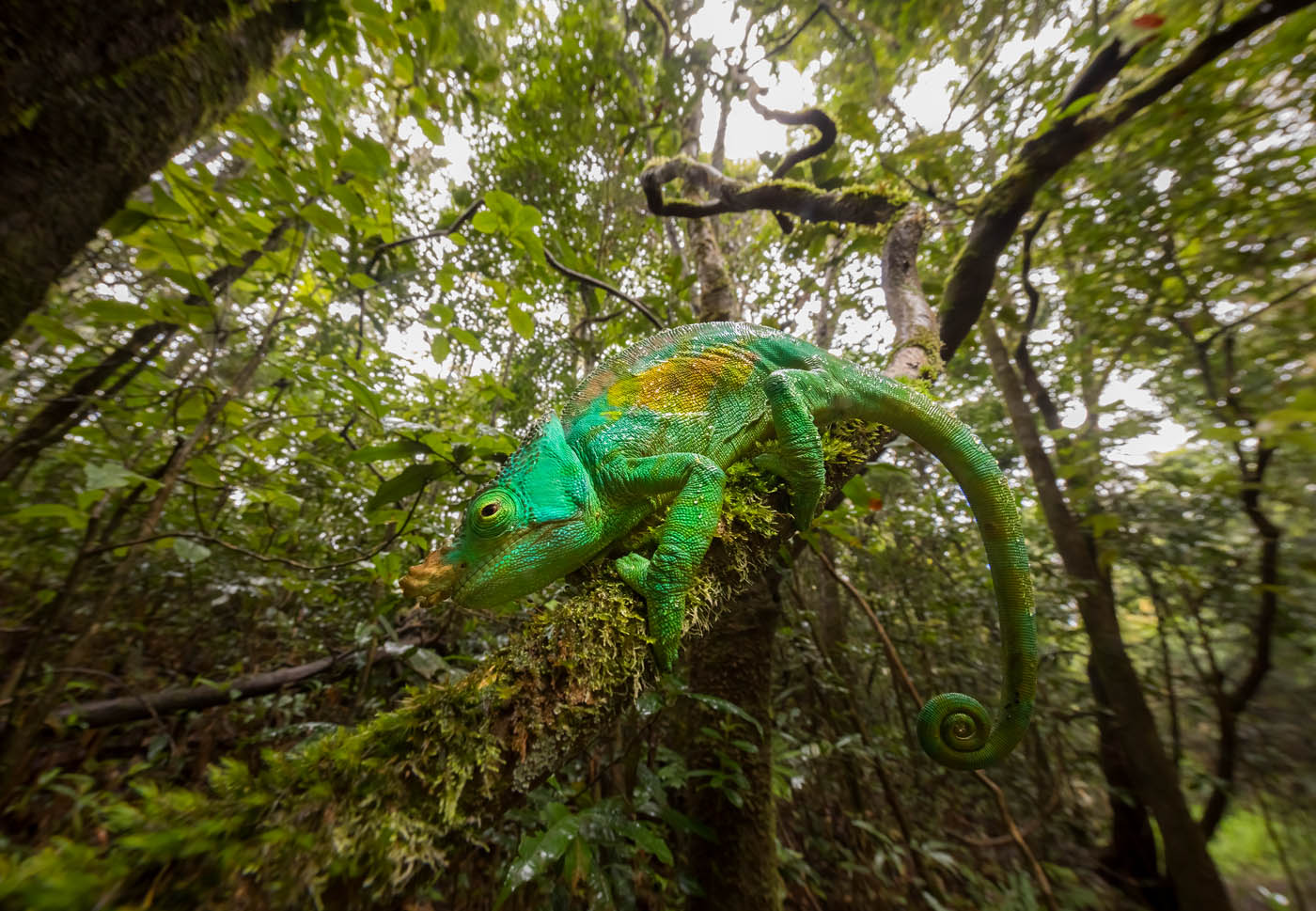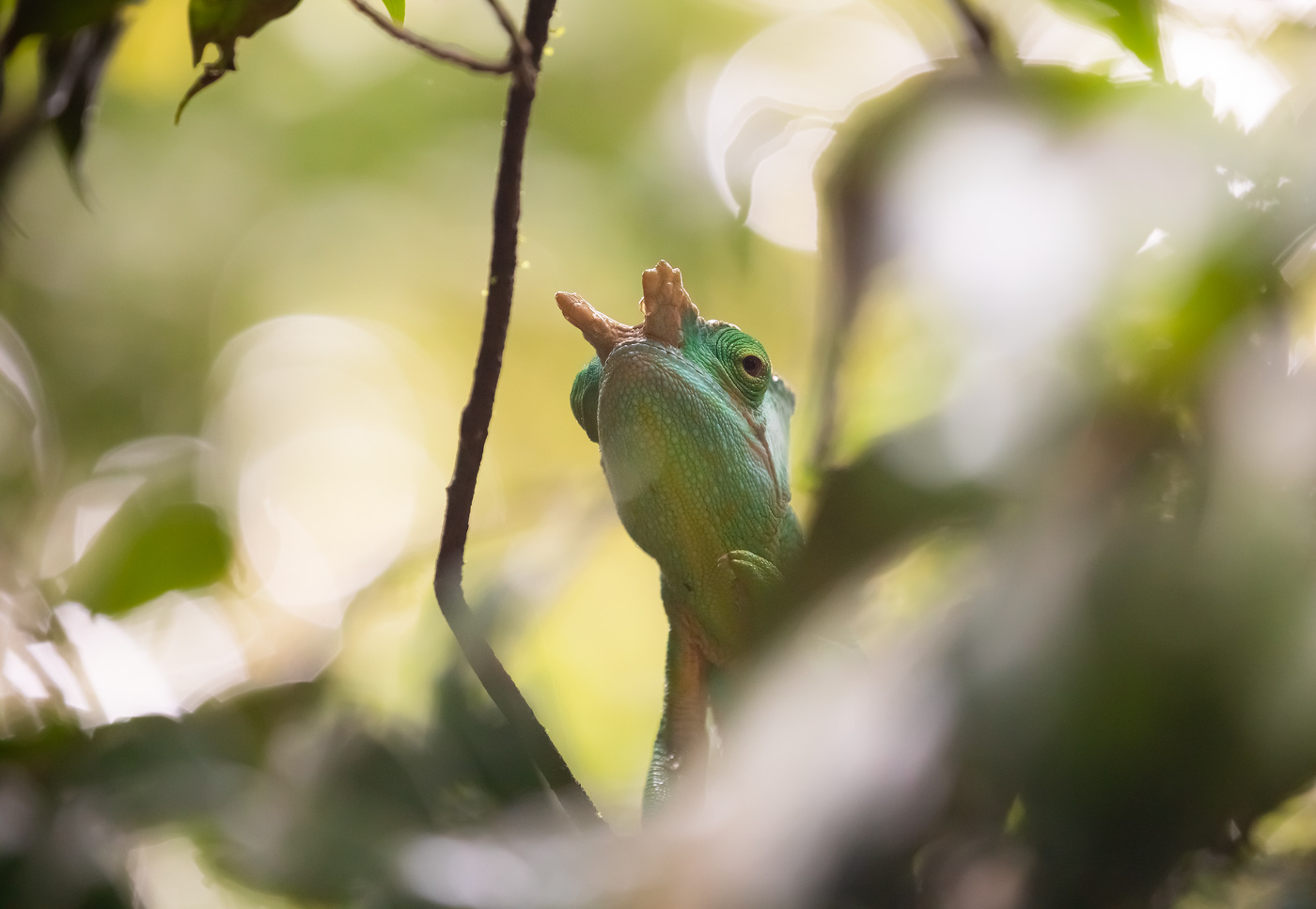 Multiple other species call Andasibe home, including bird species like the pygmy Kingfisher, primate species like the mouse lemur (visible on a night safari) and the world famous giraffe weevil.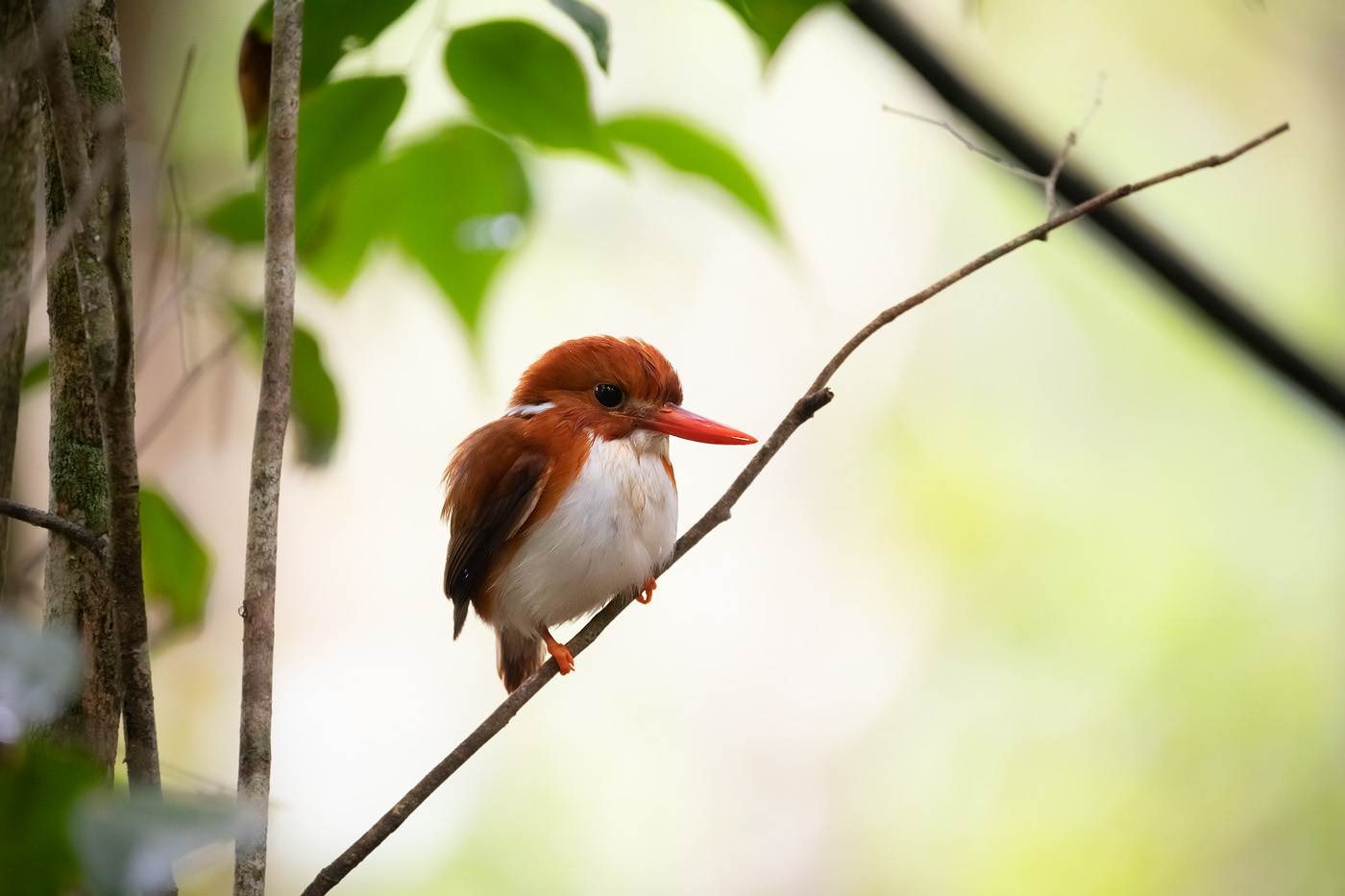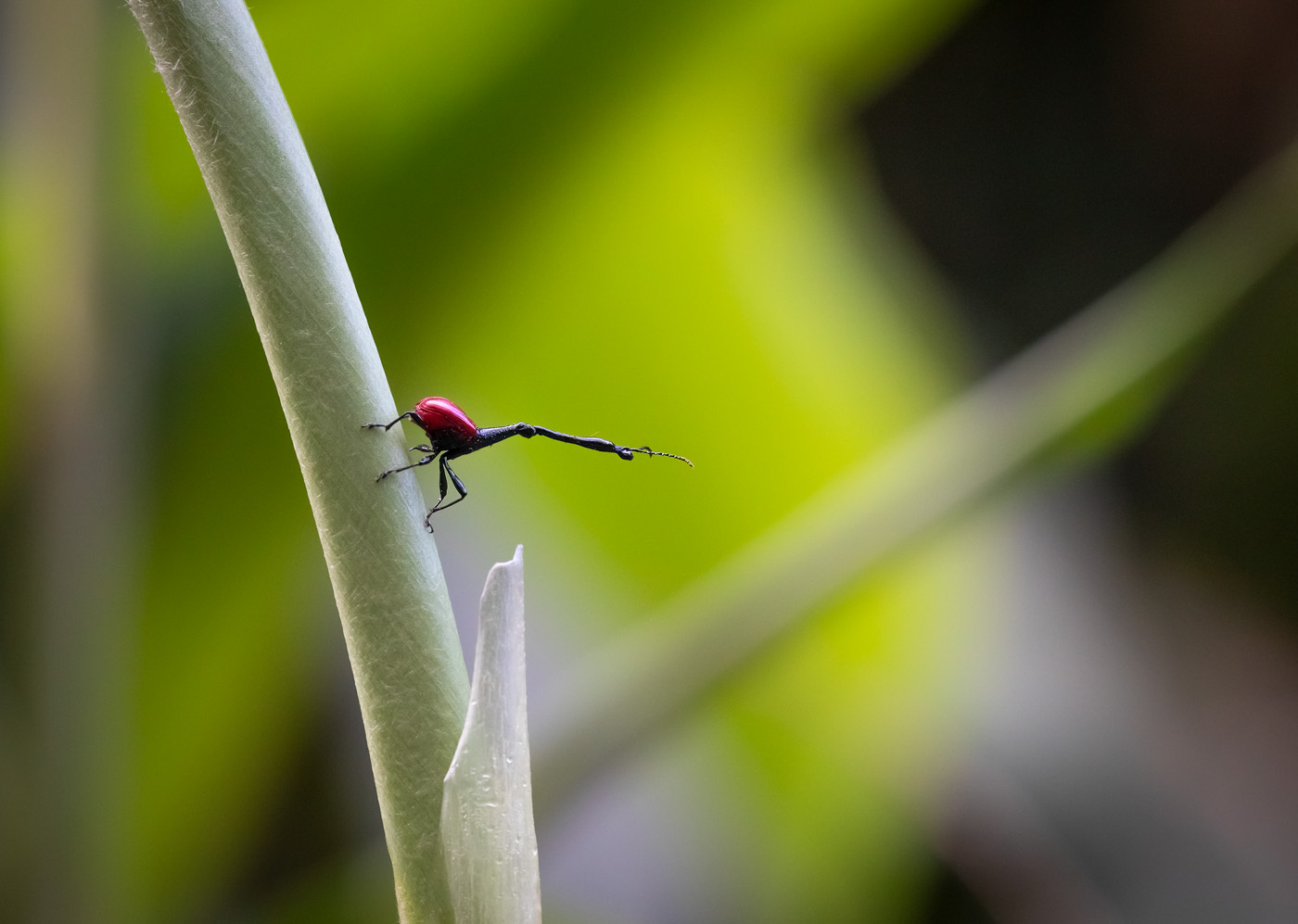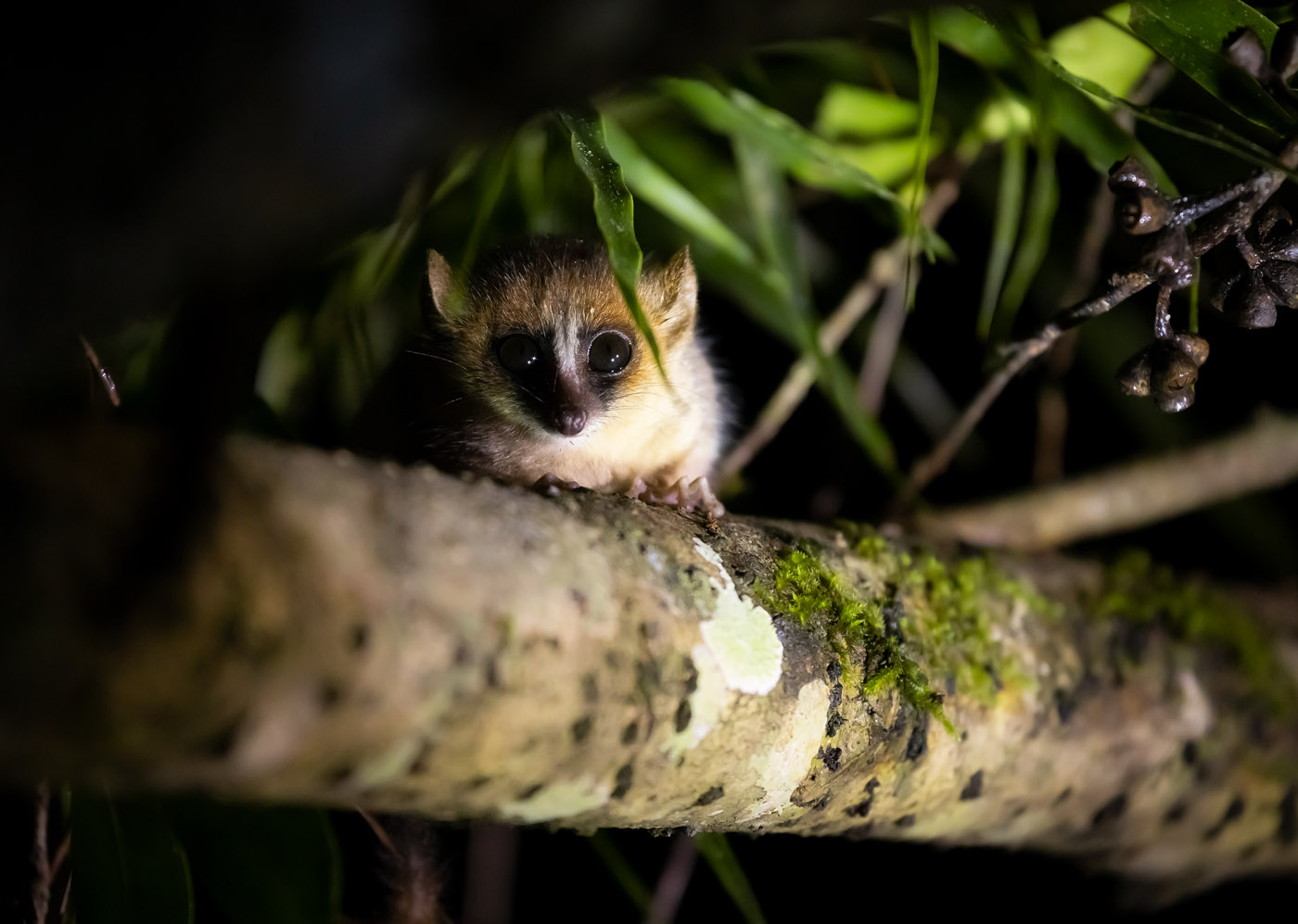 Days 5-8 Journey to the North
After breakfast on day 5, we will leave Andasibe and drive back to Tana, to rest and settle in an airport hotel. On the next day we have a very early morning flight to our second destination: Northern Madagascar. After landing in Antsiranana Airport, we will be picked up and driven to the Red Tsingy Camp. The camp is very comfortable and offers all the amenities you need for a comfortable stay, including thick mattresses, electricity, hot showers and clean toilets. The main thing it offers, though, is quick and easy access to a landscape photography treasure: the Red Tsingy.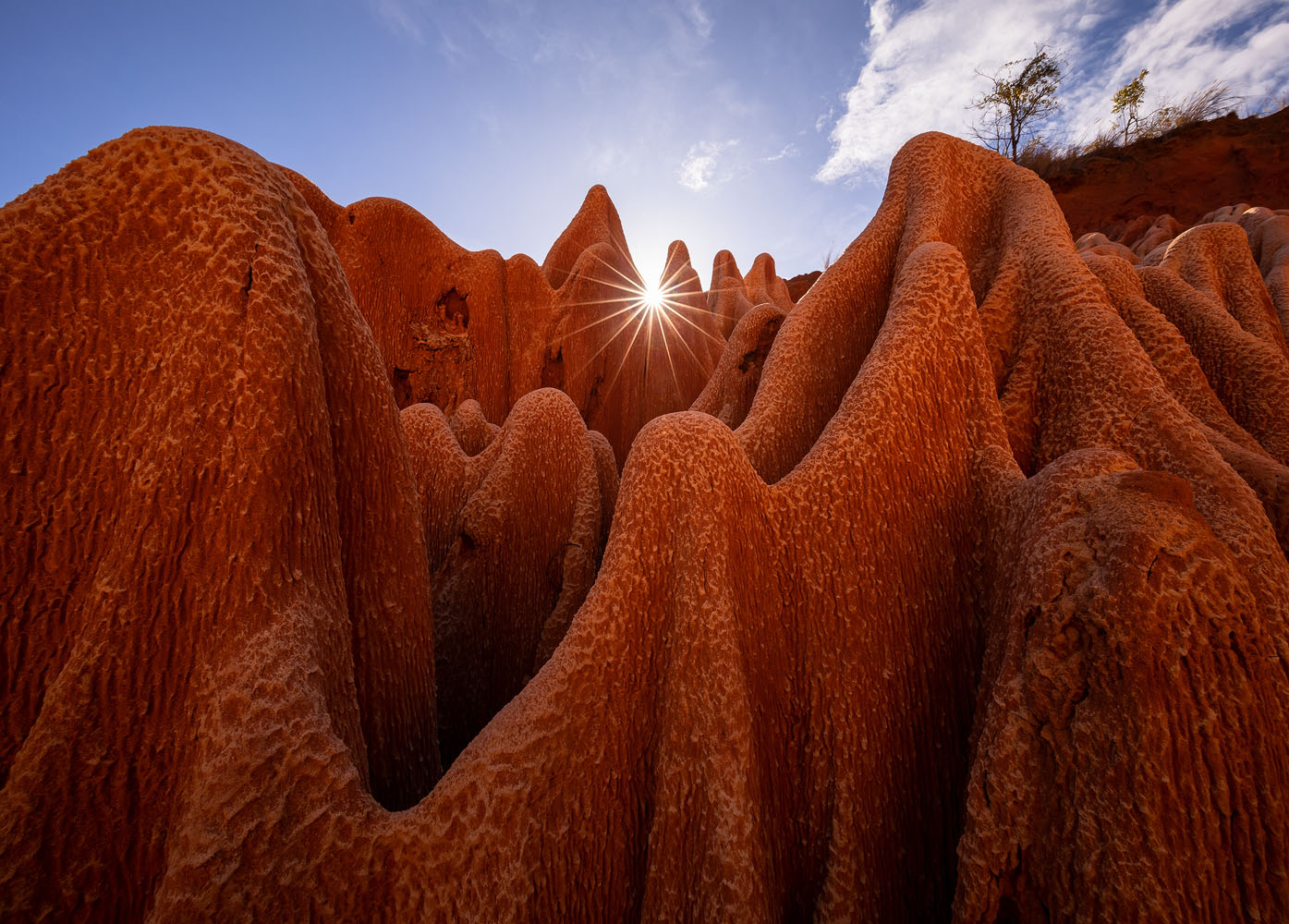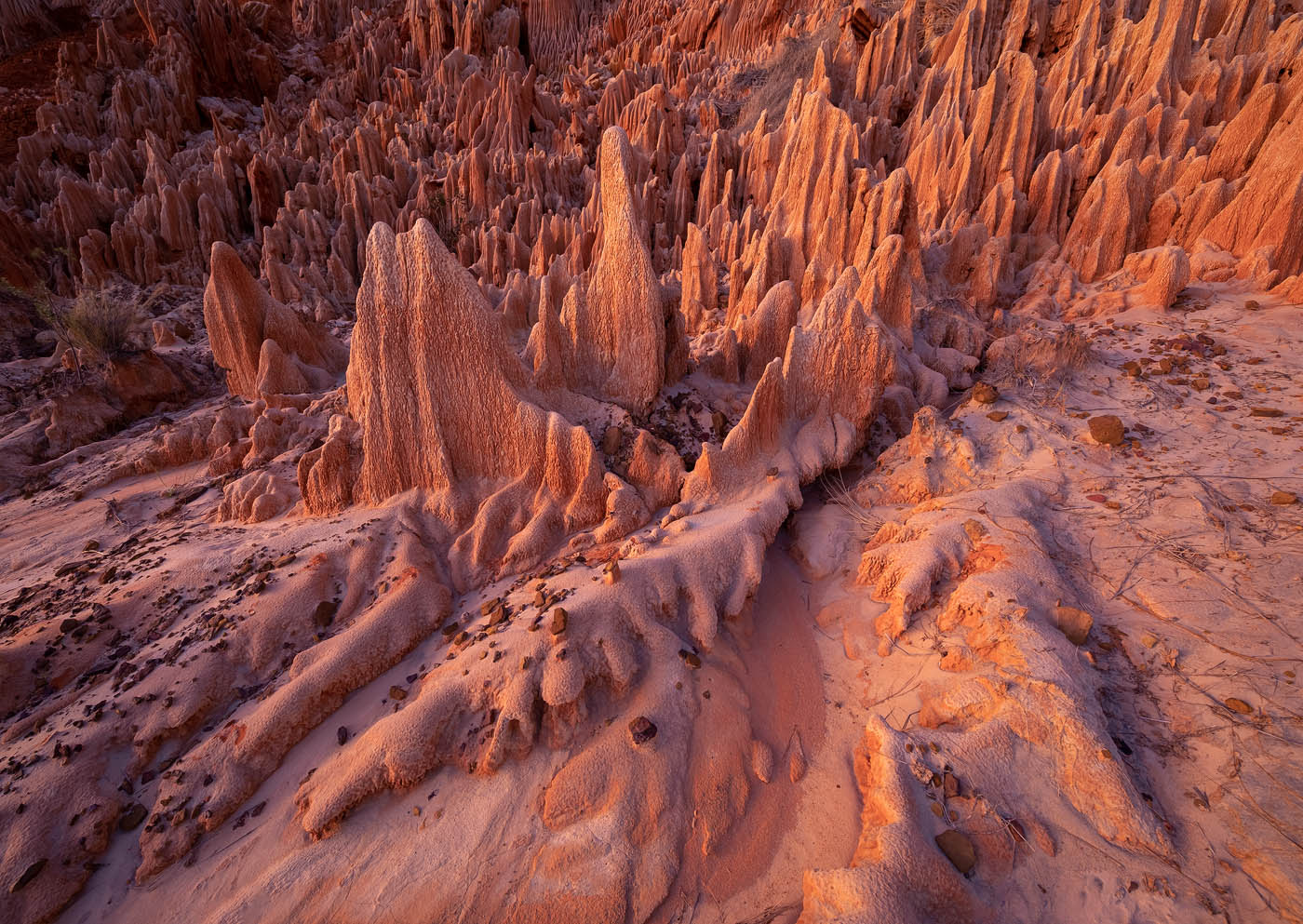 The incredible phenomenon (and man-made disaster) of the Tsingy Rouge has no connection to the naturally-occurring grey tsingy. the red variety is rather caused when deforestation loosens the red earth, exposing the red laterite to erosion caused by the elements (mainly rain). Its striking red color and naturally smooth patterns make it an incredible shooting subject. The area is vast and offers several locations, each with its own special characteristics. Sleeping in camp will allow us to shoot the Red Tsingy for two full days - two sunsets and two sunrises - and you can be sure we'll need to make use of every last minute of these shoots. On top of all that, I've managed to secure access outside the regular visiting hours - which means we will have the Tsingy for ourselves during the critical sunrise, sunset and glow times!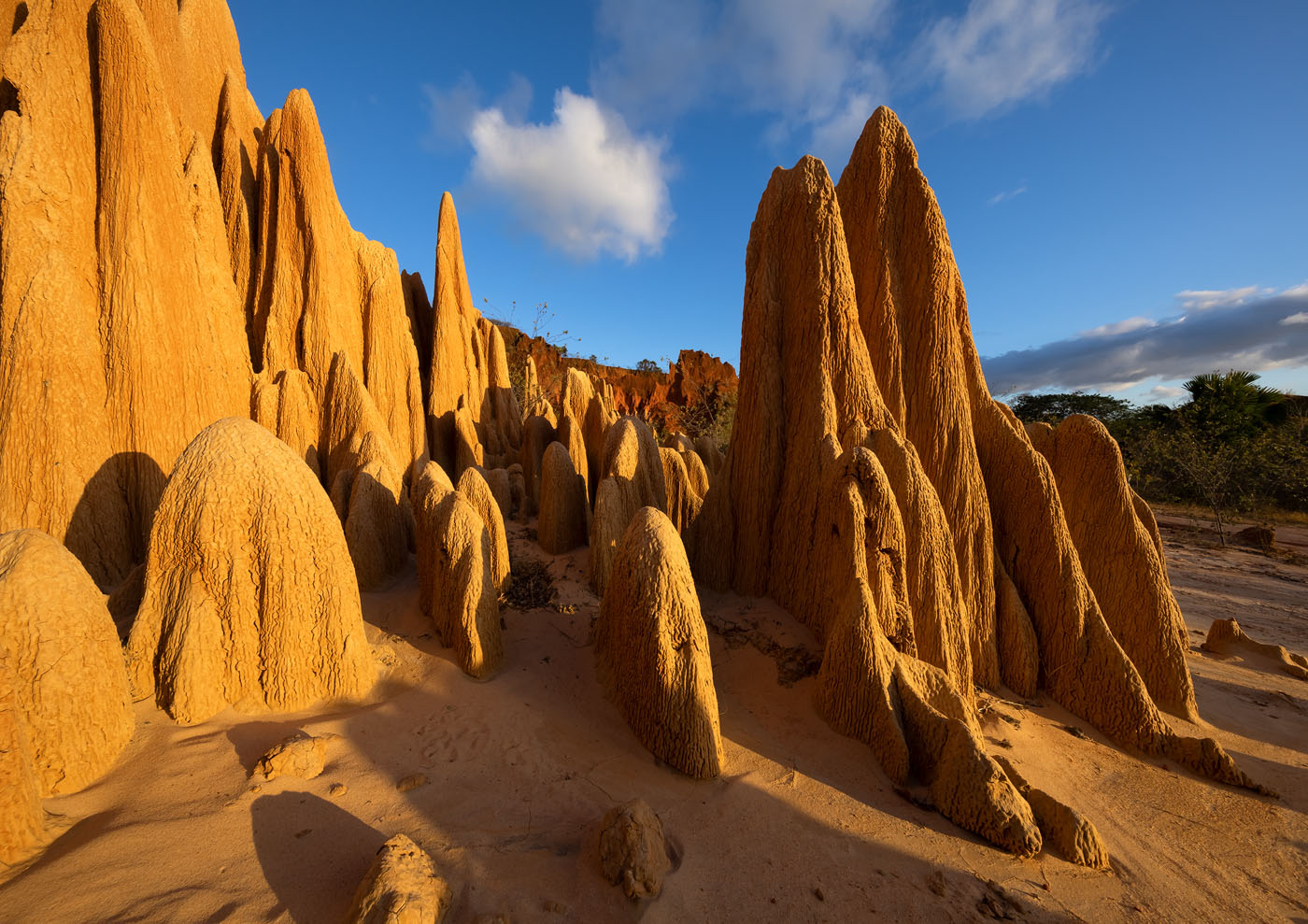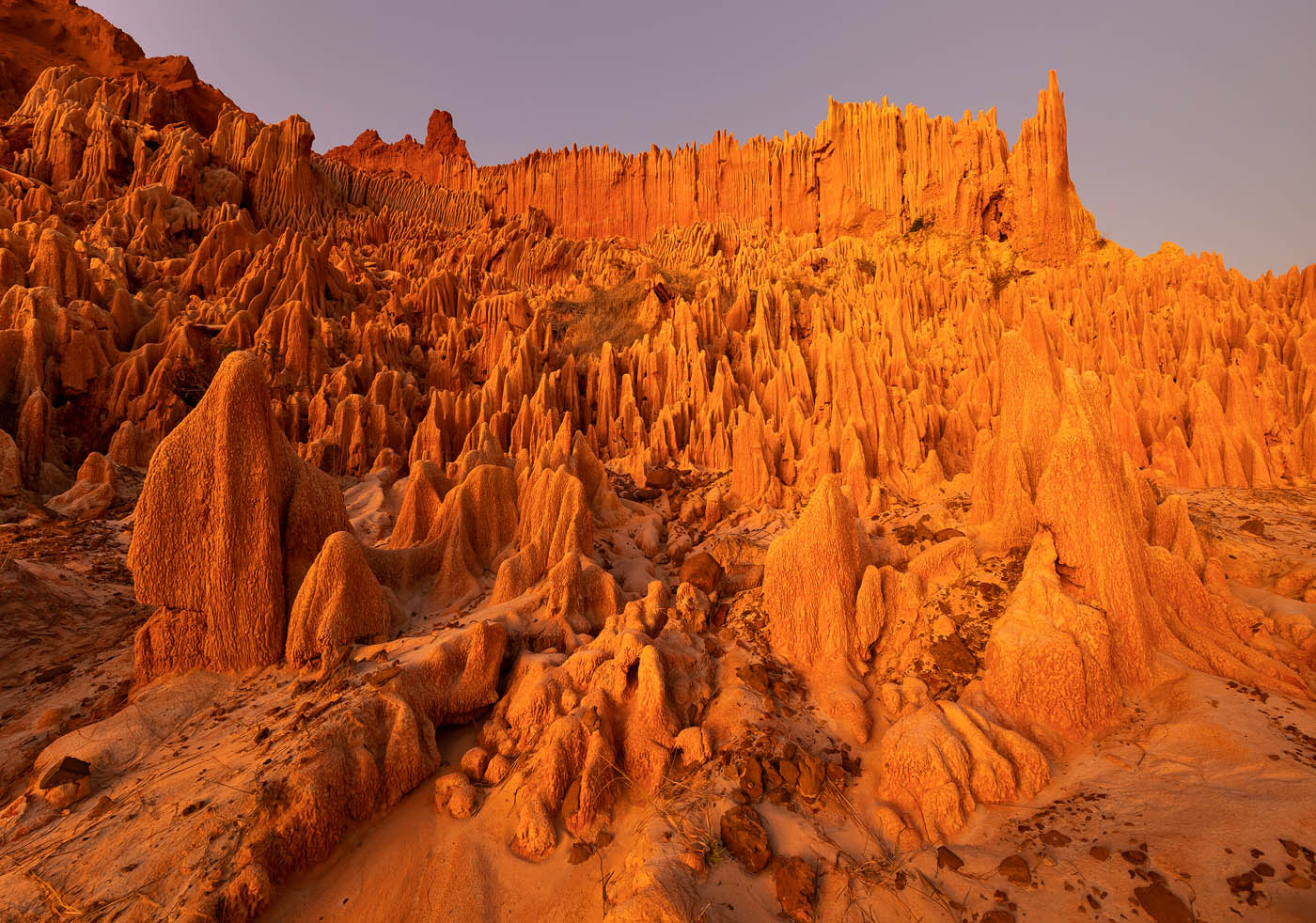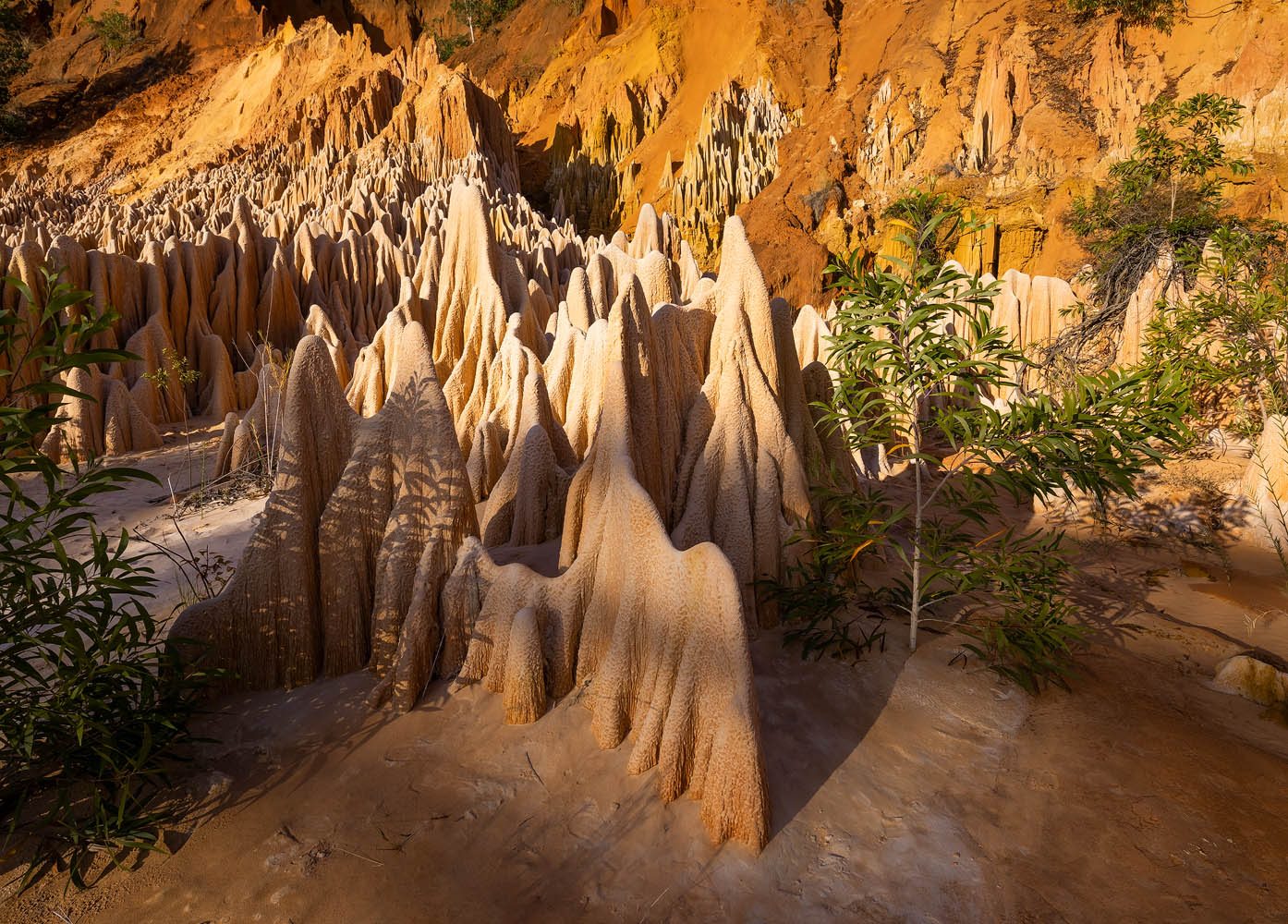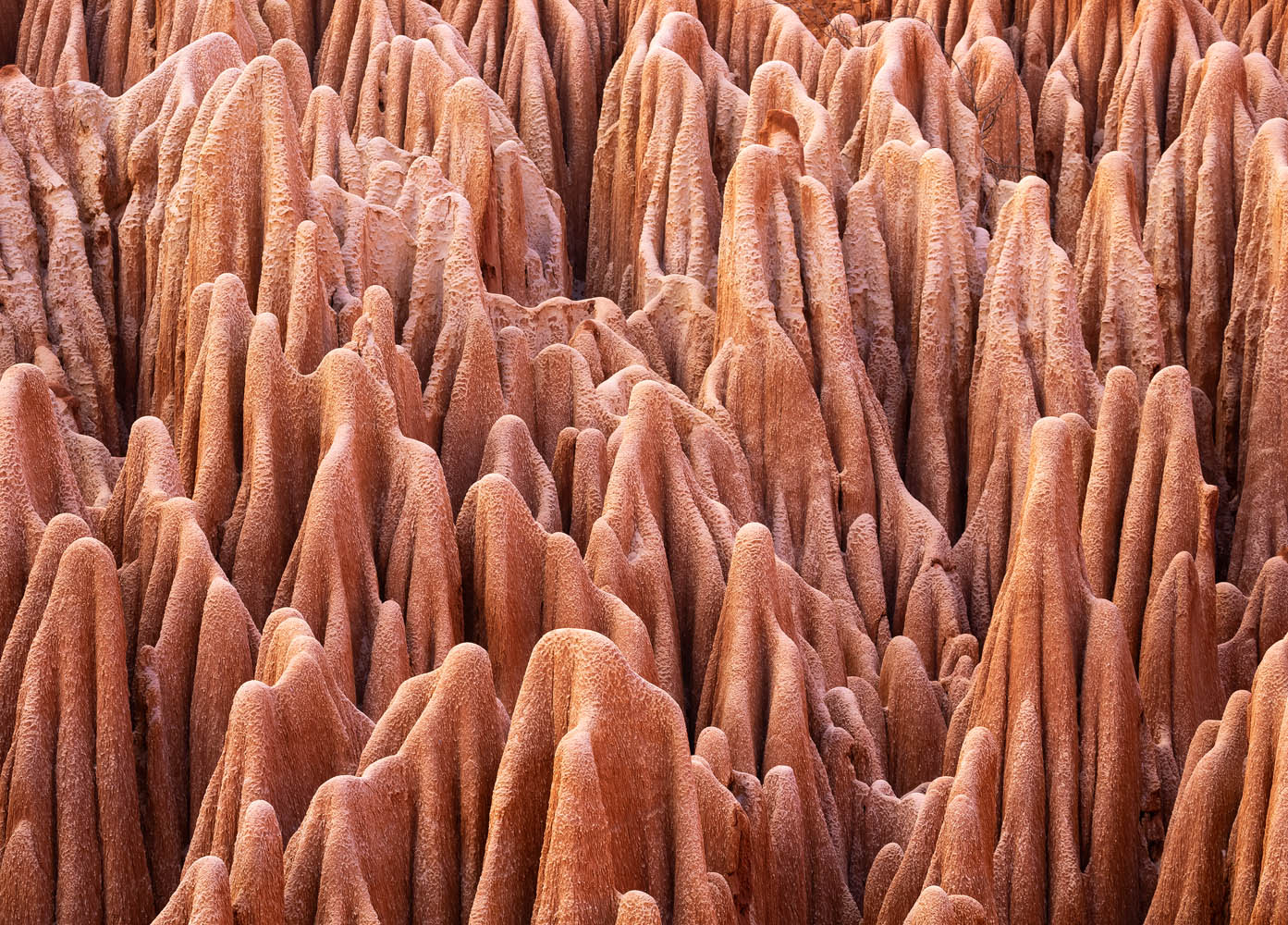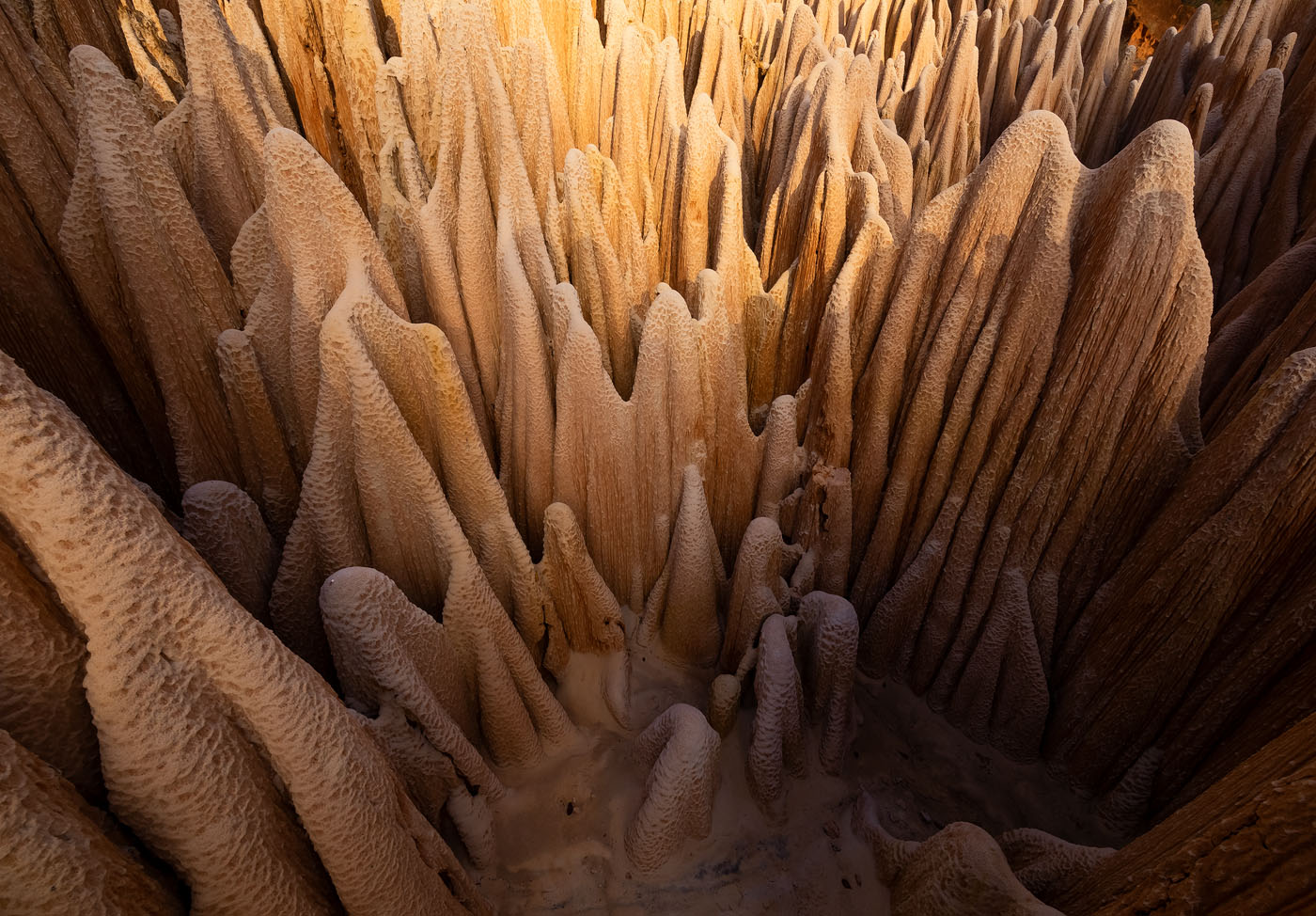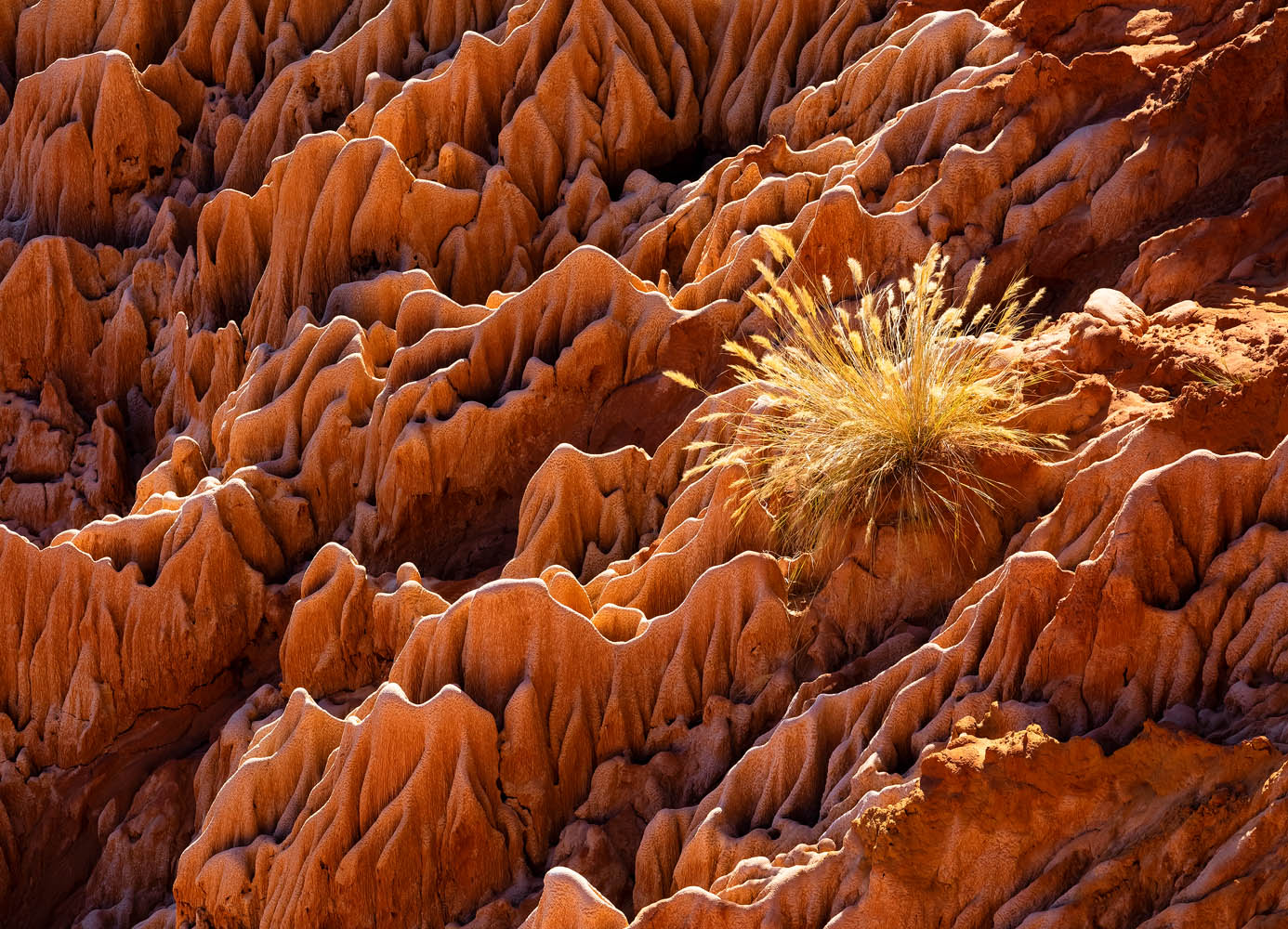 Another option we might explore in the north is Amber Mountain National Park, where several more chameleon species are present, among them the pygmy chameleon and the striking panther chameleon.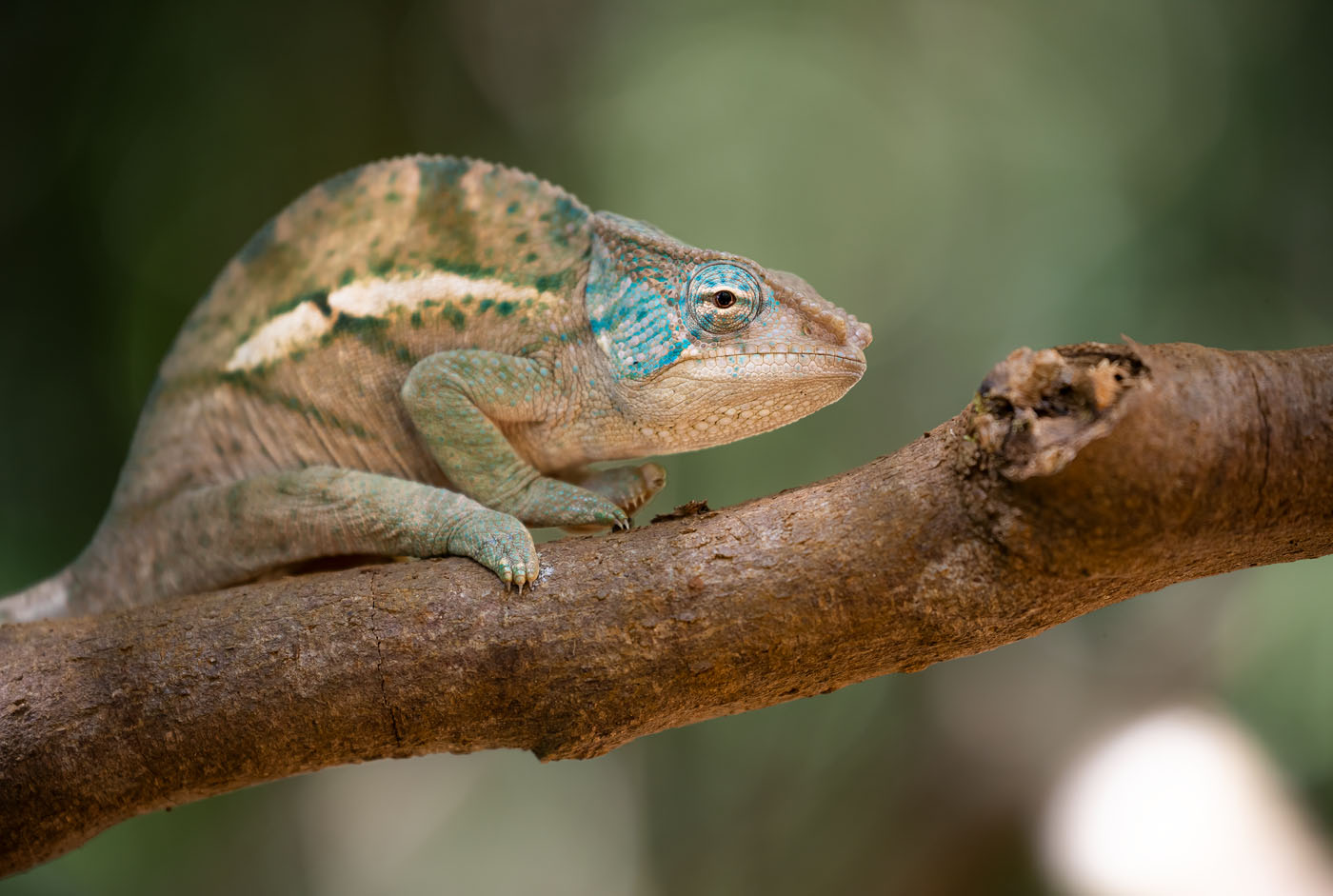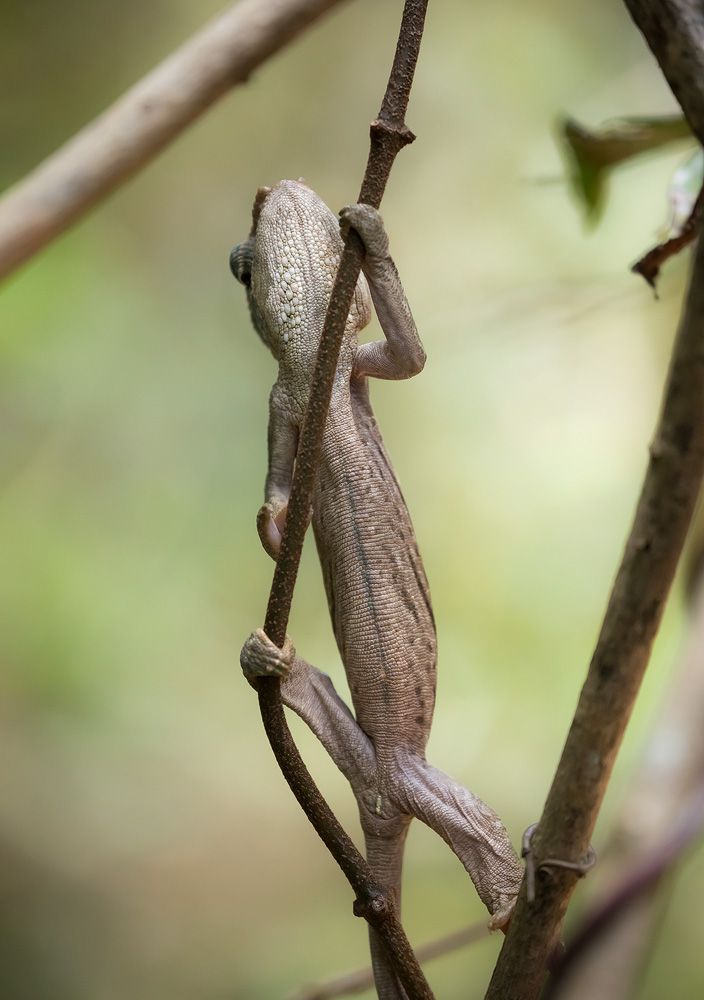 After finishing the shooting on day 8, we'll head to a hotel in Antsiranana and sleep there,
Days 9-10 From the North to the West
In the morning of day 9 we will hop on a plane and fly back to Tana. The rest of the day will be spent doing much-needed image critique of the pictures you got in the first two destinations. After some good rest and good food, on day 10 we will take another flight, this time to the very west of Madagascar. Upon landing in Morondava airport we will be pickup up and driven to our next destinaion: Kirindy Forest.
Days 10-12 Kirindy Forest
After the rest comes work, and we will do much of that in Kirindy - one of Madagascar's prime wildlife shooting areas. This vast preserve is a private park just north of Kirindy Mitea National Park, and is home to a wide variety of both flora and fauna, ranging from Lemurs to geckos. Our main shooting interest will be the Verreaux's sifaka - a medium-sized primate in one of the lemur families. Like all sifakas, it has a long tail that it uses as a balance when leaping from tree to tree, and its expressive eyes together with its beautiful fur and coloration make it a truly amazing shooting subject.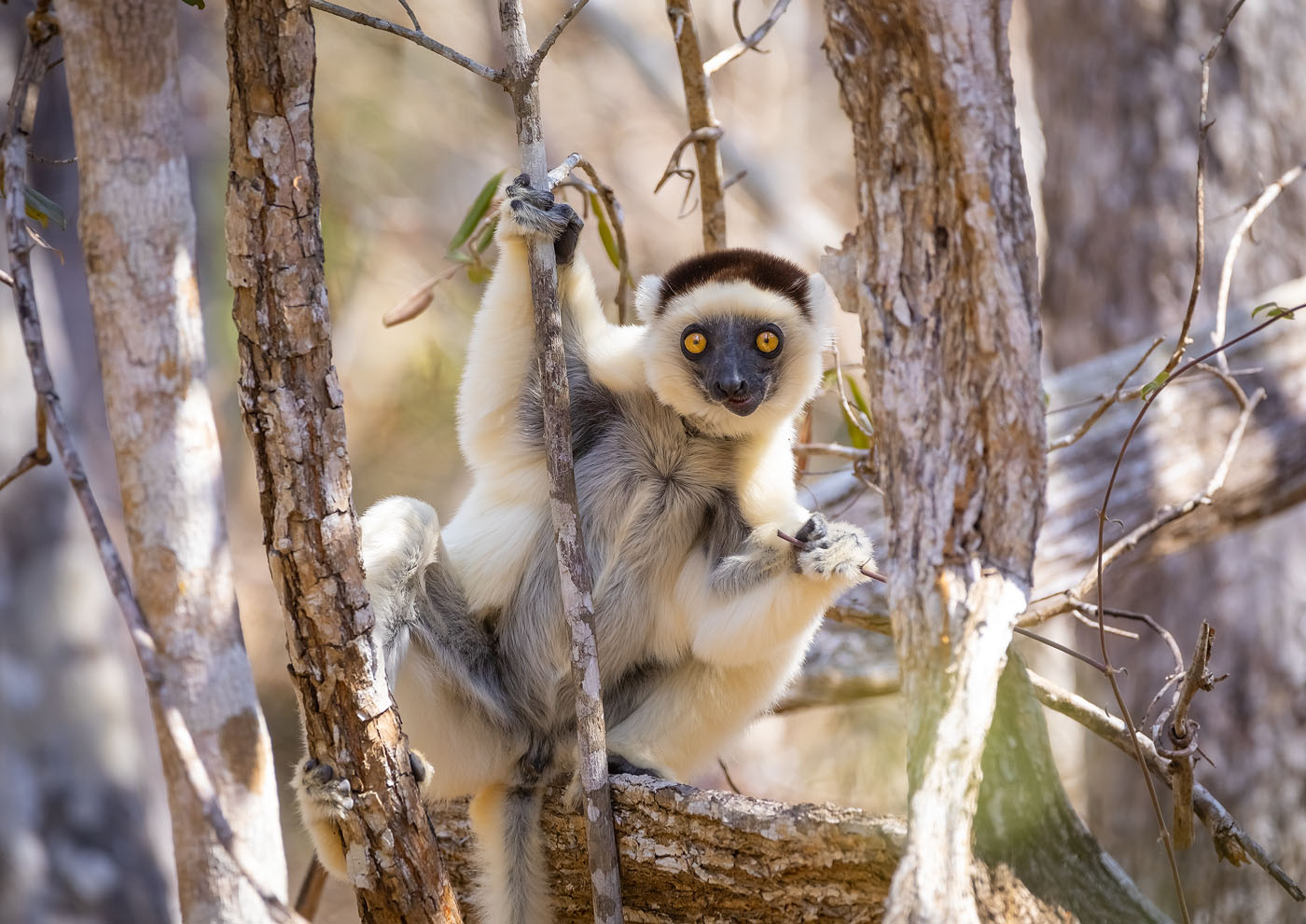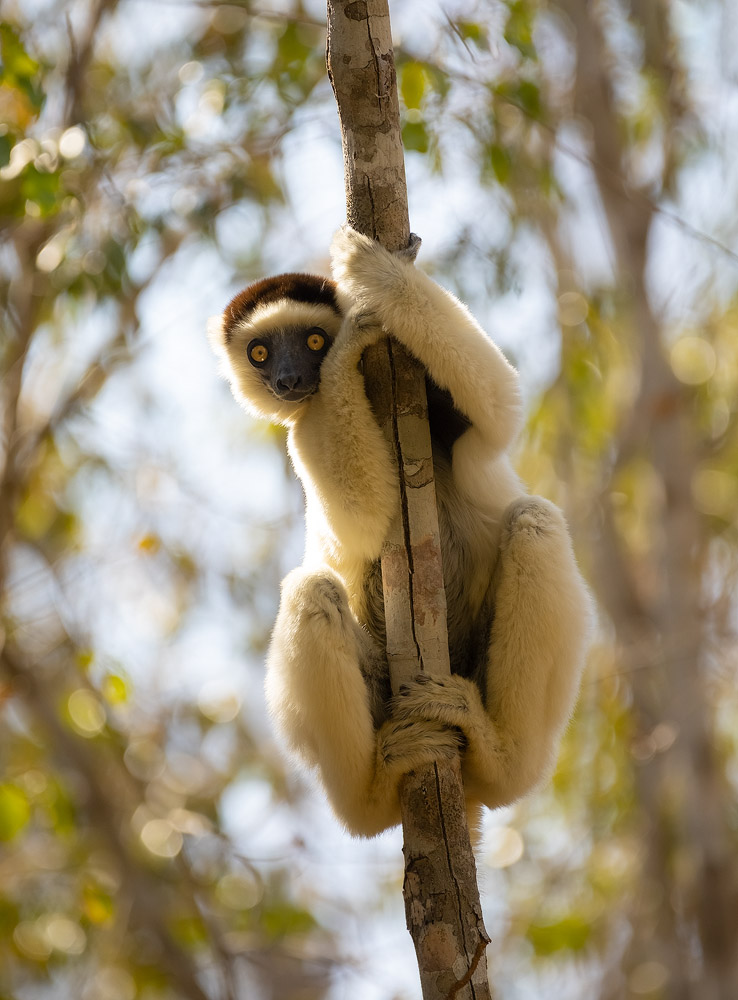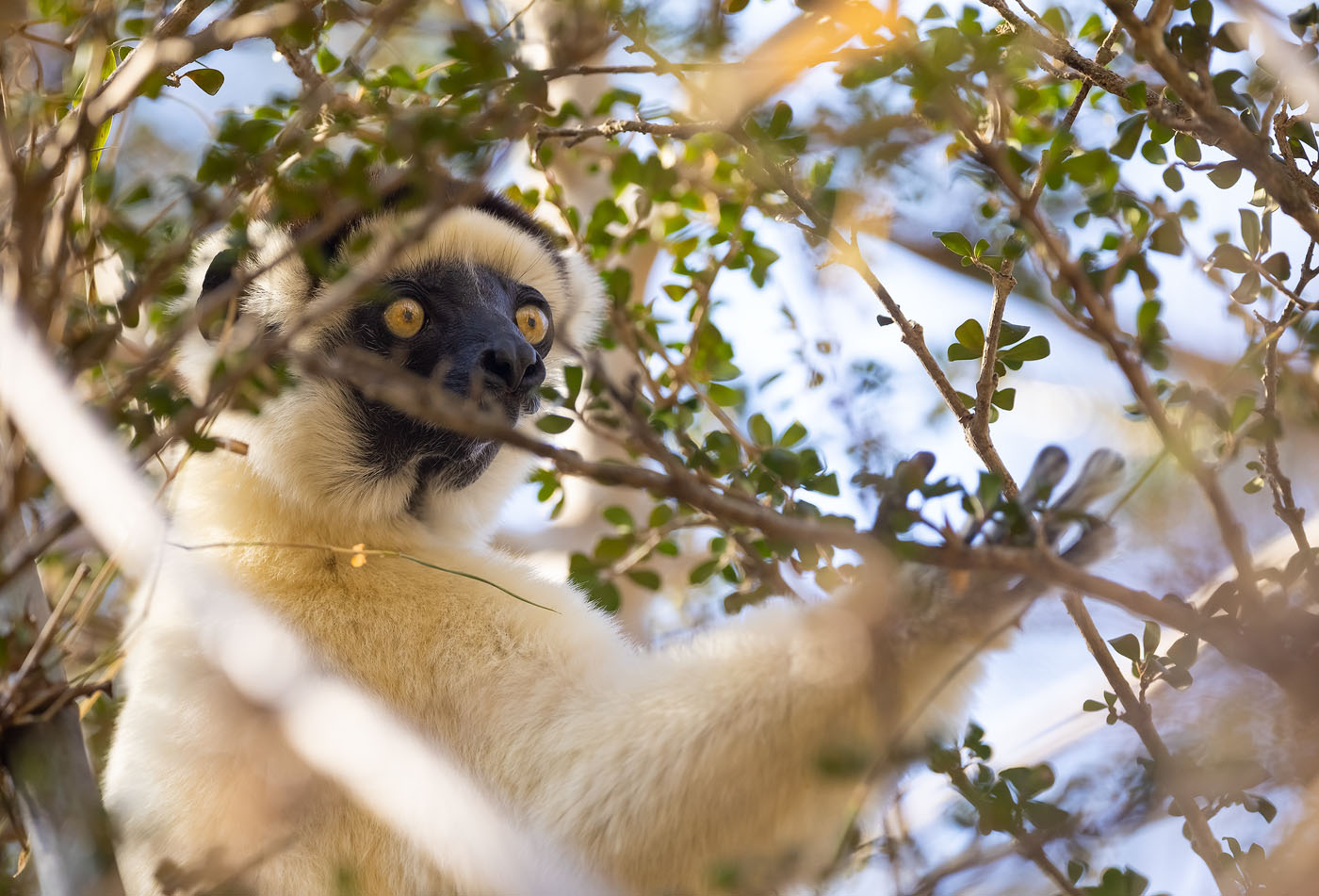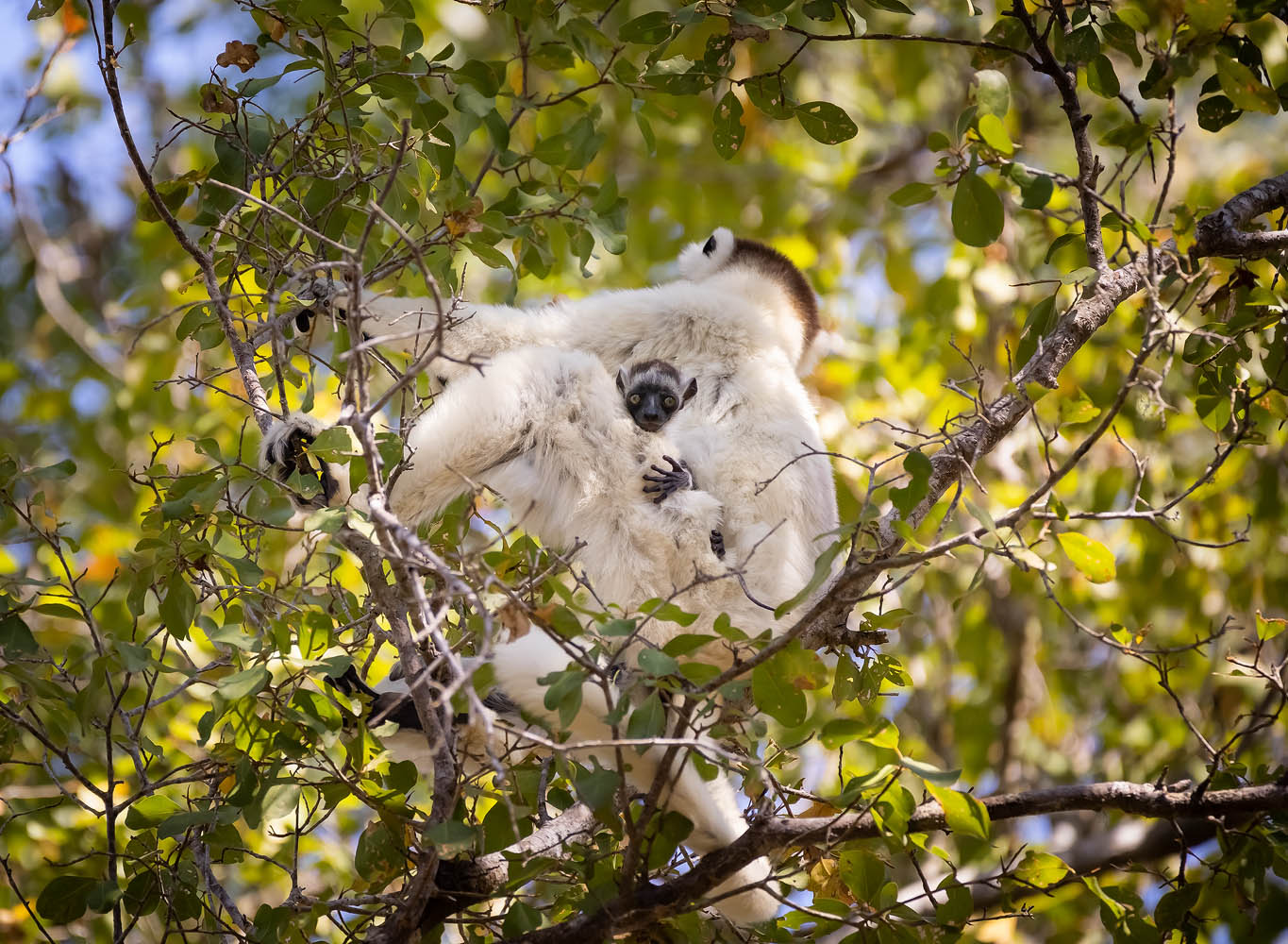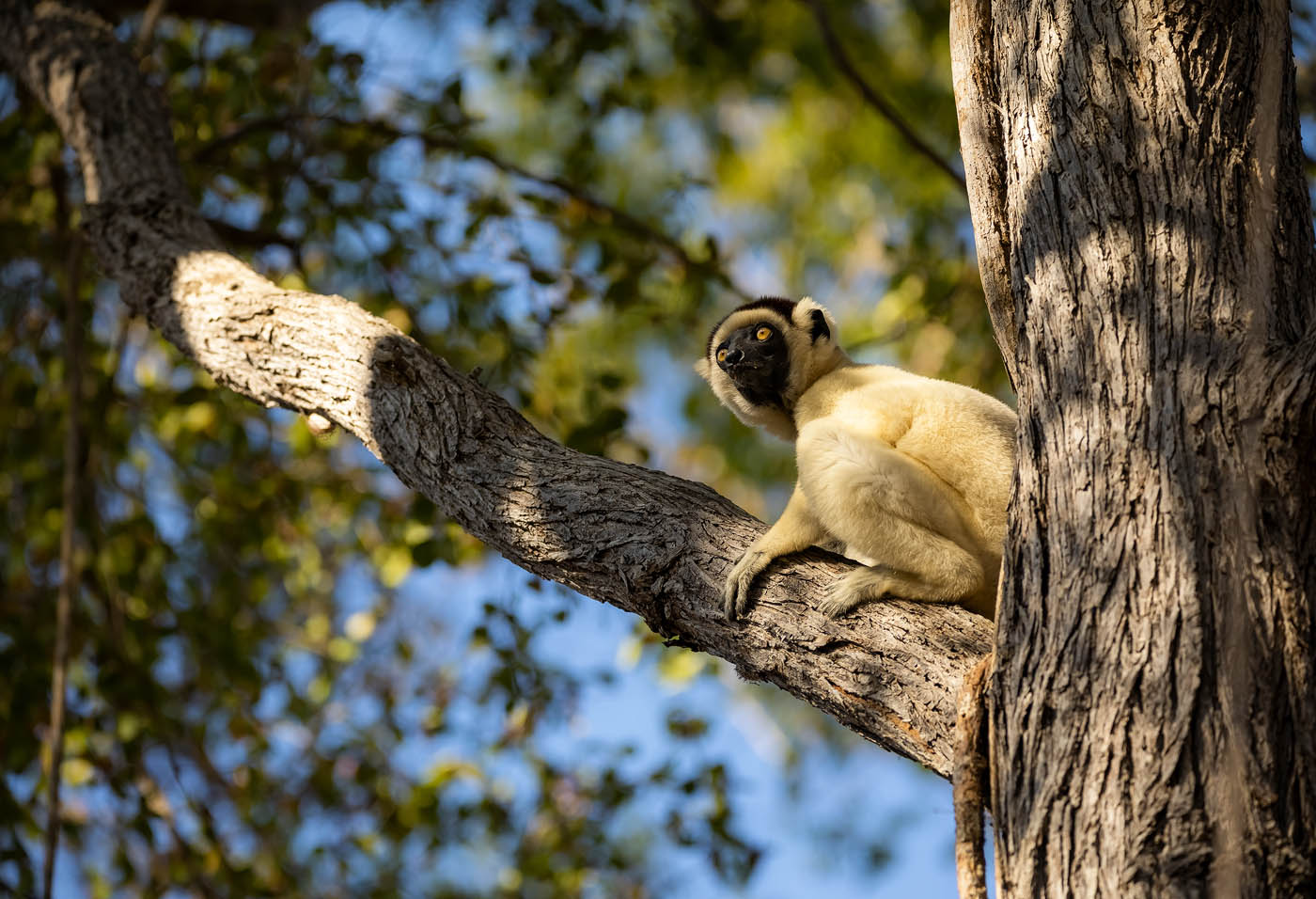 Other than sifakas, we'll spend time and effort shooting many more species of Kirindy's vast selection of wildlife. Not only lemurs, but also beautiful owls, this place is incredibly diverse, and we will take full advantage.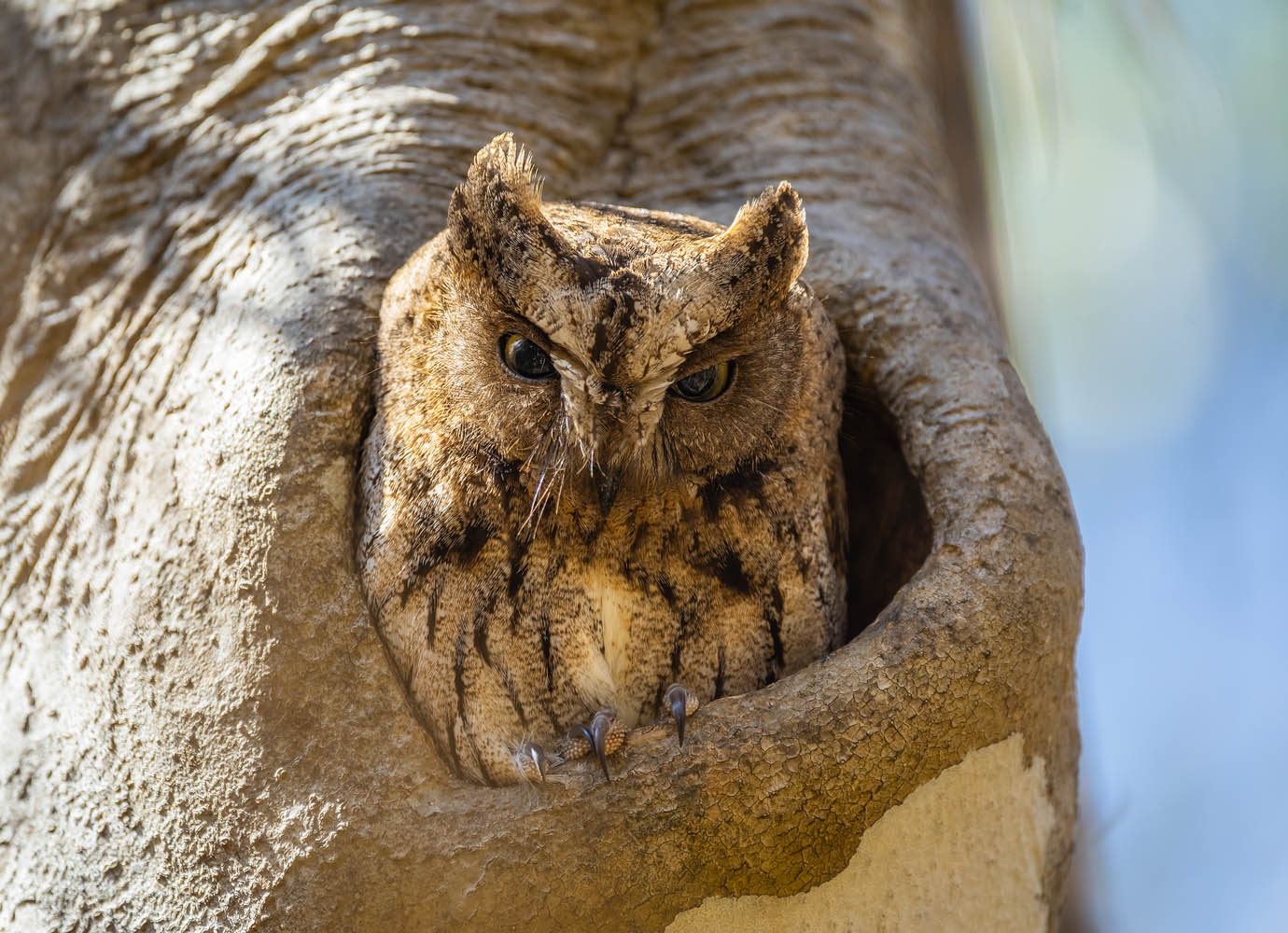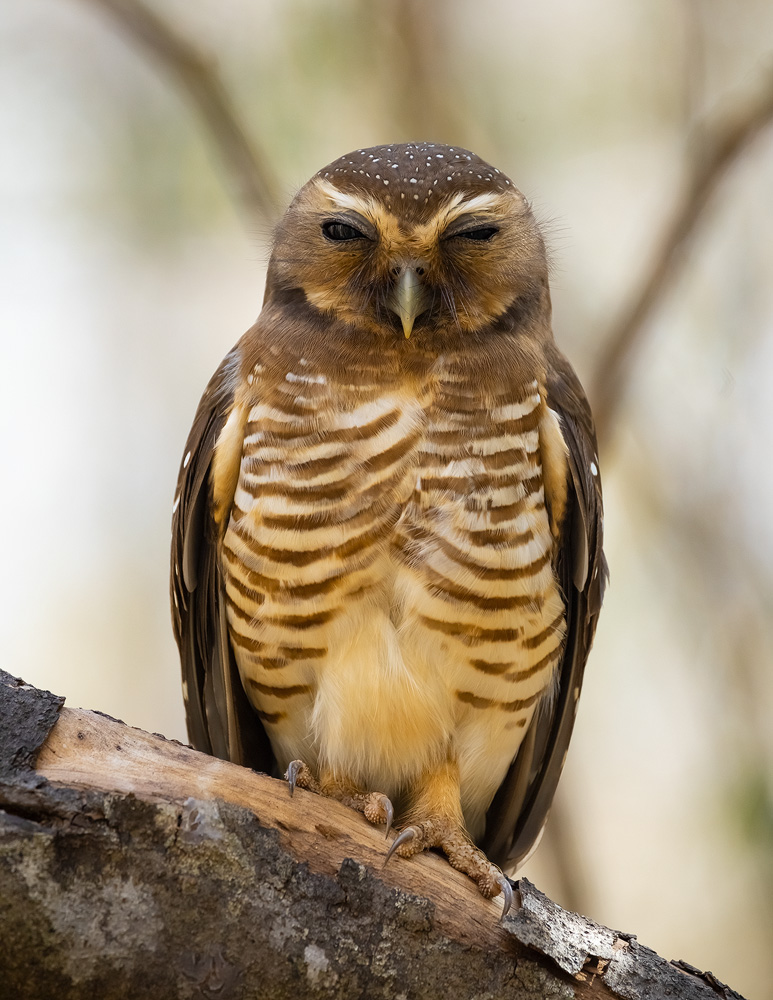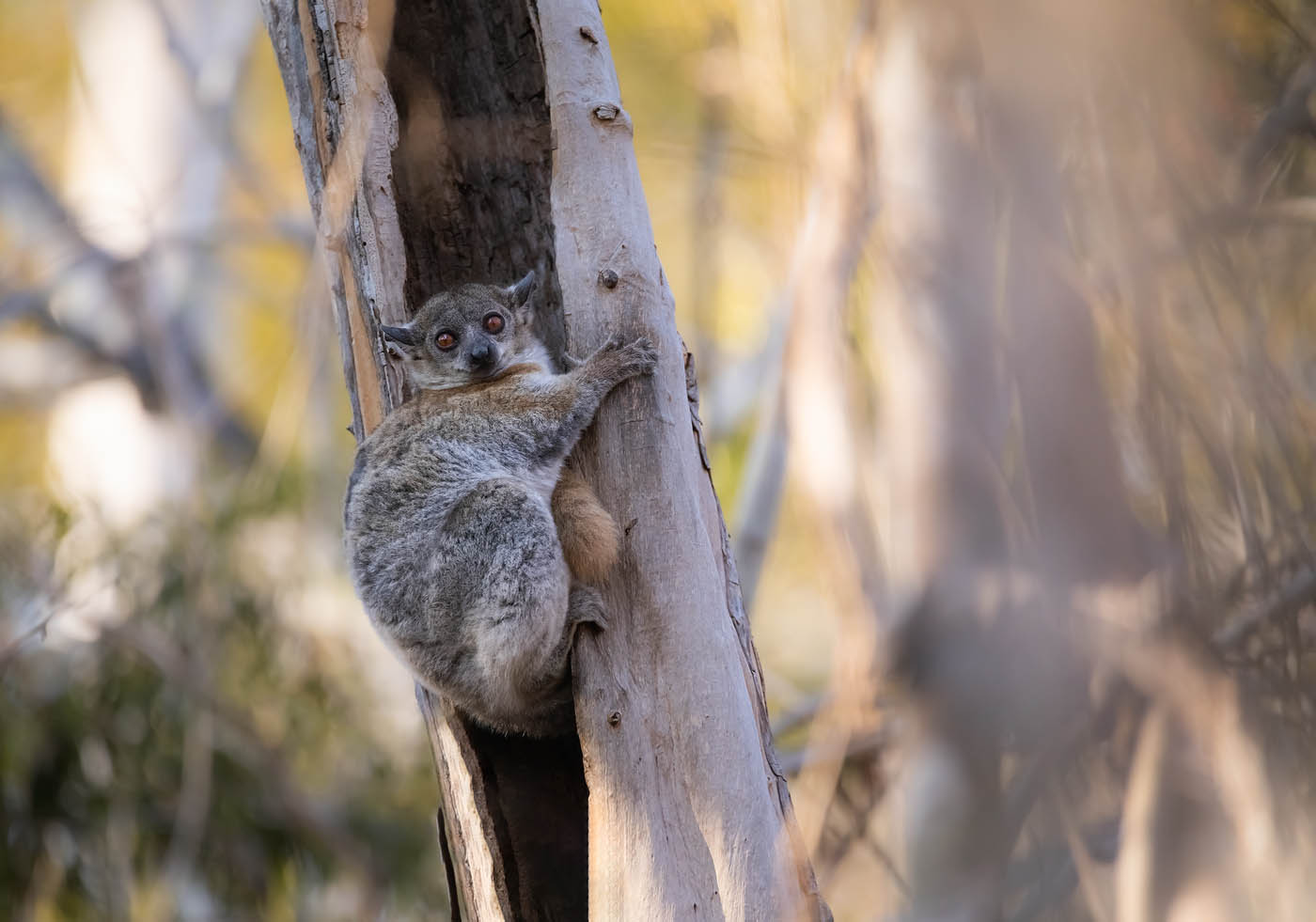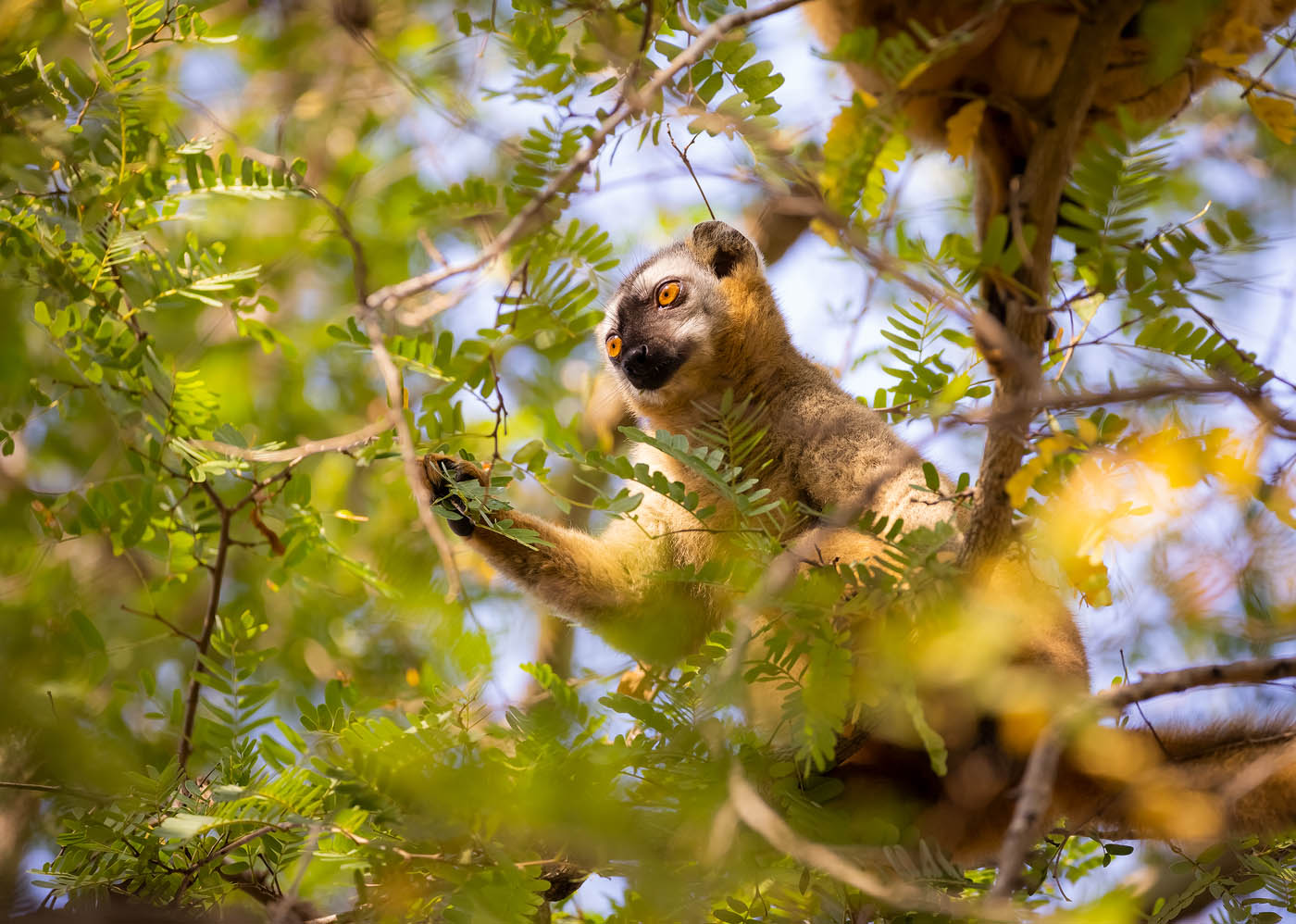 But that's not all. Kirindy is also home to Madagascar's biggest and most famous baobab species: Grandidier's baobab or giant baobab. We will shoot the baobabs before or after the wildlife, mainly during the beautiful, red post-sunset glow.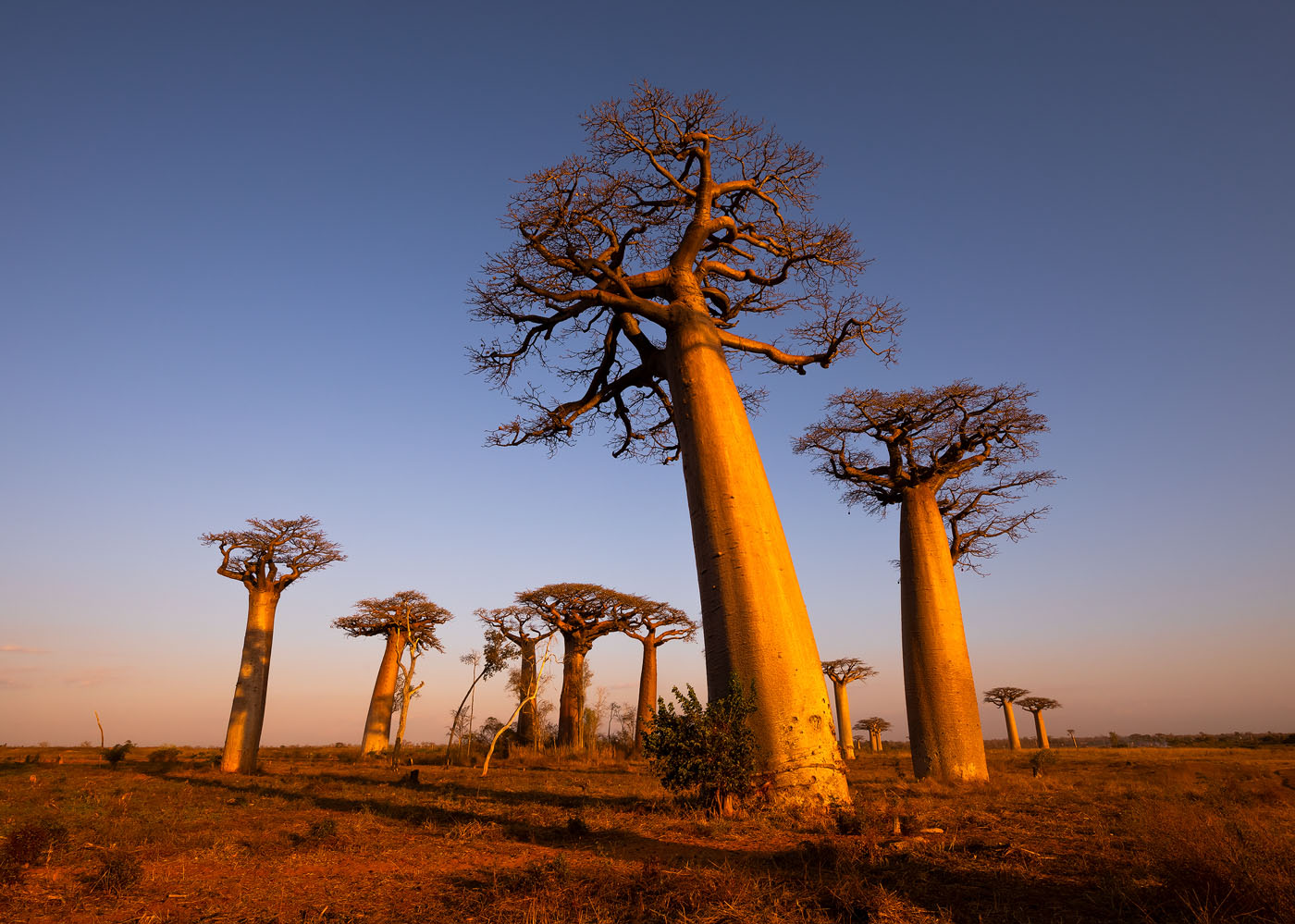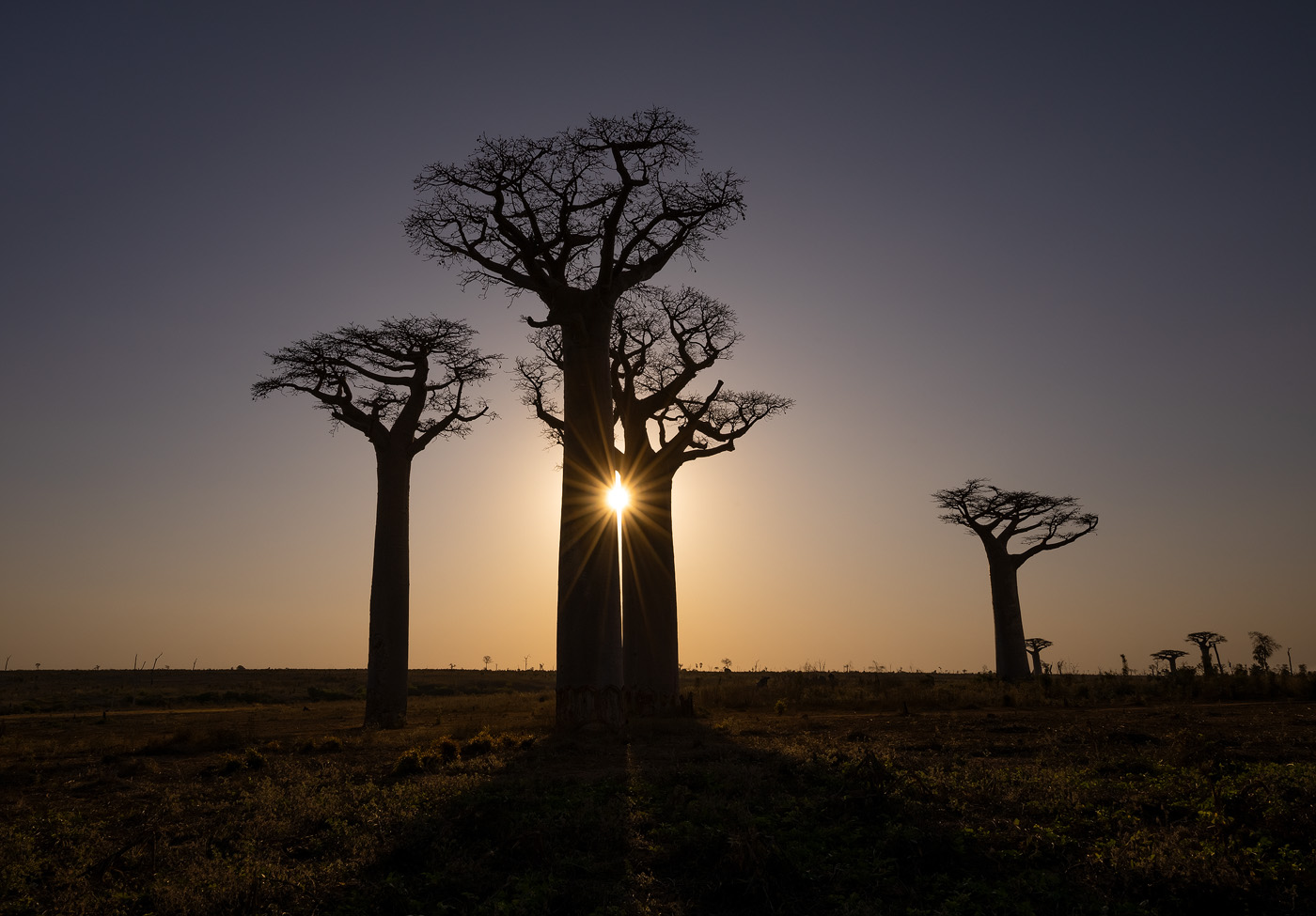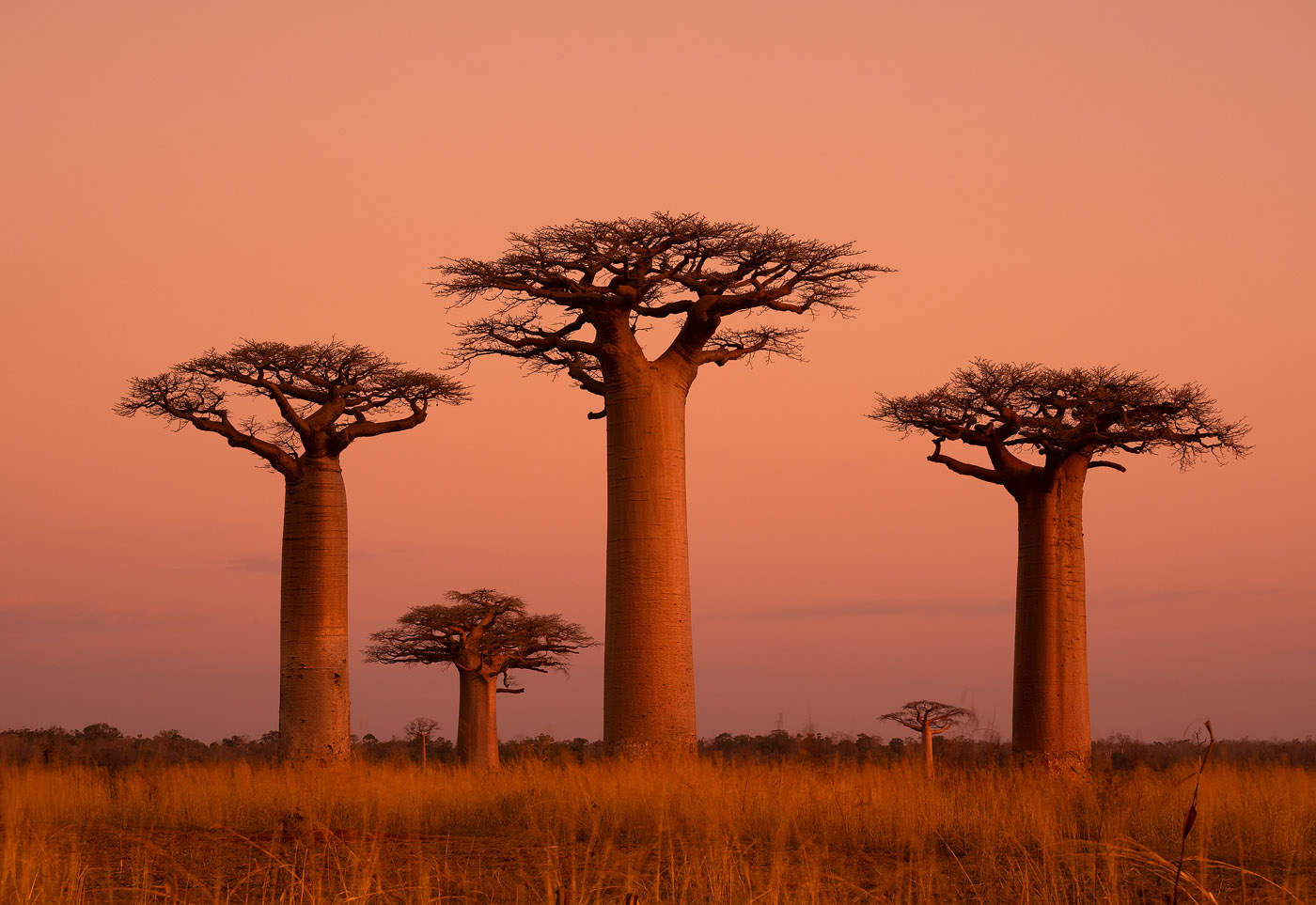 On day 12, after a possible morning shoot at the baobabs or the forest, we will drive back to Morondava and spend the night at a hotel there.
Days 13-14 Baobab Alley, Flight to Toliare, Isalo National Park
Before flying to our next destination, we will make a short pit stop in Baobab Alley - perhaps Madagascar's most famous location. While usually very busy throughout the day, Baobab Alley is almost empty in the early morning, and so we will get there before sunrise to get a chance of shooting it without the crowds, and perhaps with some fog as a bonus.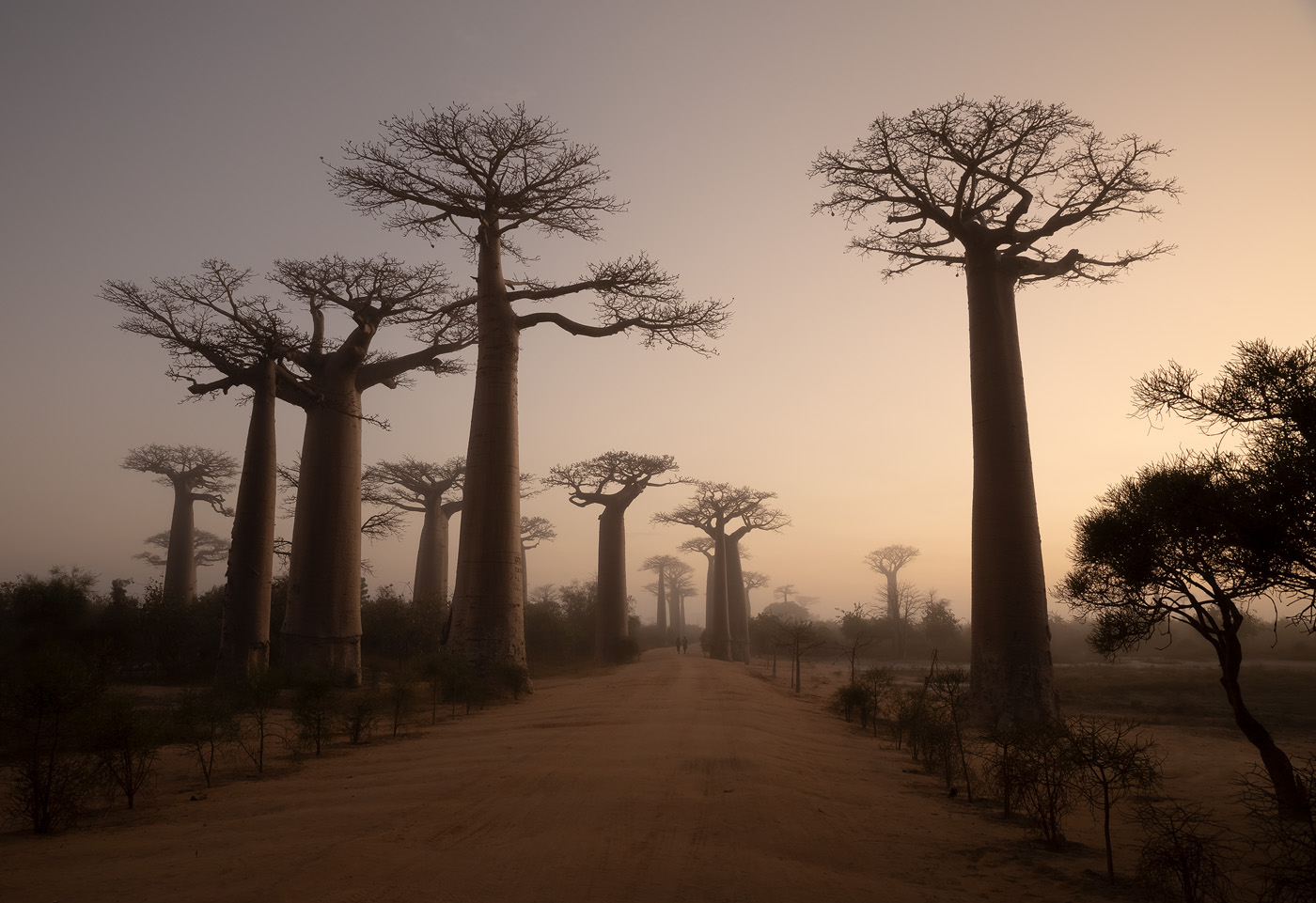 After the quick baobab shoot and some breakfast, we will head back to Morondava airport and catch a plane to the city of Toliare. But this time it will be a private flight in a light plane, big enough for us and only us. Without flying, the drive to southern Madagascar would take 2 whole days, and we have a lot of shooting yet to be done.
From Toliare airport we'll be picked up by the 4X4s and driven to Isalo National Park, where upon setting in our luxirious lodge, we'll immediately head out to shoot the park's beautiful natural features: mountains, termite mounds and a spectacular rock arch, which can be shot in both directions, during sunrise, sunset and post-sunset glow.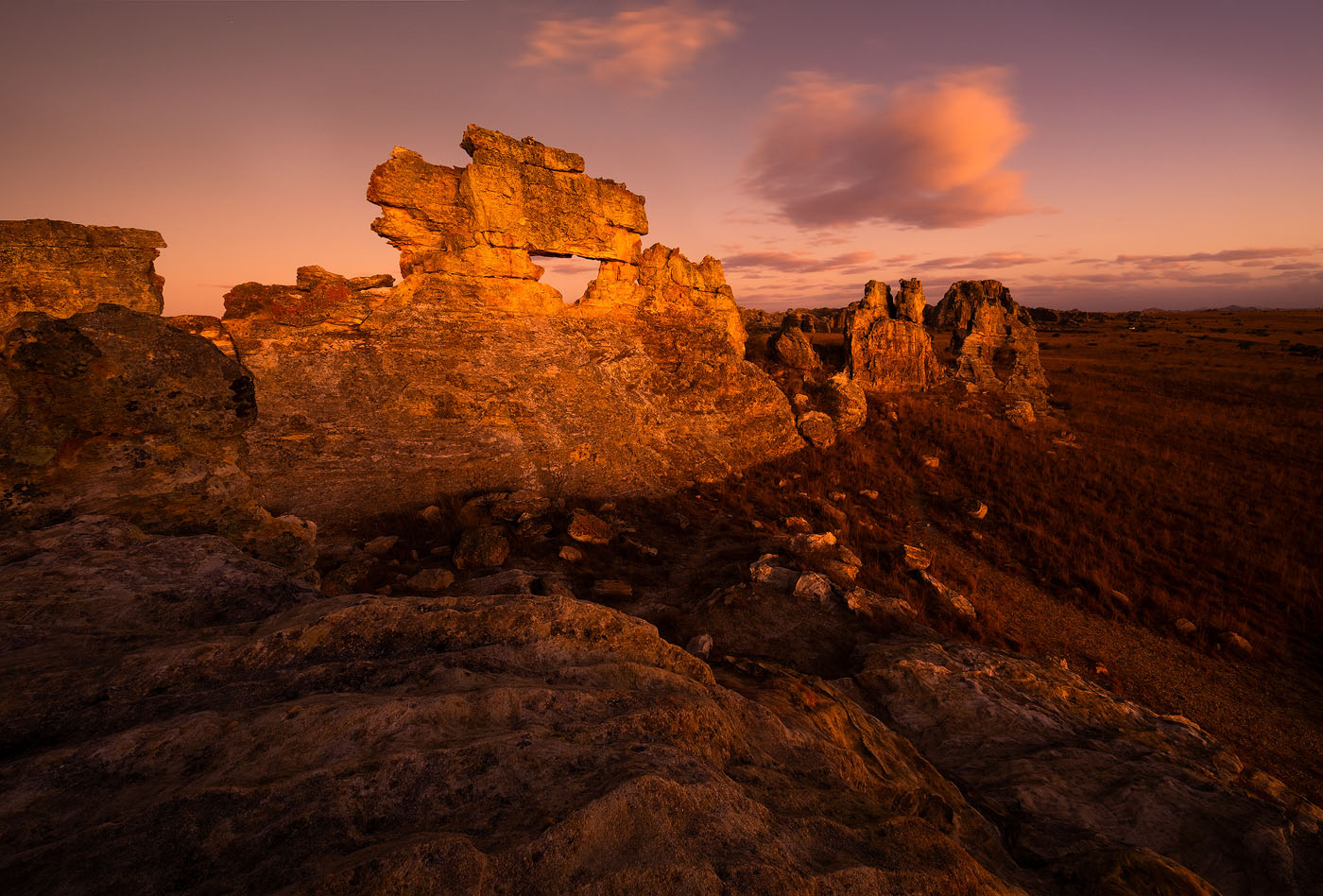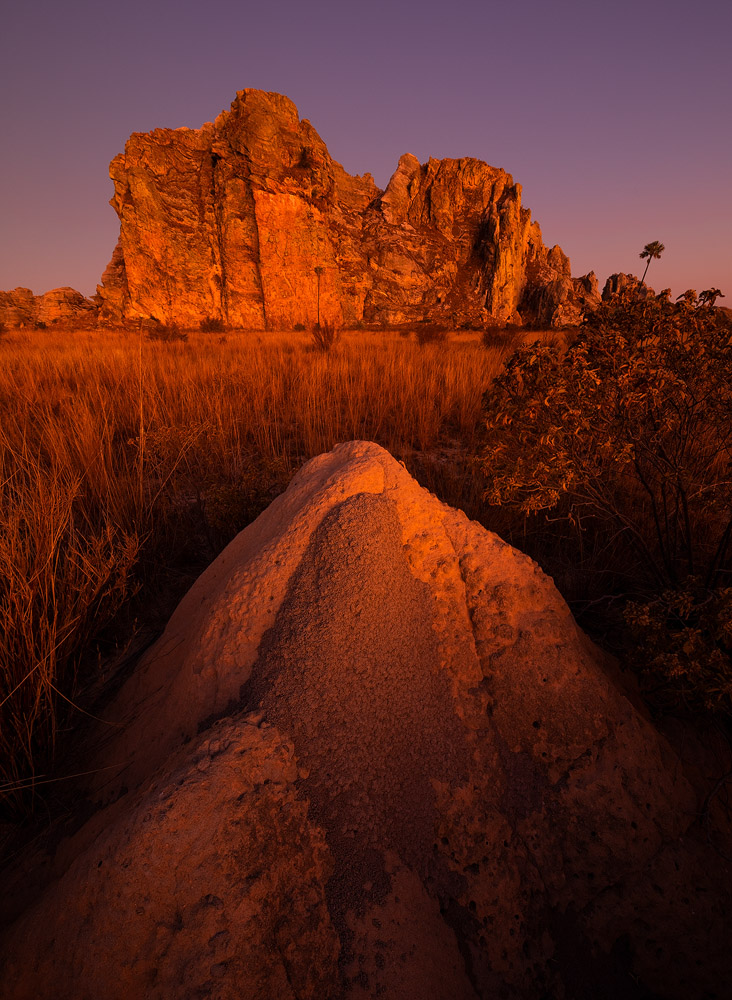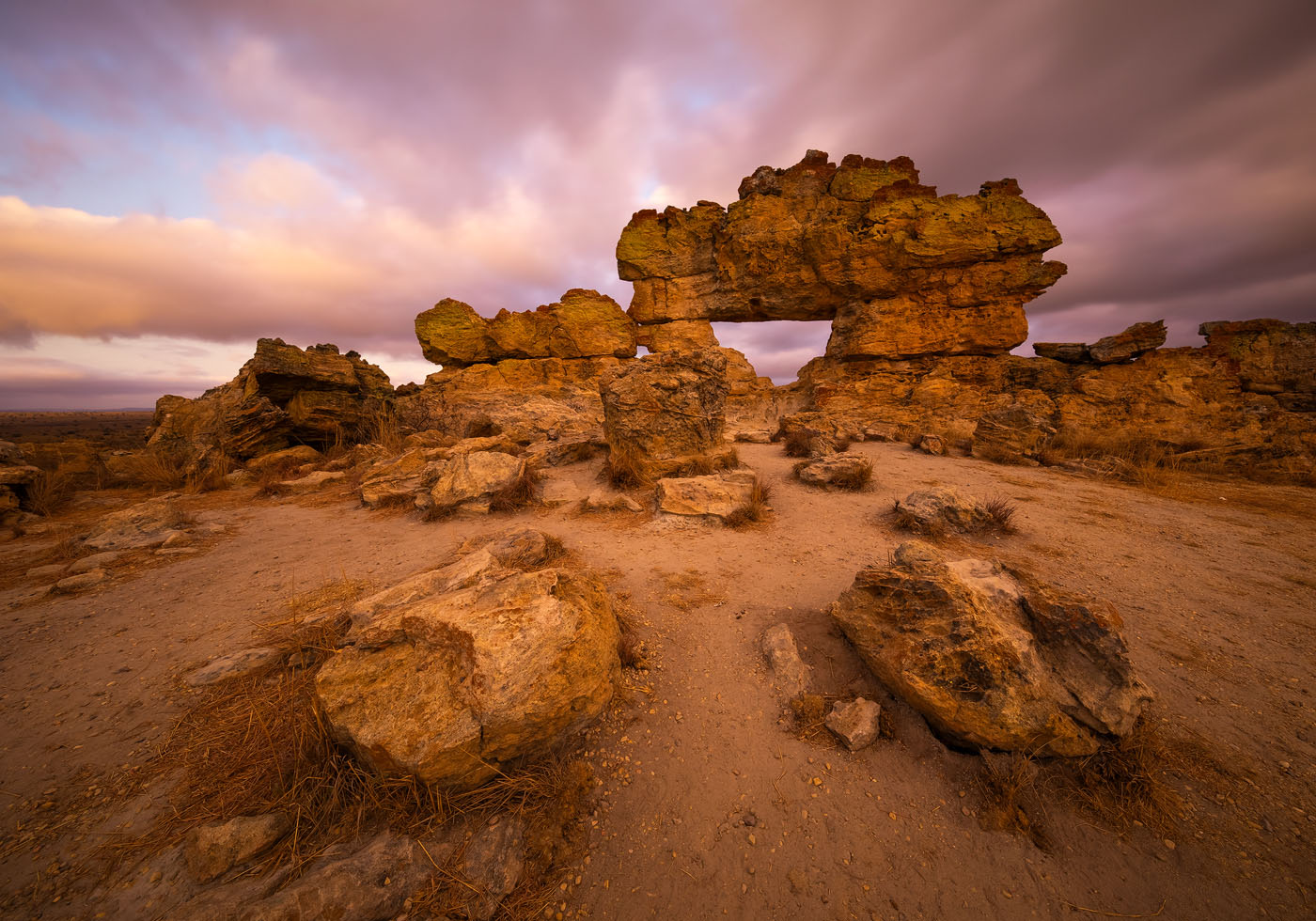 Day 14-15 Anja Community Reserve
After a sunrise shoot at Isalo's rock arch on day 14, we will quickly depart and head to the crown jewel of the workshop: Anja reserve.
The Anja Community Reserve is a woodland area and freshwater lake, situated at the base a large cliff. Much of the reserve is dominated by fallen rocks and boulders and there are two small caves providing habitat for bats and owls. This reserve has much sheltered habitat in the pocket of forest that has established between the vast boulders. The reserve was created in 2001 with the support on the UNDP to help preserve the local environment and wildlife, and to provide additional employment and income to the local community, which means that by visiting it you are contributing to help the local people, as well as to preserve Madagascar's frail ecosystem and the species that inhabit it. Those very species were on the verge of extinction, but the reserve has vastly improved their situation, to everyone's satisfaction, especially photographers!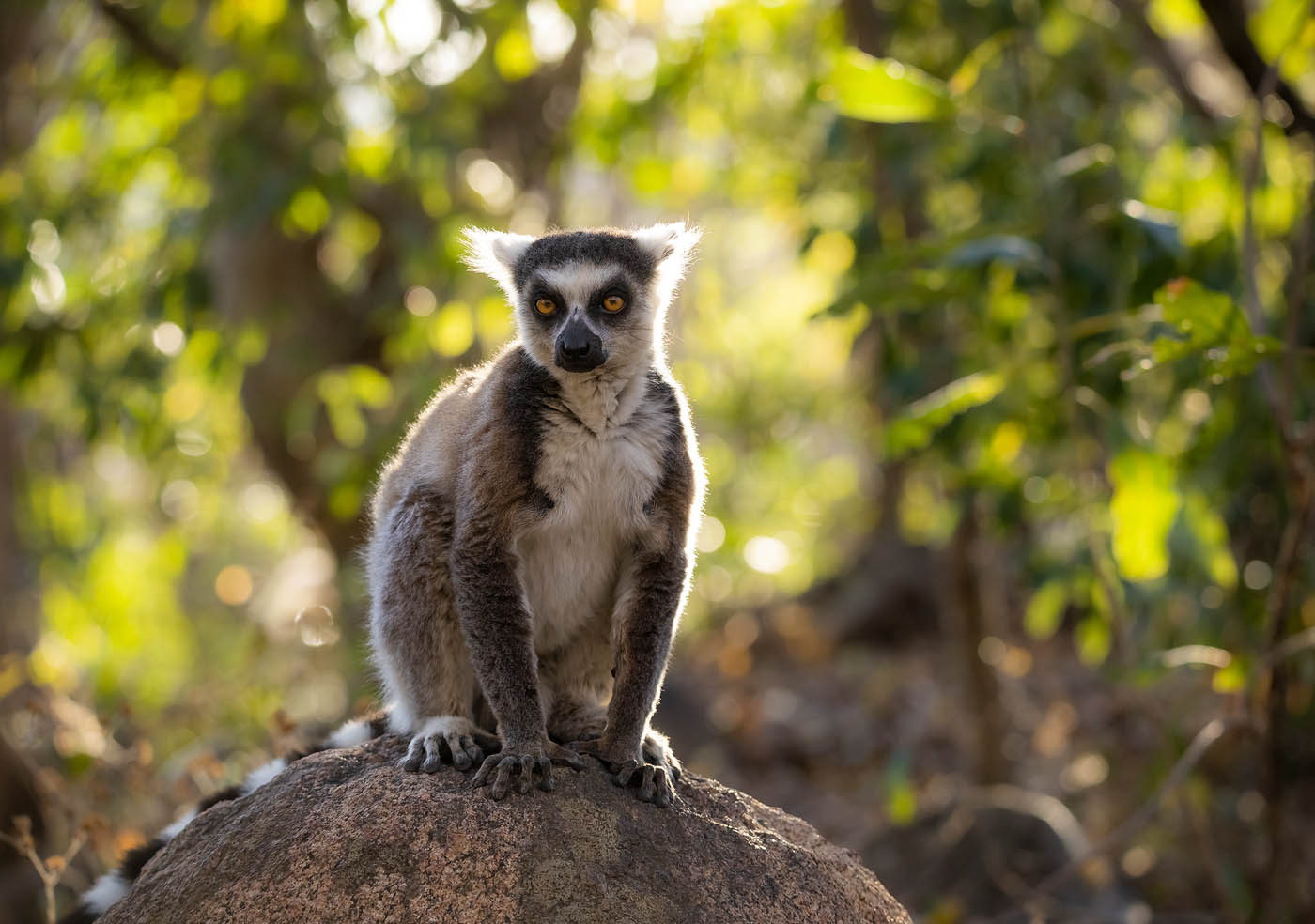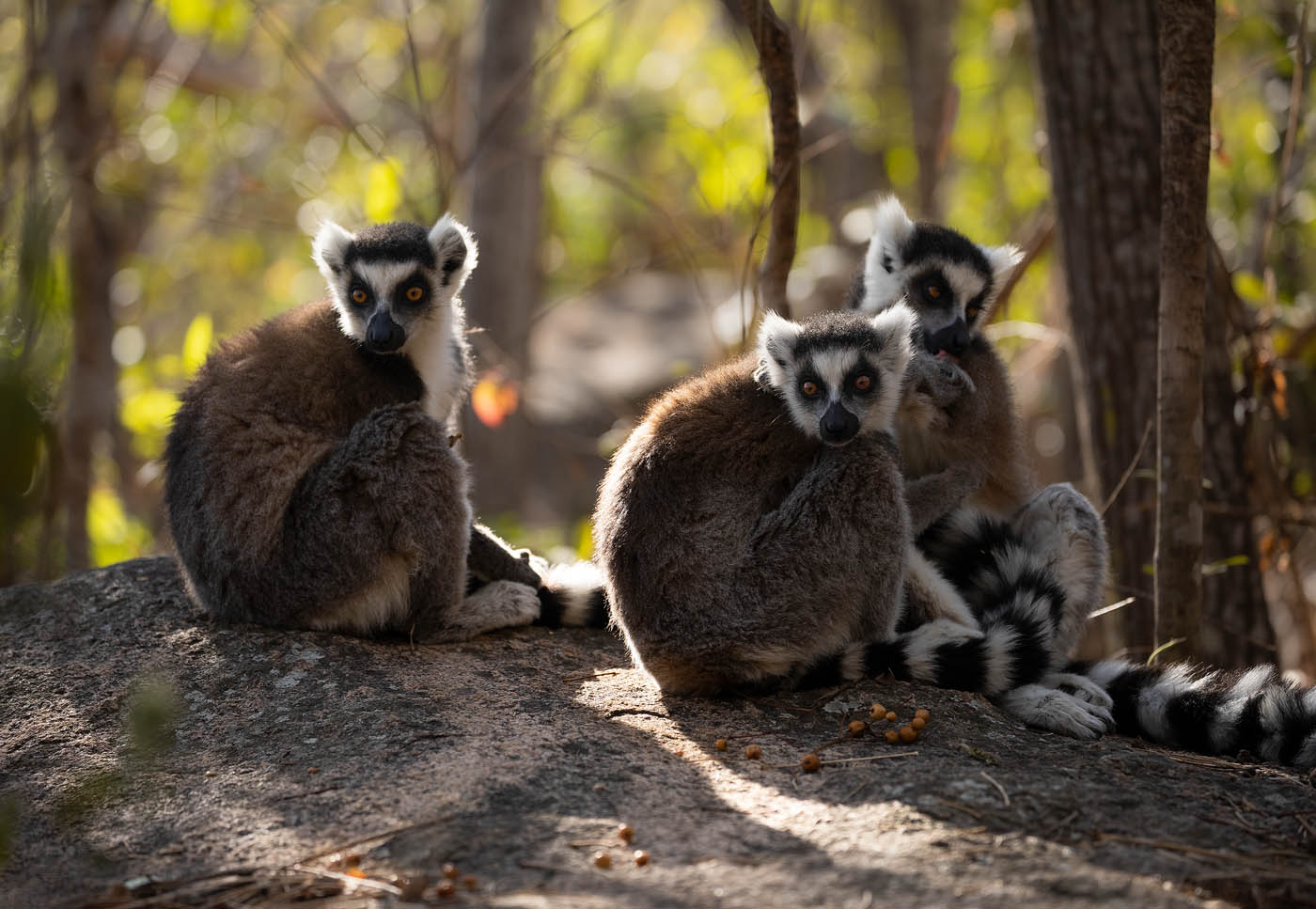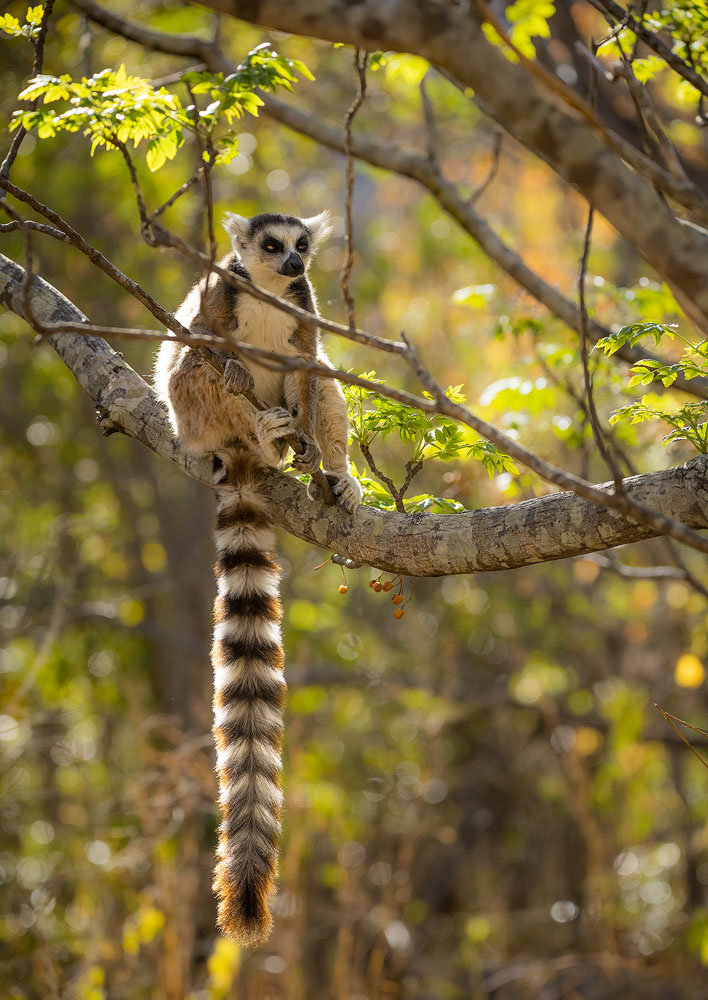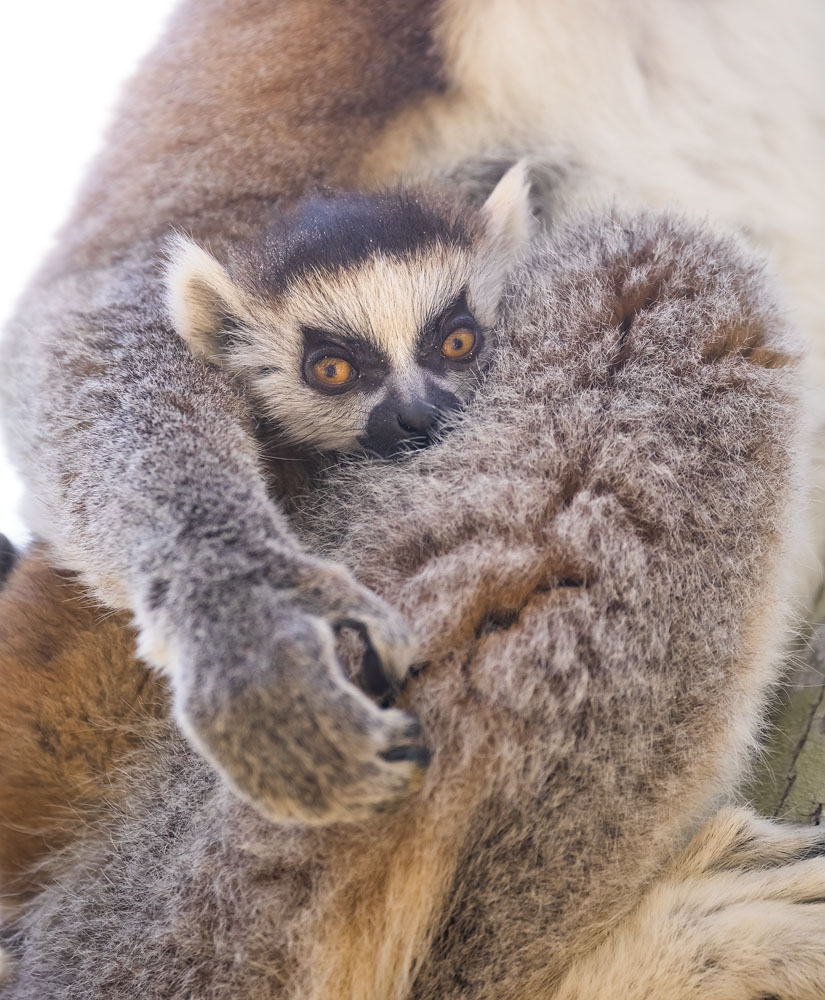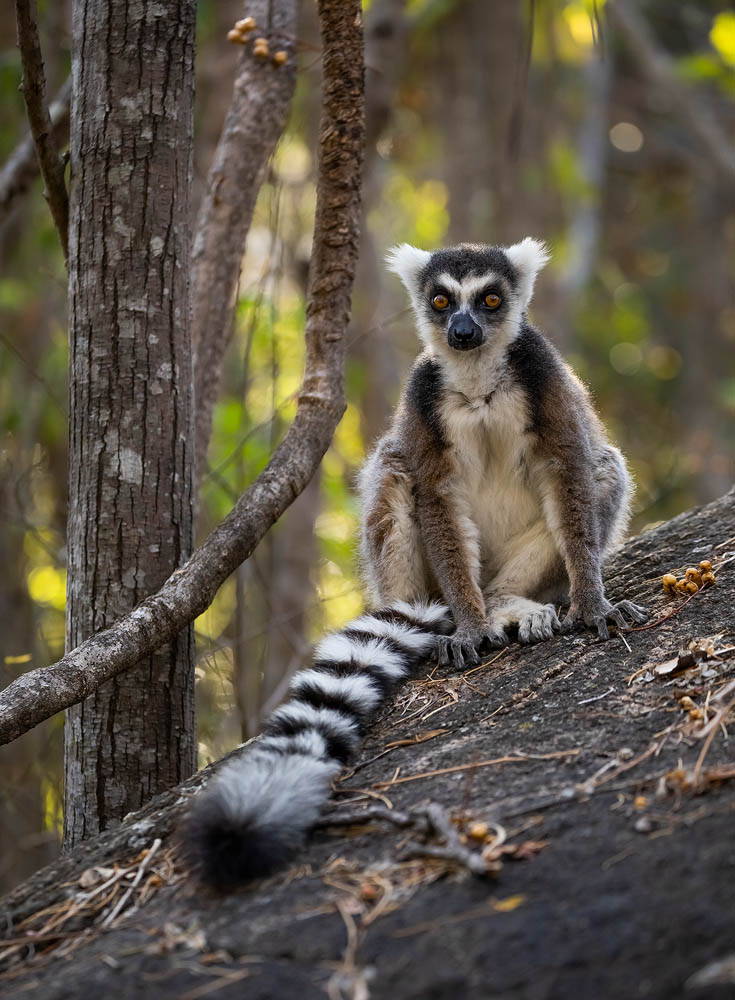 Anja Reserve is home to about 300 ring-tailed lemurs (Lemur catta), which will be our main photo interest in the area. These lemurs used to be fed in the past (thankfully, no longer), and are thus used to visitors, which means shooting them at very close ranges is entirely possible, in fact quite easy. This fact makes Anja reserve an incredible place for wildlife photography. We will spend two afternoons and one morning shooting the lemurs. This should ensure we get the variety we want, as in the mornings the lemurs hop on the gigantic boulders, and in the afternoons they crowd the trees below. Again, the season during which we visit is baby season, and several of the lemurs are bound to have super-cute little gremlins attached to their chests or backs! I can't stress enough how amazing shooting in Anja is, the only way to understand it is to be there.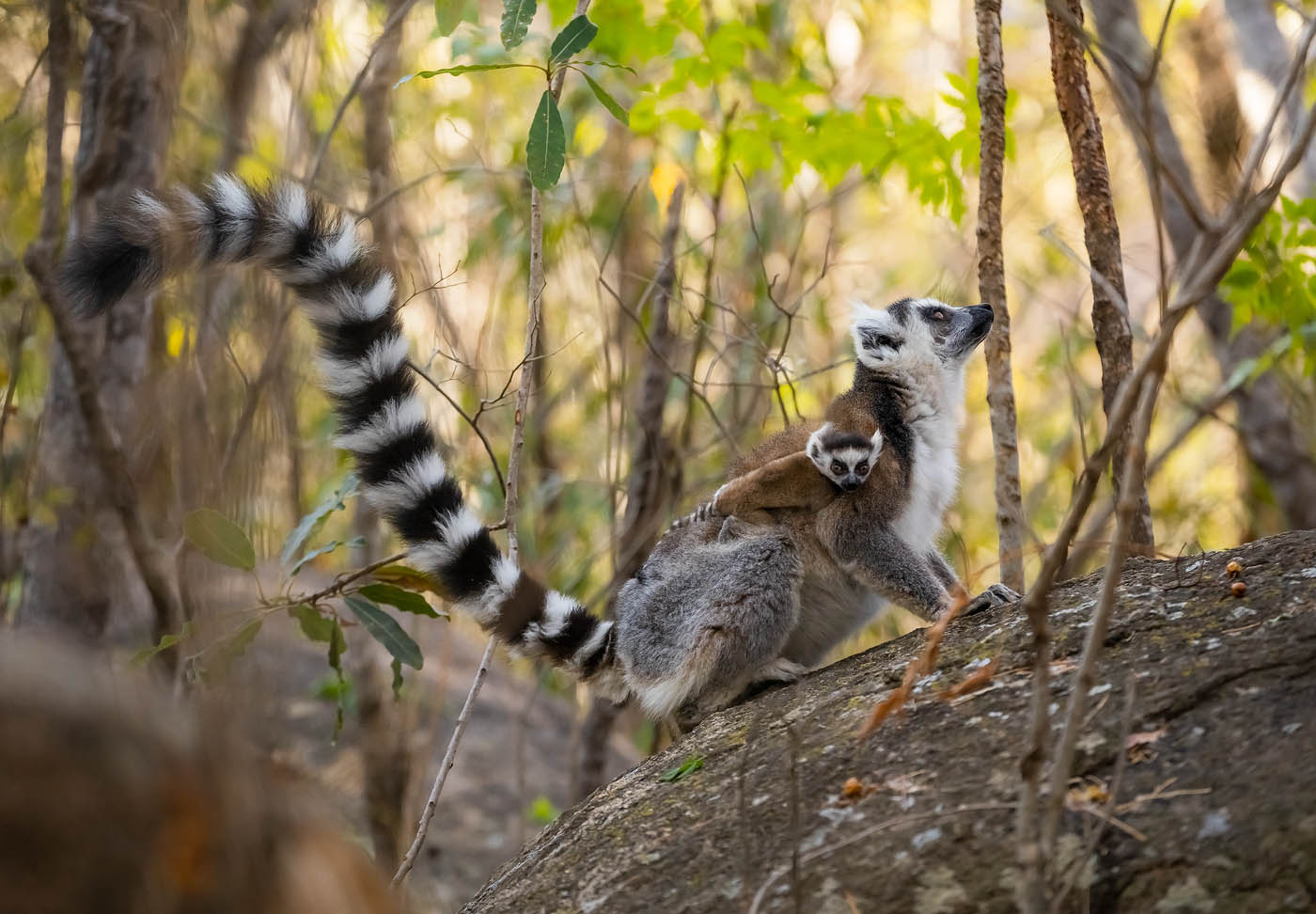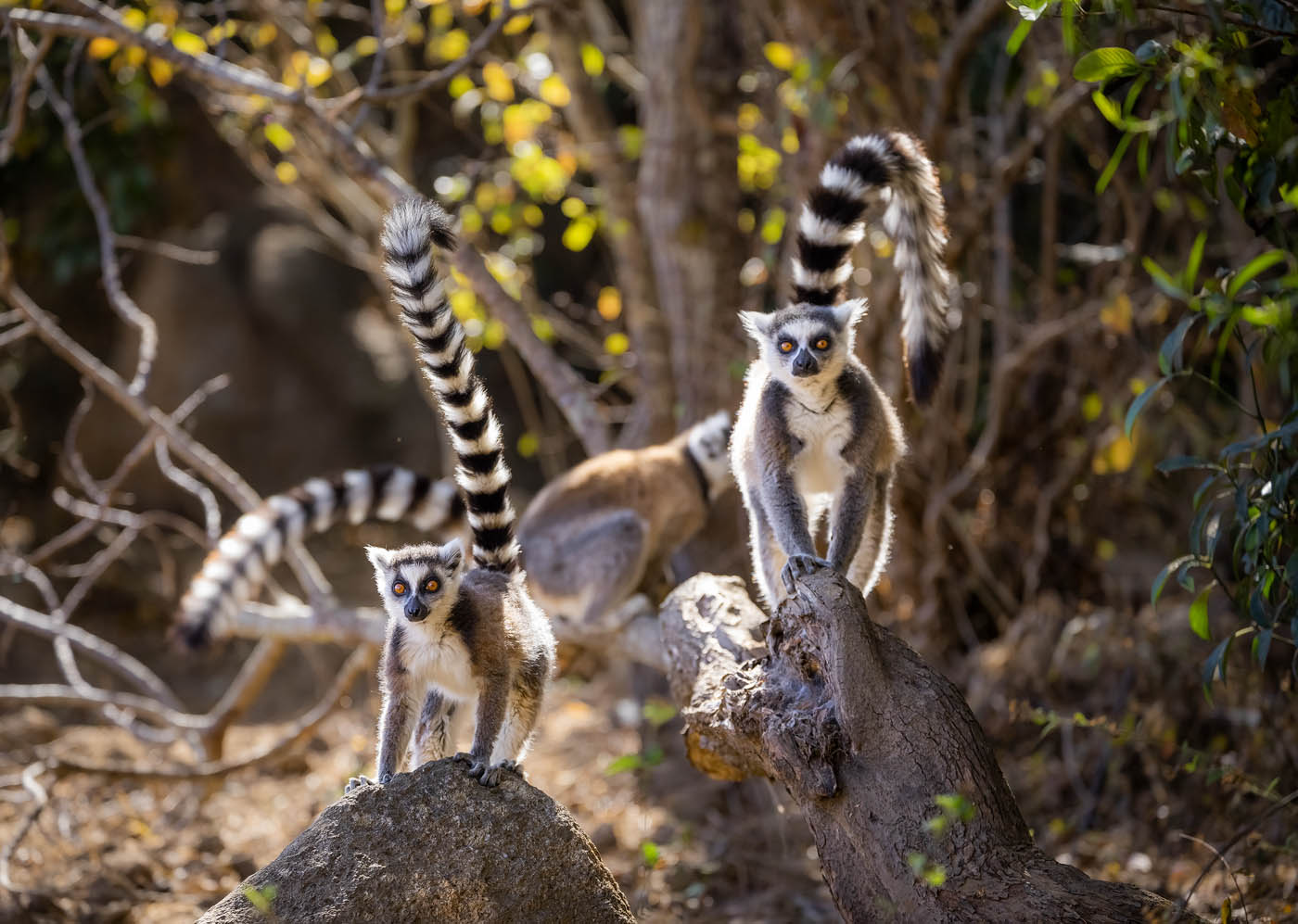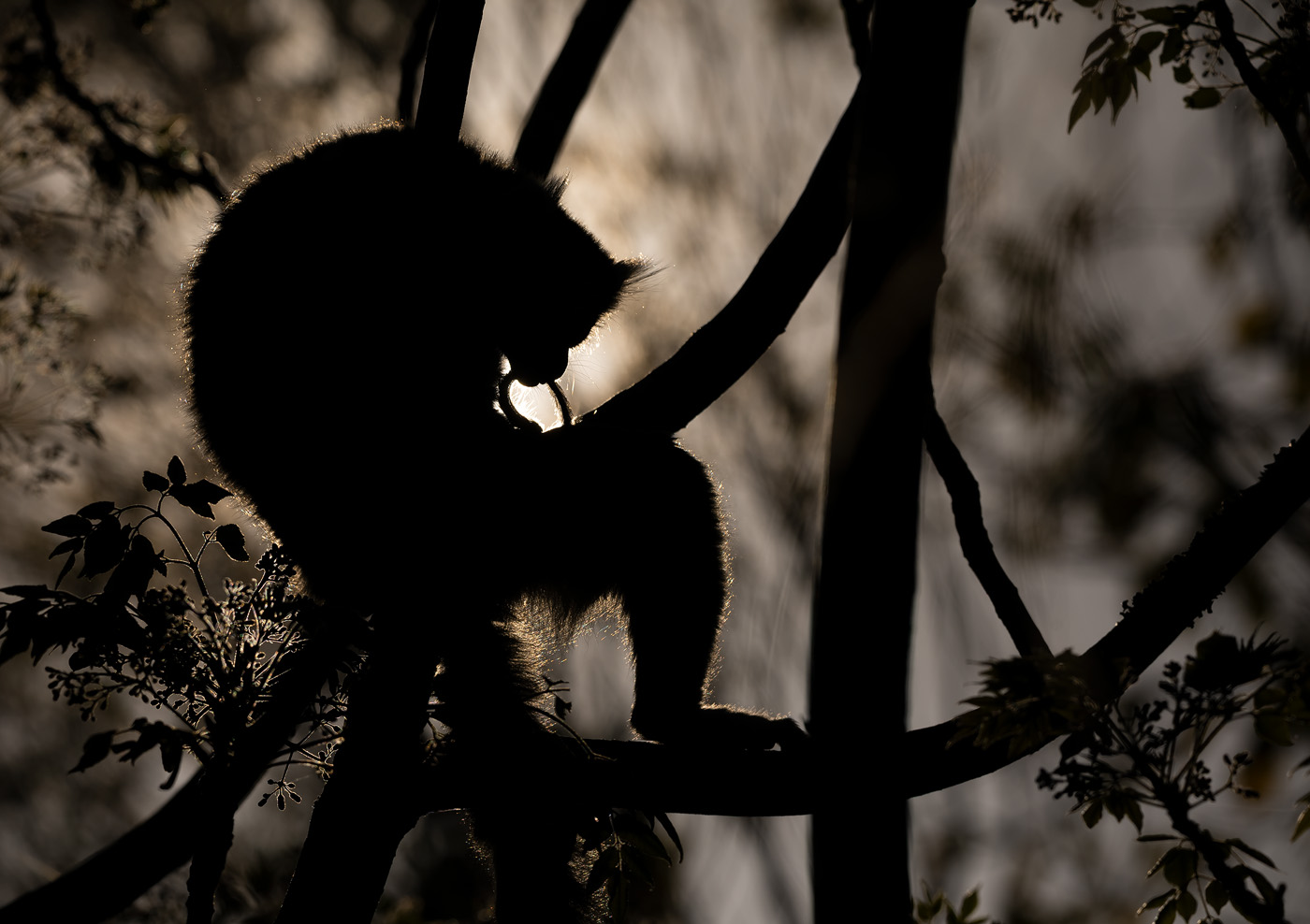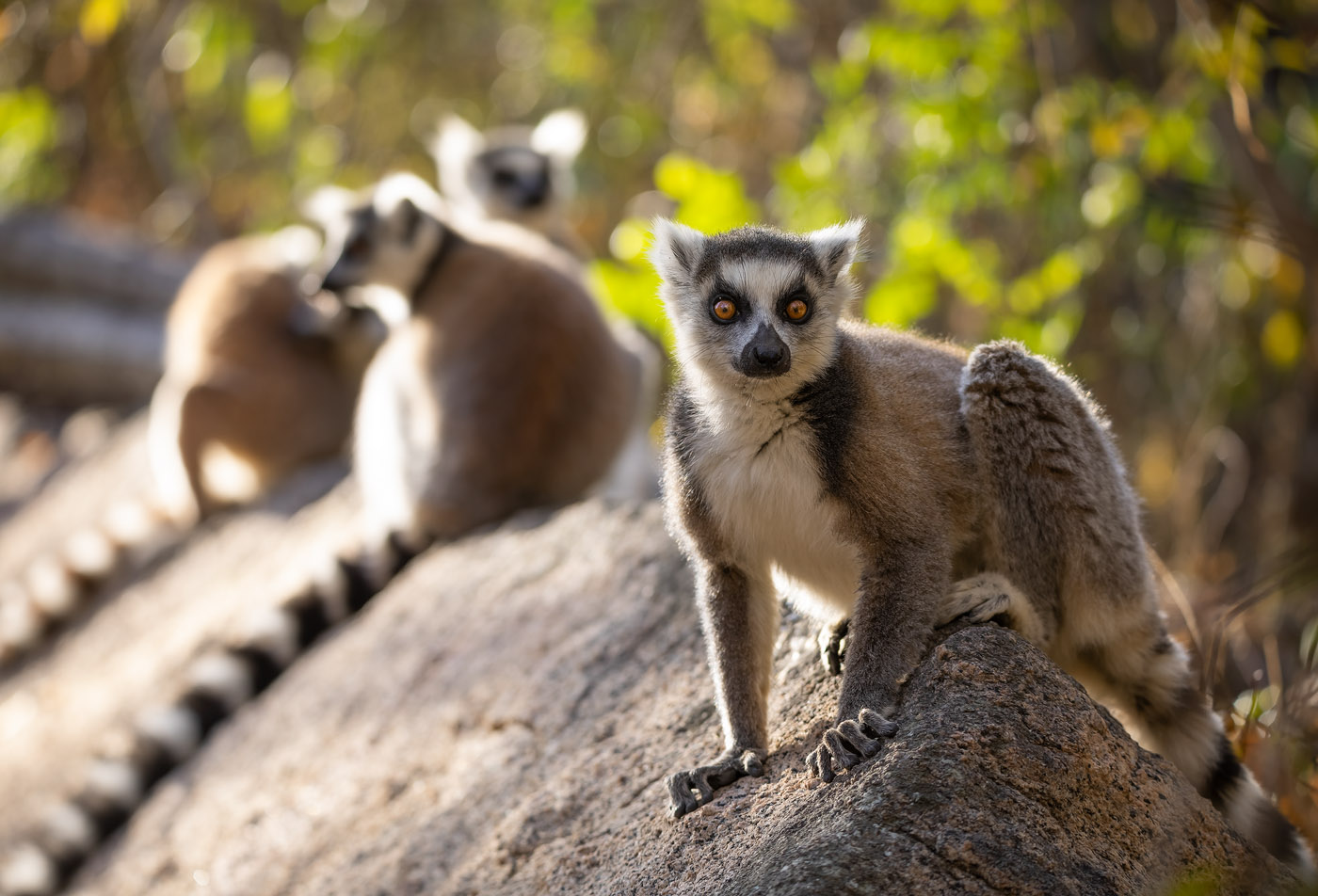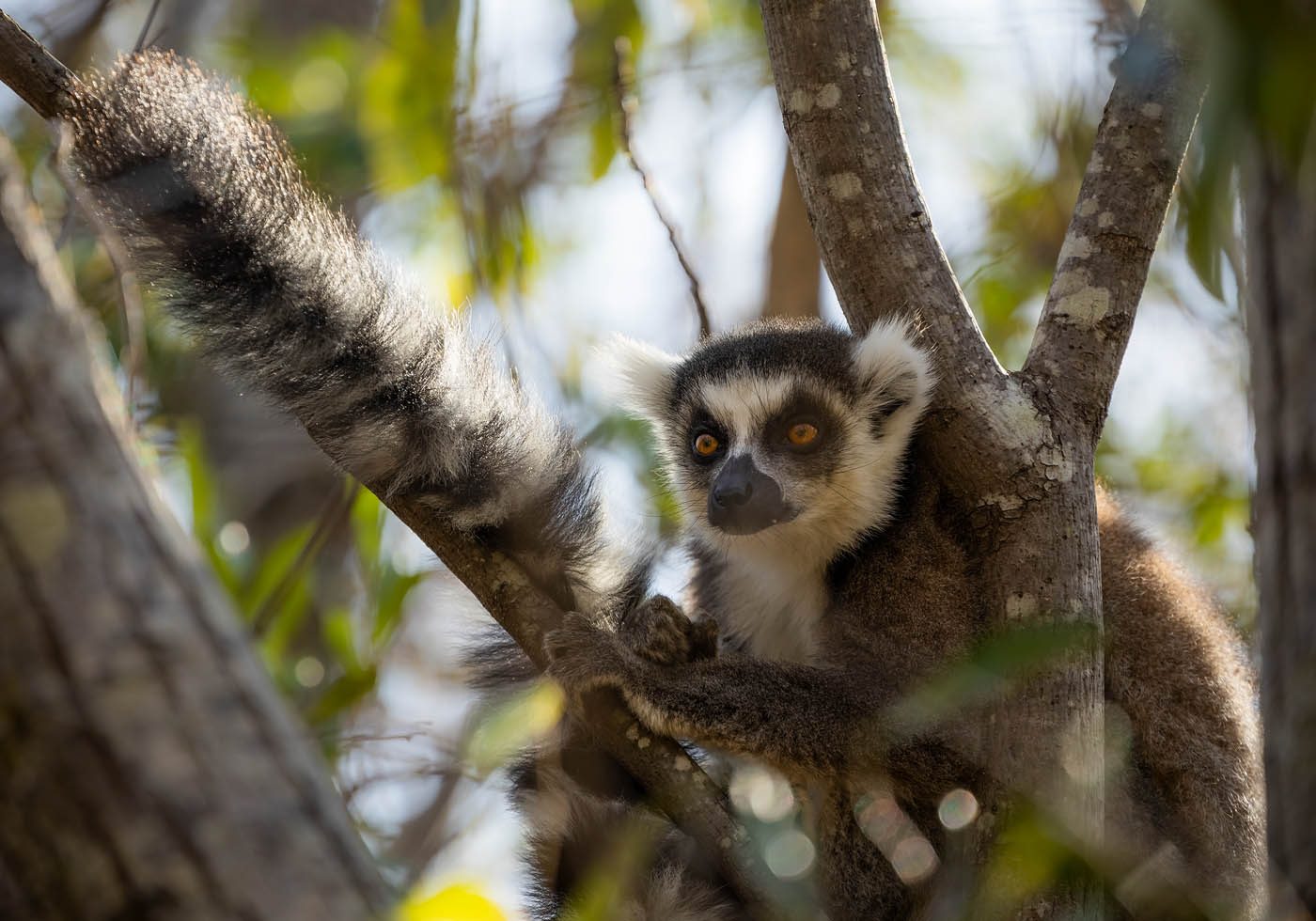 Day 16 Ranomafana National Park
We will depart our lodge in the morning and drive to our last destination: Ranomafana. After settling in our hotel, we'll head to the park and begin an afternoon trek to shoot the few last animals in the trip. The park is home to a wide variety of wildlife, but the species we'll be looking for are the satanic leaf tail gecko and the golden bamboo lemur.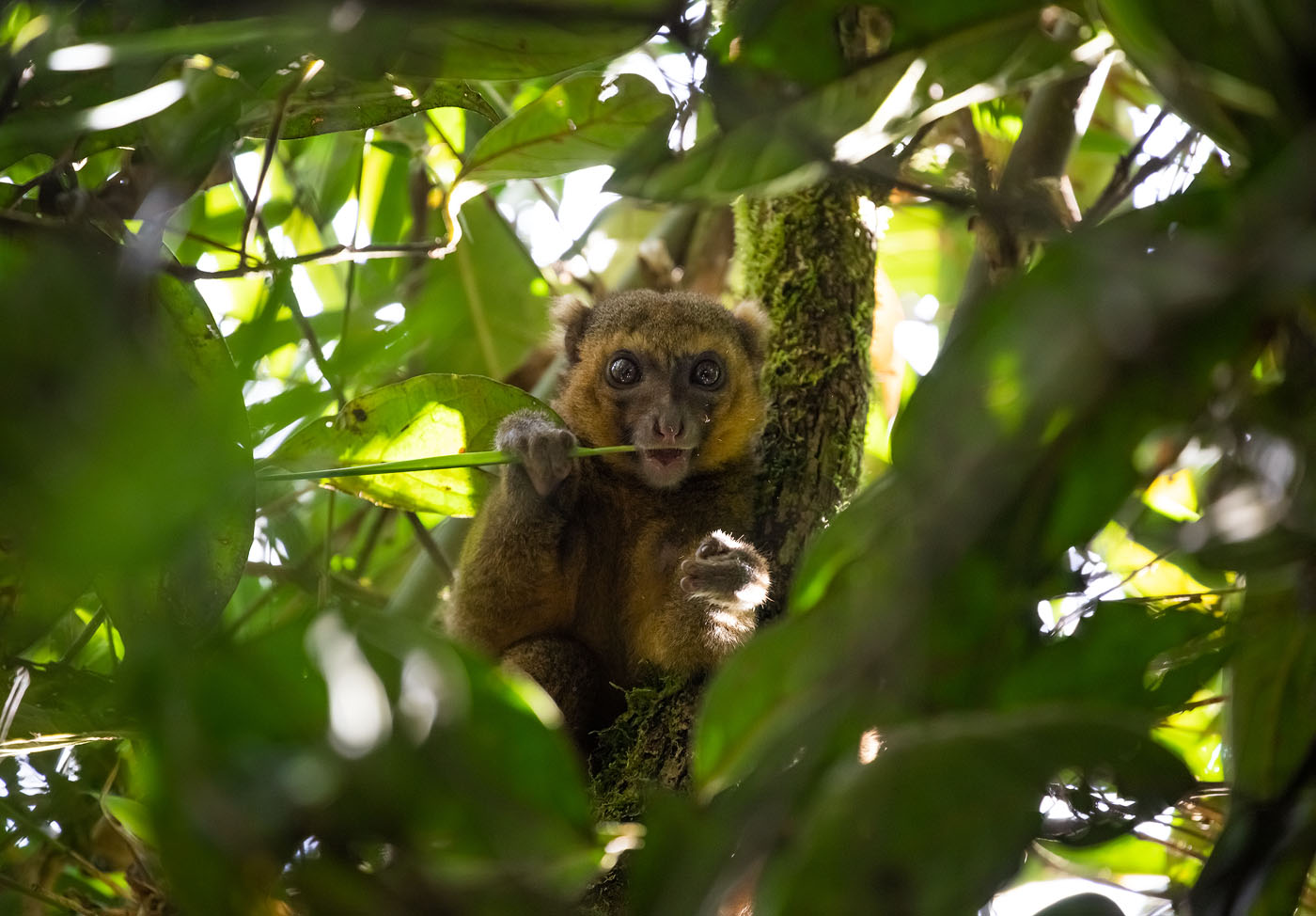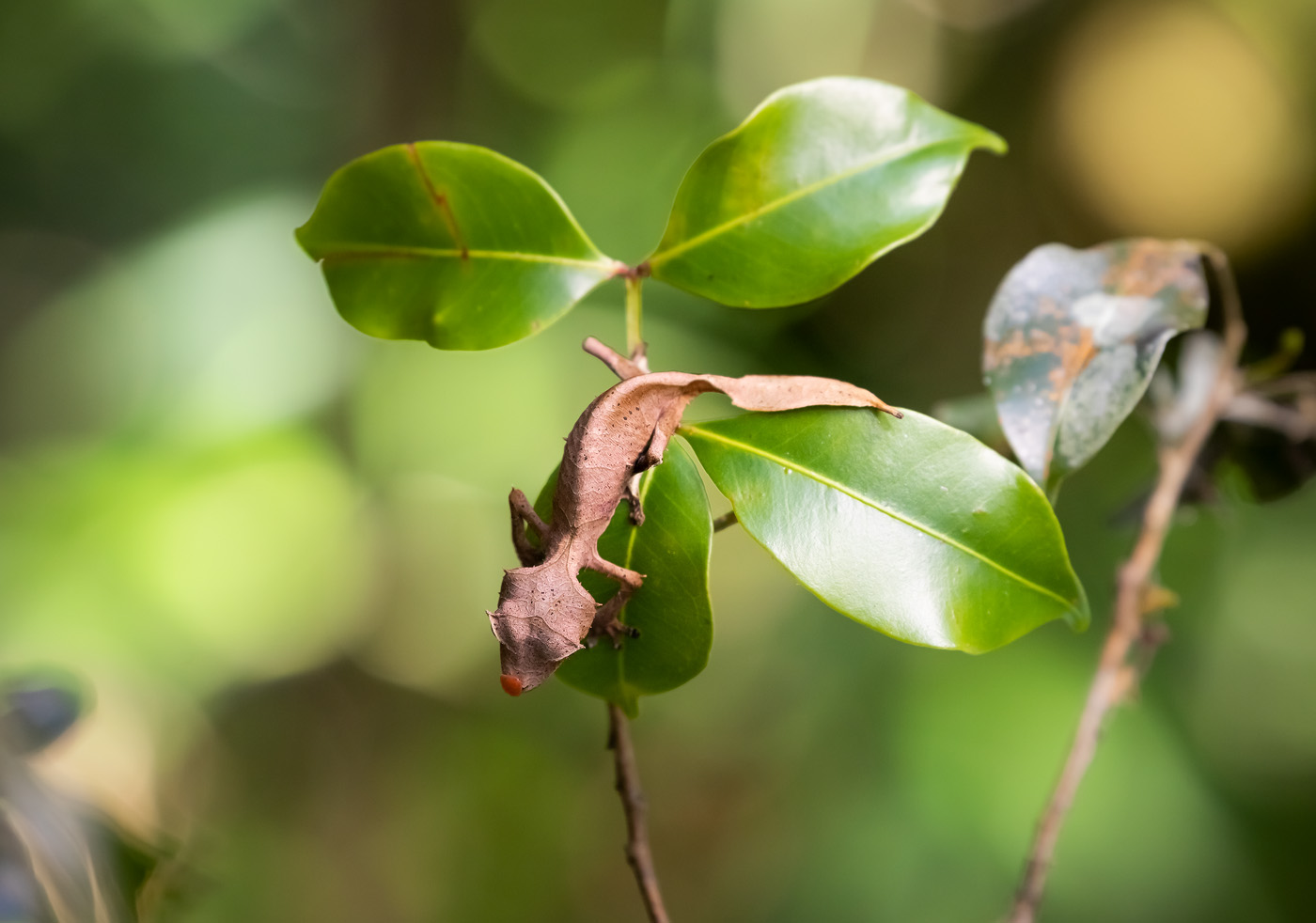 Day 17 Flight to Antananarivo, Departure
After a possible morning shoot in Ranomafana, we'll head to Fianarantsoa airport to take our second private flight, this time back to Ivato Airport, for goodbyes and your flight home.
Total Price: €13490 per person (shared accommodations) for participants registering by October 31st, 2023;
€13590 for participants registering between June 1st and March 31st, 2024;
€13690 for participants registering afterwards.
Sign up as a group of 3 or more and receive a €250 discount* each!
Single room supplement: €1450.
Deposit: €4990
Maximum Number of Participants: 7 photographers (non-photographers are welcome at a reduced price, contact me for details)
Physical Difficulty: Intermediate. We will be hiking in most of the locations to get to the wildlife, but the hikes aren't hard if you're moderately fit. The hikes sometimes pass through dense vegetation, and on a few of them you will have to climb large boulders, which requires good balance. Weather conditions in most locations are comfortable, but it can get hot and sunny. Madagascar is a third-world country, but I have gone through everything necessary to make your stay as comfortable and as enjoyable as possible.
*Multiple discounts may or may not apply, please consult me.
Workshop Price Includes
Accommodation in the best hotels and lodges available at each location thoughout the workshop.
Breakfast, lunch and dinner throughout the workshop.
Travels in private, comfortable, 4X4 vehicles offering ample room for you and your photoraphy gear.
5 domestic flights to reach our destinations quickly and comfortably. Out of those, 2 are private flights.
Professional photography guidance by a professional nature photographer, accompanied by local experts
Critique sessions and post-processing assistance when and where possible.
Entrance fees, road tolls and taxes on all services listed above.
Workshop Price Does Not Include
Airfare to and from Ivato International Airport (TNR)
Insurance. It is MANDATORY to insure yourself against physical injury, and highly recommended to insure your photo gear. Tour leaders will not be responsible in case of any personal injuries or damage to photographic gear as a result of an accident during the workshop. A good insurance policy can make a big difference should something happen, and ensure a safe return home.
Alcoholic drinks.
Non-meal-time snacks or soft drinks.
Single room supplement (€1450).
Gratuities to the local staff
Photography Equipment
A digital camera, preferrably a DSLR camera with a full-frame sensor, since these cameras have better low-light capabilities. However, a crop-sensor DSLR will also completely suffice. A compact camera can be used, as long as you understand its limitations.
A stable, light tripod, preferably carbon-fiber
An ultra wide angle lens. For example, an 11-24mm or 16-35mm.
A mid-range zoom lens such as a 24-70mm.
A telephoto zoom lens, such as a 70-300 or 100-400. A stabilized lens is recommended.
An stabilized ultra-telephoto lens such as a 150-600mm for wildlife shooting.
A macro lens for chameleons, weevils etc.
Note: drones aren't allowed in Madagascar.

Clothing
Clothing for the different climate zones we will encounter: light, breatheable shirts, light warm jacket
At least 2 pairs of convertible pants
A wide hat and a beany
Good hiking boots, at least 4 pairs of socks
Sandals
Light rain gear

Other
Sun glasses
Sunscreen
Insect repellent
A med kit which includes pills against traveller's diarrhea (Z-pak works great).
Headlight
Rain cover for your photo bag
Payment Procedure
In order to secure your spot, you are required to transfer a deposit of €4990. This deposit will be refunded only in case the workshop gets cancelled for some reason. For your comfort, the deposit can be paid either through PayPal or a wire-transfer (please contact me for details).
The full amount (after discounts if applicable) must be paid via wire-transfer no later than 90 days prior to the workshop starting date.
In the case you need to cancel your participation, a 75% refund (not including deposit) will be given up to 75 days prior to the workshop starting date, a 50% refund up to 60 days prior to the workshop starting date and a 25% refund up to 45 days prior to the workshop starting date.
I reserve the right to increase the price of the workshop if costs rise due to unexpected changes in fees, taxes or exchange rates.
Disclaimer
Though very improbable, workshop dates might shift a few days here or there, up to 6 months prior to start date. Please contact me if you have schedule limitations.
The tour plan above is subject to change. In case of harsh weather, we may have to divert from our plan and do something else.
Important: In order to join the workshop, you will be required to sign a contract that establishes that the tour leaders are not responsible to physical or proprietary damages, and that you understand and accept several behavioral standards (including not taking excessive risk), necessary to ensure the workshop's success and your safe return.
*Multiple discounts may or may not apply, please consult me.
Erez Marom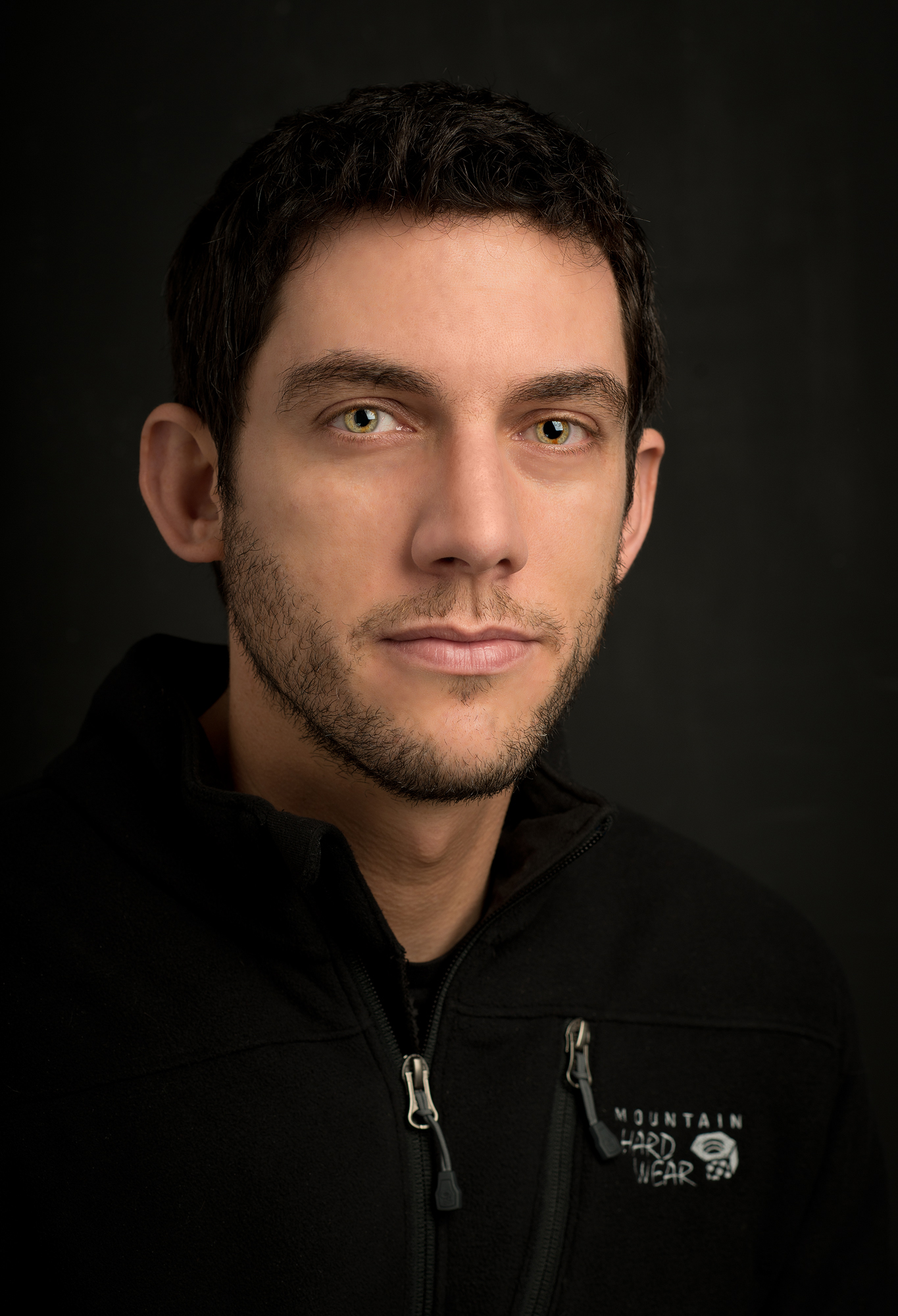 Born in 1980, Erez Marom is a full-time nature photographer, photography guide, writer and traveler-adventurer based in Israel. Specializing in landscape and wildlife photography, Erez spends much of his time in the field shooting the wildlife and scenery of his favorite locations in Israel and overseas.
In addition, Erez publishes articles and instructional texts in leading magazines and websites, and dedicates a considerable amount of his time to sharing his experience and knowledge by lecturing worldwide and traveling several times a year to guide his unique photography workshops.