'TALES OF ARCTIC NIGHTS' - GREENLAND SUMMER SPEEDBOAT WORKSHOP
Price: €5690 pp (or $US equivalent) / Deposit: €2790 pp
AVAILABILITY
21st - 26th July 2024
Greenland is a land of harshness and contrast. Dark and freezing-cold in winter, in summer it changes its face and bathes in sunshine for months on end. In the west of the huge island lies Disko Bay, a haven of still water and beautiful landscapes. The magnificent Sermeq Qujalek (Ilulissat Glacier), which connects to the bay through the 60km long Kangia Fjord, is one of the world's fastest moving glaciers, constantly producing enormous icebergs, which float along the fjord to be dispersed in the bay.
After a long summer where the sun never sets, it first touches the horizon in late July, producing unbelievable light on the bay and its icebergs. This is the perfect timing to set sail among these giants, capturing the arctic night in all its glory. Join award-winning landscape photographer Erez Marom for a week of sailing and photography in this remote and wonderful part of our world. We will explore the bay every single night, shooting icebergs, mountains and whales under the midnight sun, and ocasionally getting off the boat to shoot the marvelous coastline in key points. Not to neglect the curious Arctic architecture, we will visit inuit settlements and experience the area in depth.
The sails will be conducted in a large, super-fast, Targa speedboat. This unique feature will allow us to zoom around the bay and find the very best icebergs when time is critical. Distances are huge in Disko Bay, and the speedboat will give us an overwhelming advantage, and maximize photographic potential.
Main Features
long night sails in the Disko Bay area, shooting spectacular icebergs and impressive landscapes in calm waters in a private speedboat fit for 12 people and their equipment. Our boat is perfect for our causes, as the bay is huge and a fast boat means longer reach to find the best looking icebergs
Visits to land locations and small Greenlandic settlements in Disko Bay
Perfect timing: the workshop begins when the sun touches the horizon for the first time in summer. This guarantees the best probability of magical midnight-sun light, allowing us to shoot for hours in optimal conditions
Whale watching and photography
Professional photo guidance by an award-winning nature photographer
Superior accommodations and meals in the world's northernmost 4-star hotel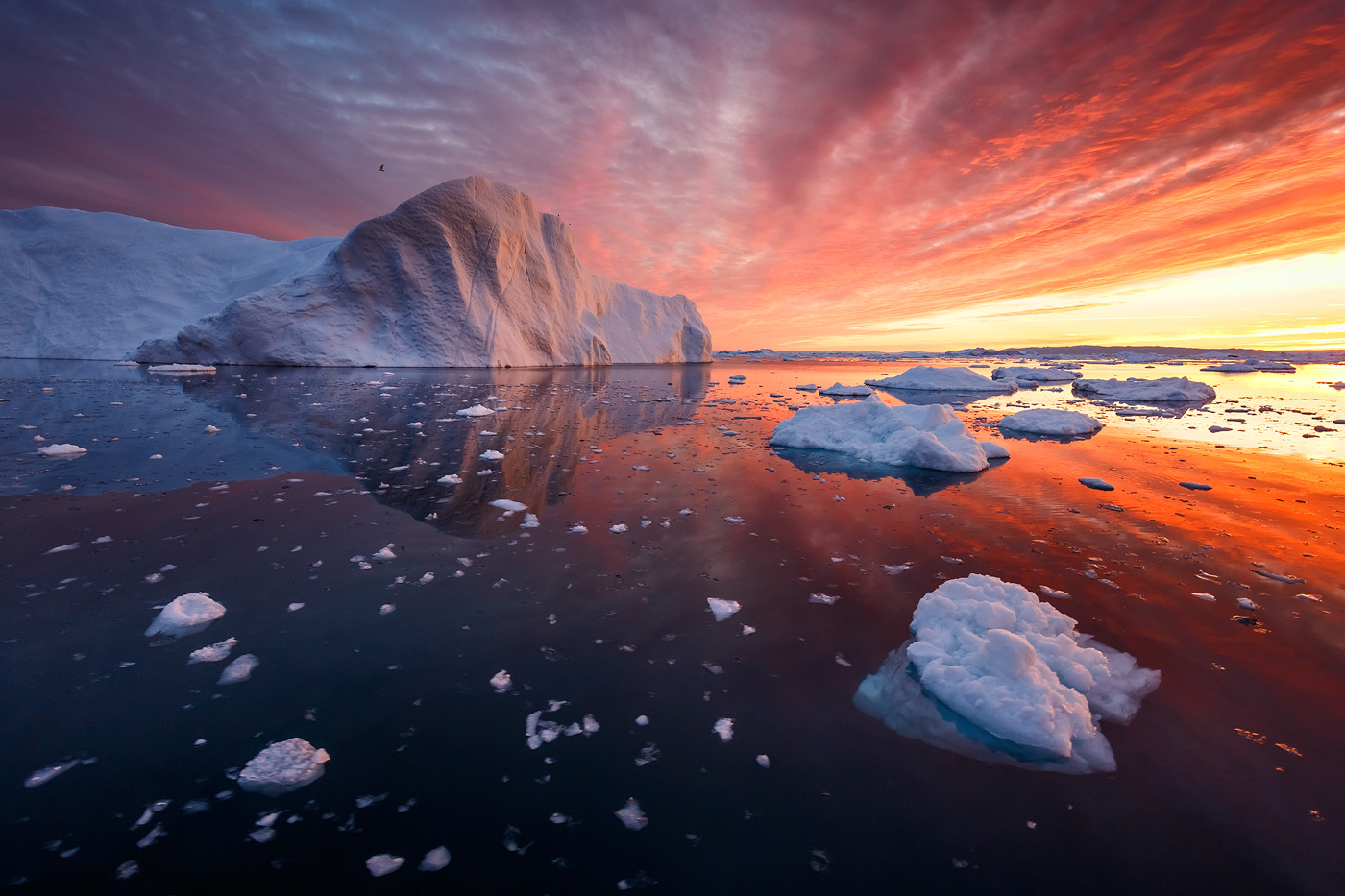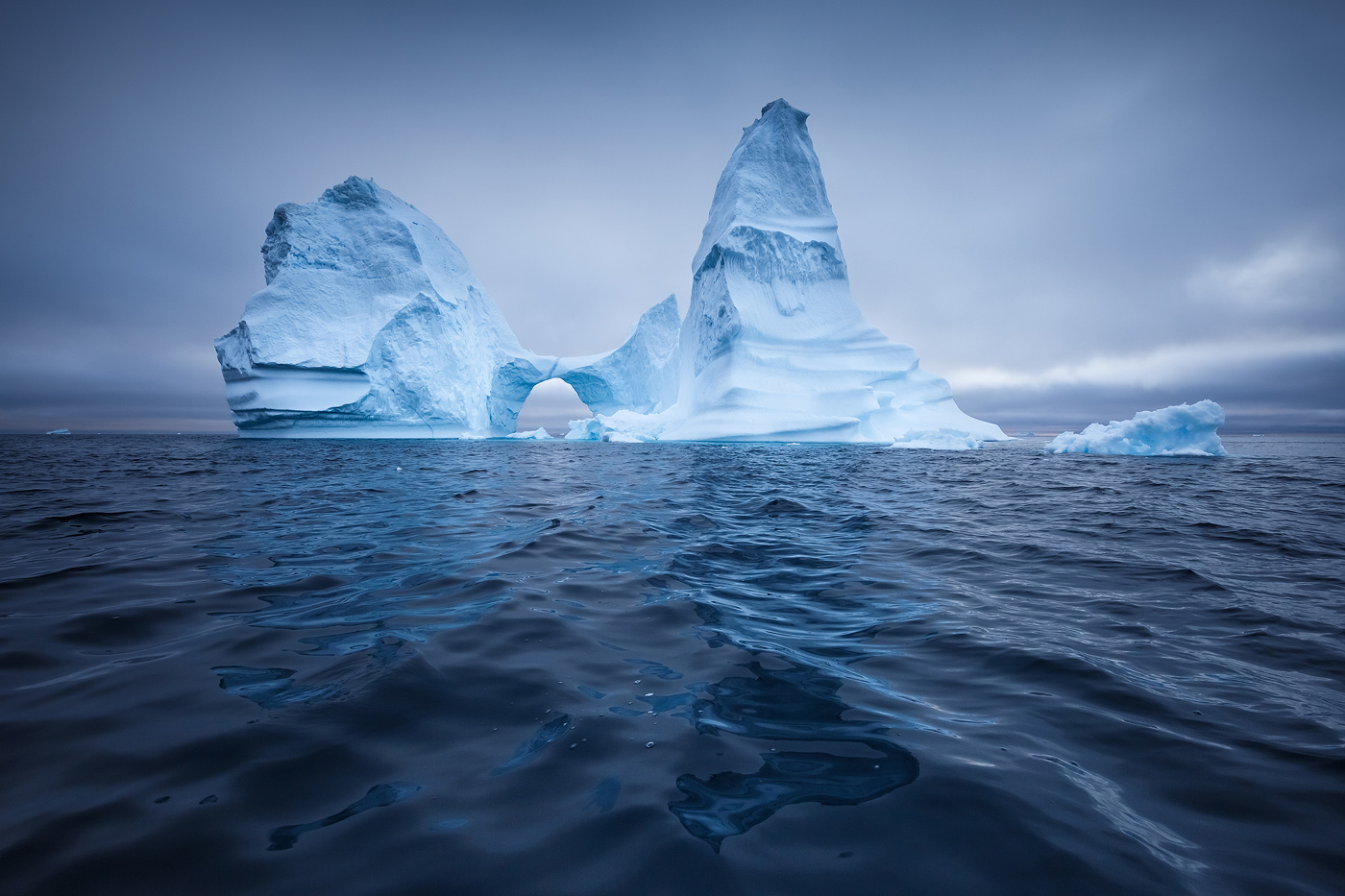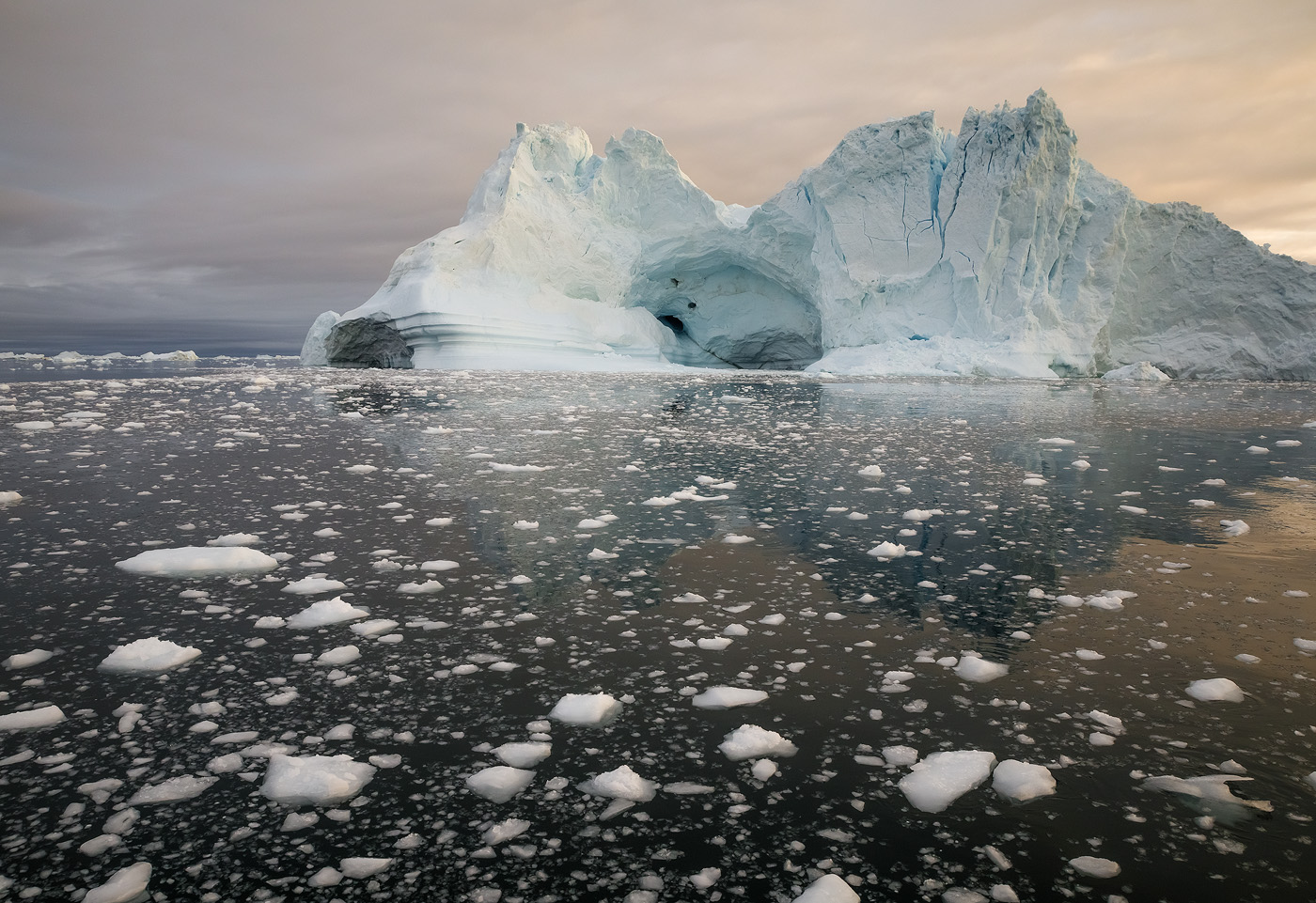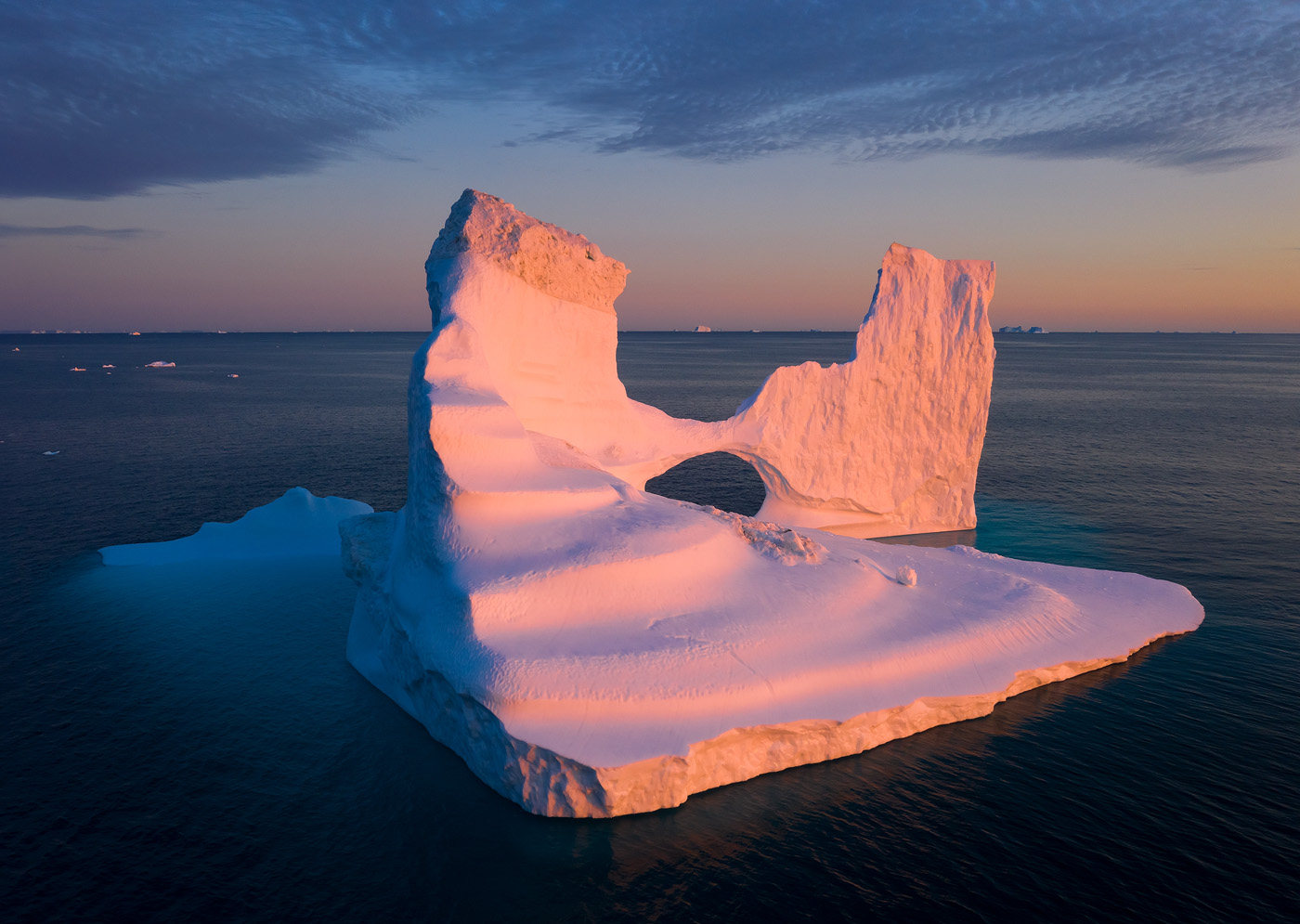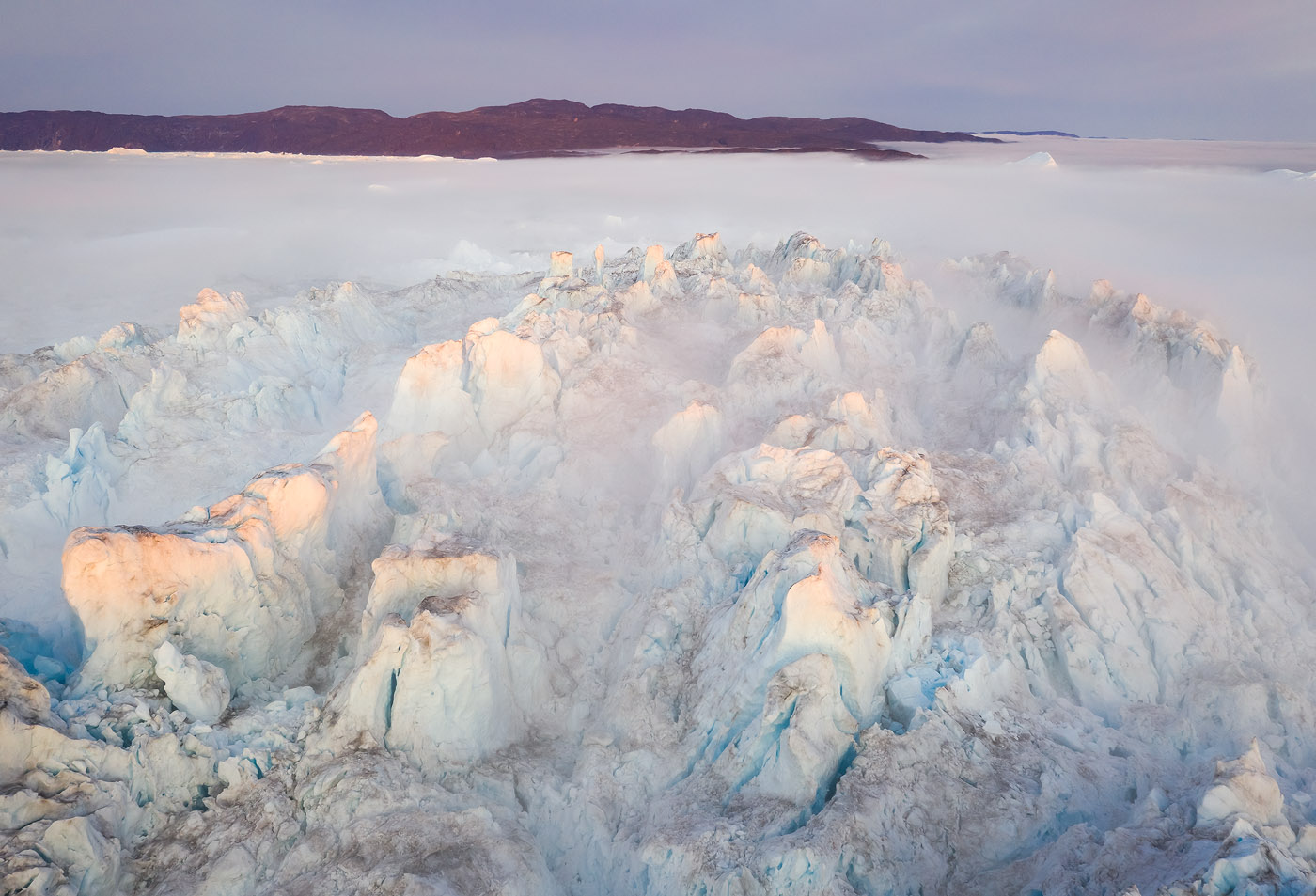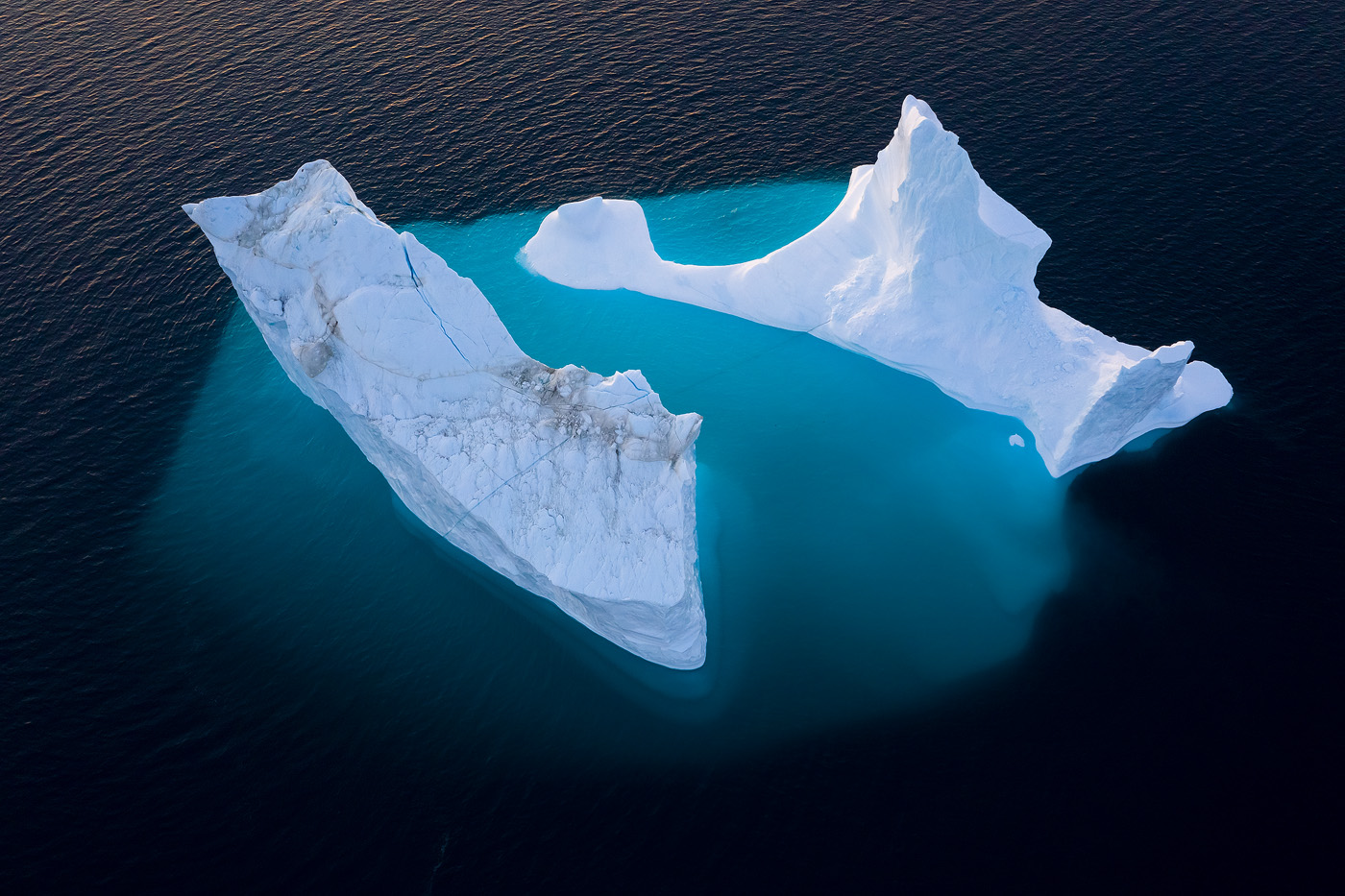 Day 1 Meeting in Ilulissat
We will meet in the evening in our hotel in Ilulissat, after you've been picked up from the airport and rested in the hotel room. We will have a meet-and-greet over a beautiful dinner in the hotel's restaurant, and discuss the days ahead. After dinner we won't waste any time and start our speedboat sail around Disko Bay.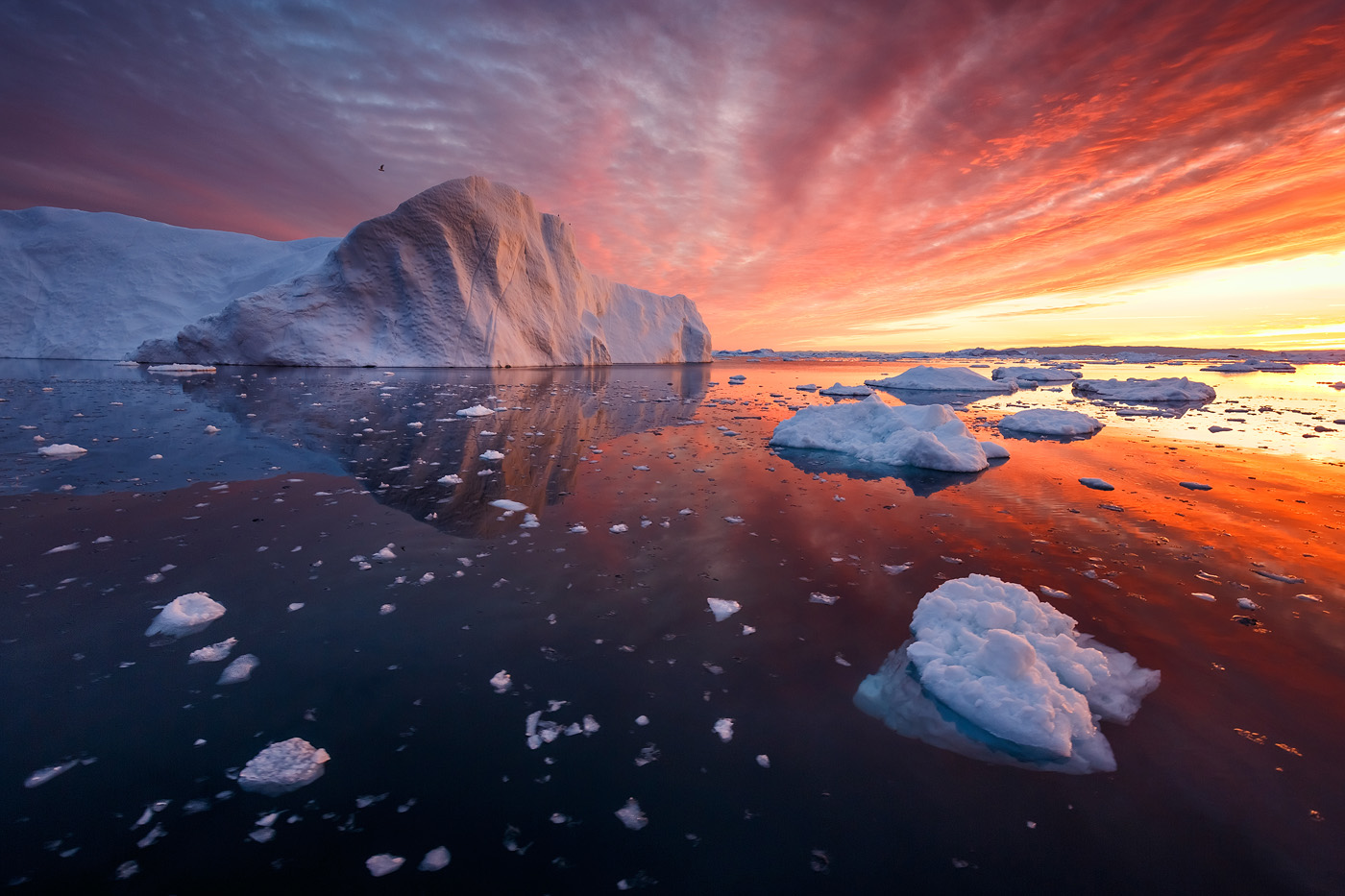 Days 1-6 Shooting Disko Bay
During 4 of the 5 nights of the workshop, we will set out from Ilulissat harbor for several hours, beginning in the late evening (usually around 23:00!), sailing to locate curious and interesting icebergs to shoot, and shooting them under perfect light conditions during sunset and sunrise, which are between half an hour and two hours apart at this time of year. The sails will be conducted in a lage, super-fast, whale-watching speedboat. This unique feature will allow us to zoom around the bay and find the very best icebergs when time is critical. distances are huge in disko Bay, and the speedboat will give us an overwhelming advantage, and maximize photographic potential.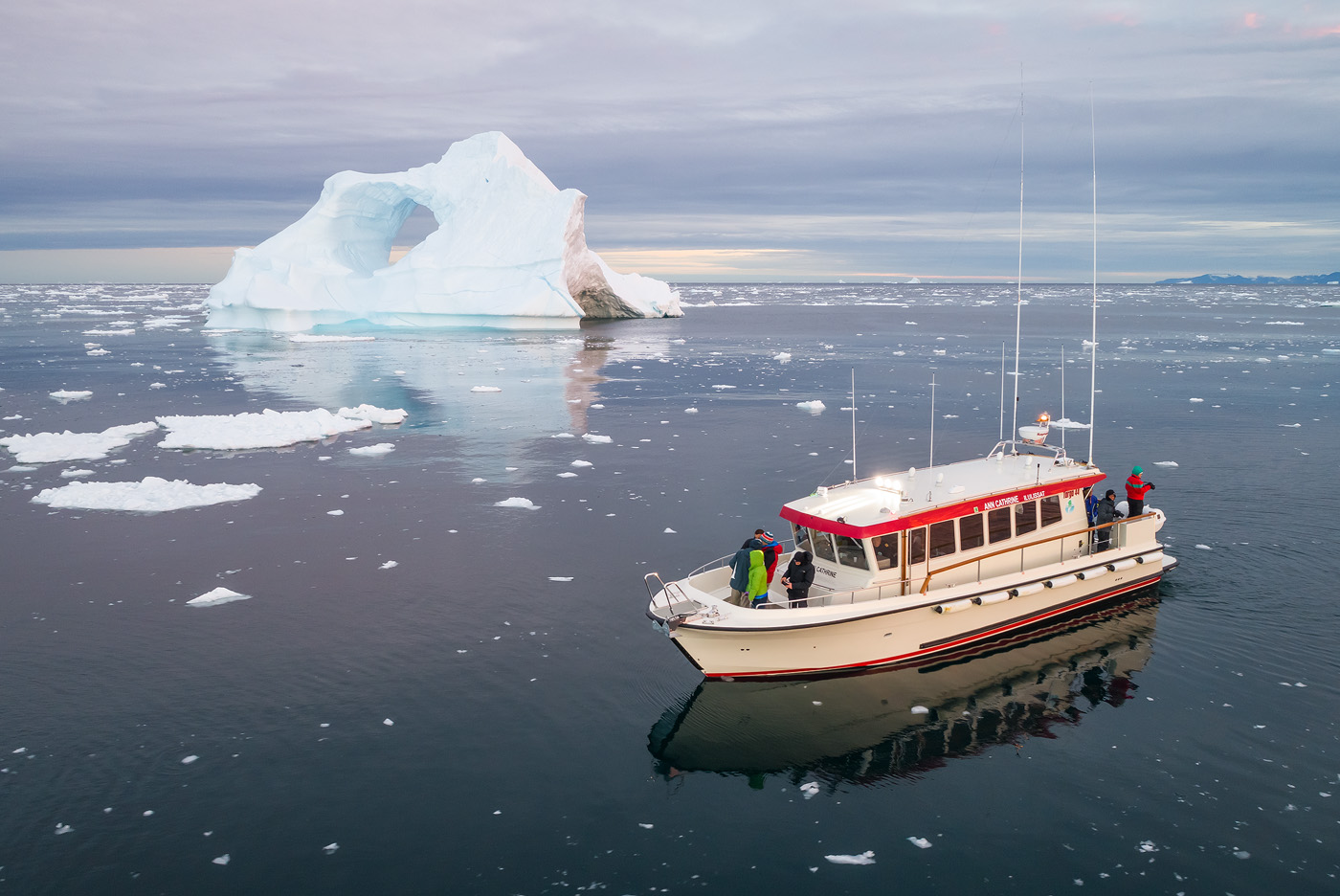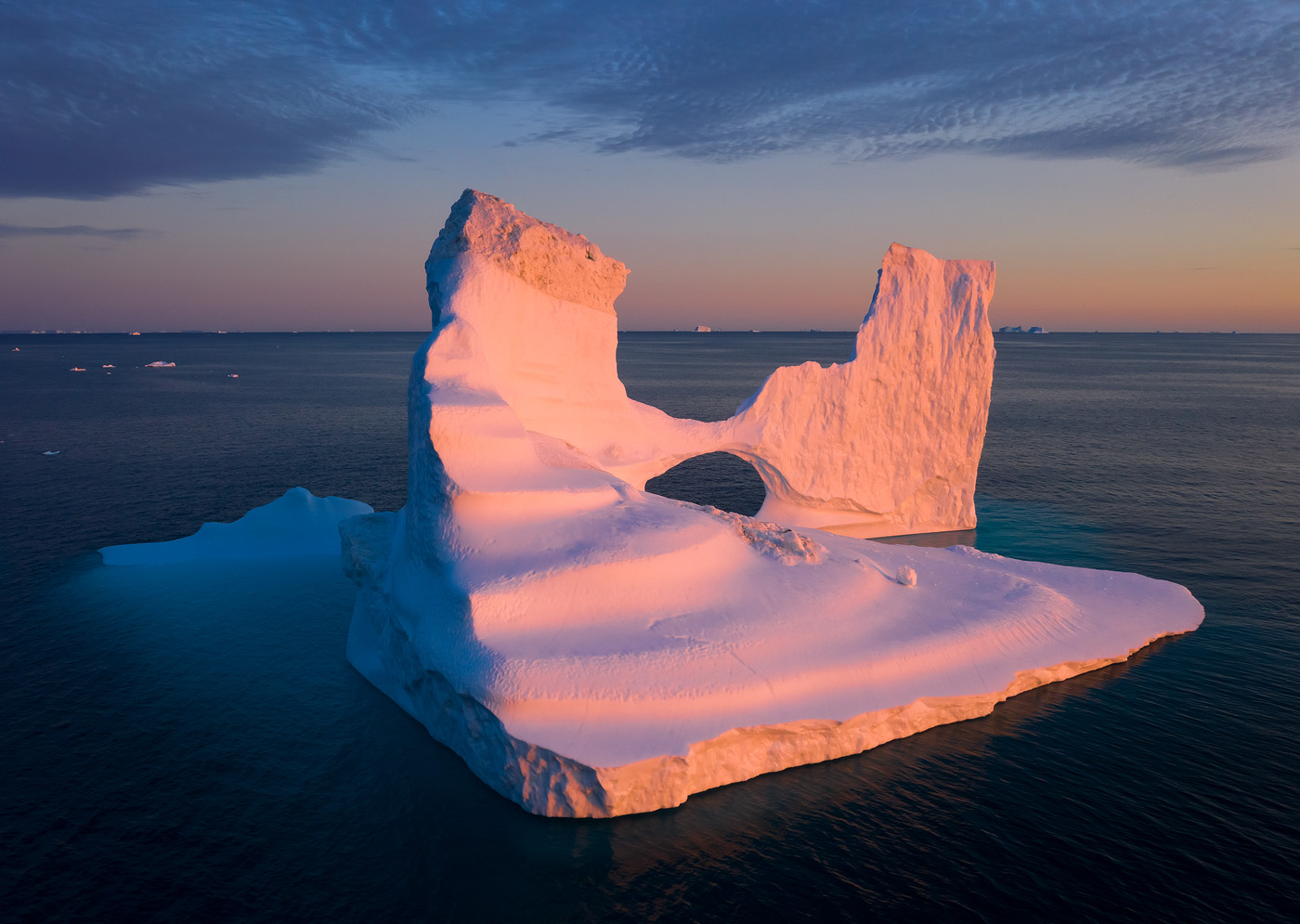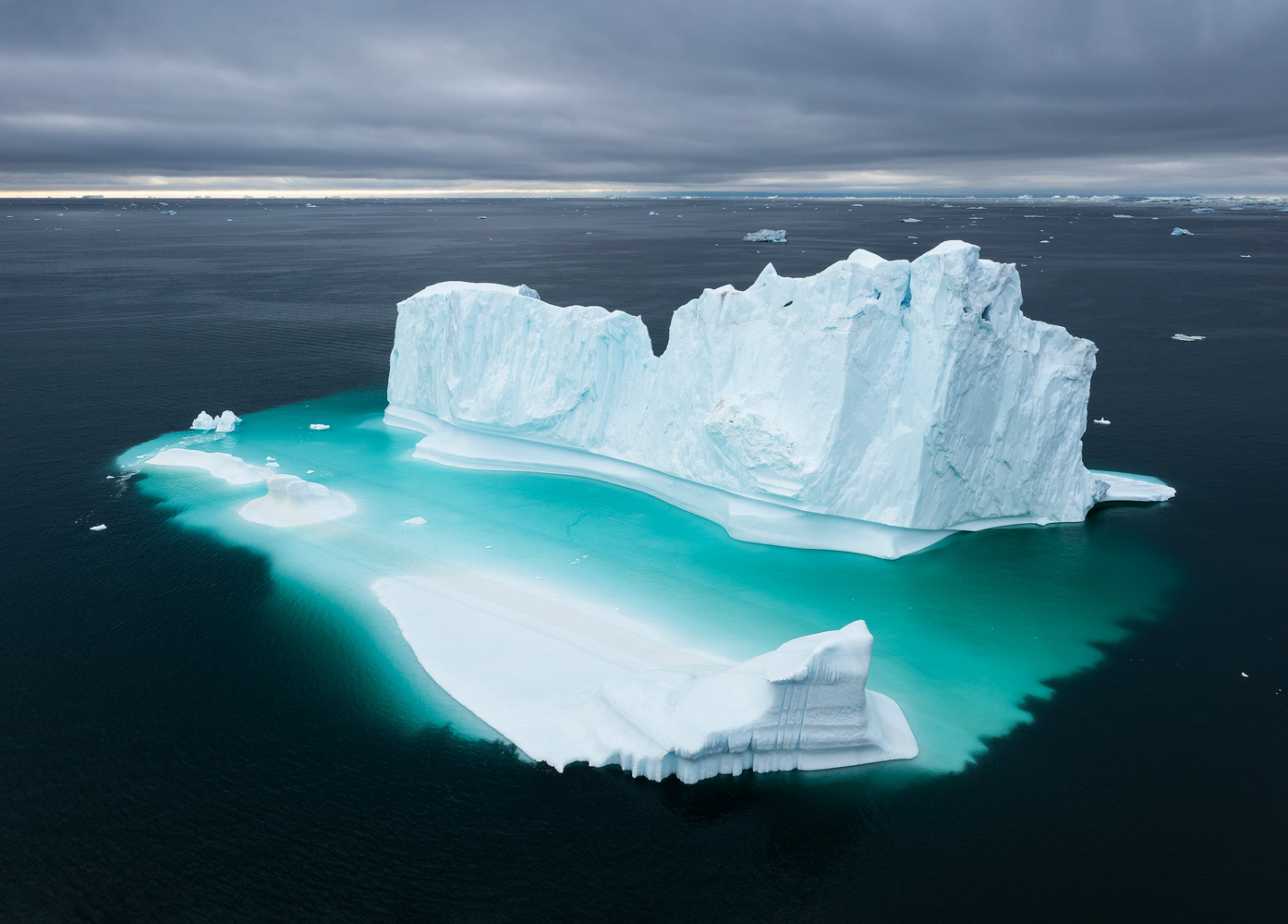 When the sunrise ends and everyone has had their fill, we'll head back to the hotel, the best in Ilulissat and conclude the night. In the late morning or early afternoon, we'll rise to do some critique sessions and post-processing lessons and walk around the town of Ilulissat, which has a lot of landmarks, beautiful buildings and some interesting museums. After dinner, we'll take the boat for another sail to shoot the icebergs and other landscapes.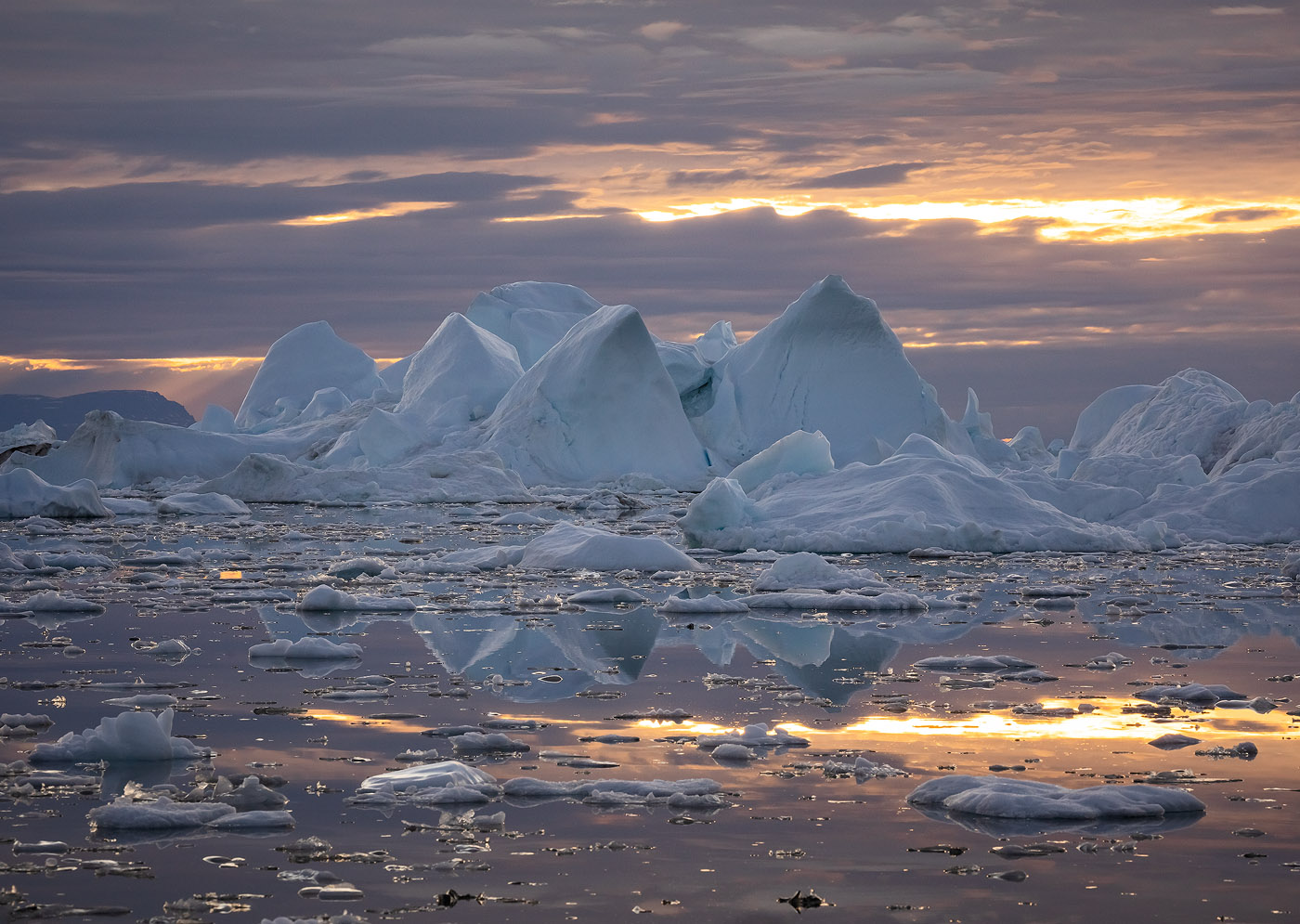 During our sails, there is a very high probability of encountering whales, which are particularly photogenic under soft arctic light, and with beautiful mountains and icebergs as a backdrop.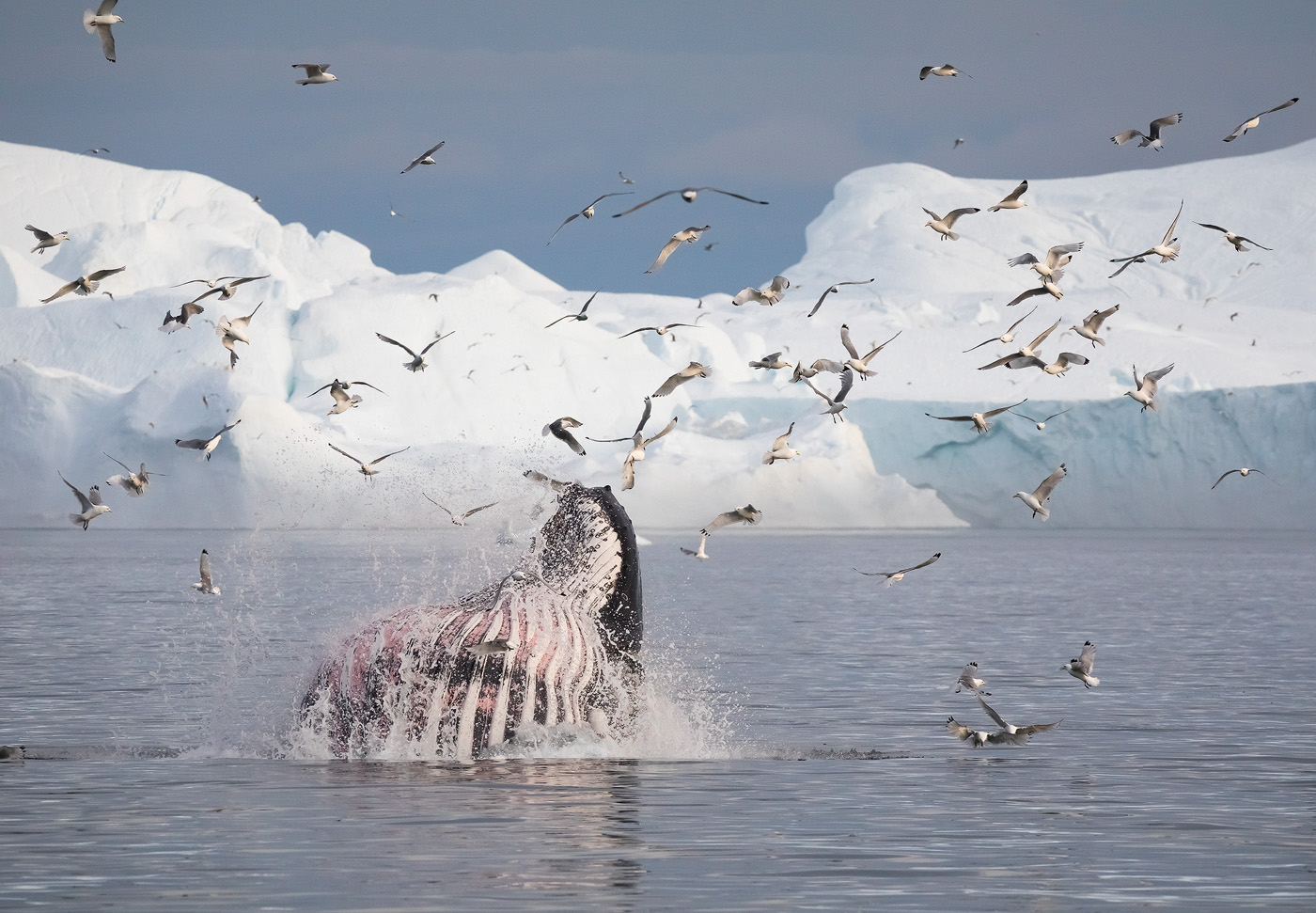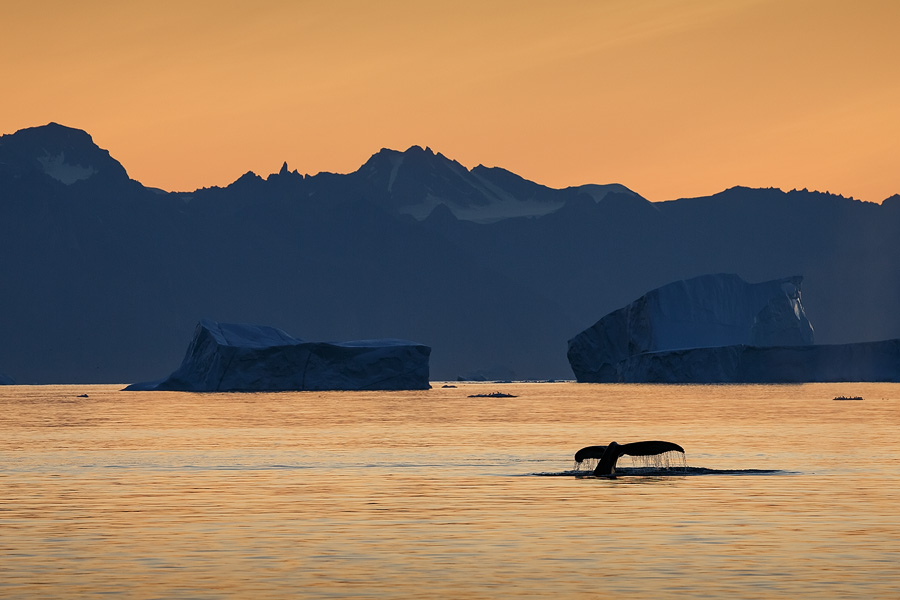 Shooting Land Locations and Inuit Settlements in Disko Bay
In addition to shooting from the boat, we will shoot several land locations. On one of the evenings, we will hike to the edge of Kangia Fjord (about 40 minutes' easy walk) and shoot the icebergs crammed at the fjord's exit and waiting to float out into the vast bay. There are tremendous drone photography opportunities at the fjord.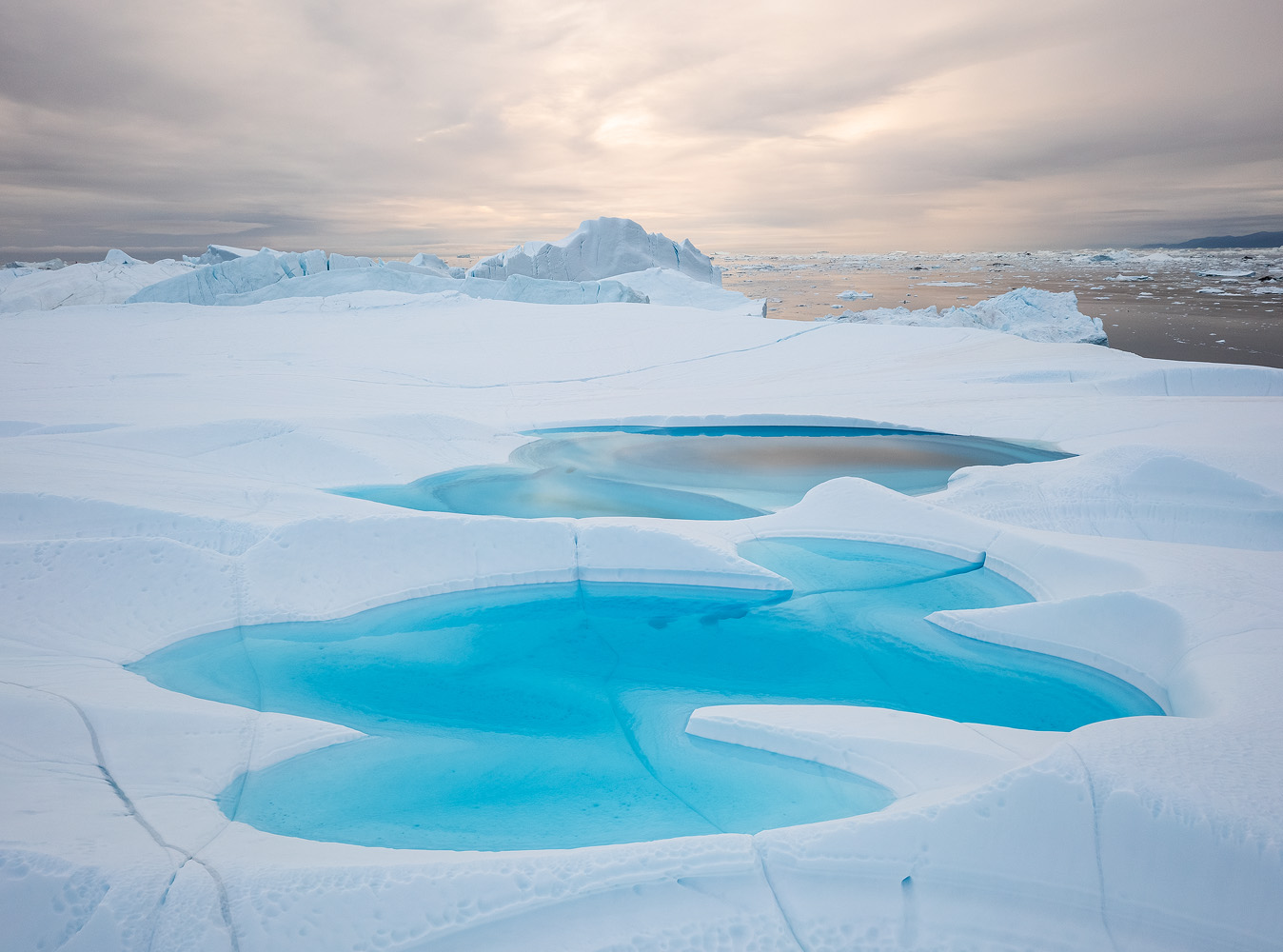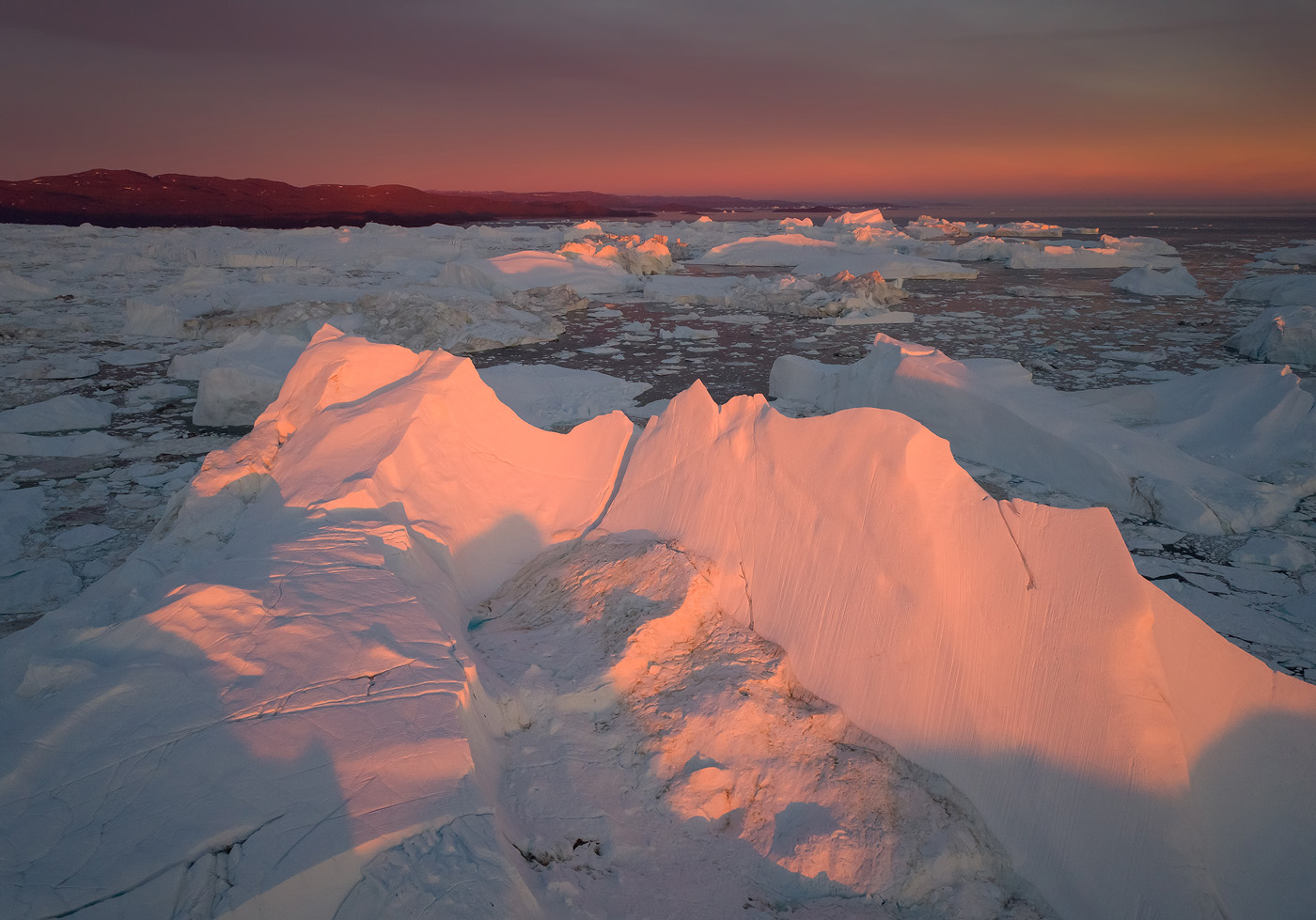 Another location we will visit is Rodebay: a Dutch, still active whalers' village.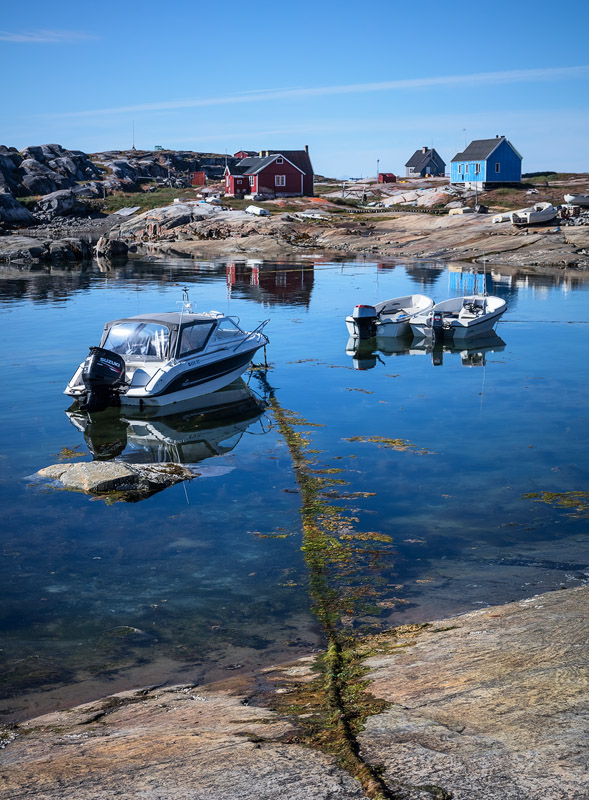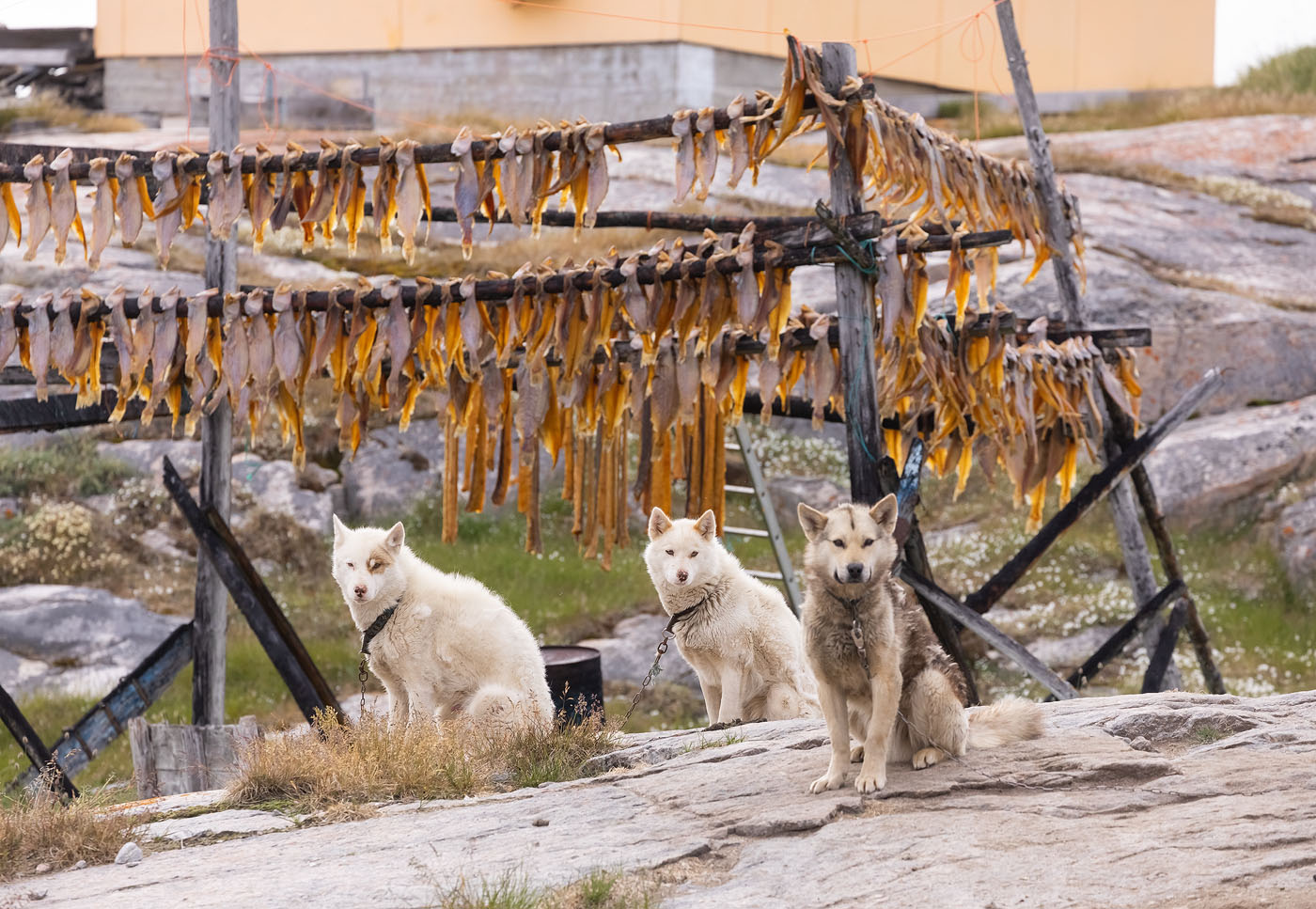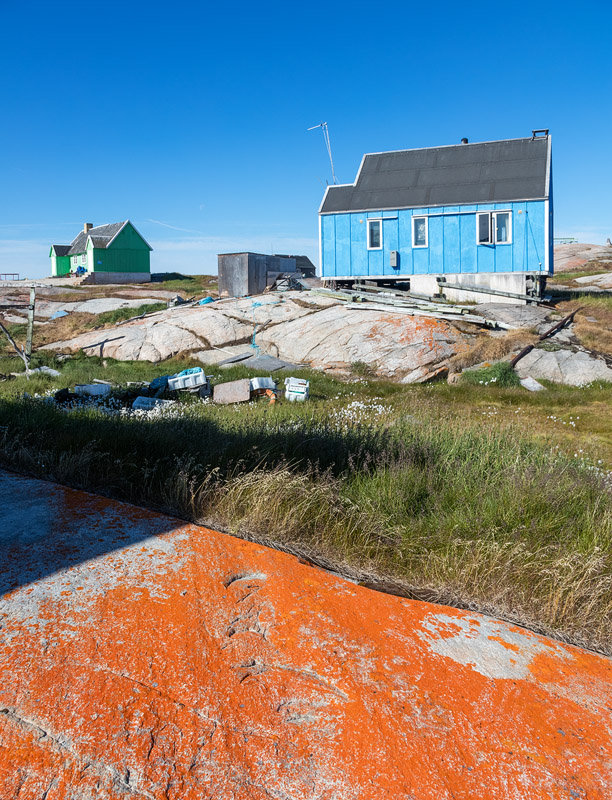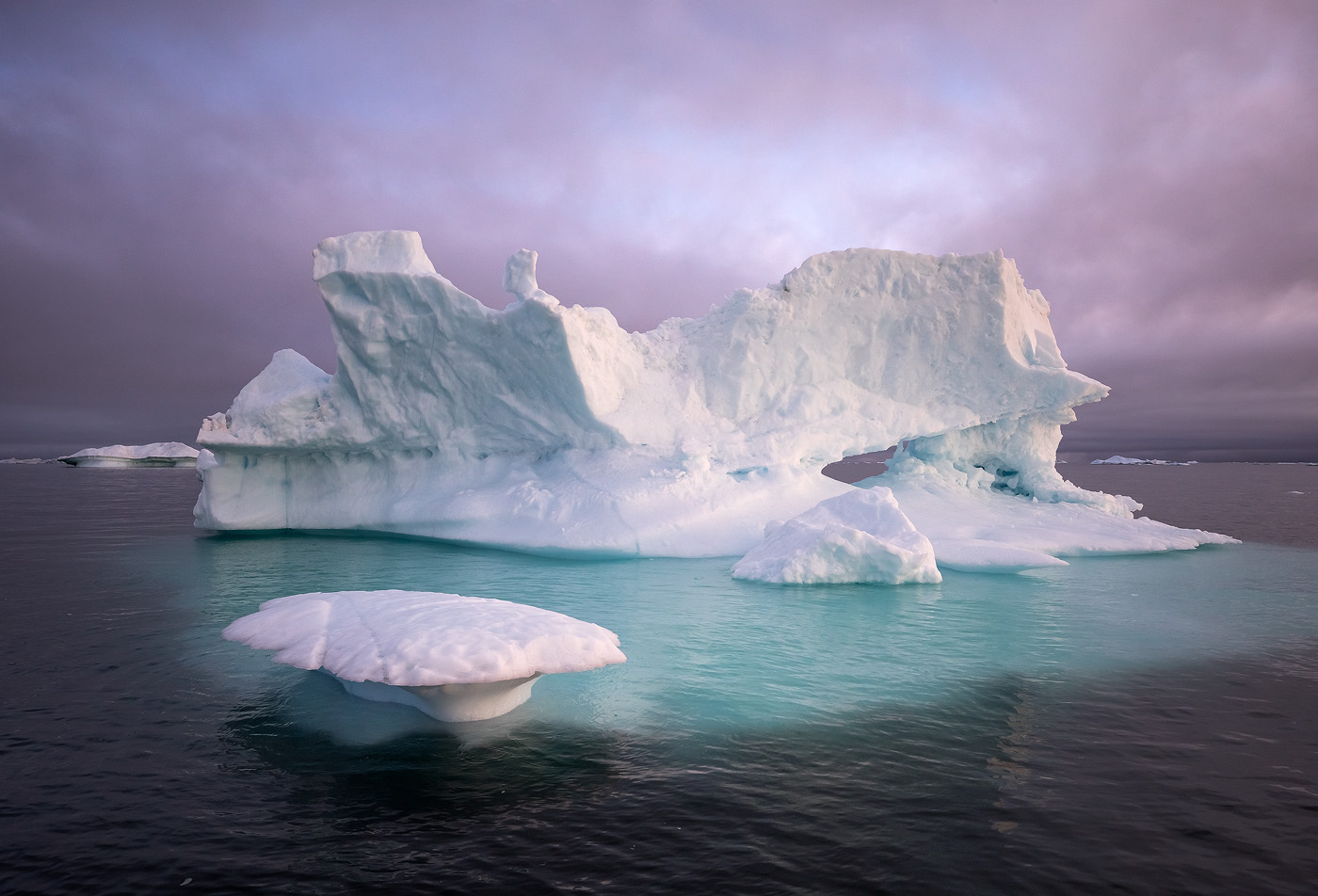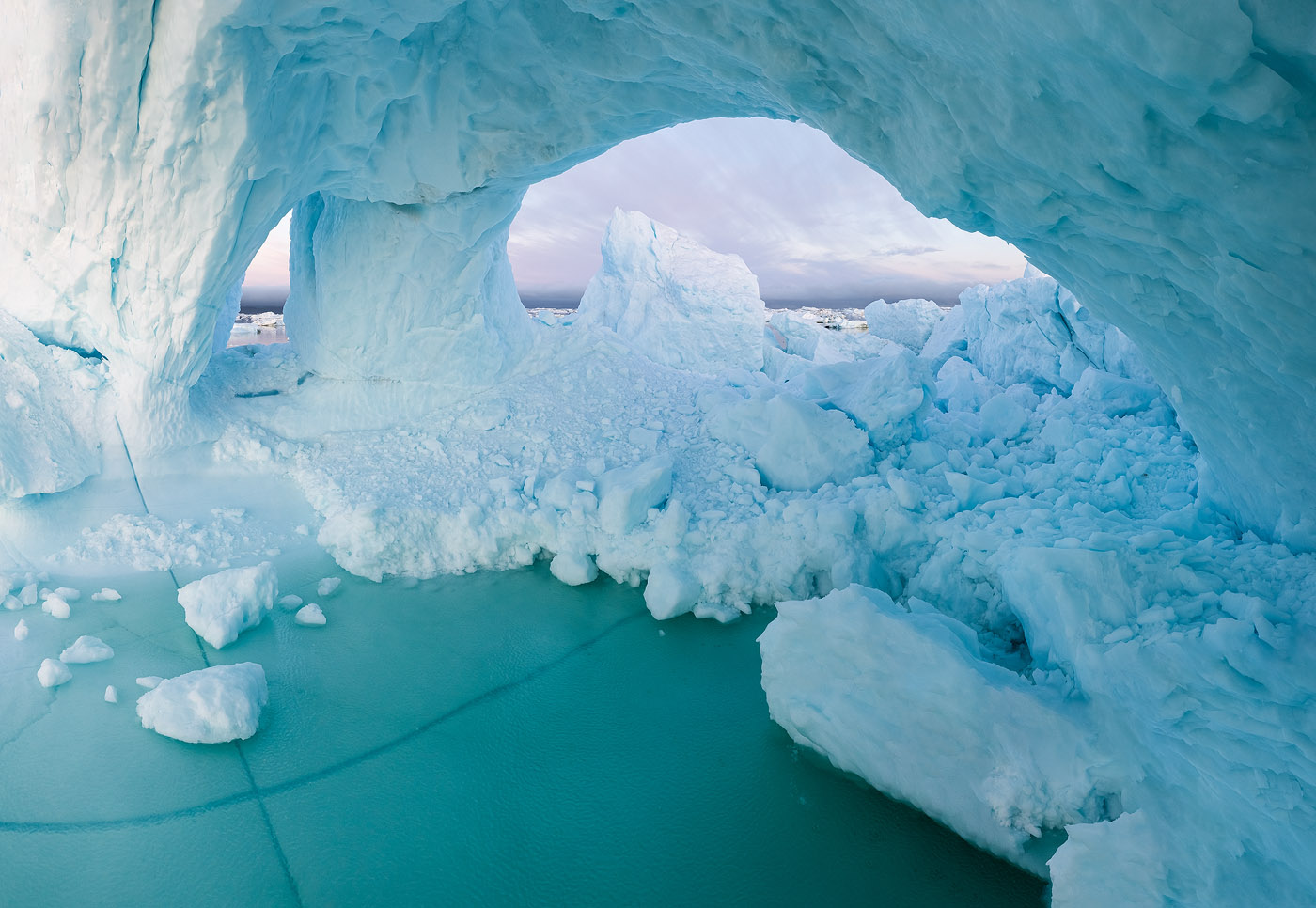 Once we finish shooting on the last morning, we will head back to the harbor, have some breakfast and conclude the workshop. You will be transferred to Ilulissat airport for your flight home.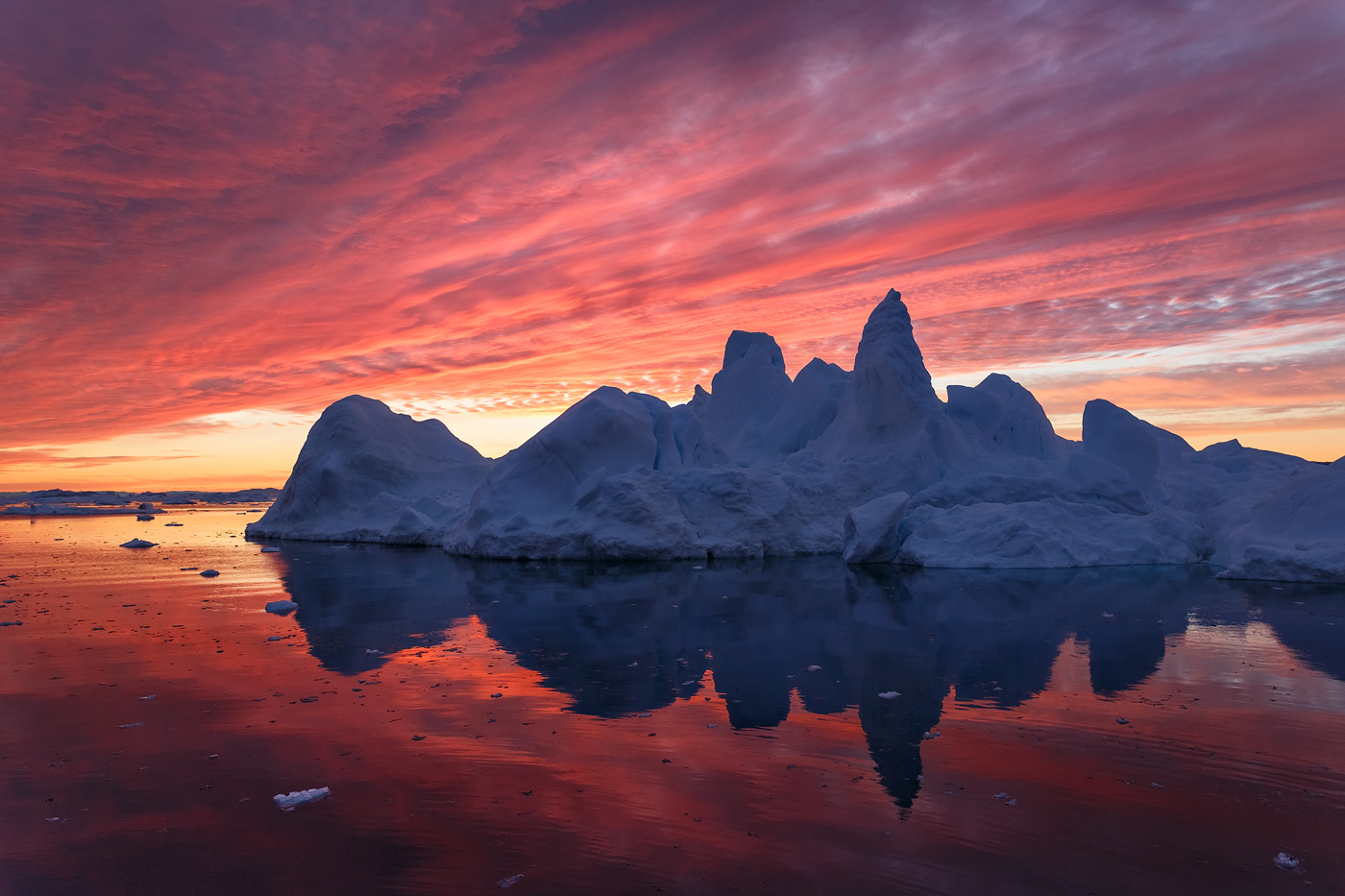 Total Price: €5390 per person in superior double room for participants registering by September 30th, 2023,
€5490 per person in superior double room for participants registering by February 28th, 2024,
€5590 per person in superior double room for participants registering afterwards.
Sign up as a group of 3 or more and receive a €250 discount each!*
Single room supplement: €1300
Deposit: €2490
Maximum Number of Participants: 10
Physical Difficulty: Beginner. Very basic mobility is needed for the boat sail where we'll spend most of the shooting time. We will do some occasional hiking, but you can refrain from that if you wish. Weather conditions are usually wonderful this time of year, and the bay is remarkably still, meaning the risk of motion sickness is minimal (I personally suffer from motion sickness, but never had any nausea, even without pills). Temperatures will probably range between 0 and 10 degrees Centigrade.

*Multiple discounts may or may not apply, please consult me.
Workshop Price Includes
Hotel accommodation: superior rooms in the world's northernmost 4-star hotel, with beautiful views to Disko Bay.
Airport pickup and dropoff.
Breakfast and nighttime packed meals on days 2-5; Breakfast on day 6.
Professional photography guidance by an award-winning landscape photographer.
4 nights of boat sails, shooting icebergs and other landscapes in the Disko Bay area. We will do the sails in a 12-passenger speedboat, offering enough speed to traverse the huge bay. Sails will usually range between 4-5 hours, covering sunset, sunrise and the Arctic night inbetween.
Post-processing lectures and critique sessions in the hotel's conference rooms.
Taxes on all services listed above
Workshop Price Does Not Include
Airfare to and from Ilulissat Airport (JAV), Greenland. You can fly in through Copenhagen (CPH) and through Reykjavik domestic airport (RKV). It is highly recommended to book flights as early as possible. Please note that using Air Greenland is preferable since flights through Iceland are notoriously prone to cancellations and delays.
Thermal clothing.
Insurance. It is mandatory to insure yourself against physical injury, and highly recommended to insure your photo gear. Tour leaders will not be responsible in case of any personal injuries or damage to photographic gear as a result of an accident during the workshop. A good insurance policy can make a big difference should something happen, and ensure a safe return home.
Extracurricular activities such as city walks, museum visits, dedicated whale-watchig trips in the afternoon, etc.
Lunch and dinner
Alcoholic drinks
Non-meal-time snacks
Non-meal-time soft drinks
Single room supplement (€1300)
Photography Equipment
A digital camera, preferrably a DSLR camera with a full-frame sensor, since these cameras have better low-light capabilities. However, a crop-sensor DSLR will also completely suffice. A compact camera can be used, as long as you understand its limitations.
NOTE: I highly recommend bringing two camera bodies. It will make your life much easier when shooting with multiple lenses, which is often desired.
A light tripod for shooting on land.
An ultra wide angle lens (preferably stabilized). For example, a Canon 16-35mm IS on a FF sensor camera, or a Nikon 10-24 on a crop sensor camera.
A mid-range zoom lens such as a 24-70mm (preferably stabilized).
A telephoto zoom lens, such as a 70-300mm or 100-400mm - the longer the better, preferably stabilized. I use a Canon 70-300mm in addition to a Sigma 150-600mm for telephoto shots.
Highly recommended: a camera drone (contact me for help). If you'd like to use a drone on the boat, take into account that you'll need to launch and land from your hand, which can be challenging. I will be there to help, but you need to have decent flight skills at the very least.

Clothing
Thermal gear is essential. I recommend bringing a few light thermal shirts, a fleece jacket and a down coat for the cold nights.
Warm gloves. It's important to use gloves which enable you to operate the camera while wearing them.
Thermal long-johns
Thermal socks. I recommend bringing at least 2 pairs.
A neck-warmer or a scarf
A good warm hat which covers your ears.
Hiking shoes.

Other
Pills against motion sickness, if you're especially prone to it.
Sun glasses
Bug spray and head net for shooting from land locations (mosquito situation varies).
Sun screen
Payment Procedure
In order to secure your spot, you are required to transfer a deposit of €2490. This deposit will be refunded only in case the workshop gets cancelled for some reason. For your comfort, the deposit can be payed either through PayPal or via bank transfer (contact me for details).
The full amount (minues the deposit, after discounts if applicable) must be payed via wire transfer 90 days prior to the workshop starting date. You may pay with any major currency.
In the case you need to cancel your participation, a 67% refund (excluding deposit) will be given up to 75 days prior to the workshop starting date and a 33% refund up to 60 days prior to the workshop starting date.
I reserve the right to increase the price of the workshop if costs rise extremely due to unexpected changes in fees, taxes or exchange rates.

Disclaimer
The tour plan above is subject to change. If weather conditions are unfavorable we might not be able to fulfil some of the planned activities.
Important: In order to join the workshop, you will be required to sign a contract that establishes that the tour leaders are not responsible to physical or proprietary damages, and that you understand and accept several behavioral standards (including not taking excessive risk), necessary to ensure the workshop's success and your safe return.
Whale sightings aren't guaranteed, but they are very likely.
Erez Marom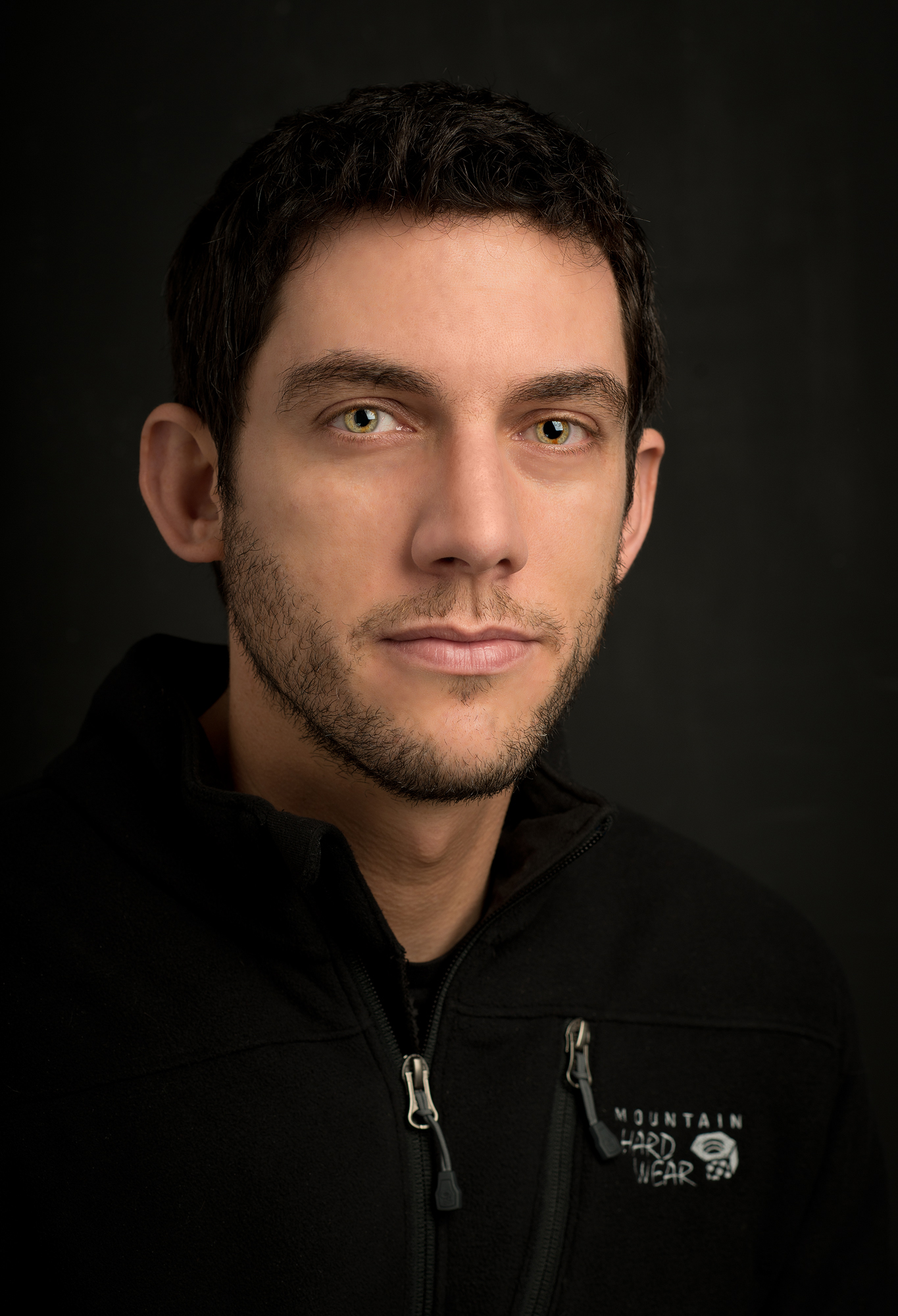 Born in 1980, Erez Marom is a full-time nature photographer, photography guide, writer and traveler-adventurer based in Israel. Specializing in landscape and wildlife photography, Erez spends much of his time in the field shooting the wildlife and scenery of his favorite locations in Israel and overseas.
In addition, Erez publishes articles and instructional texts in leading magazines and websites, and dedicates a considerable amount of his time to sharing his experience and knowledge by lecturing worldwide and traveling several times a year to guide his unique photography workshops.