'NORTHERN SPIRITS' - LOFOTEN ISLANDS WINTER PHOTO WORKSHOP
Price: €4490 pp (or $US equivalent) / Deposit: €1990 pp
AVAILABILITY
28th January - 3rd February 2024
The Lofoten archipelago is a photographer's dream. Sharp, pointy mountains tower over fjords; cracked, frozen lakes, legendary beaches, traditional red cabins and magical light - this pearl of the Arctic has it all.
This winter workshop will take you on a wild ride through the most magical locations in the archipelago. We will focus on, and stay in, the absolute best spots for landscape photography, and we will take advantage of all its famous features. Aurora borealis is possible on clear nights, as well. To put the icing on the cake, each participant will have the option to go on an amazing open-window Cessna flight, to shoot everything from the air!
Guided by award-winning nature photographer Erez Marom, you will indeed feel the northern spirits in this wonderful, pristine location.
Main Features
Stunning Arctic landscape, amazing locations such as Reine, Olstind mountain, Haukland, Skagsanden and Utakleiv beaches, Storvatnet lake and many more
Small group size (max 7) guarantees unparalleled personal attention
February schedule increases the probability of amazing wintery conditions
High probability of shooting the Aurora Borealis above immense mountains and wonderful beaches
Magical low light throughout the day, enabling us to shoot for over 6 hours (weather permitting), in addition to night photography
Optional open-window Cessna flight to allow amazing aerial photography (weather permitting)
Professional photo guidance by an experienced, award-winning landscape photographer
Drives in luxurious 9 seat minivan
Comfortable accommodations in a single hotel along the workshop, excellent food at the hotel throughout your stay
Day 1 Meeting in Leknes Airport, Sunset Shoot
The group will meet in the afternoon in the town of Leknes, where you can fly from Oslo in a comfortable morning flight (see below for flight recommendation). You will be picked up from the airport and driven to our hotel. After a quick introduction, we'll hop on our spacious van, leave our suitcases in the hotel and go straight to shoot the sunset in one of the spectacular beaches in the area (depends on arrival times). We'll eat a beautiful locally-made dinner at the hotel and discuss the plans for the days ahead.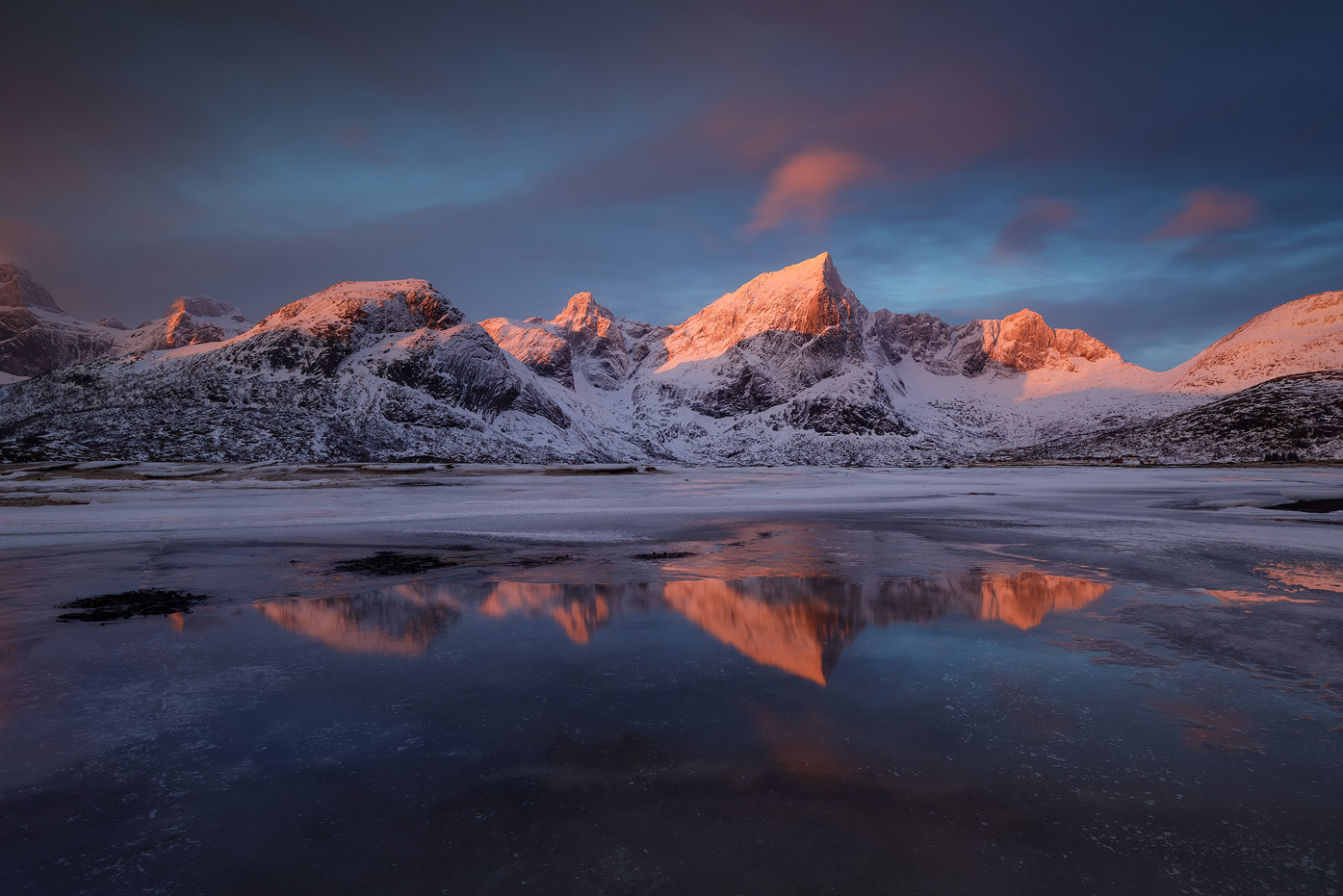 The Reine Area
The Reine area is a paradise for winter photography, and a very typical Norwegian fishing area. Spectacular mountains such as the triangular Olstind and the towering Festhæltinden are accompanied by red and orange fishing cabins, to make up unique winter scenery. Reine looks amazing in any weather conditions, but snow can add a lot to the winter atmosphere, and make everything even more magical. If we're lucky, we might catch some golden sunrise light or even pink Alpenglow on the mountains.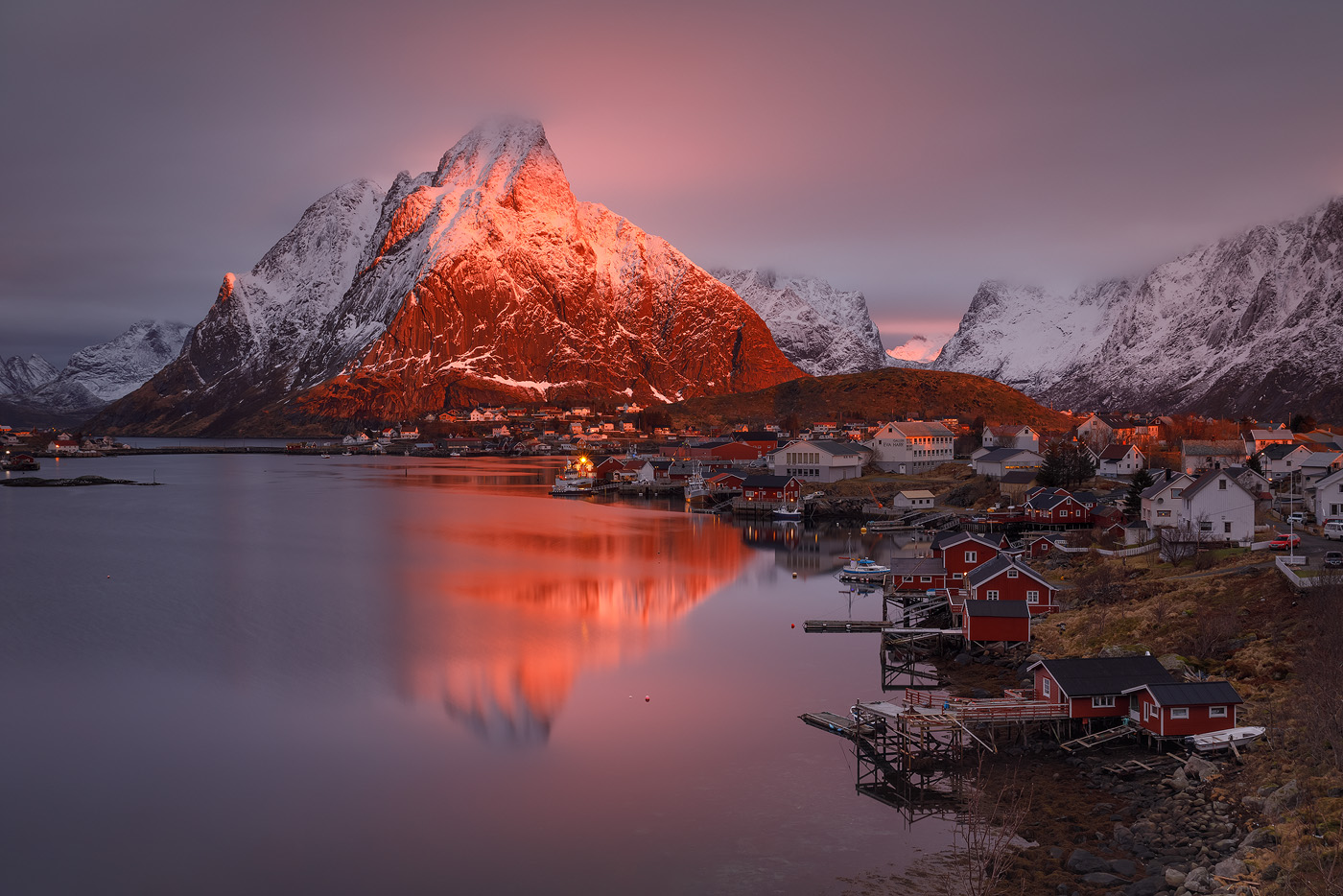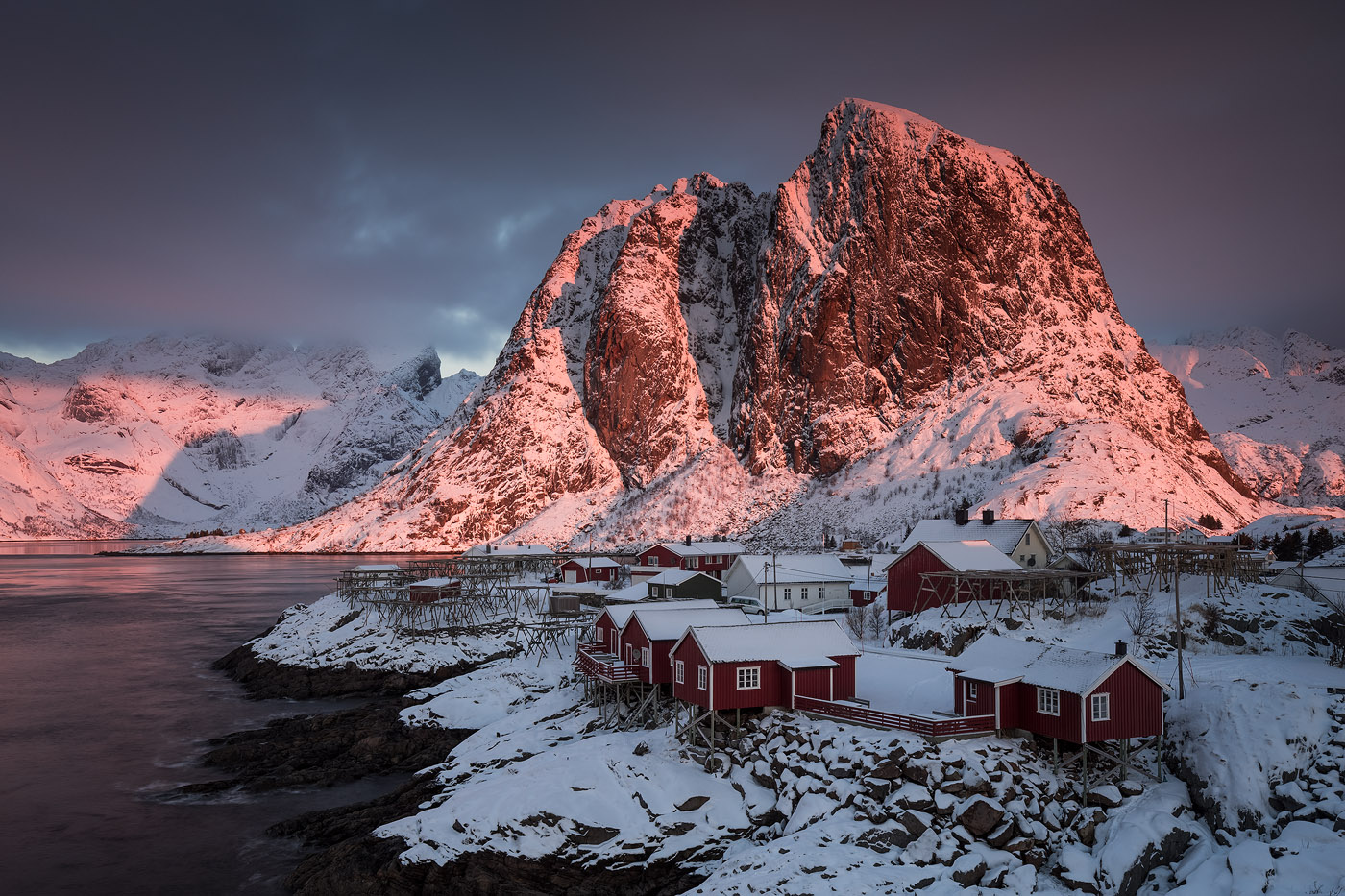 And with a bit more luck, we'll get a spectacular Aurora light show!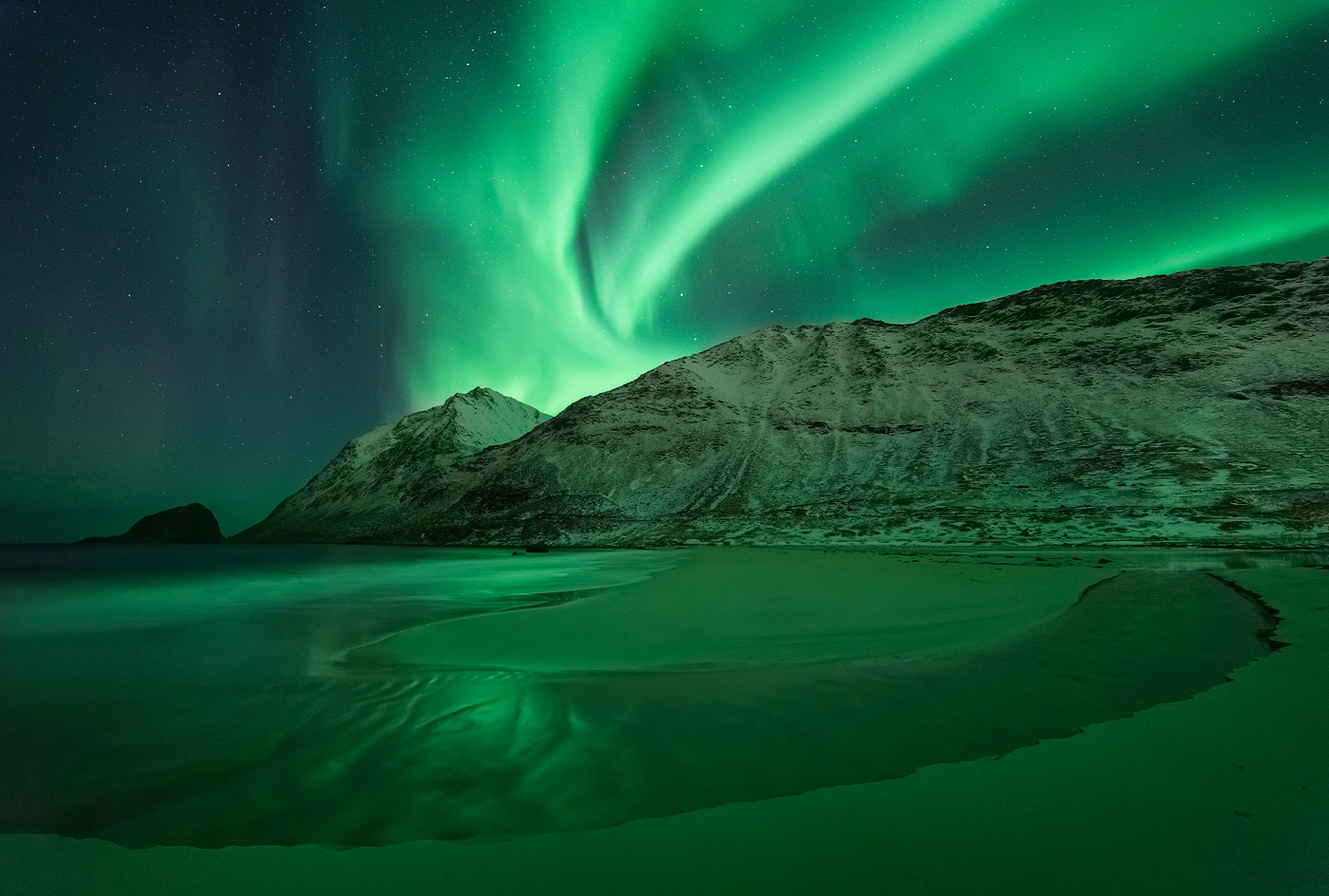 Reine to Leknes: Nusfjord, Skagsanden and more
On the way between Reine and Leknes we will pass through some fantastic landscapes, and stop to shoot in the (hopefully) frozen Storvatnet Lake. Storvatnet has a spectacularly cracked surface, and a whole day could be spent shooting its intricacies. With a clear sky, we'll also have beautiful pink Alpenglow on the mountains.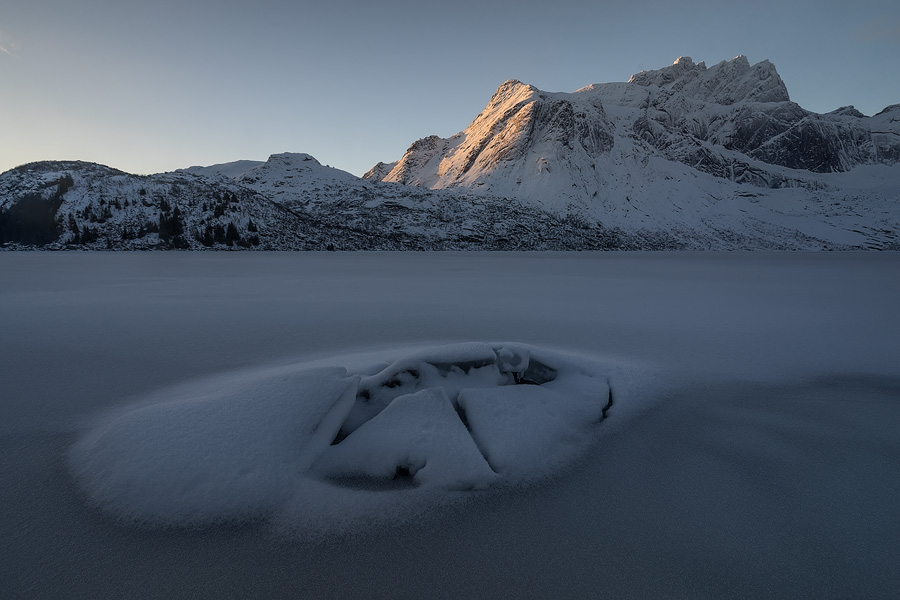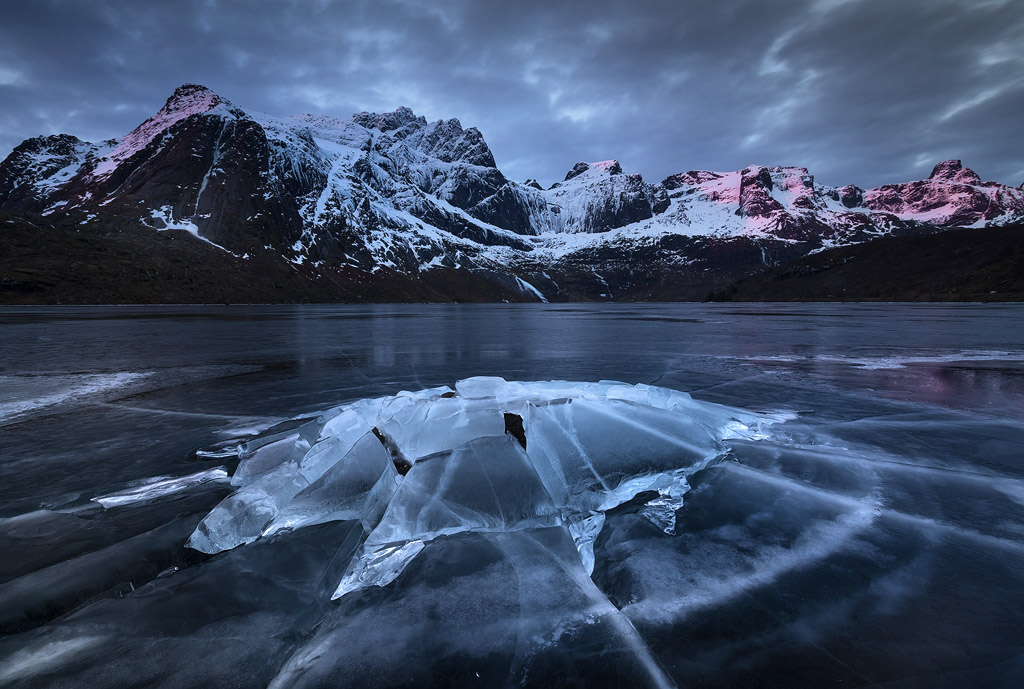 Another fantastic location between Reine and Leknes is Skagsanden beach. Skagsanden has a unique composition of black and white sand, and the streams flowing down the beach create spectacular textures. It also has hidden turquoise pools among incredibly photogenic rocks.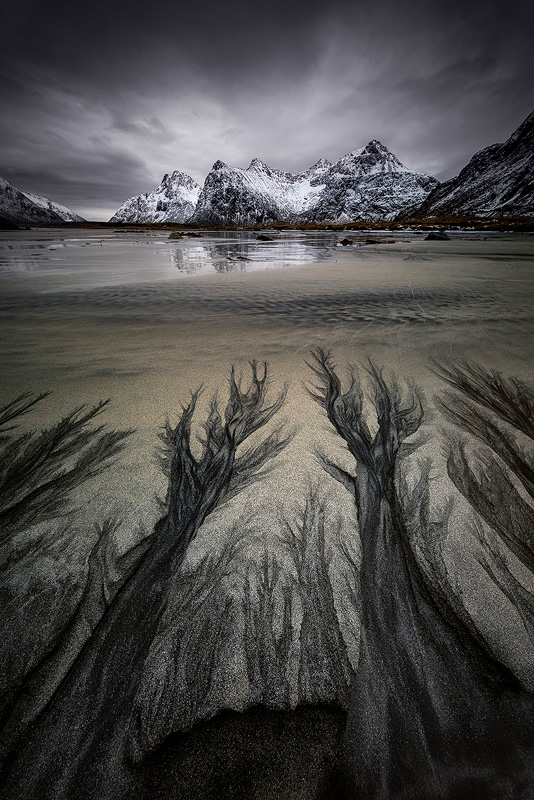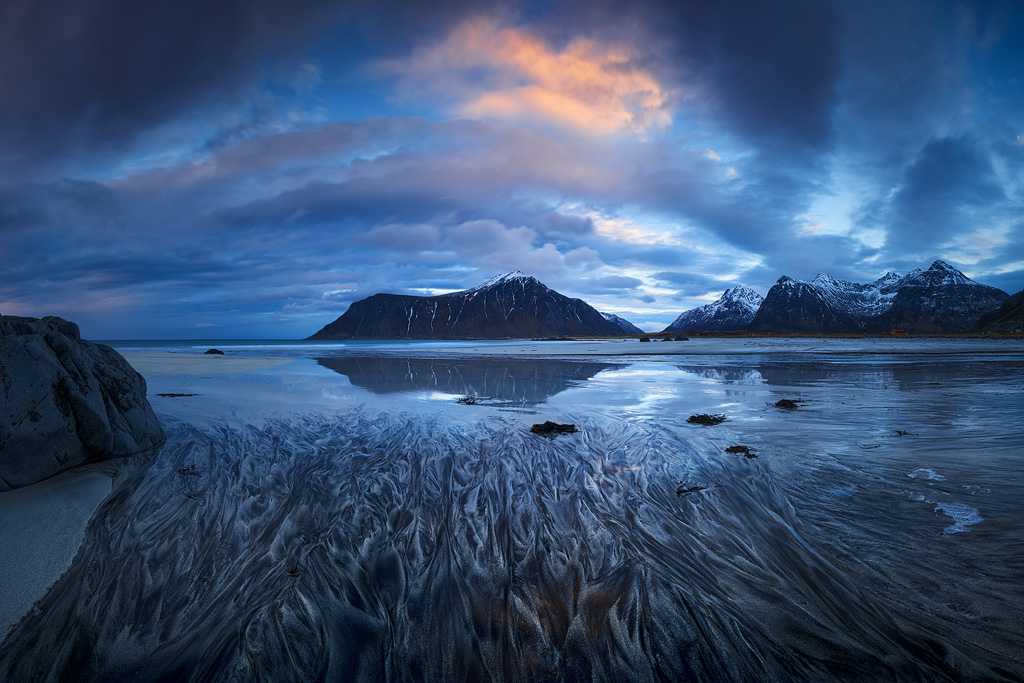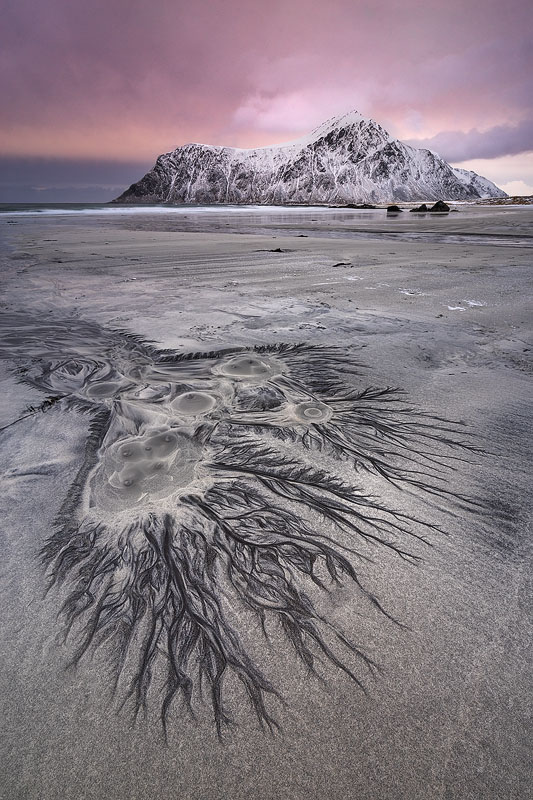 Due to its moderate incline, Skagsanden is an amazing Aurora shooting location. The green lights reflect in the beach's black and white patterns and dance above the beautiful mount Hustind.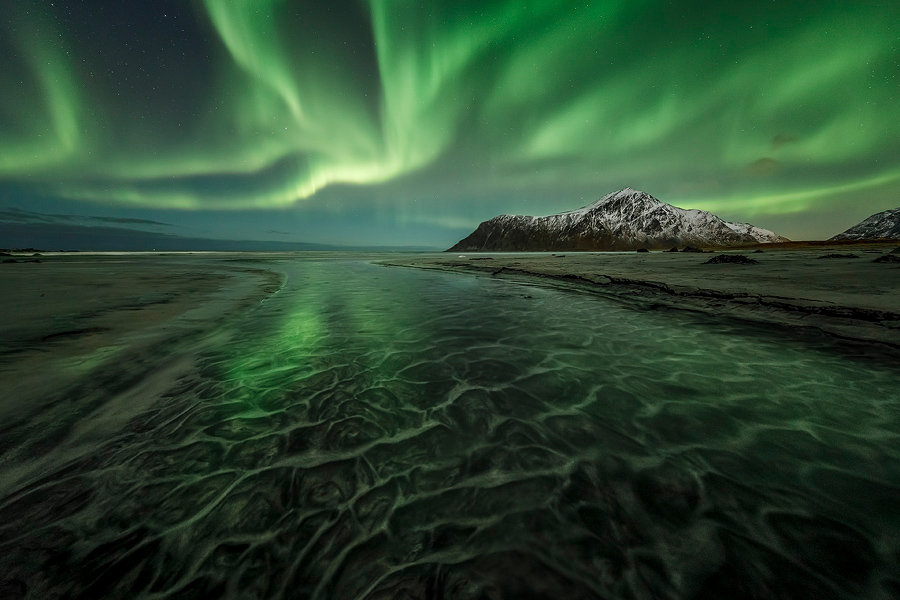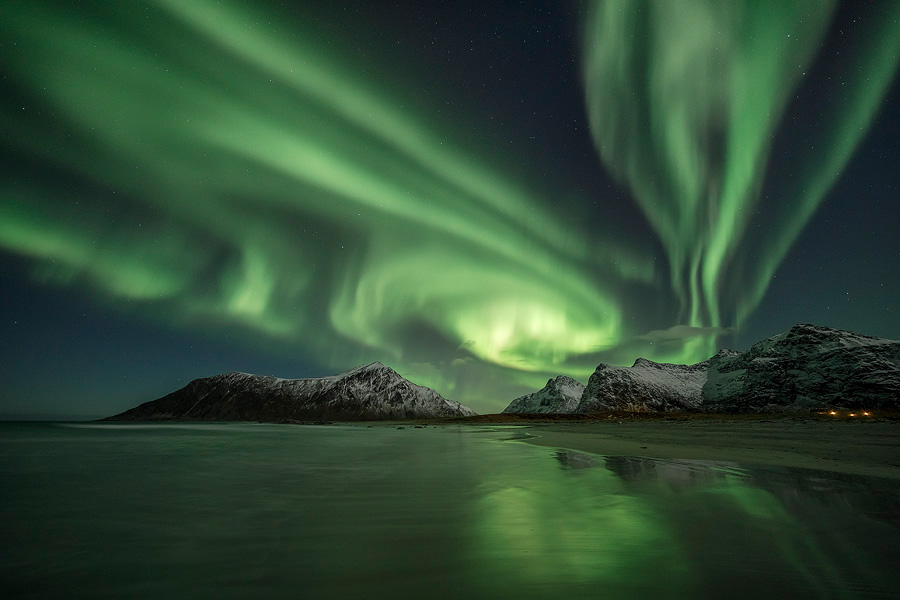 Leknes Area, Cessna Flight
Leknes is surrounded by wonderful shooting locations. Several beaches are world famous for their beauty. Utakleiv and Haukland might be the most known. Utakleiv is probably the most photographed beach in Norway, and for good reason. Amazing spherical rocks, red colors and of course, the curious 'eye'. Haukland is less known, but just as beautiful and diverse.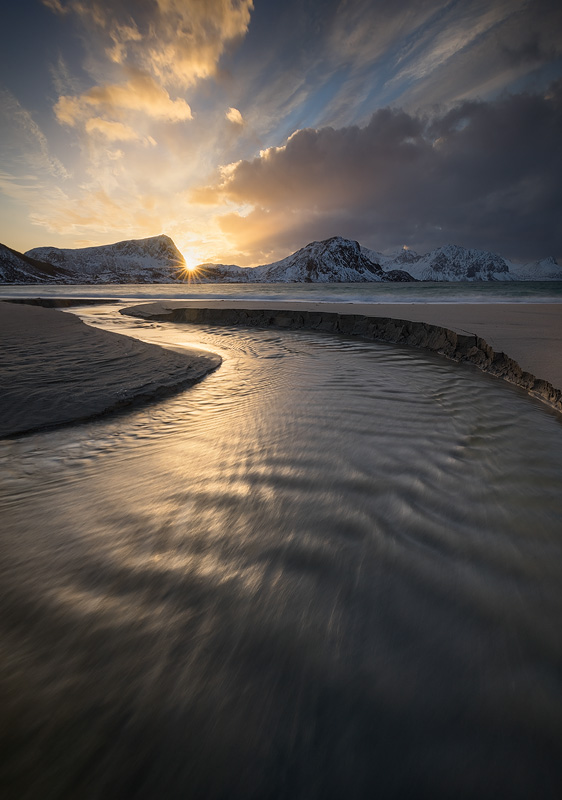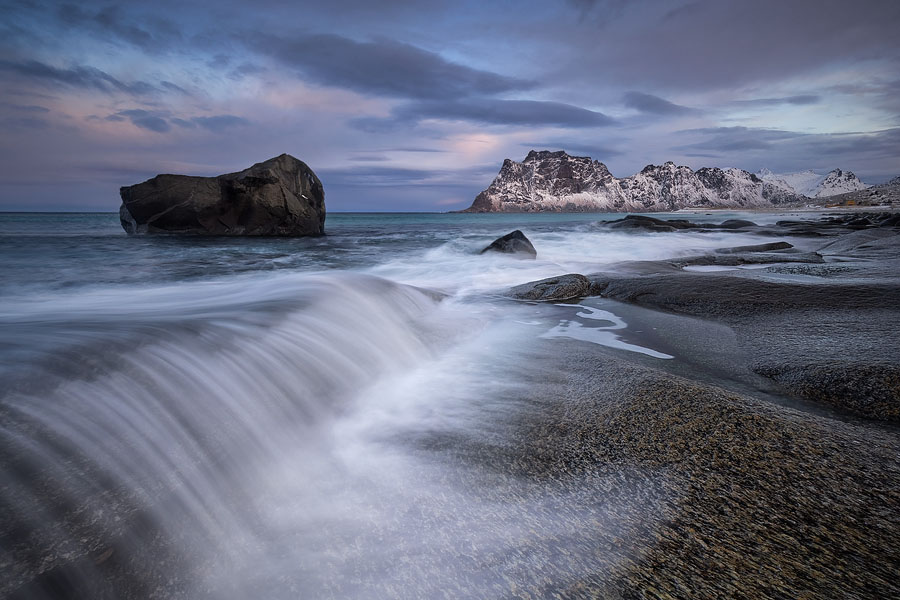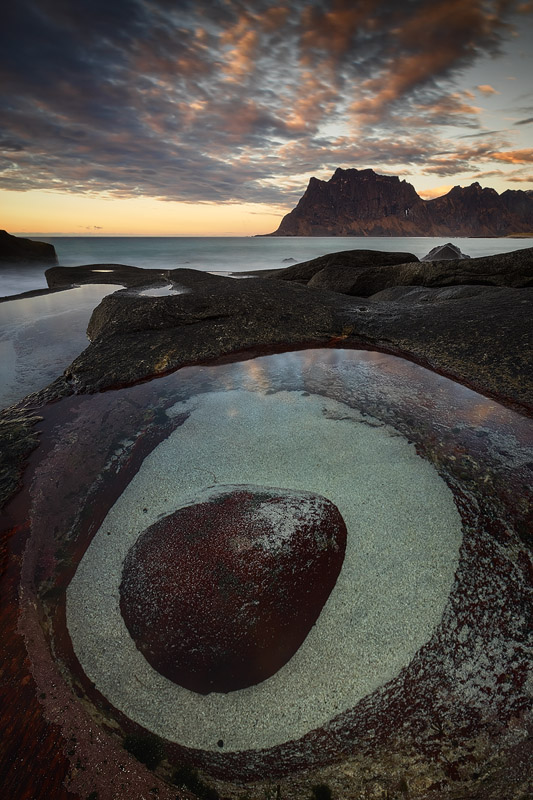 These beaches are just 10 minutes away from our hotel and they are wonderful for Auroral shooting, so if the night is clear, we'll try our best to witness and shoot this spectacular phenomenon.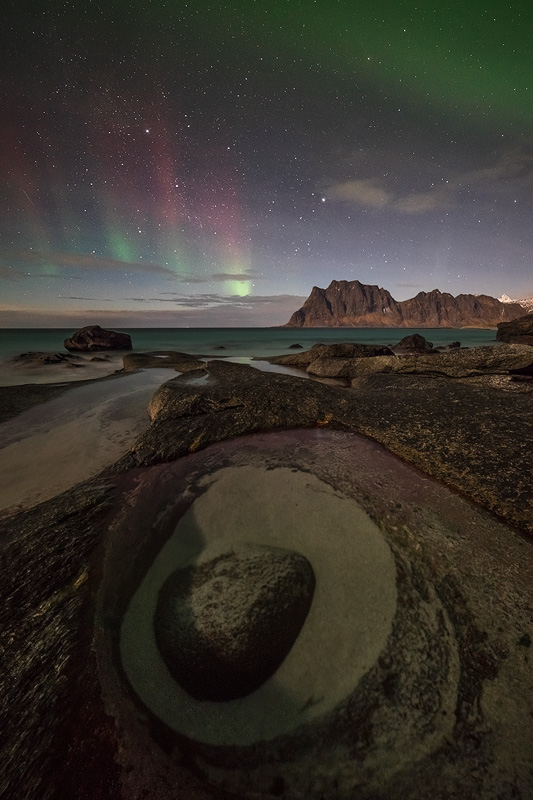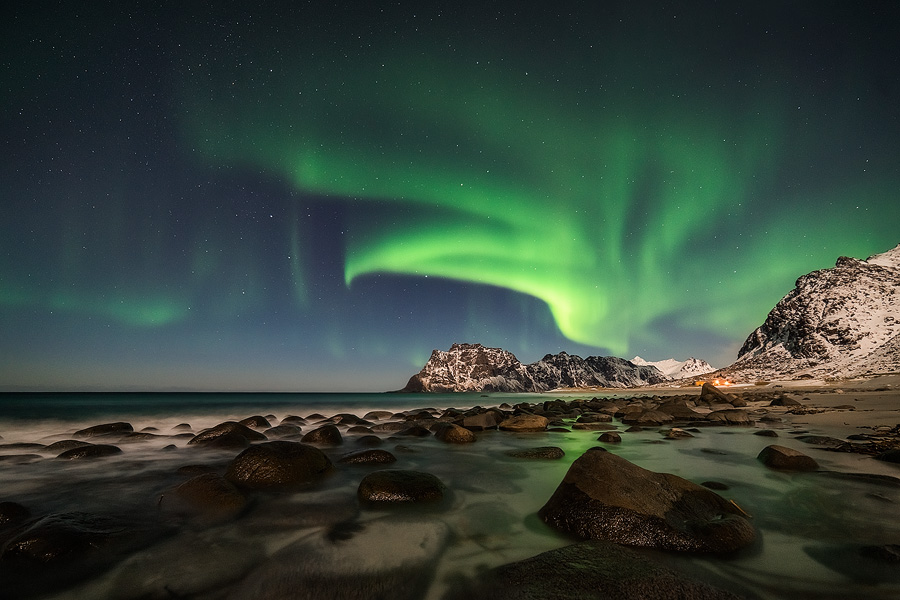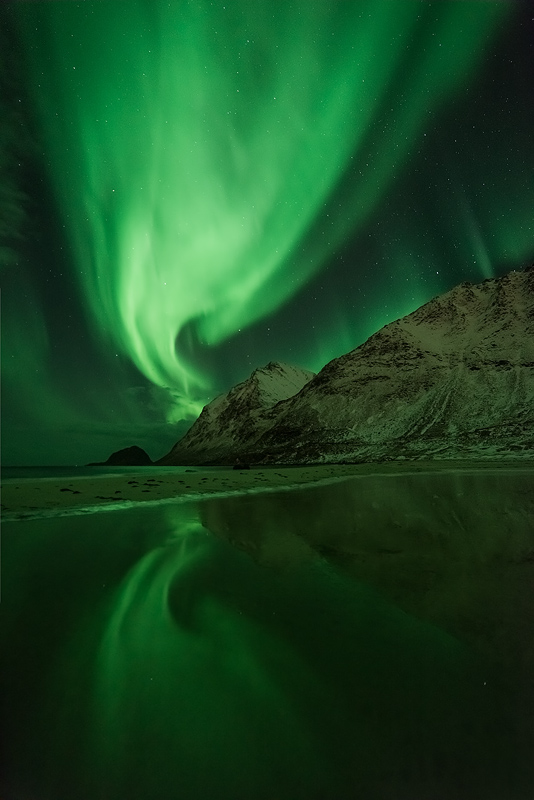 From Leknes airport, we will arrange in pairs and take an amazing open-window Cessna flight (optional, not included in price). Aerial photography reveals a whole new world of shooting nature, and Lofoten is one of the best places for it, with spectacular vistas of fjords, mountains and fishing villages. Each pair will have an hour or more (depends on weather and availability) of aerial shooting in beautiful light.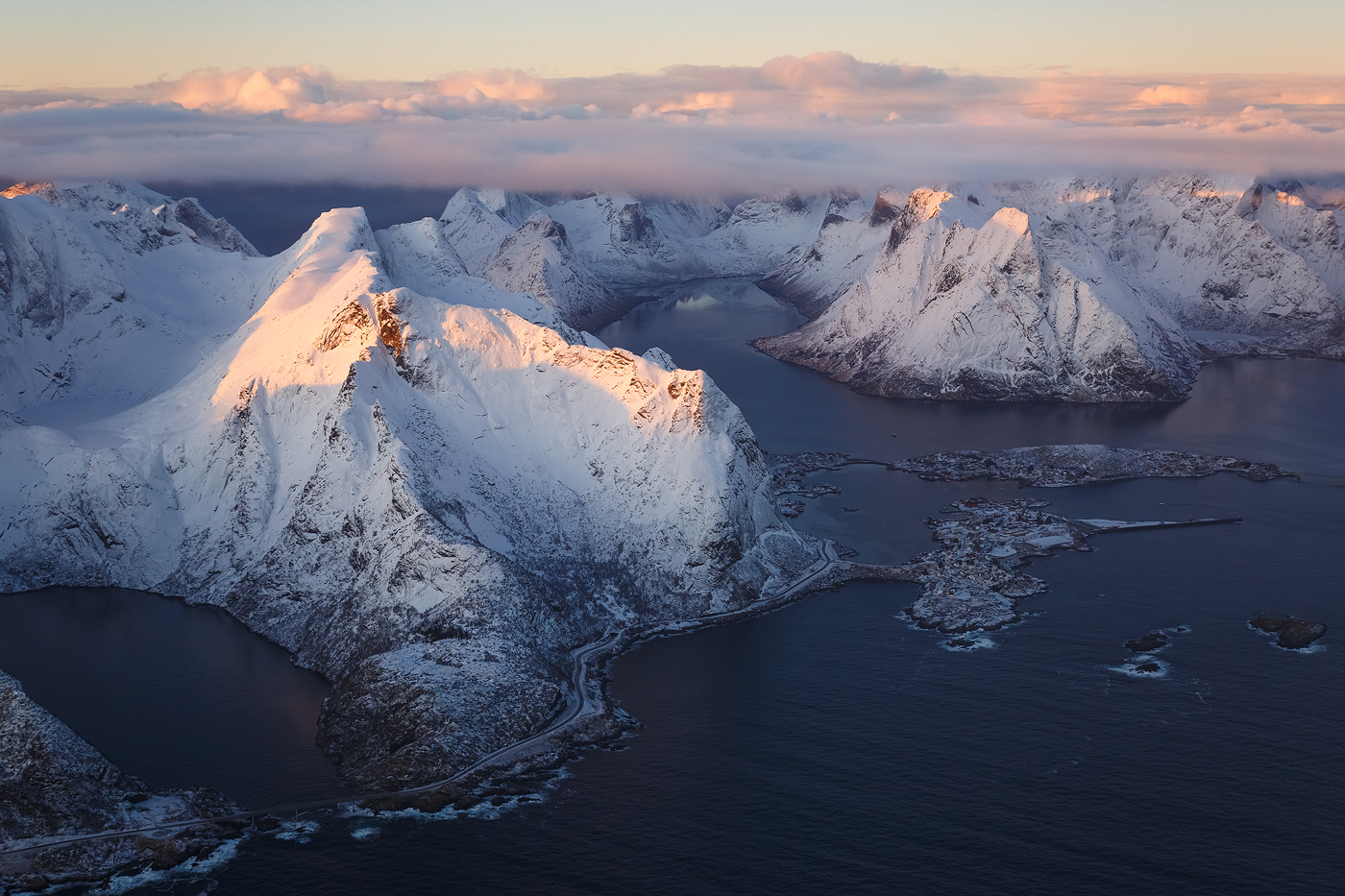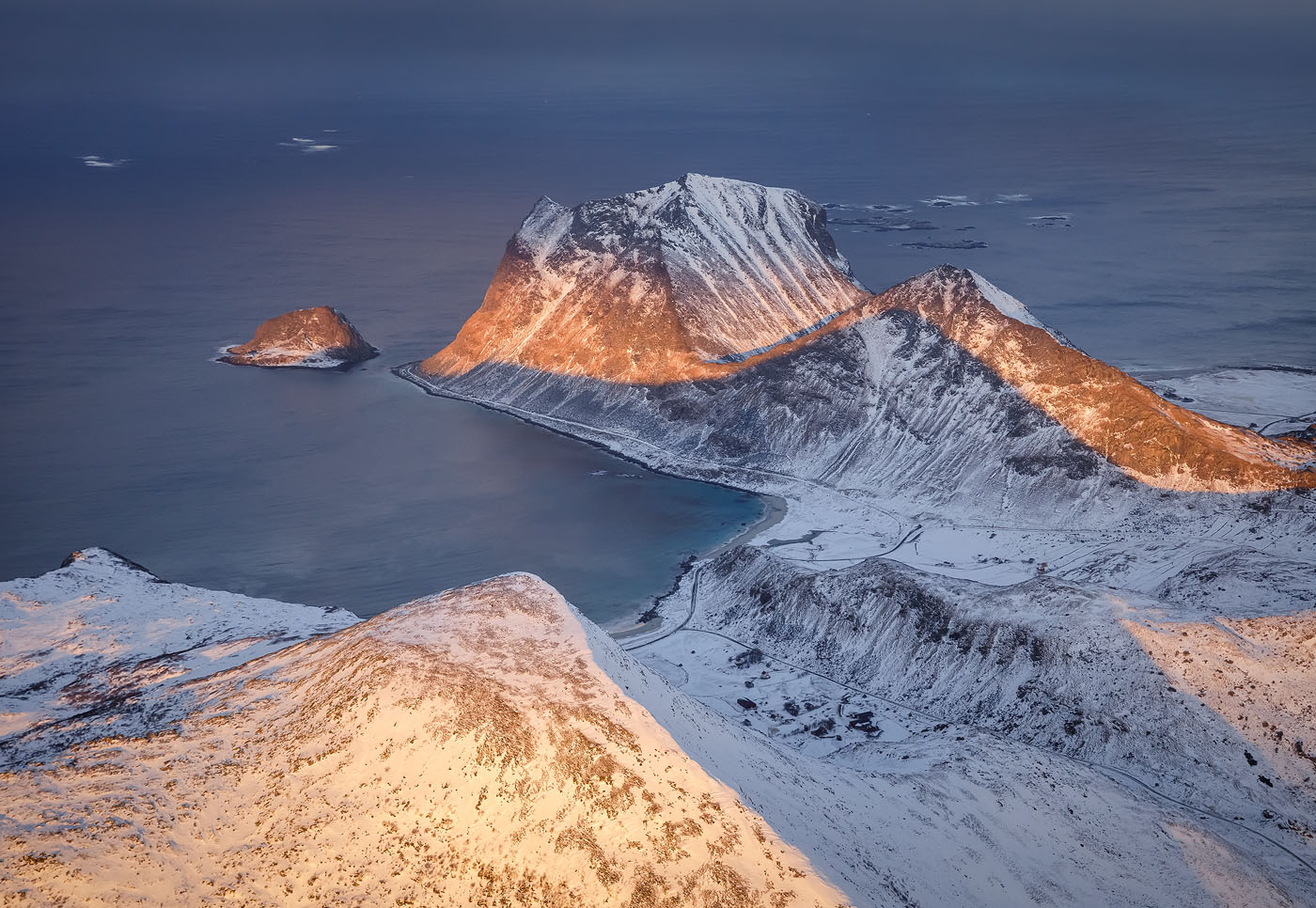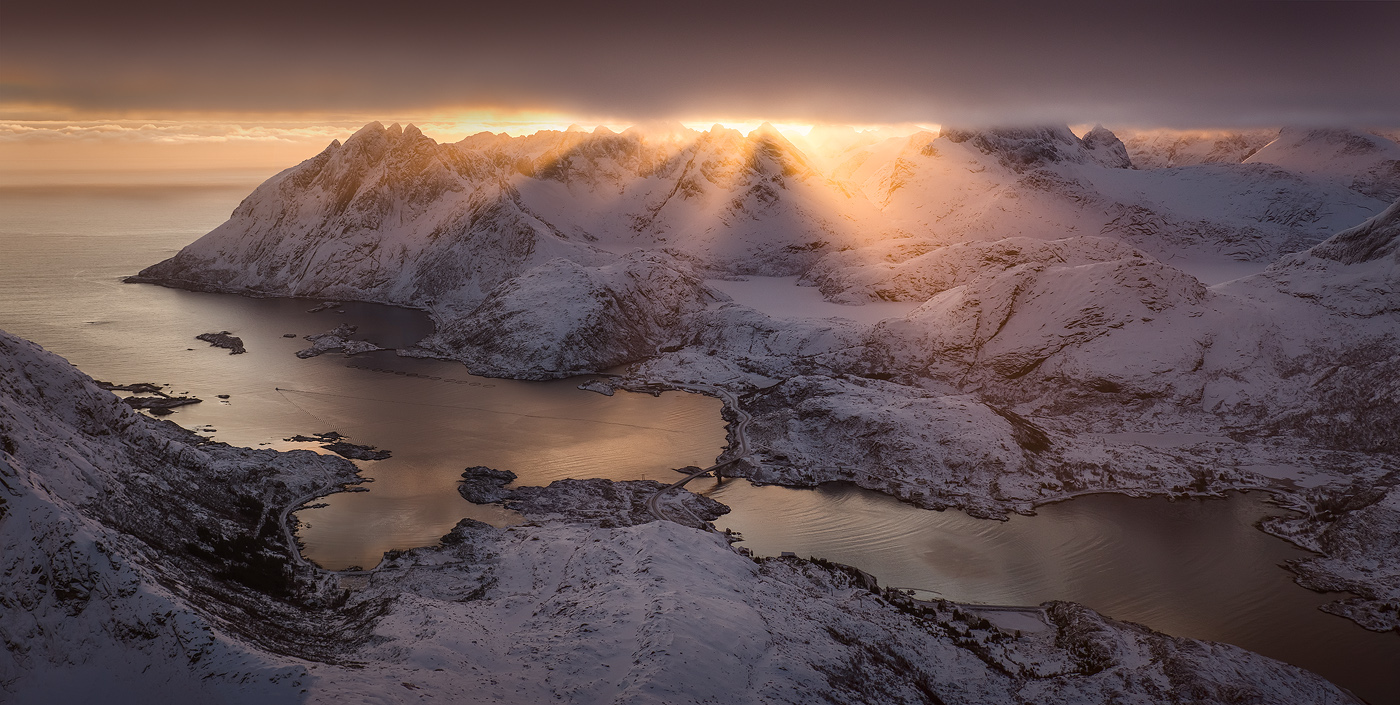 Day 7 Departure
After breakfast at the hotel, we'll drive to the airport for goodbyes and your flight home.
Total Price: €4490 per person in double room for participants registering by March 31st, 2023;
€4590 for participants registering between April 1st and August 31st, 2023;
€4690 for participants registering afterwards.
Sign up as a group of 3 or more and receive a €200 discount each!*
Single room supplement: €470
Deposit: €1990
Maximum Number of Participants: 7
Physical Difficulty: Mostly Beginner. Good mobility is required, but there will be no difficult climbing or hikes. However, you need to be able to walk on rocks and icy surfaces (with ice spikes), and to be able to withstand incoming waves and maintain stability, should you want to shoot in the water. Winter conditions in northern Norway can be harsh, and you must be prepared to withstand temperatues as low as -10 degrees centigrade in addition to strong winds, snow or rain, but conditions are usually far better than one would expect. Flying in the Cessna is not problematic unless you have an extremely delicate stomach.
Workshop Price Includes
Double room accommodation. Each 2 participants will share a room in a comfortable hotel in the town of Leknes, where we will stay throughout the workshop for maximal comfort.
Pickup and dropoff at Leknes airport (pickup at specified time, dropoff may vary according to group flight times).
Buffet Breakfast and packed lunch on days 2-6; Breakfast on day 7.
Professional photography guidance by an award-winning landscape photographer with vast experience in Lofoten
Post-processing assistance when possible (though emphasis is always on field shooting)
Travels in a luxurious, comfortable 9-seat minivan
Taxes on all services listed above
Workshop Price Does Not Include
Airfare to and from Leknes airport.
Airport pickup and dropoff outside of agreed-upon times
Winter clothing and winter gear. You're required to have all necessary gear, including thermal clothing, ice-spikes etc.
The optional open-window Cessna flight for aerial photography (dependent on weather and availability).
Insurance. It is MANDATORY to insure yourself against physical injury, and highly recommended to insure your photo gear. Tour leader/s will not be responsible in case of any personal injuries or damage to photographic gear as a result of an accident during the workshop. A good insurance policy can make a big difference should something happen, and ensure a safe return home.
Single room supplement (€470)
Dinners
Alcoholic drinks
Non-meal-time snacks
Non-meal-time soft drinks
Photography Equipment
A digital camera, preferably a DSLR camera with a full-frame sensor, since these cameras have better low-light capabilities. However, a crop-sensor DSLR will also completely suffice. A compact camera can be used, as long as you understand its limitations.
A sturdy tripod for shooting in windy conditions.
Recommended: an ultra wide angle lens. For example, a Canon 17-40 on a FF sensor camera, or a Nikon 10-24 on a crop sensor camera.
Recommended: a wide aperture ultra-wide angle such as the Samyang 14mm f/2.8 for night photography.
Recommended: a telephoto zoom lens, such as a 70-200 or 70-300. Doesn't have to have a wide aperture or a stabilizer - an f/4 is more than enough.
Recommended: A filter set for landscape photography. I personally use Lee, Heliopan and Singh-Ray filters. A good filter set is worth its weight in gold for a landscape enthousiast. If you need to consult about buying a filter set, I'll be happy to help.
Recommended: A camera remote.

Clothing
Full thermal gear is essential. I typically wear a thick thermal base layer, a heavy fleece coat and a down coat.
Good quality warm gloves. It's important to use gloves which enable you to operate the camera while wearing them.
Thermal long-johns
Water resistant trousers (preferably thermal)
Thermal socks. I recommend bringing at least 2-3 pairs.
A neck-warmer or a scarf
A good warm hat which covers your ears.
Highly recommended: thermal, water-proof, knee-high rubber boots (contact me for help).
Ice spikes are MANDATORY to protect yourself from slipping on icy surfaces. You are obligated to obtain the spikes before arrival, and they need to be proper spikes (with metal triangles rather then springs or metal dots at the bottom). Please do not bring crampons - they take ages to put on and they aren't needed.

Other
Pills against motion-sickness for the Cessna flight (if you'd like to do it and you're sensitive).
Headlight
Payment Procedure
In order to secure your spot, you are required to transfer a deposit of €1990. This deposit will be refunded only in case the workshop gets cancelled for some reason. For your comfort, the deposit can be payed either through PayPal or via bank transfer (contact me for details).
The full amount (after discounts if applicable) must be payed via wire transfer 90 days prior to the workshop starting date. You may pay with any major currency.
In the case you need to cancel your participation, a 67% refund (excluding deposit) will be given up to 75 days prior to the workshop starting date and a 33% refund up to 60 days prior to the workshop starting date.
I reserve the right to increase the price of the workshop if costs rise due to unexpected changes in fees, taxes or exchange rates.

Disclaimer
Though very improbable, workshop dates might shift a few days here or there, up to 6 months prior to start date. Please contact me if you have schedule limitations.
The tour plan above is subject to change. Weather in northern Norway can be unpredictable, and so in case of harsh weather, we may have to divert from our plan and do something else.
Cessna flights are highly weather dependent, and may also depend on the plane and pilot's availability. I cannot guarantee the realization of the flight, although the utmost efforts will be made to secure it and so far it has always been possible.
Important: In order to join the workshop, you will be required to sign a contract that establishes that the tour leaders are not responsible to physical or proprietary damages, and that you understand and accept several behavioral standards (including not taking excessive risk), necessary to ensure the workshop's success and your safe return.
Aurora is, of course, not guaranteed.
*Multiple discounts may or may not apply, please consult me.
Erez Marom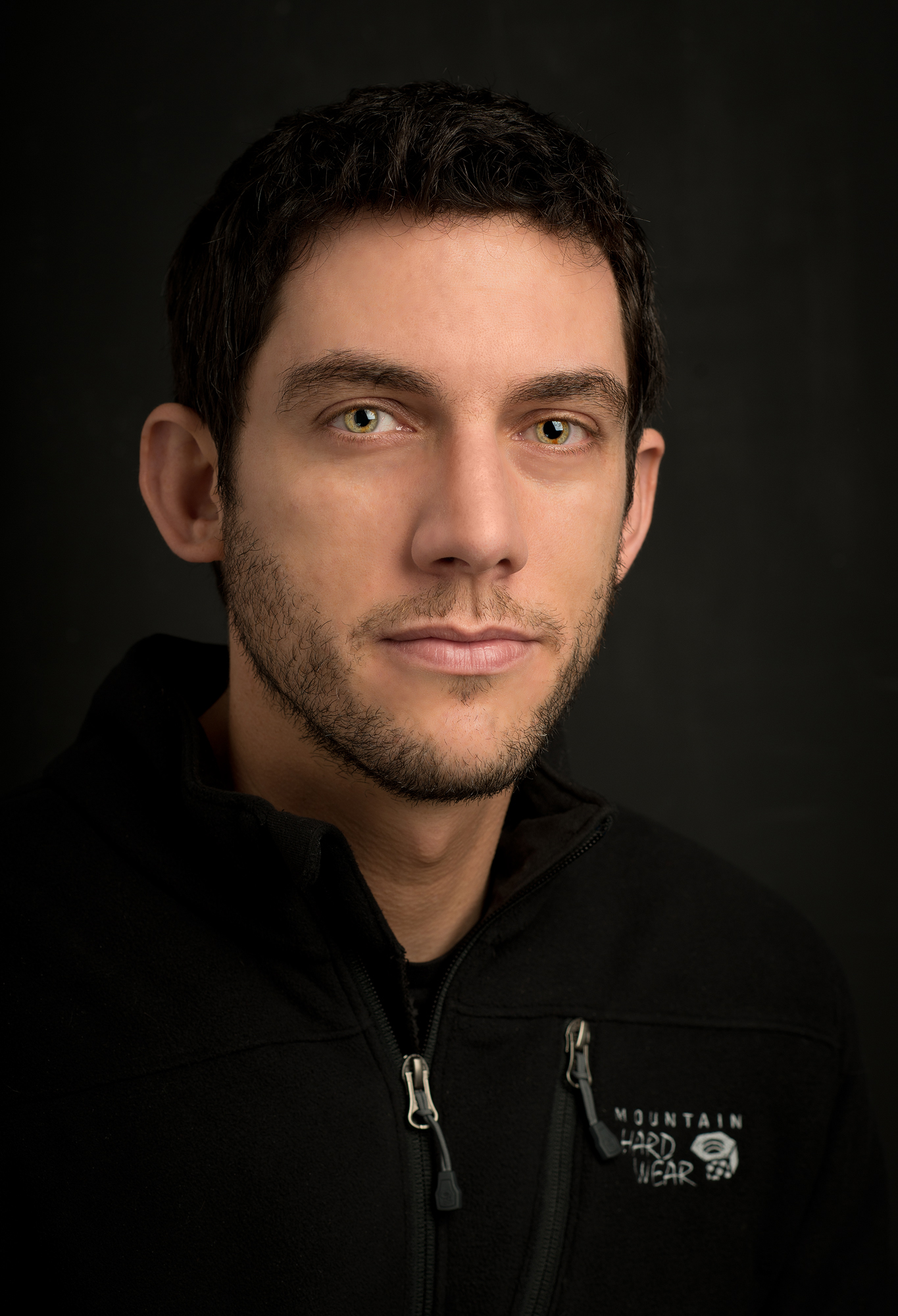 Born in 1980, Erez Marom is a full-time nature photographer, photography guide, writer and traveler-adventurer based in Israel. Specializing in landscape and wildlife photography, Erez spends much of his time in the field shooting the wildlife and scenery of his favorite locations in Israel and overseas.
In addition, Erez publishes articles and instructional texts in leading magazines and websites, and dedicates a considerable amount of his time to sharing his experience and knowledge by lecturing worldwide and traveling several times a year to guide his unique photography workshops.