'DESERT STORM' - NAMIBIA PHOTO WORKSHOP
Price: €7790 pp (or $US equivalent. Price valid until August 31st, 2024) / Deposit: €3490 pp
AVAILABILITY
21st - 29th June 2025
Far at the southern tip of Africa lies a fascinating, beautiful and truly bizarre place. The jewel of the south, the magical Namibia.
Namibia is a huge country with an equally monstrous variety of photographic potential. Join professional landscape photographer Erez Marom on this comprehensive 9-day workshop, where you will experience first hand its mind-boggling beauty, and be taken to the very best spots in this mesmerising, often perplexing land.
Immense red dunes rising over 300 meters above the earth in the world's oldest desert, sweeping thunderstorms, petrified trees left from another era centuries ago, a ghost town built, populated and then suddenly abandoned, you will see and shoot all off these and more, from the ground and from the air, under top professional assistance and dedicated guidance. Locations and phenomena that will make you doubt the world you know and simply watch in awe, as landscapes you never imagined unveil in front of your eyes.
Main Features
9 days in spectacular and very diverse locations: Quiver Tree Forest, Kolmanskop, Sossusvlei, including night photography in Deadvlei
Winter schedule offer very comfortable weather and a fantastic view of the Milky Way's galactic core
No moon throughout the workshop, which means excellent opportunities for astro photography
Optional open-door helicopter photography flight over the red dunes of Sossusvlei - nothing short of a spectacular experience
Professional photo guidance by an award-winning landscape photographer and a local guide expert in Southern Africa
Comfortable 4X4 transfers throughout the trip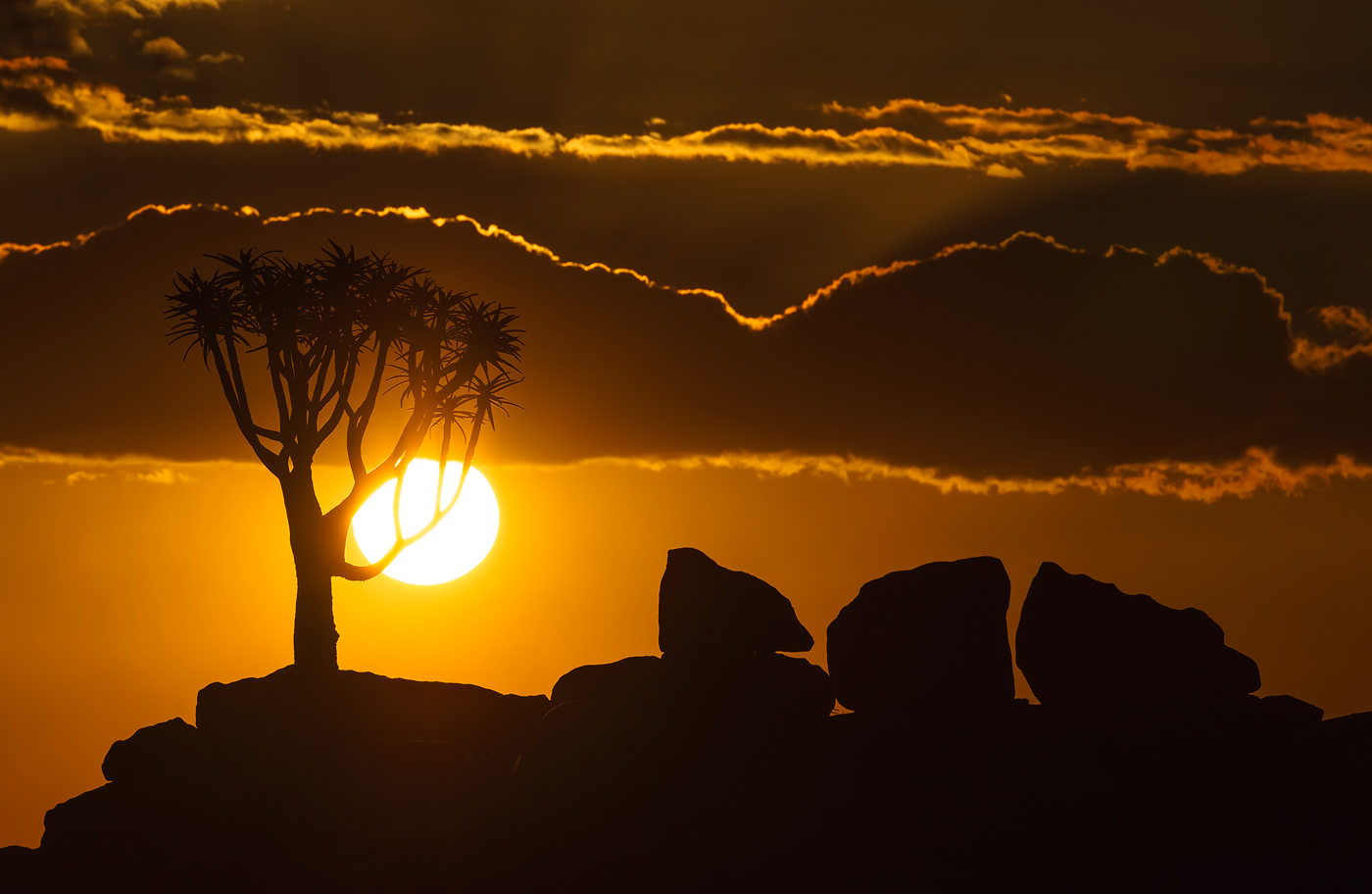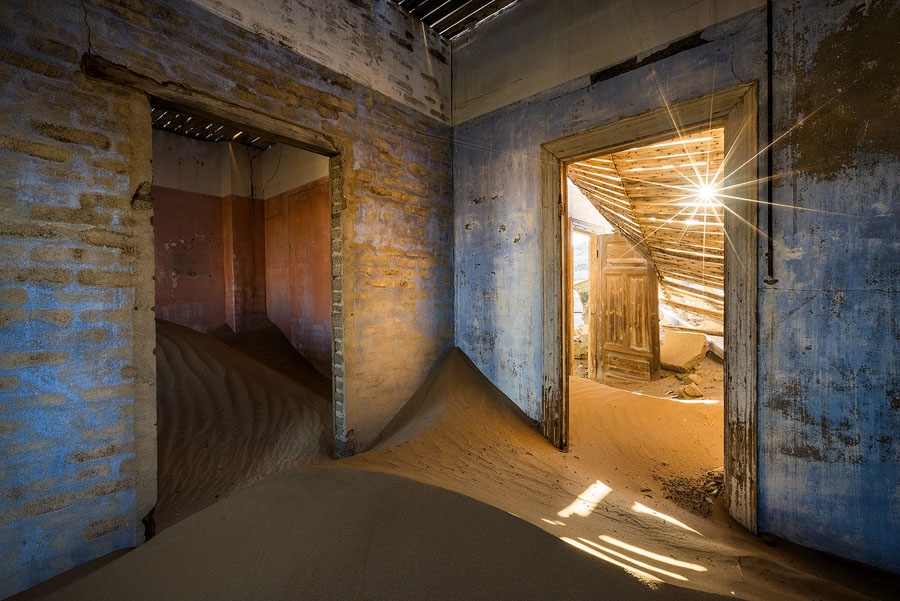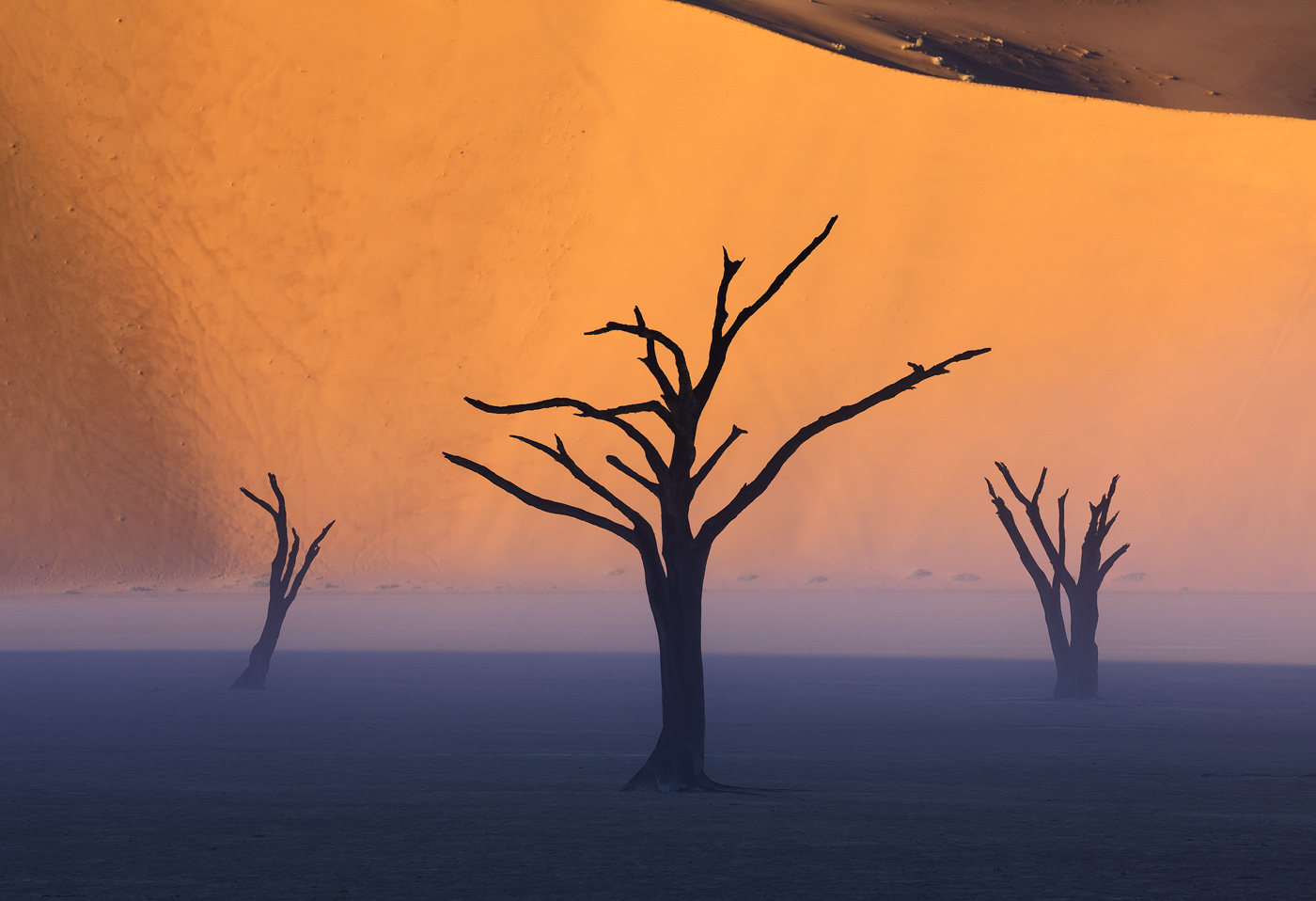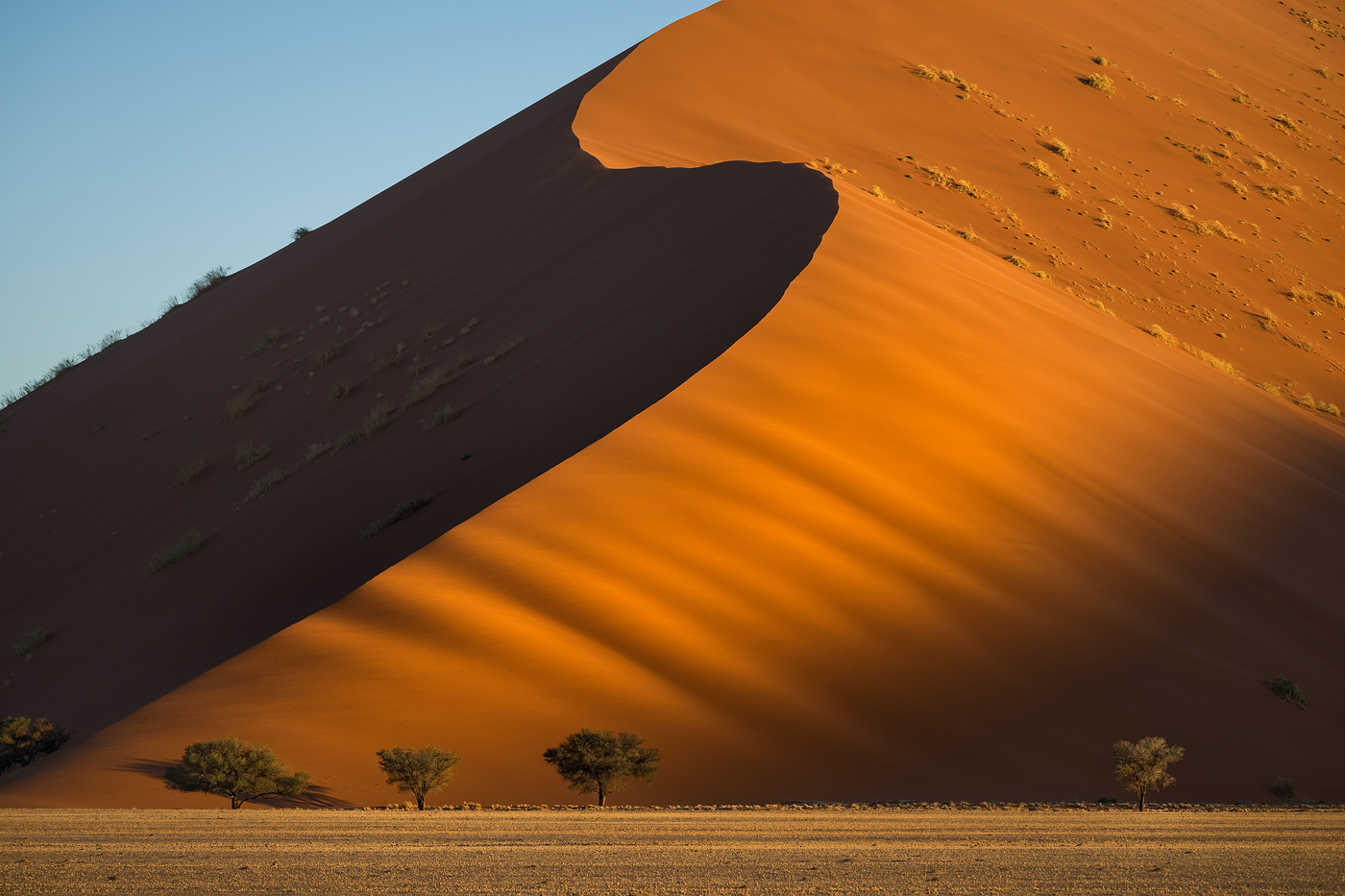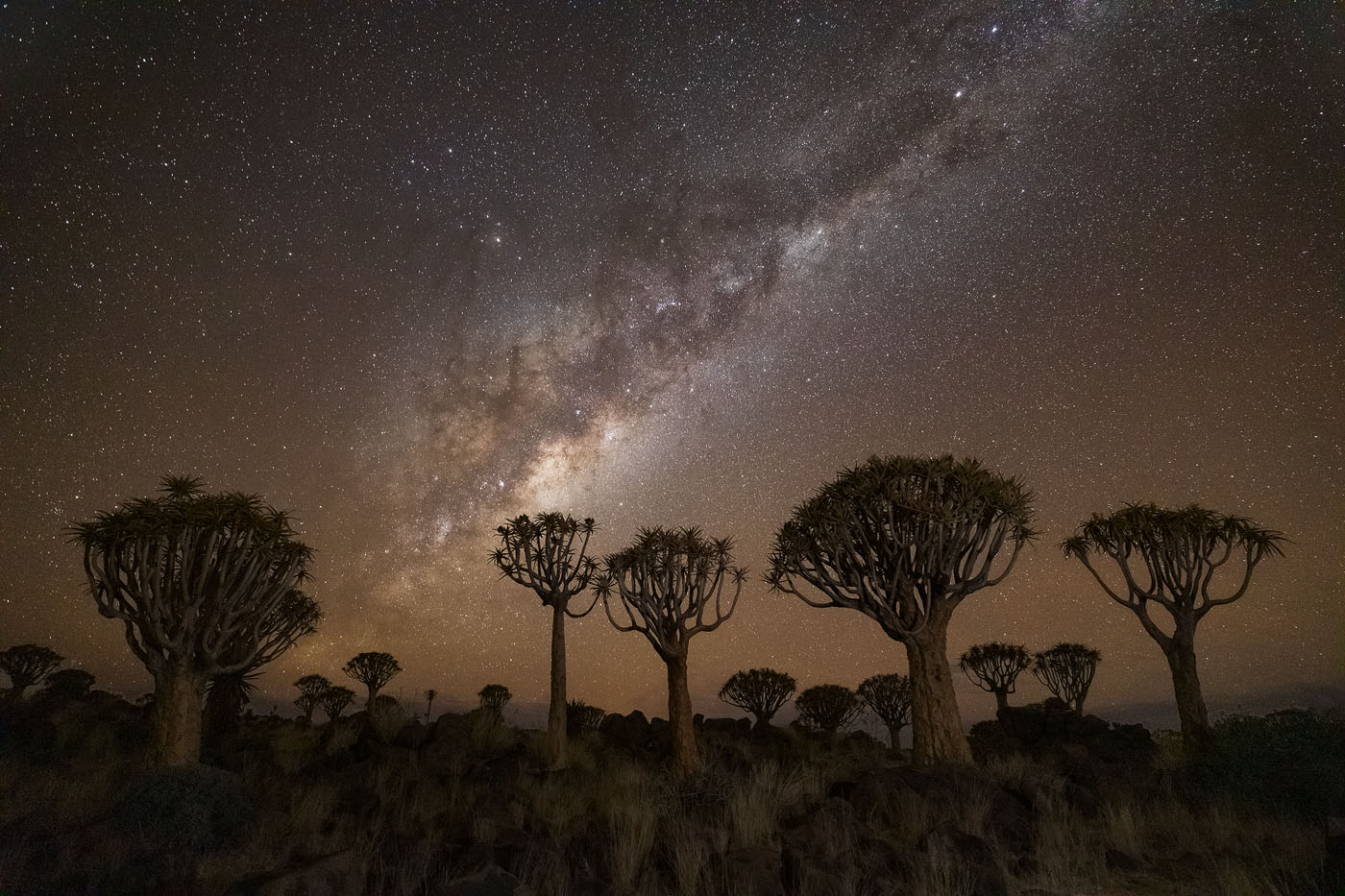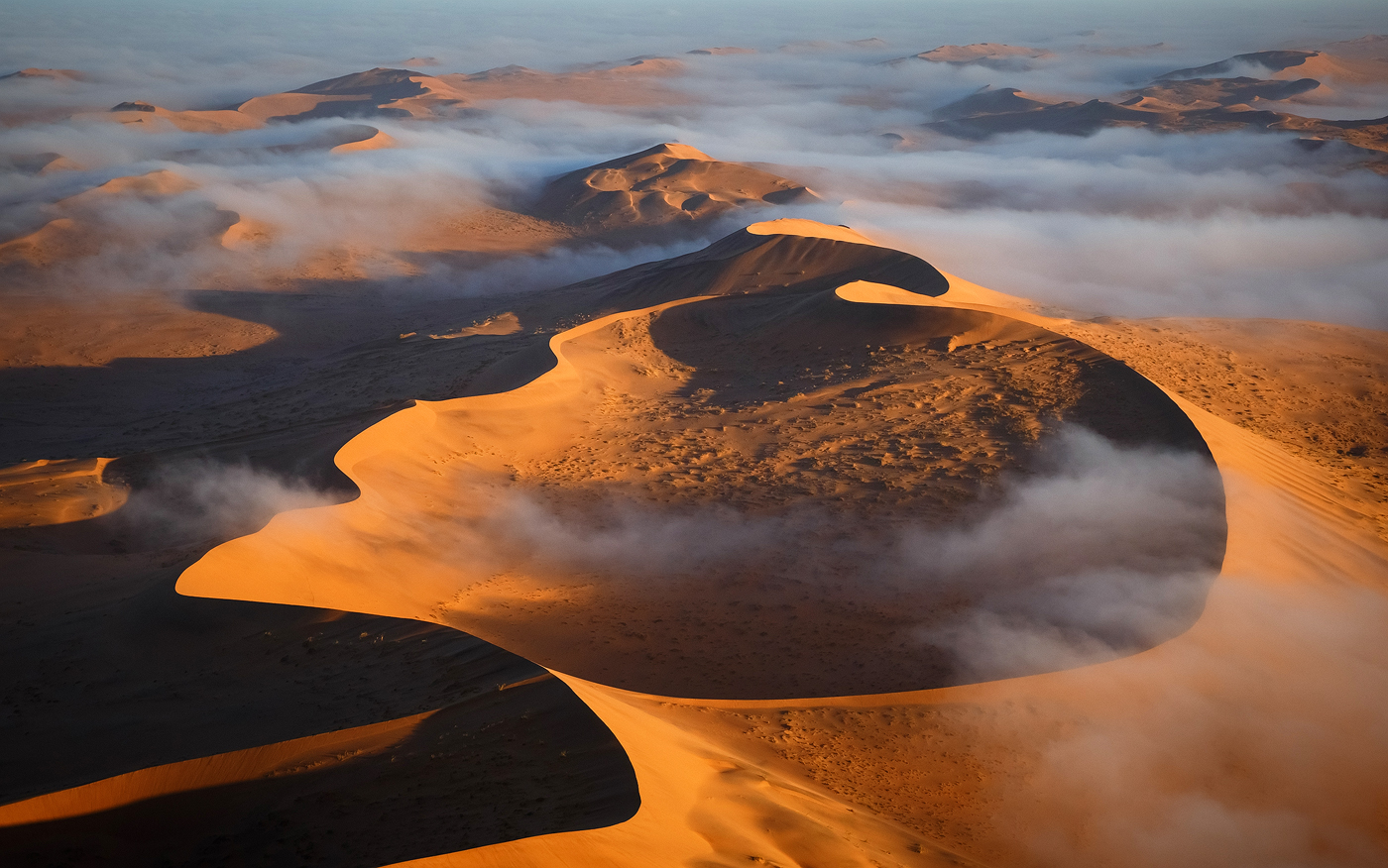 Day 1 Windhoek
The guesthouse shuttle will collect all arriving guests from the Windhoek International Airport during the day. At 18:00 we will have dinner where everyone is introduced and the guides will get you excited about the photo opportunities that lie ahead.

Days 2-3 Quiver Tree Forest
After Breakfast at the hotel, we'll board our spacious bus and journey 500km south to Quiver Tree Forest. Found in only in South-Western Africa, quiver "trees" are actually very large succulent plants. With their cracking golden-white bark and remarkable shape, they make great photographic subjects. We'll arrive at our destination early afternoon, leaving plenty of time for everyone to familiarize themselves with the amazing trees, before a sunset shoot, followed by a night shoot and dinner. We will spend the next day further shooting the quiver trees in the forest and in Giant's Playground just around the corner, where even more trees and interesting rocks await.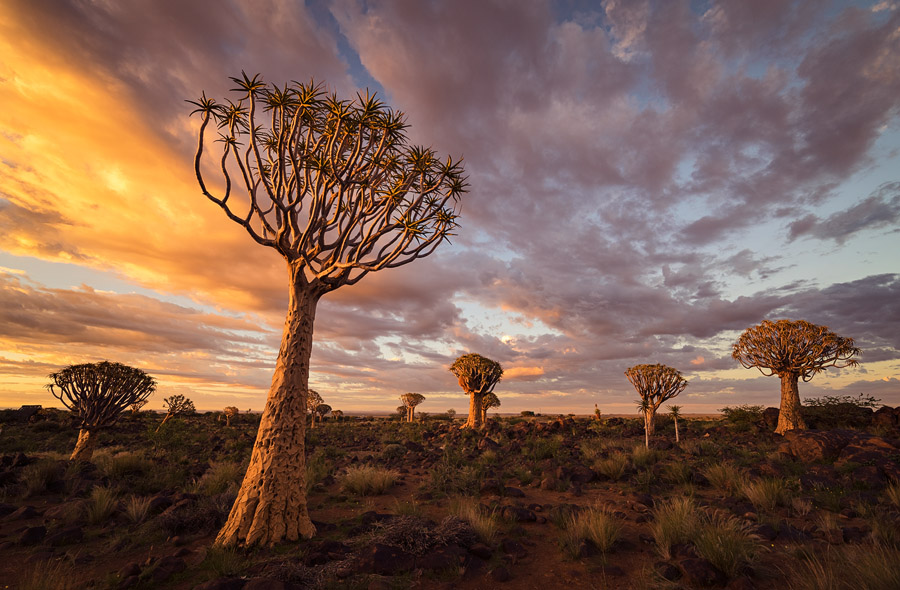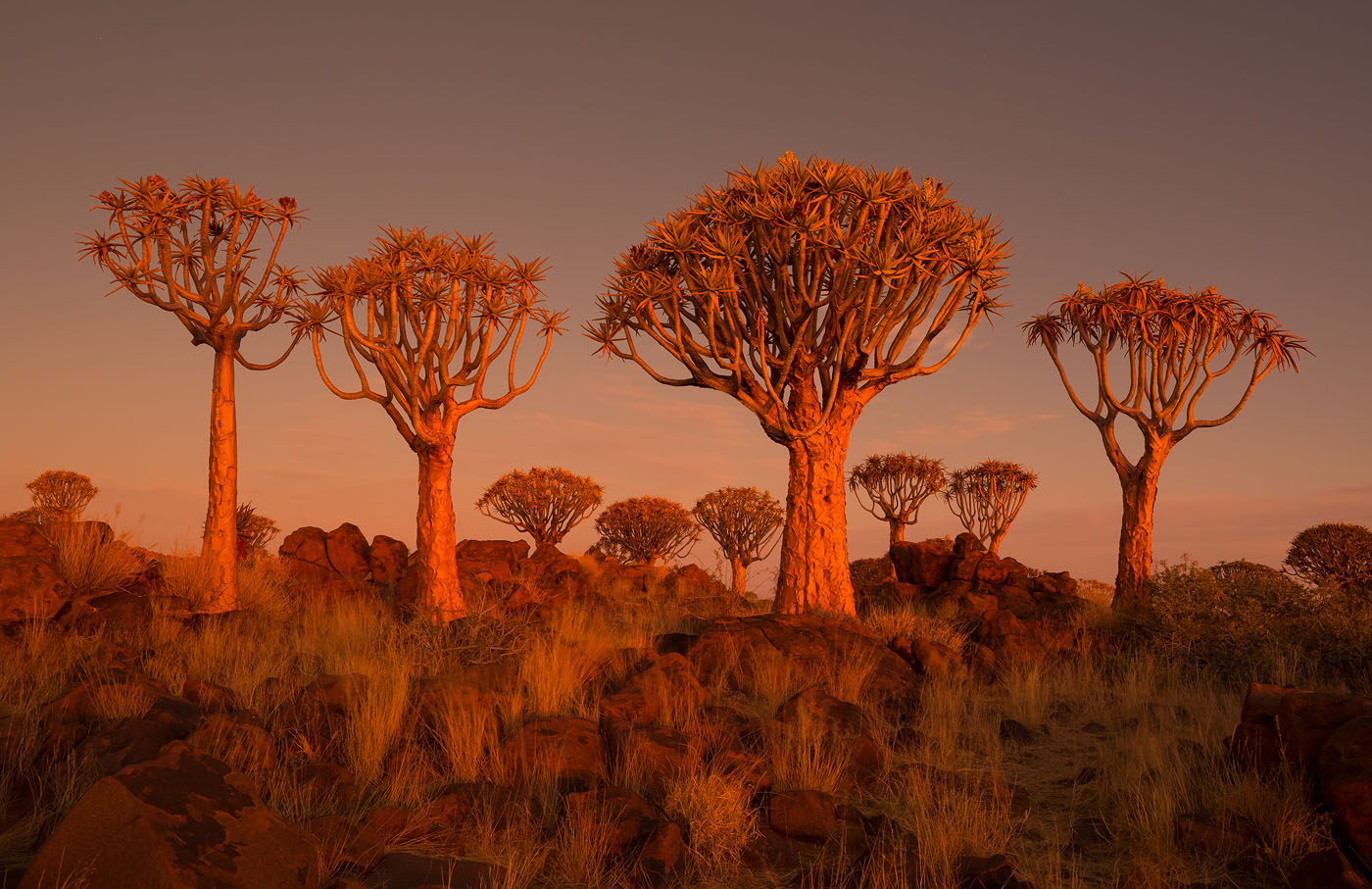 Quiver Tree Forest is a great location for night photography. We will shoot the quiver trees under a blazing Milky Way every night.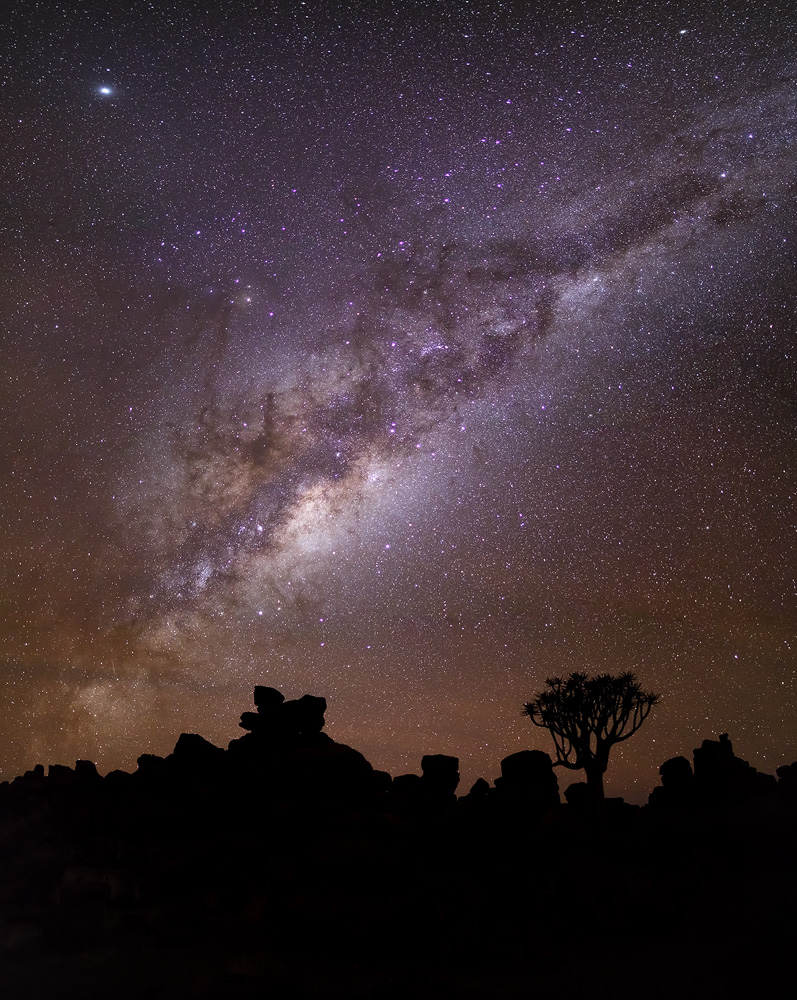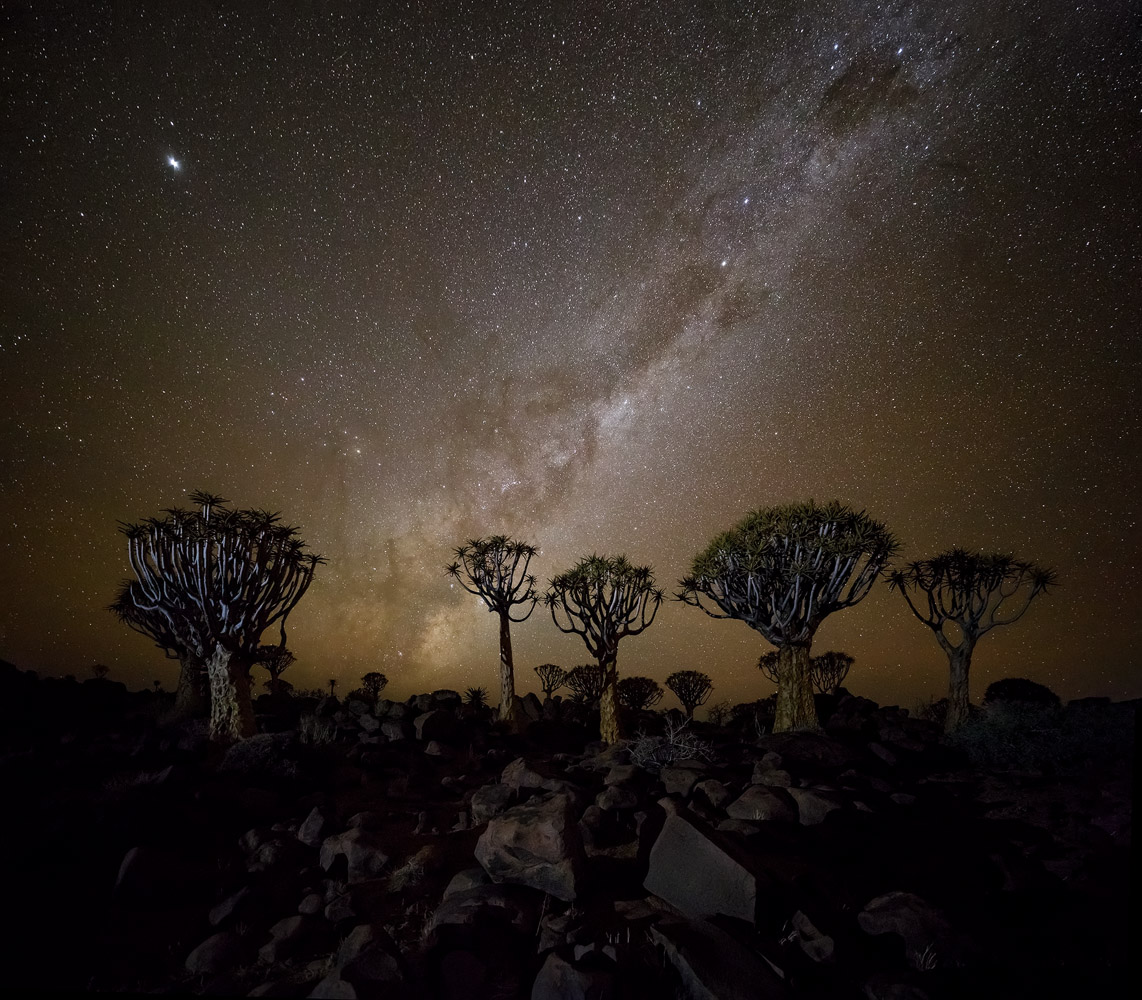 Days 4-5 Kolmanskop - The Ghostly Remains of a Diamond Rush
After a sunrise shoot and breakfast we'll get back in our bus and make a 3-hour drive to the Coastal town of Luderitz. We'll spend a long afternoon familiarizing ourselves with the many colorful, sand filled rooms of Kolmanskop. Situated just 5 minutes inland from Luderitz, it is the long forgotten site of one of the greatest diamond rushes in history. Just after the turn of the 19th century, German mining companies invested a fortune to build an entire town in the middle of nowhere. Everything from the door frames to the paint was imported from Germany and today the desert is reclaiming this once-glorious town. Despite being flooded with sand, the dry climate has done an amazing job of preserving the colorful rooms. There are well over 25 rooms worth photographing, so everyone can do their own thing. The guides will assist everyone to identify a room with an east-facing window for the next morning. After sunset we'll have dinner at the Hotel.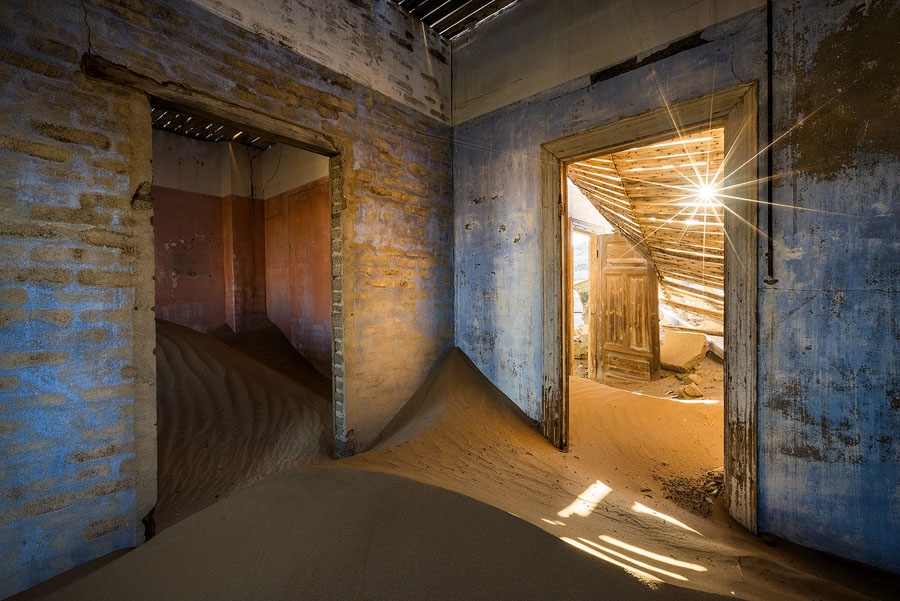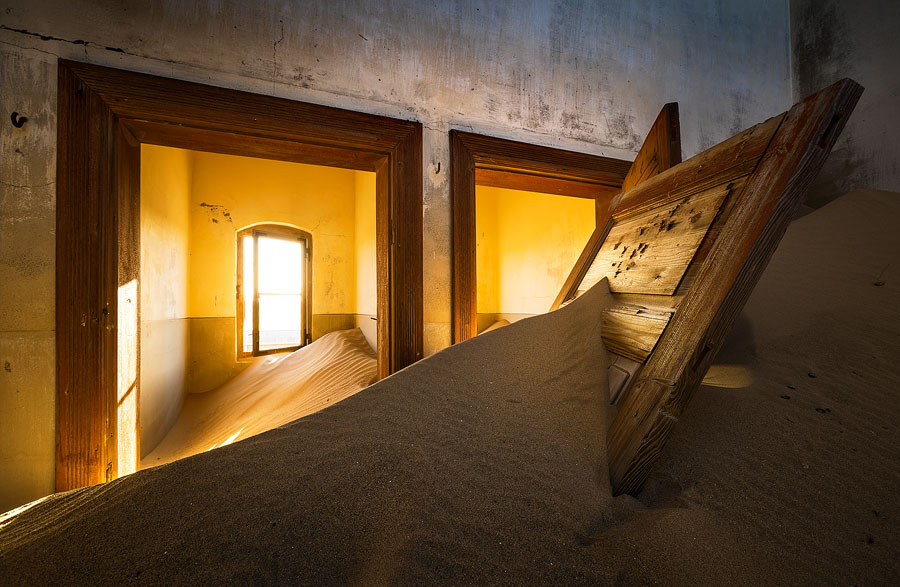 Capturing the Ghost Town
We'll get up for an early coffee and depart for the Ghost town in darkness. The guides will make sure that everyone is in place for a beam of orange light in the buildings as the sun crests the horizon in the East. After a quick morning shoot we'll head back to the hotel for breakfast. We'll return to Kolmanskop just before noon to make sure we capture the shadows of open roof slats under a 1 o'clock sun, and then have another relaxed afternoon exploring the Ghost town.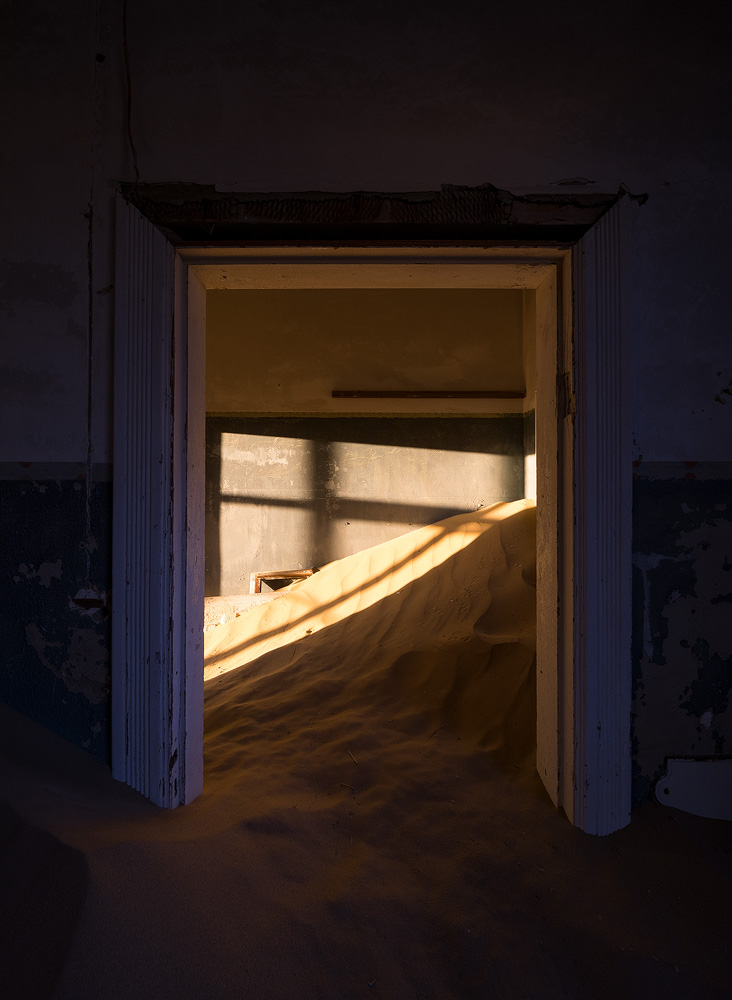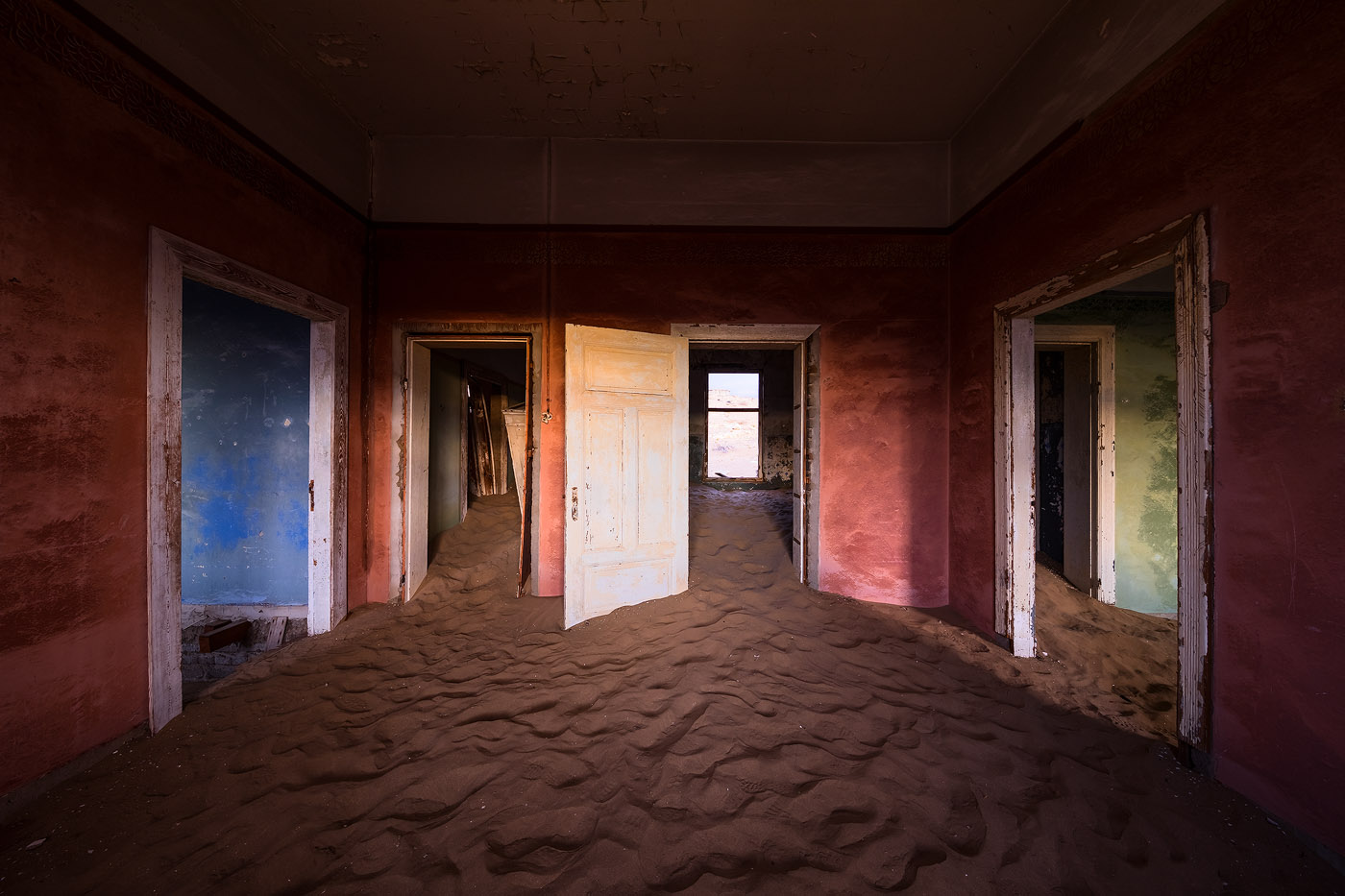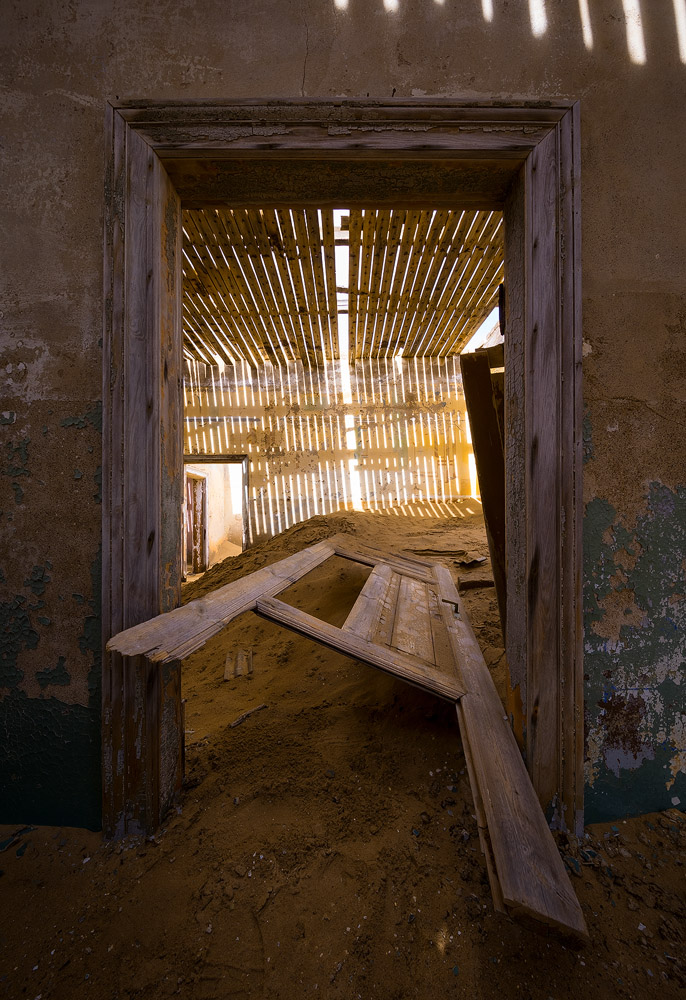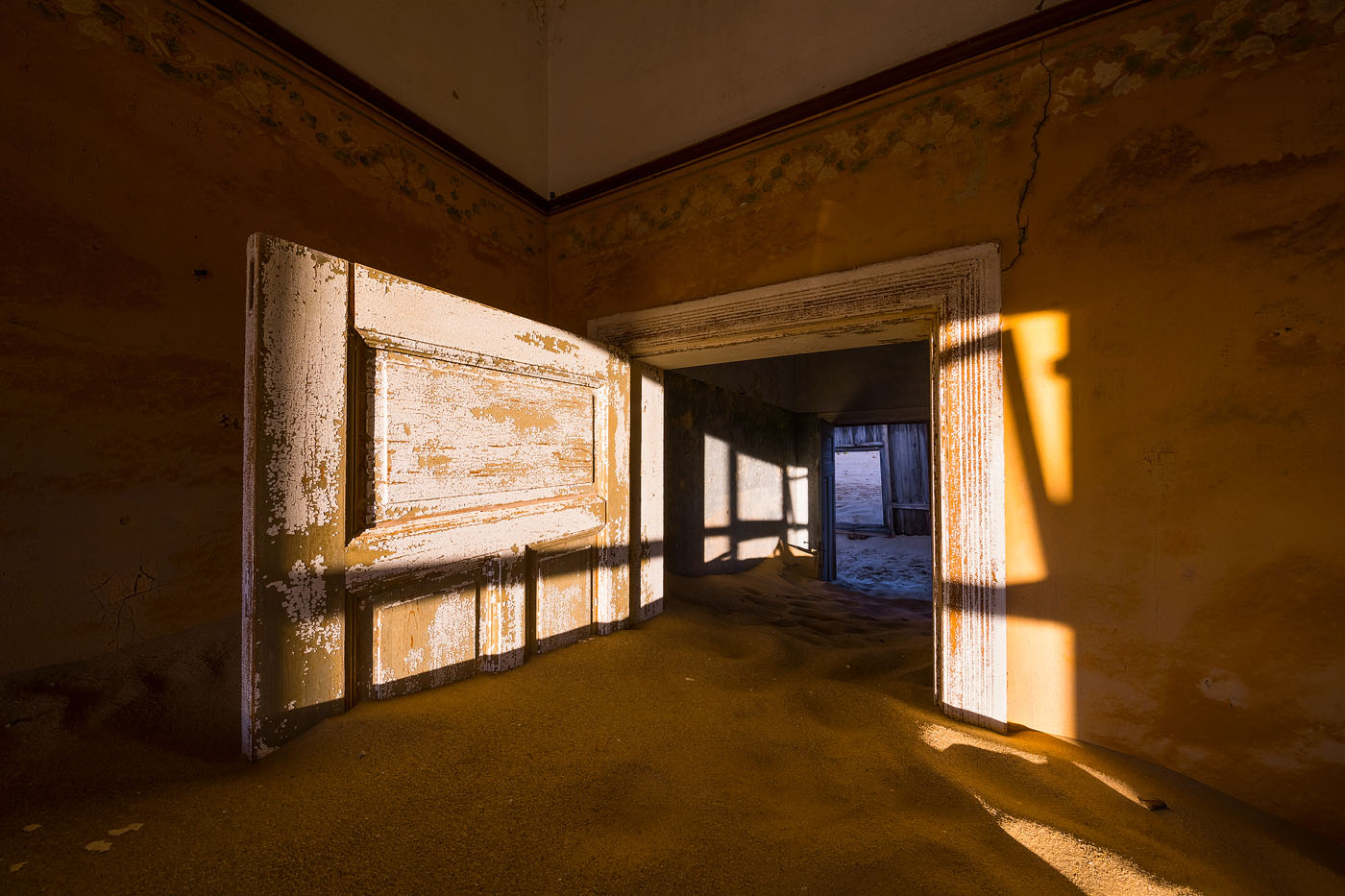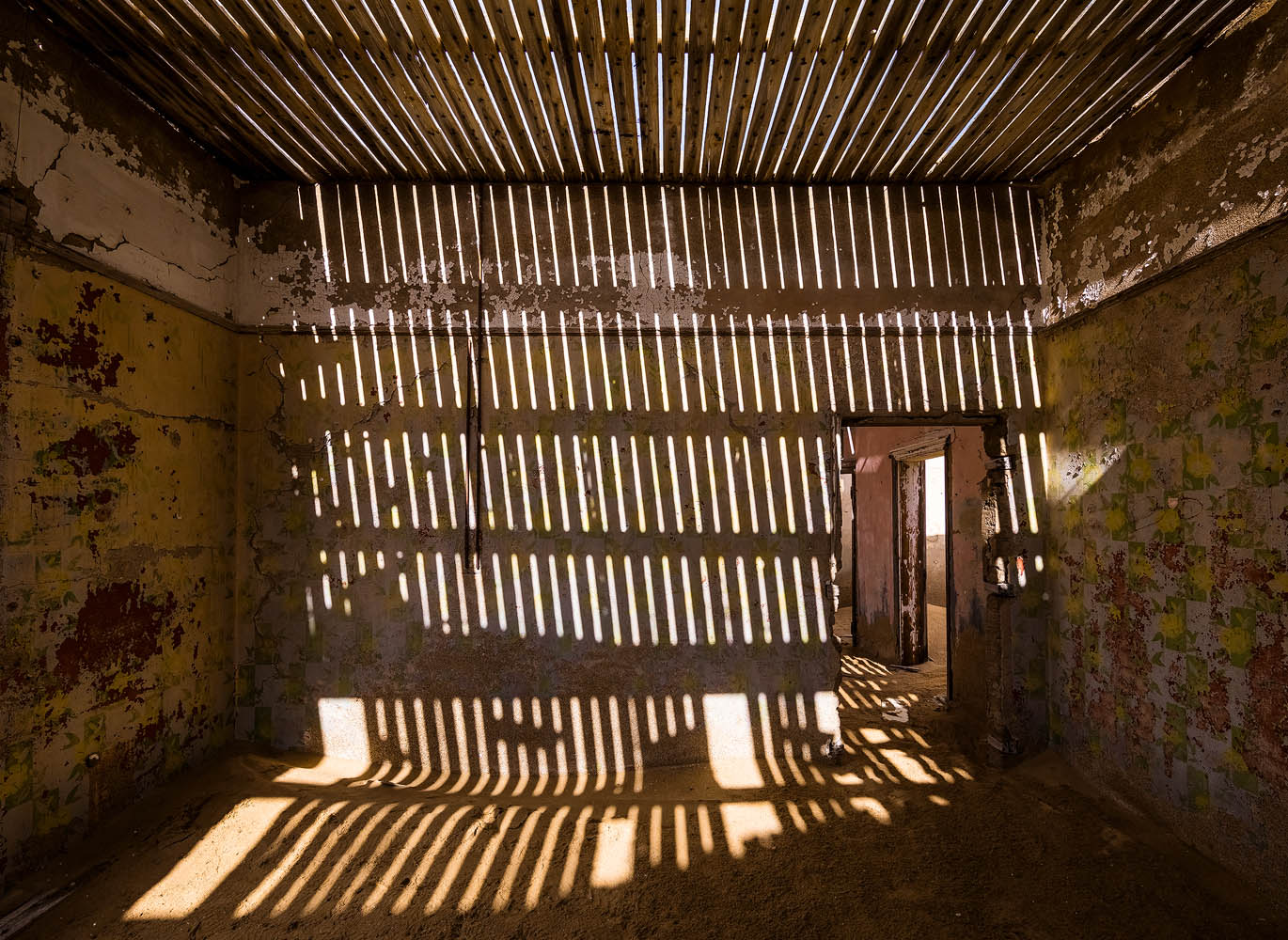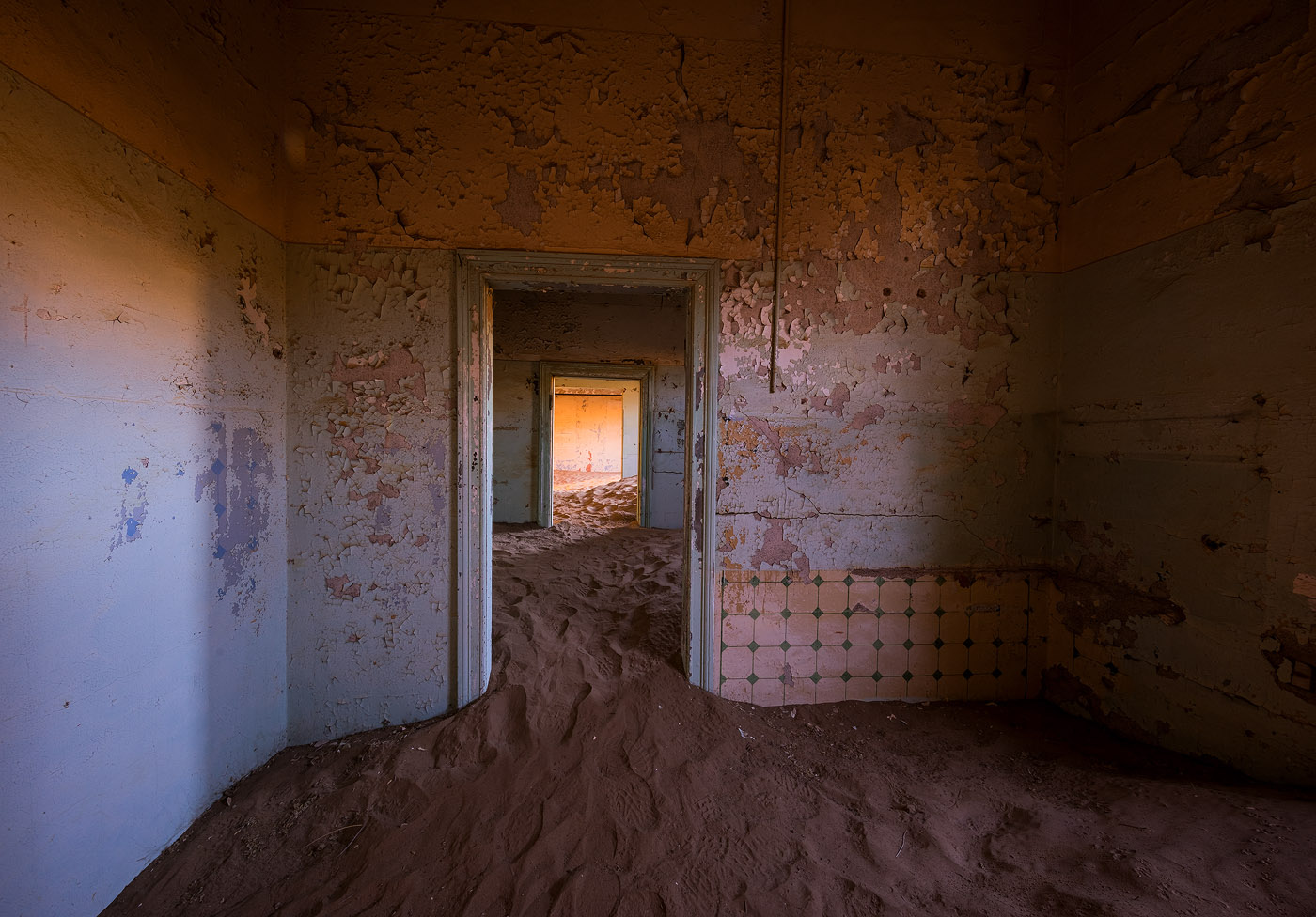 Days 6, 7, 8 - Deadvlei, The World's Highest Dunes, Aerial Photography
Our final destination is Sossusvlei; a one of a kind landscape created by an ancient river flowing into the desert. Like several other rivers in Namibia, the Tsauchab River used to flow from the mountains, through the desert, all the way to the coast. Thousands of years ago it was cut off from the ocean by the expanding desert and this created a seasonal wetland amongst the dunes. Over the millennia, this wetland has retreated inland as the Namib Desert slowly reclaims the valley that the river cuts through the dunes. As it stands today, Sossusvlei is about 60 kilometers from the coast, but still 40 kilometers into the towering red dunes of the Namib Desert. Although the river only flows all the way to Sossus a few times every decade, the valley still sustains a large population of wildlife amongst the dunes. There is always the chance that we may witness the river in flood and since it hasn't flooded since 2012, the statistics are in our favor.
The amazing photos of snaking dune spines are all captured along the 40km drive into the Tsauchab Dune Valley. Thanks to this valley's East-West orientation, the afternoon sun creates deep black shadows on the Eastern side and bright red colors on the Western side of the dunes. This offers great opportunities for telephoto shots of snaking dune spines.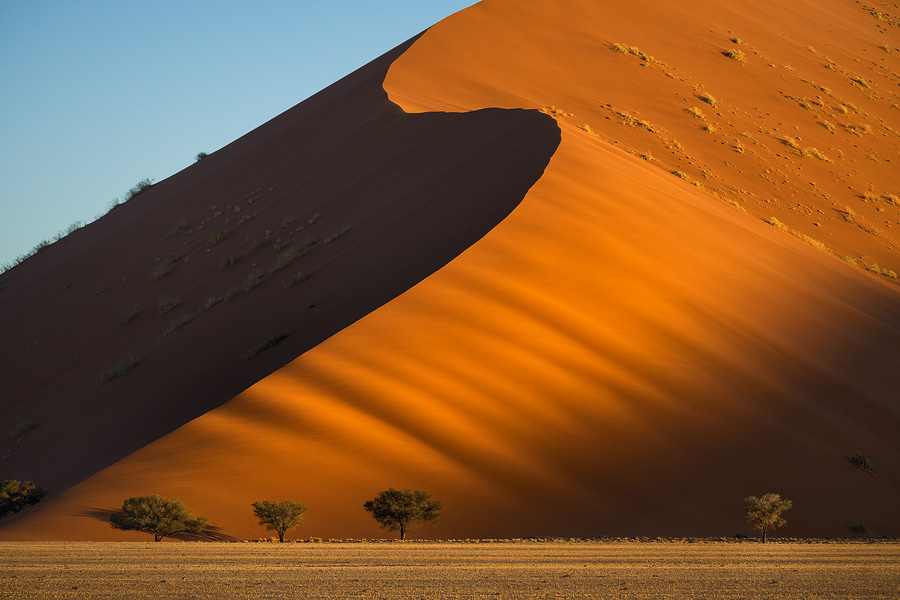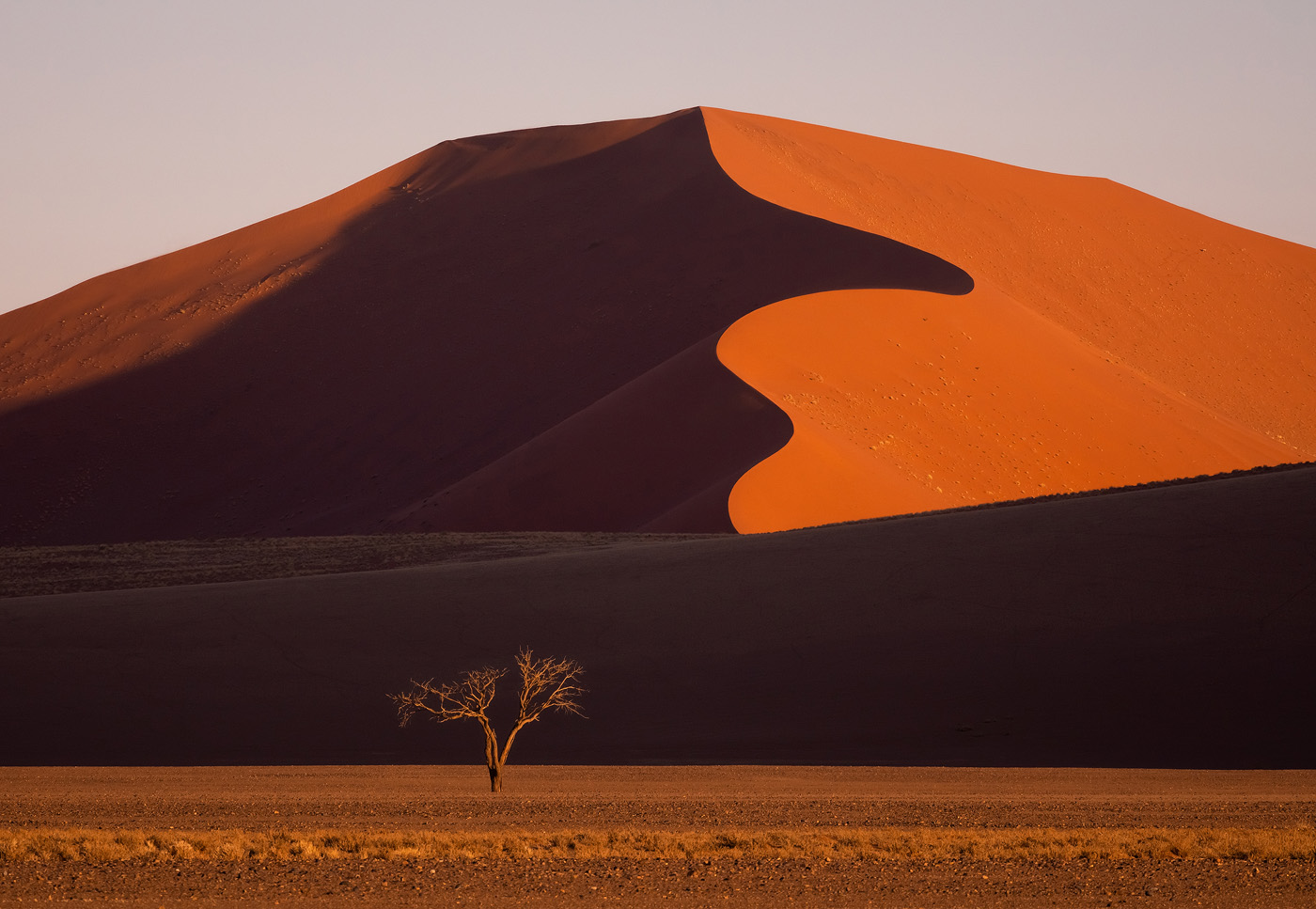 At the end of the Tsauchab Dune Valley is the famous Deadvlei, which was cut off from Sossusvlei by a low dune an estimated 700-800 years ago. The lack of water, arid climate and hard wood of the Namibian Camel Thorn tree has kept the trees of Deadvlei from decomposing. The result is a collection ghostly trees rising from a cracked white clay surface. The pan is deceptively large and offers about 50 of the oddly shaped trees to photograph. The location can be overwhelming at first, but the guides know the location well and will assist everyone to find the best trees and photograph them adequately.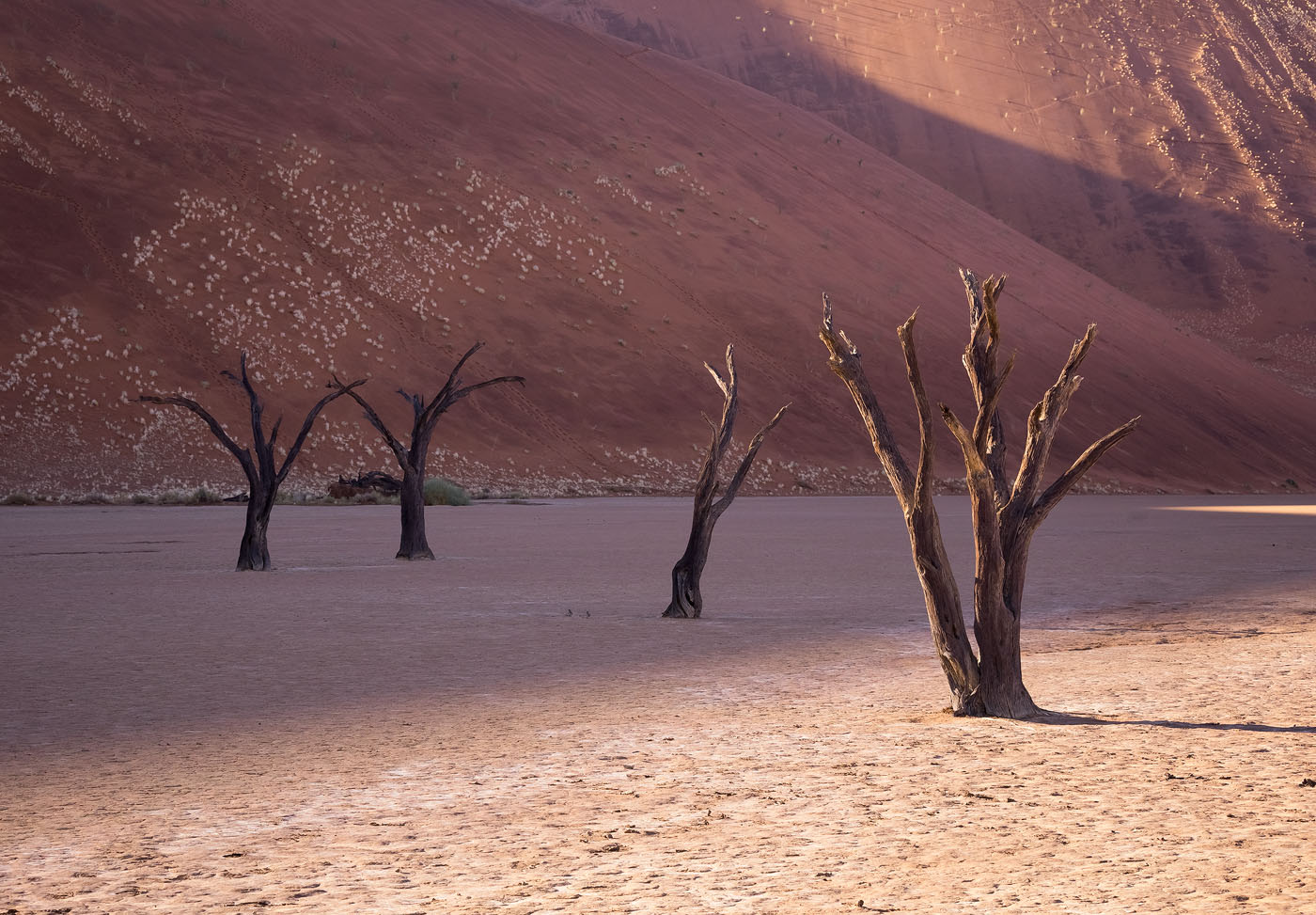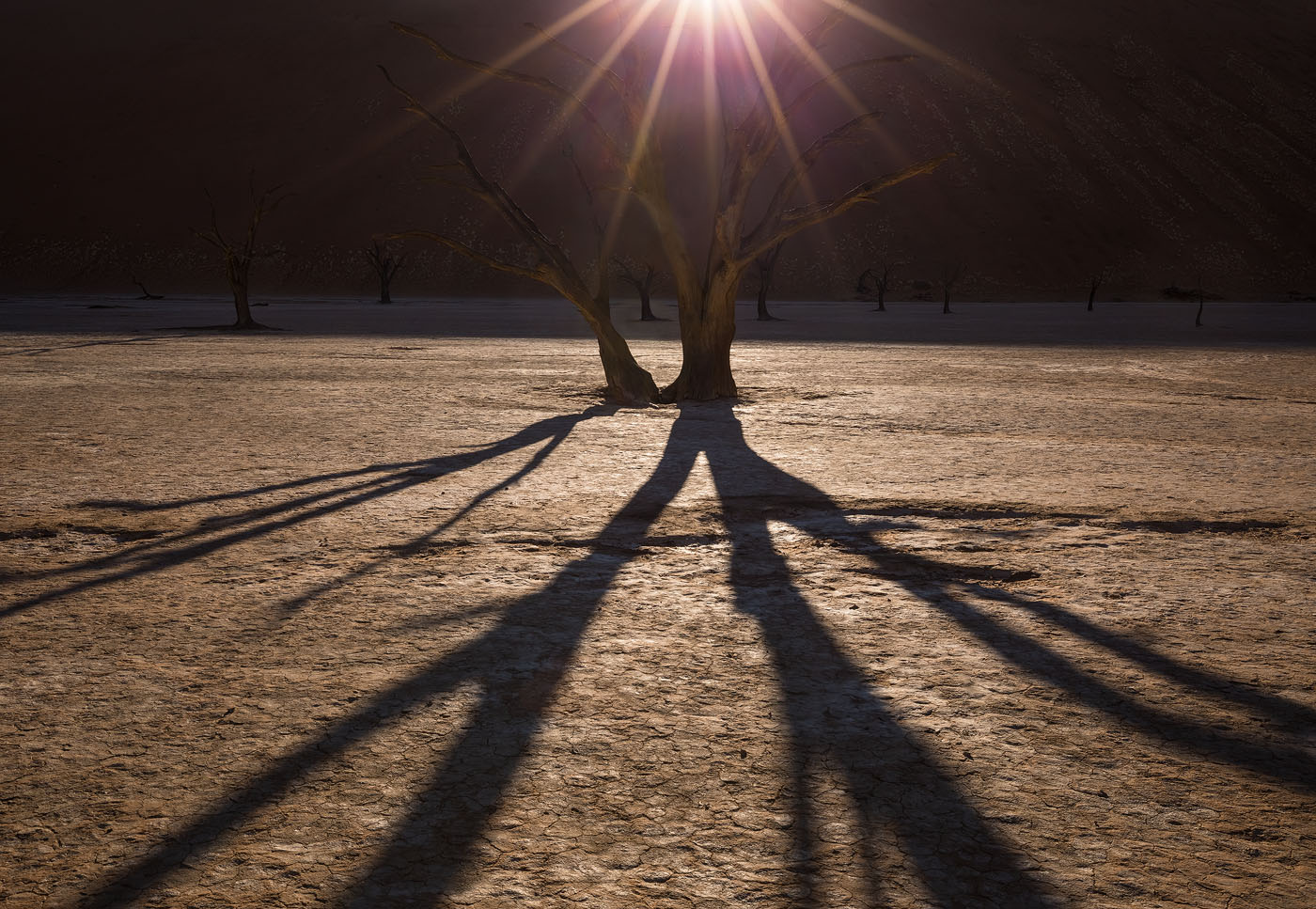 Please note: Reaching Deadvlei requires walking 1.1km on soft sand and over a dune that is about 50 meters high. The climb is very gradual and for a person in reasonable shape it won't be a problem. The guides will always be available to help carry heavy camera when the going gets tough.
In the past we have gotten spectacular weather conditions including heavy rain (creating reflections) and magical mist.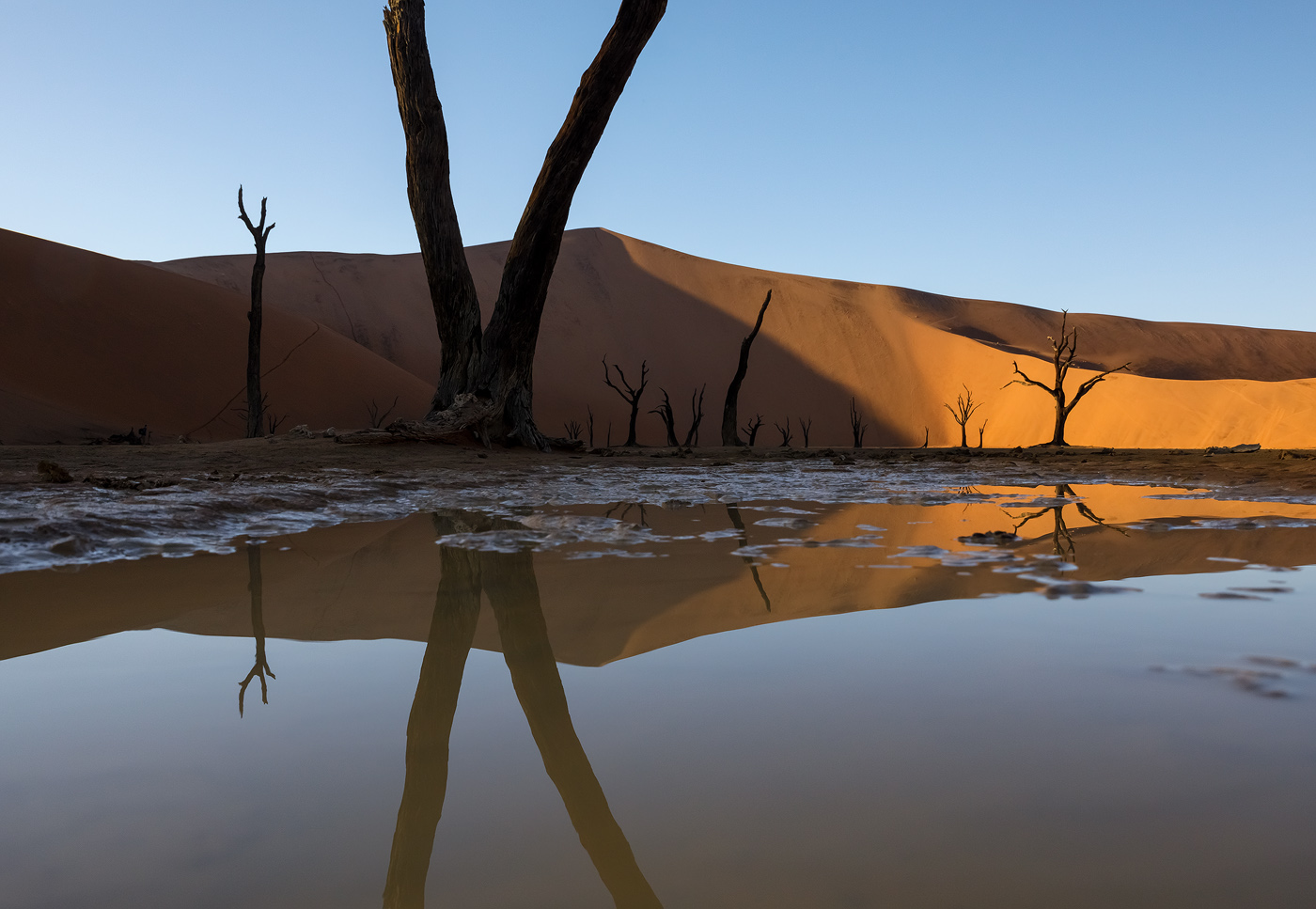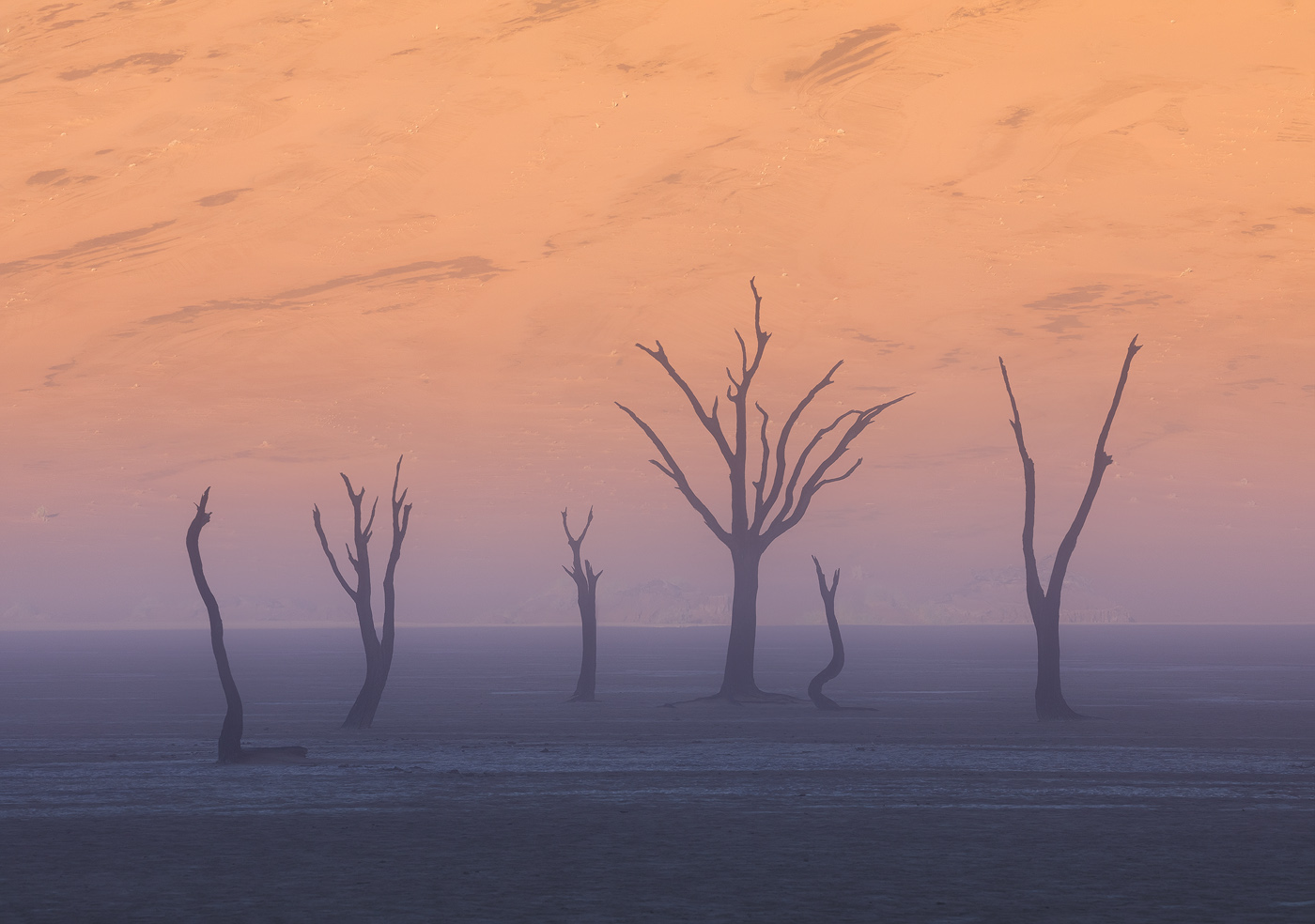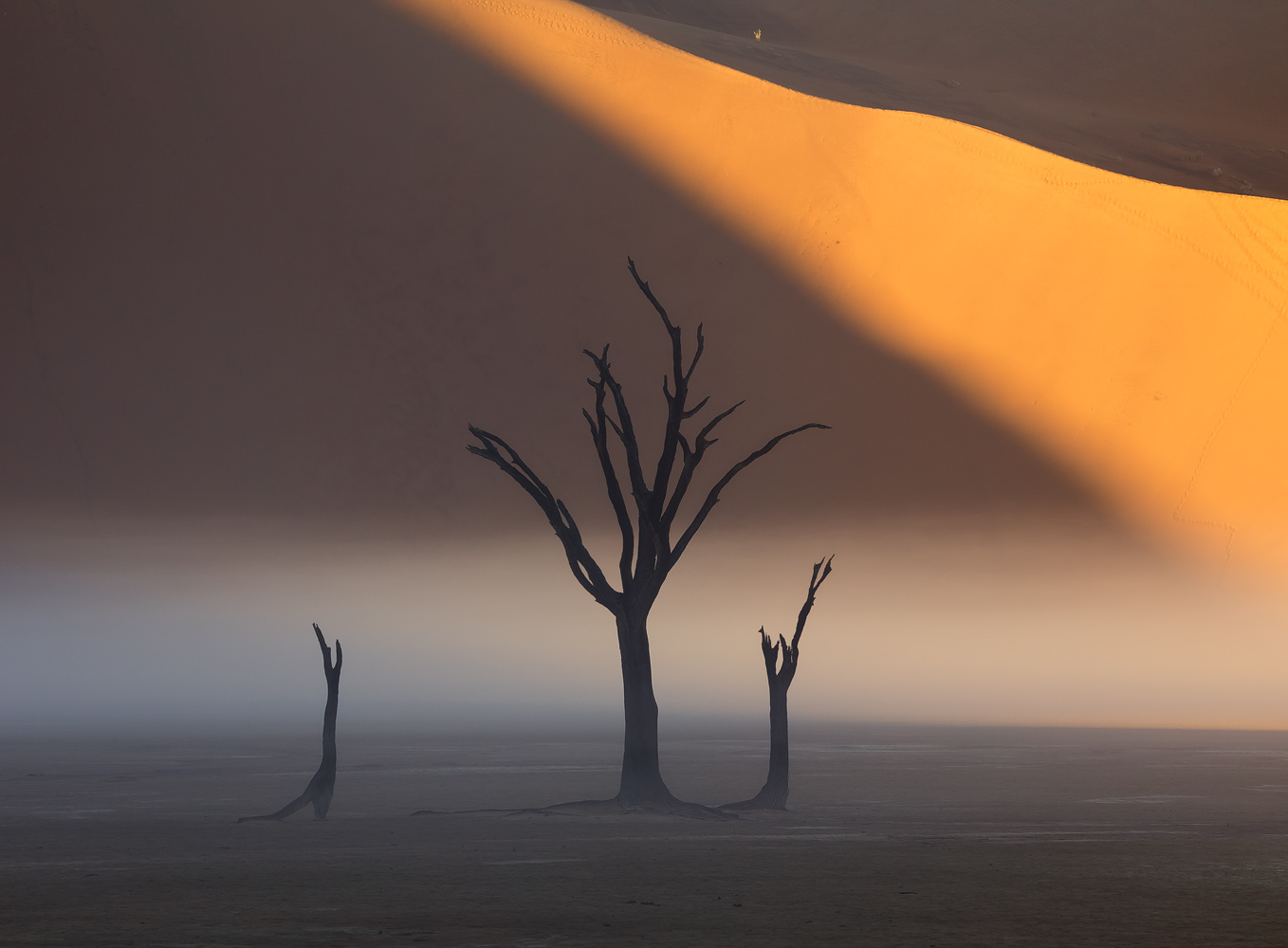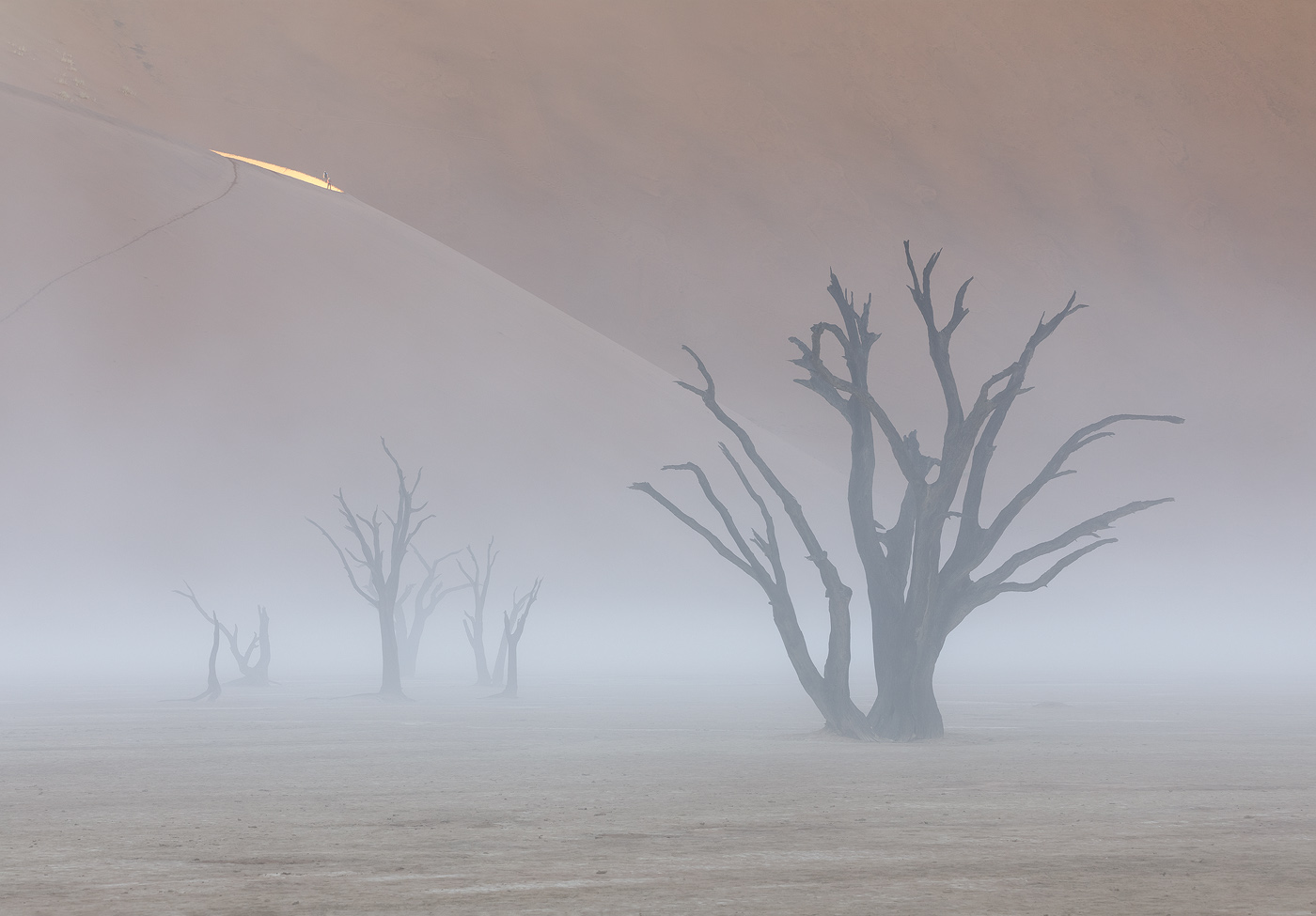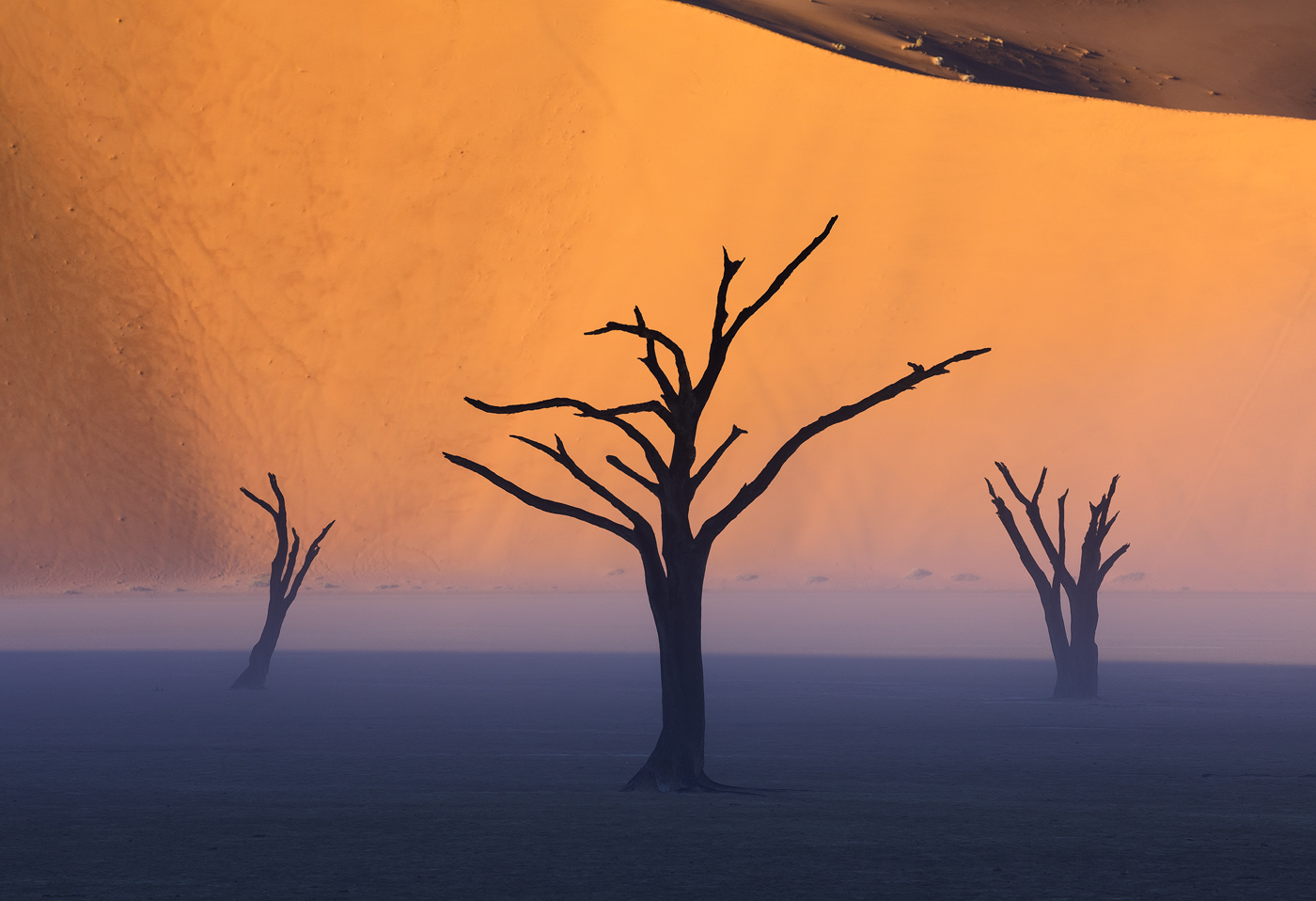 There are many great lodges at Sossusvlei, but only two of them allows you to shoot in the ideal hours and thus it's not always easy to get a booking there. Moreover, we hope to have the truly unique experience of shooting Deadvlei by night. Please note that night access is dependent on a legal loophole that might not be available - it's down to luck and cannot be guaranteed by anyone.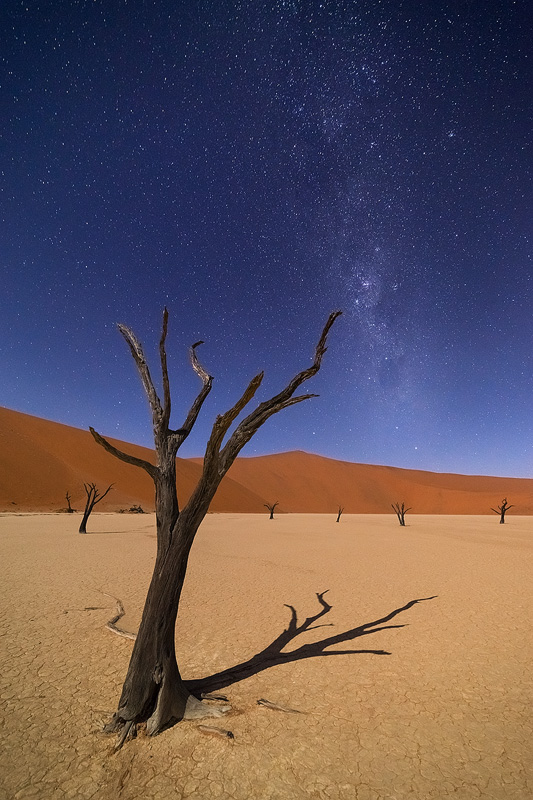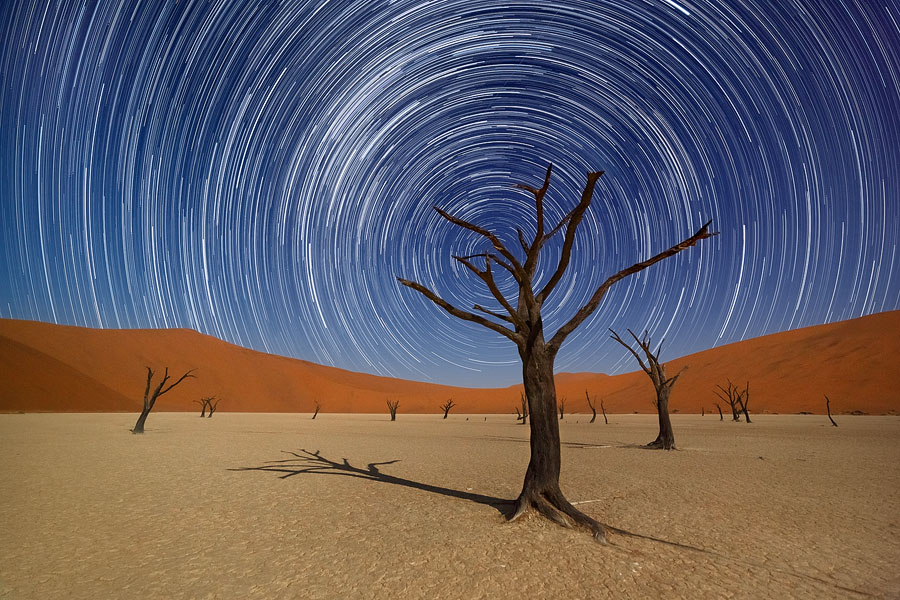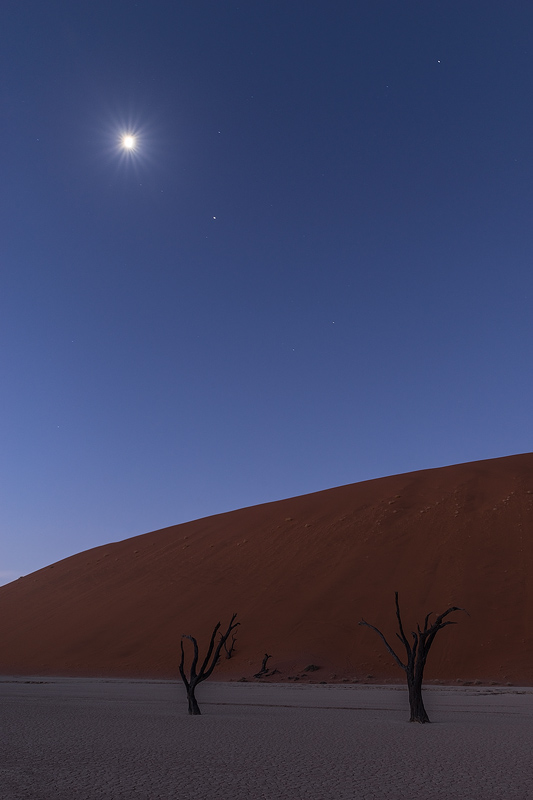 Aerial photography: The workshop offers an optional helicopter flight for aerial photography. Flying over this landscape and capturing it from above is a once in a lifetime experience. The operator has two Robinson Raven II R44's, which can take 3 passengers at a time. Upon arrival at Sossusvlei we will draw up a roster to figure out who will go for aerials on which mornings/afternoon. The rest of the group will still go about the morning and afternoon shoots as usual, while the respective people take their turn to go for aerial photography.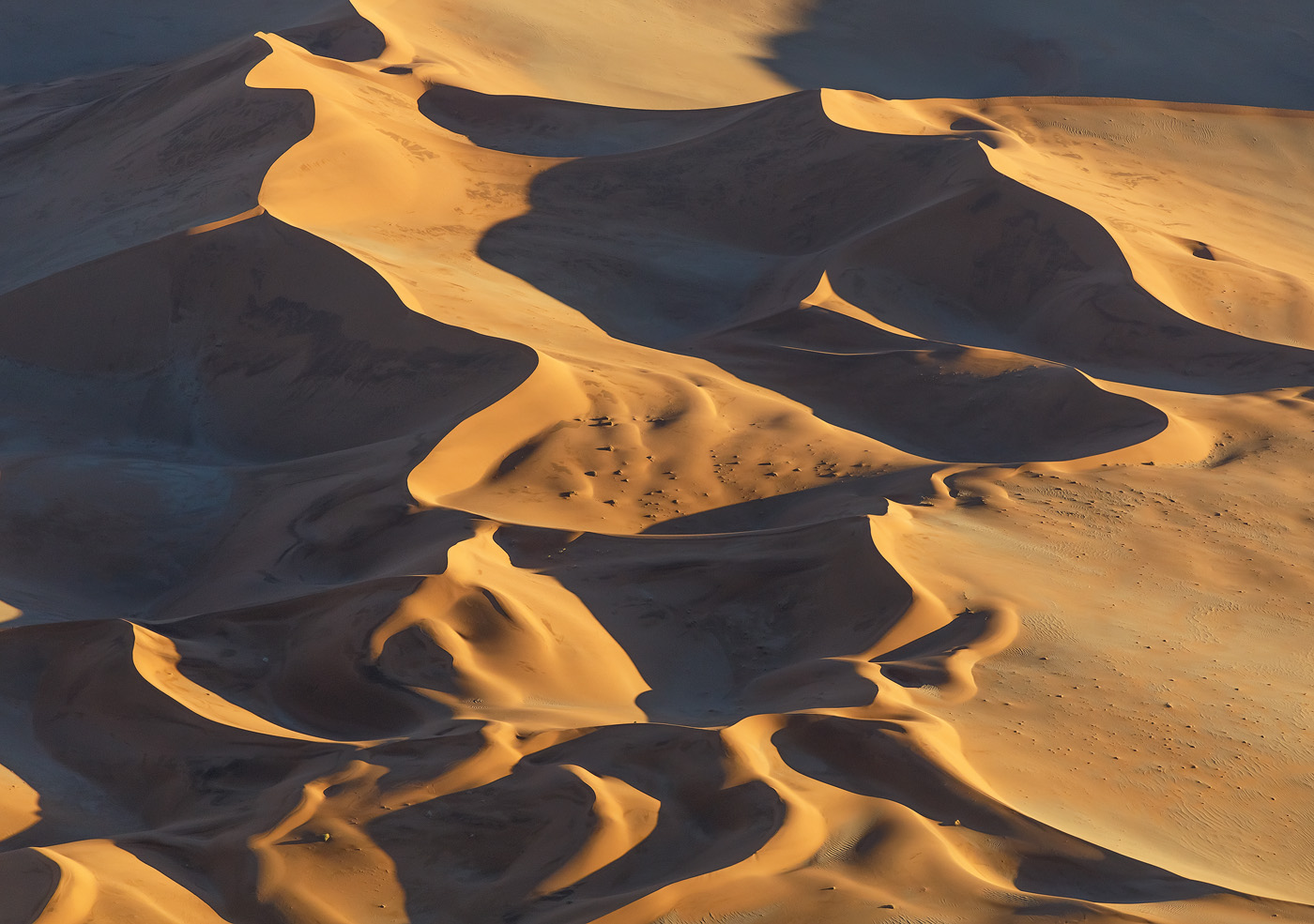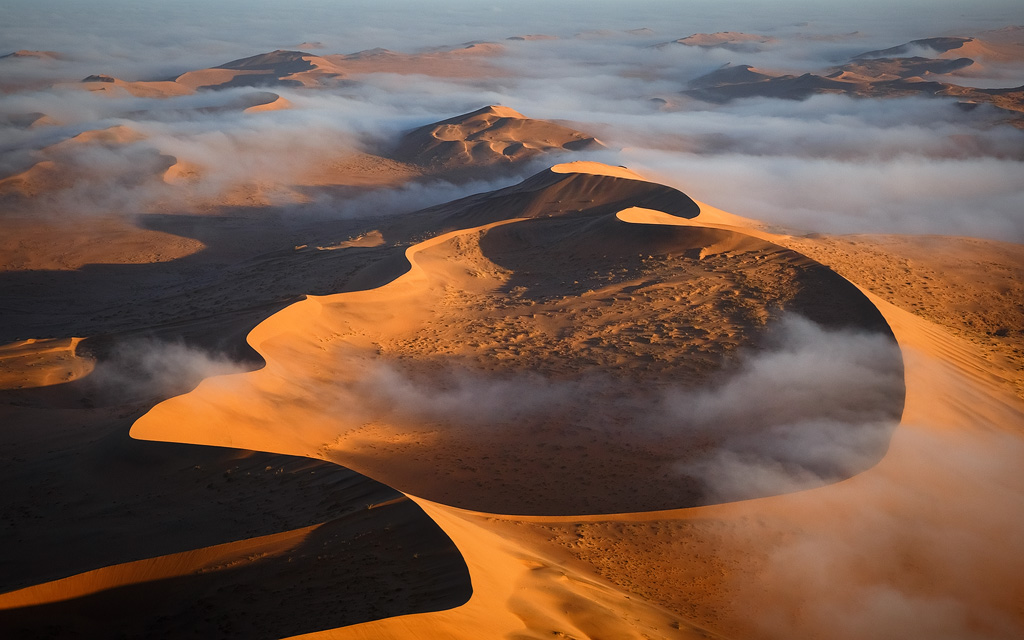 Aerial photography is a truly fantastic experience, and when combined with some of the most impressive desert landscapes on earth, it's simply delightful!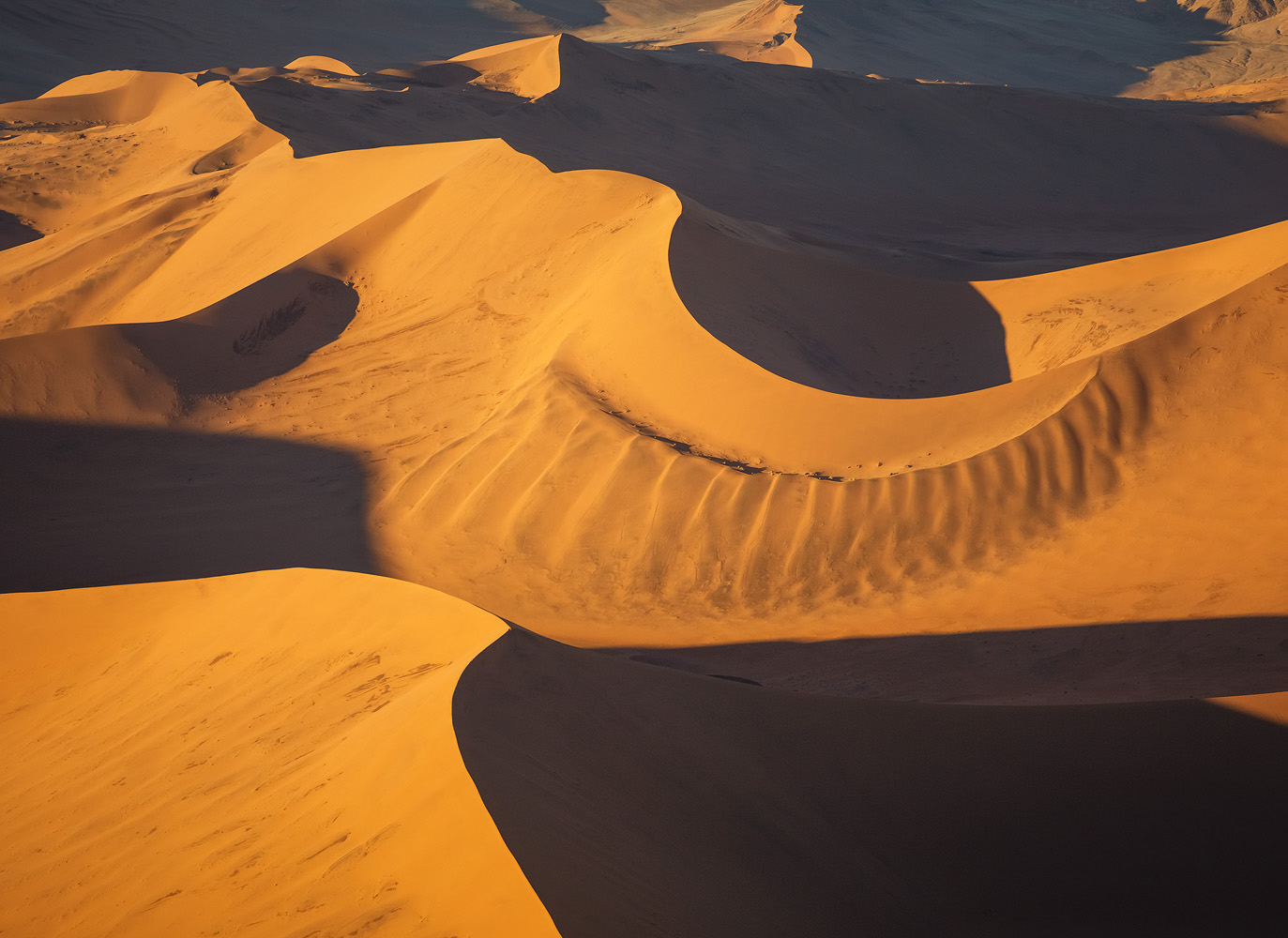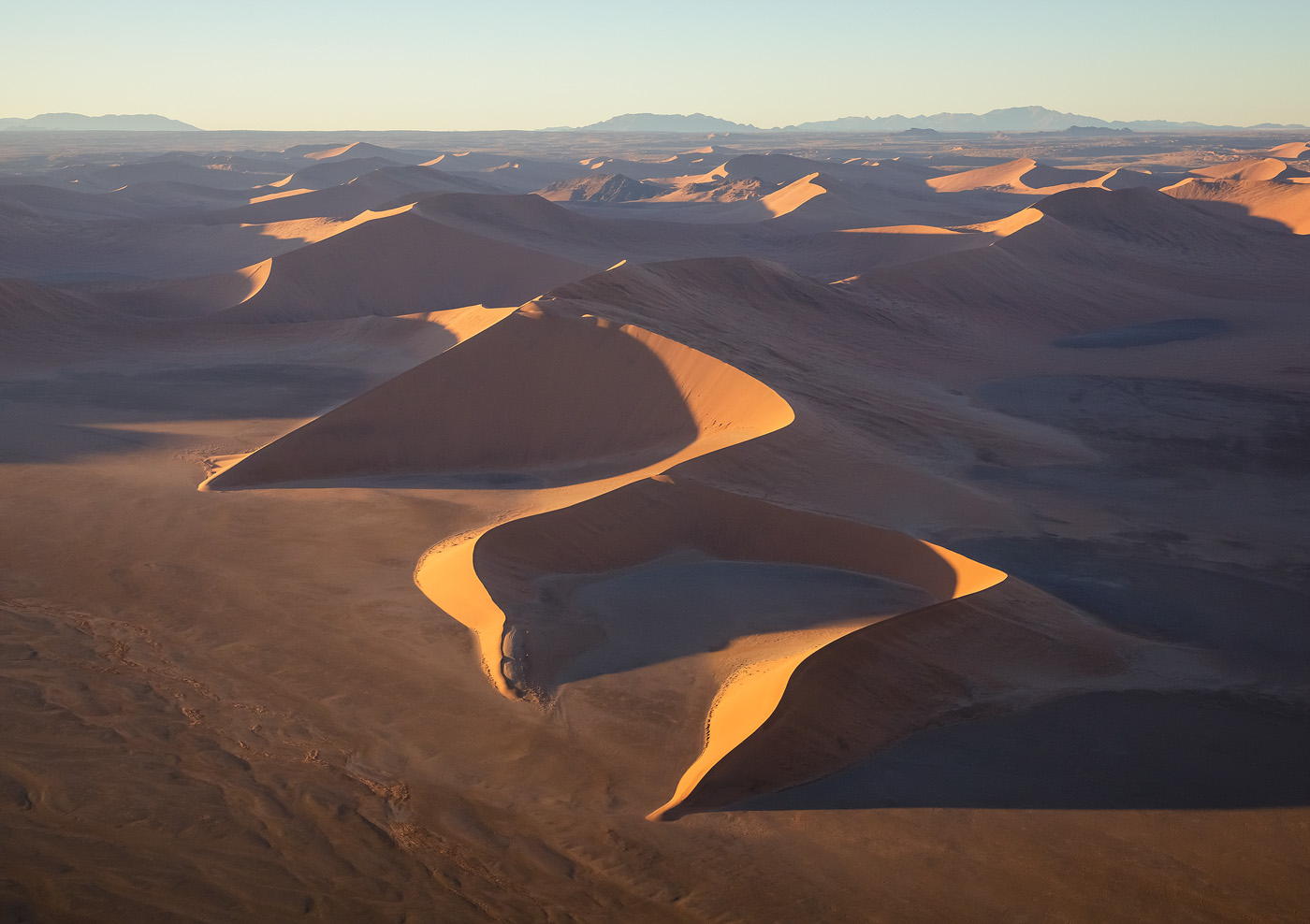 Day 9 On to Extension/Back to Windhoek
After a last sunrise at Sossusvlei, we'll say goodbye to the sands of the Namib. The participants doing the 'Sea of Sand' annex will drive onward to Swakopmund, whereas the rest will be driven to the airport for their flights home. Expect an afternoon arrival in the airport.
Total Price: €7790 per person in double room for participants registering by August 31st, 2024;
€7890 for participants registering from September 1st, 2018 and until January 31st, 2025;
€7990 for participants registering afterwards.
Important: prices are dependent on exchange rate (see below for further details).
Single room supplement: €950
Deposit: €3490
Maximum Number of Participants: 8 photographers. Non-photographers are welcome at discounted rates - please contact me for details.
Physical Difficulty: Beginner. Temperatures will most probably range between 10-30 degrees Centigrade (Namibian winter) and weather is dry and very comfortable. There will be short hikes of up to 30 minutes, some on sand, to get to specific locations. The guides are always available to help with carrying the equipment and make your stay easier.
*Multiple discounts may or may not apply, please consult me.
Workshop Price Includes
Lodging on days 1-8. On each location we will stay in the best accommodation possible.
Private pickup and dropoff from Windhoek Hosea Kutako International Airport
Full board during the workshop. Since we'll go out early to shoot sunrise most of the days, breakfast will be either packed or served after the morning shoot
Professional photography guidance by an award-winning nature photographer
Professional local guide expert on Southern Africa
Travels in a spacious, comfortable, custom 4X4 vehicles
All entrance and photography fees and permits
Taxes on all services listed above
Workshop Price Does Not Include
Airfare to and from Windhoek Hosea Kutako International Airport
Airport pickup and dropoff outside of the workshop dates (taxis are cheap and comfortable)
Insurance. It is MANDATORY to insure yourself against physical injury, and highly recommended to insure your photo gear. Tour leaders will not be responsible in case of any personal injuries or damage to photographic gear as a result of an accident during the workshop. A good insurance policy can make a big difference should something happen, and ensure a safe return home.
Helicopter flight over Sossusvlei national park, offering the chance to do aerial photography of spectacular desert landscape (Heli flights are very affordable in Namibia at about $350 per person per hour - highly recommended!)
Alcoholic drinks
Non-meal-time snacks other than in lodges which offer them freely
Non-meal-time soft drinks other than in lodges which offer them freely
Single room supplement (€950)
Photography Equipment
A digital camera, preferrably a DSLR camera with a full-frame sensor, since these cameras have better low-light capabilities. However, a crop-sensor DSLR will also completely suffice. A compact camera can be used, as long as you understand its limitations.
A tripod, as light and as stable as possible. I recommend a carbon fiber tripod.
An ultra wide angle lens. For example, a Canon 17-40 on a FF sensor camera, or a Nikon 10-24 on a crop sensor camera.
A mid-range zoom lense such as a 24-70mm or a 24-105mm.
A telephoto zoom lens, such as a 70-300mm. you will strongly prefer to have a longer lens - I highly recommend being able to shoot at 400mm.
Recommended: a wide aperture ultra-wide angle such as the Sigma 14mm f/1.8 or Samyang 14mm f/2.5 for night photography.
Recommended: A camera remote.


Clothing
Breatheable clothing. A long-sleeve breathing shirt and hiking pants are important
A wide hat
A warm jacket for cold mornings and night shoots. Remember we are there in winter!
Hiking shoes

Other
Sun screen
Sun glasses
Headlight
Payment Procedure
In order to secure your spot, you are required to transfer a deposit of €3490. This deposit will be refunded only in case the workshop gets cancelled for some reason. For your comfort, the deposit can be payed either through PayPal or via bank transfer (contact me for details).
The full amount (after discounts if applicable) must be payed via wire transfer 90 days prior to the workshop starting date. You may pay with any major currency.
In the case you need to cancel your participation, a 67% refund (excluding deposit) will be given up to 75 days prior to the workshop starting date and a 33% refund up to 60 days prior to the workshop starting date.
Important note: The South African Rand (ZAR) is the currency I use to pay the suppliers, and it can be very volatile. In case the exchange rate with the Euro goes under 17.5 ZAR/EUR, the price will adjust proportionally to the quotient of 15 and the exchange rate at the time of payment.
Note: since this is a very small group and costs are very high, in case there is no one to share your room, you will be required to pay the single room supplement.
Disclaimer
The tour plan above is subject to change in extreme cases.
Night access is dependent a legal loophole that might not be available - it's down to luck and cannot be guaranteed.
Important: In order to join the workshop, you will be required to sign a contract that establishes that the tour leaders are not responsible to physical or proprietary damages, and that you understand and accept several behavioral standards (including not taking excessive risk), necessary to ensure the workshop's success and your safe return.
Erez Marom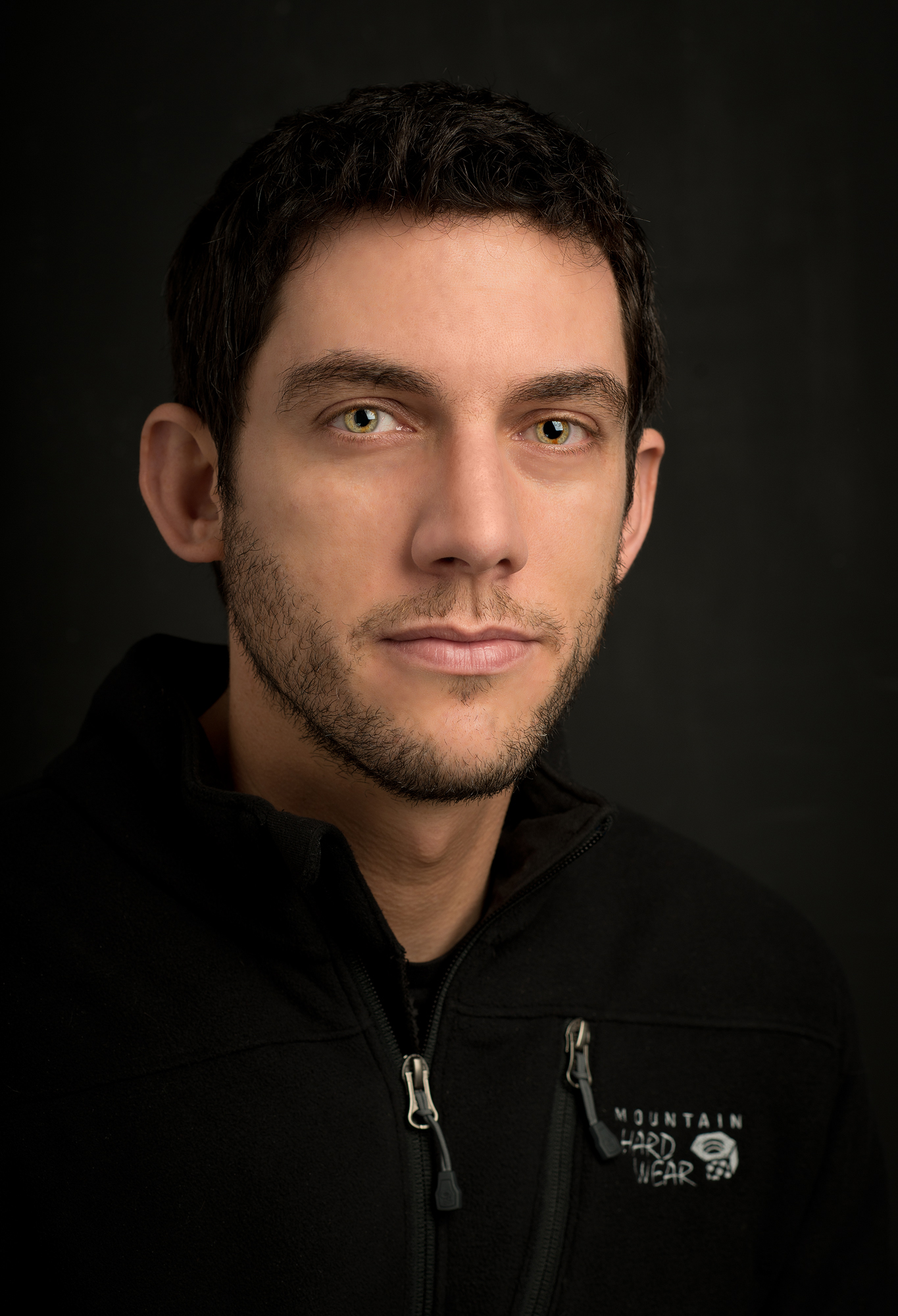 Born in 1980, Erez Marom is a full-time nature photographer, photography guide, writer and traveler-adventurer based in Israel. Specializing in landscape and wildlife photography, Erez spends much of his time in the field shooting the wildlife and scenery of his favorite locations in Israel and overseas.
In addition, Erez publishes articles and instructional texts in leading magazines and websites, and dedicates a considerable amount of his time to sharing his experience and knowledge by lecturing worldwide and traveling several times a year to guide his unique photography workshops.