'THE WILD ISLES' - INDONESIA WORKSHOP ANNEX
Price: €5990 pp (or $US equivalent) / Deposit: €2490 pp
AVAILABILITY
12th - 21st May 2023 - Last Places
Seamlessly continuing after the main 'Ring of Fire' Indonesia workshop, this 10-day annex will take us deep into 2 more incredible locations. The first will be Northern Sulawesi, where we will explore Tangkoko National Park for crested macaques, exotic hornbills and delicate tarsiers. The second will be Belitung Island, with its unique natural features and many stunning surrounding islands and rock formations.
This trip isn't hard phisically, and it will take you to less-visited photographic locations in the vast Indonesian archipelago. It is the perfect addition for the main workshop if you just can't get enough of this beautiful country.
Main Features
A further 10 days right after the main workshop, complementing it perfectly.
Stunning wildlife in Tangkoko National Park: crested macaques in the morning, hornbills in the afternoon, tarsiers in the evening
Beautiful landscapes in Belitung Island.
Another incredible volcano: Anak Krakatau
A full day's private boat sail between the many tiny islands surrounding Belitung
Small group size (max 8) guarantees unparalleled personal attention
Professional photo guidance by an experienced, award-winning landscape photographer and by a local professional photo guide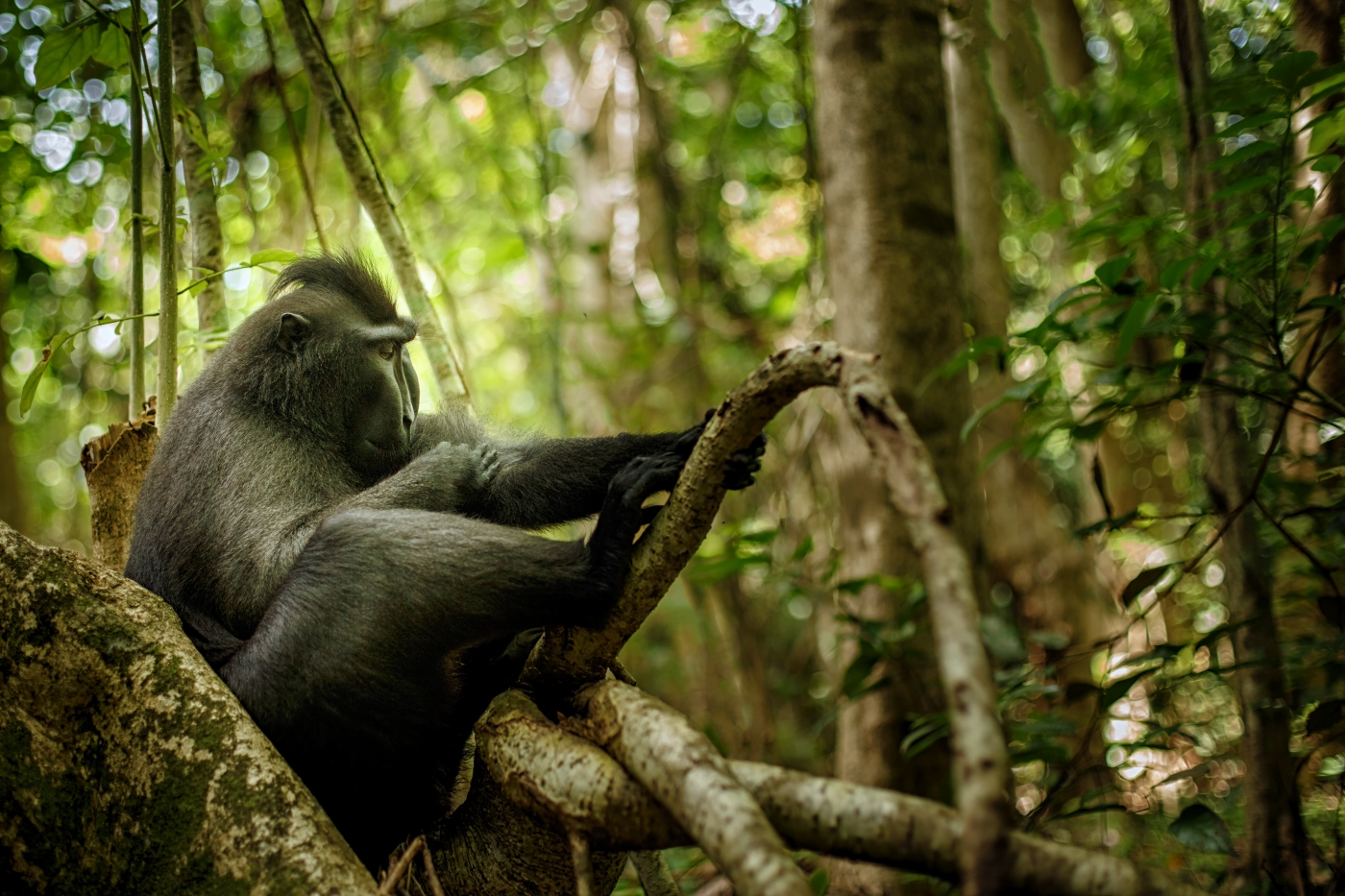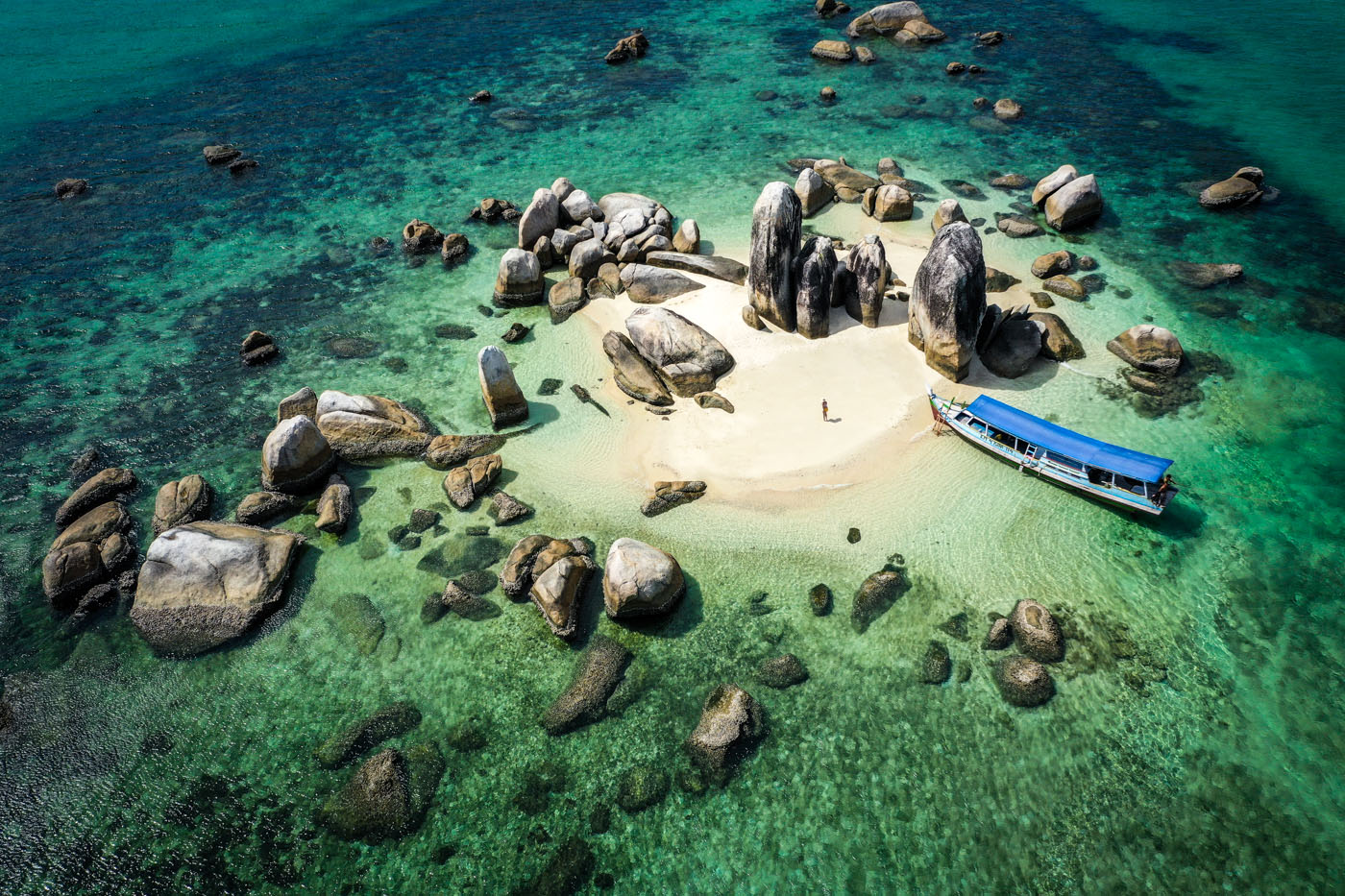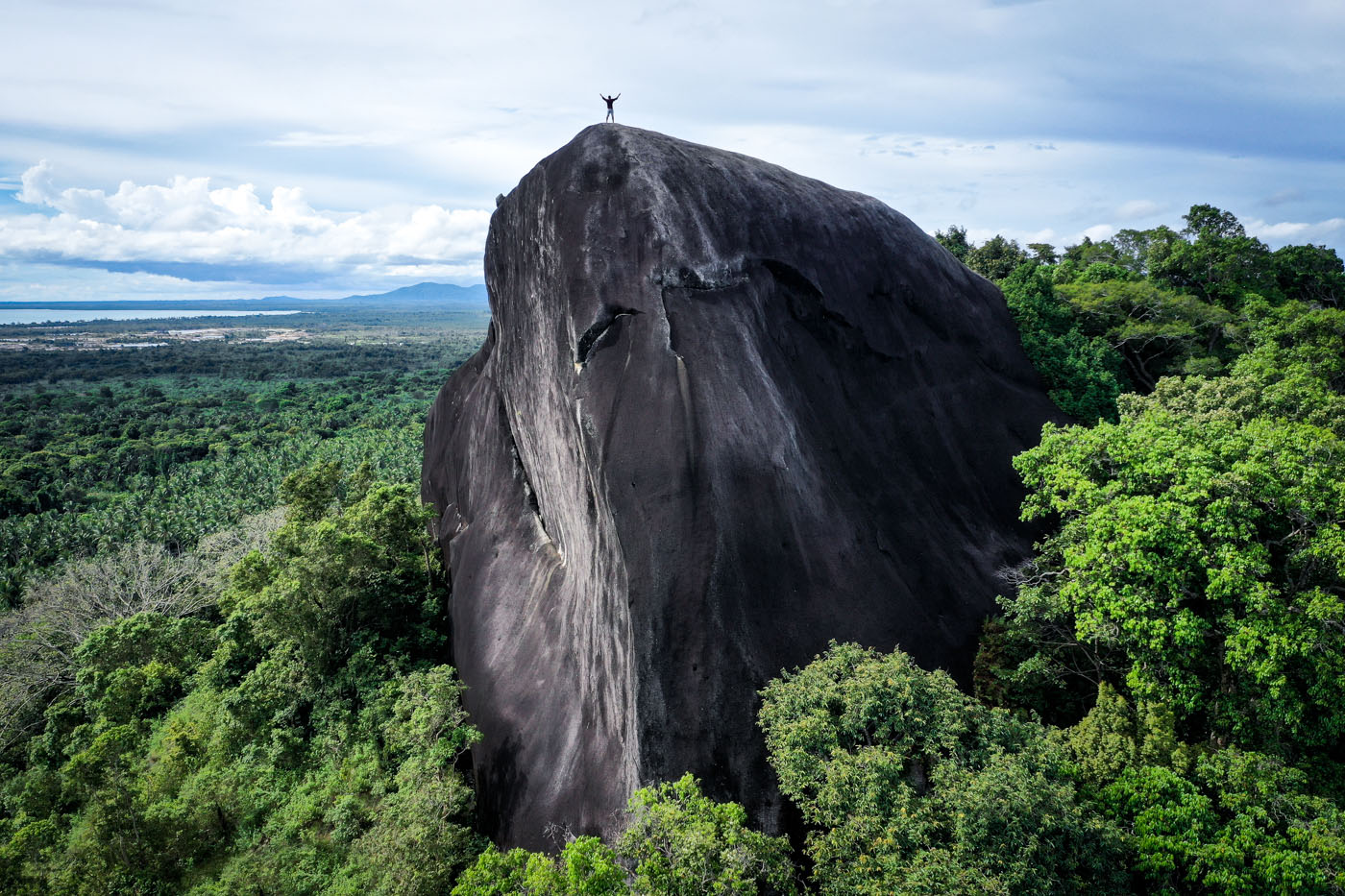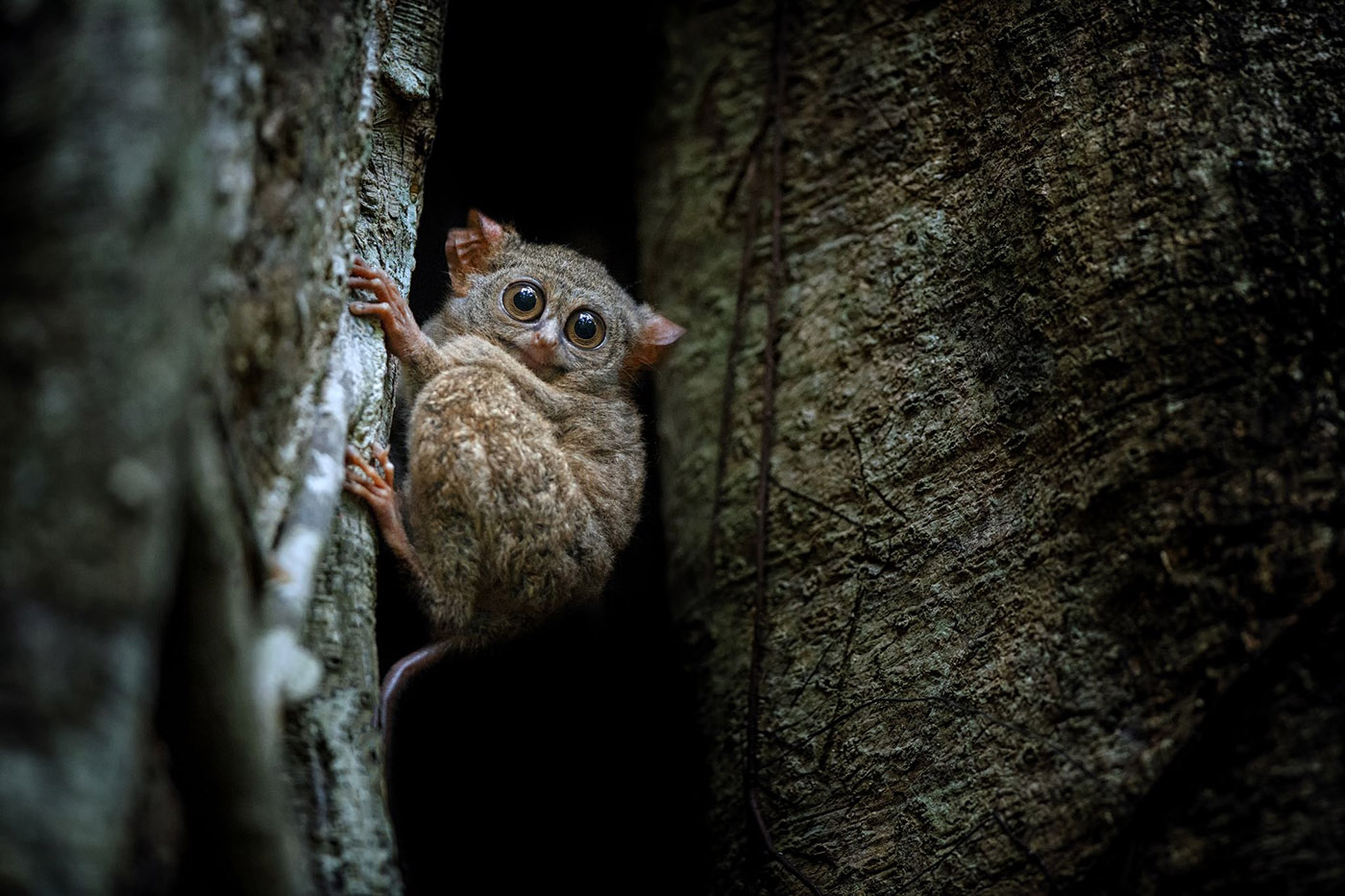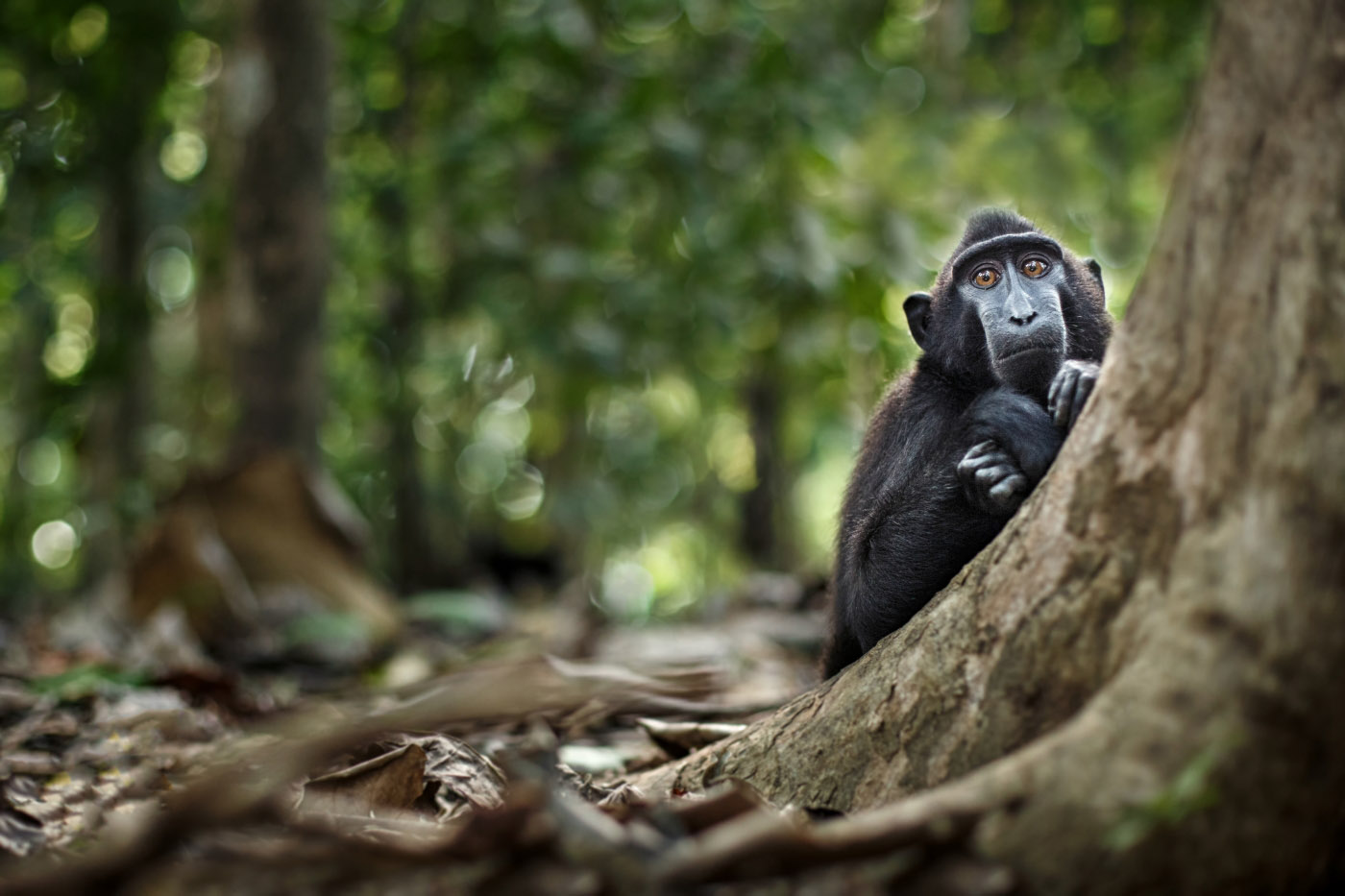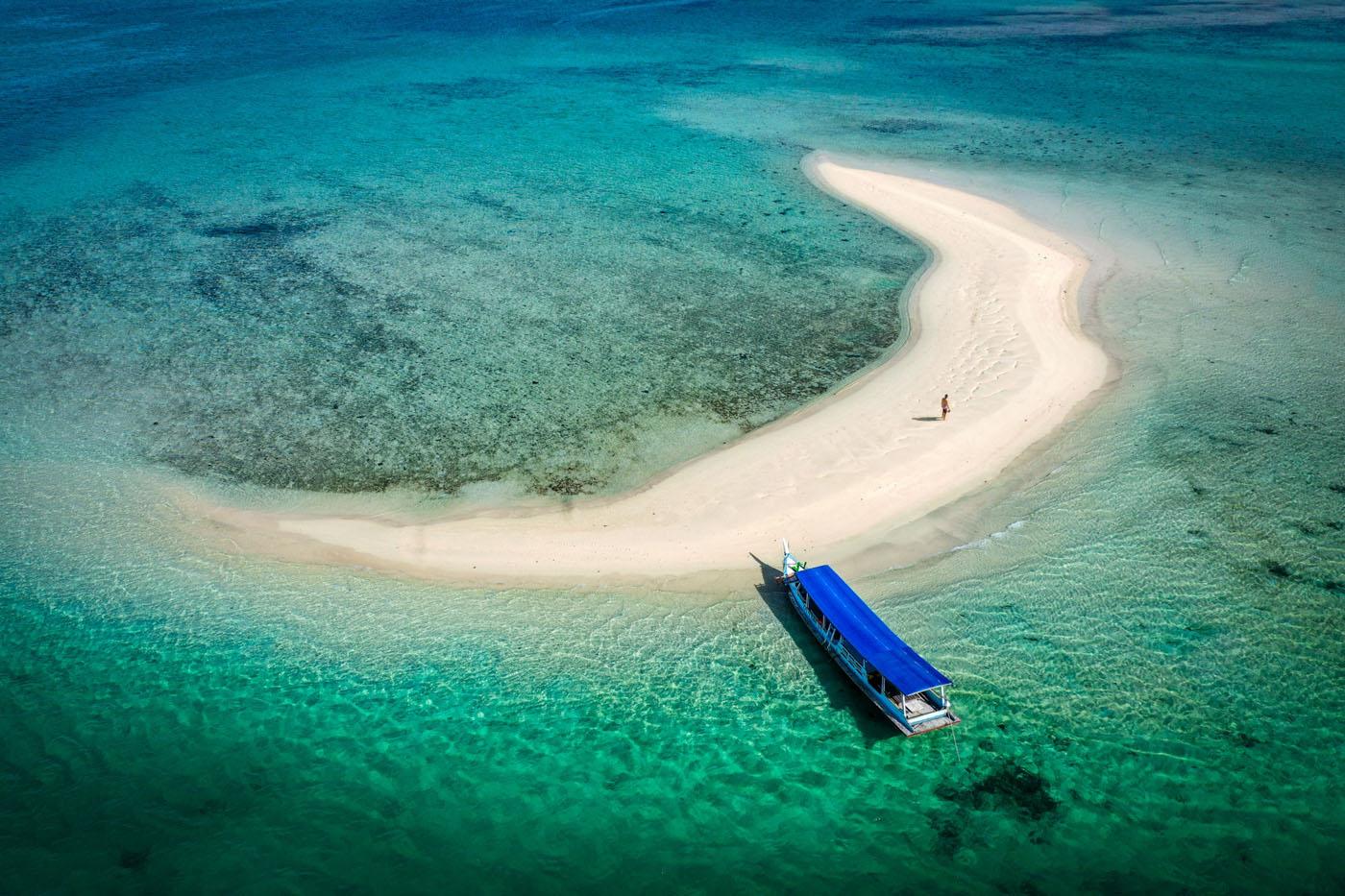 Day 1 Journey to Northern Sulawesi
After saying goodbye to the rest of the group in Bali, we'll take a direct continuation flight to another island: Sulawesi. Sulawesi is highly volcanic like the rest of Indonesia, but it's also wilder, with less agriculture and more hunting, fewer fields and more jungle. After landing in Manado, the main city of northern Sulawesi, we'll take a short drive to Bitung, a smaller town at the foot of Mount Dua Saudara. We will have dinner and discuss the three upcoming days in Tangkoko National Park.
Days 2-4 Tangkoko National Park
We will spend 3 full days exploring and shooting the incredible and diverse wildlife of Tangkoko. The mornings will be dedicated to the Celebes crested macaque.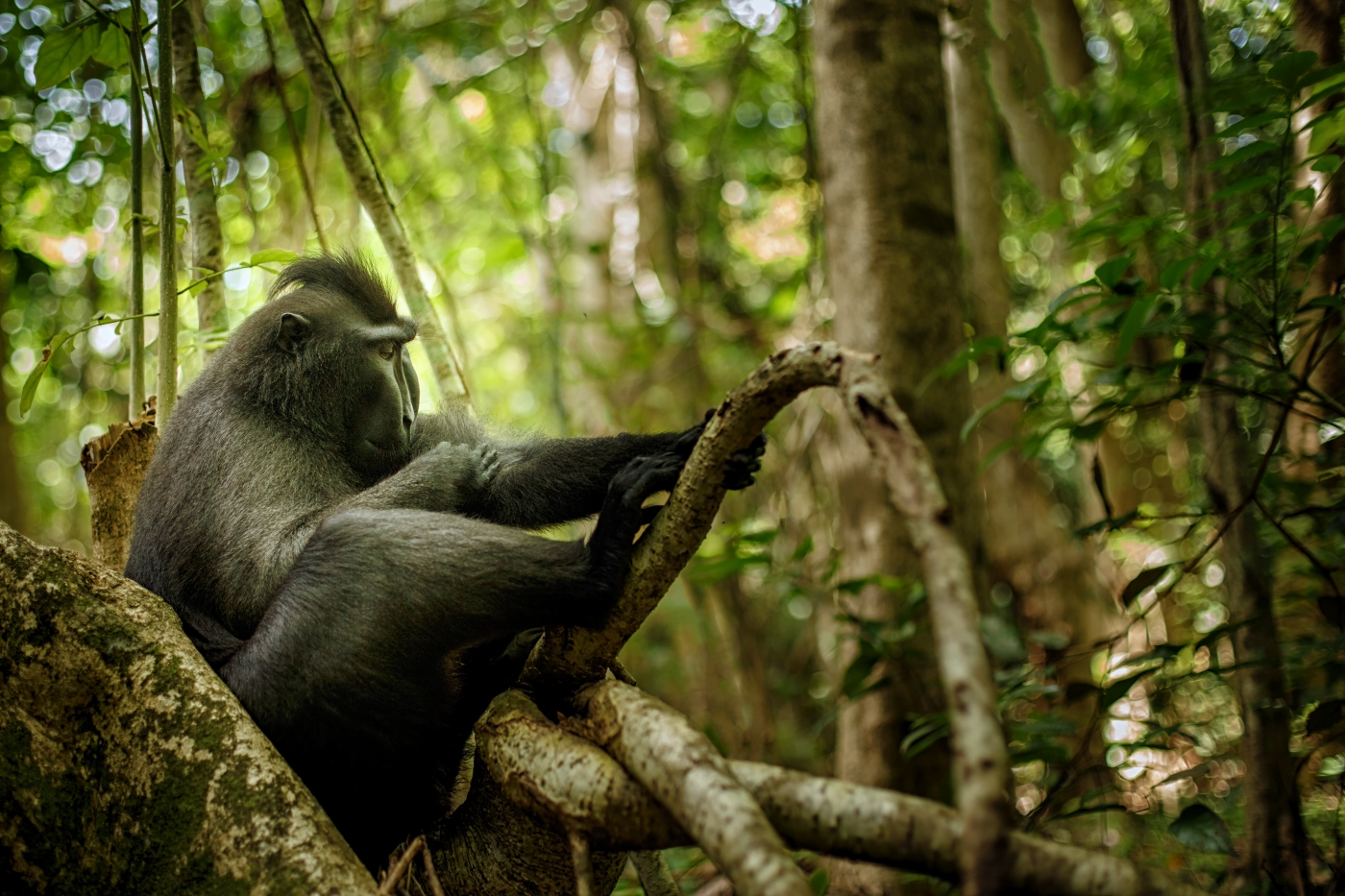 Locally known as yaki or wolai, its skin and hairless face is, with the exception of some white hair in the shoulder range, entirely jet black. Unusual for a primate, it has striking reddish-brown eyes. A diurnal rain forest dweller, this macaque is primarily terrestrial, spending more than 60% of its day on the ground foraging for food and socializing, while sleeping and searching for food in the trees. It lives typically in groups of five to twenty-five animals. All these qualities make it a perfect photo subject, and we will invest most of our effort into shooting this beautiful and social animal.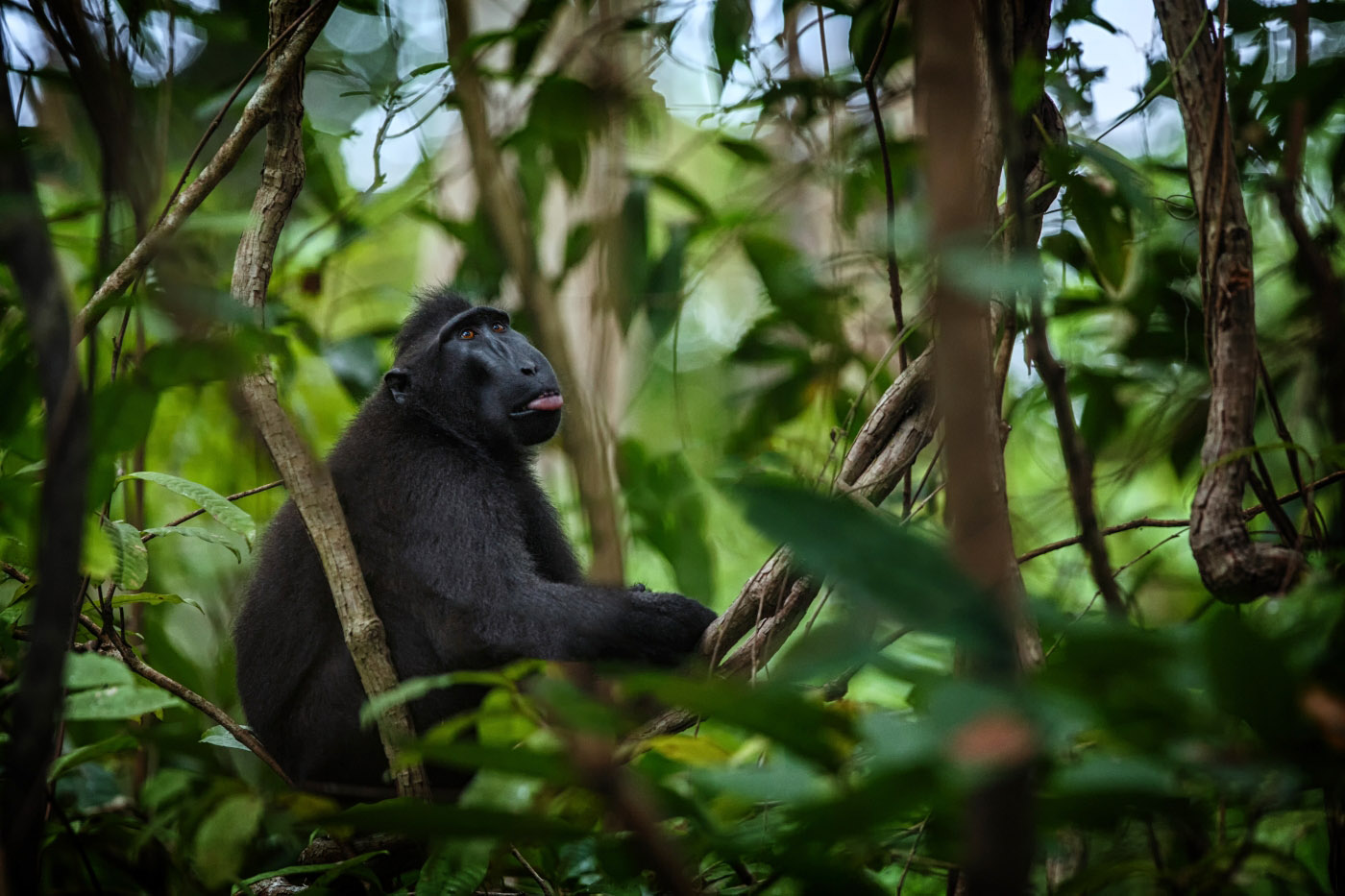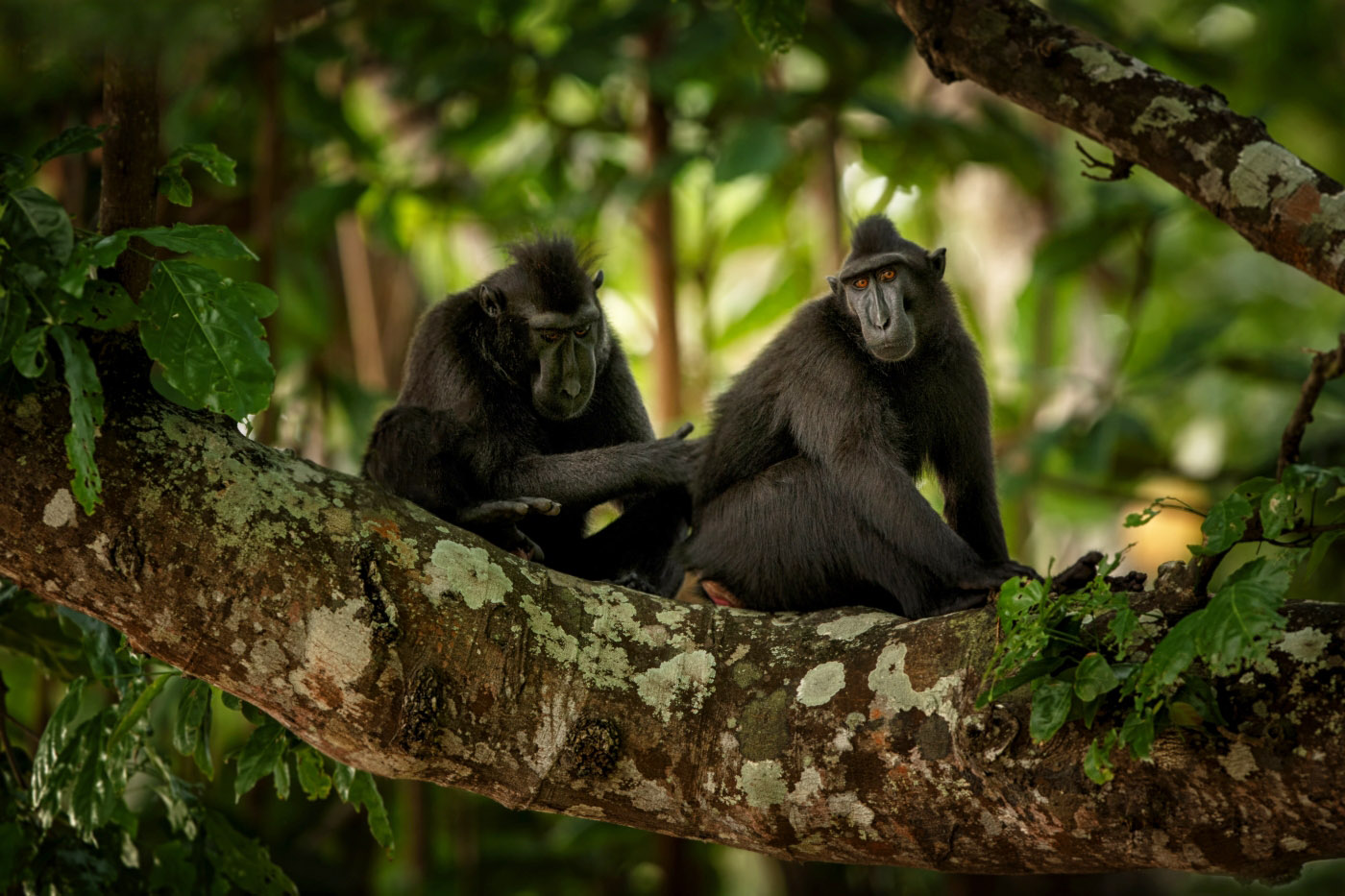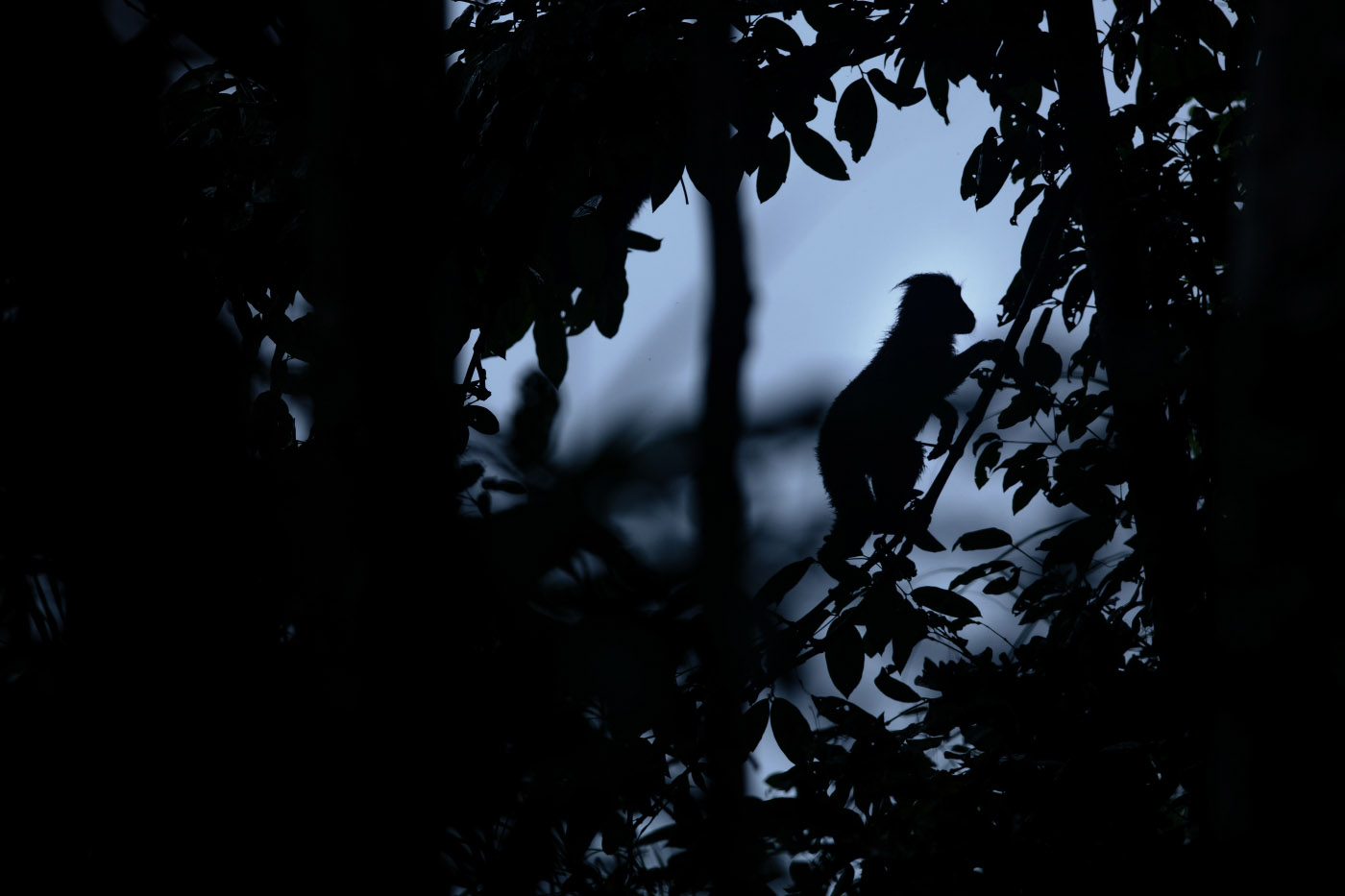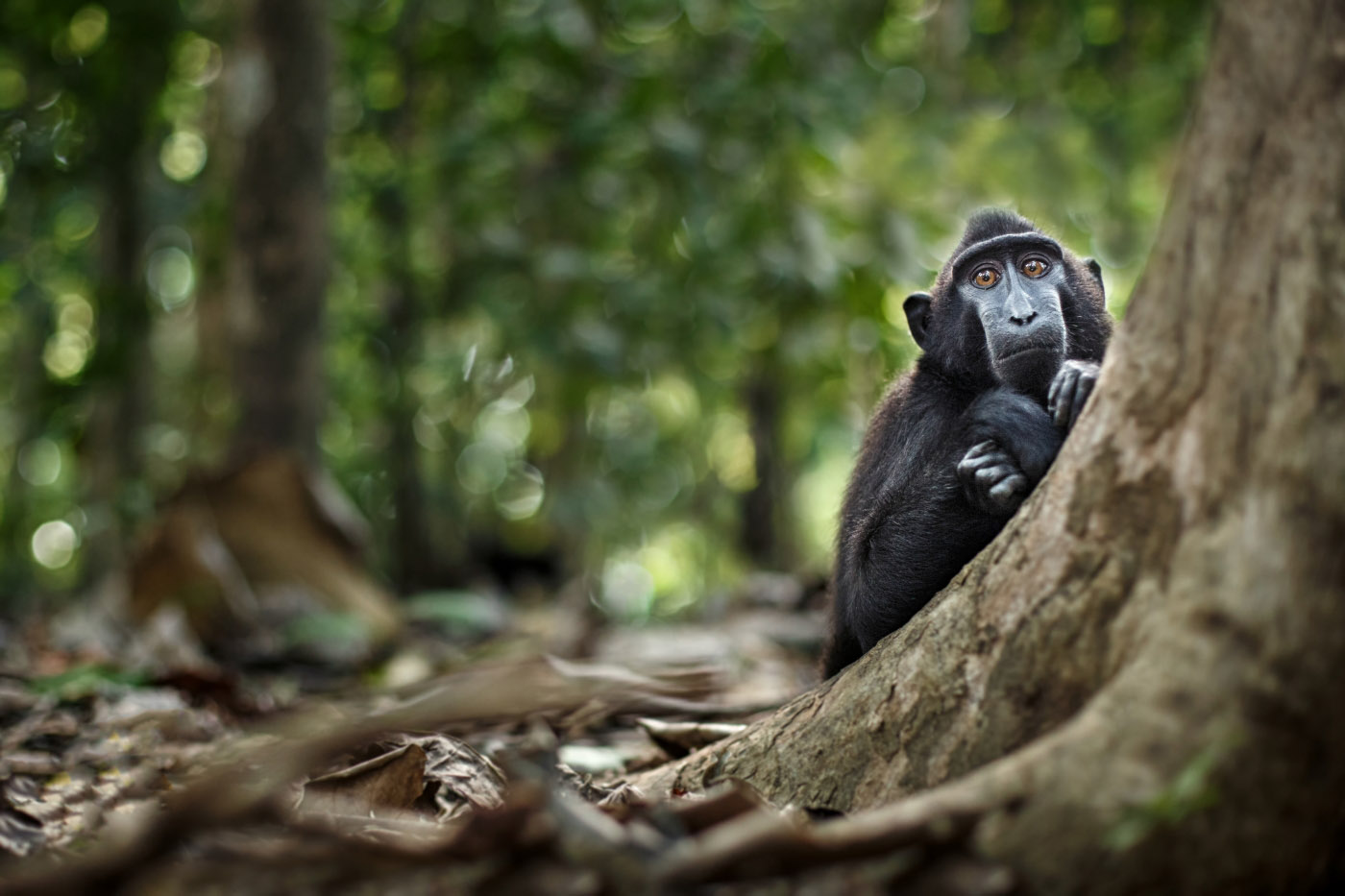 The afternoons will be dedicated to bird photography. There are many beautiful bird species in Tangkoko, but in my opinion, the hornbill takes the cake.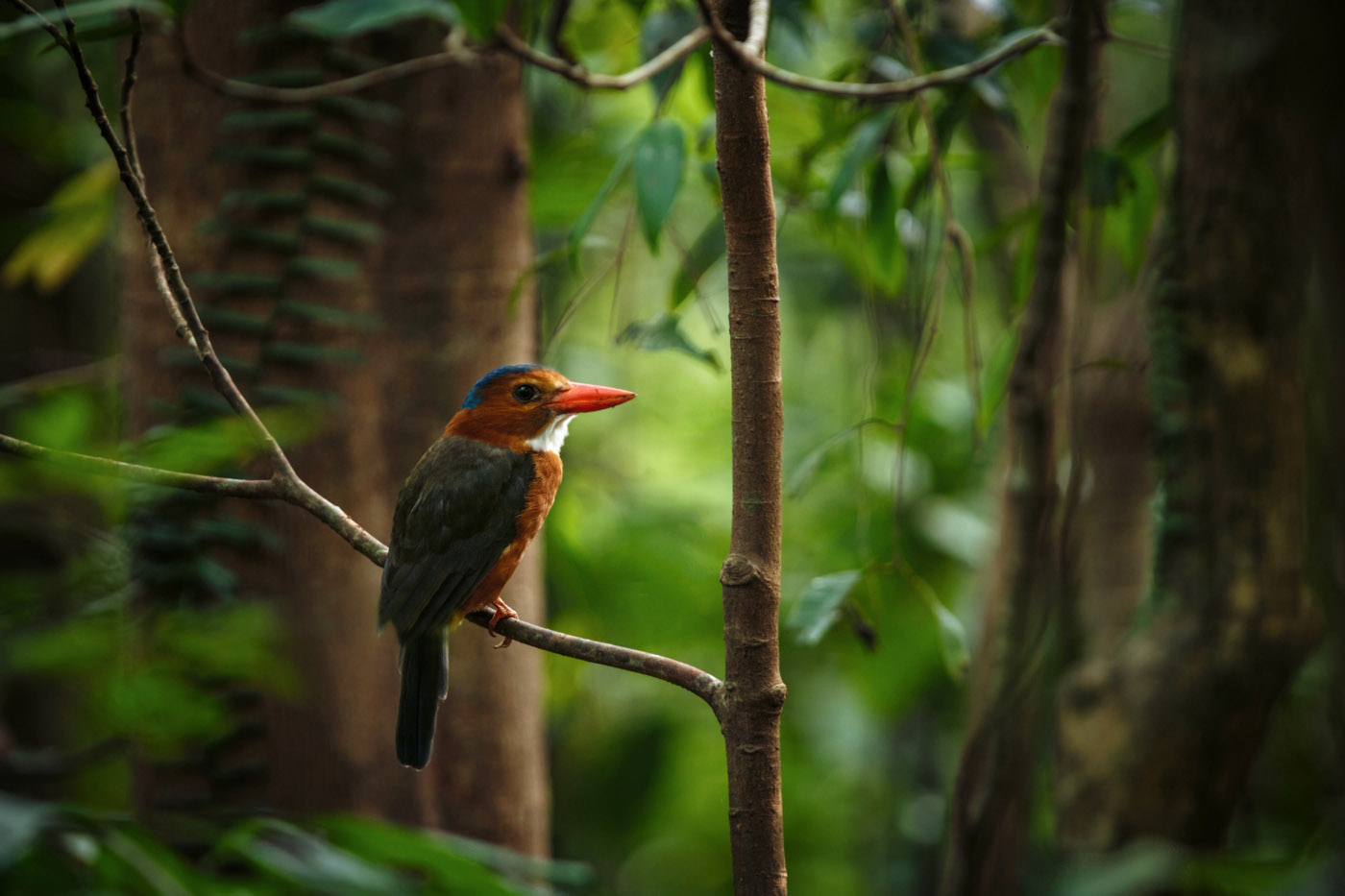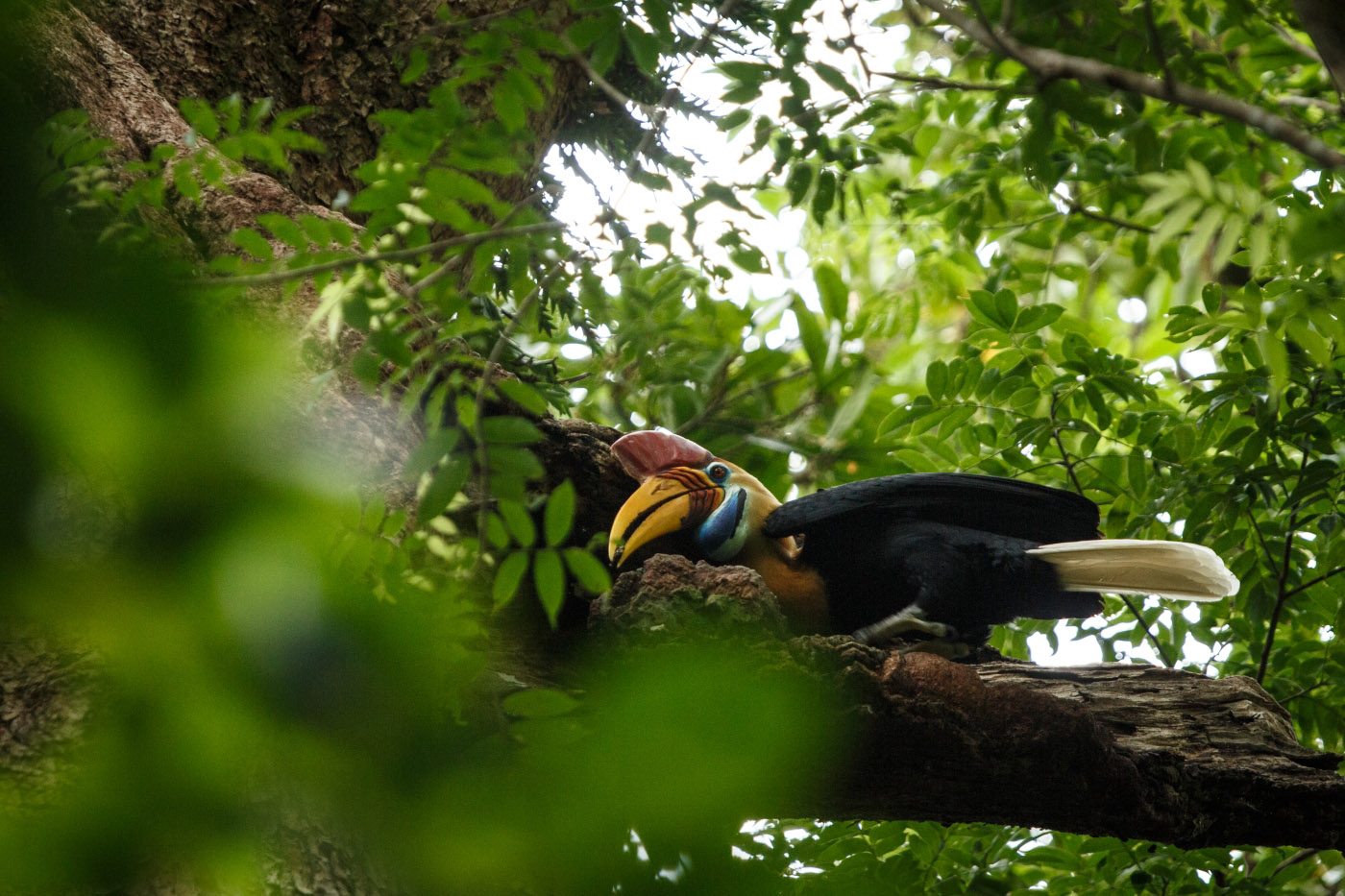 But that's not all! Come evening, the cutest creature emerges and starts foraging for insects to eat: the tiny tarsier. This beautiful little primate is found primarily in forested habitats, especially forests that have liana, since the vine gives tarsiers vertical support when climbing trees. Tarsiers start their activity in the late afternoon or early evening, and are active throughout the night. We'll do our best to track them using a local expert, and shoot them in low evening light.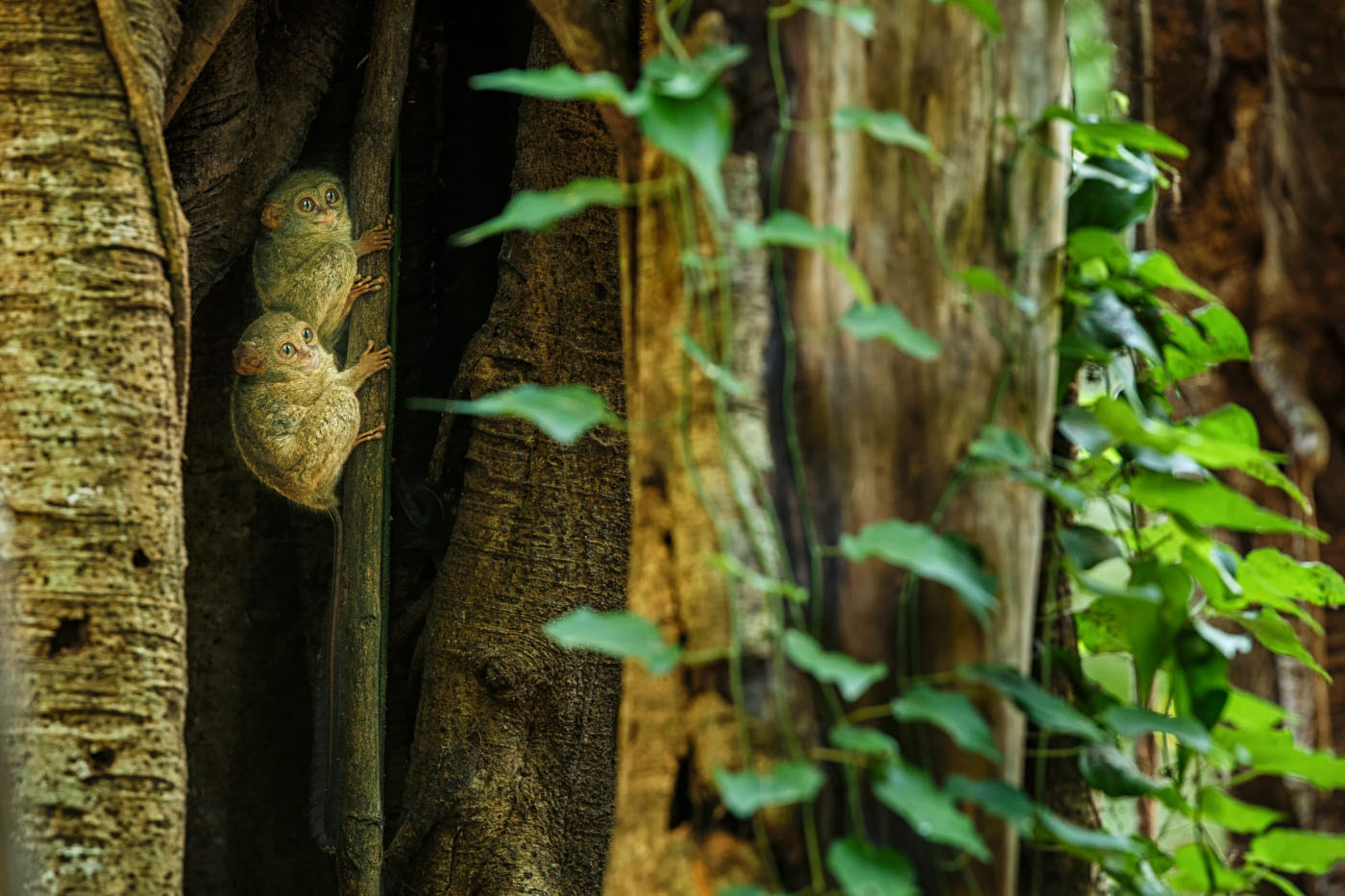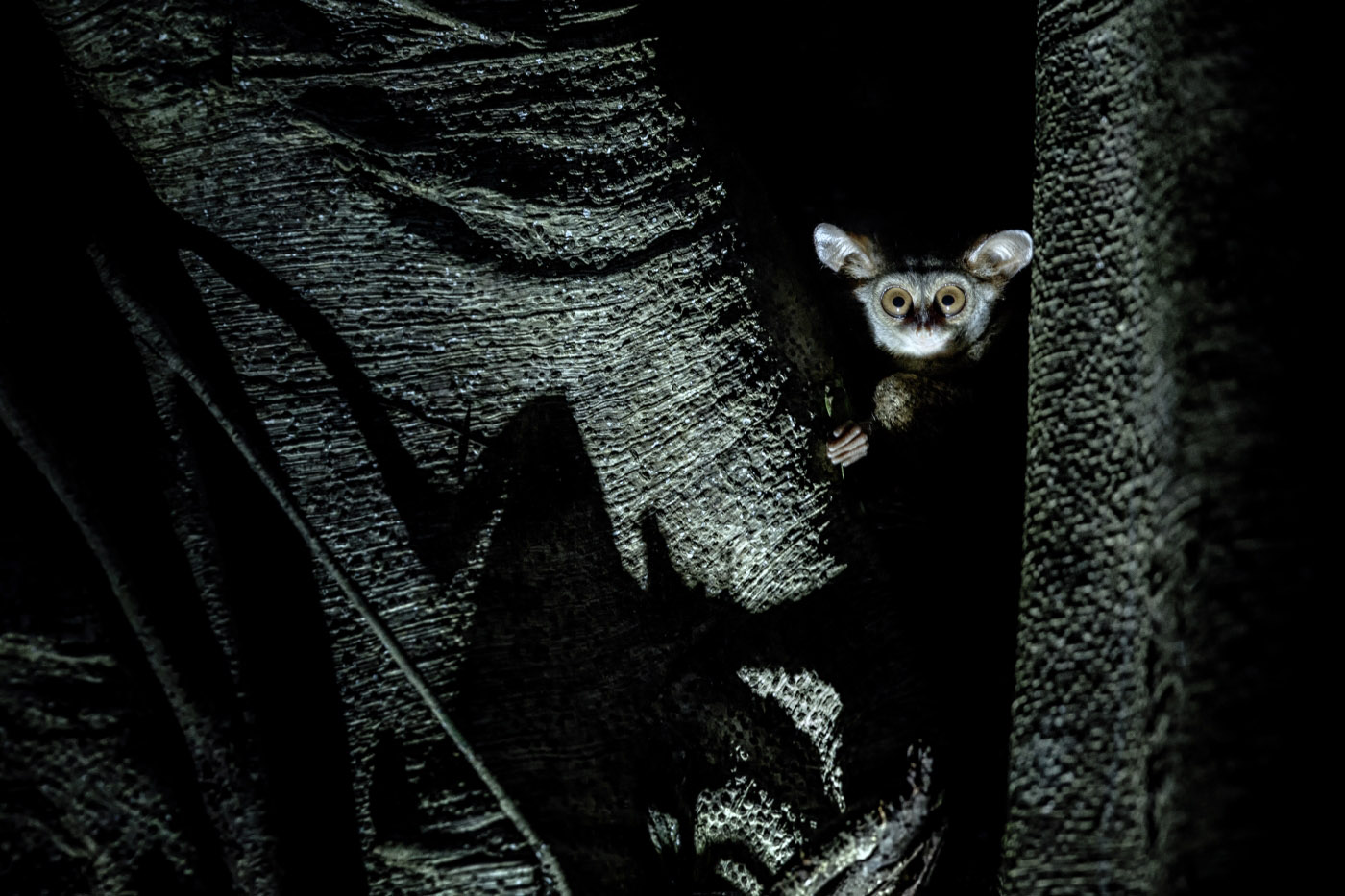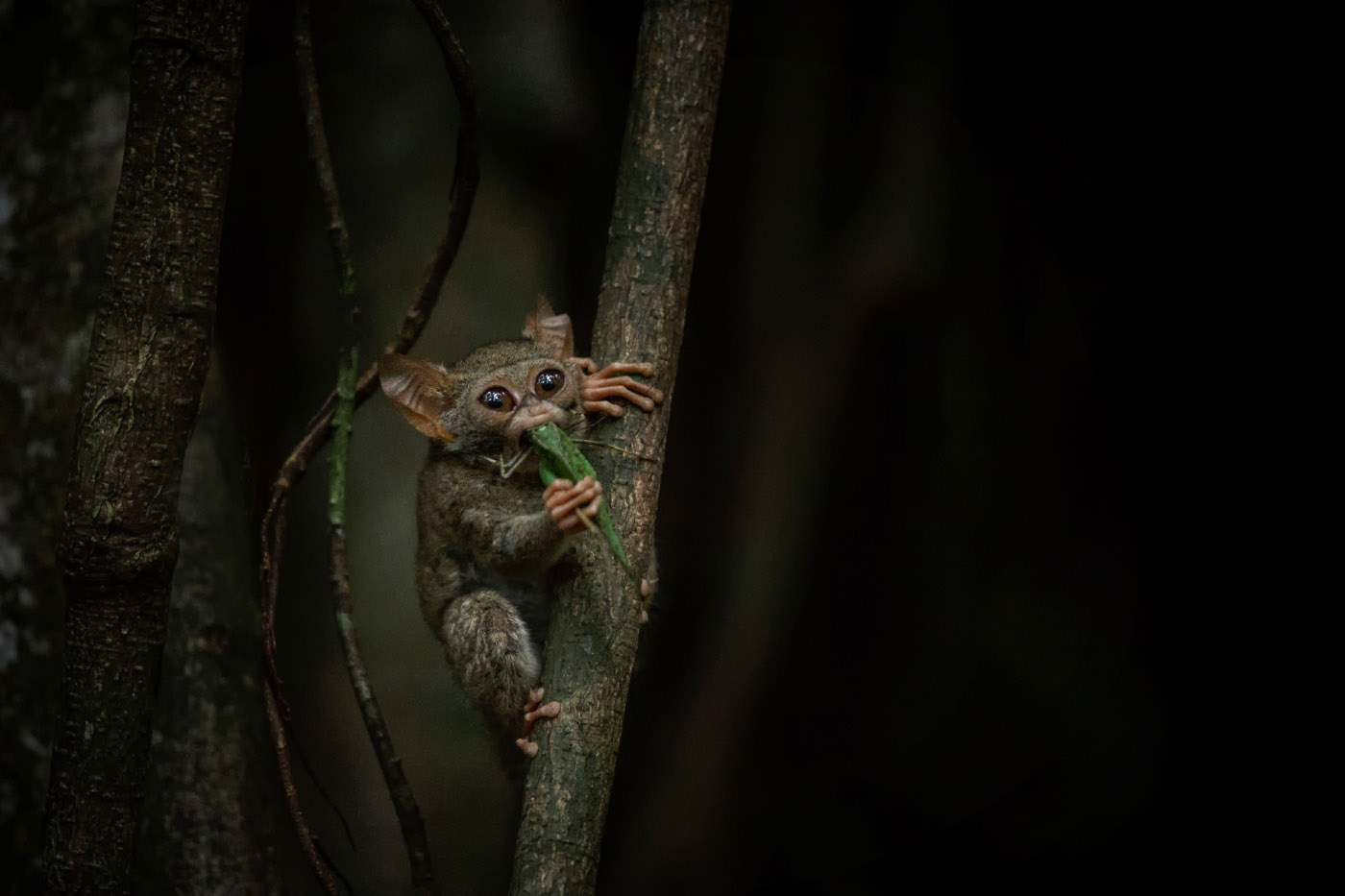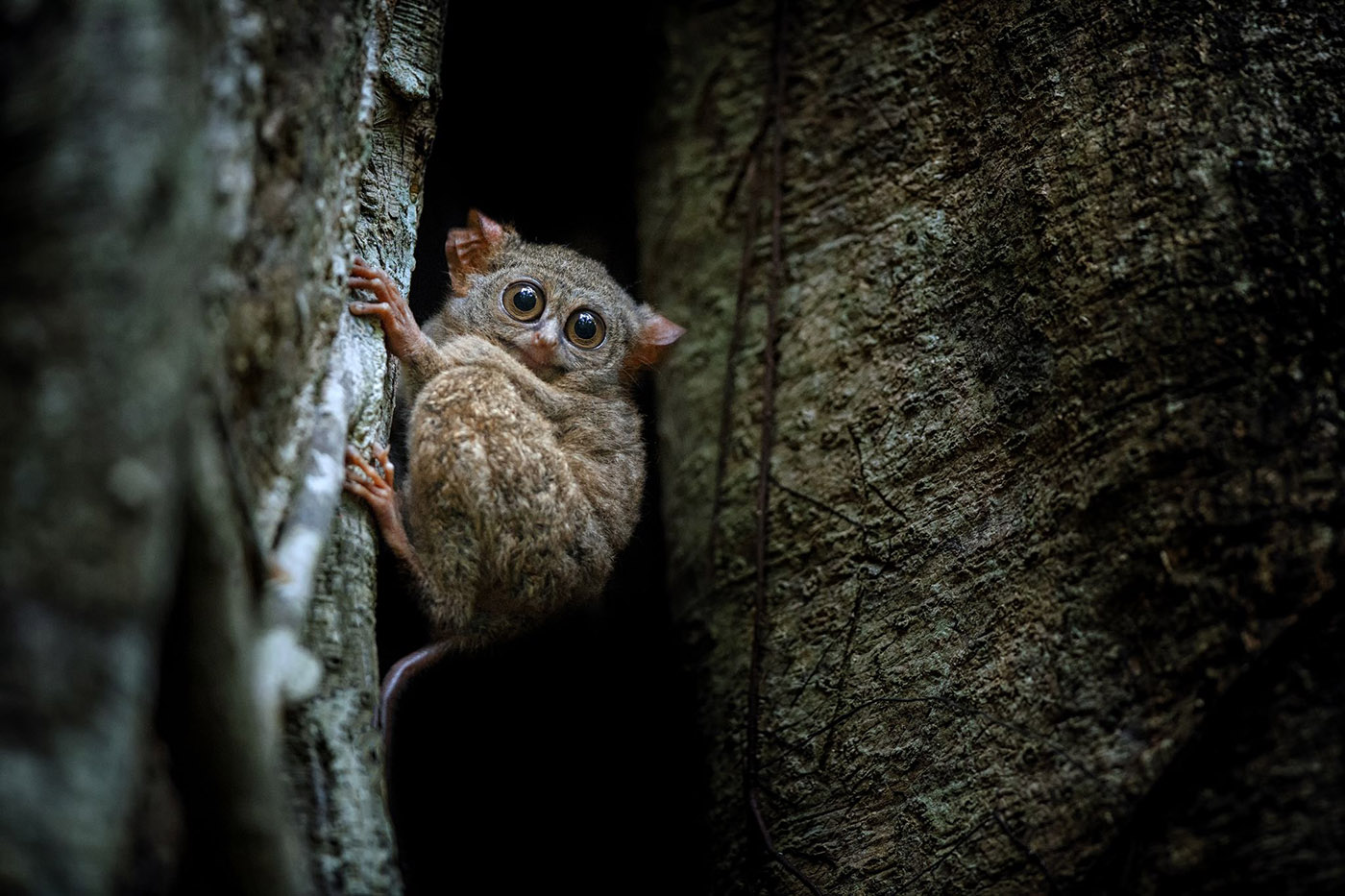 Days 5-6 Anak Krakatau
After a morning flight from Manado to Jakarta, we will take a 3-hour drive and settle in a hotel at the very western edge of Java Island. The next morning we will take a 2-3 hour boat ride to view one of the most interesting and historically important volcanoes in existence: Anak Krakatau.
Anak Krakatau (English: "Child of Krakatoa") is an island in a caldera in the Sunda Strait between the islands of Java and Sumatra in the Indonesian province of Lampung. On December 29, 1927, Anak Krakatoa emerged from the caldera formed in 1883 by the explosive volcanic eruption that destroyed the island of Krakatoa. There has been sporadic eruptive activity at the site since the late 20th century, culminating with a large underwater collapse of the volcano which caused a deadly tsunami in December 2018, followed by subsequent activity in 2019 and an eruption in April 2020. Due to its young age, the island is one of several in the area which are of considerable interest to volcanologists, and the subject of extensive study.
We wil shoot the volcano extensively from the land and from the air. I highly recommend bringing a drone to this shoot since it looks absolutely incredible from above. We will also venture onto the surrounding islands.
Days 7-10 Belitung Island
After breakfast, we will fly to Belitung Island: a small island on the east coast of Sumatra, in the Java Sea. Belitung offers several beautiful, easy-to-reach locations for us to conclude the trip with. On the day of our arrival, after settling in the hotel, we will shoot at Tanjung Tinggi, a beautiful beach with multiple granite rock formations.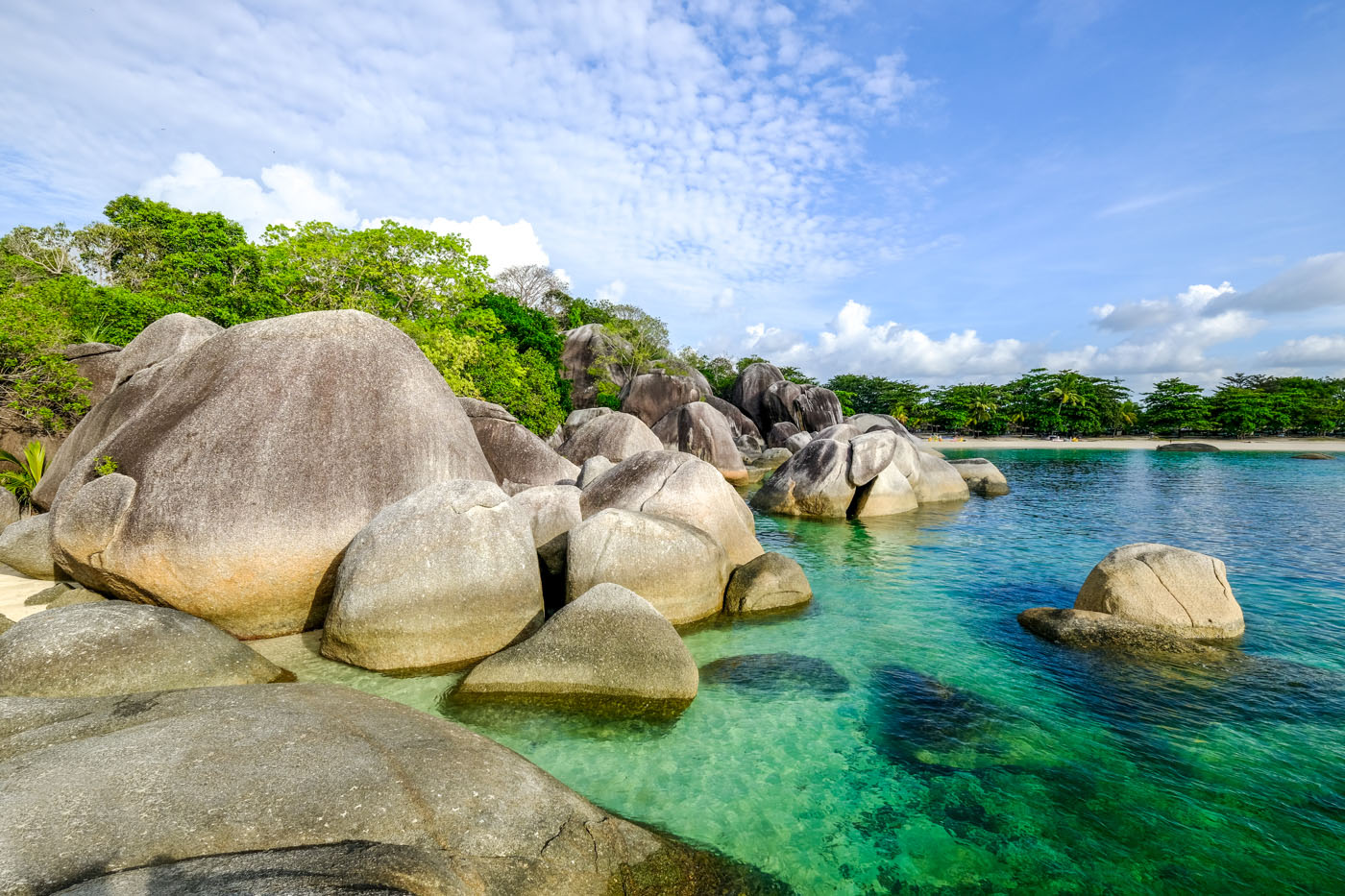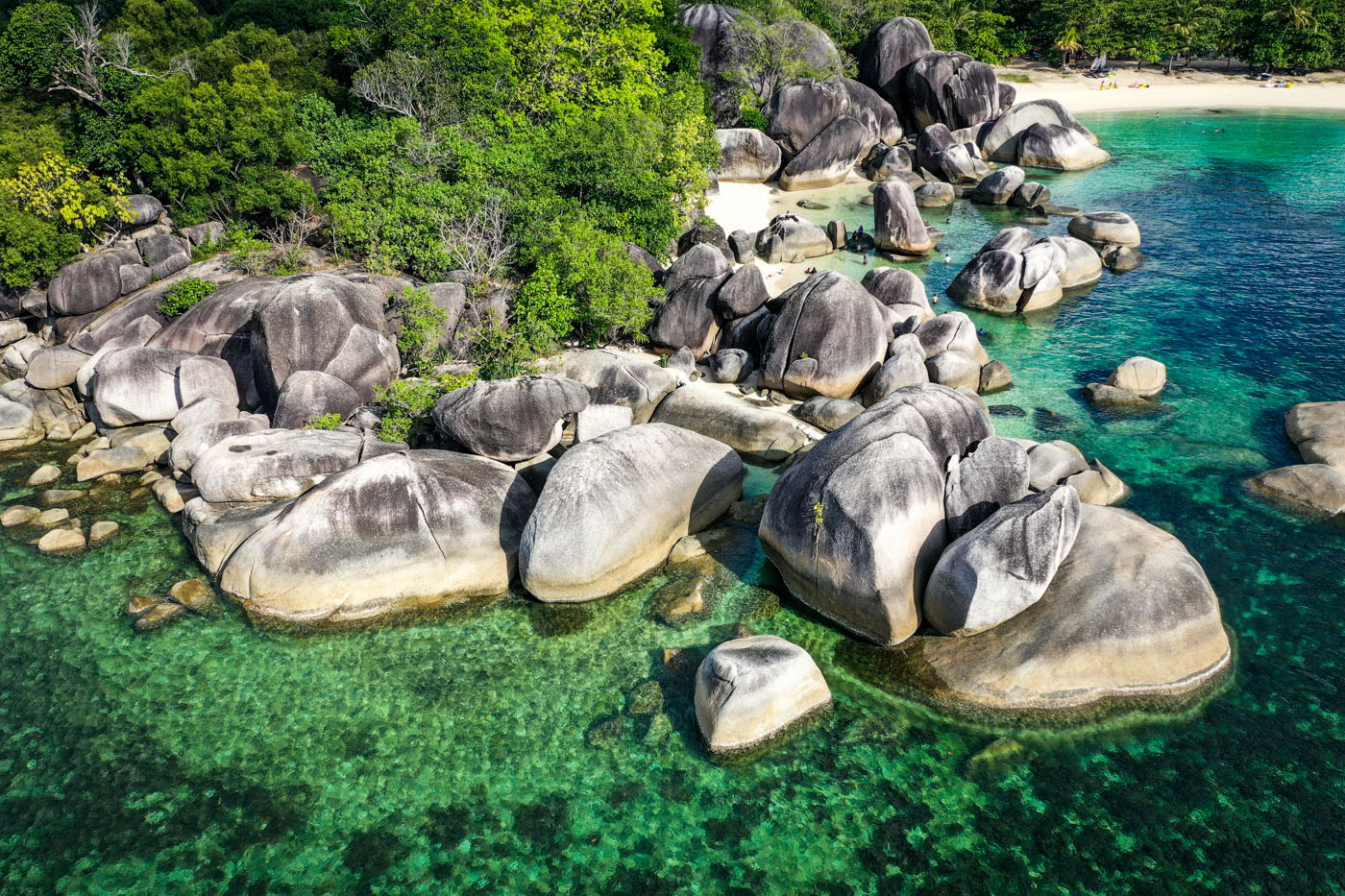 On the next day we'll cover two more fantastic spots. The first will be the huge monolith that is Batu Baginda. It might seem gigantic, but the climb is only 15 minutes, and the views are nothing short of spectacular! I highly recommend using a drone for this shoot.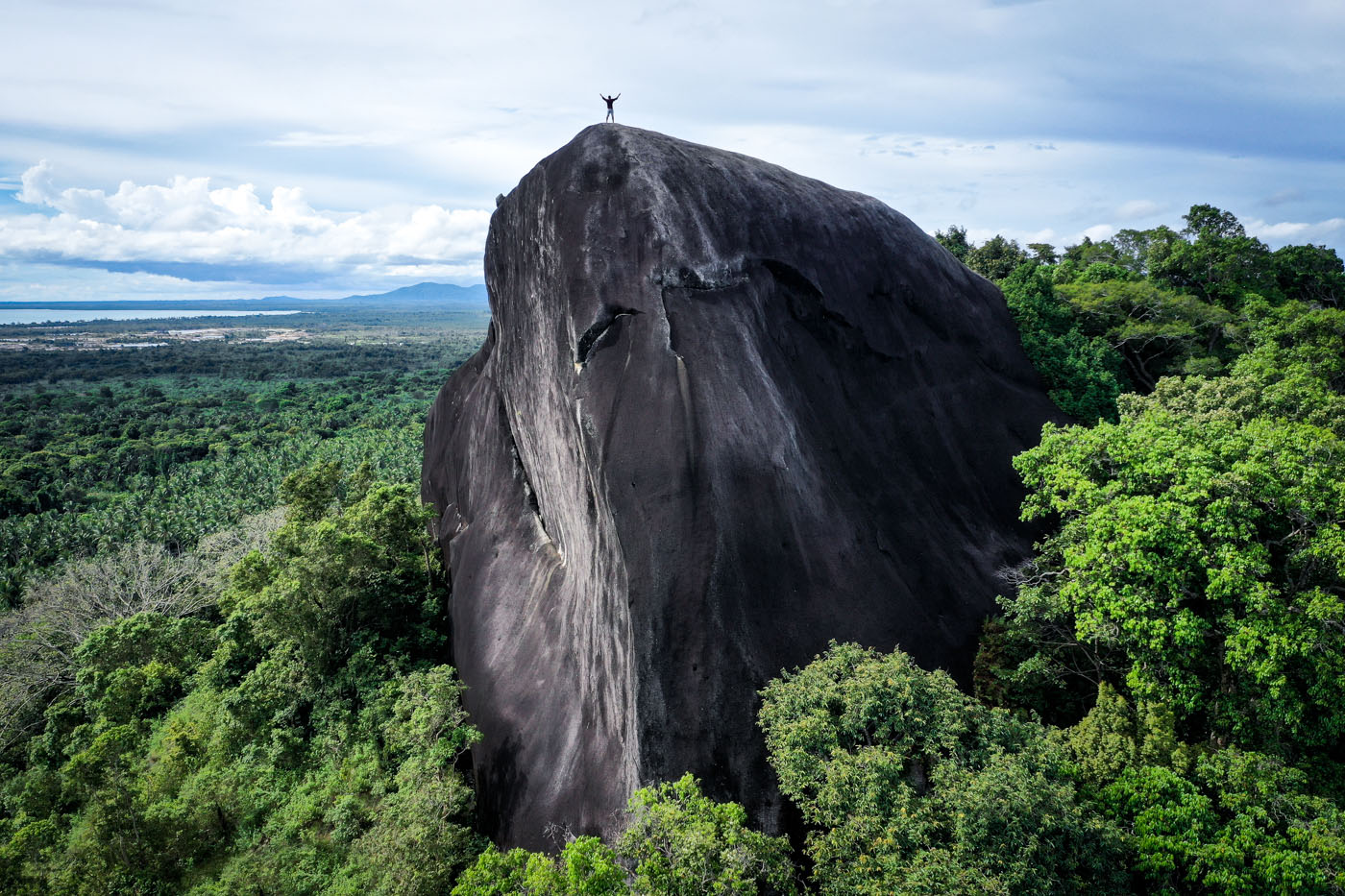 Before or after Batu Baginda (depending on weather conditions), we'll shoot another, very different granite rock beach: Pantai Penyabong.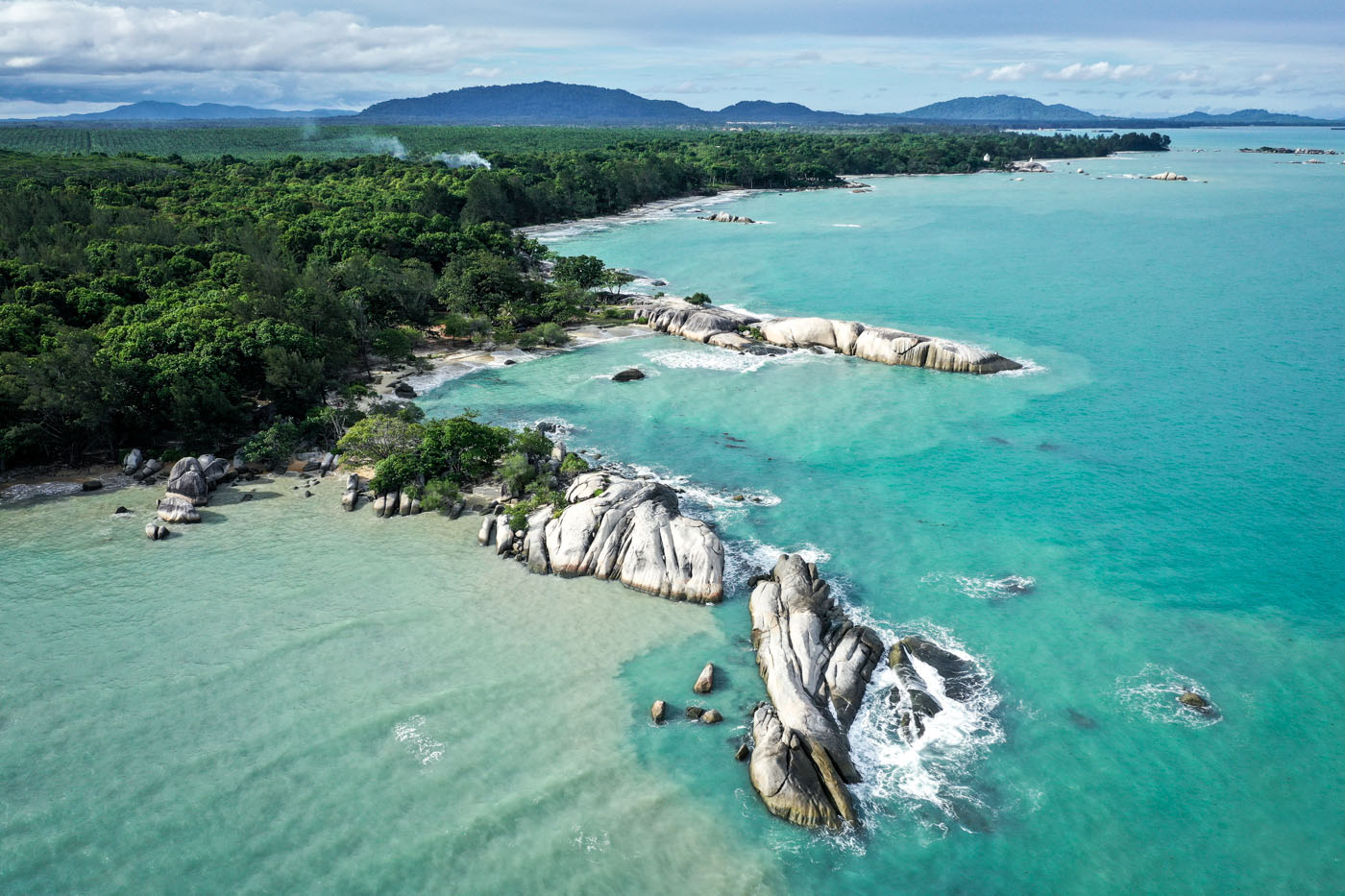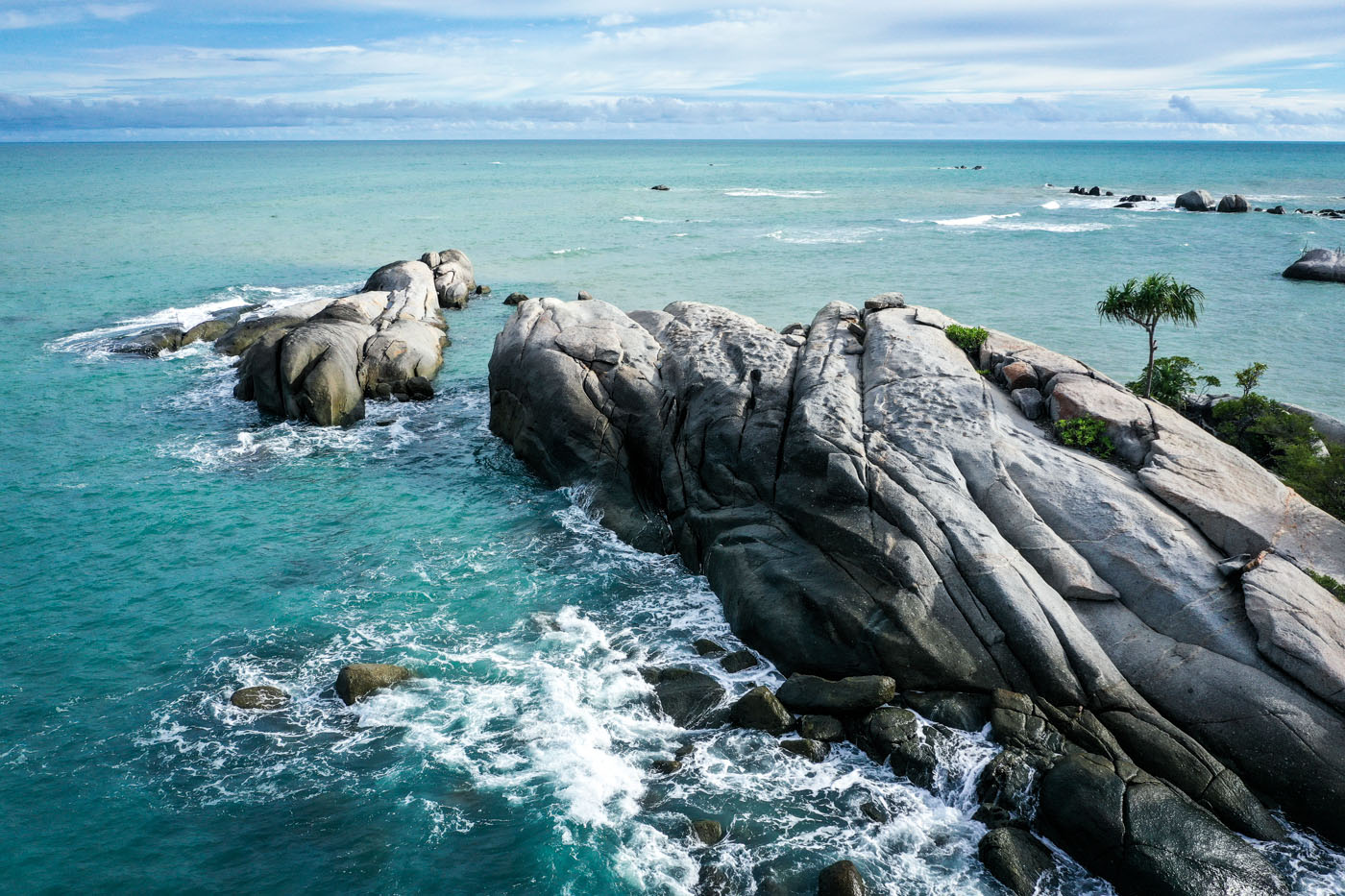 We will finish our long journey with a cherry on top: a full day island-hopping boat sail in the many, diverse and beautiful islands around Belitung. Each of these islands is a beauty on its own, and to think we can experience and shoot them in one day is pretty amazing. Here are some examples (kindly provided by TheWorldTravelGuy and used with permission), but there are many more to spark your imagination!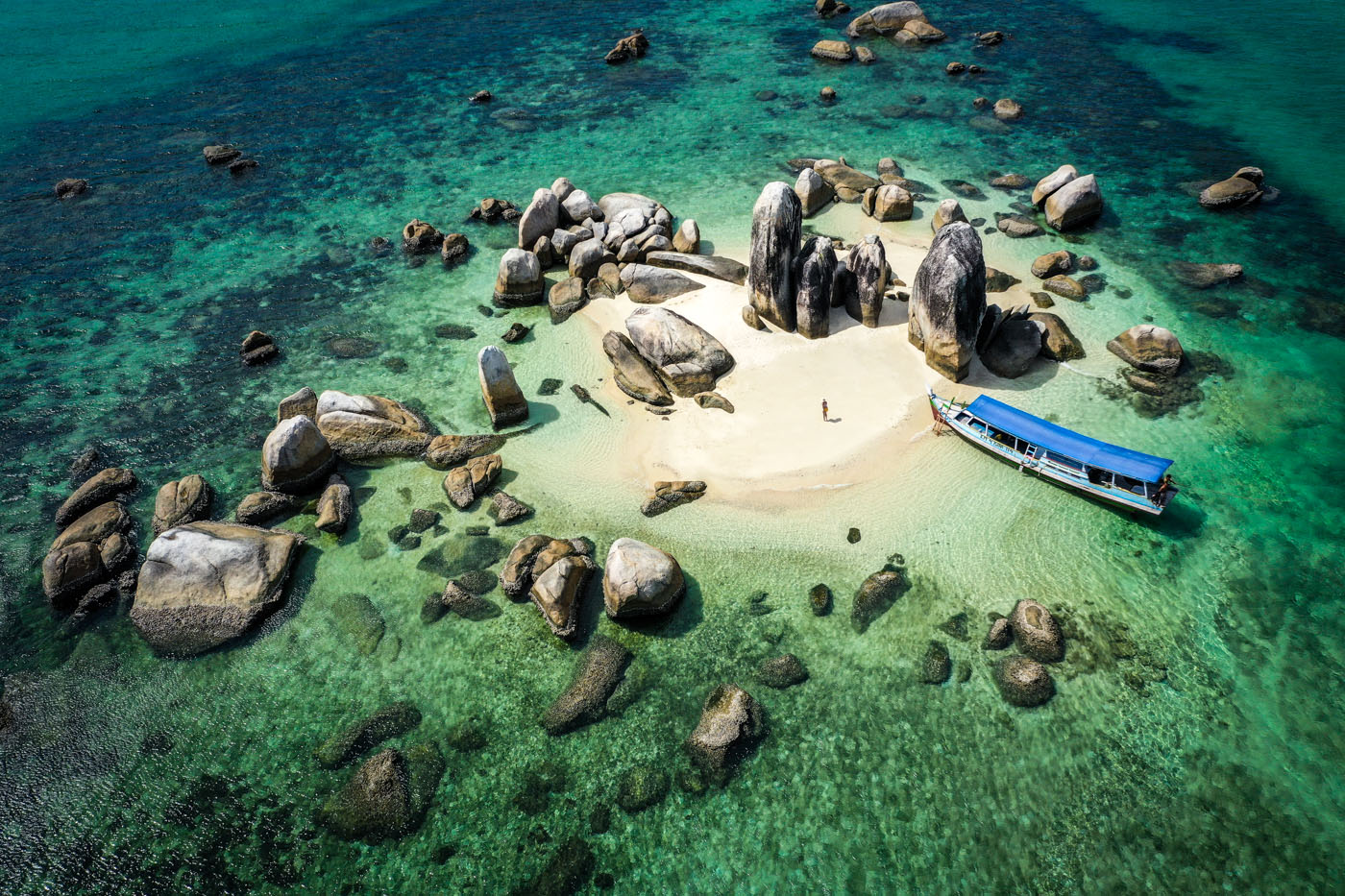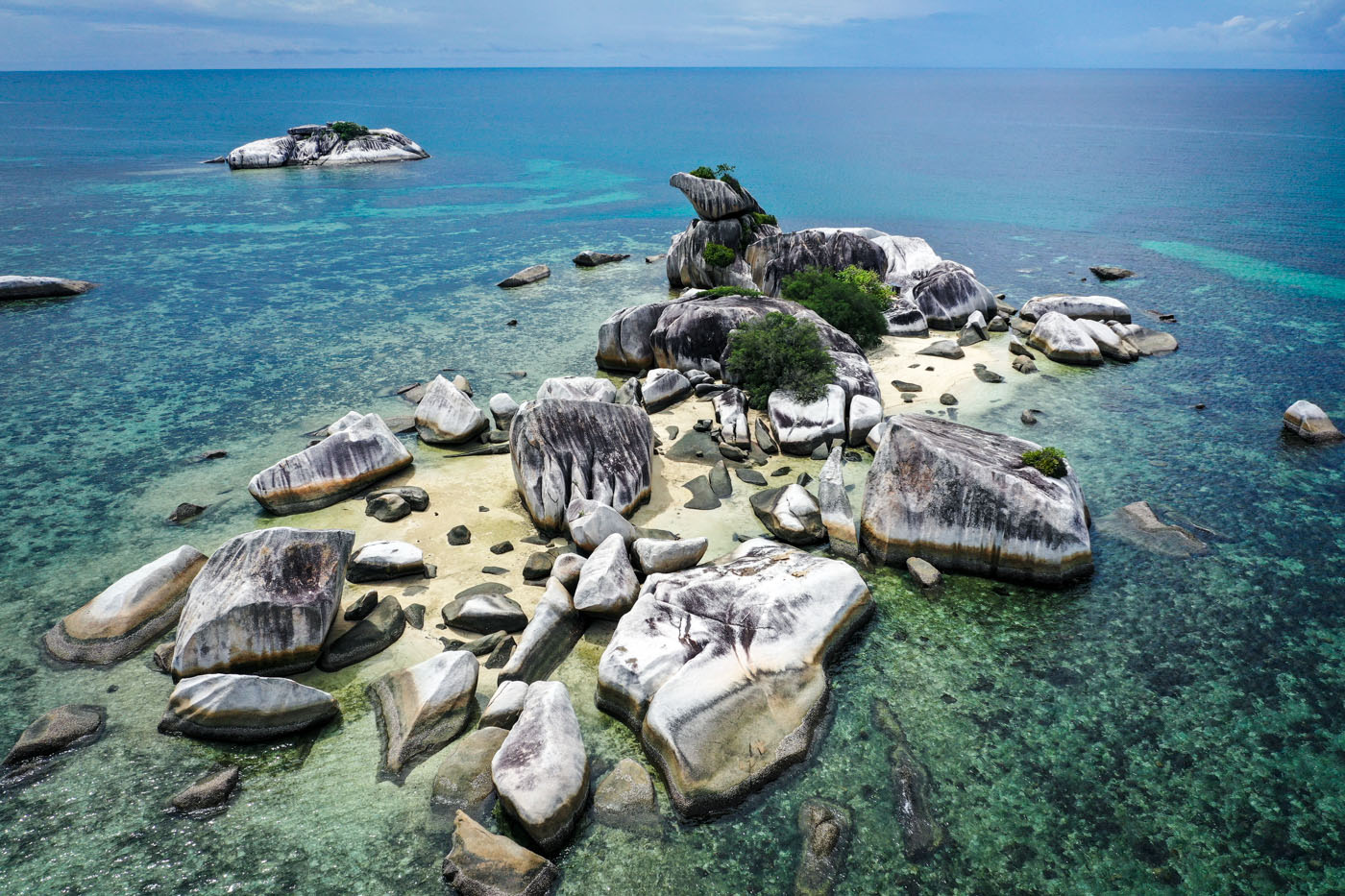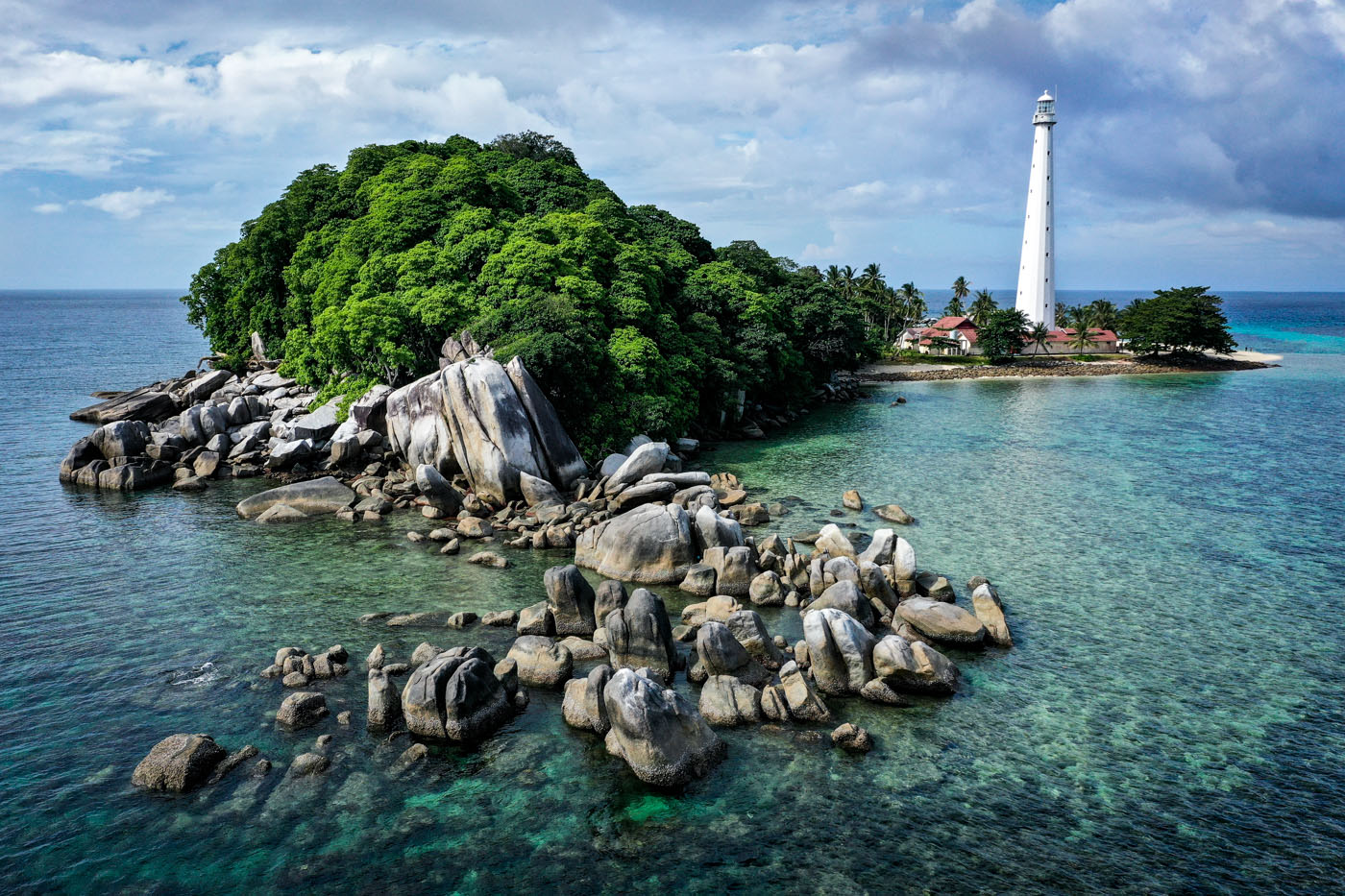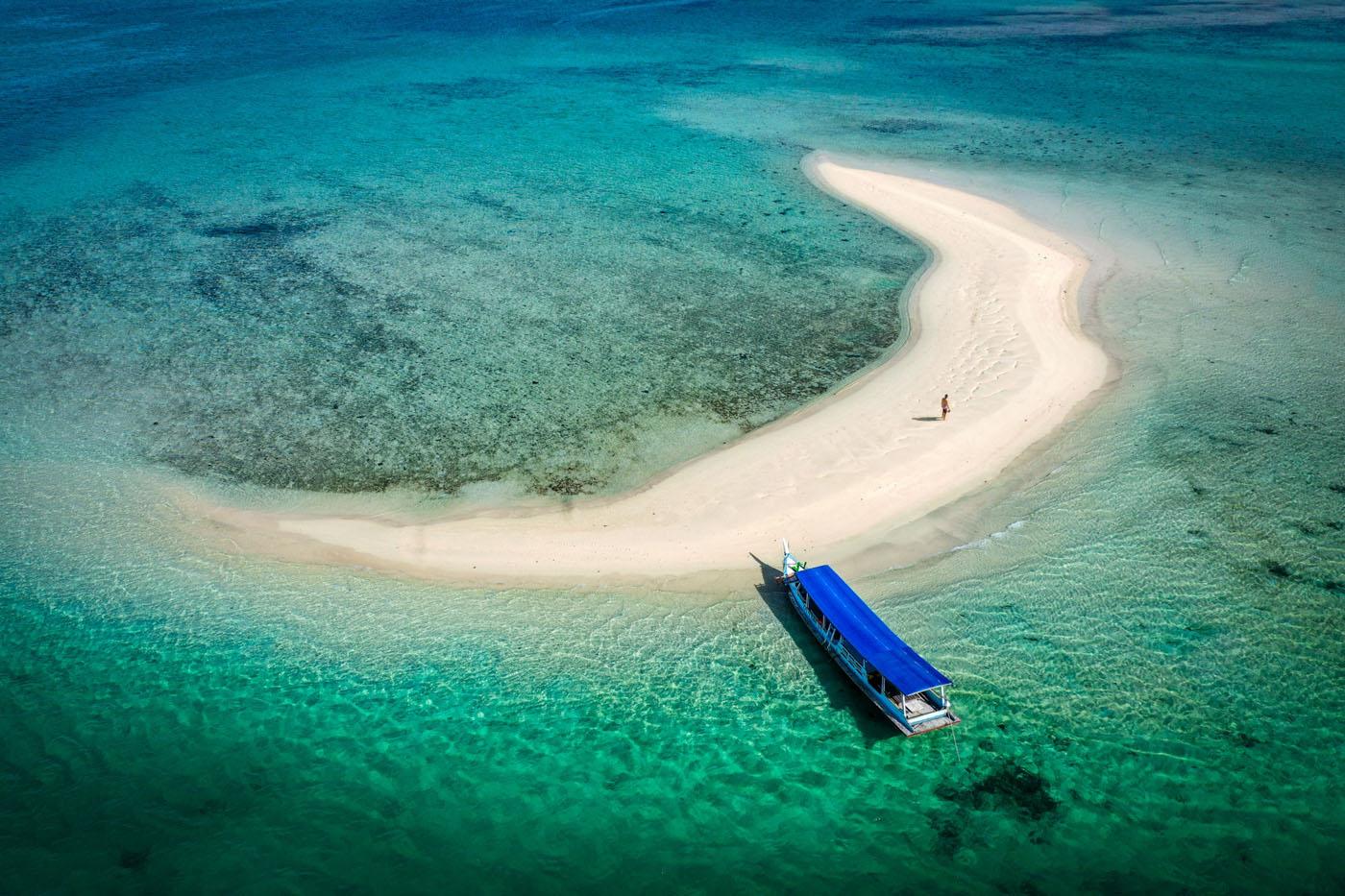 Day 10 Departure
After breakfast on day 10, we will finally finish our long trip and fly to Jakarta, for goodbyes and your flight home.
Total Price: €5790 per person (shared accommodations) for participants registering by May 31st, 2022;
€5890 for participants registering between June 1st and November 30th, 2022;
€5990 for participants registering afterwards.
Sign up as a group of 3 or more and receive a €200 discount* each!
Single room supplement: €750
Deposit: €2490
Maximum Number of Participants: 8 photographers (non-photographers are welcome at a reduced price, contact me for details)
Physical Difficulty: Beginner. The worst physical effort will be the 15-minute climb to Batu Baginda!
*Multiple discounts may or may not apply, please consult me.
Workshop Price Includes
Hotel accommodation in deluxe rooms where possible.
Breakfast, lunch and dinner throughout the workshop.
Travels in private, comfortable vehicles offering ample room for you and your photoraphy gear.
4 domestic flights to reach our destinations quickly and comfortably.
Full-day island-hopping boat sail to the many islands around Belitung
Professional photography guidance by a professional nature photographer, accompanied by a local expert
Critique sessions and post-processing assistance when and where possible.
Entrance fees, road tolls and taxes on all services listed above.
Workshop Price Does Not Include
Airfare to Bali Ngurah Rai International Airport (DPS) and from Jakarta Soekarno-Hatta International Airport (CGK).
Insurance. It is MANDATORY to insure yourself against physical injury, and highly recommended to insure your photo gear. Tour leaders will not be responsible in case of any personal injuries or damage to photographic gear as a result of an accident during the workshop. A good insurance policy can make a big difference should something happen, and ensure a safe return home.
Alcoholic drinks.
Non-meal-time snacks or soft drinks.
Single room supplement (€750).
Gratuities to the local staff
Photography Equipment
A digital camera, preferrably a DSLR camera with a full-frame sensor, since these cameras have better low-light capabilities. However, a crop-sensor DSLR will also completely suffice. A compact camera can be used, as long as you understand its limitations.
A stable tripod.
An ultra wide angle lens. For example, a Canon 16-35mm on a FF sensor camera, or a Nikon 10-24mm on a crop sensor camera.
A mid-range zoom lens such as a 24-70mm.
A telephoto zoom lens, such as a 70-300 or 100-400 (the longer the better - a 150-600 will be great!) for wildlife shooting. A stabilized lens is recommended.
Highly recommended: a camera drone (contact me for help).

Clothing
Clothing for the different climate zones we will encounter: light, breatheable shirts, convertible pants, light warm jacket
Comfortable hiking socks. I recommend bringing at least 3-4 pairs.
A wide hat and a beany
Good hiking boots
Sandals
Light rain gear.

Other
Gas mask and goggles for Kawah Ijen (contact me for help)
Sun glasses
Sunscreen
Insect repellent
Headlight
Rain cover for your photo bag
Payment Procedure
In order to secure your spot, you are required to transfer a deposit of €1990. This deposit will be refunded only in case the workshop gets cancelled for some reason. For your comfort, the deposit can be paid either through PayPal or a wire-transfer (please contact me for details).
The full amount (after discounts if applicable) must be paid via wire-transfer no later than 90 days prior to the workshop starting date.
In the case you need to cancel your participation, a 75% refund (not including deposit) will be given up to 75 days prior to the workshop starting date, a 50% refund up to 60 days prior to the workshop starting date and a 25% refund up to 45 days prior to the workshop starting date.
I reserve the right to increase the price of the workshop if costs rise due to unexpected changes in fees, taxes or exchange rates.
Disclaimer
Though very improbable, workshop dates might shift a few days here or there, up to 6 months prior to start date. Please contact me if you have schedule limitations.
The tour plan above is subject to change. In case of harsh weather, we may have to divert from our plan and do something else.
Important: In order to join the workshop, you will be required to sign a contract that establishes that the tour leaders are not responsible to physical or proprietary damages, and that you understand and accept several behavioral standards (including not taking excessive risk), necessary to ensure the workshop's success and your safe return.
*Multiple discounts may or may not apply, please consult me.
Erez Marom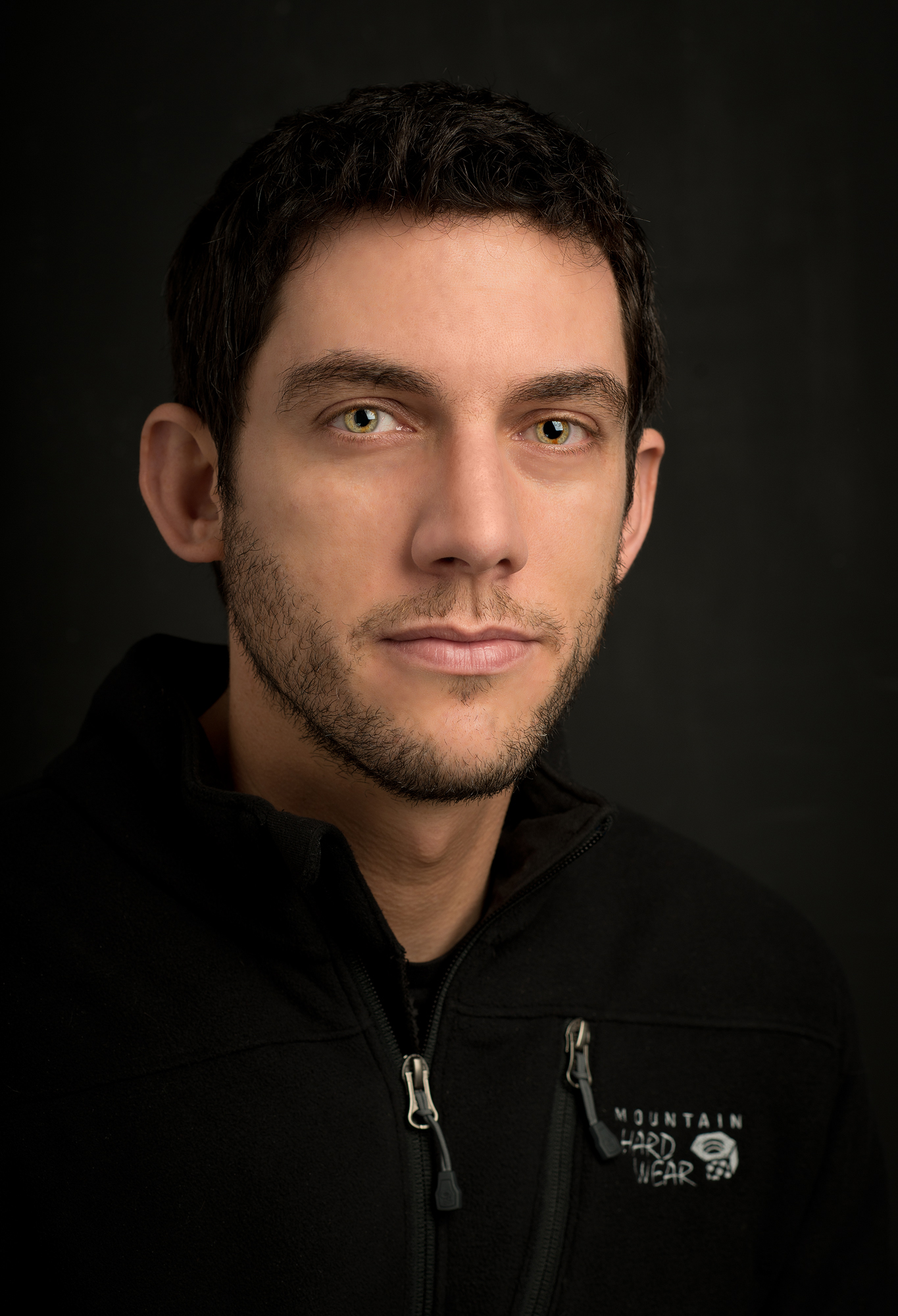 Born in 1980, Erez Marom is a full-time nature photographer, photography guide, writer and traveler-adventurer based in Israel. Specializing in landscape and wildlife photography, Erez spends much of his time in the field shooting the wildlife and scenery of his favorite locations in Israel and overseas.
In addition, Erez publishes articles and instructional texts in leading magazines and websites, and dedicates a considerable amount of his time to sharing his experience and knowledge by lecturing worldwide and traveling several times a year to guide his unique photography workshops.