Spanning the southern parts of Argentina and Chile, Patagonia holds some of the most spectacular photographic treasures in South America, perhaps even the world. Towering mountains, shattering glaciers, lagoons, waterfalls and much more, all these can be found in this pristine location.
The area we will explore was carved over time with monumental geological process which continues even today. The Andean mountain range spans the whole continent, from north to south, measuring some 7000 km. It was formed by the collision of two tectonic plates, a process that is still active in some regions as is evident by the seismic and volcanic activities. With time, the fierce winds and the constant advance of the glaciers carved the original formation into the shapes we can appreciate now, and it wasn't so long ago that the valleys we will explore were occupied with enormous glaciers.
Join professional nature photographer Erez Marom and photographer/trekking expert Jörg Bonner on a comprehensive photo workshop in the most incredible locations Patagonia has to offer. For the dedicated hikers, there is a week-long hiking annex to this workshop during which we'll hike to shoot The Torres Del Paine and Mount Fitz Roy.
ITINERARY
Day 1 Meeting in El Calafate
You will be picked up at at El Calafate International Airport (or at your hotel in El Calafate should you arrive earlier) at 15:00, and the group will drive to the town of El Chalten. After settling in our beautiful 4-star hotel, we will have a meet-and-greet over a delicious Argentinian dinner, and discuss the plans for the days ahead. You will arrange your hiking bags and leave the unnecessary equipment in the hotel's storage, in preparation for the hike the next day.
Days 2-4 The Ultimate Camping Experience, Laguna Torre
After breakfast, we'll be joined by our mountain guides and porters and begin a 9 km hike to Laguna Torre.
The lagoon lies beneath one of the most spectacular peaks in existence: Cerro Torre, the serrated dark wonder. We will camp near the lagoon for 2 nights, shooting it at sunrise, sunset and even by night, to produce unique and spectacular mountain shots. The glacier feeding the lagoon keeps it teeming with icebergs, which complement the landscape amazingly, and if the weather is cold enough, the lagoon will have a fine icy crust.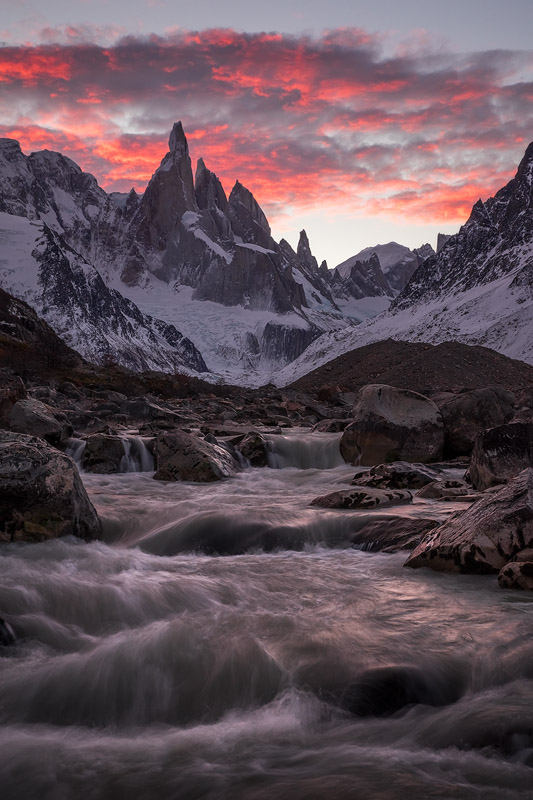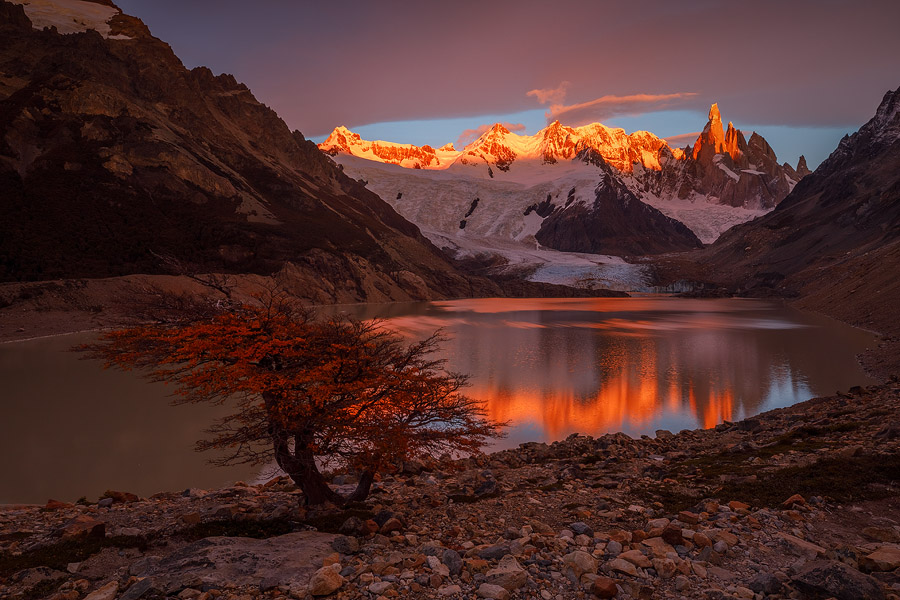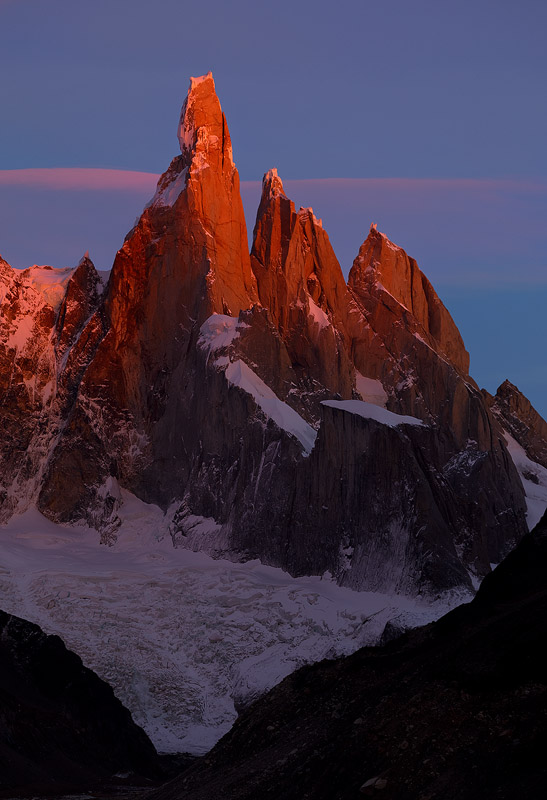 While we will be in field conditions, all measures have been taken to make it comfortable and fun. We will be camping on private grounds, and supplied with all the necessary amenities. We'll be eating delicious hot meals, including picadas and regional wines, rather than regular "camping food". If you prefer, you can bring your own sleeping bag and inflatable mat for a more comfortable sleep (otherwise those will be supplied for you) but all the rest is taken care of in the best possible way.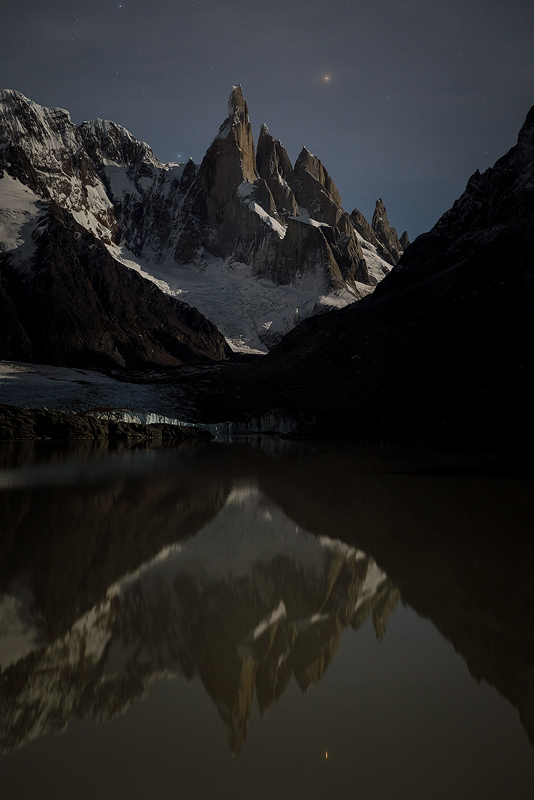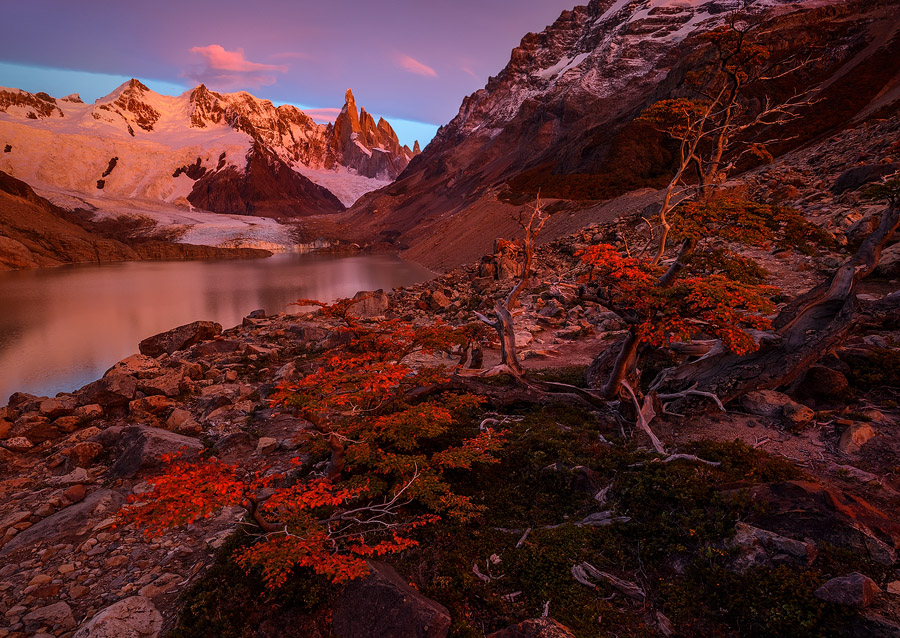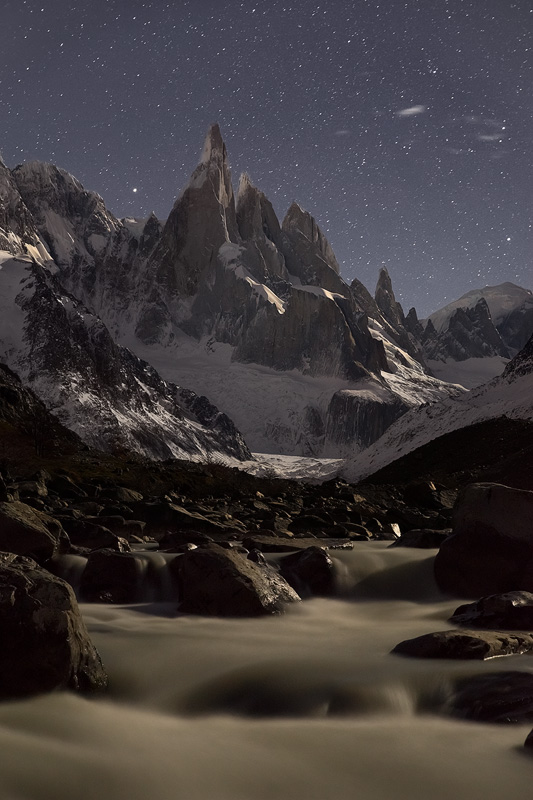 Our camp is also adjacent to a surprising number of cascades and waterfalls, which we will explore and shoot extensively in the long hours between sunrise and sunset.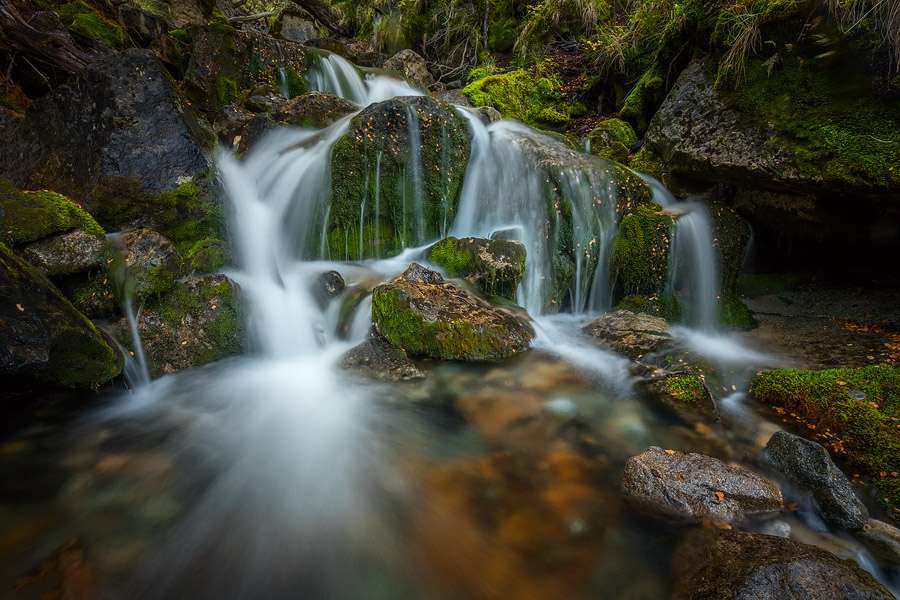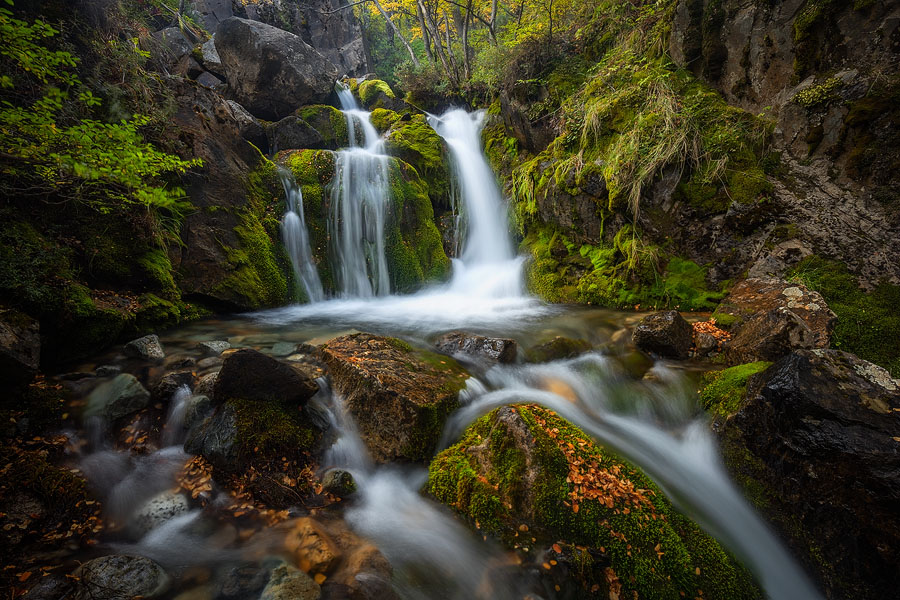 After shooting sunrise on day 4, we'll hike back to El Chalten, and sleep in our hotel there.
We'll shoot sunrise in Cañadon del Rio de las Vueltas, an iconic spot outside of the town with impressive views to the every mountain in the area. After the shoot, we'll hop on our bus and drive to our next stop: Torres Del Paine.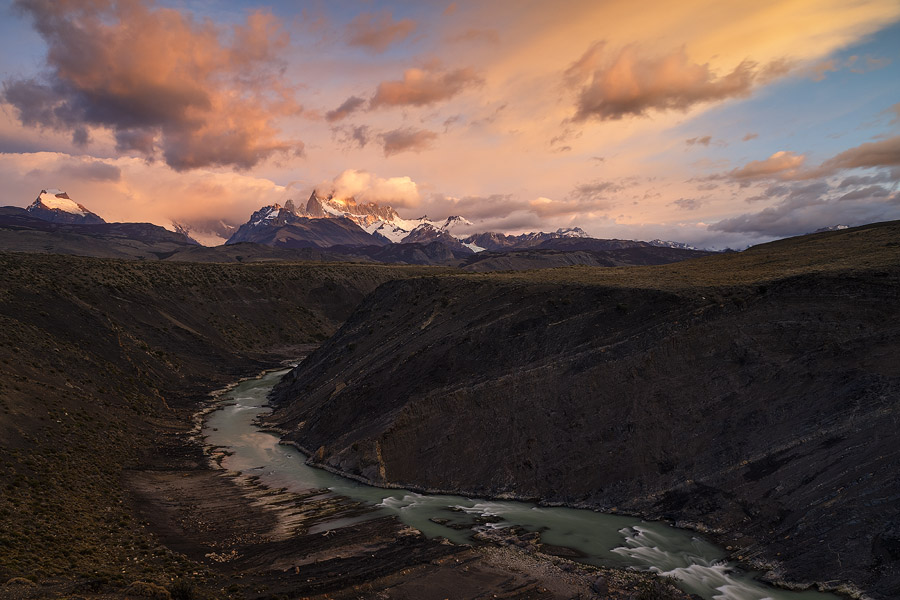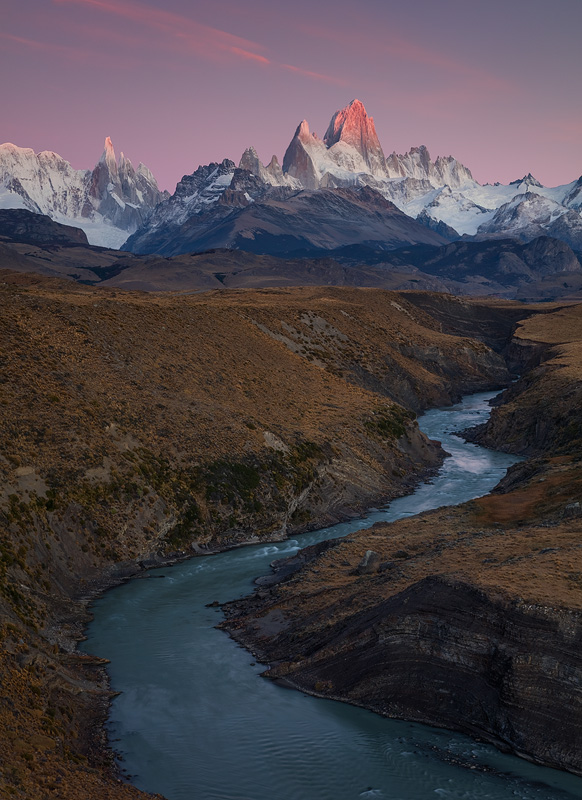 Days 5-9 Torres Del Paine National Park, Chile
Home to some of the most spectacular mountains in the world, Torres Del Paine (TDP) is one of the leading photographic locations in South America. We will spend 4 days in TDP, during which we'll shoot from several amazing vantage points. Our main subject will be the Cuernos Del Paine, a mountain ridge of immense beauty and grandeur.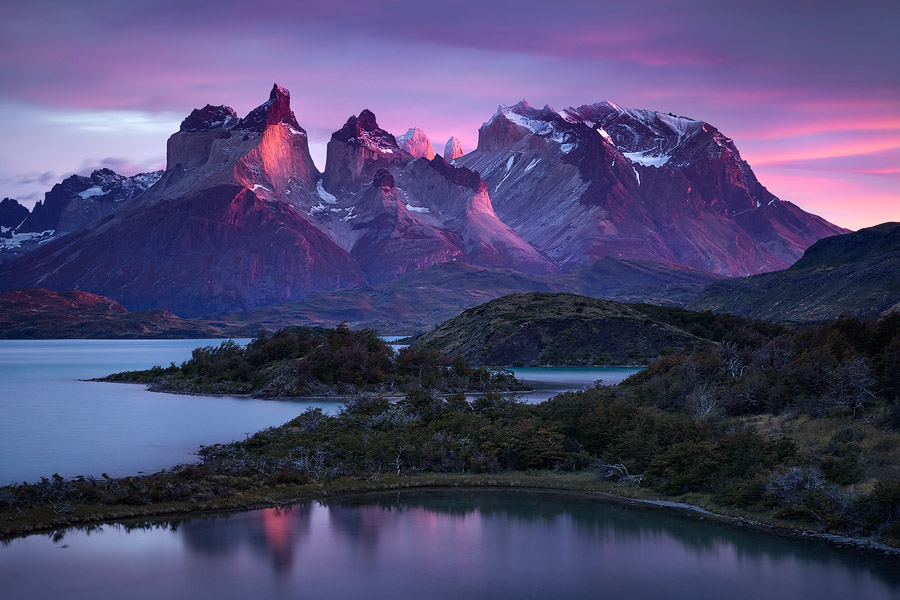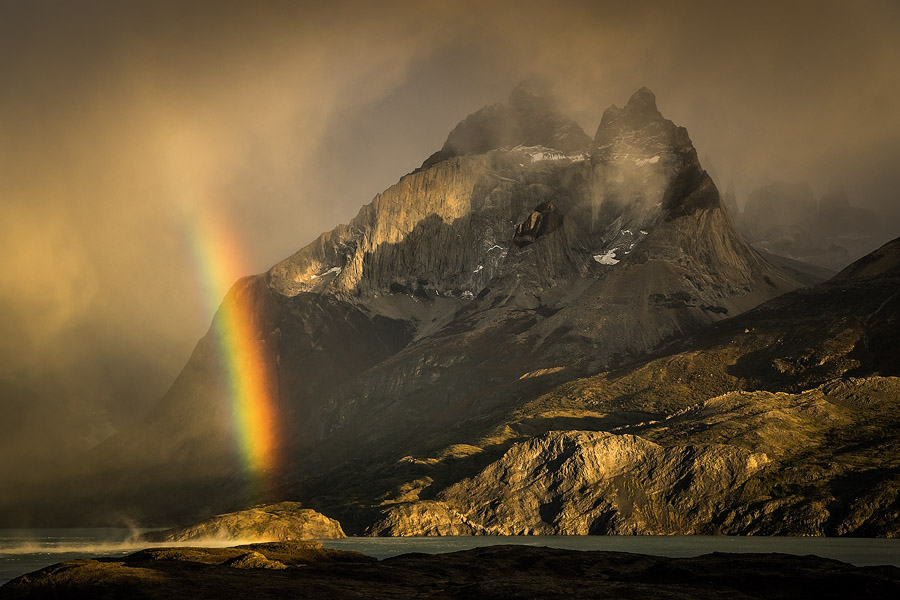 Due to the park's location and geographic conditions, there is a very high chance of beautiful pink sunrises on the mountains. We will shoot the Cuernos with a variety of foregrounds.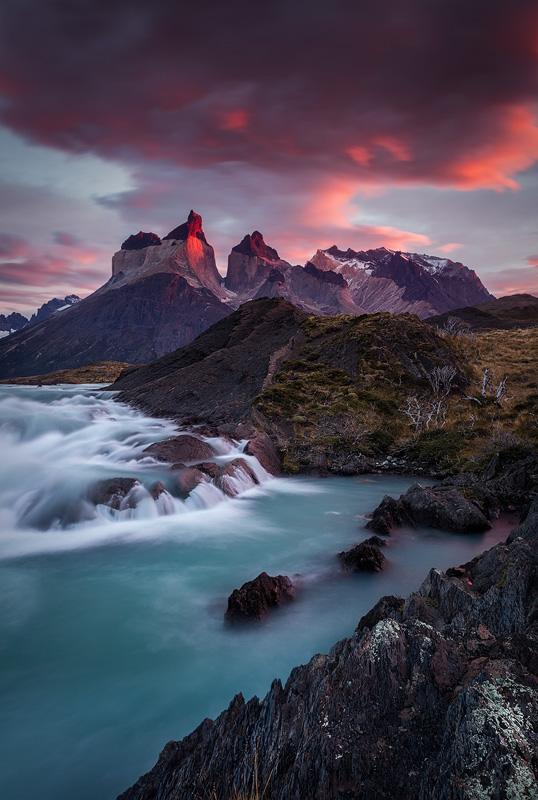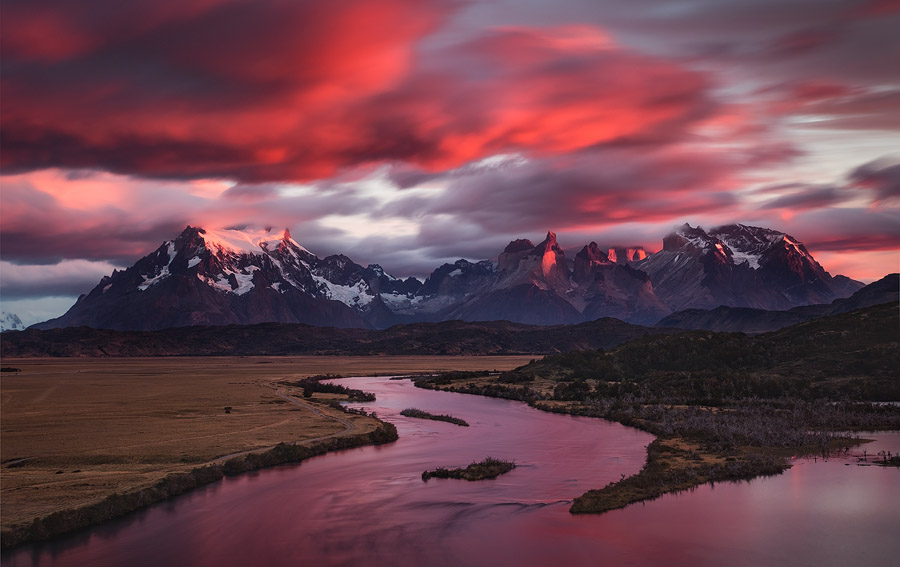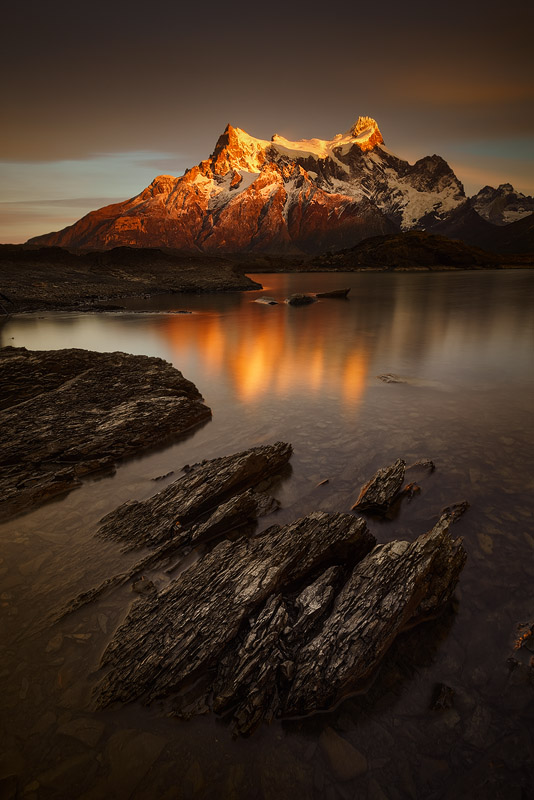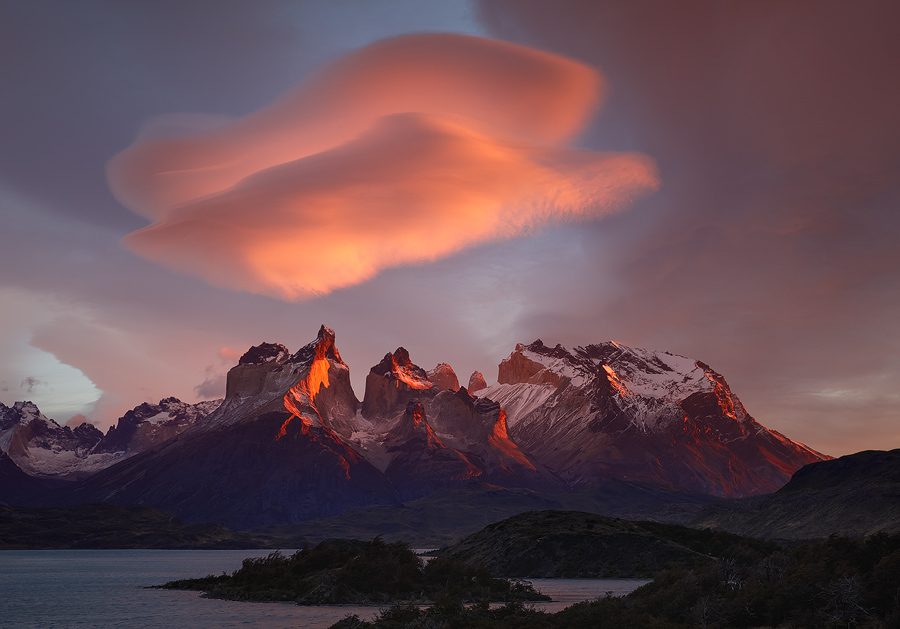 On one of the days in TDP, we'll take a special boat sail to Grey Glacier, where we'll experience and shoot amazing icebergs and mountains from up close. Please note this sail is dependent upon both a minimal number of participants and weather conditions.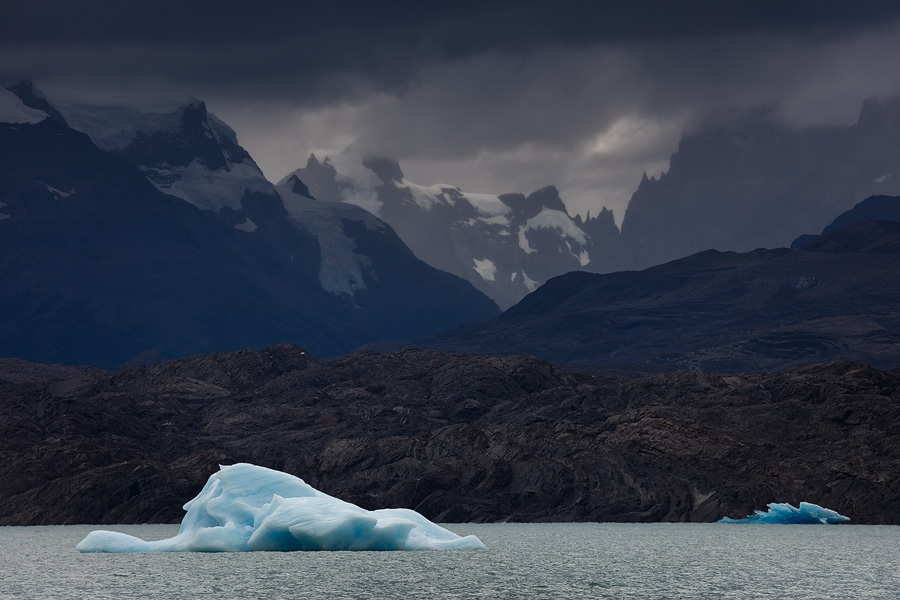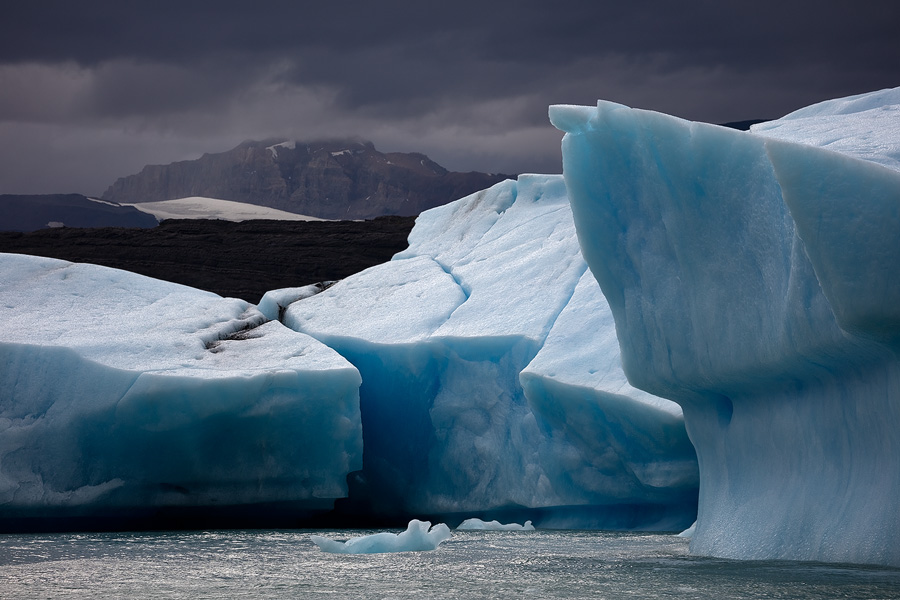 During our stay in Torres Del Paine, we'll be accommodated in one of South America's most scenic hotels. It has its own island, no less, and there's plenty to shoot from the rocky banks.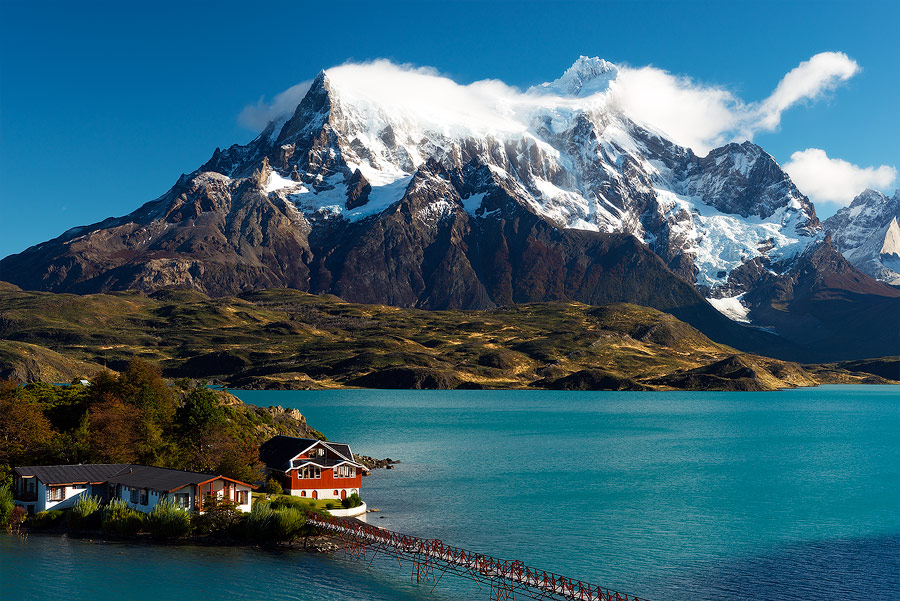 After a sunrise shoot in day 9, the participants who are leaving will be driven back to El Calafate (please note you may arrive late in the afternoon or even in the evening). The hiking annex participants will start the hike to Torres Base Camp.
PRICING AND DETAILS
Total Price (2018 trip): €5390 per person in double room for participants registering by May 31st, 2017.
€5490 for participants registering between June 1st and October 31st, 2017.
€5590 for participants registering afterwards.
2019 prices TBD
Special Offer: Join as a group of 3 or more and receive a €250 discount each!*
Deposit: €2390
Single Room supplement: €920
Maximum Number of Participants: 13
Physical Difficulty: Beginner / Intermediate. There won't be any difficult climbing, but there will be hikes of up to 1 hour to get to certain locations, and a relatively easy hike of 9km with 400m of elevation gain (3-4 hours in a relaxed pace) to get to Laguna Torre. Your gear can be carried for you during this hike if you so choose (at extra cost), so it really shouldn't be difficult for people with good mobility (I've had people of over 70 years of age do it). There will be two nights of camping in the wild in tents, but the camp is excellent and has running water and even a toilet. Weather conditions in Patagonia can be unpredictable, and you should be prepared to withstand temperatures as low as -5 degrees centigrade (at night), in addition to strong winds, but conditions are usually on the calm side this time of year.
WORKSHOP PRICE INCLUDES
Hotel accommodations in some of the best hotels in Patagonia. These aren't 5-star hotels, but they are welcoming, clean, warm and comfortable.
Dinner the first day, Breakfast, lunch and dinner on days 2-8, breakfast and lunch

on day 9

Professional photography guidance by two esteemed landscape photographers
Professional mountain guides with us on location at all times, to keep us safe.
Post-processing assistance where possible
Boat sail to experience and shoot glacial landscapes
2-night hassle-free camping experience in Laguna Torre, on private camp grounds and provided by an excellent local company.
Constant radio communication with park rangers to keep us informed and safe
Travels in a spacious, comfortable bus offering ample room for you and your photoraphy gear.
Entrance fees if applicable
Taxes on all services listed above
WORKSHOP PRICE DOES NOT INCLUDE
Airfare to and from El Calafate airport (several daily flights arrive from Buenos Aires, Argentina).
Pickup and dropoff at El Calafate airport (shuttle service is quick, efficient and inexpensive).
Reciprocity fee for citizens of Australia and Canada (must be paid online prior to arrival - see link).
Thermal clothing and gear. You're required to have all necessary gear, including thermal clothing, prior to arrival.
Porters to carry your bag (up to 20kg) on the hike to Campamento Thorwood - not mandatory but recommended. Cost will be around 300$ for transport to camp and back, including all expenses (excluding tips at your discretion).
Insurance. It is MANDATORY to insure yourself against physical injury, and highly recommended to insure your photo gear. Tour leaders will not be responsible in case of any personal injuries or damage to photographic gear as a result of an accident during the workshop. A good insurance policy can make a big difference should something happen, and ensure a safe return home.
IMPORTANT: hospitals in Patagonia are not up to western standards. In the rare case that something happens, you will strongly prefer to be evacuated to Buenos Aires or another major city for treatment. I highly recommend getting insurance that covers medical evacuation to a major city.
Accommodation on day 9
Alcoholic drinks
Non-meal-time snacks
Non-meal-time soft drinks
Single Room supplement (€920)
WHAT TO BRING
Photography Equipment
A digital camera, preferrably a DSLR camera with a full-frame sensor, since these cameras have better low-light capabilities. However, a crop-sensor DSLR will also completely suffice. A compact camera can be used, as long as you understand its limitations.
A light, sturdy tripod for shooting in windy conditions.
An ultra wide angle lens. For example, a Canon 17-40 on a FF sensor camera, or a Nikon 10-24 on a crop sensor camera.
A midrange zoom lens such as a 24-70mm
A telephoto zoom lens, such as a 70-200 or 70-300 (recommended). Doesn't have to have a wide aperture or a stabilizer - an f/4 is more than enough.
Recommended: A filter set for landscape photography. I personally use Lee and Heliopan filters. A good filter set is worth its weight in gold for a landscape enthousiast. If you need to consult about buying a filter set, I'll be happy to help.
Recommended: A camera remote.

Clothing
Full thermal gear is essential. I typically wear a light thermal base layer, a fleece coat and sometimes a down coat.
Good quality warm gloves. It's important to use gloves which enable you to operate the camera while wearing them.
Water resistant hiking pants.
Windbreaker / rain jacket.
Thermal long-johns or thermal pants (or both).
Thermal socks (2-3 pairs).
A good warm hat which covers your ears.
A wide hat and sun glasses for sunny days
Good quality hiking boots.

Other
Highly recommended: A sleeping bag rated -10 to -15 degrees centigrade for maximal comfort.
Recommended: An inflatable sleeping mat and an inflatable pillow (contact me for help).
Headlamp.
Pills against motion-sickness for the boat sail, in case you're especially sensitive.
Sunglasses.
A small daypack for the hike to Laguna Torre.
Optional: trekking poles.
WORKSHOP LEADERS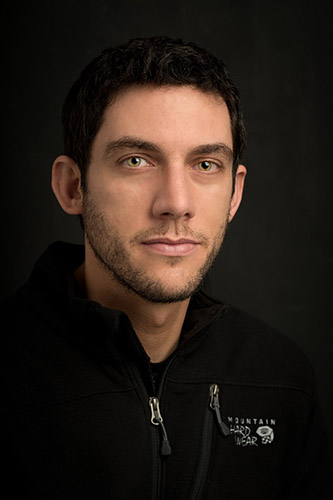 Erez Marom
Born in 1980, Erez Marom is a full-time nature photographer, photography guide, writer and traveler-adventurer based in Israel. Specializing in landscape and wildlife photography, Erez spends much of his time in the field shooting the wildlife and scenery of his favorite locations in Israel and overseas.
In addition, Erez publishes articles and instructional texts in leading magazines and websites, and dedicates a considerable amount of his time to sharing his experience and knowledge by lecturing worldwide and traveling several times a year to guide his unique photography workshops.
Jörg Bonner
Jörg Bonner is an austrian landscape photographer and keen traveler. Inspired by his grandfather's love for the mountains he found his way towards a more adventurous life in his mid-twenties. Since then he has spent an ever increasing amount of time travelling the seven continents, looking for the perfect spot to set up his tripod. Mountains are by far his favourite subject and thus it comes as no surprise that he keeps coming back to Patagonia's epic landscapes - and even after five consecutive years his fascination for the towering peaks and glaciers of Torres del Paine and Los Glaciares National Parks is as strong as on the first day.
OTHER TERMS AND CONDITIONS
Payment Procedure
In order to secure your spot, you are required to transfer a deposit of €2390. This deposit will be refunded only in case the workshop gets cancelled for some reason. For your comfort, the deposit can be paid either through PayPal or a wire-transfer (please contact me for details).
The full amount (after discounts if applicable) must be paid via wire-transfer no later than 90 days prior to the workshop starting date.
In the case you need to cancel your participation, a 75% refund (not including deposit) will be given up to 75 days prior to the workshop starting date, a 50% refund up to 60 days prior to the workshop starting date and a 25% refund up to 45 days prior to the workshop starting date.
I reserve the right to increase the price of the workshop if costs rise due to unexpected changes in fees, taxes or exchange rates.

Disclaimer
Though very improbable, workshop dates might shift a few days here or there, up to 6 months prior to start date. Please contact me if you have schedule limitations.
The tour plan above is subject to change. Weather in Patagonia can be unpredictable, and so in case of harsh weather, we may have to divert from our plan and do something else.
The sail in Grey Glacier is dependent on both weather conditions and a minimum number of participants, and so is not certain.
Important: In order to join the workshop, you will be required to sign a contract that establishes that the tour leaders are not responsible to physical or proprietary damages, and that you understand and accept several behavioral standards (including not taking excessive risk), necessary to ensure the workshop's success and your safe return.
Important: The rules of Los Glaciares National Park prevent any sort of teaching on park grounds. Therefore, while in the park (3 days out of the trip), the workshop will oficially be a photo tour, with the guides acting as group leaders and not tutors. This is unfortunately unpreventable and is true for any person conducting a workshop in Patagonia. Rest assured - the guides will be there with you for the duration of the trip. If you have any questions regarding this issue, please feel free to contact me and I'll explain everything.
*Multiple discounts may or may not apply, please consult me.