'WHITE WONDERLAND' - LAPLAND WINTER PHOTO WORKSHOP
Price: €3790 pp (or $US equivalent. Price valid until March 31st, 2020) / Deposit: €1790 pp
AVAILABILITY
13th - 18th January 2021
Lapland is the stuff of legends. With countless superlatives, it's at its very best in winter. Unbelievable snow-laden trees, frozen lakes, frost and of course, the Aurora Borealis, are the natural pieces that make up this wonder of nature.
Join award-winning pro nature photographer Erez Marom on a wonderful adventure to shoot the winter highlights of Finnish Lapland. After having scouted the Posio area extensively, we will bring you to the very best locations in the very best light. Morning twilight arrives late in high winter, and the blue light will turn into pink glow and red sunrises. The sun remains low, supplying magical light throughout the short days, giving its place to amazing blue hour colors. When the night comes, the darkness is lit by strong Northern Lights. Based in a wilderness hotel right by a lake and a forest, we will head out to locations such as Riisitunturi National park, where we will climb using snow shoes to witness and photograph unique sub-Arctic scenery.
Main Features
Unique sub-Arctic landscape, snow-covered trees, snowy hills and amazing winter colors
Winter schedule promises amazing conditions and magical low light throughout the day, enabling us to shoot non-stop for over 6 hours (weather permitting)
Good chance of shooting the Aurora Borealis above snow/frost-covered trees with minimal light pollution

Professional photo guidance by an award-winning landscape photographer

Travels in a spacious, comfortable 9-person van
Wilderness hotel offerring spectacular shooting locations right at the front door, and total darkness at night for Aurora shooting
Day 1: Meeting In Rovaniemi Airport
The group will meet at Rovaniemi airport. We'll hop on our vans and make a 2-hour drive to our hotel and shooting-area. There might be shooting locations along the way.
After settling in our rooms we'll have a meet-and-greet over a heart-warming dinner, introduce ourselves and discuss the days ahead.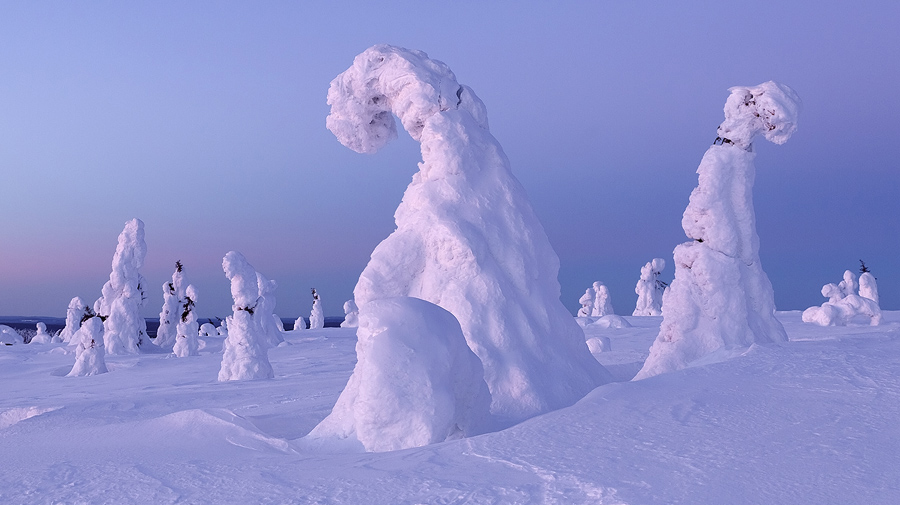 Days 2-6: Shooting in Lapland
During our week's stay, we'll get the best opportunities to shoot the unique Lapland landscape, and in particular the snow-covered trees characteristic of the area. We have scouted numerous shooting locations, including frozen lakes, forests, rivers and hills. There are beautiful locations all over, and we will play as we go and stop in the optimal places, depending on weather, snow and light conditions.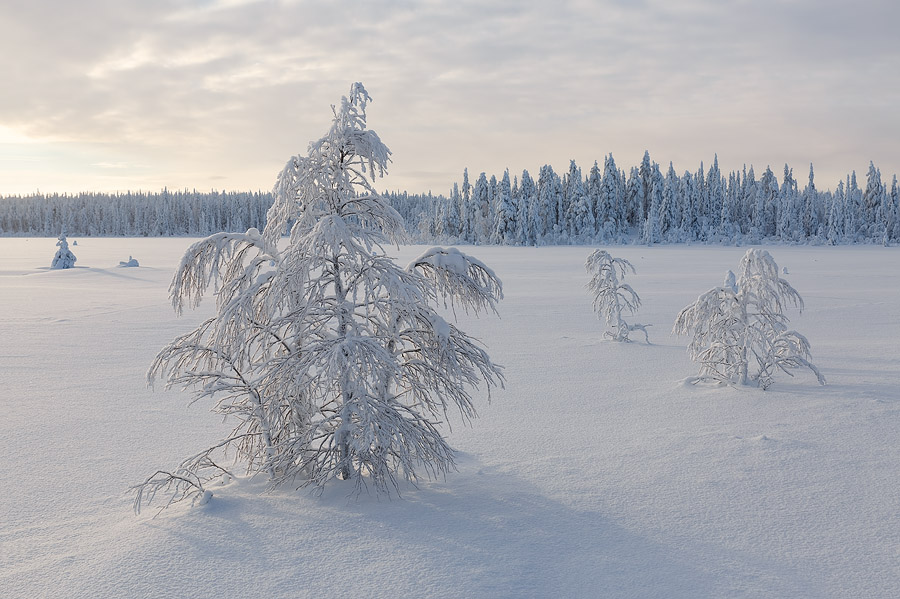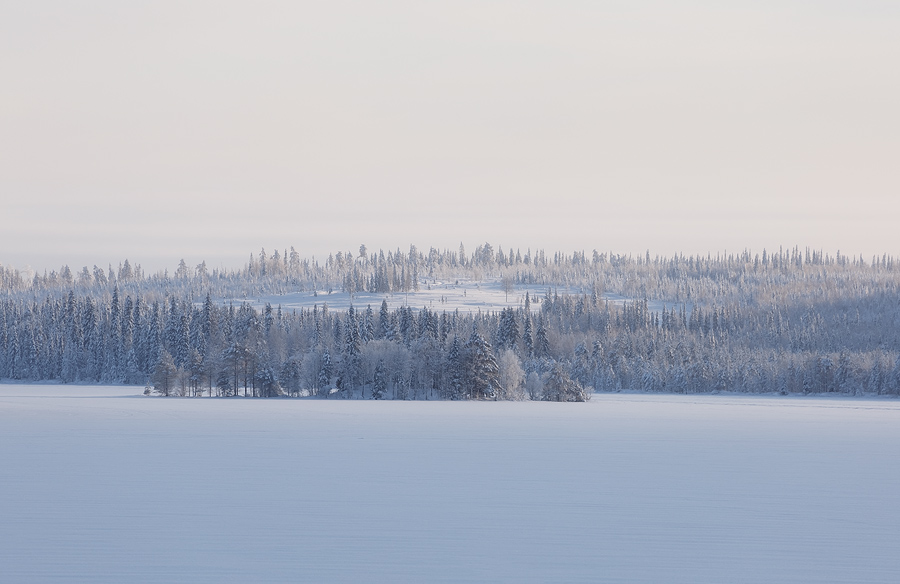 Northern Lights In Lapland
Lapland is renowned for being one of the world's top Aurora destinations, and for good reason. If the night is clear, we can shoot Aurora almost everywhere, with minimal light pollution. Our hotel will turn off all the lights and allow us to shoot right next to it if we choose. Alternatively, there are hills 5 minutes' drive away which have a better chance of snow cover. If we feel particularly adventurous, we will ascend to Riisitunturi and shoot Aurora there! In any case, there is a good chance of catching the Northern Lights with amazing snow-laden trees - a spectacle unavailable in other parts of the Arctic.
Riisitunturi National Park
Riisitunturin Kansallispuisto (Riisitunturi means rice-hill in Finnish) is a National park in Posio, Finnish Lapland. It was established in 1982 and covers 77 square kilometers (30 sq mi). The hill has the unique property of having its top right on the tree-line, meaning the trees get smaller and sparser as you climb up, with only few, far-between, very short trees on the top. In winter, the high hill is covered with snow (even when lower areas are dry), which turns the park into a frozen wonderland.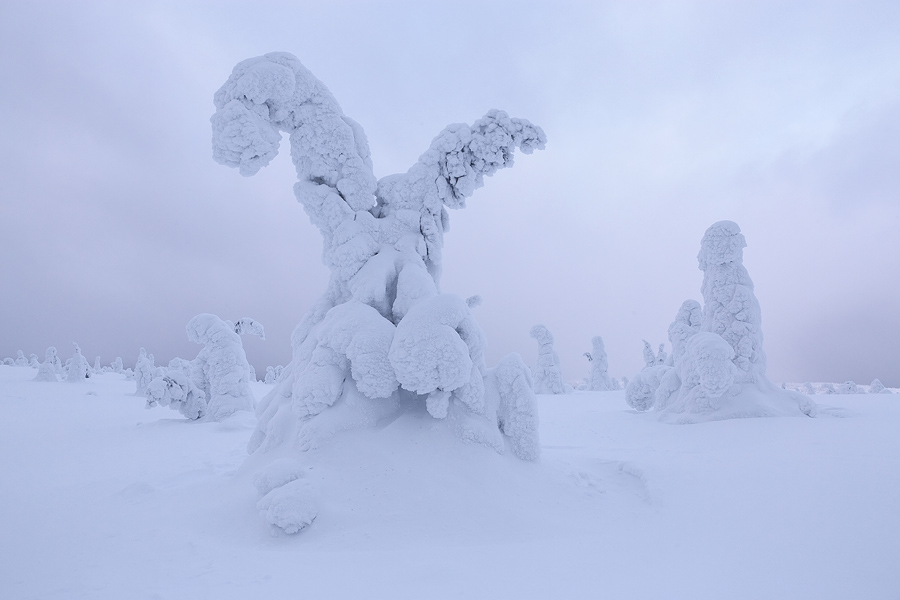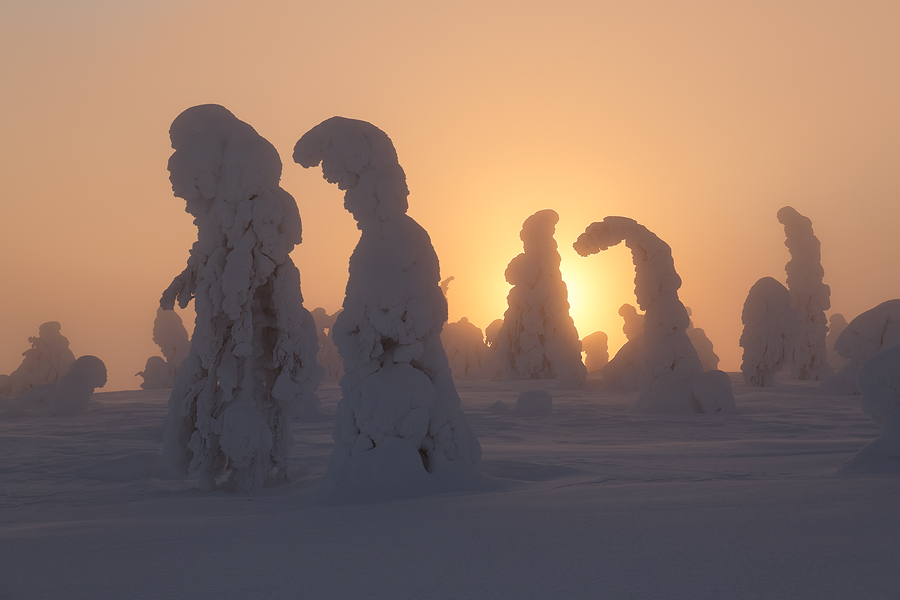 Riisitunturi will most definitely be the highlight of the workshop. We will make multiple ascents (about an hour, a bit strenuous but not too bad) and hopefully shoot the snow-laden trees under various conditions. On clear days, we can get amazing pink glow and bright sun-burst effects.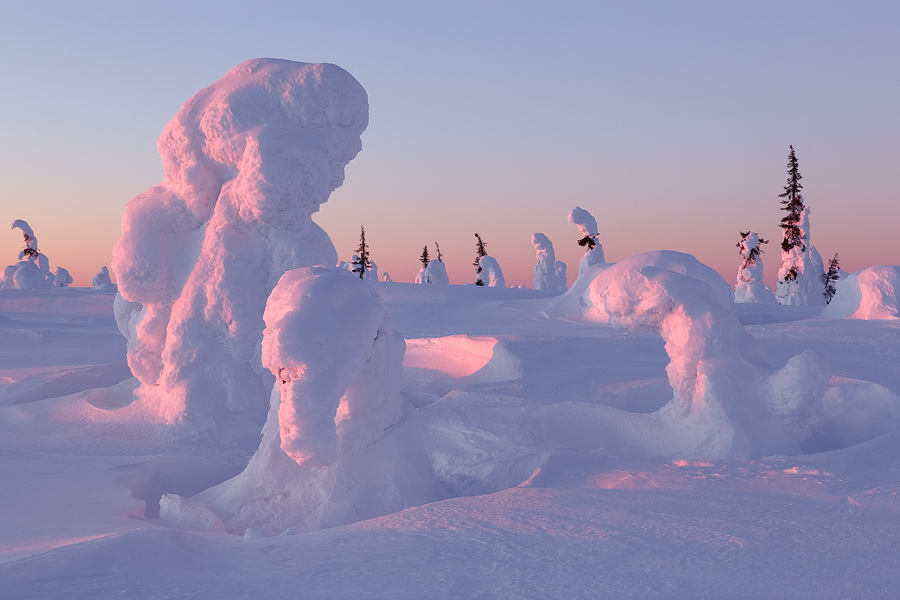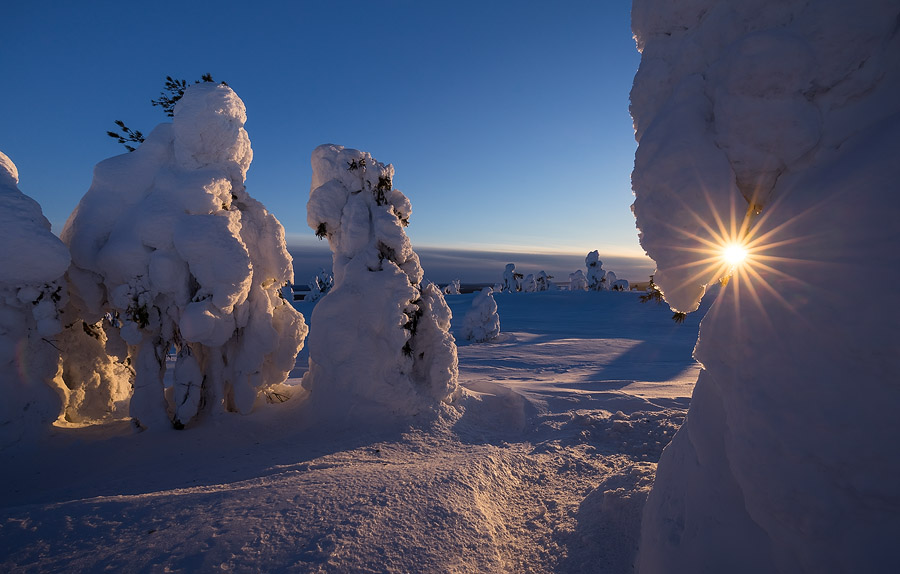 Riisitunturi is an amazing Aurora Location. On clear nights we will brave the ascent once more to shoot the dancing Northern Lights above the snow-laden trees.
Other shooting Locations
In Addition to Riisitunturi and various locations in the Posio area, we will venture a bit further and shoot beautiful spots such as Myllykoski: an old mill next to a river, where we will walk amongst snowy trees and shoot the twirling ice, gushing river and more.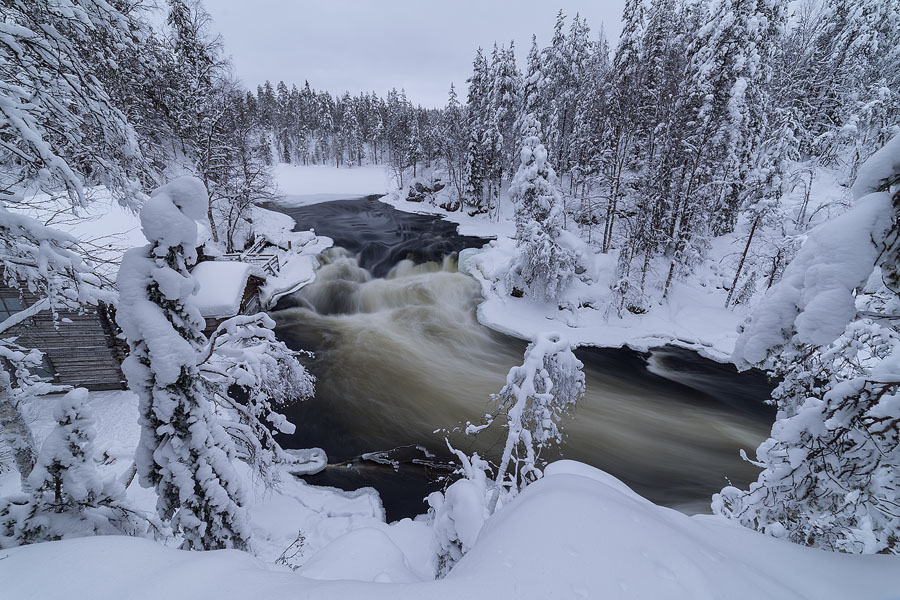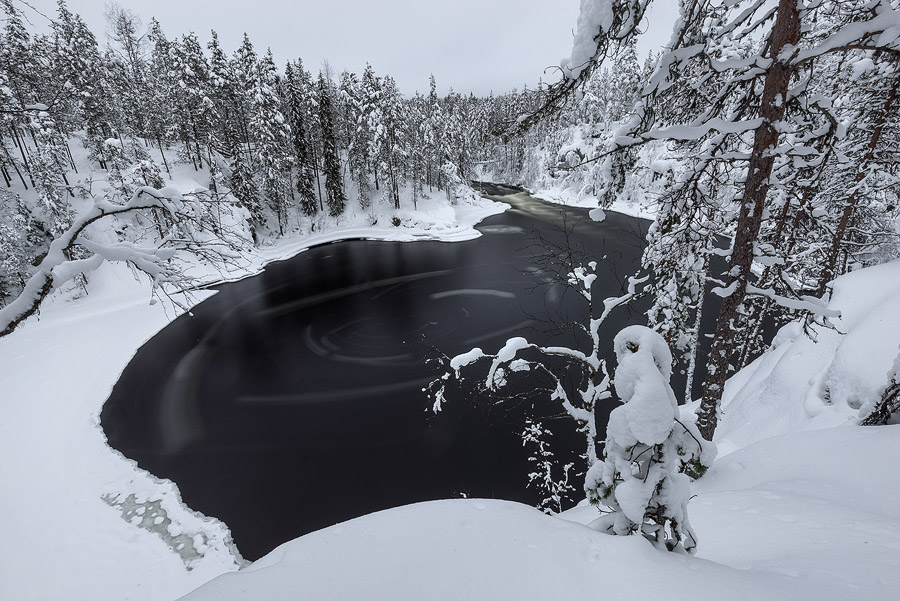 Another beautiful location is Korouoma - a large waterfall which is frozen this time of year. Korouoma is beautiful both day and night.
Departure: After a possible sunrise shoot, we will take our vans and drive back to Rovaniemi for goodbyes and your flight home. Drop-off time will be approximately 12:00 (noon).
Total Price: €3790 per person in double room for participants registering by March 31st, 2020;
€3890 for participants registering between April 1st and August 31st, 2020;
€3990 for participants registering afterwards.
Join as a group of 3 or more and receive a €150 discount each!
Deposit: €1790
Single room supplement: €240
Maximum Number of Participants: 7
Physical Difficulty: Intermediate. Winter conditions in Finnish Lapland can be very harsh. Expect extreme cold with unstable temperatures ranging between 0 and -30 degrees Centigrade, and at times even plummeting below that. Winds are usually less of a problem, and at most locations our vans (or a cabin with a fireplace) won't be far away, if you need to go back and warm up. Suitable clothes and winter gear will greatly help you cope with the cold, but make sure you're very well equipped, or else, trust me - it will not be funny. I will assist you in buying suitable clothes, boots and gloves to make your experience as comfortable as possible. Walking with snowshoes can be somewhat exhausting, and a good level of physical fitness will definitely improve your experience, but it's not mandatory to be in top shape. We will hopefully snowshoe up to Riisitunturi hill several times, which can be a bit strenuous but not too bad (and very worth it).
Workshop Price Includes
Hotel accommodation. I chose a wilderness hotel, which allows us to shoot very close to it, to minimize transfer times. At night, the hotel with shut down all lights to enable Aurora shooting without light-pollution. There are hills a few minutes' drive from the hotel where there's a higher chance of snow on the trees. Please note that the hotel is rather basic, but this compromise has been made in order to improve photographic opportunities.
Pickup and dropoff at Rovaniemi airport at agreed upon times. Please note that pickup time will be decided according to the participants' arriving flight, so consult me before booking those.
Buffet breakfasts at the hotel
Professional photography guidance by an esteemed landscape photographer
Snow shoes for the duration of the trip
Post-processing assistance when possible

Travels in a comfortable van offering ample room for you and your photoraphy gear.

Taxes on all services listed above
Workshop Price Does Not Include
Airfare to and from Rovaniemi (RVN) airport.
Airport pickup and dropoff at times other than specified. Note that we will be based in Posio, around 2 hours' drive from Rovaniemi.
Winter clothing and winter gear. You're required to have all necessary gear, including thermal clothing, heat-packs etc. Please note that only top-quality winter gear will keep you warm in Lapland's extreme cold, so plan accordingly.
Insurance. It is MANDATORY to insure yourself against physical injury, and highly recommended to insure your photo gear. Tour leaders will not be responsible in case of any personal injuries or damage to photographic gear as a result of an accident during the workshop. A good insurance policy can make a big difference should something happen, and ensure a safe return home.
Lunches, dinners, alcoholic drinks and snacks
Single room accommodation (€240)
Photography Equipment
A digital camera, preferably a DSLR camera with a full-frame sensor, since these cameras have better low-light capabilities. However, a crop-sensor DSLR will also suffice. Please note that some cameras, such as the Sony A7 series, are more sensitive to cold temperatures and might act up unless kept warm with heat packs. If you have questions regarding your equipment, feel free to contact me for help.
A light, steady tripod (preferably carbon fiber).
Recommended: a light, compact monopod for locations where the snow is too deep for tripod use.
An ultra wide angle lens. For example, a Canon 17-40 on a FF sensor camera, or a Nikon 10-24 on a crop sensor camera.
A mid-range zoom such as a 24-70 (preferably stabilized).
A wide aperture ultra-wide angle such as the Samyang 14mm f/2.8 for night photography.
Recommended: a telephoto zoom lens, such as a 70-200 or 70-300. Doesn't have to have a wide aperture or a stabilizer - an f/4 is more than enough.
Recommended: A camera remote.

Clothing
Full thermal gear is absolutely essential. I typically wear a thick thermal base layer, a heavy fleece jacket and a heavy down coat.
Good quality warm gloves. It's important to use gloves which enable you to operate the camera while wearing them, but are still very warm. Electric gloves are highly recommended - contact me for help.
Thermal long-johns
Thermal, water resistant trousers.
Water-proof thermal rubber boots. These have to be top notch if you don't want to suffer in the cold - contact me for help.
Thermal socks. I recommend bringing 3 pairs.
An alpine mask to cover your face.
A good warm hat which covers your ears (otherwise they will fall off!).
Ice spikes are mandatory in order to keep you safe and prevent slipping in case we walk across an icy surface.

Other
Heat-packs (lots of them) for your hands and feet.

If you own snow shoes, it's recommended that you bring them. You will receive rental snow shoes if you don't own yours.
Payment Procedure
In order to secure your spot, you are required to transfer a deposit of €1790. This deposit will be refunded only in case the workshop gets cancelled for some reason. For your comfort, the deposit can be payed either through PayPal or via bank transfer (contact me for details).
The full amount (after discounts if applicable) must be payed via wire transfer 75 days prior to the workshop starting date.
In the case you need to cancel your participation, a 67% refund (excluding deposit) will be given up to 60 days prior to the workshop starting date and a 33% refund up to 45 days prior to the workshop starting date.
I reserve the right to increase the price of the workshop if costs rise due to unexpected changes in fees, taxes or exchange rates.

Disclaimer
Weather in Lapland can be problematic, and there might be some days with unshootable conditions. In these days we'll conduct photoshop lectures and critique sessions.
Important: In order to join the workshop, you will be required to sign a contract that establishes that the tour leaders are not responsible to physical or proprietary damages, and that you understand and accept several behavioral standards (including not taking excessive risk), necessary to ensure the workshop's success and your safe return.
Aurora is, of course, not guaranteed.
Erez Marom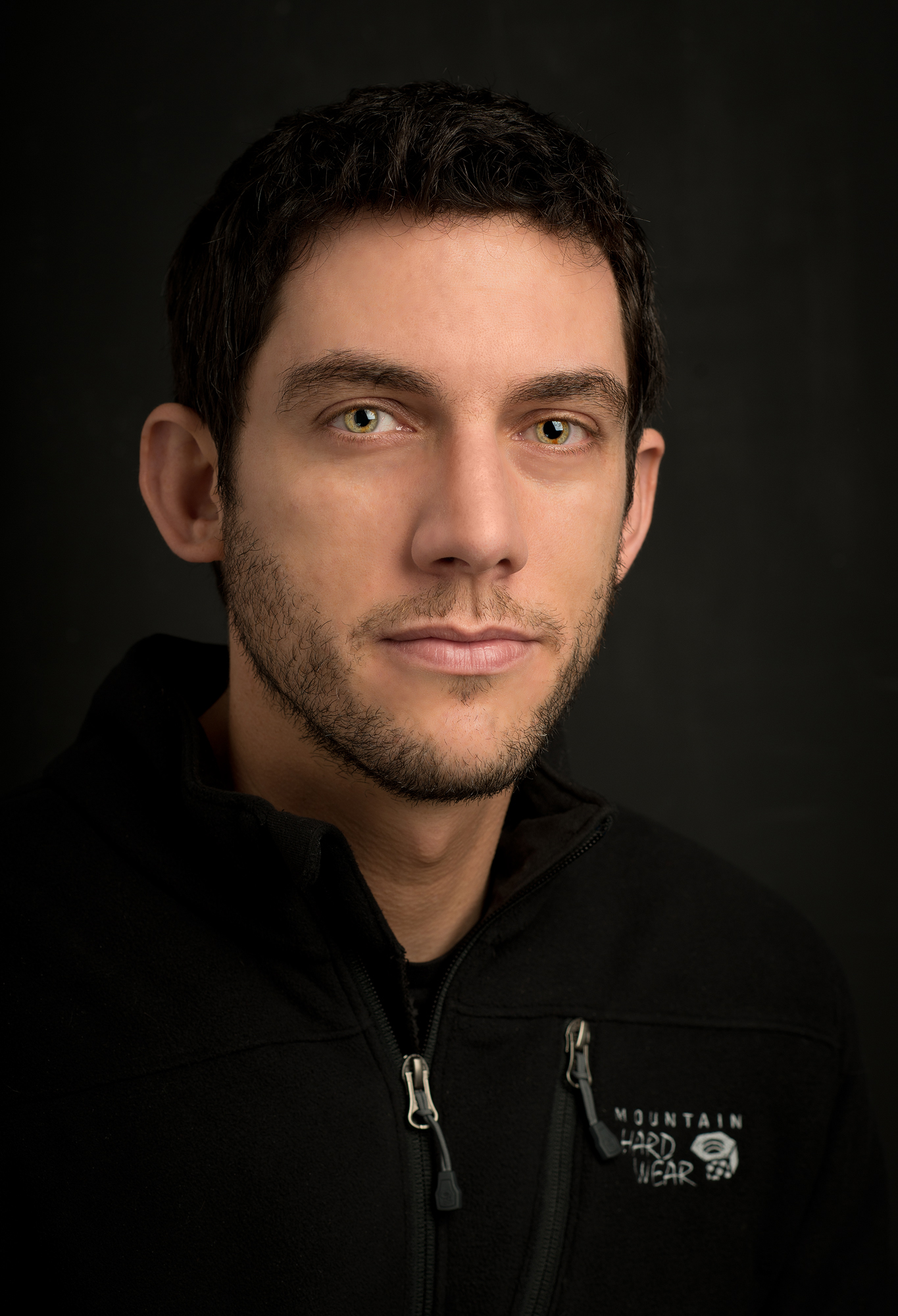 Born in 1980, Erez Marom is a full-time nature photographer, photography guide, writer and traveler-adventurer based in Israel. Specializing in landscape and wildlife photography, Erez spends much of his time in the field shooting the wildlife and scenery of his favorite locations in Israel and overseas.
In addition, Erez publishes articles and instructional texts in leading magazines and websites, and dedicates a considerable amount of his time to sharing his experience and knowledge by lecturing worldwide and traveling several times a year to guide his unique photography workshops.