Just south of the Arctic circle lies a magical island - the land of fire and ice, the ever mesmerizing Iceland.
Iceland in winter is a very different place to Iceland in summer. Sub-zero temperatures, bone-chilling winds and harsh conditions are prevalent, but the photographic rewards are accordingly immense. From ice fields as far as the eye can see, through glaciers and blue ice caves to the mind boggling northern lights, winter is THE season for photography in Iceland, for those who dare.
Join professional nature photographers Erez Marom and Arnar Bergur Guðjónsson for the photographic journey of a lifetime.
This photo workshop is scheduled right before the 'Winter Paradise' workshop, to make it comfortable for participants who wish to register to both workshops back to back, receive a discounted price and reduce flight costs.
The workshop will take you to the most fascinating locations in Iceland's south coast, including pitch-black volcanic beaches adorned with countless diamond-like icebergs, hidden crystal-blue ice caves, snow-covered volcanoes, frozen lakes and colorful lagoons. We'll cross icy rivers, explore the insides of immense glaciers, take a monster-truck ride into the depths of the frozen land and behold the incredible Aurora Borealis.
MAIN FEATURES
Stunning locations such as Skaftafell national park, the glacier lagoon, waterfalls, ice caves and volcanic beaches

Magical low light throughout the day, enabling us to shoot non-stop for over 6 hours (weather permitting)
PRIVATE visits to SEVERAL ice caves - this is incredibly important as most ice caves are packed with tourists all winter long, making photography almost impossible. We will have the caves to ourselves, and have multiple opportunities to do so (weather and conditions permitting).
Opportunity to witness and shoot the Aurora Borealis
Super-jeep ride into Mýrdalsjökull glacier
Professional photo guidance by two esteemed landscape photographers with vast experience shooting in Iceland
Two seats per participant in the bus, to make access to your photo gear easy and safe
Very good hotels, wonderful food throughout the workshop
ITINERARY
Day 1 Reykjavík area
We will meet at the lobby of our centrally-located hotel at 19:30 and head out for a meet and greet over a heart-warming Icelandic dinner in a restaurant right by the hotel. During dinner, we will get acquainted with the guides and participants, and discuss the plans for the days ahead.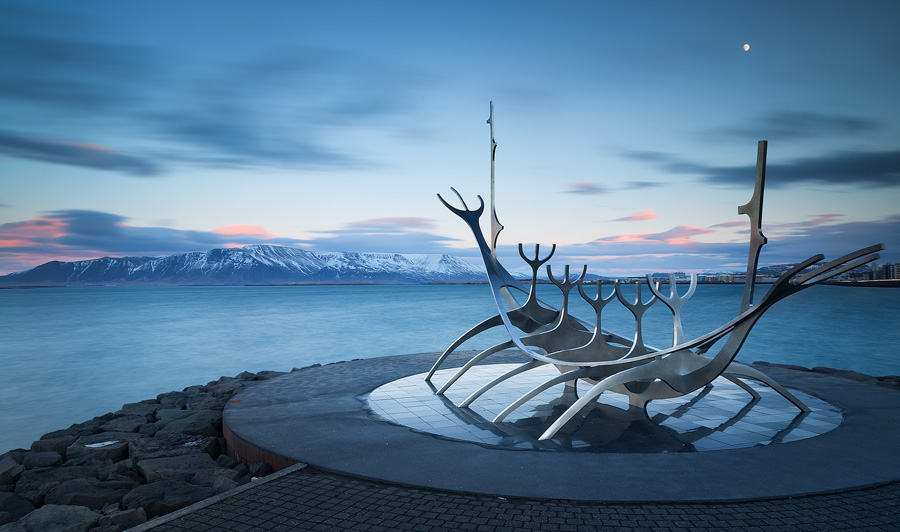 Day 2 Seljalandsfoss, Skógafoss, Vík í Mýrdal
Early in the morning, about 2 hours before sunrise, we'll hop on our bus and head out to see two of Iceland's south coast's thundering waterfalls. For sunset we'll head east, shooting the renowned coastline of Reynisdrangar, later spending the night in a comfy hotel near the village of Vik. In the hotel we'll eat a delicious Icelandic dinner, to fill us after spending the day in the cold.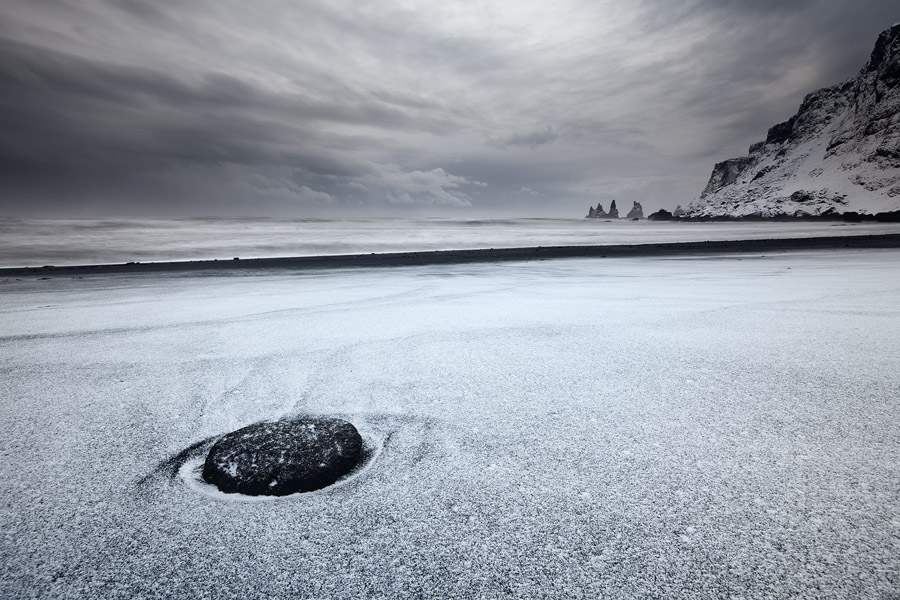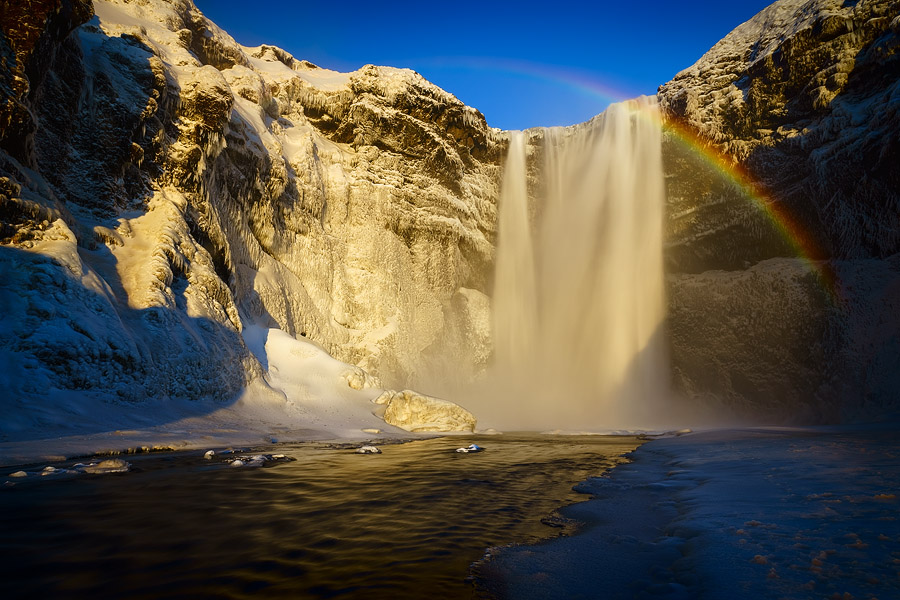 Day 3 Super-Jeep Ride to Mýrdalsjökull Glacier
After having breakfast early in the morning, we'll hop on a monster truck (also known as a super-jeep) and start a full-day extreme journey on terrain impassable otherwise. Mýrdalsjökull Glacier is ever surprising with its diverse scenery, elusive ice caves and wintery atmosphere. When we return, a beautiful, filling dinner will be waiting at the hotel. By night, there is a chance of shooting the aurora borealis.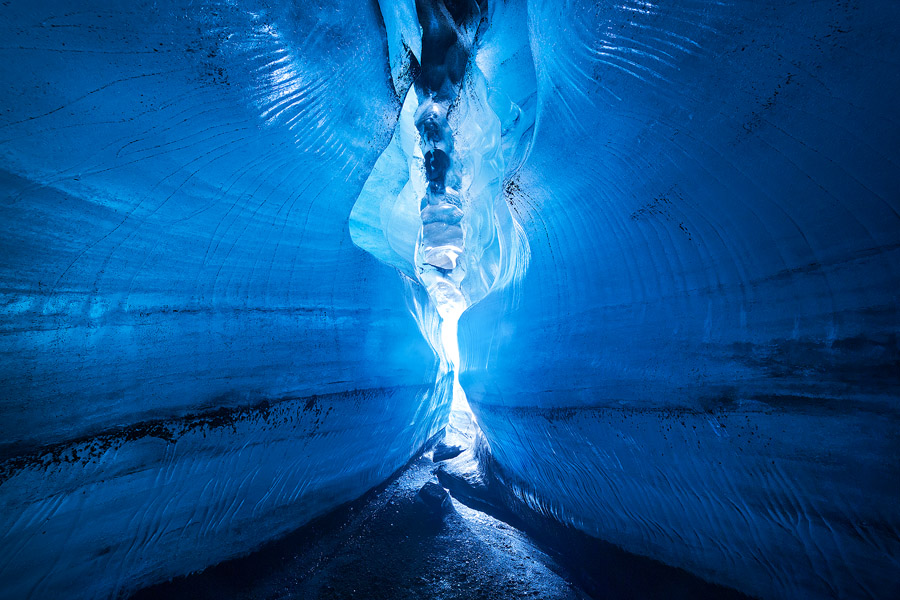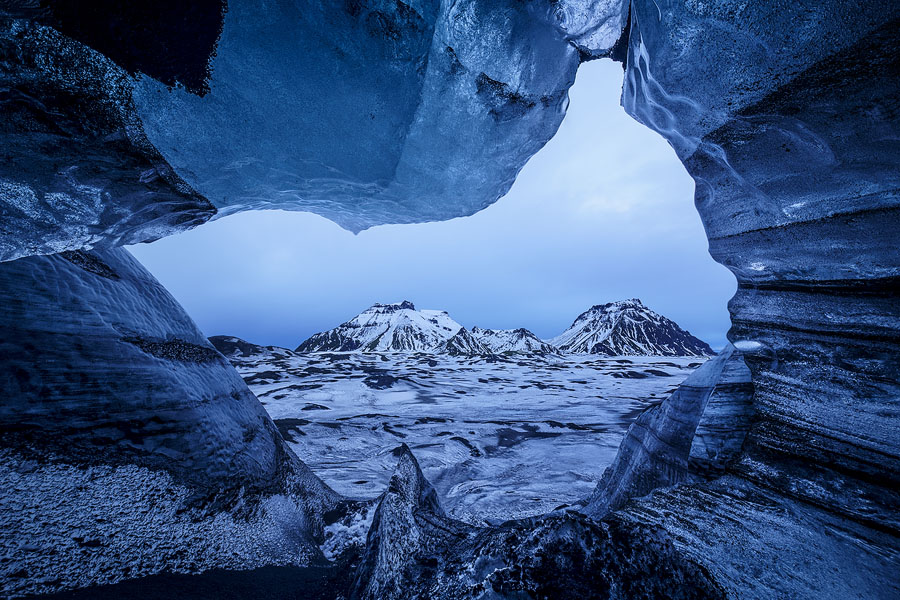 Day 4 Skaftafell - Jökulsárlón
We'll head out early in the morning and shoot the sunrise in the beautiful Skaftafell national park, where immense ice fields, glaciers and ice caves await. After spending a few hours there, we'll drive to Jökulsárlón, the glacier lagoon, where we'll settle for 3 nights.
The Jökulsárlón area is one of the most scenic in Iceland, and perhaps in the world. Ever-changing ice, soft pink light, mountains, lagoons and much more. It's also is a fantastic spot for shooting the northern lights, so if there are good conditions, we'll drive back to the lagoon for an awesome night-time experience.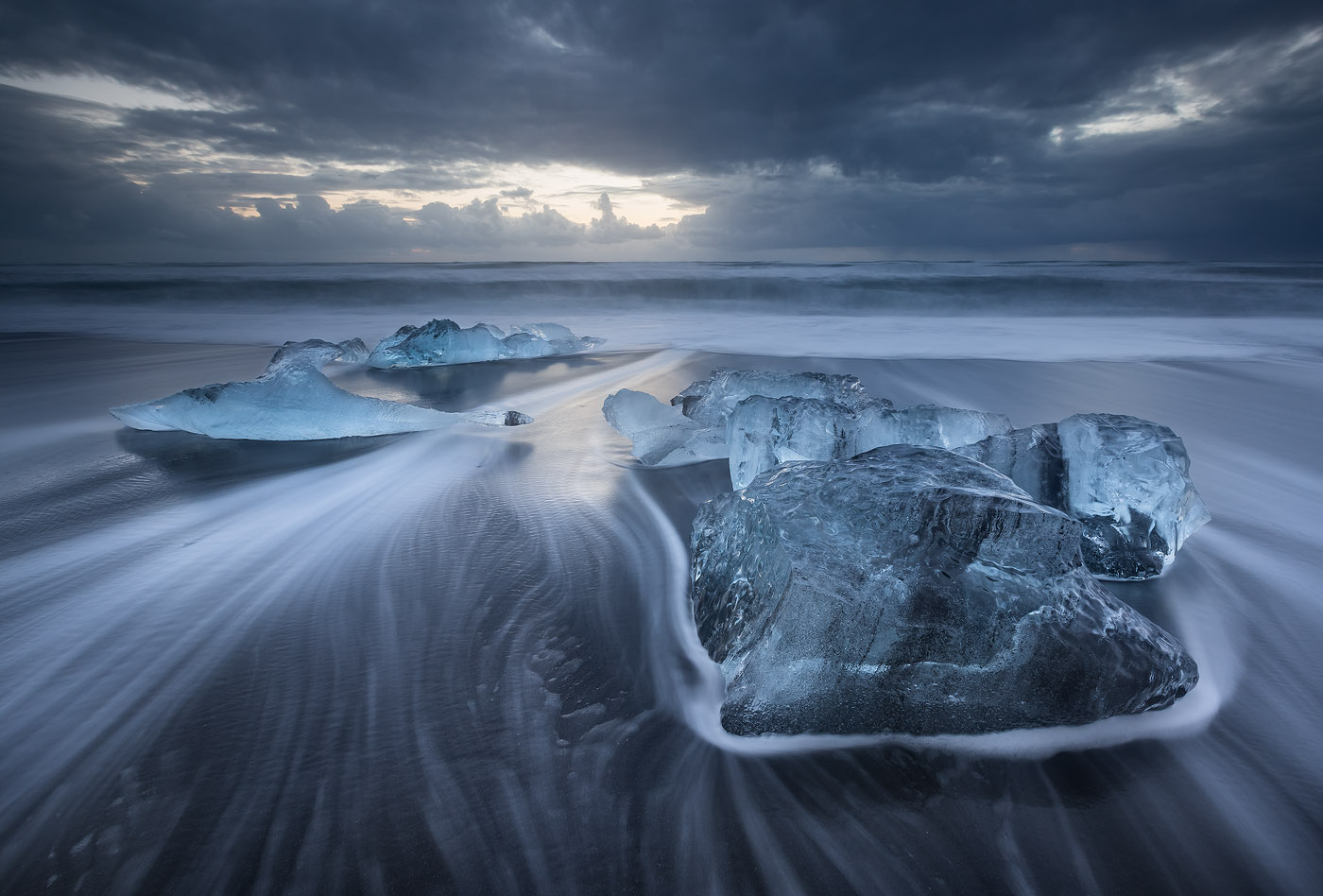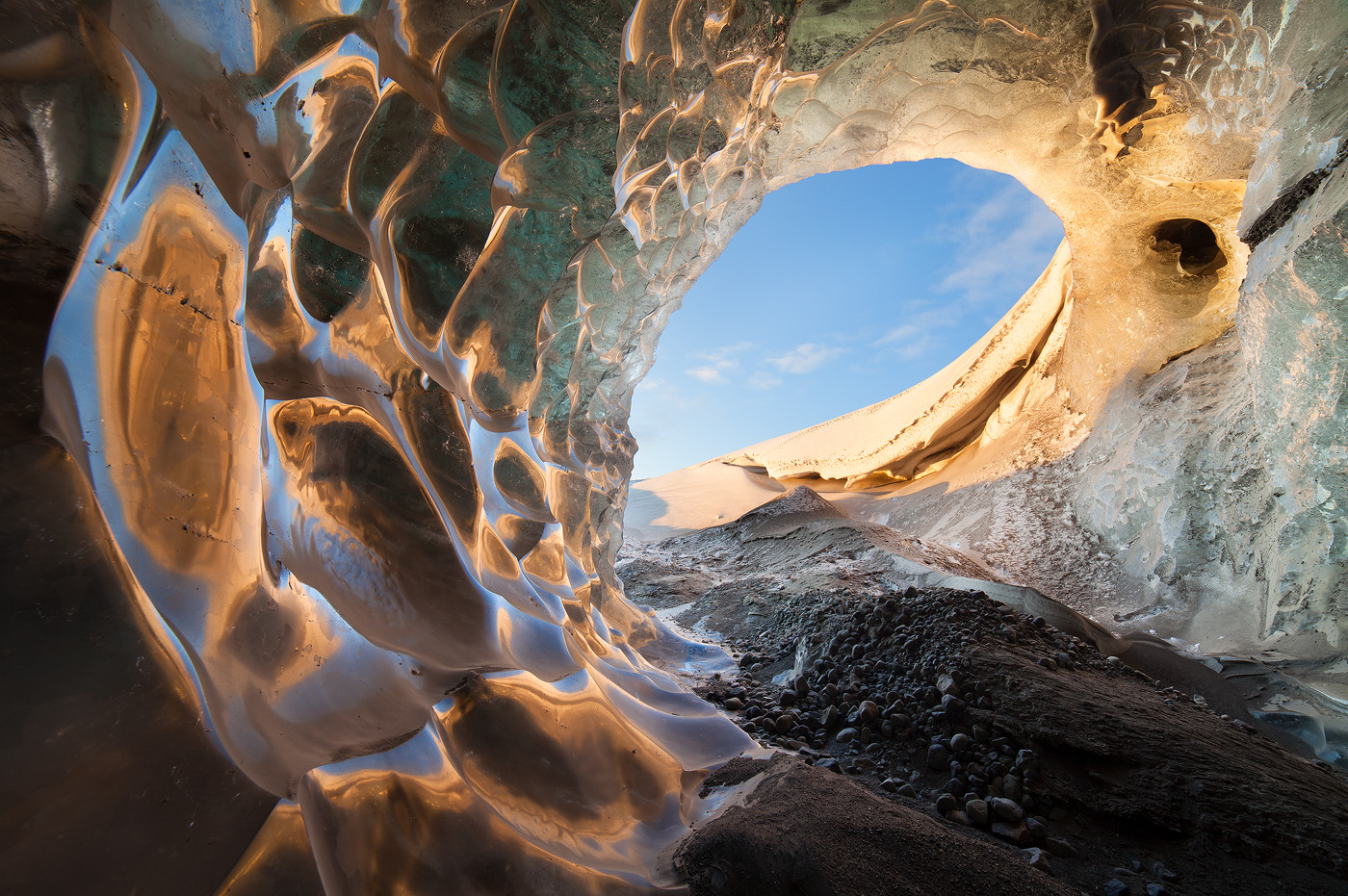 Day 5 The Glacier Lagoon - Jökulsárlón
After a big breakfast, we'll head out to the glacier lagoon, perhaps Iceland's most iconic site. The lagoon holds endless photo opportunities, and we will be able to achieve fascinating results under various conditions. Every day here is something different, be it clear, cloudy, snowy or any other weather. Truly a magical place.
For sunset we'll head to the glacier beach. The beach is an amazing sight to behold, pitch-black sand with thousands of crystal-clear icebergs spread all over it. After shooting the sunset, we'll get back to the hotel for another satisfying dinner. Again, if there are good aurora conditions, we'll head to the lagoon and make another effort shooting this wonder of nature.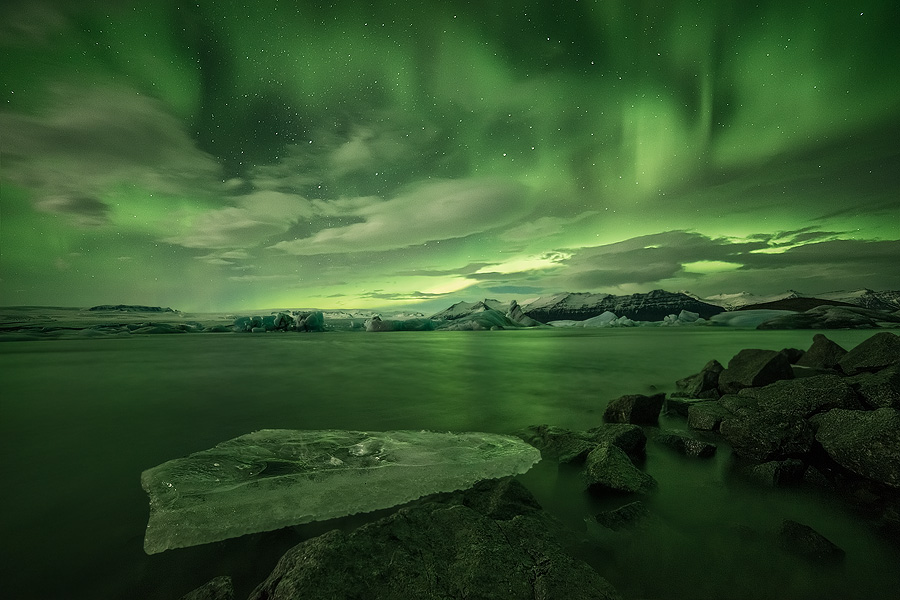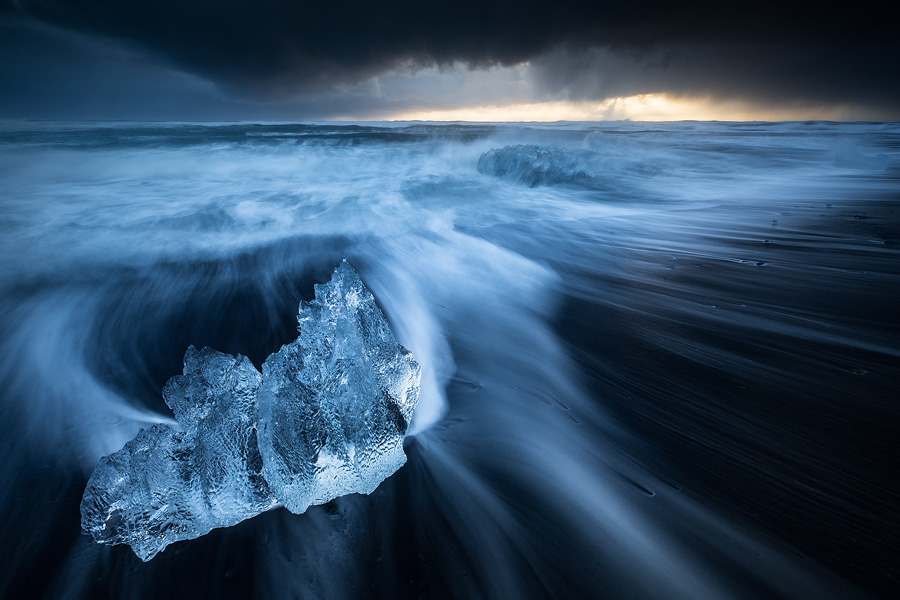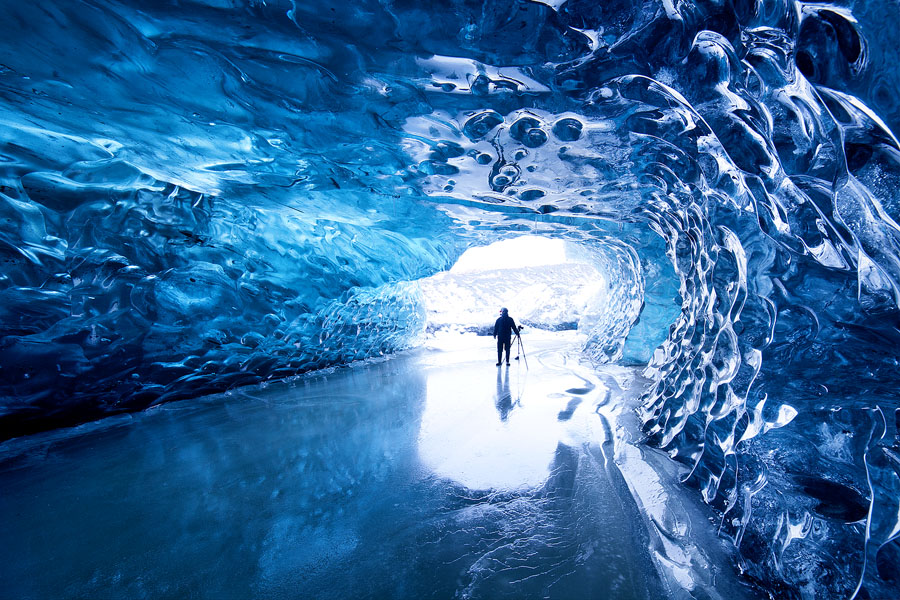 Day 6 Jökulsárlón area, Fjallsárlón
After breakfast, we'll head to the mountain lagoon, Fjallsárlón. This glacier lake is close to the glacier lagoon, but offers mountainous scenery and a closer view of the blue glacier. This lagoon is sometimes frozen solid, which will enable us to walk all the way to the glacier wall, experiencing its immensity from a very close range.
We'll shoot a few more locations in the area, and get another opportunity for the sunset in the ever-changing glacier beach.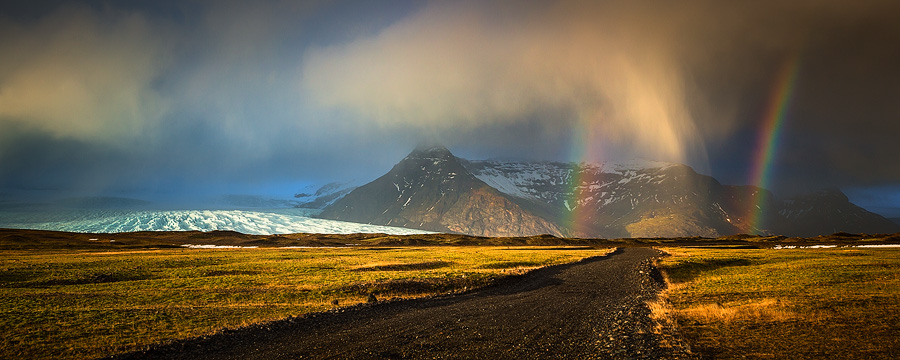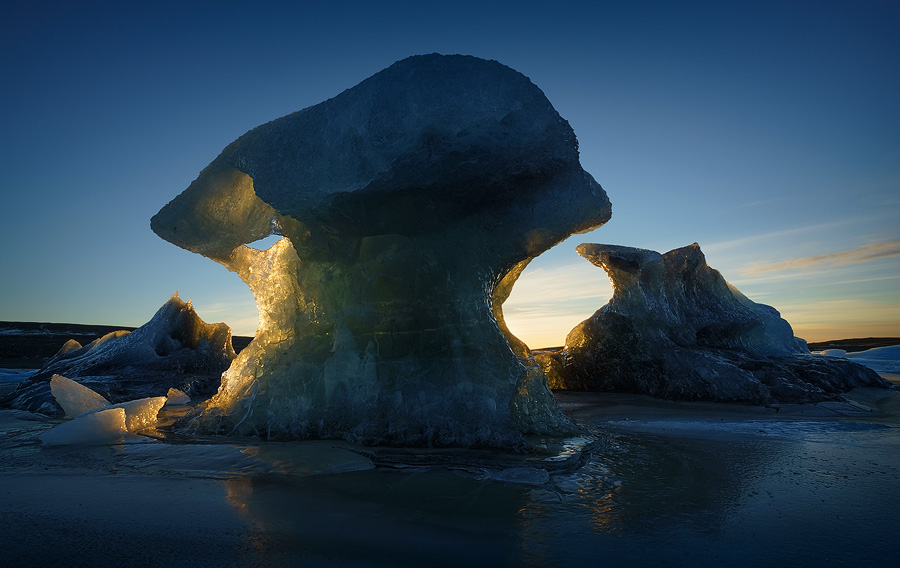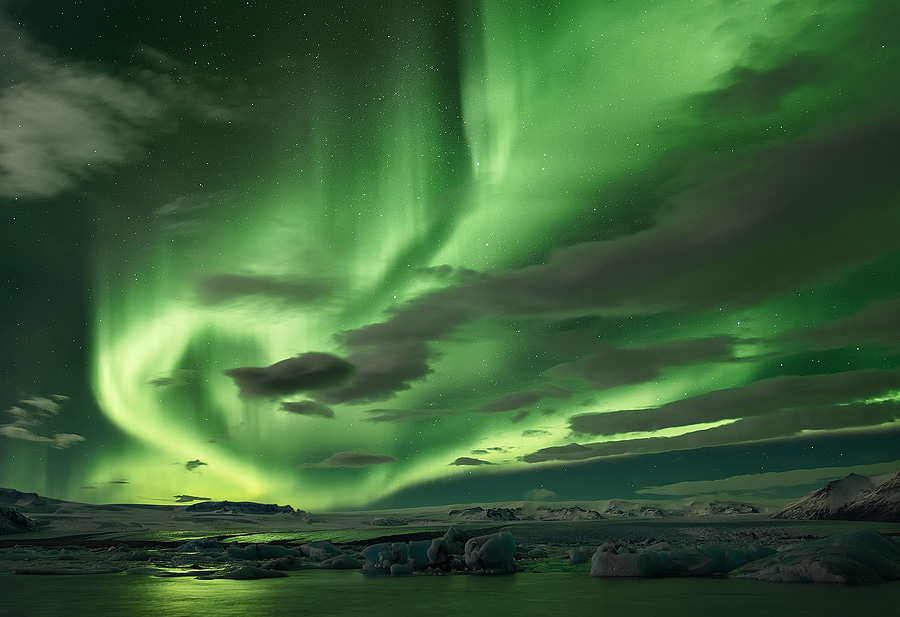 Day 7 Jökulsárlón - Reykjavík
After breakfast we'll return to the black beach close to Jökulsárlón for the sunrise. You'll be surprised to witness how different the conditions can be after just a day or two. After that, we'll continue our drive back west, stopping on the way to shoot more spots of interest and icy scapes. We'll stop at Vik for a meal and another angle for the sunset, and by night we'll be back in our lovely Reykjavík hotel.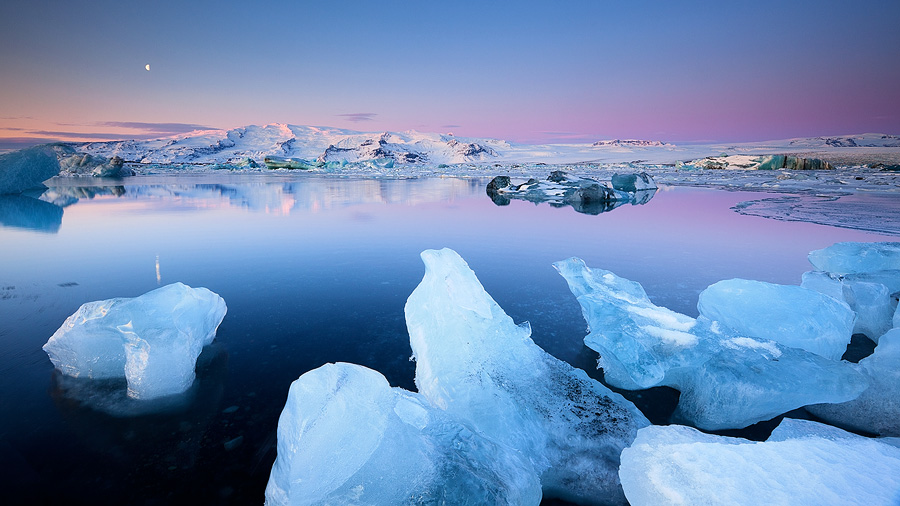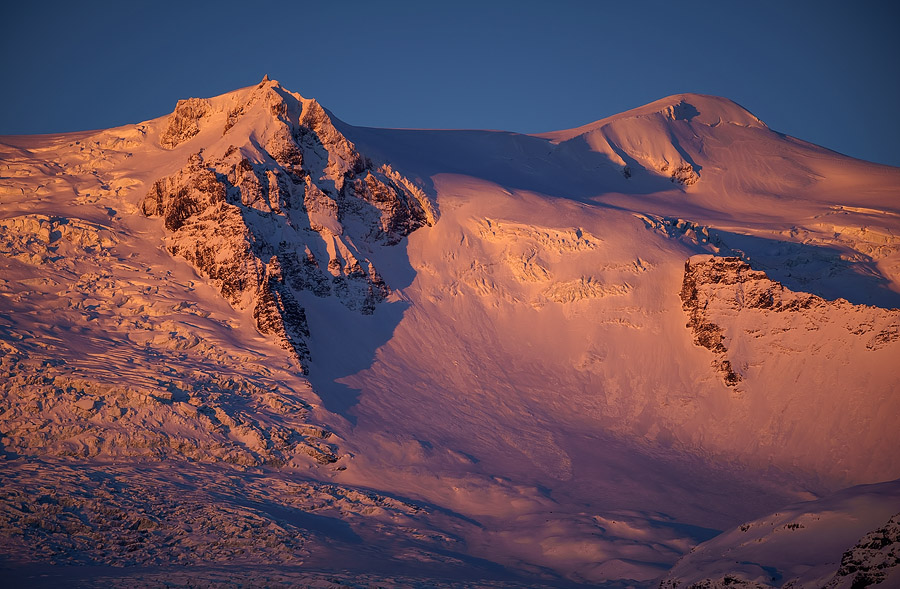 Day 8 Departure
After breakfast at the hotel, we will say our goodbyes and depart to Keflavik airport for your flight home.
PRICING AND DETAILS
Total Price: €4190 per person in double room for participants registering by February 28th, 2018;
€4290 for participants registering between March 1st, 2016 and July 31st, 2018;
€4390 for participants registering afterwards.
Sign up as a group of 3 or more and receive a €200 discount each!*
Special offer: sign up to both 'Land of Ice' (Southern Iceland) and 'Winter Paradise' (Northern Iceland) and receive a €200 discount.*
Single room supplement: €1150
Deposit: €1990
Maximum Number of Participants: 13
Physical Difficulty: Beginner. Decent mobility is required, but there will be no difficult hiking or climbing. There might be short hikes of up to 30 minutes to get to a location. Winter conditions in Iceland can be a bit harsh, so you must be prepared to withstand temperatures as low as -10 degrees centigrade in addition to strong winds. On average, the temperature is likely to be around zero degress centigrade.
WORKSHOP PRICE INCLUDES
Hotel accommodation. We won't be sleeping in 5-star hotels, but they are welcoming, clean and comfortable, and the food is great!
Dinner the first day
Breakfast, and lunch on days 2-7. Since we'll be shooting in the field most of the light hours, lunch will be served in the form of nutritious sandwiches, fruits and/or soup with bread and butter.
Breakfast on day 8
Professional photography guidance by two esteemed landscape photographers
PRIVATE visits to MULTIPLE ice caves.
Professional supervision by qualified mountaineers including full safety gear during any stay on glaciers and other locations which can be risky unless supervised.
NEVER VISIT GLACIERS WITHOUT PROFESSIONAL GUIDANCE, AS THIS CAN PROVE FATAL.
Post-processing assistance when and where possible.
Super-jeep (monster-truck) tour
Travels in a spacious, comfortable bus offering ample room for you and your photoraphy gear, and two seats per participant
Entrance fees if applicable
Taxes on all services listed above
WORKSHOP PRICE DOES NOT INCLUDE
Airfare to and from Iceland
Airport pickup and dropoff (easy, quick and inexpensive using the FlyBus system).
Winter clothing and winter gear.
Insurance. It is MANDATORY to insure yourself against physical injury, and highly recommended to insure your photo gear. Tour leaders will not be responsible in case of any personal injuries or damage to photographic gear as a result of an accident during the workshop. A good insurance policy can make a big difference should something happen, and ensure a safe return home.
Dinners throughout the workshop.
Alcoholic drinks
Non-meal-time snacks
Non-meal-time soft drinks (Iceland's tap water is fantastic and highly recommended)
Single room supplement (€1150)
WHAT TO BRING
Photography Equipment
A digital camera, preferrably a DSLR camera with a full-frame sensor, since these cameras have better low-light capabilities. However, a crop-sensor DSLR will also completely suffice. A compact camera can be used, as long as you understand its limitations.
A heavy, sturdy tripod. That is a definite must in Iceland's windy conditions. A flimsy tripod will simply prevent you from being able to shoot most of the time.
Recommended: an ultra wide angle lens. For example, a Canon 17-40 on a FF sensor camera, or a Nikon 10-24 on a crop sensor camera.
Recommended: a wide aperture ultra-wide angle such as the Samyang 14mm f/2.8 for night photography.
Recommended: a telephoto zoom lens, such as a 70-200 or 70-300. Doesn't have to have a wide aperture or a stabilizer - an f/4 is more than enough.
Recommended: A filter set for landscape photography. I personally use Lee and Heliopan filters. A good filter set is worth its weight in gold for a landscape enthousiast. If you need to consult about buying a filter set, I'll be happy to help.
Recommended: A camera remote.
Clothing
Full thermal gear is absolutely essential. I typically wear a thick thermal base layer, a heavy fleece coat and a down coat.
Good quality warm gloves. It's important to use gloves which enable you to operate the camera while wearing them.
Thermal long-johns
Water resistant trousers (preferably thermal)
Thermal socks. I recommend bringing at least 2-3 pairs.
A neck-warmer or a scarf
An alpine mask to cover the face
A good warm hat which covers your ears. Otherwise, they'll simply fall off!
Water-proof, thermal, knee-high rubber boots.
Ice spikes are MANDATORY to protect yourself from slipping on icy surfaces.
Other
WORKSHOP LEADERS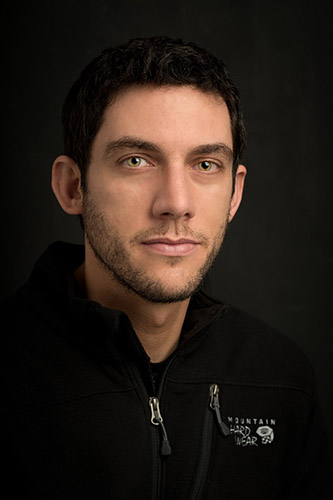 Erez Marom
Born in 1980, Erez Marom is a full-time nature photographer, photography guide, writer and traveler-adventurer based in Israel. Erez spends much of his time in the field shooting the wildlife and scenery of his favorite locations worldwide.
In addition, Erez publishes articles and instructional texts in leading magazines and websites, and dedicates a considerable amount of his time to sharing his experience and knowledge by lecturing and traveling several times a year to guide his unique photography workshops. His images have adorned the covers and pages of numerous magazines and books.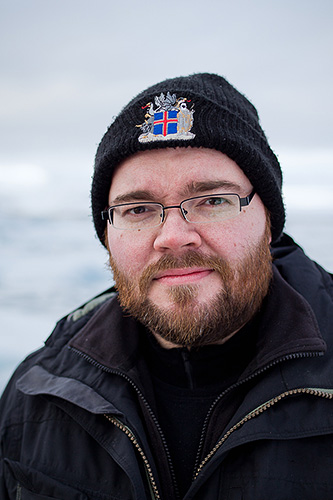 Arnar Bergur Guðjónsson
Arnar Guðjónsson is an Icelandic photographer, born 1979 and raised in the Westfjords of Iceland. He is a passionate landscape photographer and a outdoor enthusiast, who knows nothing better then staying out on cold winternights and photographing the northern lights.
Arnar has been also performing exceptionally well in photography competitions in Iceland and overseas and for now he is an grand prize winner of the Arctic Biodiversity "through the lens" competition, where he also got the Runner-up for the landscape category.
Arnar has held one private exhibition and have been in several collective exhibition as well. He is the father of two children and is a nature fanatic who loves to help others capture the beauty of Iceland.
OTHER TERMS AND CONDITIONS
Payment Procedure
In order to secure your spot, you are required to transfer a deposit of €1990. This deposit will be refunded only in case the workshop gets cancelled for some reason. For your comfort, the deposit can be payed either through PayPal or via bank transfer (contact me for details).
The full amount (after discounts if applicable) must be payed via wire transfer 75 days prior to the workshop starting date. You may pay with any major currency.
In the case you need to cancel your participation, a 67% refund (excluding deposit) will be given up to 60 days prior to the workshop starting date and a 33% refund up to 45 days prior to the workshop starting date.
I reserve the right to increase the price of the workshop if costs rise due to unexpected changes in fees, taxes or exchange rates.

Disclaimer
Though very improbable, workshop dates might shift a few days here or there, up to 6 months prior to start date. Please contact me if you have schedule limitations.
The tour plan above is subject to change. Weather in Iceland can be extremely unpredictable, and so in case of harsh weather, we may have to divert from our plan and do something else. There's always something to do though, wherever we are.
Visits to ice caves depend highly on weather conditions. If conditions are unfavorable we might not be able to enter some or all of the caves.
Important: In order to join the workshop, you will be required to sign a contract that establishes that the tour leaders are not responsible to physical or proprietary damages, and that you understand and accept several behavioral standards (including not taking excessive risk), necessary to ensure the workshop's success and your safe return.
Aurora is, of course, not guaranteed.
*Multiple discounts may or may not apply, please consult me.