'HEART OF WINTER' - GREENLAND WINTER PHOTO WORKSHOP
Price: €6990 pp (or $US equivalent. Price valid until May 31st, 2020) / Deposit: €2990 pp
AVAILABILITY
1st - 8th March 2022
Greenland is a land of contrasts, and winter is the season in which is demonstrates both harshness and immense beauty. In the west of the huge island lie Disko Bay and the magnificent Sermeq Kujalleq (Ilulissat Glacier), which connects to the bay through the 60km long Kangia Fjord. It is one of the world's fastest moving glaciers, constantly producing enormous icebergs, which float along the fjord to be dispersed in the bay. North of Disko bay stretches Uummannaq fjord, a haven of calm water and, in this season, sea ice. In the middle of the fjord, the unmistakeable Uummannaq mountain rises 1170 meters above the sea ice, a spectacle of epic beauty.
While temperatures can plummet and winds can chill bones, Greenland is simply incredible in winter. Join award-winning landscape photographer Erez Marom for 8 days of helicopter flights, snowmobiling, hiking, sailing and epic photography in this remote and wonderful part of our world. We will explore both Uummannaq Fjord and the Disko Bay area, hiking to gigantic icebergs embedded in the sea ice, zooming around the frozen fjord in snowmobiles, shooting Northern Lights and walking on mind-bending black-ice lakes.
Main Features
8 days in spectacular winter conditions, divided evenly between Uummannaq Fjord and Disko Bay
Uummannaq fjord will most likely be frozen, allowing us to hike and snowmobile all the way to gigantic icebergs embedded in sea ice
Snowmobiling to various locations in Uummannaq Fjord
Shooting an amazingly clear, icy lake with cracks and methane bubbles, with Mount Uummannaq as the perfect background
Full day snowmobiling all the way to the glaciers in the Disko Bay area
Boat sail in Disko Bay
Very small group size (7 max) guarantees unparalelled attention
Professional photo guidance by an award-winning nature photographer with vast experience shooting and guiding in Greenland
Superior accommodations and meals in a contrally-located, cozy hotel with spectacular bay views from your window
Day 1 Meeting in Uummannaq
After being picked up from Uummannaq heliport and dropped off in our central guesthouse, we'll settle in our rooms and head down to the restaurant downstairs. We will have a meet-and-greet over dinner and discuss the trip ahead. If conditions are favorable we will head to the sea ice and shoot Northern Lights above the icebergs embedded in the frozen Uummannaq fjord.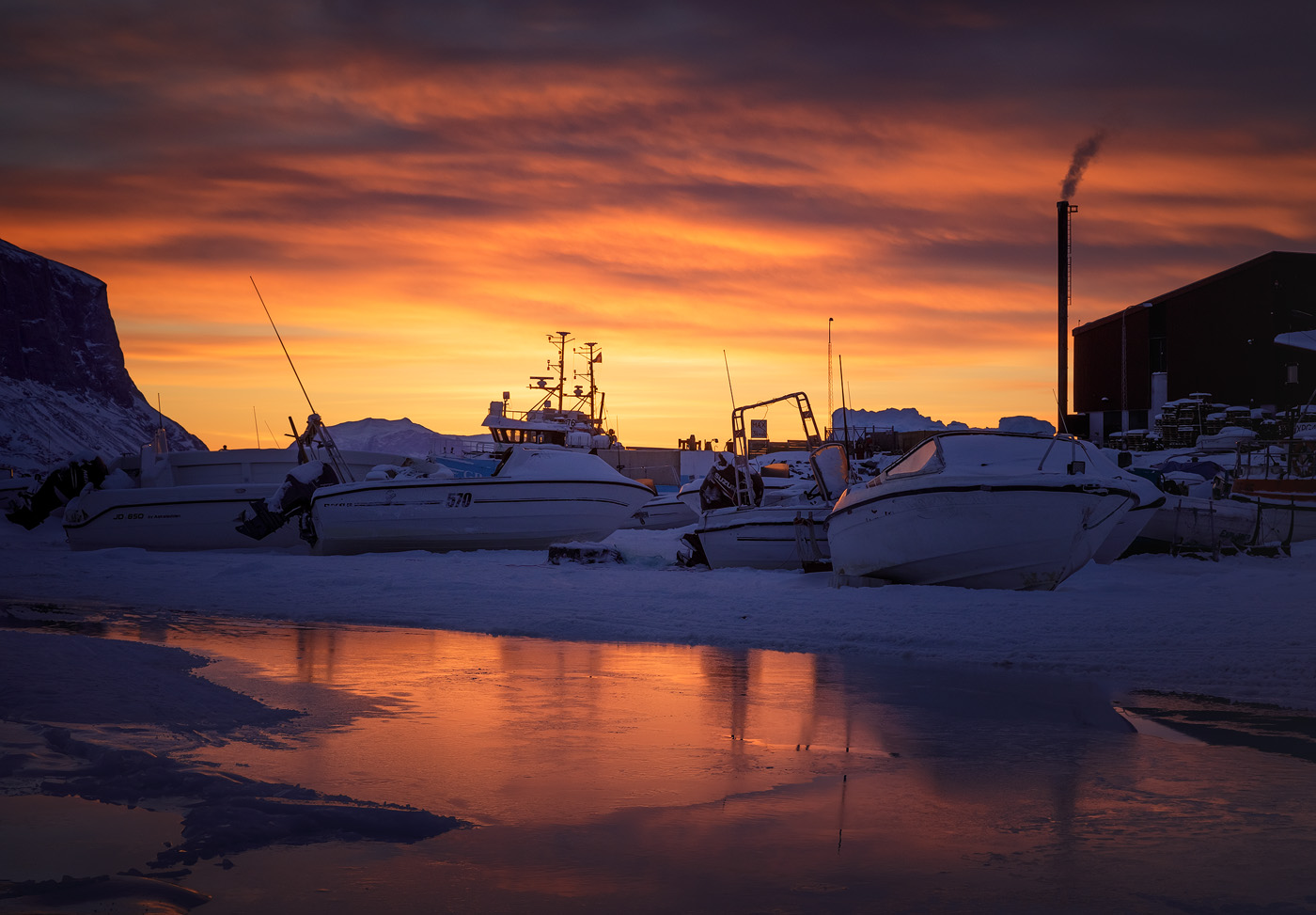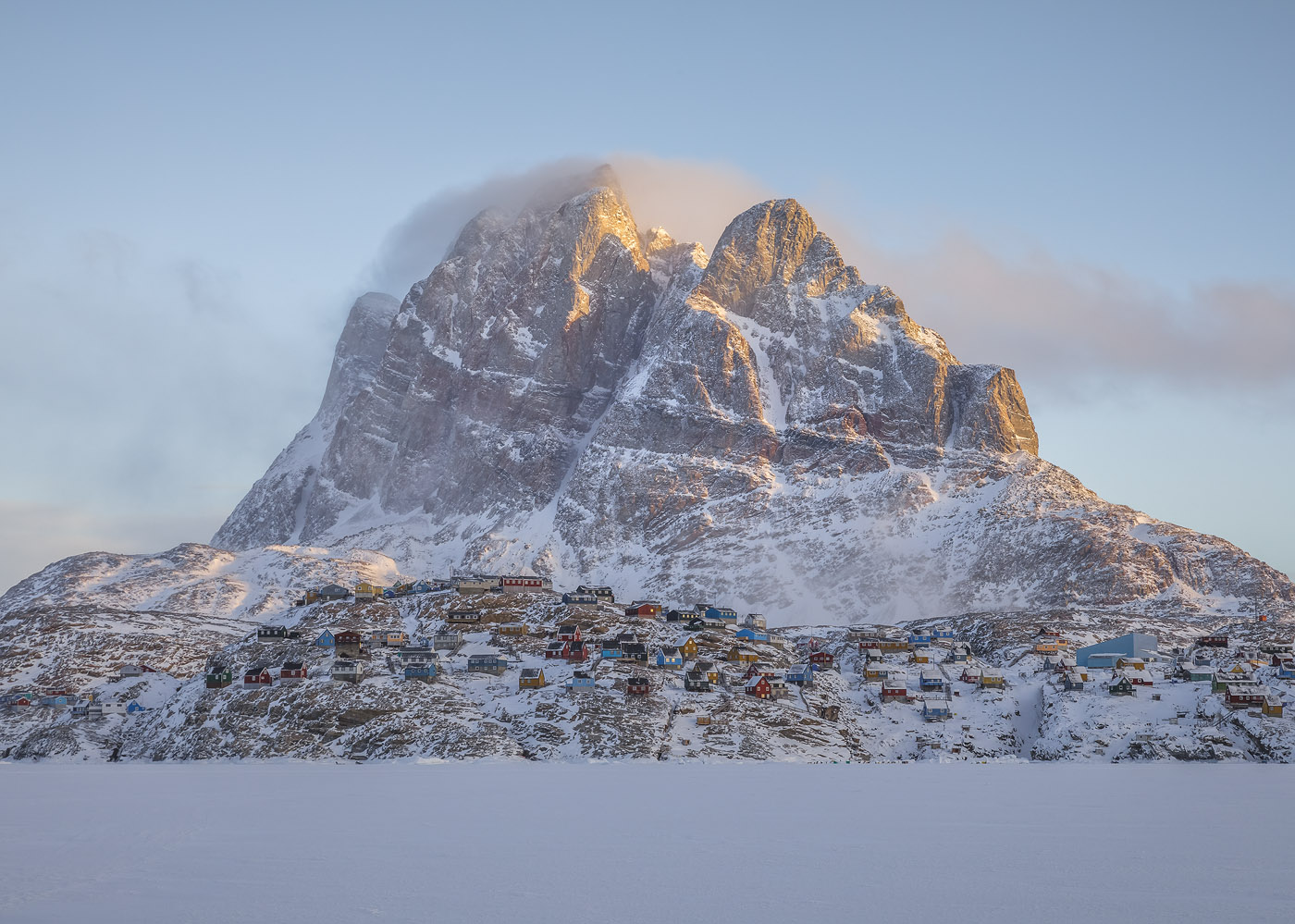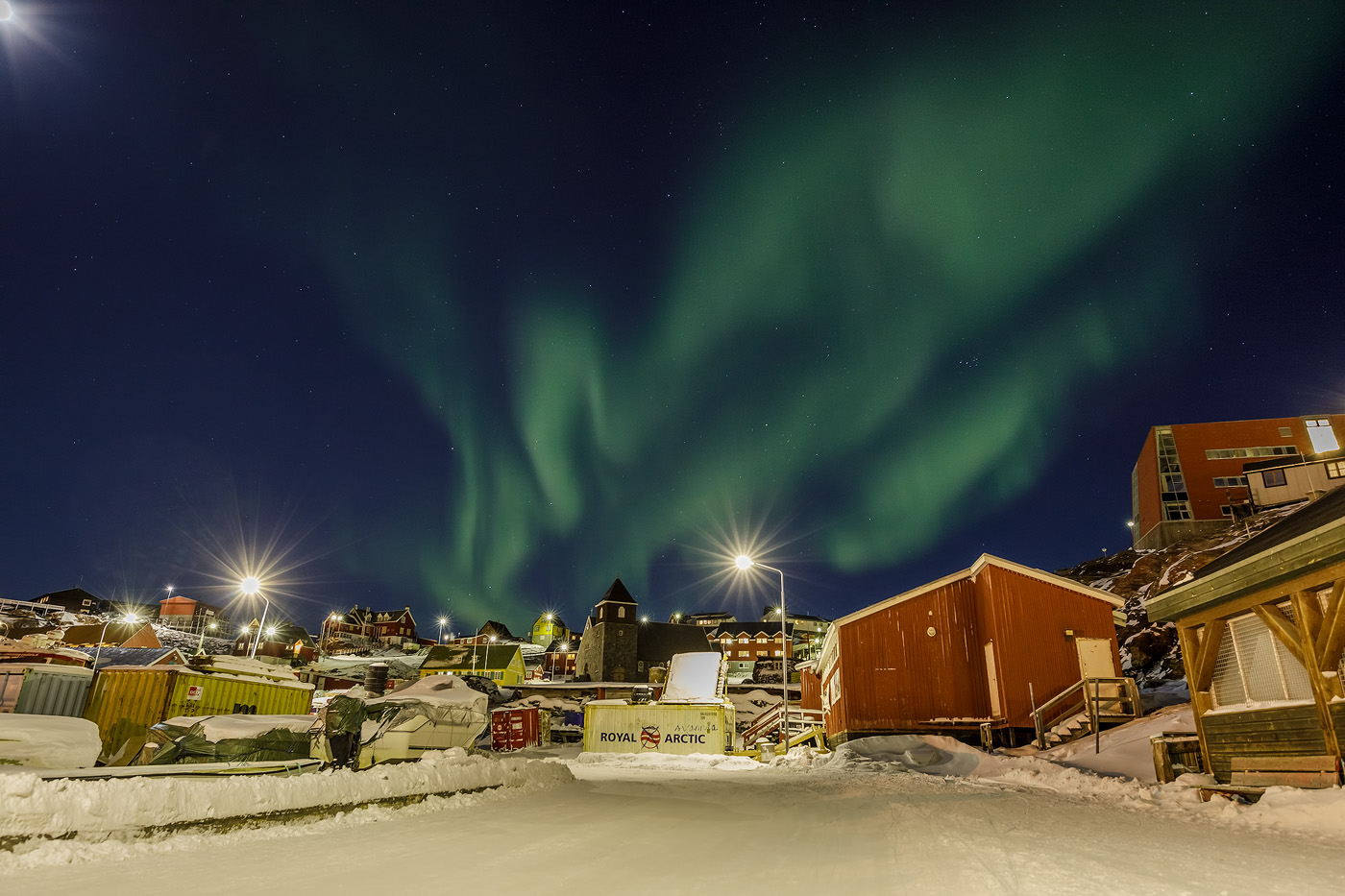 Days 2-5 Shooting in Uummannaq
Uummannaq is one of Greenland's most spectacular locations. The iconic, 1170 meter Mount Uummannaq dominates the landscape with its heart-shaped peaks, and supplies the perfect backdrop for many subjects.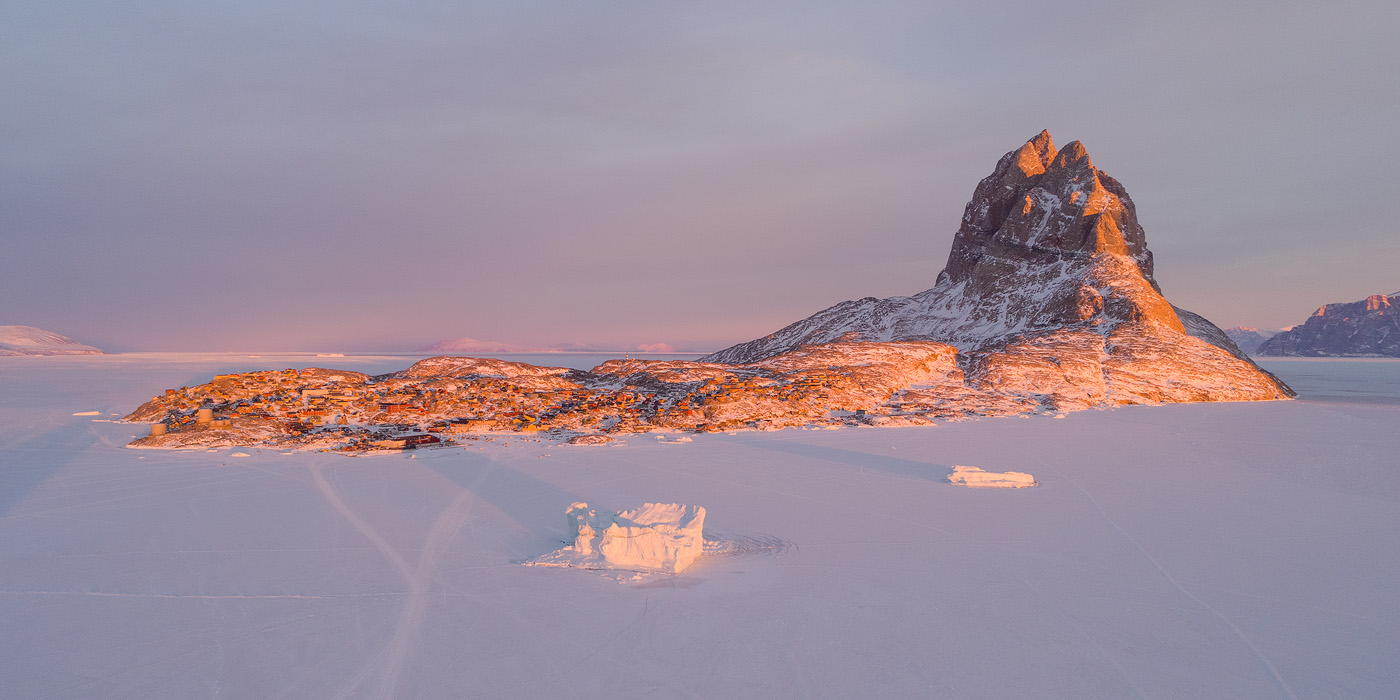 From our perfectly-located guesthouse right above the port, we will go by foot onto the sea-ice, where many gigantic icebergs are embedded, allowing us to venture relatively close and to get unique images. During our 3-day stay we will try to maximize the photographic potential of the icebergs, shooting them by sunrise, sunset and moonlight and in various conditions.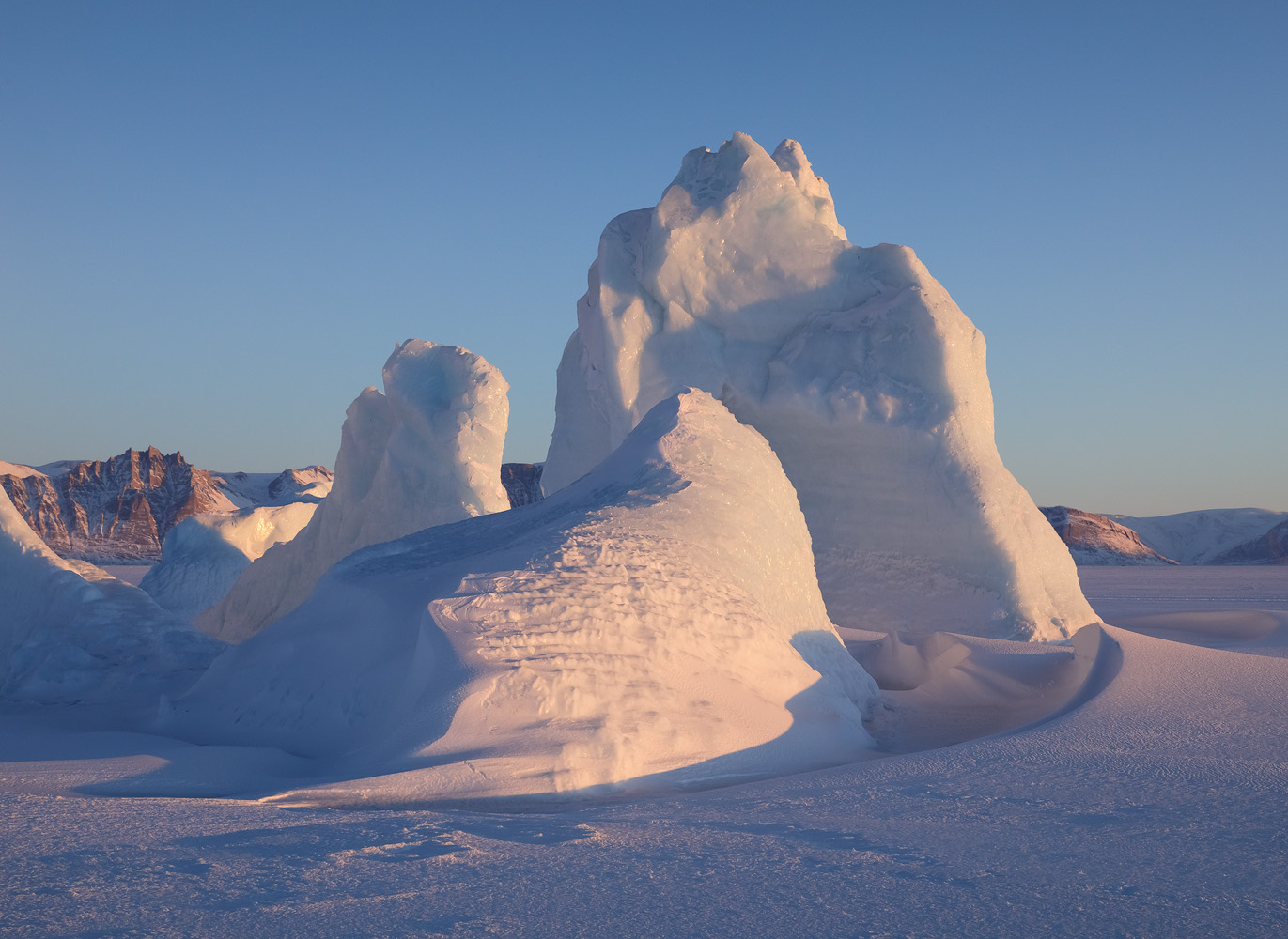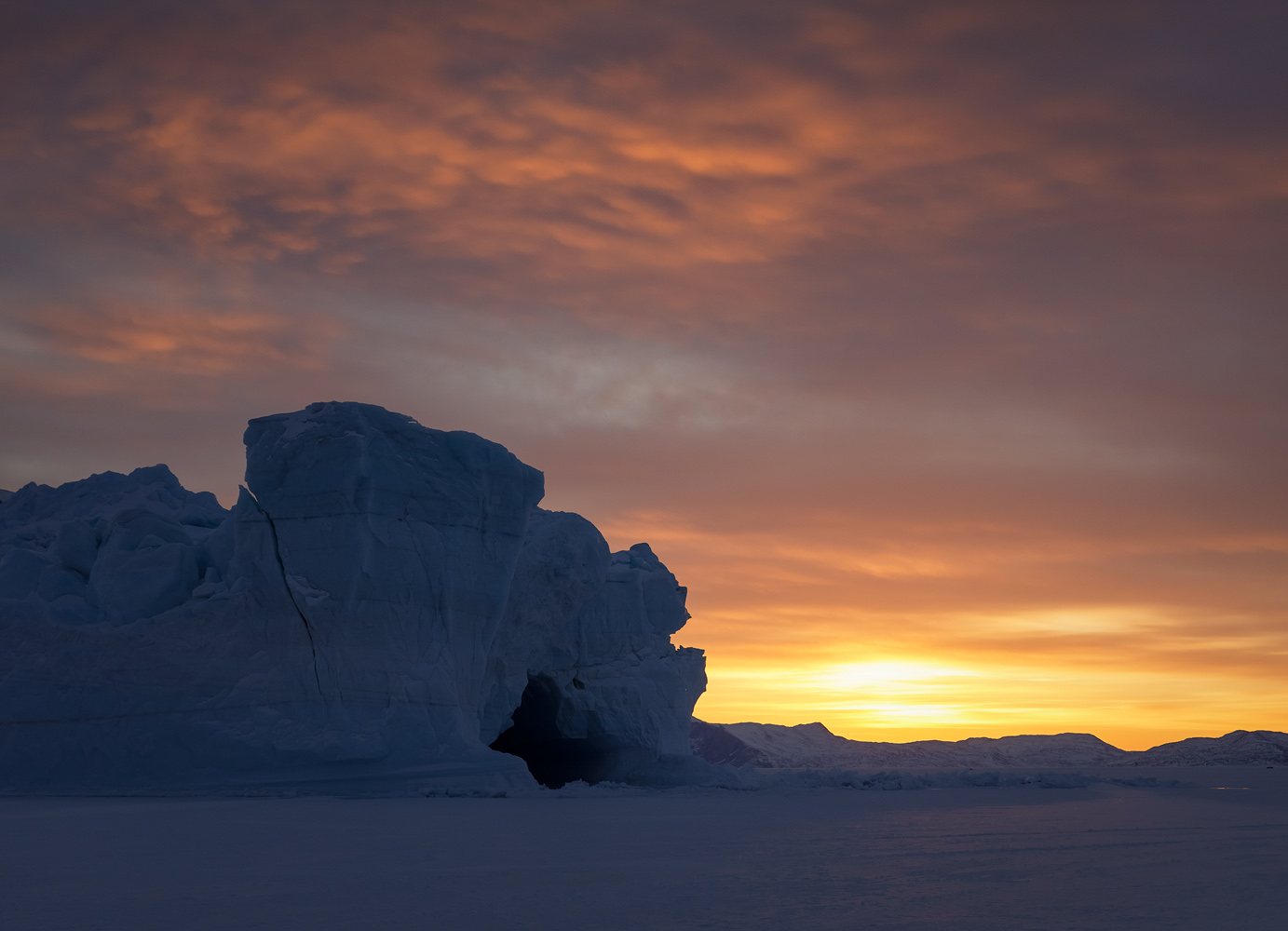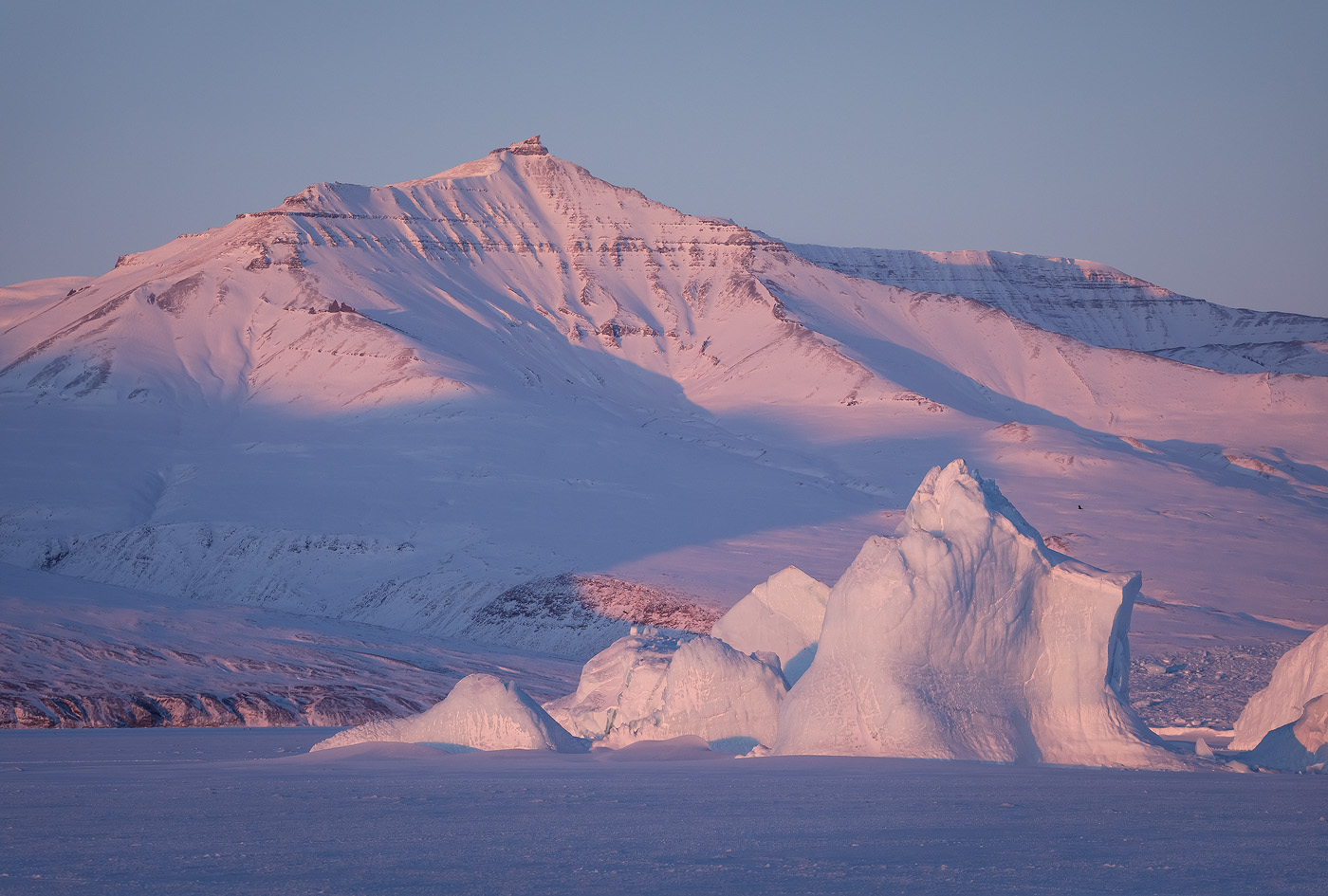 I recommend bringing a drone, which can be legally used sufficiently far from town, to capture fascinating perspectives of the icebergs and mountains.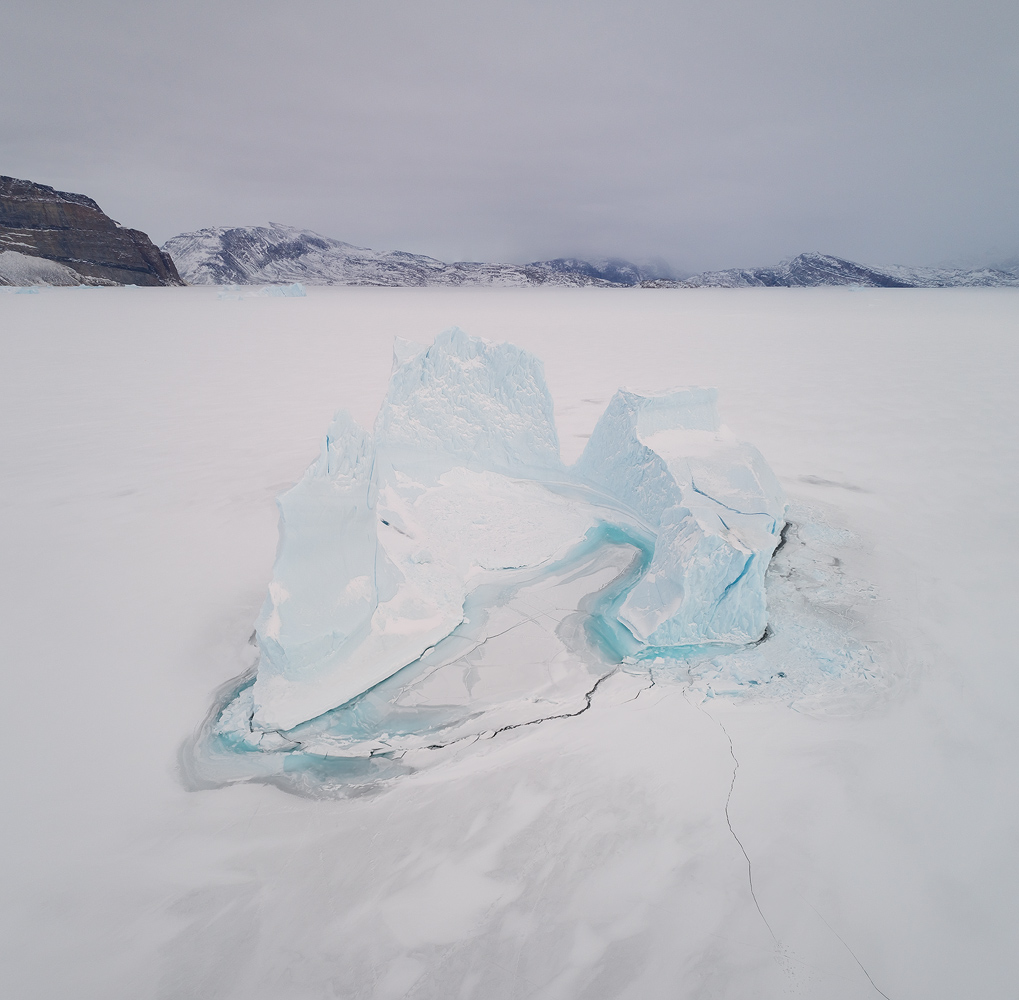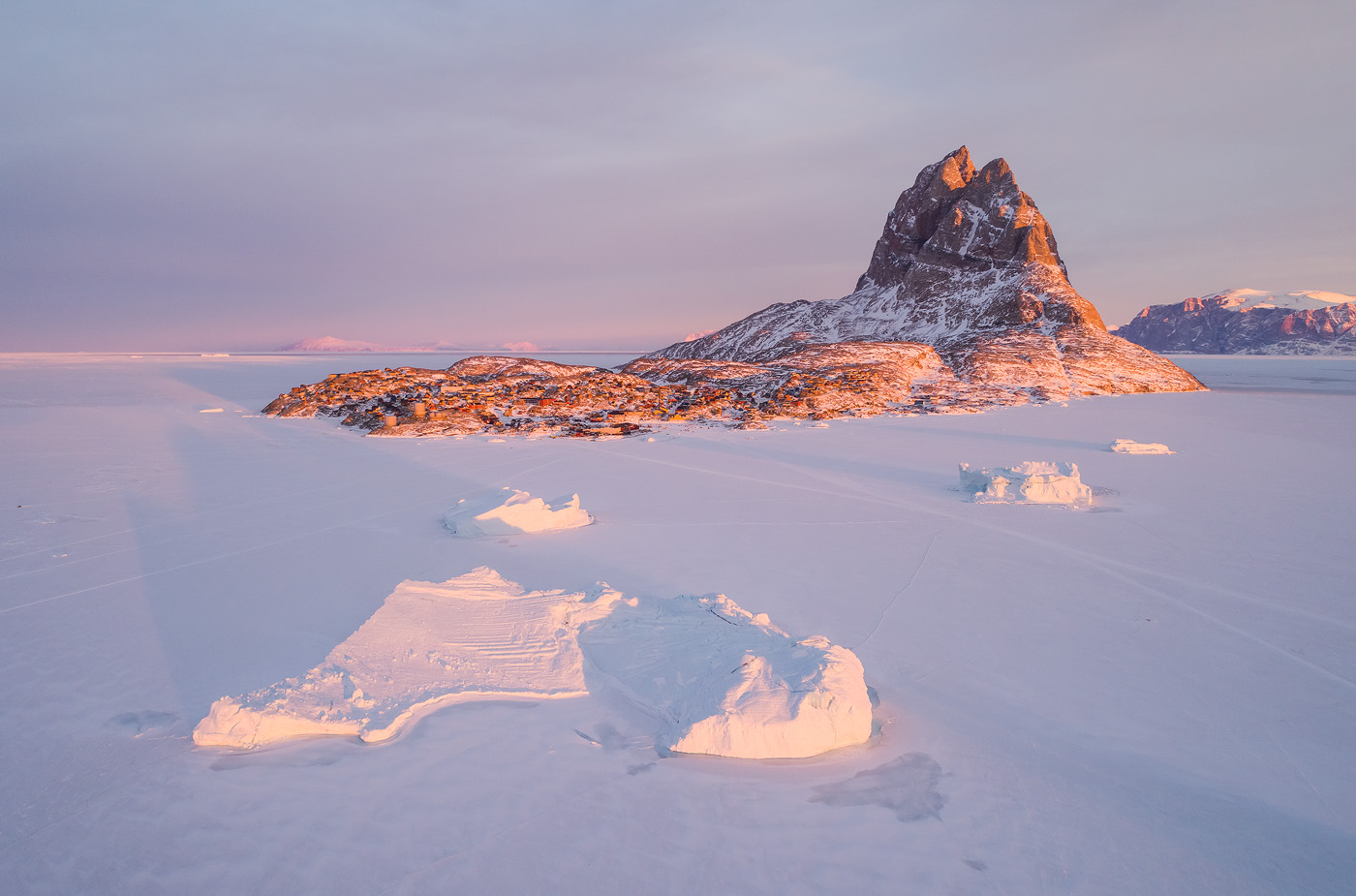 With Uummannaq's unstable weather, we might get to experience a bone-chilling Arctic gale or snow-storm, which might make shooting a bit more challenging, but also make for unbelievable conditions and allow the creation of spectacular winter shots. The landscapes, town, people and sled dogs all look so much more interesting when snow is blowing over!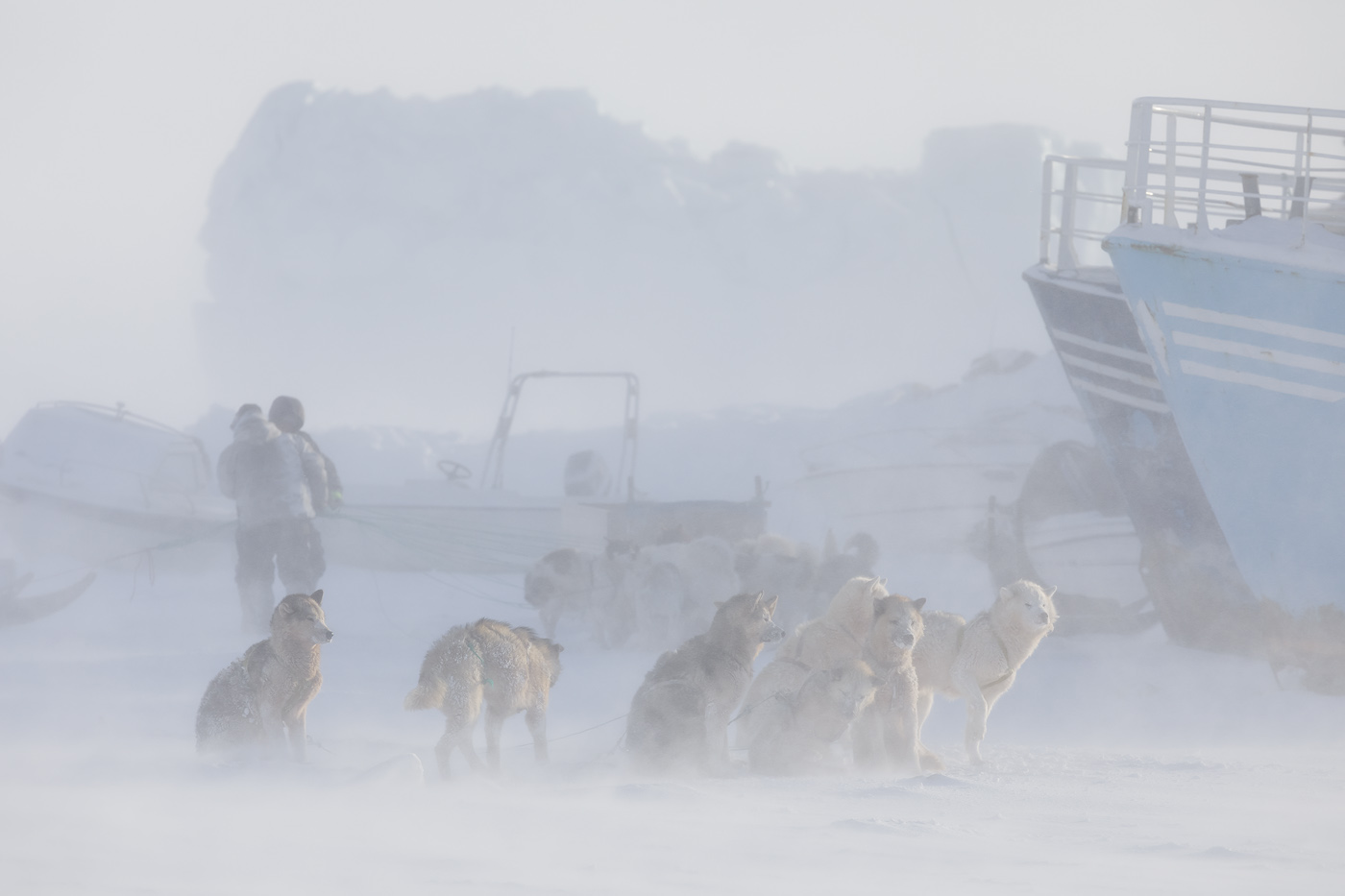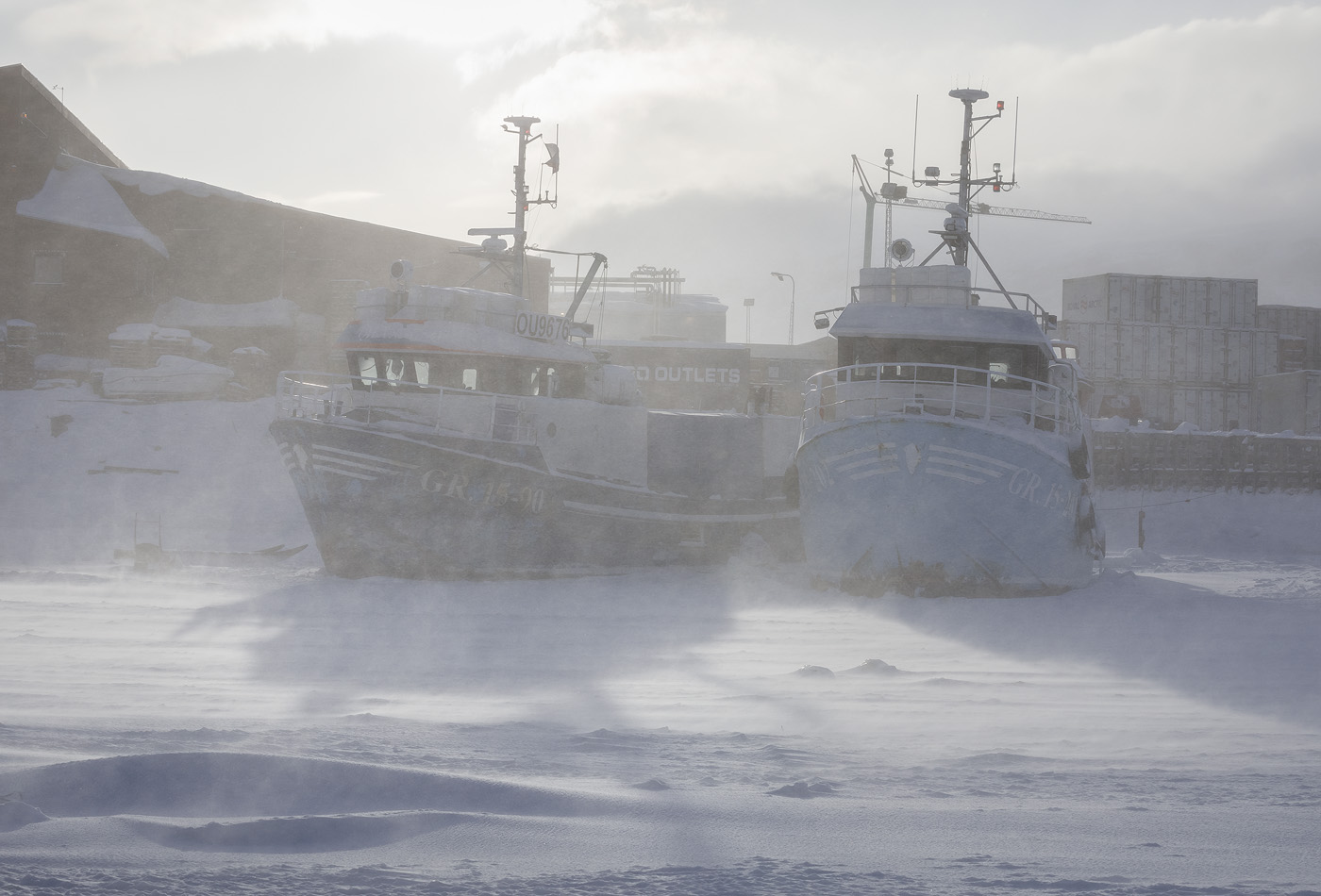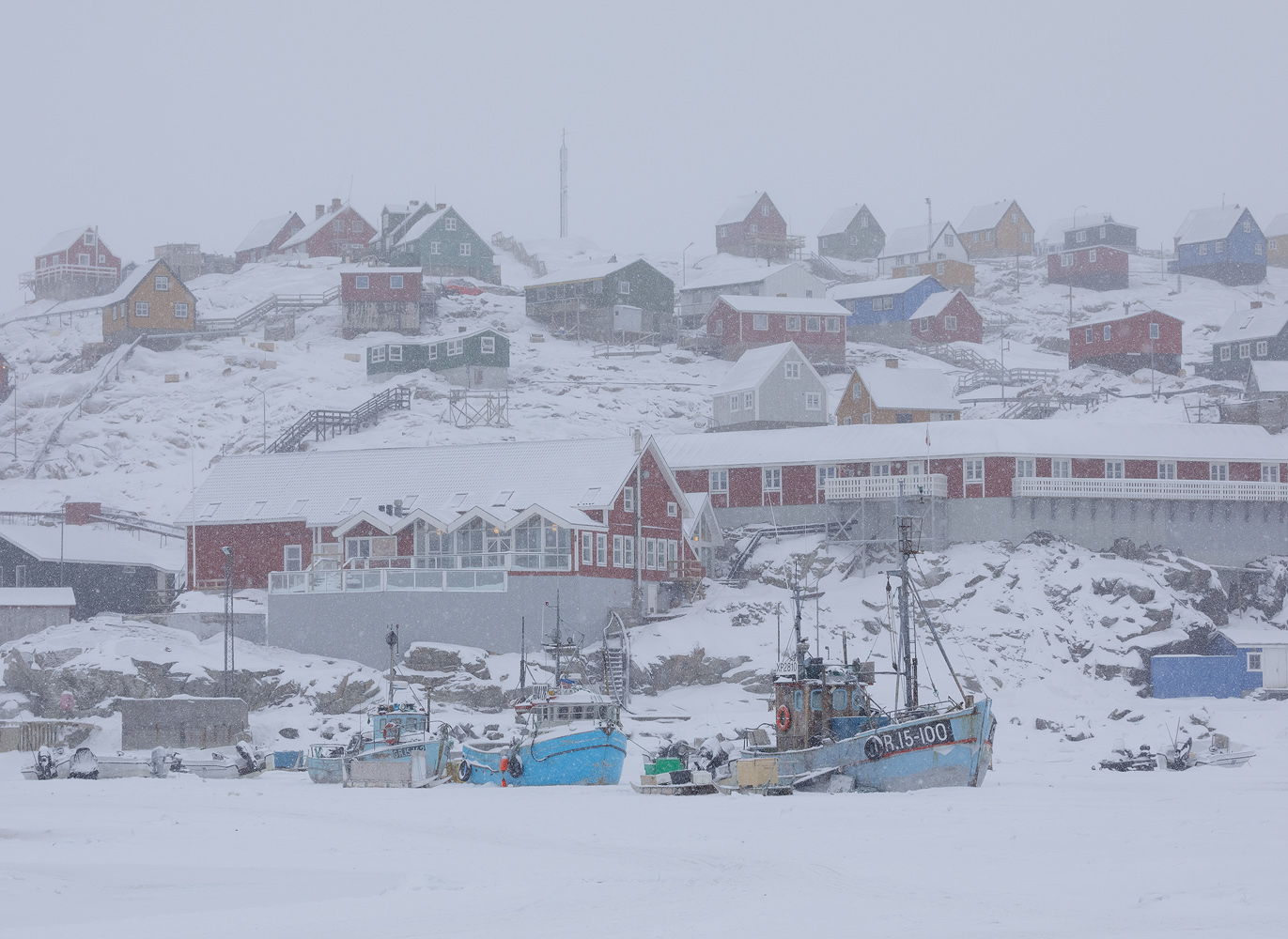 There are many other things to shoot in Uummannaq Fjord. On the top of my personal list is lake Tasersuaq, at the foot of mount Uummannaq. The lake is frozen solid at this time of year, and the ice is highly transparent, allowing us to see deep into the lake, shoot cracks, bubbles and curious patterns, all with the majestic mountain lit by sunset light and reflecting in the ice. We will scout the lake thoroughly to find the best cracks and patterns, and shoot them by sunset and by moonlight.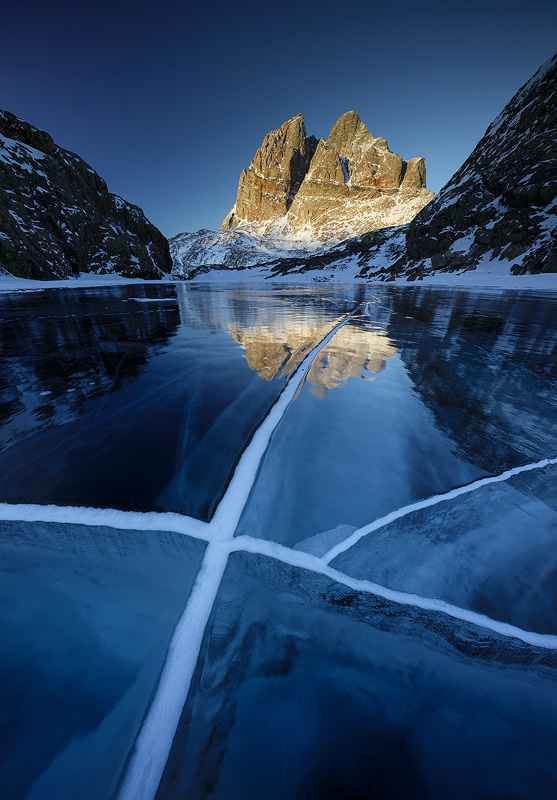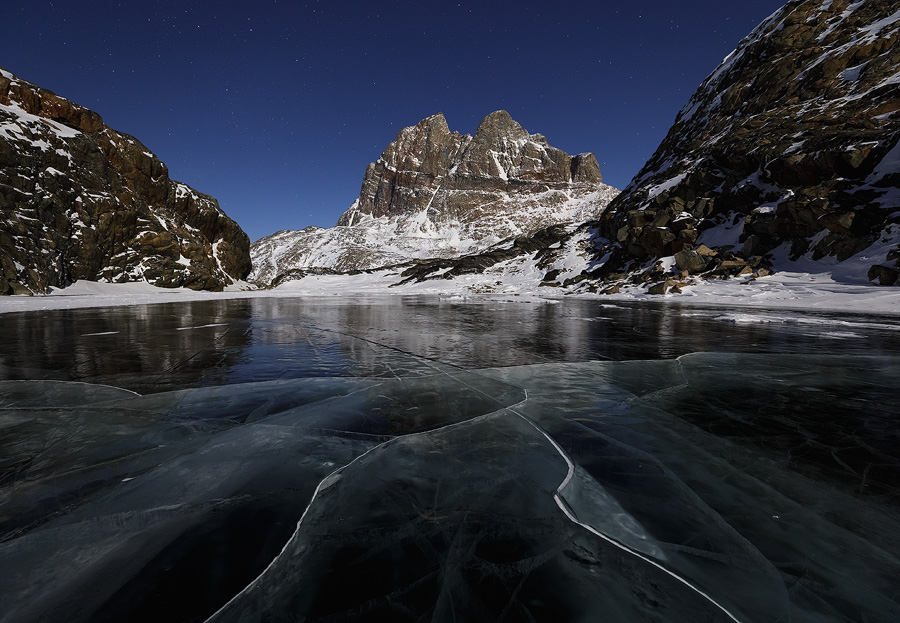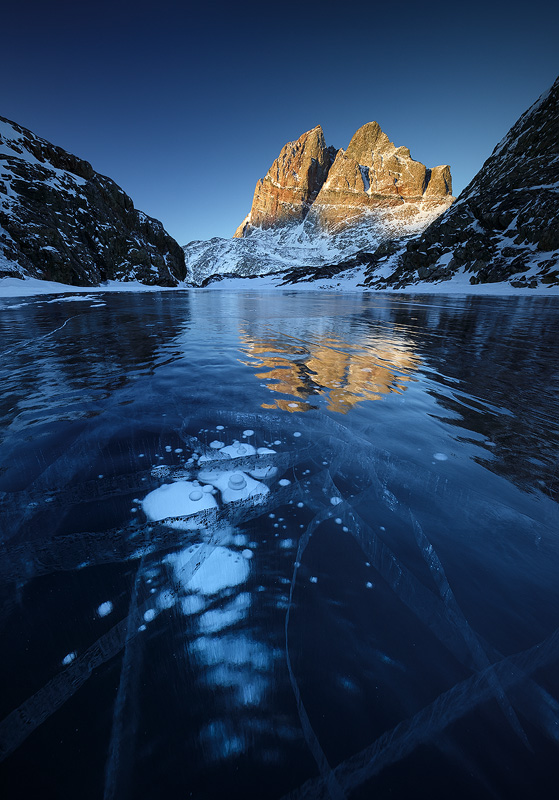 Uummannaq is a wonderful place to shoot the Northern Lights. There is a huge variety of natural foregrounds right outside the port. If conditions are favorable, we'll head out by foot or snowmobile to shoot the Aurora Borealis above the beautiful icebergs embedded in the sea ice.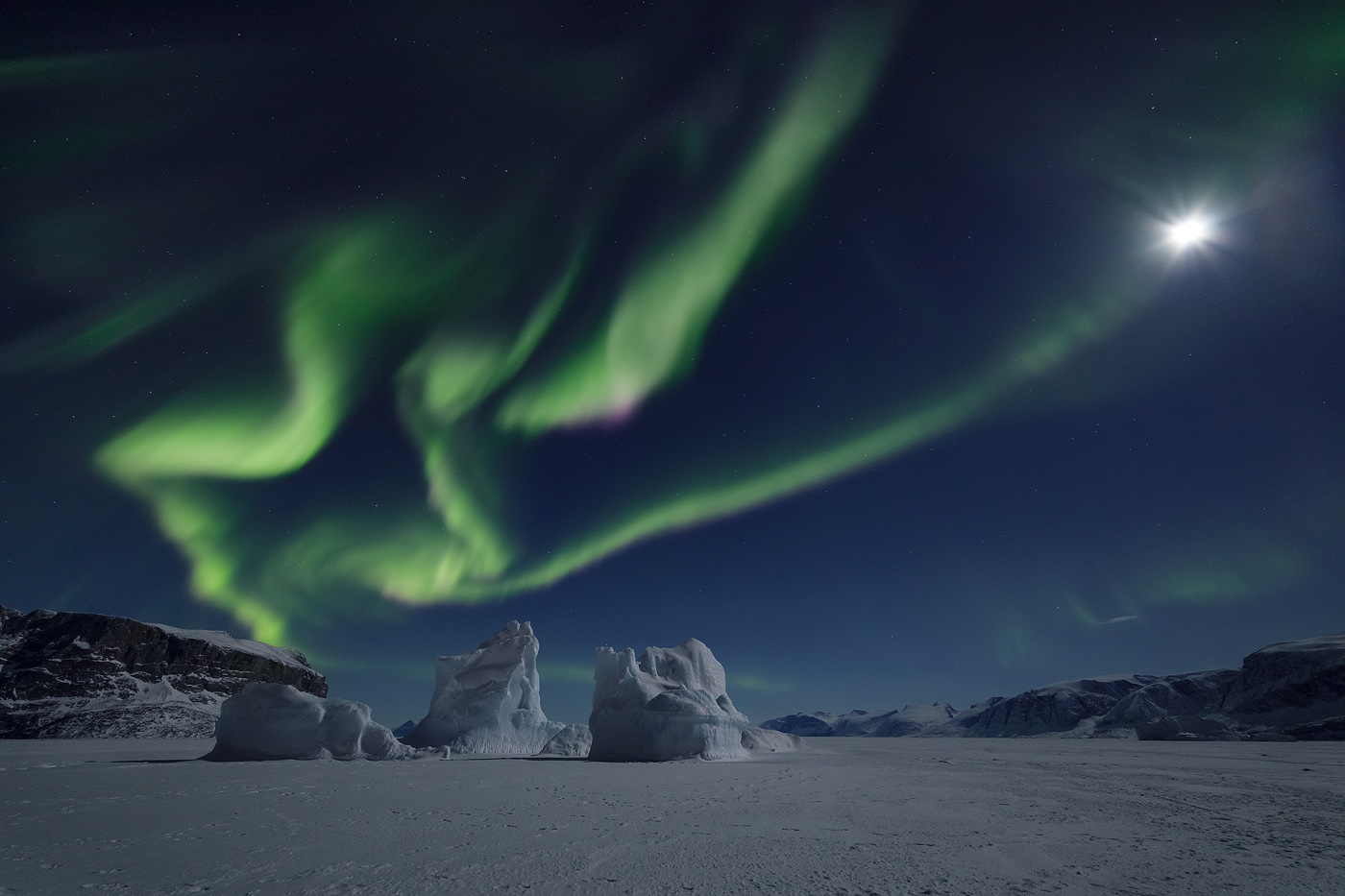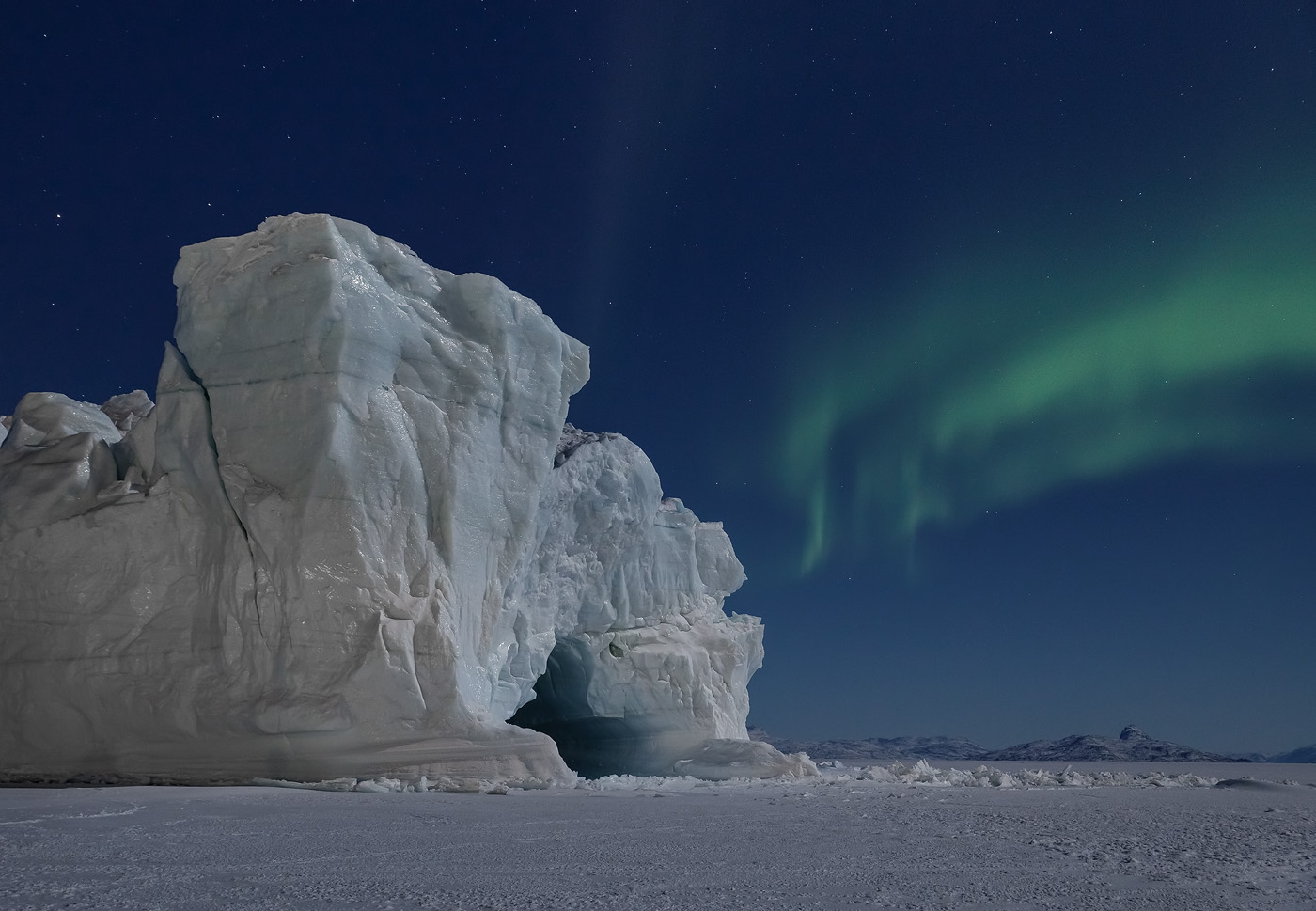 Day 5 Uummannaq to Ilulissat
After a sunrise shoot on day 4, we'll take a helicopter flight out of Uummannaq and head to Ilulissat, where we will settle in our contrally-located, cozy hotel and begin the second part of our journey.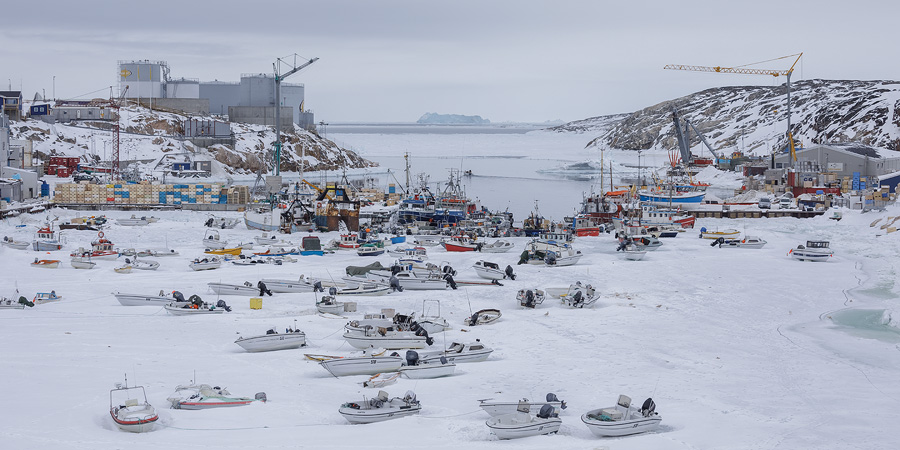 Days 5-8 Shooting in the Disko Bay Area
Ilulissat is a large town on the edge of Disko Bay, where the gigantic Sermeq Kujaleq (Ilulissat Glacier), the largest glacier in the northern hemisphere and one of the world's fastest-moving glaciers, dumps immense icebergs into the fjord, which later disperse into the bay. It's a magnificent location in any season, but in winter it is at its best.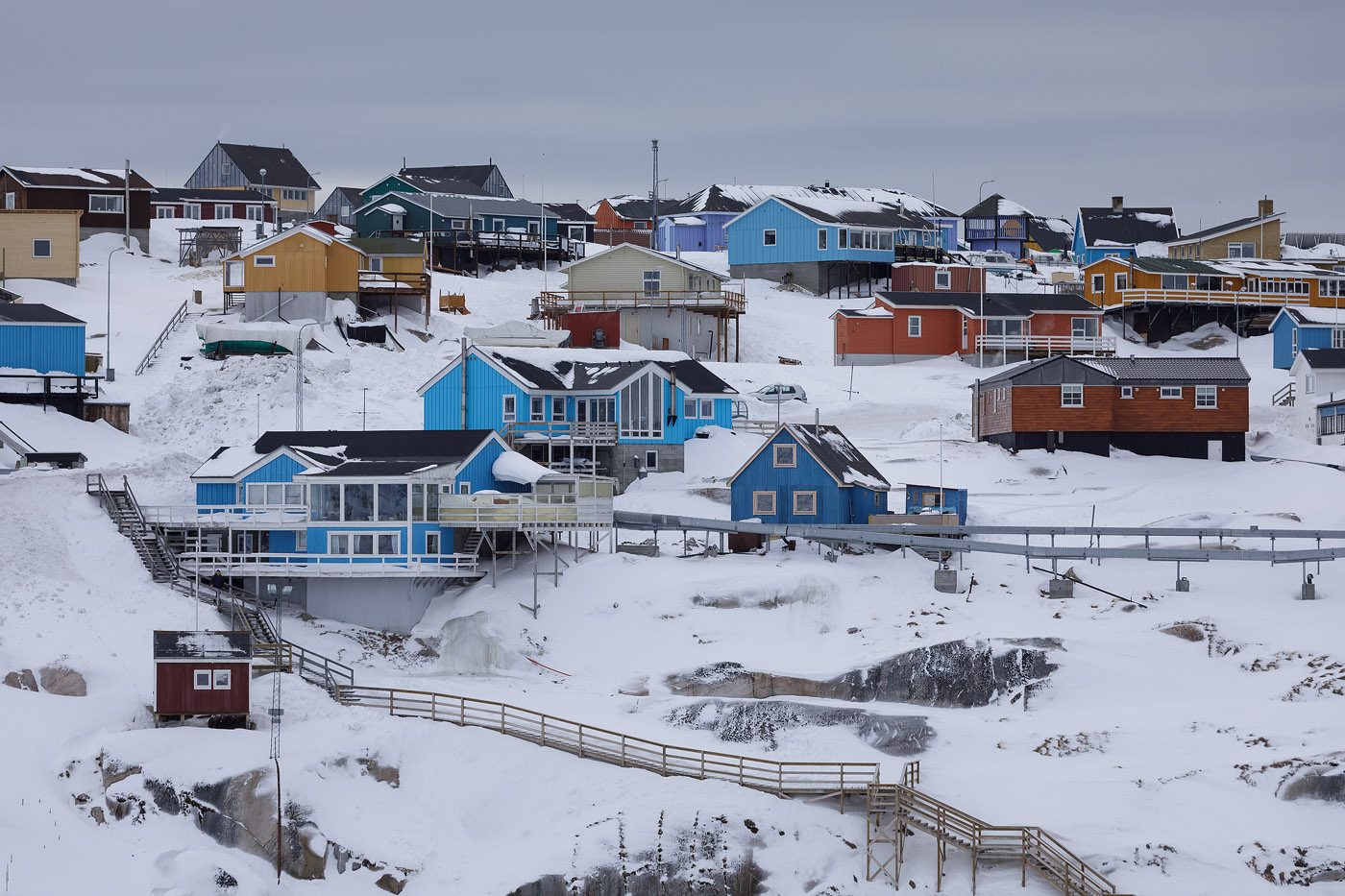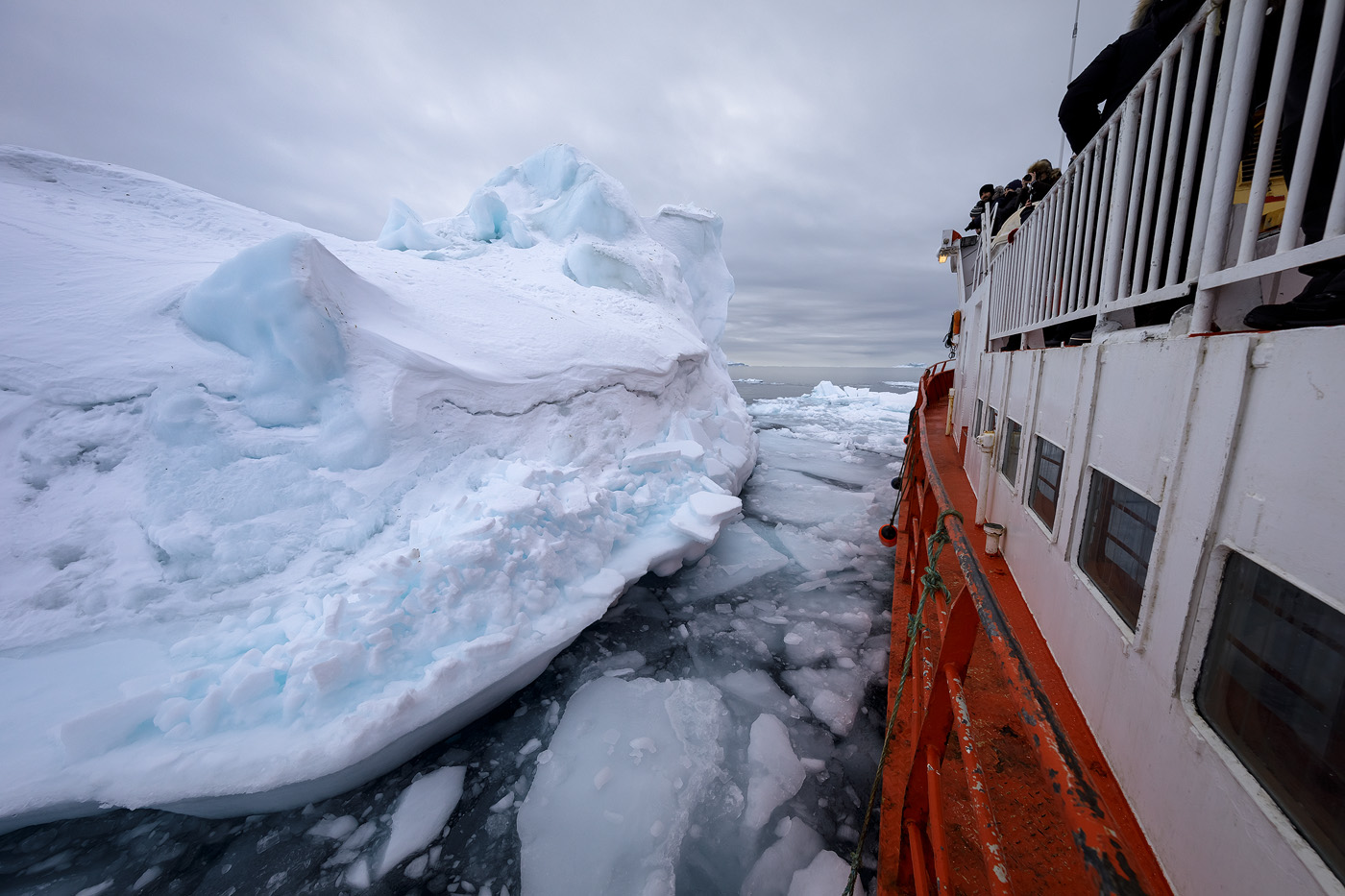 The highlight of our visit to Ilulissat will be a full-day snowmobile ride to one of the side-fjords surrounding Kangia. As the smaller fjords are frozen solid, we'll be able to drive on snow and ice directly to the many icebergs, where we'll stop to shoot them. Later we'll traverse the fjord and reach an elevated vantage point, where we'll experience and shoot the Greenlandic ice-cap and the landscape surrounding it in all its grandeur.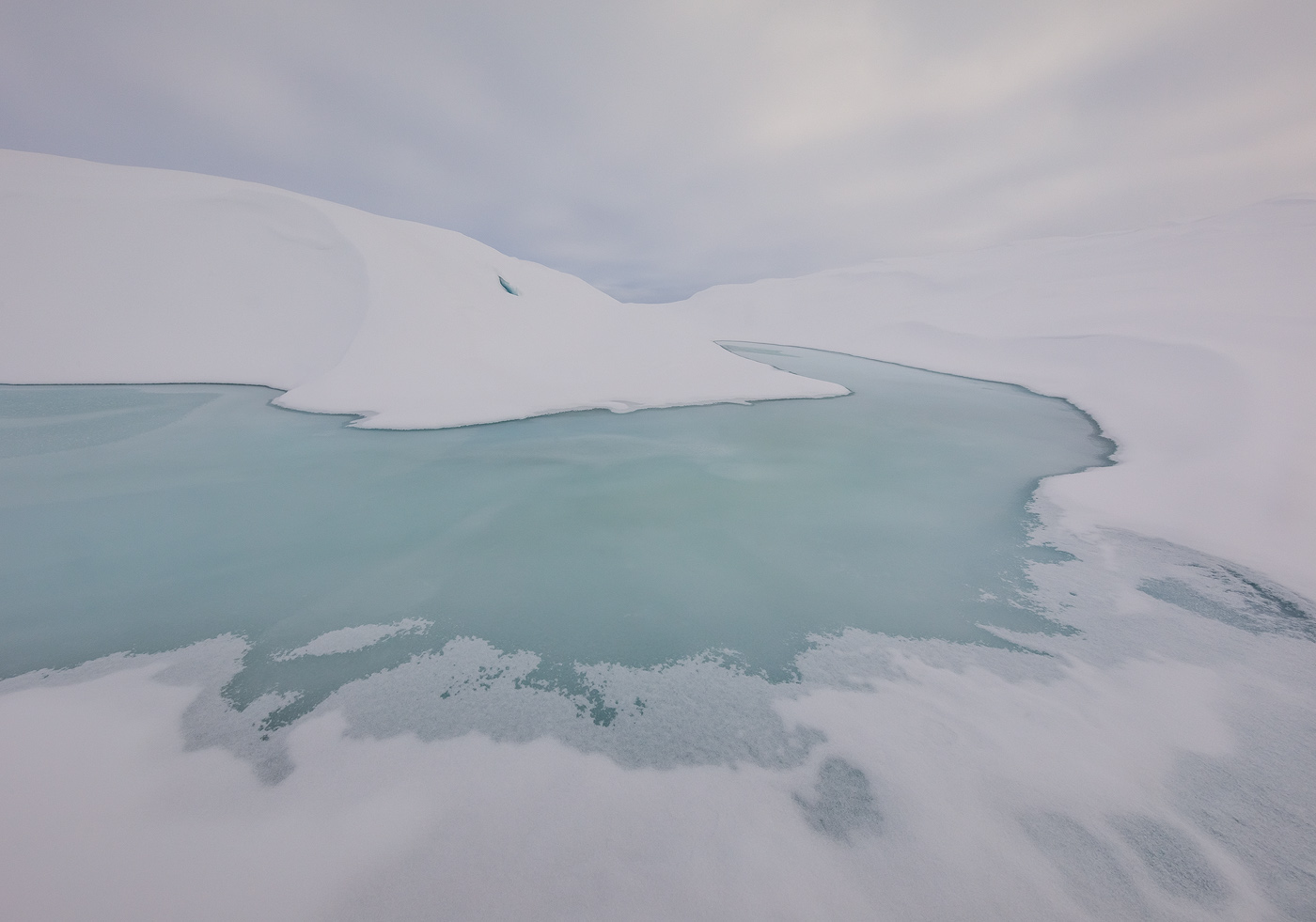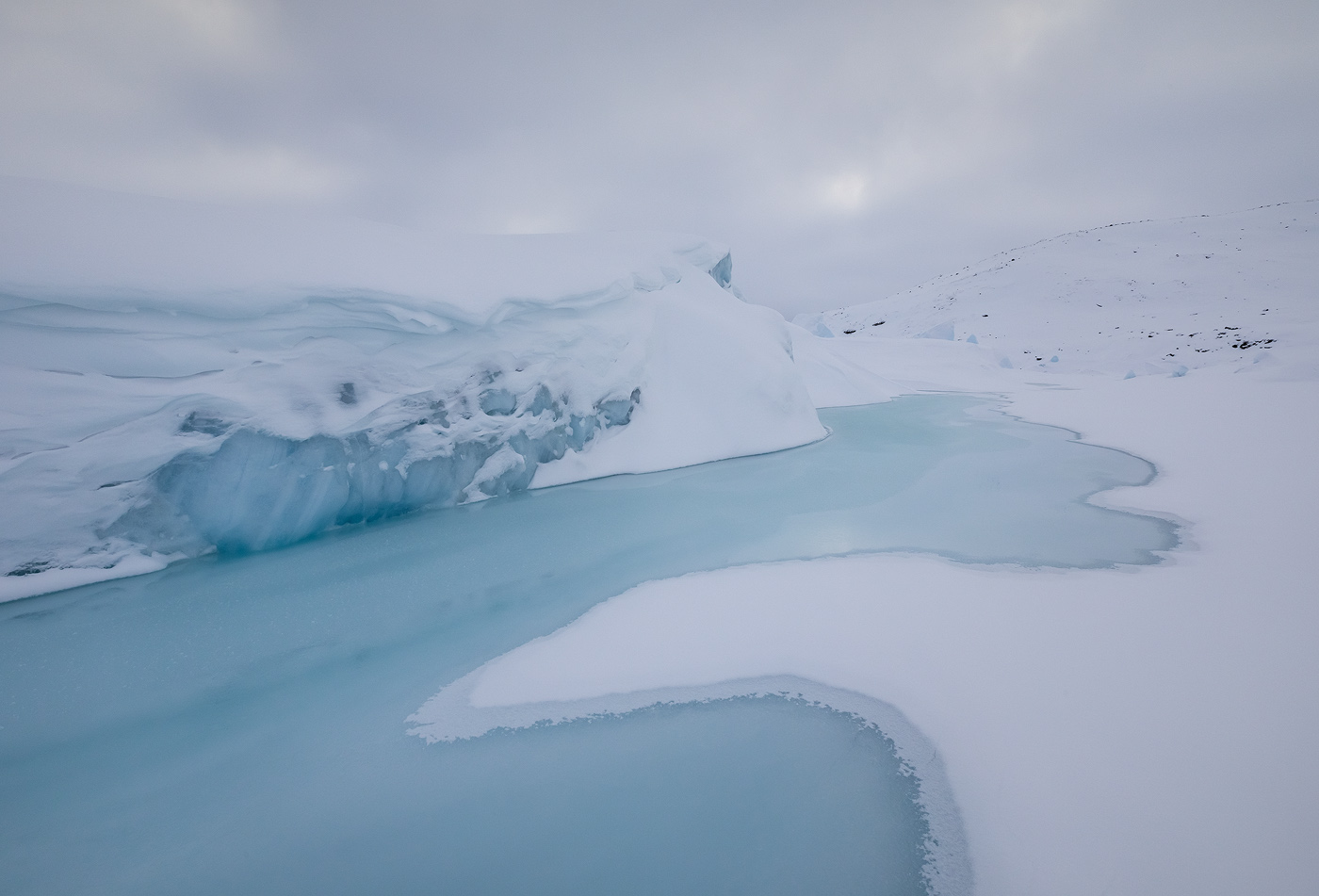 Ilulissat is a great place to shoot dog sledding.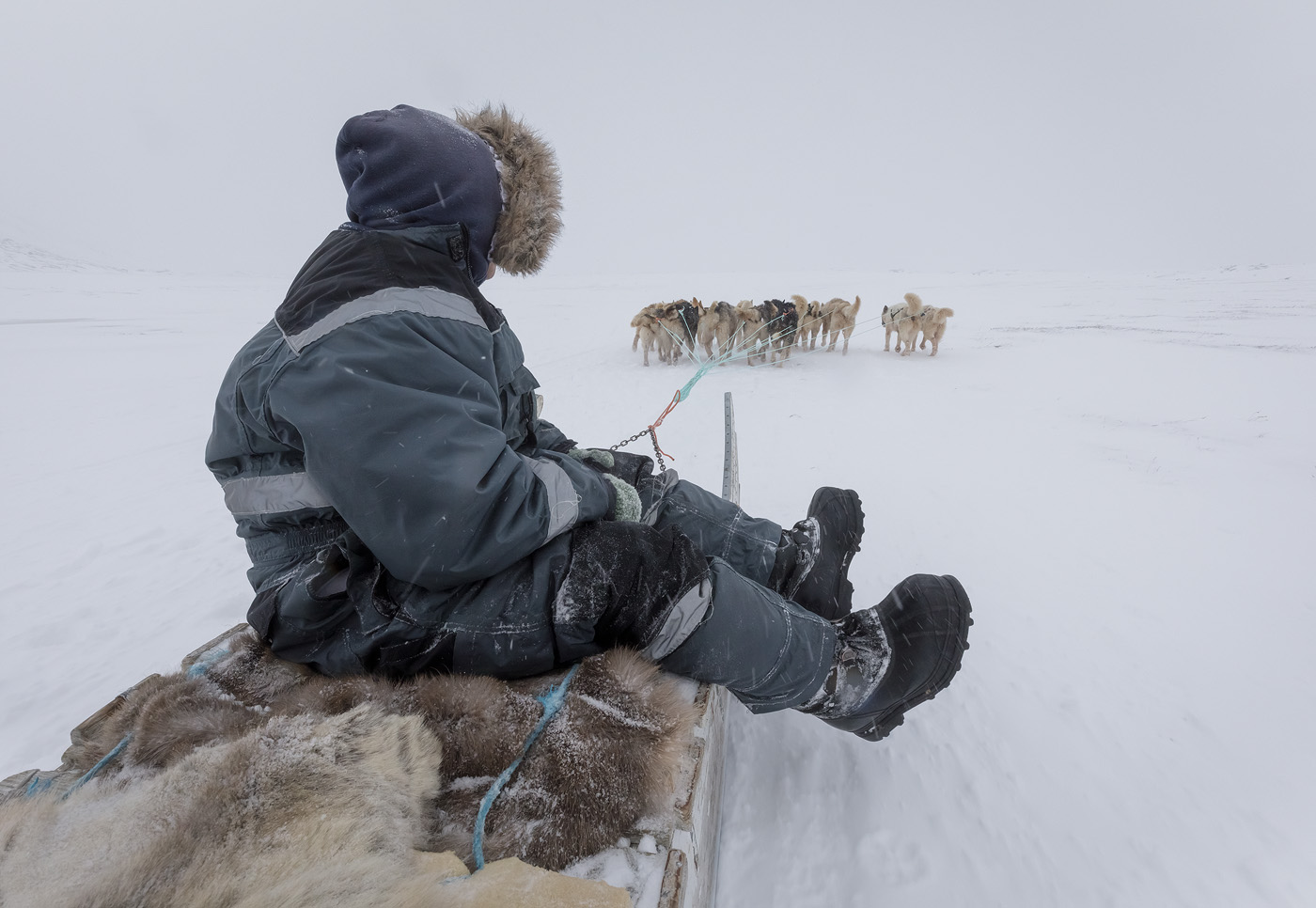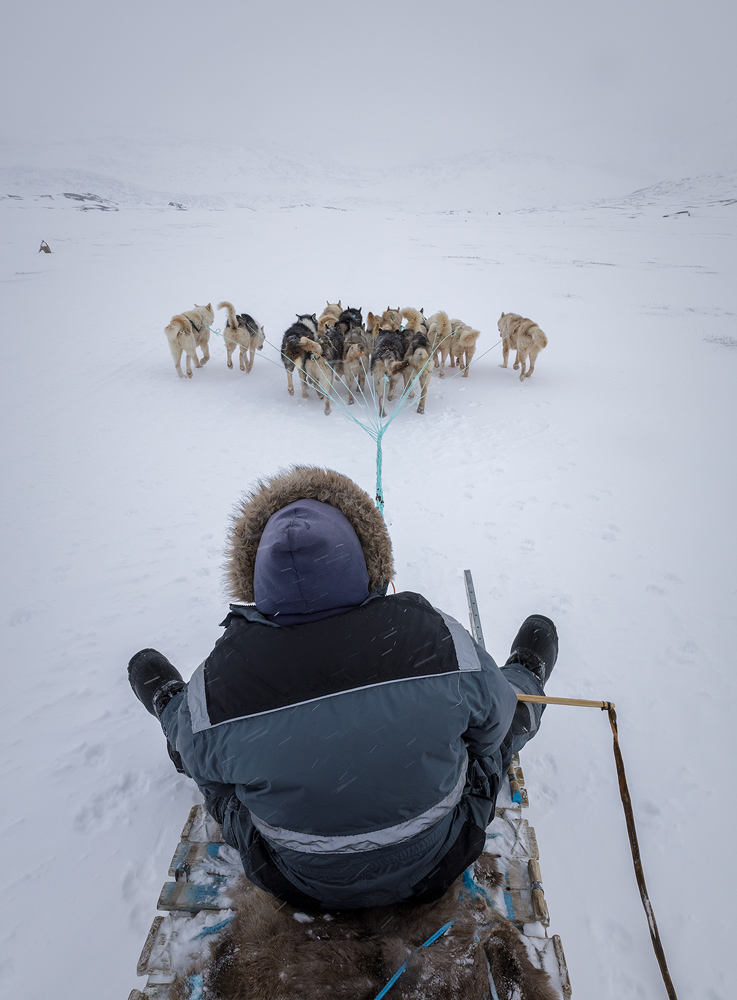 Another highlight will most definitely be a 5 hour boatsail to shoot the incredible icebergs floating around the bay. In winter, the water is usually coated with a layer of slush, which makes for a uniques experience by itself, but we'll brave the ice and use a spacious local fishing boat to get as close as possible to these fantastic giants. I highly recommend using a drone to shoot these icebergs from the air, which result in unique, captivating imagery.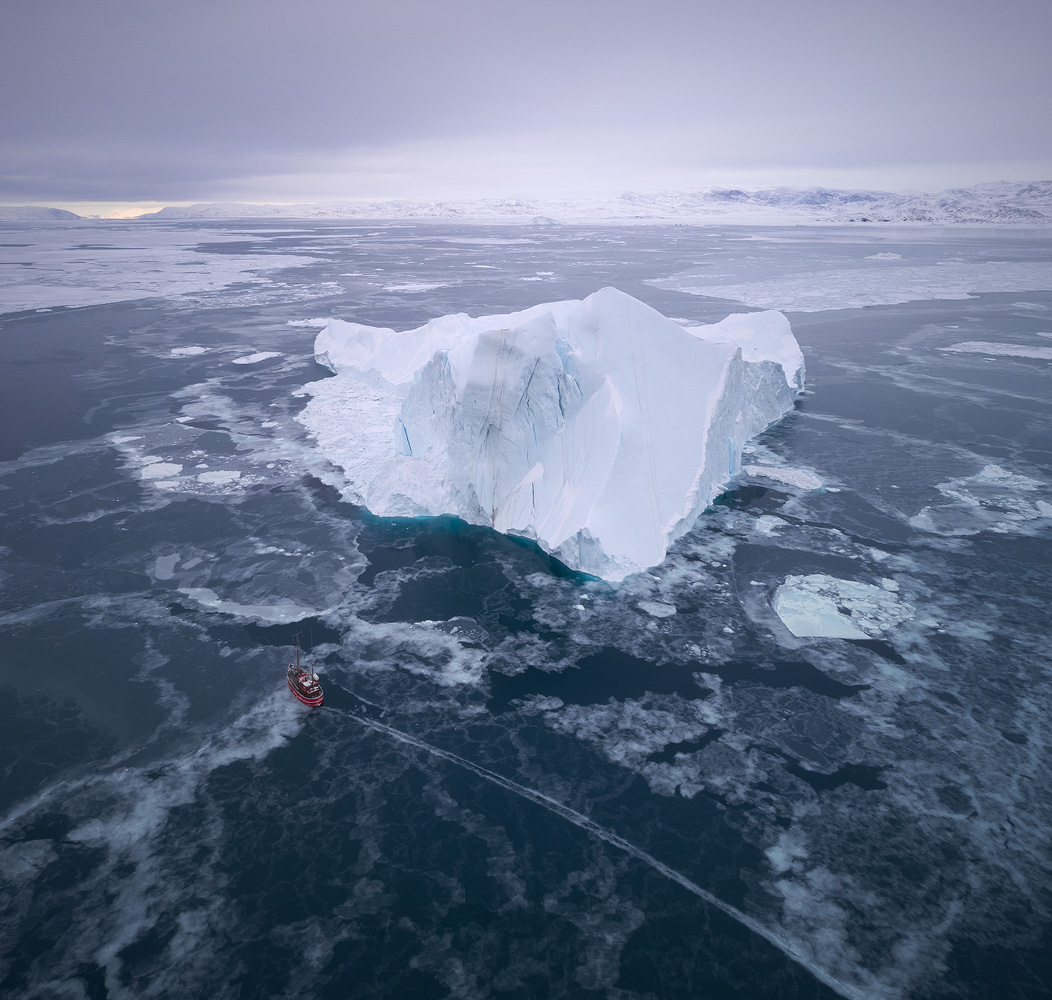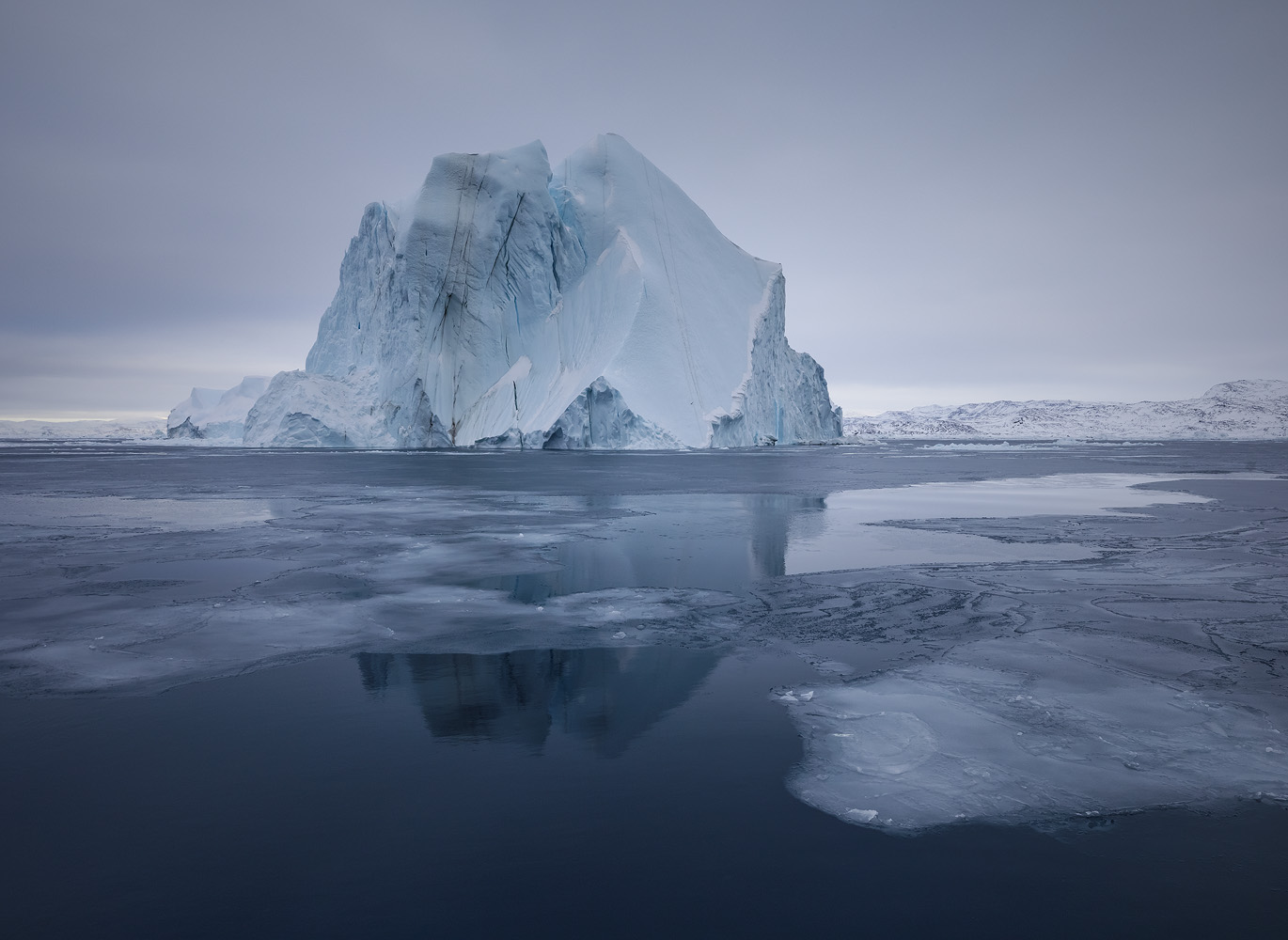 Day 8 Departure
After breakfast in our lovely hotel, you will be dropped off at the airport for goodbyes and your flight home.
Total price: €6990 per person for participants registering by May 31st, 2020;
€7090 per person for participants registering by October 30th, 2020;
€7190 per person for participants registering afterwards.
Sign up as a group of 3 or more and receive a €250 discount each!*
Single room supplement (Ilulissat only): €420
Deposit: €2990
Maximum number of participants: 7
Physical difficulty: Advanced. Winter conditions in Greenland can be extremely harsh, and you can expect temperatures down to -25 degrees Centigrade, in addition to wind. There will be some hiking to get to the icebergs outside town, but it will not be very far, probably. Suitable clothes and heat packs will greatly help you cope with the cold, but make sure you're well equipped, or else it will not be funny. I will assist you in buying winter clothes, boots and gloves to make your experience comfortable and enjoyable.
Workshop Price Includes
Shared rooms in Uummannaq (there is no hotel in town, so we will utilize a very nice guesthouse located right above the port and share its large, comfortable rooms). There is no possibility of single room accommodation in Uummannaq, since the guesthouse only has 3 rooms, but the perfect location more than makes up for it! The guesthouse has very good WiFi.
Hotel accommodation in Ilulissat: superior rooms in the world's northernmost 4 star hotel. Single room accommodation possible.
Airport pickup and dropoff in both Uummannaq and Ilulissat.
3 daily meals: We will eat breakfast and dinner at the guesthouse's modest restaurant in Uummannaq. In Ilulissat we will eat at the hotel's wonderful gourmet restaurant, considered one of the best in Greenland.
Professional photography guidance by an award-winning nature photographer.
Expert local guides with us at all times.
Snowmobiling in Uummannaq Fjord to find and shoot icebergs embedded in sea ice.
Car transport to the start of the hike to the frozen lake in Uummannaq.
Full day of Snowmobiling to the glaciers and side-fjords in the Disko Bay area.
5-6 hour boat sail in Disko Bay to shoot icebergs in incredible winter settings (conditions permitting).
Car transfers to the harbor and back to the hotel, car transfer to the hiking trail near Kangia Fjord (Ilulissat).
Post-processing lectures and critique sessions where and when possible.
Taxes on all services listed above
Workshop Price Does Not Include
Airfare to and from Ilulissat Airport (JAV), Greenland and to and from Uummannaq heliport (UMD). You can fly in through Copenhagen (CPH) and through Reykjavik domestic airport (RKV). Please contact me for help with flight arrangements.
Thermal clothing and winter gear
Insurance. It is mandatory to insure yourself against physical injury, and highly recommended to insure your photo gear. Tour leaders will not be responsible in case of any personal injuries or damage to photographic gear as a result of an accident during the workshop. A good insurance policy can make a big difference should something happen, and ensure a safe return home.
Alcoholic drinks
Non-meal-time snacks
Non-meal-time soft drinks
Single room supplement (€420, only valid for Ilulissat)
Photography Equipment
A digital camera, preferably a DSLR camera with a full-frame sensor, since these cameras have better low-light capabilities. However, a crop-sensor DSLR will also suffice. Please note that some cameras, such as the Sony A7 series, are more sensitive to cold temperatures and might act up unless kept warm with heat packs. If you have questions regarding your equipment, feel free to contact me for help.
A light, steady tripod (preferably carbon fiber).
Consider a light, compact monopod for locations where the snow is too deep for tripod use.
An ultra wide angle lens. For example, a Canon 16-35mm on a FF sensor camera, or a Nikon 10-24mm on a crop sensor camera.
A mid-range zoom such as a 24-70 (preferably stabilized).
Wide aperture wide/ultra-wide angle lenses such as the Sigma 14mm f/1.8 and/or Samyang 24mm f/1.4 for night photography.
A telephoto zoom lens, such as a 70-200 or 70-300. Doesn't have to have a wide aperture or a stabilizer - an f/4 is more than enough.
Recommended: A camera remote.

Clothing
Full thermal gear is absolutely essential. I typically wear a thick thermal base layer, a heavy jacket and a heavy down coat.
Good quality warm gloves. It's important to use gloves which enable you to operate the camera while wearing them, but are still very warm.
Warm mitts to wear above the gloves when snowmobiling and in other cold situations.
Thermal long-johns.
Thermal, water resistant trousers.
Water-proof, thermal rubber boots. These have to be top notch if you don't want to suffer in the cold - contact me for help.
Thermal socks. I recommend bringing at least 4 pairs.
An alpine mask (balaclava) to protect your face from the cold.
A good warm hat which covers your ears (otherwise they will fall off!).

Other
Heat-packs (lots of them) for your hands and feet. To be safe, pack 2 full sets of heat packs for every day of shooting.

Head light.

Seriously, you need heat packs.
Payment Procedure
In order to secure your spot, you are required to transfer a deposit of €2990. This deposit will be refunded only in case the workshop gets cancelled for some reason. For your comfort, the deposit can be payed either through PayPal or via bank transfer (contact me for details).
The full amount (minues the deposit, after discounts if applicable) must be payed via wire transfer 90 days prior to the workshop starting date. You may pay with any major currency.
In the case you need to cancel your participation, a 67% refund (excluding deposit) will be given up to 75 days prior to the workshop starting date and a 33% refund up to 60 days prior to the workshop starting date.
I reserve the right to increase the price of the workshop if costs rise extremely due to unexpected changes in fees, taxes or exchange rates.

Disclaimer
The tour plan above is subject to change. If weather conditions are unfavorable we might not be able to fulfil some of the planned activities. For example, if temperatures are too warm, snowmobiling on sea ice might not be safe. If temperatures are too cold, sailing in Disko Bay might not be possible. I will take advantage of the local guides, my experience and my best judgement to ensure we get the most out of the locations.
Important: In order to join the workshop, you will be required to sign a contract that establishes that the tour leaders are not responsible to physical or proprietary damages, and that you understand and accept several behavioral standards (including not taking excessive risk), necessary to ensure the workshop's success and your safe return.
Aurora is, of course, not guaranteed.

*Multiple discounts may or may not apply, please consult me.
Erez Marom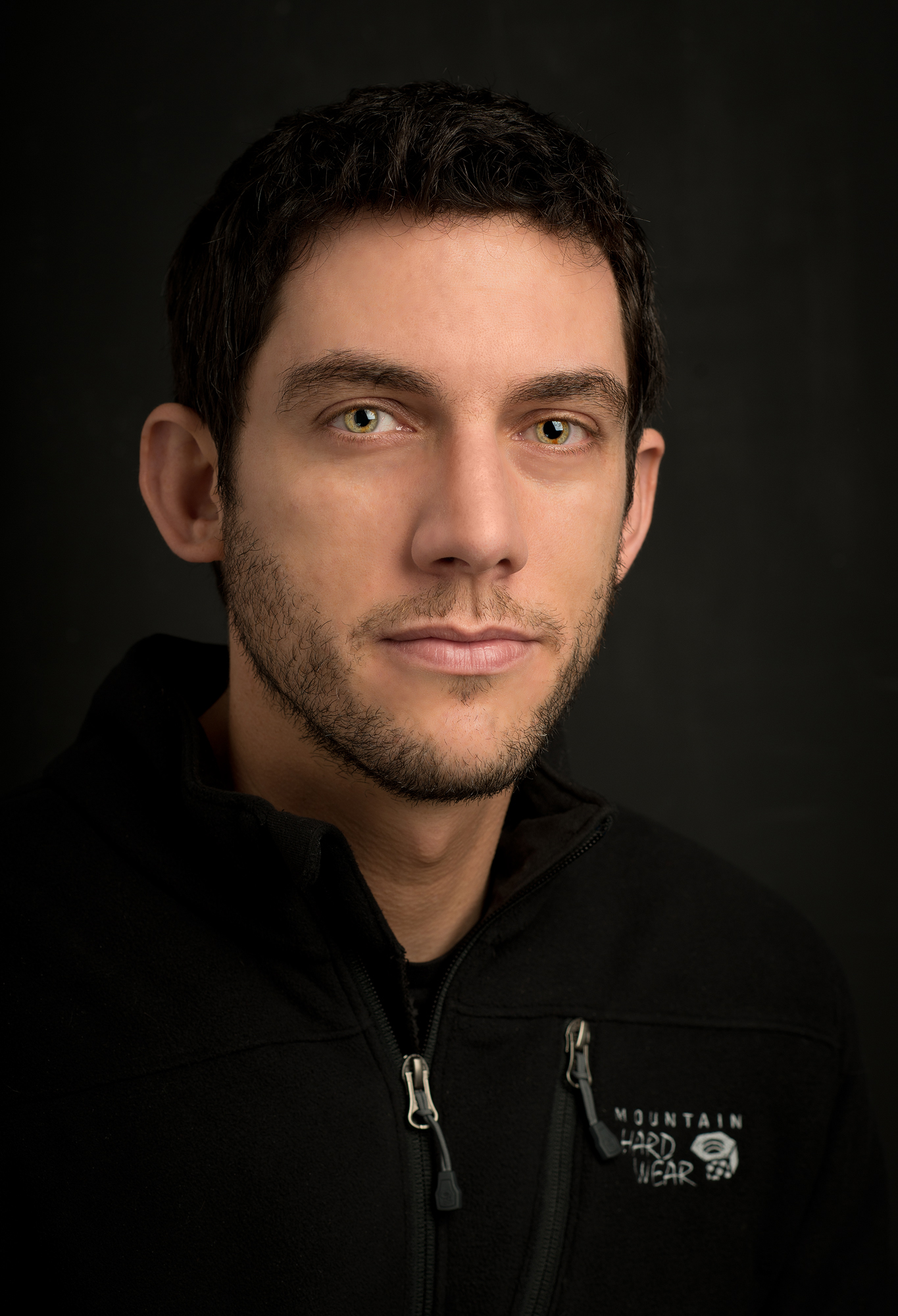 Born in 1980, Erez Marom is a full-time nature photographer, photography guide, writer and traveler-adventurer based in Israel. Specializing in landscape and wildlife photography, Erez spends much of his time in the field shooting the wildlife and scenery of his favorite locations in Israel and overseas.
In addition, Erez publishes articles and instructional texts in leading magazines and websites, and dedicates a considerable amount of his time to sharing his experience and knowledge by lecturing worldwide and traveling several times a year to guide his unique photography workshops.