'EARTH, WIND AND FIRE' - ETHIOPIA PHOTO WORKSHOP
Price: €6390 pp (or $US equivalent) / Deposit: €2990 pp
AVAILABILITY
Currently Unavailable
Ethiopia is one of the most fascinating countries in Africa, one with a perplexing abundance of culture, nature and everything inbetween. On this 10-day photo workshop we'll be focusing and dedicating our time to two of the most mind-boggling locations in the country: first, we'll arrive at the roof of Africa - the Simien Mountains - where majestic Gelada baboons roam the grasslands, and spectacular green mountainous landscape is lit by the equatorial sun. From there, we will take a flight straight to the exact opposite: the Danakil Depression, the hottest place in the world, where we'll witness first-hand the fury of Erta A'le volcano, one of only a handful of permanent lava lakes in the world. We will continue shooting in the Danakil depression for several days, and witness salt lakes, Martian-red hills and lakes of green sulfuric acid, all a pleasure to shoot. Join professional nature photographer Erez Marom on one of the most fascinating journies available to this magical country.
Main Features
Wildlife and landscape photography in one visit: Gelada baboons and mountainous landscape in the Simien Mountains NP, volcanic landscapes, colorful acid pools and an active volcano in the Danakil Depression
Post-wet season schedule ensures plenty of grass on the Simien mountains and (relatively!) comfortable temperatures in the Danakil.
Focusing on just two main areas ensures a thorough photographic experience and the best results
Three domestic flights included, minimizing transit time
Professional photo guidance by an award-winning nature photographer
Professional English-speaking local guide at all times during the trip
Travels in luxury 4X4 jeeps (3 participants per jeep) in the Danakil Depression
Some of the best conditions available in Ethiopia: very good hotels and lodges where possible, private chef made meals in locations without access to restaurants
Day 1 Meeting in Addis Ababa
After being picked up in Addis Ababa's Bole international airport, we'll arrive at our 4-star hotel, settle down and have a meet-and-greet. During dinner, we will get acquainted with the guide and participants, and discuss the plans for the days ahead.
Days 2-4 Simien Mountains National Park
After breakfast to the hotel, we'll head out to the airport for a short domestic flight to the city of Gondar. Once off the plain, our comfortable vans will await to transport us to the Simien Mountains National Park.
A UNESCO world heritage site, the Simien Mountains NP offers fantastic wildlife and landscape photographic opportunities. Massive erosion over the years on the Ethiopian plateau has created one of the most spectacular landscapes in Africa, with jagged mountain peaks, deep valleys and sharp precipices dropping some 1,500 m. The park is home to some extremely rare animals such as the Gelada baboon, the Ethiopian wolf and the Walia ibex, a wild goat found nowhere else in the world.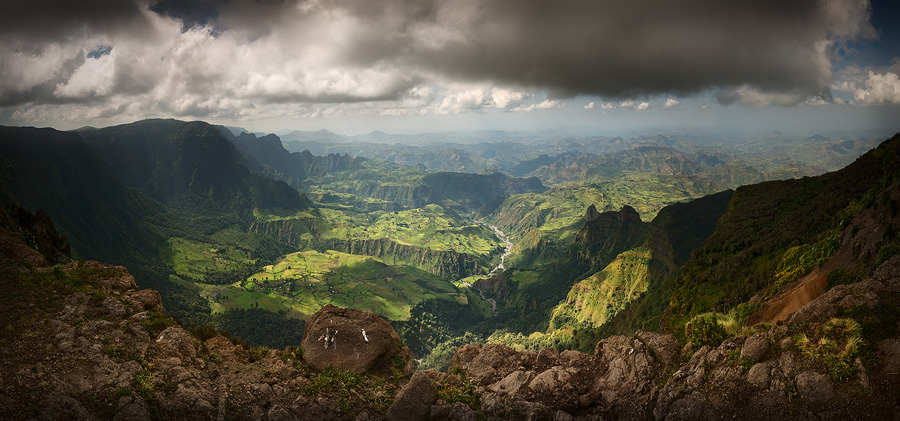 We will spend 2 full days in the park, during which we'll have multiple opportunities to spend time among the Gelada baboons and view their life in the mountains. Traveling in the largest groups of any monkey species, the Geladas are surprisingly tame and easy to get close to, and are also spectacularly beautiful and fascinatingly human-like.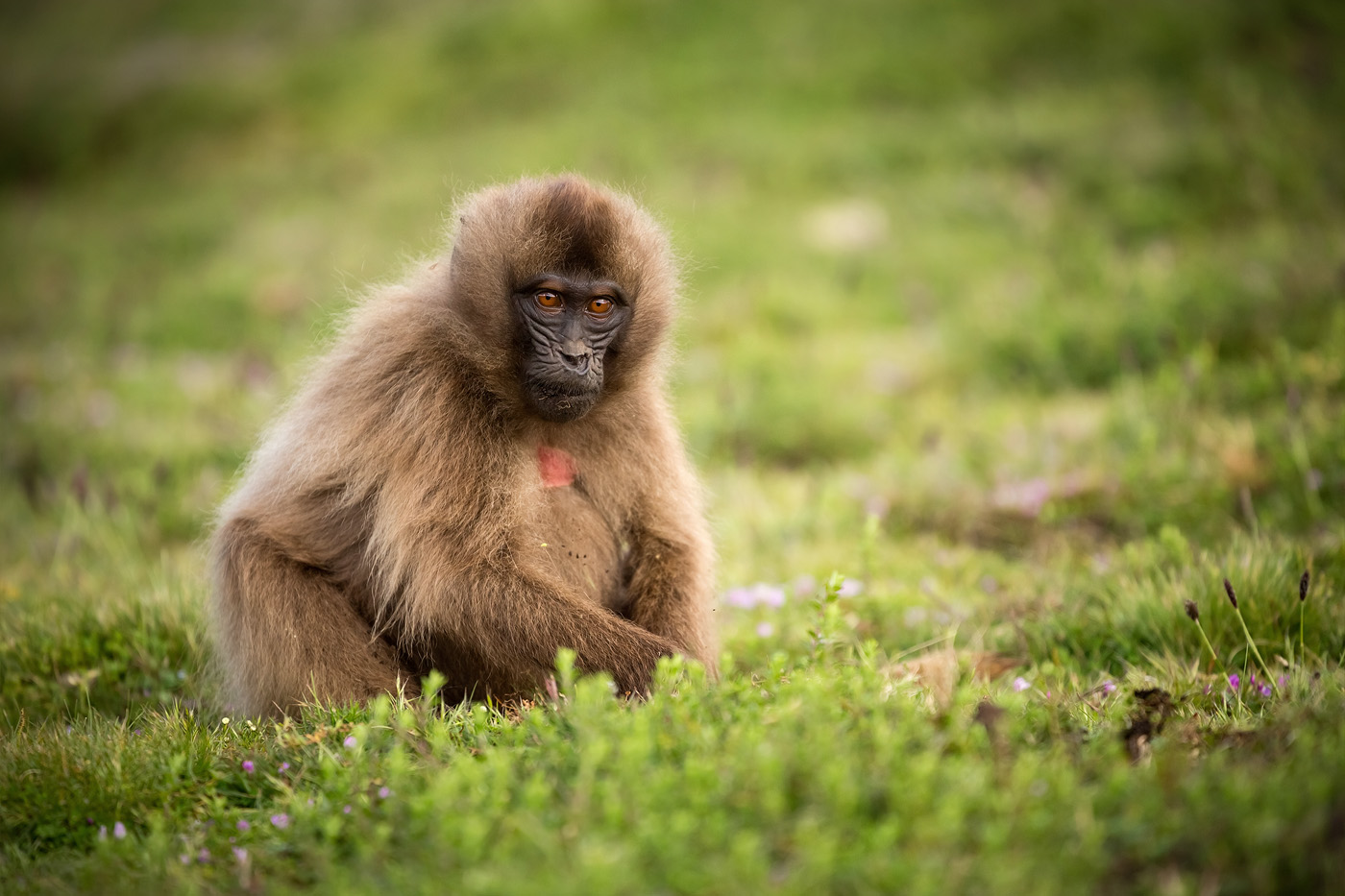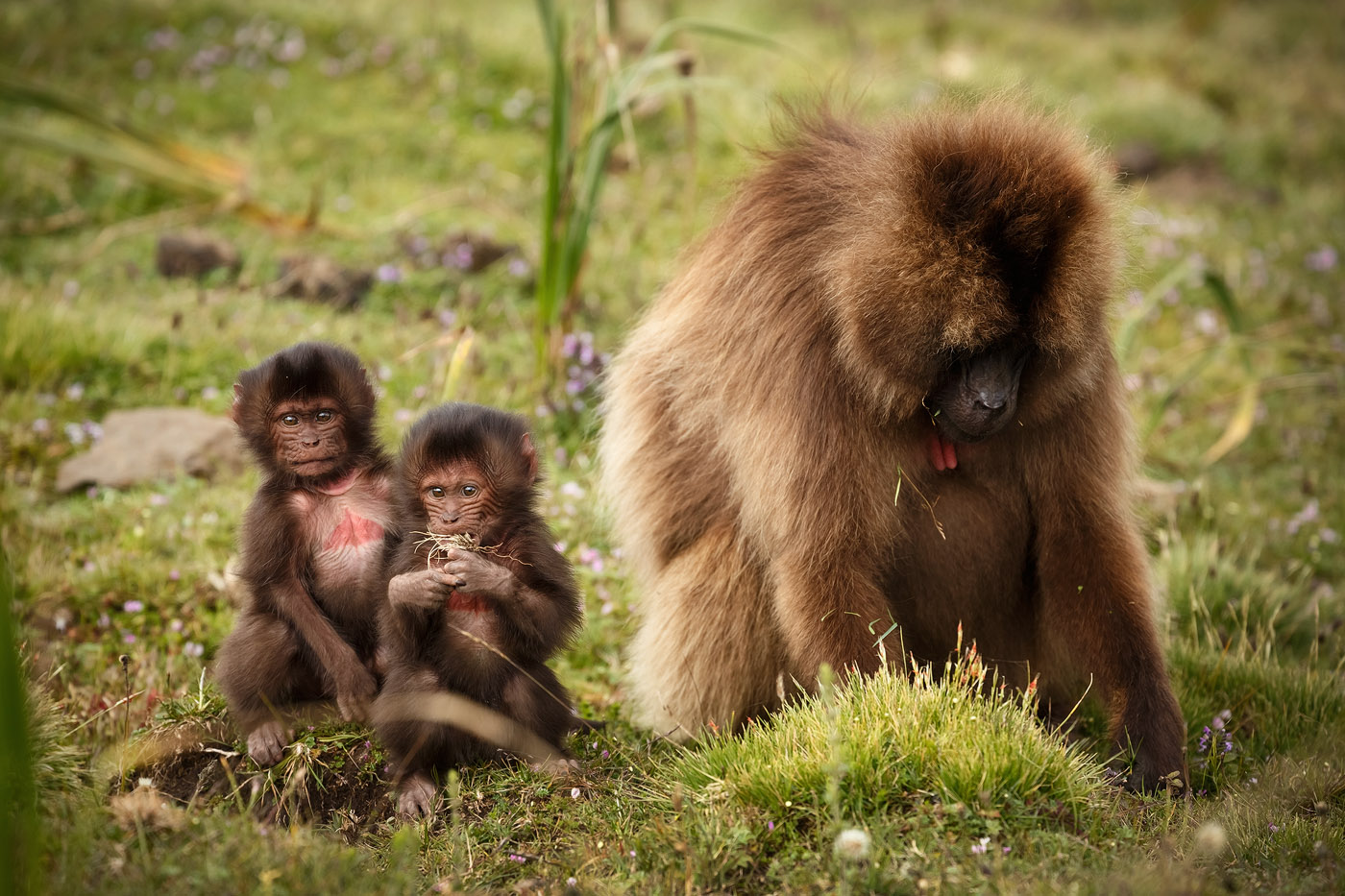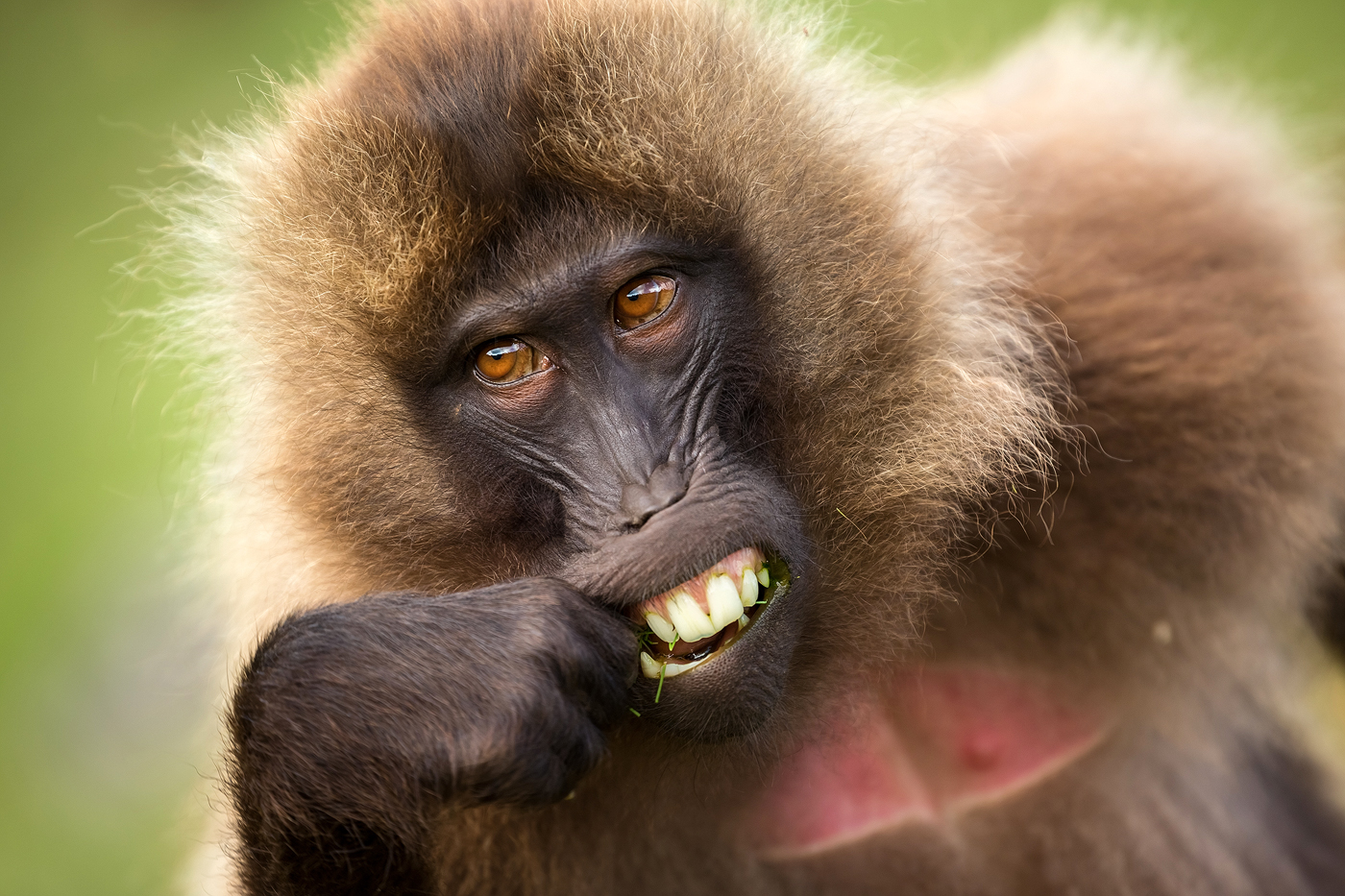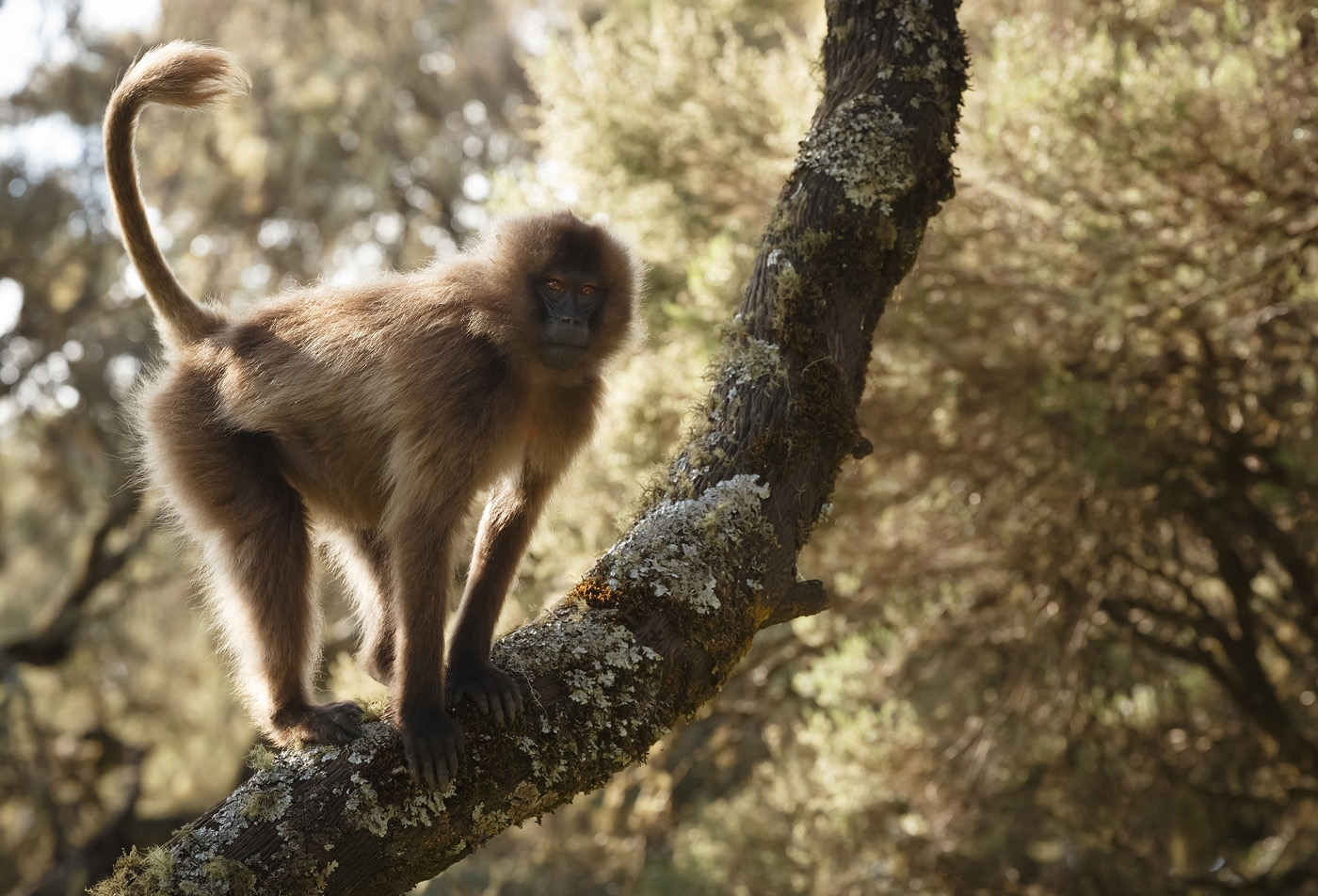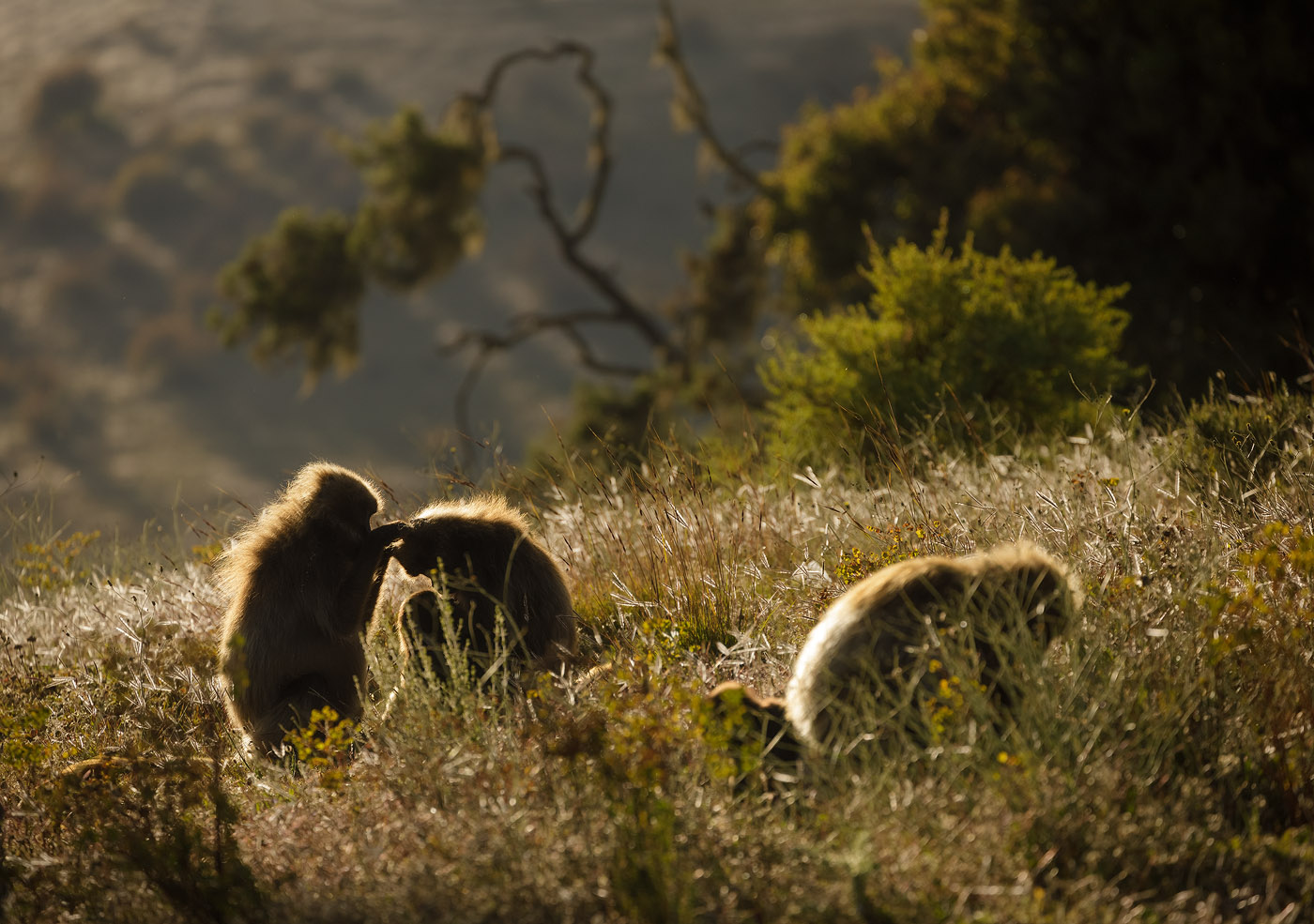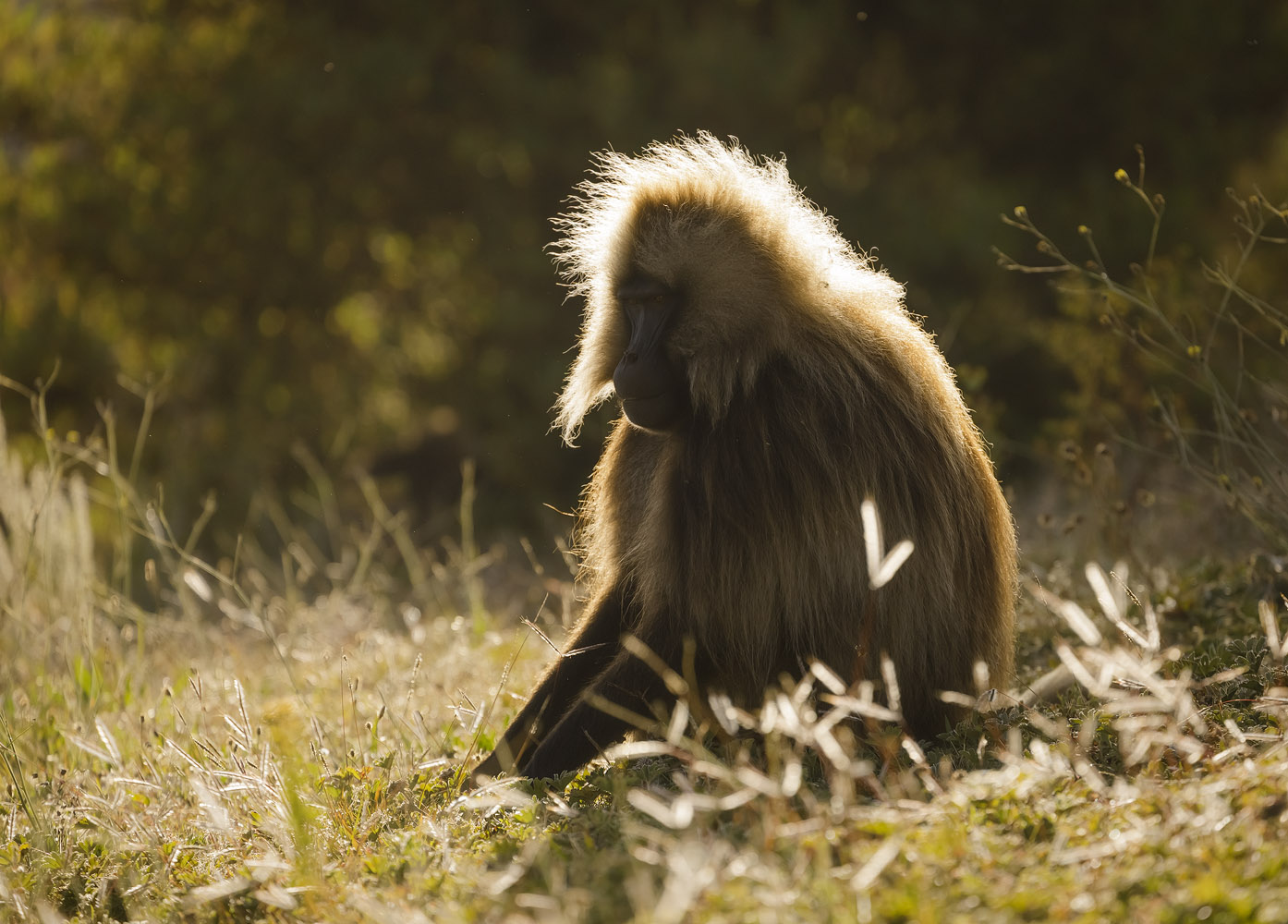 The Simien Mountains are a great spot for landscape photography, and we'll visit a few beautiful spots in the mornings and afternoons.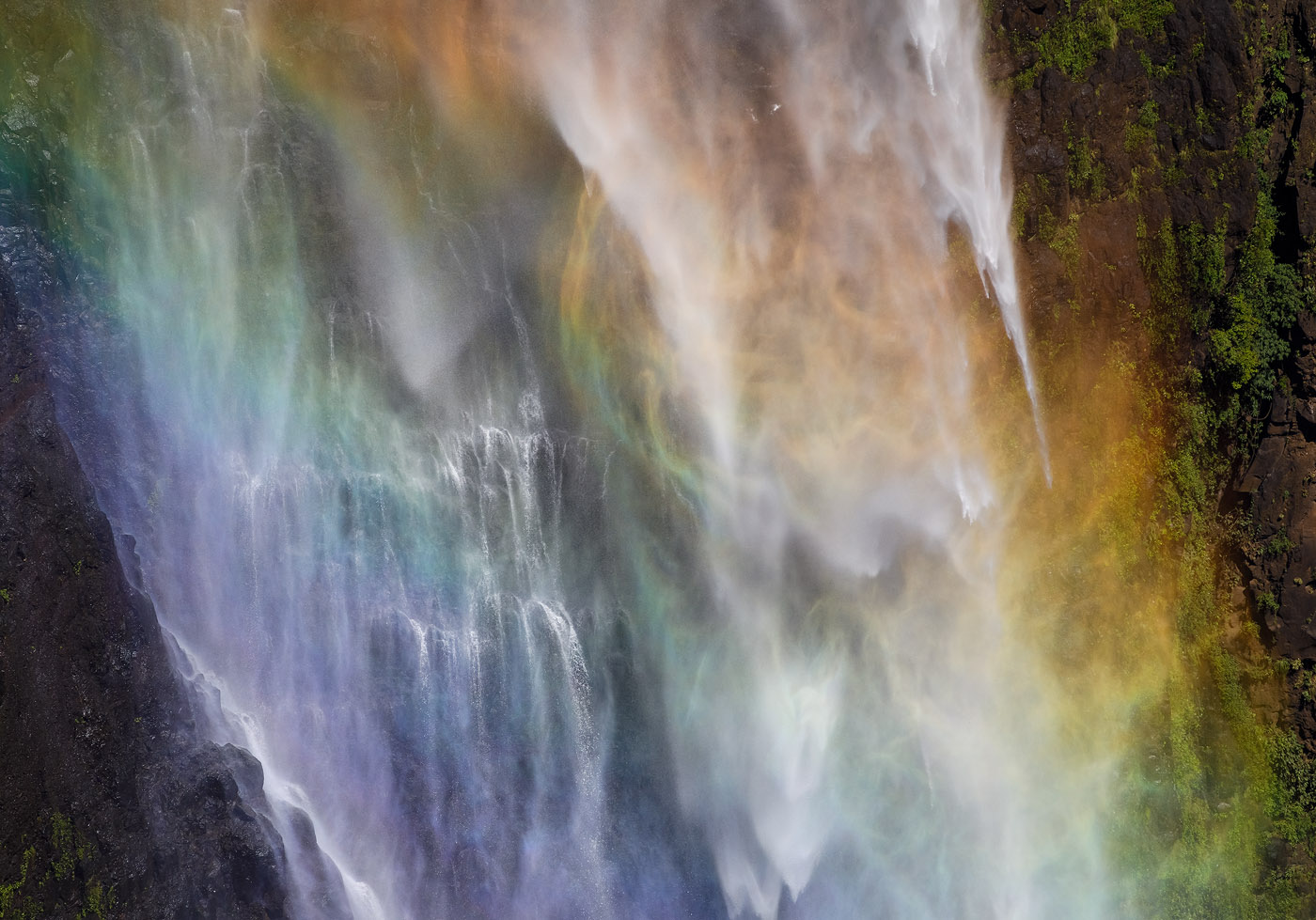 After concluding a morning shoot on day 4, we'll pack our bags and head back to Gondar, where we'll eat dinner, do a city tour in the ancient ruins and spend the night.

Days 5-9 The Danakil Depression
On the morning of day 5, we'll take a flight to Axum, where we'll be picked up by 4X4 jeeps and start our drive to what can only be described as 'hell on earth'. A presumptuous name, but the Danakil Depression is exactly that. It is, by my own experience, one of the most inhospitable environments you can actually visit. Scorching heat, no roads, no running water, not to mention hotels or any other modern convenience. But it is exactly these qualities which make the Danakil Depression one of the most fascinating places to visit on the planet.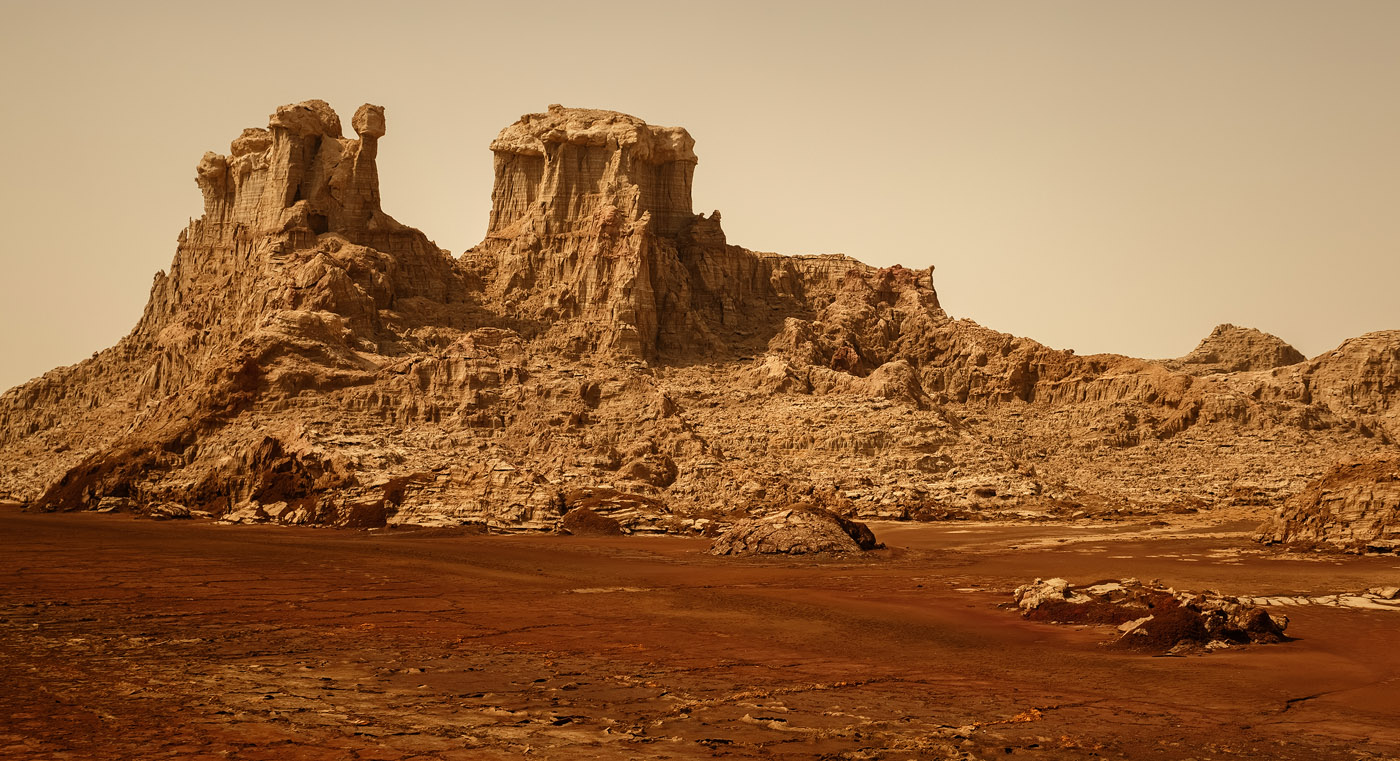 After dinner and sleeping under the stars, we'll head to one of the world's most amazing locations: Erta Ale volcano. Rising 613 meters, it used to host one of only a handful of permanent lava lakes in the world. The lake has since collapsed and rebuilt, and currently (late 2019) Erta Ale hosts dual massive pits, with eruptions occuring regularly inside them. The name "Erta Ale" means "smoking mountain" in the local Afar language, and it fits this name very well. The climb up to the crater is strenuous, but we'll do it in a pace everyone can follow and it will be more than worth the effort. Standing on the very edge of a crater full of erupting lava is one of the most powerful experiences you can have. After dinner in the camp on top of the volcano, we will shoot Erta Ale by night and wake up early to shoot it again at sunrise.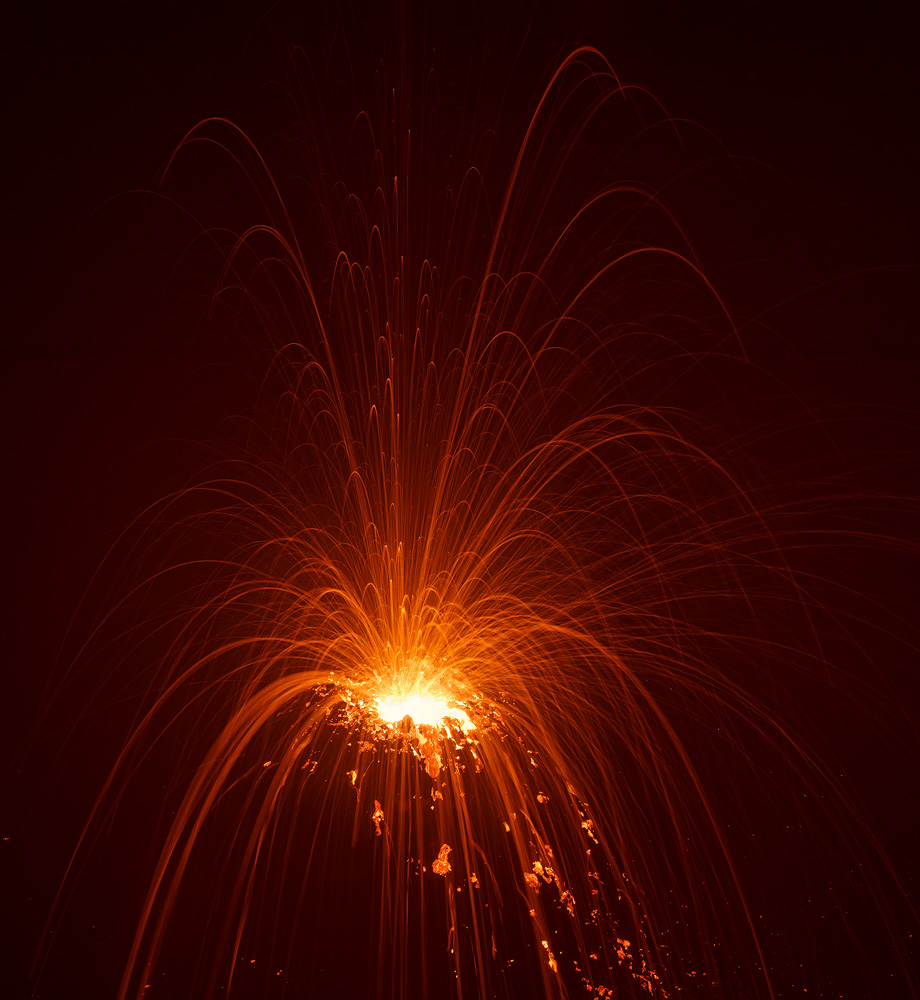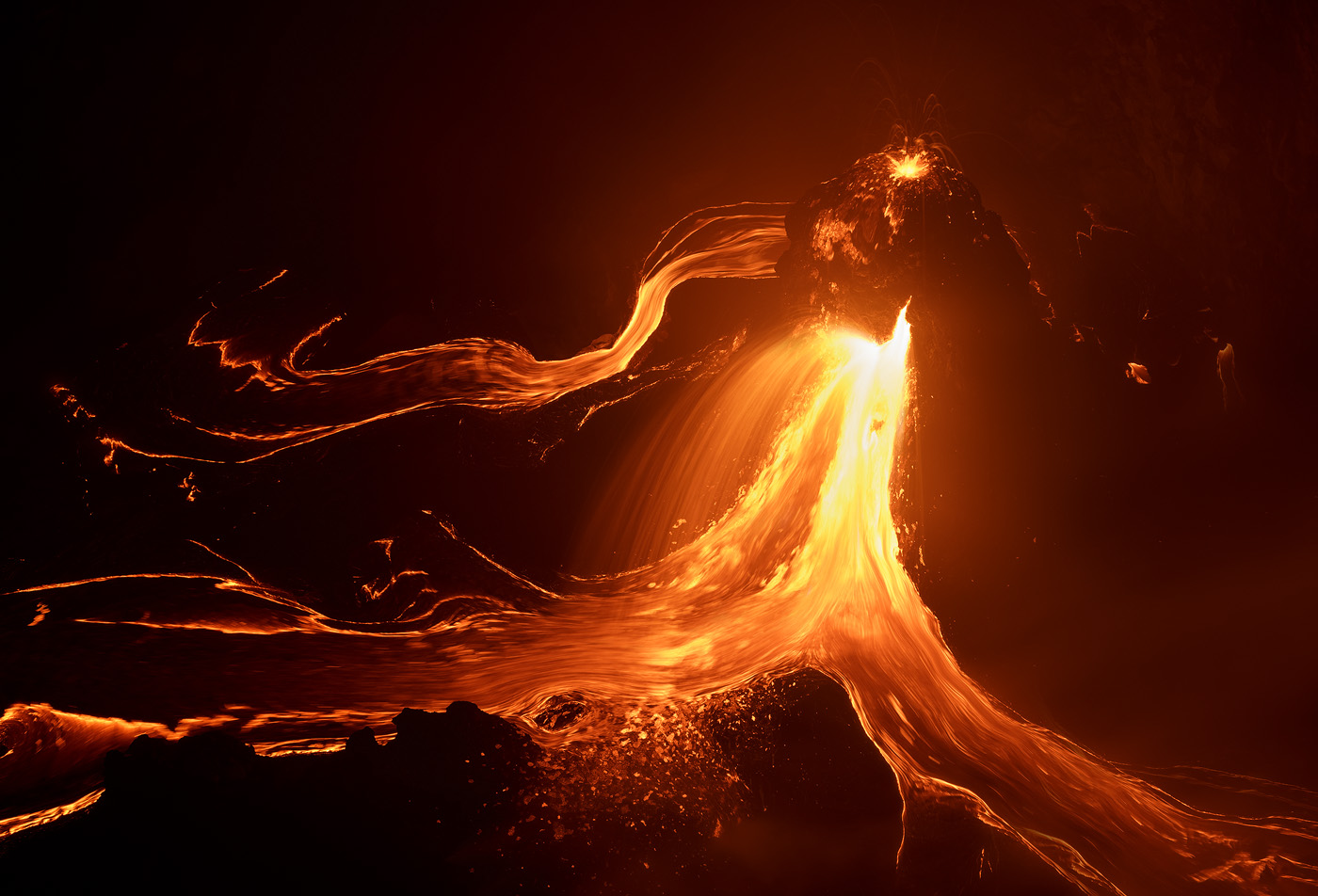 We will spend the night and sunrise on top of Erta A'le volcano, shooting it thoroughly. After wrapping up our sunrise shoot, we'll immediately set out back downward drive to our next destination: the Dallol area. With red, almost Martian landscape, the Dallol is a fantastic place to shoot curious scenery. By sunset, if conditions allow, we'll reach a salt lake and shoot it against the setting sun.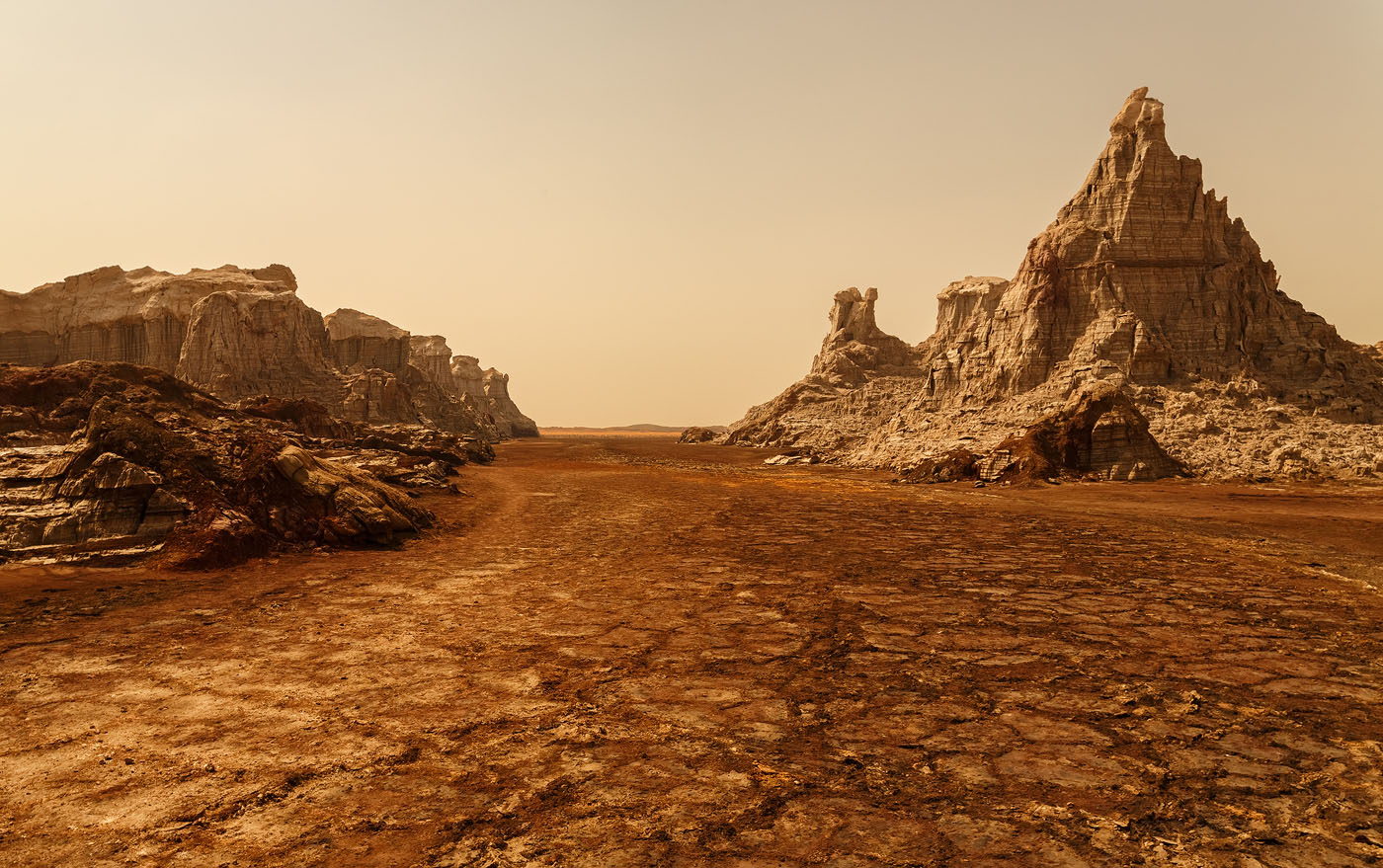 Endless salt caravans are a common sight in the Dallol wasteland, and we'll sure witness them transport their good through the harsh desert landscape.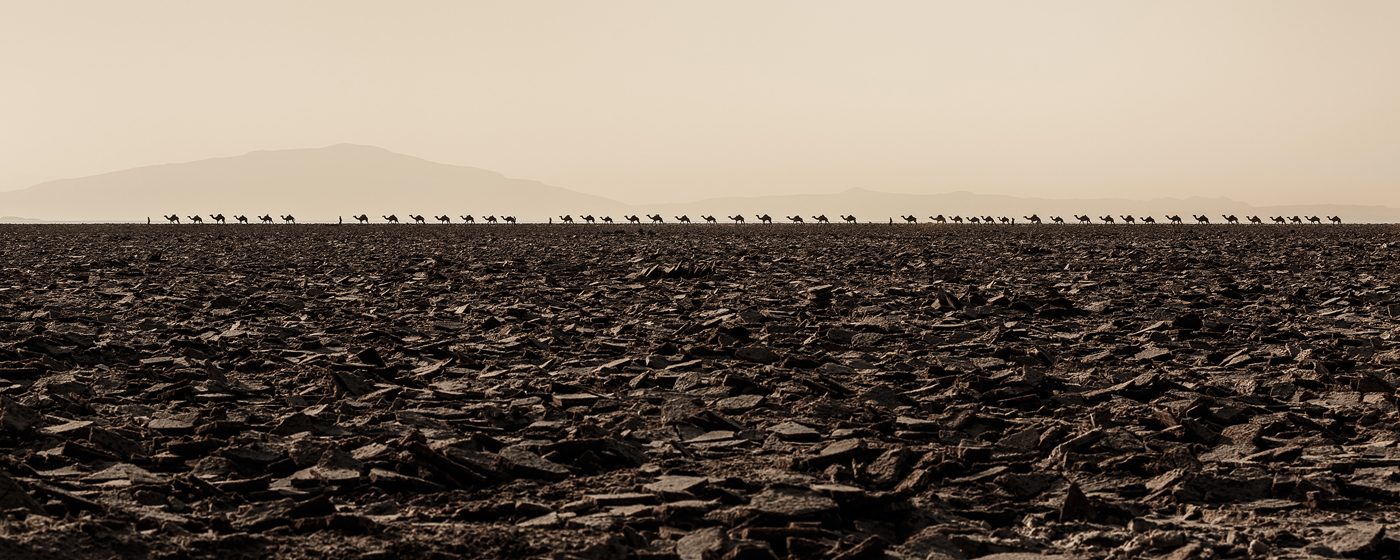 On day 8, we'll rise early and after breakfast at camp, we'll drive to the Danakil's sulfur lake. Green sulfuric acid, nozzles spewing mineral-rich water, red earth, all of these make out one of the strangest and most curious environments on earth.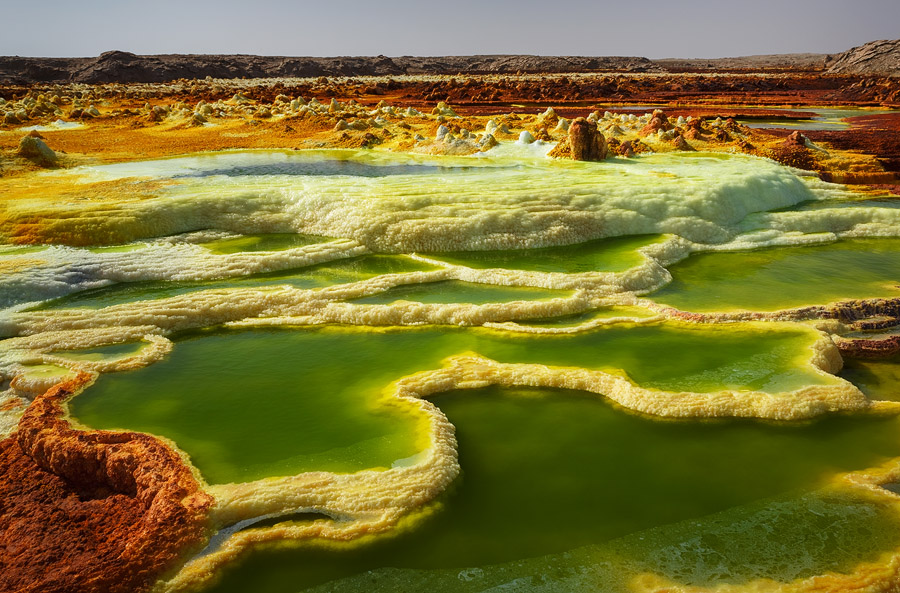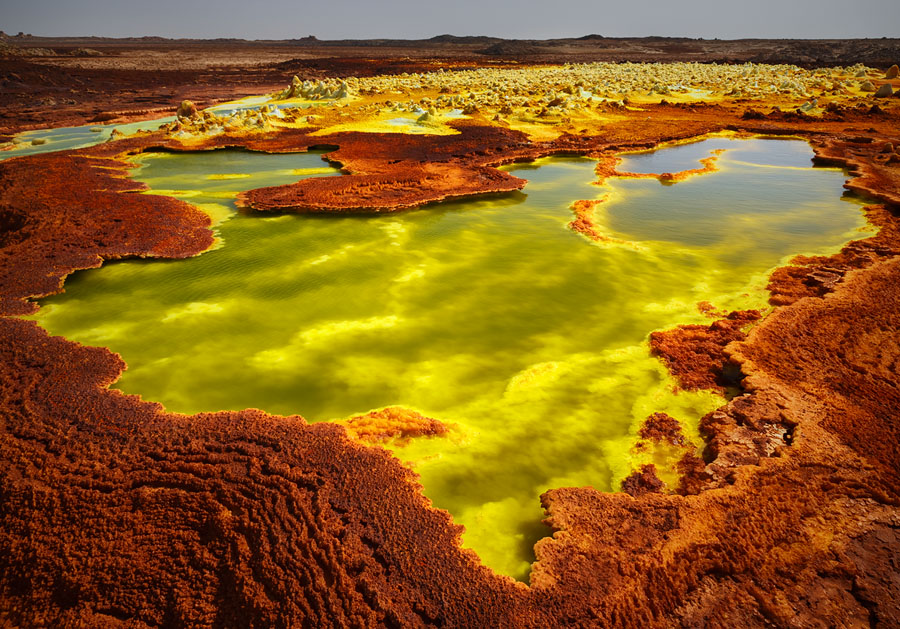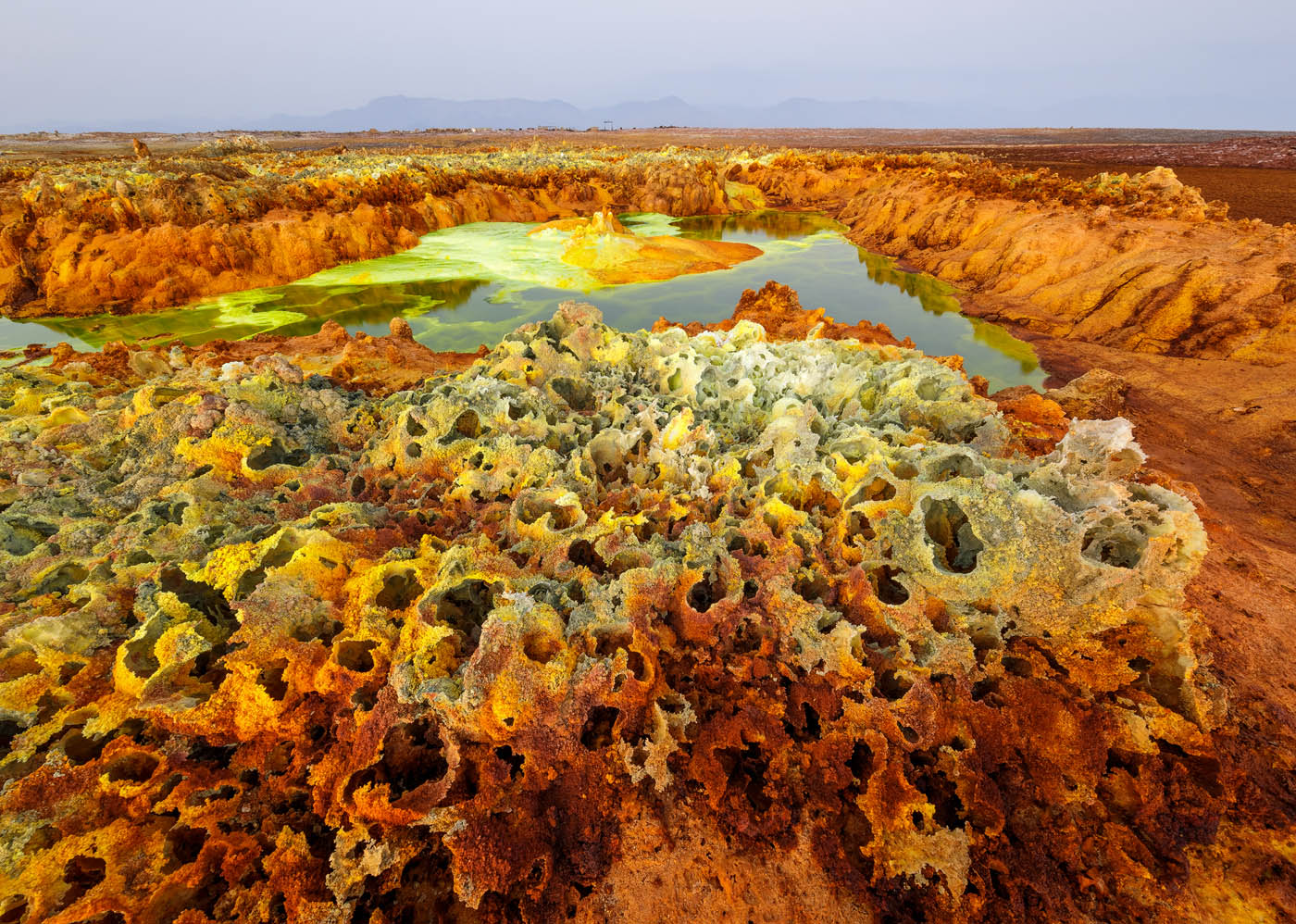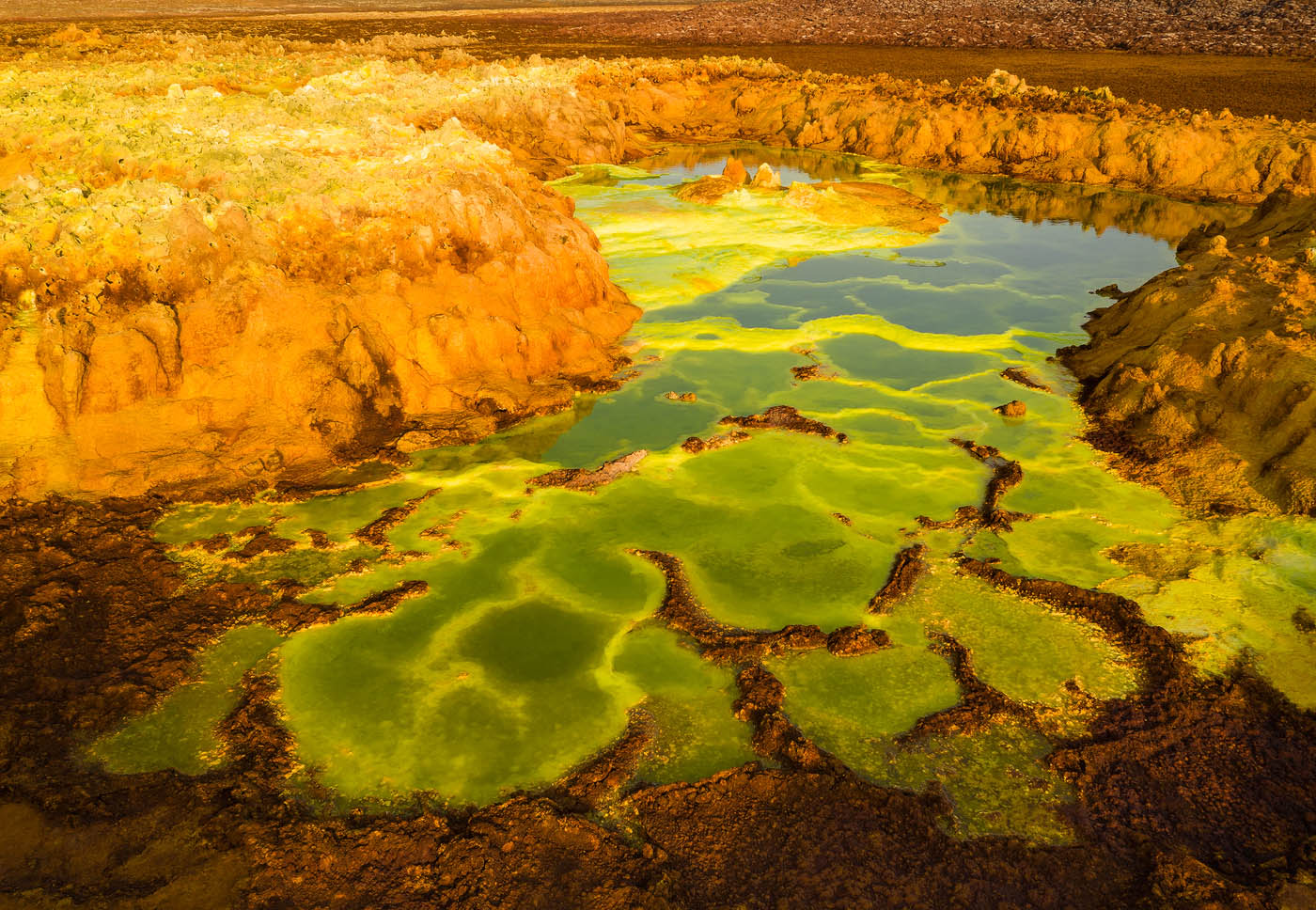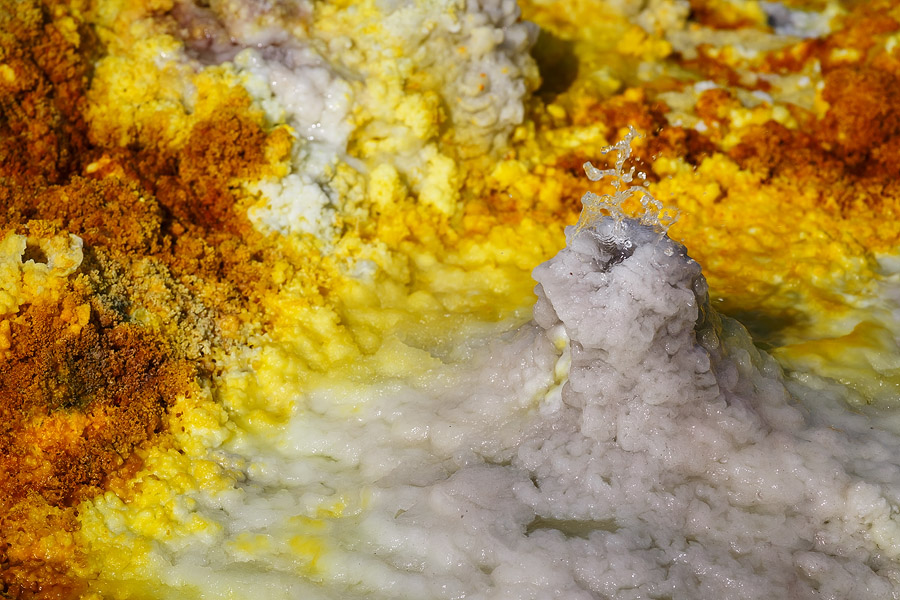 Upon finishing the shoot, we'll go back on the jeeps and drive to the city of Mekele, settle in our excellent hotel there, have a final dinner and conclude the shooting days.
Day 10 Back to Addis, Departure
After breakfast at the hotel, we will take a short flight to Bole Airport in Addis, where you will take your flight home.
Total Price: €6290 per person in double room for participants registering by January 1st, 2019;
€6390 per person in double room for participants registering by June 30th, 2019;
€6490 per person in double room for participants registering afterwards.
Special offer: Sign up as a group of 3 or more and receive a €200 discount each!*
Single room supplement: €870 (single rooms are, of course, not available on the 4 camping nights in the Danakil depression)
Deposit: €2990
Maximum Number of Participants: 8
Physical Difficulty: Advanced. Hiking in the Simien Mountains is easy, but you'll likely be short of breath due to the altitude. altitude may cause difficulty to sleep in the first day of two. Temperatures in the Danakil Depression regularly hit 40 degrees Centigrade in the season we will visit (although low humidity makes the situation easier), and you have to take this into account. The hike to the top of Erta Ale volcano is strenuous, but we'll take it slowly and in a pace anyone can follow. In addition, camels will carry your photography equipment up the volcano if you so wish. If you suffer from a heart condition or any other health issue which prevents you from hiking in very hot temperatures, you will not be allowed to go up the volcano and perhaps you'll have to avoid some of the hikes in the Danakil. Conditions in the camps in the Danakil Depression are very basic (no running water, flush toilets, electricity or anything of the sort), but we've done everything we can to make your stay there as comfortable as possible.
*Multiple discounts may or may not apply, please consult me.
Workshop Price Includes
Pickup at Bole International airport, Addis Ababa on day 1
The three domestic flights: Addia Ababa - Gondar (day 2), Gondar - Axum (day 5), Mekele - Addis Ababa (day 10).
Important notice: these flights are only included if you fly to Ethiopia with Ethiopian Airlines. Otherwise, the domestic flight prices will increase significantely (costing about twice) and you'll have to cover the difference (a few hundred Dollars).
Accommodation on days 1-9. Good hotels/lodges can be expected in the cities and in the Simien Mountains NP. Camping in the Danakil Depression is very basic, so lower your expectations.
Full board throughout the workshop
Professional photography guidance by an award-winning nature photographer
Professional English-speaking local guides with us at all times
Private chef services in locations without access to restaurants, food of the highest quality available in Ethiopia
Private security when needed
Critique sessions and post-processing assistance when and where possible.
Travels in spacious, comfortable vans in The Simien Mountains NP, and in air-conditioned 4X4 jeeps in the Danakil Depression (3 participants per jeep for maximal comfort).
Transfer to Bole International Airport on the last day
Entrance fees where applicable
Taxes on all services listed above
Workshop Price Does Not Include
Airfare to and from Ethiopia
Visa costs ($50, given upon arrival for most nationalities. E-visa now available)
Airport pickup and dropoff outside the workshop dates
Insurance. It is MANDATORY to insure yourself against physical injury, and highly recommended to insure your photo gear. Tour leaders will not be responsible in case of any personal injuries or damage to photographic gear as a result of an accident during the workshop. A good insurance policy can make a big difference should something happen, and ensure a safe return home.
Alcoholic drinks
Non-meal-time snacks
Single room supplement (€870)
Laundry
Gratuities to local guides
Any other expense of a personal nature
Photography Equipment
A digital camera, preferrably a DSLR camera with a full-frame sensor, since these cameras have better low-light capabilities. However, a crop-sensor DSLR will also completely suffice. A compact camera can be used, as long as you understand its limitations. As always, bringing a second camera body as a backup is recommended.
A light, steady tripod
An ultra wide angle lens (preferably stabilized). For example, a Canon 11-24mm or 16-35mm on a FF sensor camera, or a Nikon 10-24 on a crop sensor camera.
A mid-range zoom lens such as a 24-70mm (preferably stabilized).
A telephoto zoom lens, such as a 70-300mm or 100-400mm - the longer the better, preferably stabilized. In my personal opinion, a Canon 100-400mm / Nikon 80-400mm would be perfect for shooting the Geladas.
Consider bringing a light monopod for shooting the Gelada Baboons, if you're using a heavy telephoto lens.
Recommended: Polarizing filters and a square filter set for landscape photography. Contact me for help.
Spare batteries, and lots of them. Remember we'll be shooting in the Danakil for 4 days without electricity other than the cars' lighter sockets.

Clothing
A warm jacket, light thermal shirt, warm hat and long johns for the cool Simien Mountains
Good hiking shoes
Important: A broad hat
Convertible hiking pants
Breathable hiking shirts (at least 3-4)
Recommended: hiking sandals for walking in water
Swim suit

Other
Please pack your belongings in a large backpack instead of a suitcase. This will prove much more comfortable.
A headlight
A respirator (and goggles if you feel you need them) for protection from toxic gases while shooting Erta Ale (contact me for help)
A sleeping bag rated for 5 degrees Centigrade (comfort temp) for the night on top of Erta Ale
Sun glasses (bring 2 pairs, 1 as a backup)
Sun screen
Payment Procedure
In order to secure your spot, you are required to transfer a deposit of €2990. This deposit will be refunded only in case the workshop gets cancelled for some reason. For your comfort, the deposit can be payed either through PayPal or via bank transfer (contact me for details).
The full amount (after discounts if applicable) must be payed via wire transfer 90 days prior to the workshop starting date.
In the case you need to cancel your participation, a 67% refund (excluding deposit) will be given up to 75 days prior to the workshop starting date and a 33% refund up to 60 days prior to the workshop starting date.
I reserve the right to increase the price of the workshop if costs rise due to unexpected changes in fees, taxes or exchange rates.

Altitude
In the Simien mountains we'll be traveling in altitudes of up to 3300 meters above sea level (MASL). This is usually not dangerous in any way, but be aware that if you're sensitive you might need to slow things down and take some rests in the beginning of the trip. Alternatively, you may choose to arrive in Addis Ababa (2300 MASL) one or two days prior to the workshop to acclimatize - Addis is great and has tons of things to do, so this is highly recommended. I will arrive 1-2 days prior to the workshop, so feel free to join and improve your experience in the Simien.

Disclaimer
Though improbable, workshop dates might shift a few days here or there, up to 6 months prior to start date. Please contact me if you have schedule limitations.
The tour plan above is subject to change. If weather or geological conditions are unfavorable we might not be able to fulfil some or all of the planned activities. Erta A'le volcano can change its appearance and depending on the lava and smoke situation, the safe distance may vary.
You need to remember that Ethiopia isn't Switzerland and that things can go wrong, even when the utmost effort has been put into the arrangements. Please note that patience will sometimes be needed.

Your Safety
Ethiopia is generally very safe. However, some areas are considered less safe than others, namely the Danakil Depression, even though nothing has happened there lately and tourism is booming. There are peace talks with Eritrea and the situation is looking brighter than ever. Even so, to minimize risk, we will be escorted by several armed guards at all times when traveling in the Danakil.
In addition, by signing up to the workshop you are declaring that you understand that we will be visiting an active volcano, and that you are obligated to abide by the guides' instructions, and take extra care. Even if you do, you must understand that volcanos can be unpredictable, and in extreme cases, injuries can be sustained. If you suffer from a heart condition or any other health issue which prevents you from hiking in very hot temperatures, you will not be allowed to climb the volcano.
Important: In order to join the workshop, you will be required to sign a contract that establishes that the tour leaders are not responsible to physical or proprietary damages, and that you understand and accept several behavioral standards (including not taking excessive risk), necessary to ensure the workshop's success and your safe return.
Erez Marom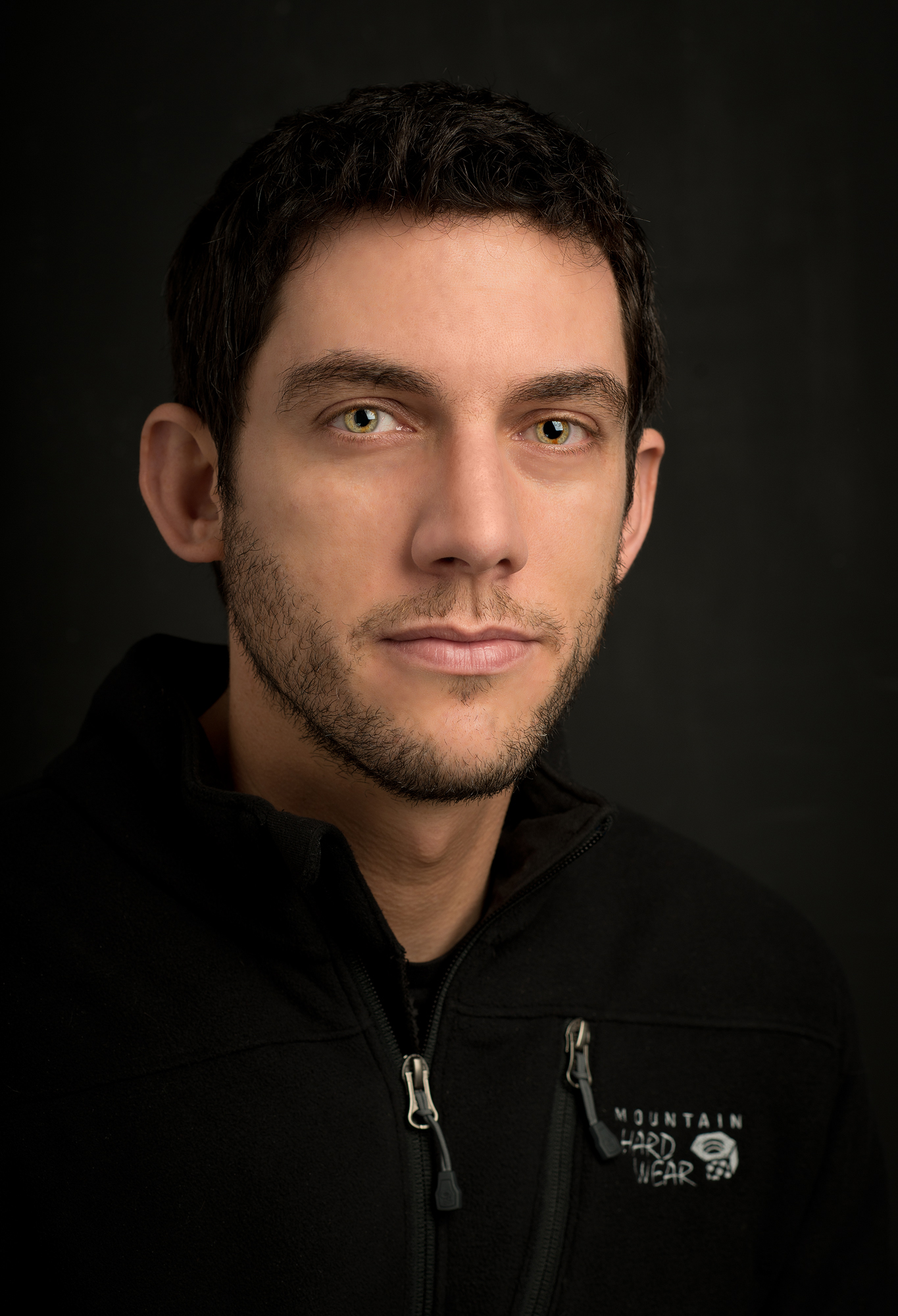 Born in 1980, Erez Marom is a full-time nature photographer, photography guide, writer and traveler-adventurer based in Israel. Specializing in landscape and wildlife photography, Erez spends much of his time in the field shooting the wildlife and scenery of his favorite locations in Israel and overseas.
In addition, Erez publishes articles and instructional texts in leading magazines and websites, and dedicates a considerable amount of his time to sharing his experience and knowledge by lecturing worldwide and traveling several times a year to guide his unique photography workshops.