This Annex is only for people who are fit enough to trek and endure strenuous hikes and wild camping. It will not be extreme in any way but it will require a good deal of physical effort. It is the perfect addendum to the easier main workshop.
ITINERARY
Days 1-3 Torres Base Camp
The hiking workshop will commence in Torres Del Paine, right when the main workshop ends. After saying our goodbyes to the people who drive back to Argentina, we'll meet out porters and head out on the 4-hour hike to Campo Torres, the camp in the base of the hike to the famous towers.
In camp we'll find our spacious tents waiting for us, together with a crew consisting of, other than the porters and the guide, a private chef to make us delicious hot meals and snack to enjoy when not hiking or shooting. The utmost effort has been made to make the camping experience as good as possible. The camp has running water and a flush toilet.
After going to sleep early, we'll wake up in the dark and begin the day by climbing to the Torres viewpoint. The Torres themselves and the lagoon just below them are an incredible sight. With good weather and light, there is a limitless choice of shots to make. Seeing these towering monoliths is extremely rewarding, even elating.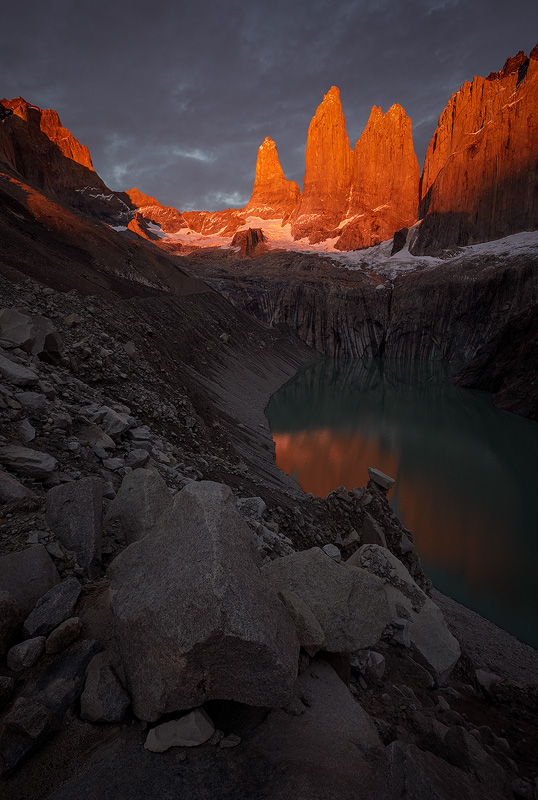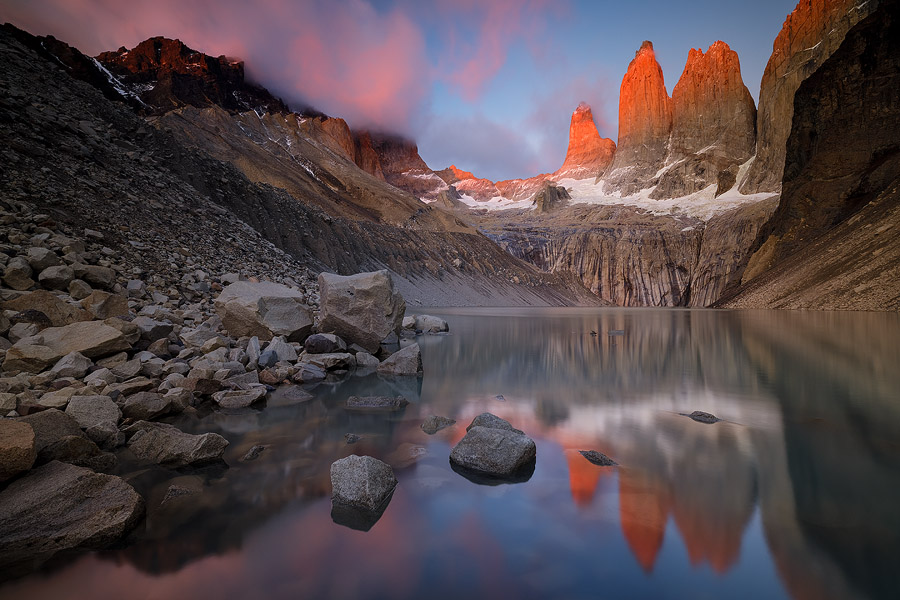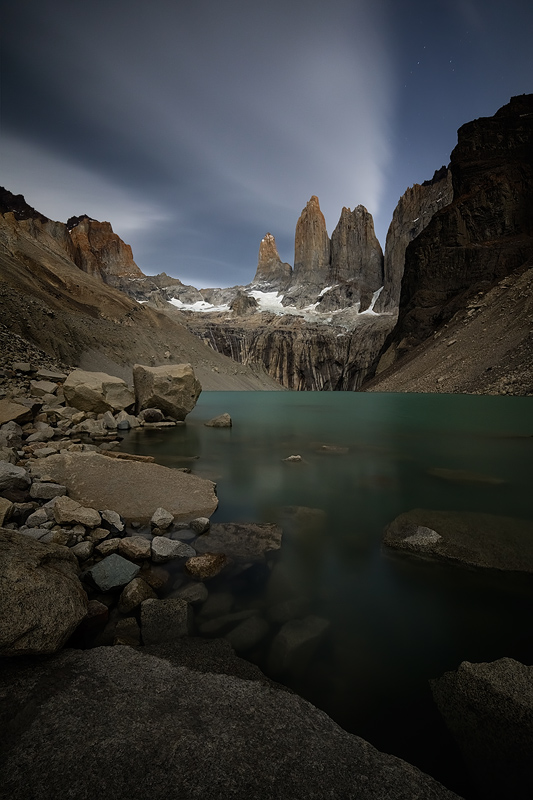 We'll spend this day and the next shooting the Torres from a variety of angles, hopefully getting some incredible light.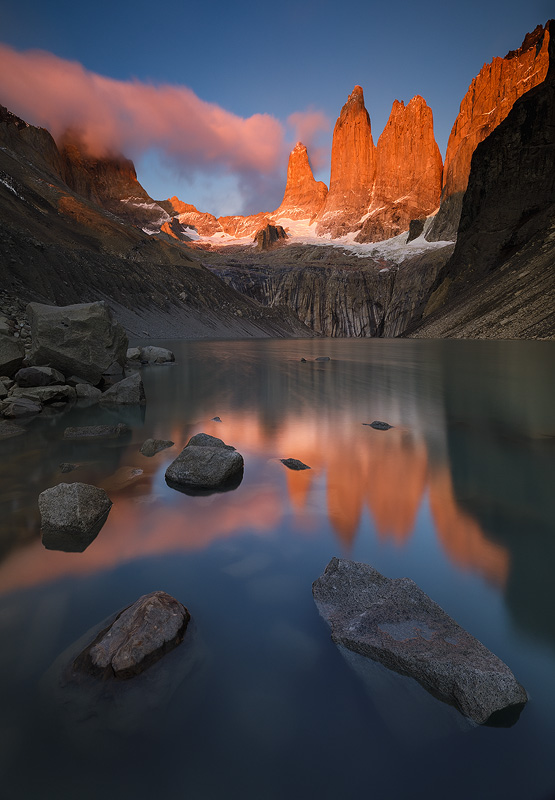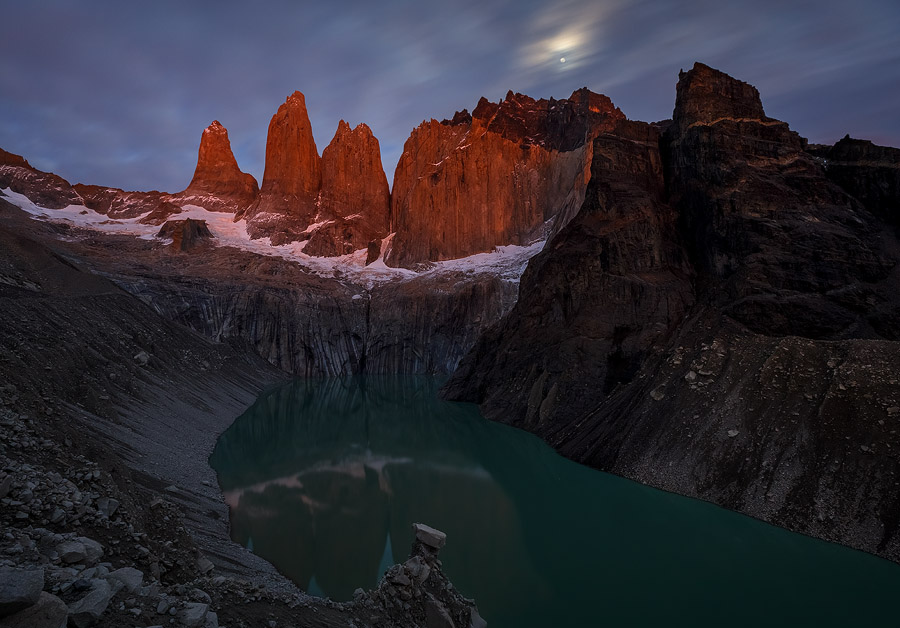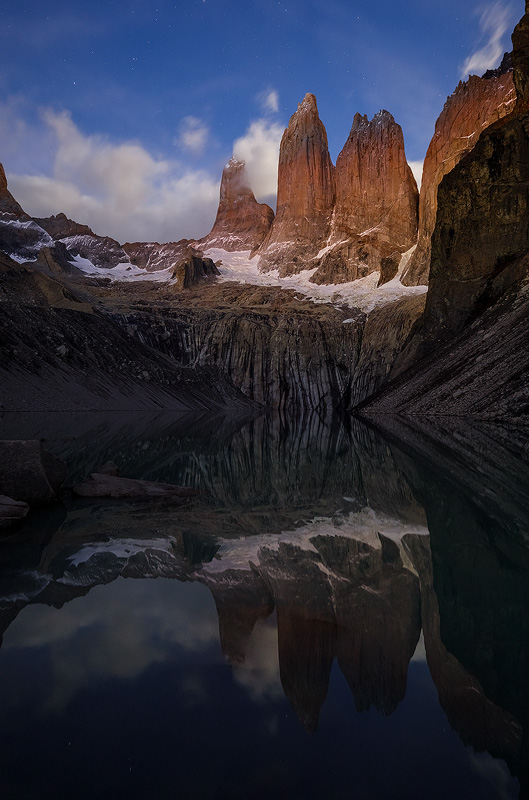 On the third day, after a sunrise shoot, we'll pack up and head down to the pickup point, where we'll hop on a bus and drive back to El Chalten, where we'll spend the night in our wonderful 4-star hotel.
Days 4-6 Laguna Torre
After breakfast, we'll be joined by our mountain guides and porters and begin a 9 km hike to Laguna Torre.
The lagoon lies beneath one of the most spectacular peaks in existence: Cerro Torre, the serrated dark wonder. We will camp near the lagoon for 2 nights, shooting it at sunrise, sunset and even by night, to produce unique and spectacular mountain shots. The glacier feeding the lagoon keeps it teeming with icebergs, which complement the landscape amazingly, and if the weather is cold enough, the lagoon will have a fine icy crust.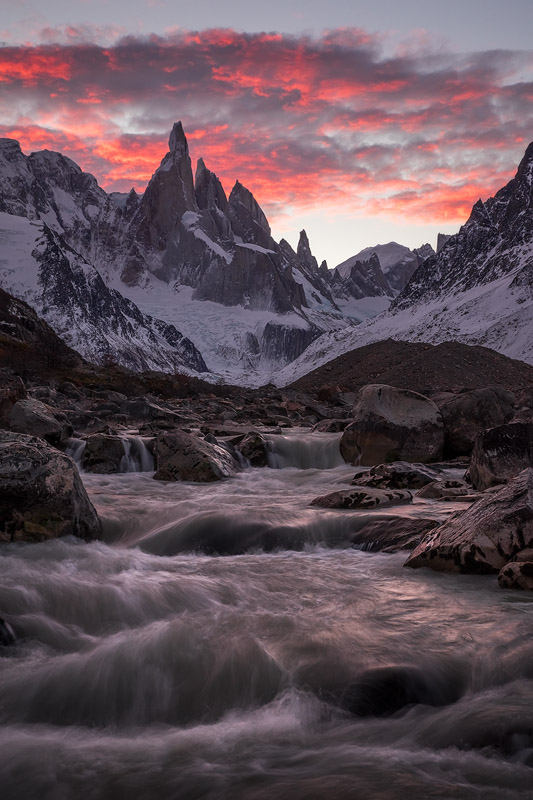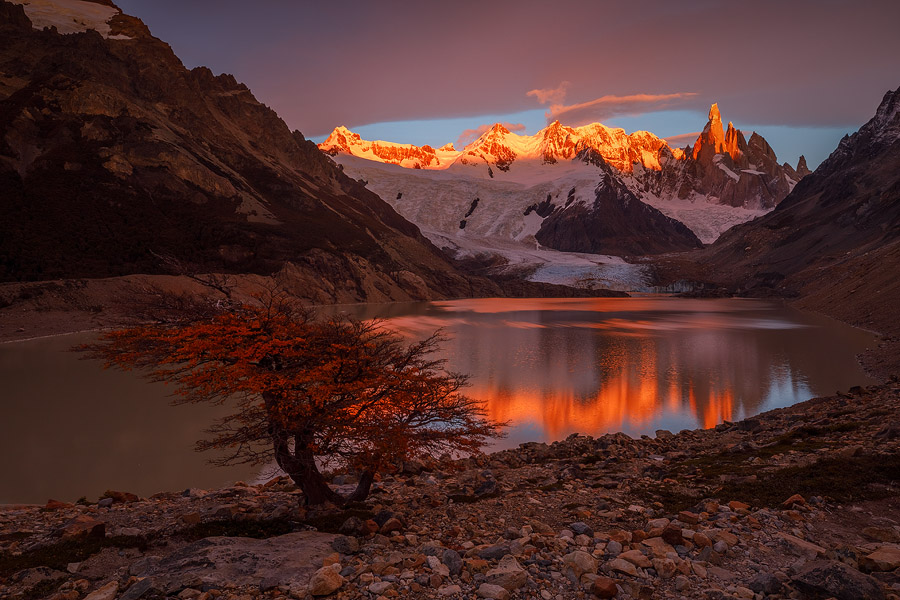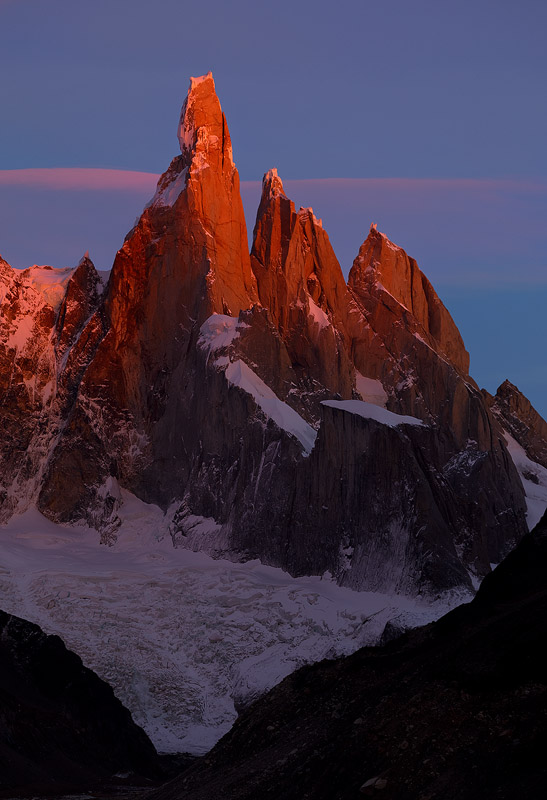 While we will be in field conditions, all measures have been taken to make it comfortable and fun. We will be camping on private grounds, and supplied with all the necessary amenities. We'll be eating delicious hot meals, including picadas and regional wines, rather than regular "camping food". If you prefer, you can bring your own sleeping bag and inflatable mat for a more comfortable sleep (otherwise those will be supplied for you) but all the rest is taken care of in the best possible way.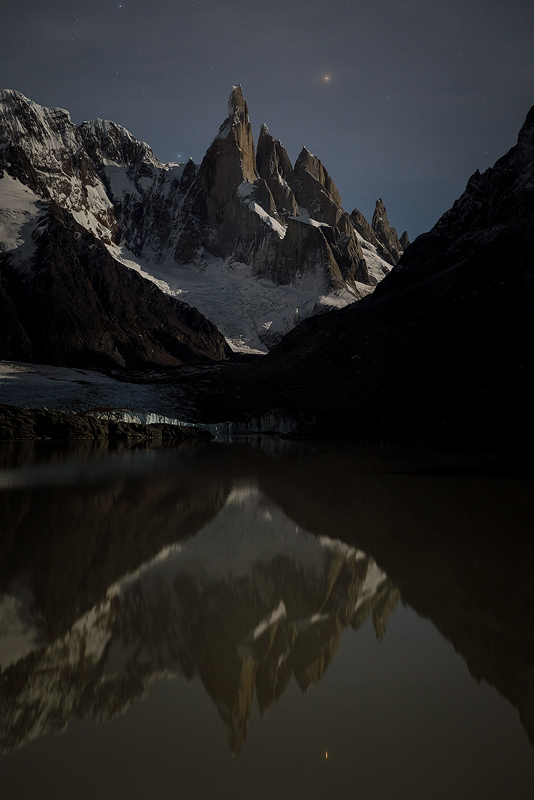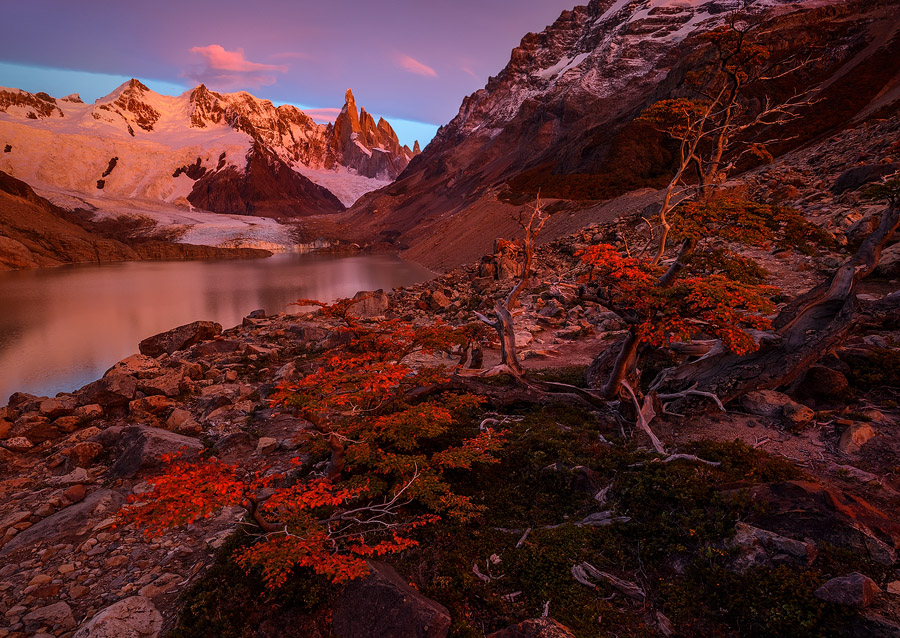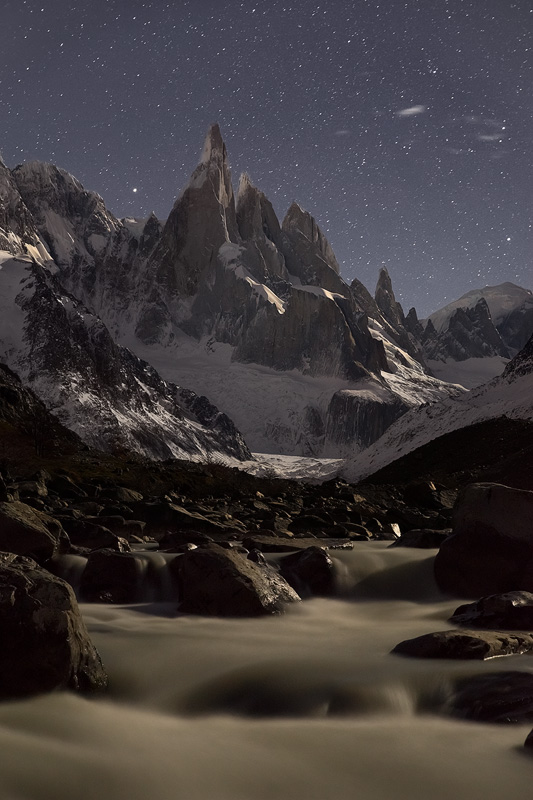 Our camp is also adjacent to a surprising number of cascades and waterfalls, which we will explore and shoot extensively in the long hours between sunrise and sunset.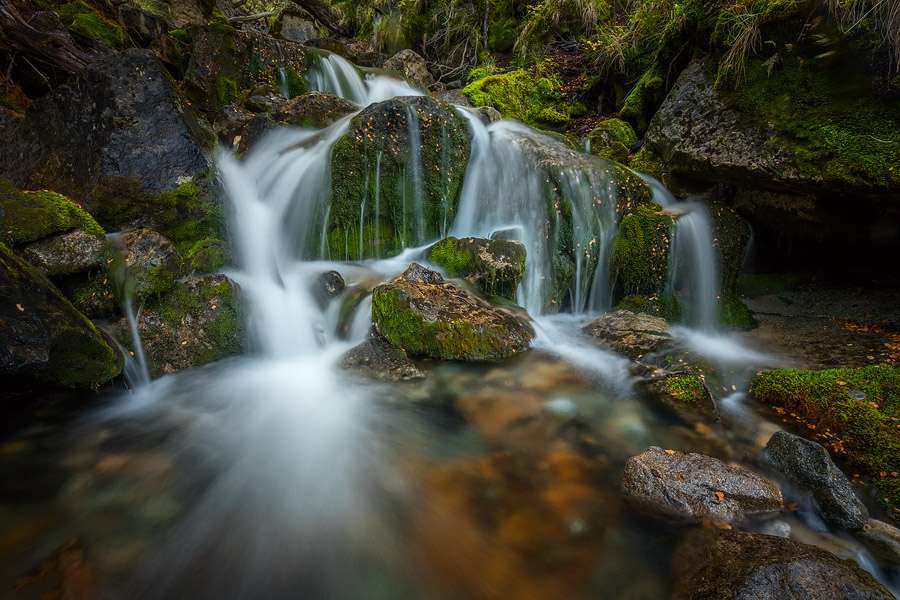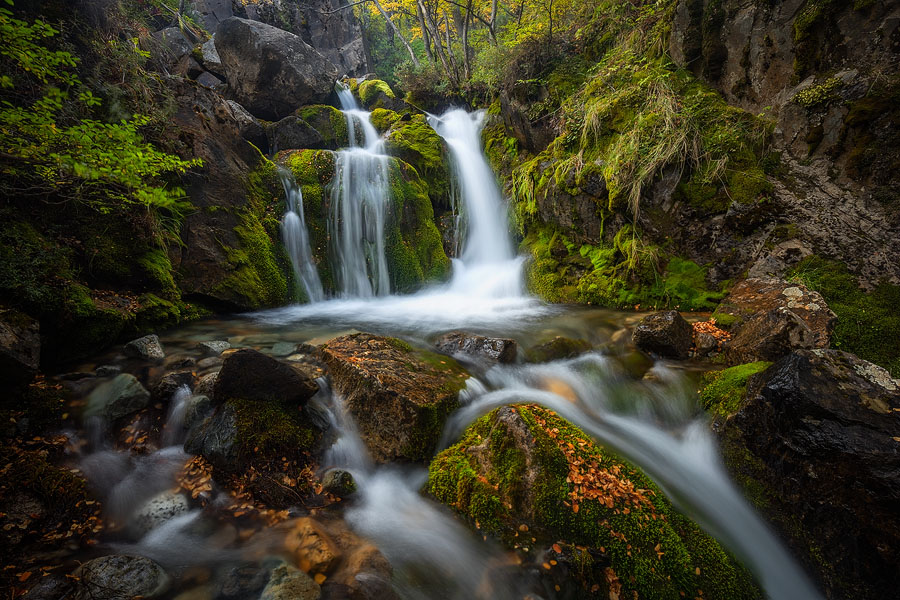 After shooting sunrise on day 4, we'll hike to Campo Poincenot, for the next part of our hiking journey.
Days 6-8 Mount Fitz Roy
This will be the third and last part of the hiking annex. We'll do an easy hike from Campo Thorwood to Campo poincenot, the best base location for shooting mount Fitz Roy. Upon arrival we'll settle in camp and start exploring the area.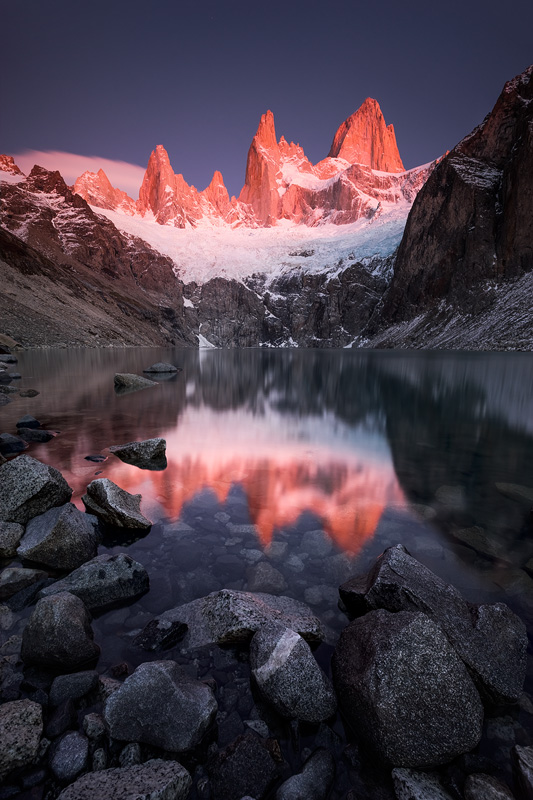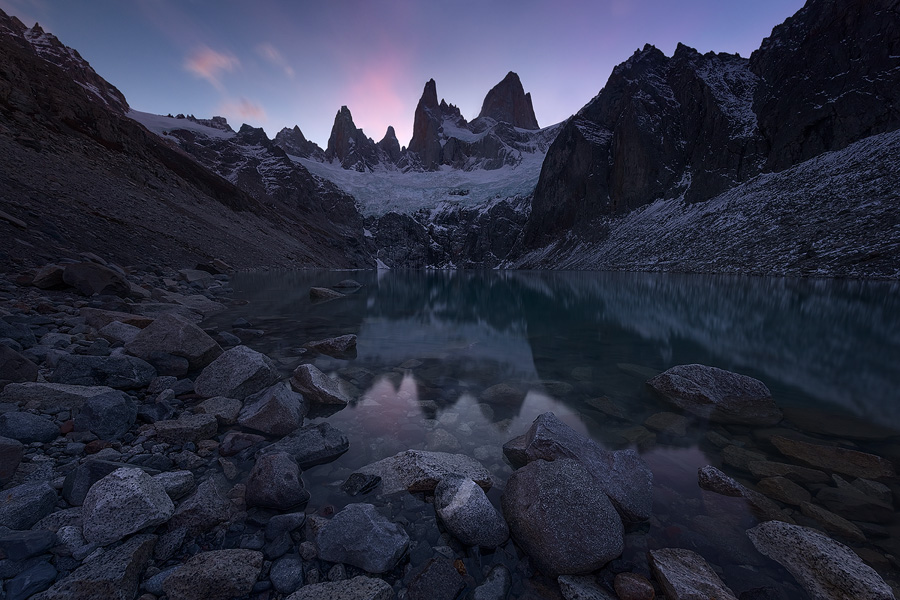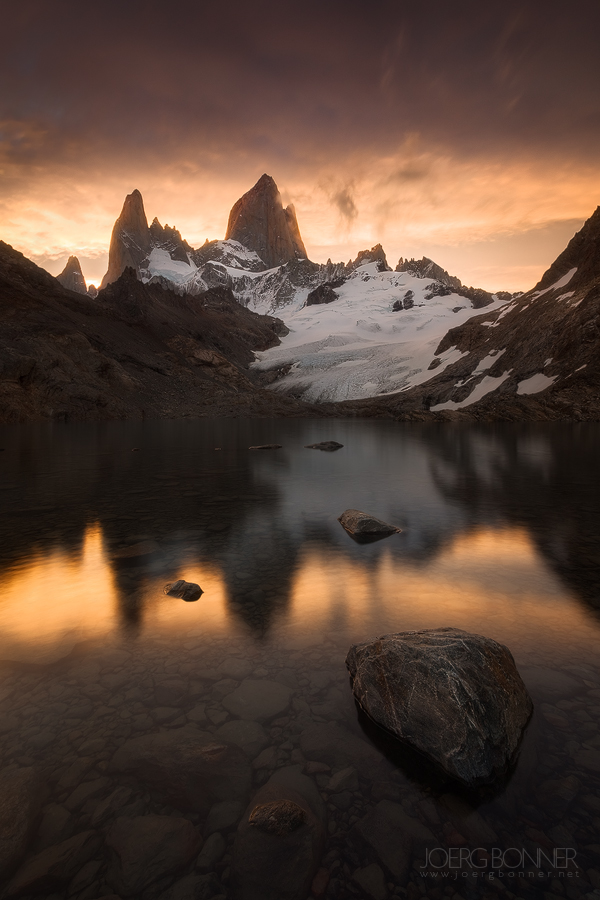 During the next 2 days we'll be hiking to several shooting points with mount Fitz Roy as the majestic backdrop. Tranquil lakes and lagoons will reflect magical pink Alpenglow of the mountain, and beautiful autumn leaves will supply a fantastic color palette to complement the mountains. We will also shoot the mountain with waterfalls and streams in the foreground.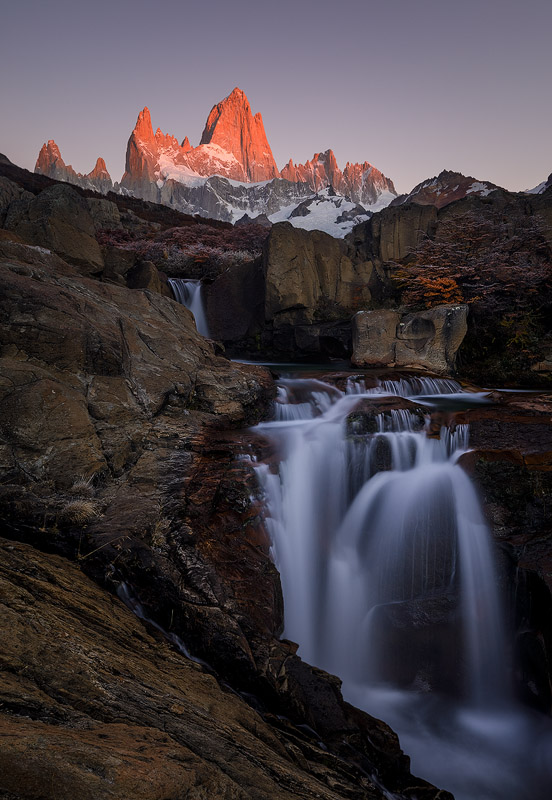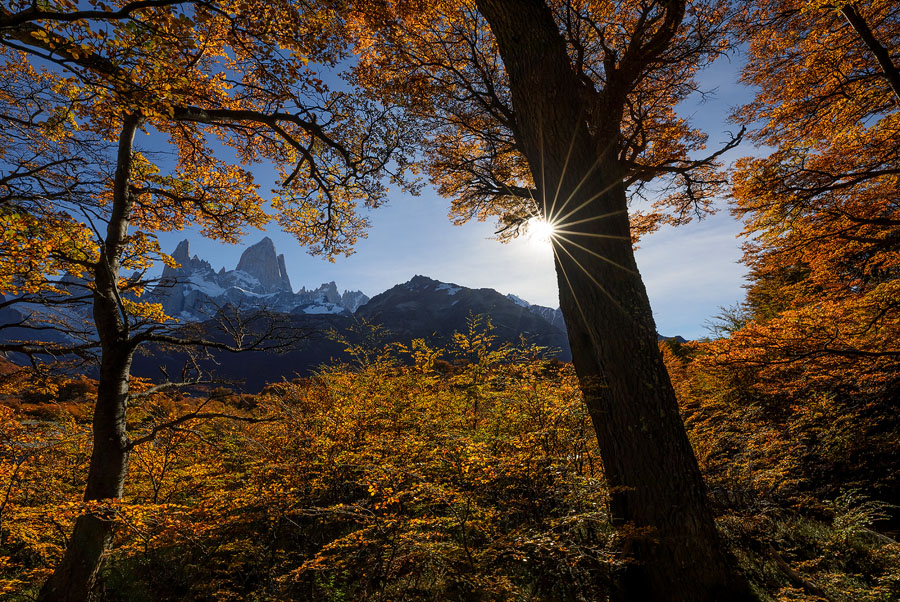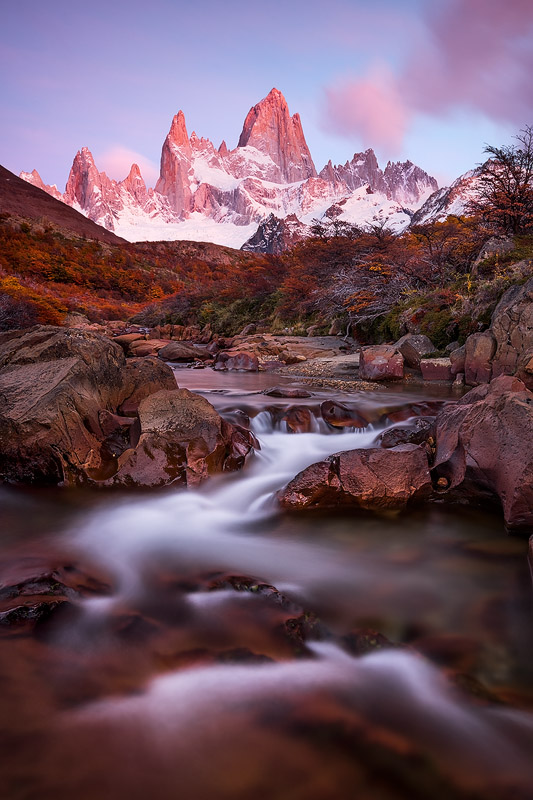 If conditions are favorable, we'll make the extra effort to shoot Fitz Roy by night.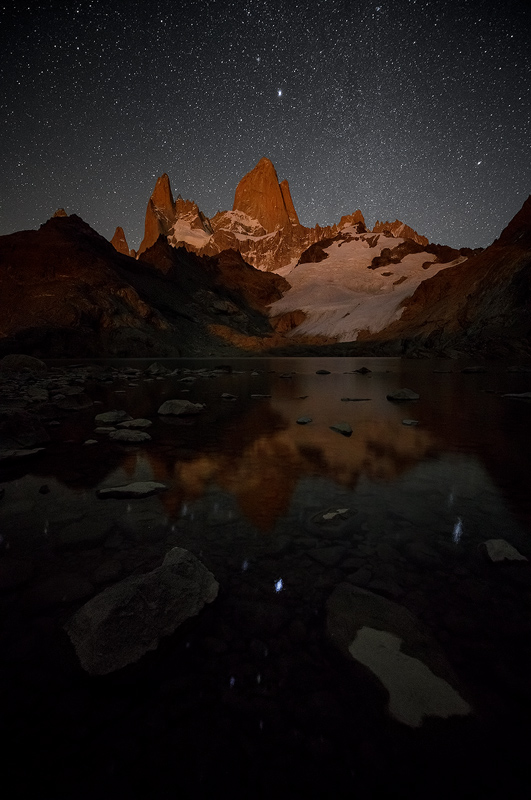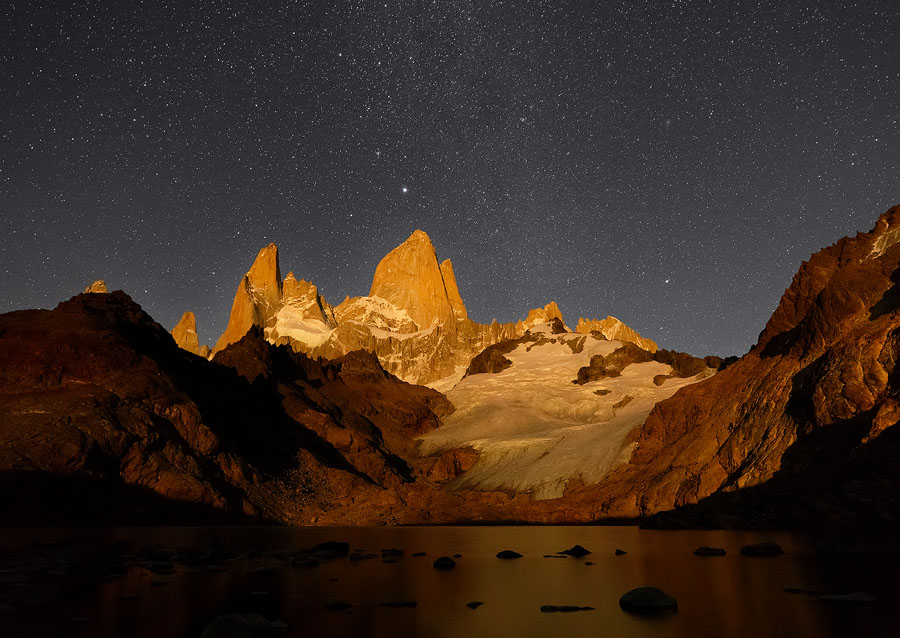 After a sunrise shoot on day 8 we'll hike back to El Chalten, where we'll eat lunch and enjoy another night in out wonderful hotel.
Day 9 Back to El Calafate, Departure
After a possible sunrise shoot in El Chalten, we'll hop on a transfer back to El Calafate, for goodbyes and your flight home.
PRICING AND DETAILS
Total Price: €5390 per person in double room for participants registering by June 30th, 2018.
€5490 for participants registering between July 1st and November 30th, 2018.
€5590 for participants registering afterwards.
Deposit: €2690
Single Room/Tent supplement: €870
Maximum Number of Participants: 8
Physical Difficulty: Intermediate - Advanced. There will be plenty of hikes and altitude gains, and your physical fitness is very important for your enjoyment of this workshop. The hike to Torres base camp is about 4 hours long, and the first part of it is a bit steep. The hike to the Torres Viewpoint itself is an additional 1-1.5 hours. The hike to Campo Poincenot is about 4 hours. The hike up to Laguna de los Tres is strenuous and includes considerable altitude gain, although you may refrain from it if you wish. There will be six nights of camping in the wild in tents but we'll have running water and toilets, and the camping experience is on a relatively high level. Weather conditions in Patagonia can be unpredictable, and you should be prepared to withstand temperatures as low as -5 degrees centigrade (at night), in addition to strong winds, but conditions are usually on the calm side this time of year.
OTHER TERMS AND CONDITIONS
Payment Procedure
In order to secure your spot, you are required to transfer a deposit of €2690. This deposit will be refunded only in case the workshop gets cancelled for some reason. For your comfort, the deposit can be paid either through PayPal or a wire-transfer (please contact me for details).
The full amount (after discounts if applicable) must be paid via wire-transfer no later than 90 days prior to the workshop starting date.
In the case you need to cancel your participation, a 75% refund (not including deposit) will be given up to 75 days prior to the workshop starting date, a 50% refund up to 60 days prior to the workshop starting date and a 25% refund up to 45 days prior to the workshop starting date.
I reserve the right to increase the price of the workshop if costs rise due to unexpected changes in fees, taxes or exchange rates.

Disclaimer
Though very improbable, workshop dates might shift a few days here or there, up to 6 months prior to start date. Please contact me if you have schedule limitations.
The tour plan above is subject to change. Weather in Patagonia can be extremely unpredictable, and so in case of harsh weather, we may have to divert from our plan and do something else.
In case we have to stay in town due to unforseen weather conditions, you will be required to pay for your own accommodation and food in those nights.
Important: In order to join the workshop, you will be required to sign a contract that establishes that the tour leaders are not responsible to physical or proprietary damages, and that you understand and accept several behavioral standards (including not taking excessive risk), necessary to ensure the workshop's success and your safe return.
Important: The rules of Los Glaciares National Park prevent any sort of teaching on park grounds. Therefore, while in the park, the workshop will oficially be a photo tour, with the guides acting as group leaders and not tutors. This is unfortunately unpreventable and is true for any person conducting a workshop in Patagonia. Rest assured - the guides will be there with you for the duration of the trip. If you have any questions regarding this issue, please feel free to contact me and I'll explain everything.
*Multiple discounts may or may not apply, please consult me.