The Good, the Bad and the Ugly of Aerial Photography - Part 2: Aircraft
Posted on 11th August, 2016 - Back to Blog Listings
In the previous article I talked about some of the advantages of aerial photography. But how does one do it in the real world? Let's start with the aircraft. There are two main options here: a light airplane or a helicopter. Yes, you can shoot from a hot air balloon but it's not really an option in most places, plus it's far less maneuverable, so I'll gently disregard it. Also, while drones are taking the world of aerial photography by storm, the considerations discussed in this series hardly relate to them, and so I won't be talking about them at all.
It will probably come as no surprise when I say that a helicopter is the better way to go, by far. It might cost a bit (or a lot) more, but the advantages it offers make for a very different, vastly superior experience.
A helicopter is a flexible craft: it can fly slower than a plane or even hover in place, which gives you much more time to shoot a desired composition. But that's not all: perhaps the greatest advantage is that some helicopters allow the doors to be opened or even completely removed for the flight. Once the door is off, you have a huge field of view, and wide-angle shooting is possible. You need to be careful not to have the rotor in the shot, but that can generally be avoided when pointing the camera downward. The huge field of view also means that you have the option to try the same shot more than once should the first try fail, and you can shoot different angles of the same subject even after you've moved ahead. That's a critical advantage which can make the difference between getting a shot and losing it.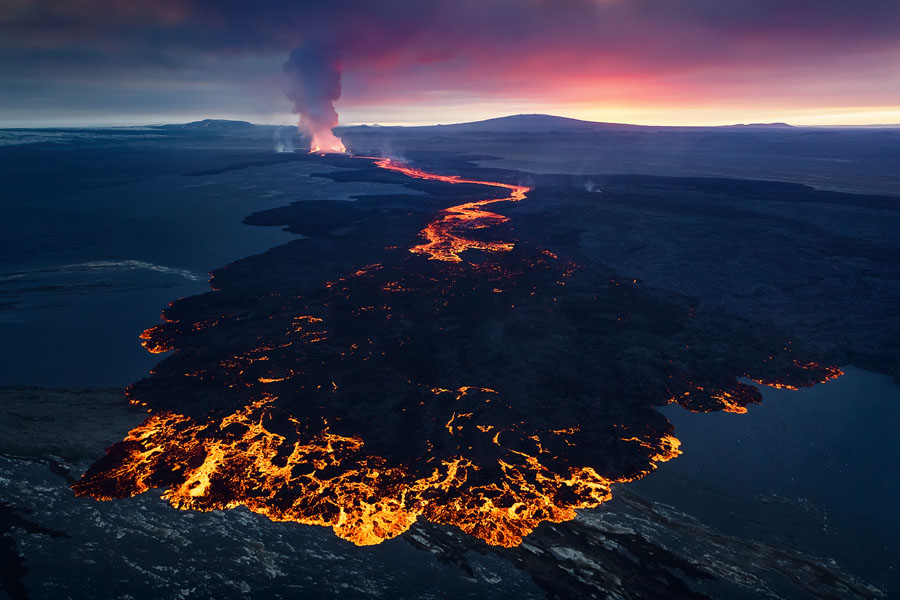 The most common helicopter for aerial photography is the Robinson R44. It's a small helicopter fit for a pilot plus three passengers, and you can take both doors off in a minute, which is crucially important for getting crisp images without reflections or aberrations (if the pilot refuses to take the door off – don't even bother). Its small size also makes it relatively cheap to fly and maintain (emphasis on relatively). What's considered cheap? Well, one of my R44 flights cost me $850 an hour, the other 1500 Euros an hour. It really depends on where you fly, and costs worldwide can vary even more than that in both directions, but primarily upward. In places where a small, cheap heli isn't available, costs can rise quite ludicrously. For example, I've recently gotten a quote of $4200 an hour for a larger heli in a place whose name I won't mention. That's $70 a minute. Yes, my reaction was similar to yours.
In the image below you can see a wide-angle shot of the dunes of Sossusvlei, Namibia, taken from an R44 helicopter with the doors taken off. It's quite striking to see these intricate dunes from this angle, and the helicopter allowed me to take a very wide shot and include the entire dune, which is a huge advantage.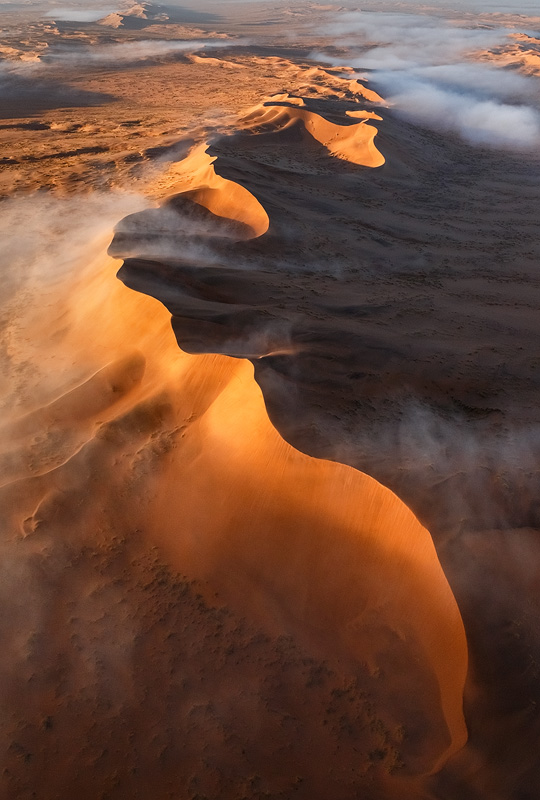 Shooting from a light plain is different. You usually shoot from an open window, and that's in the good case: about a year ago I did a photography flight in Greenland in which I had the dubious pleasure of shooting through a 15cm hatch in the front window. This means that shooting-angle selection was extremely limited (forget about ultra-wide lenses), and that once you pass a good shooting angle, the shot is gone unless you circle back. This disadvantage is emphasized by the faster movement speed, which frankly gives you a feeling of anxiety to be ready and shoot before it's all gone. To sum it up, though cheaper than a helicopter, a light plane with a small hatch (as opposed to a large window) is very limited in shooting angles, supplies less opportunities to get the right shot, and as a result yields much less keepers when the flight is done. I'd seriously reconsider before ever doing it again.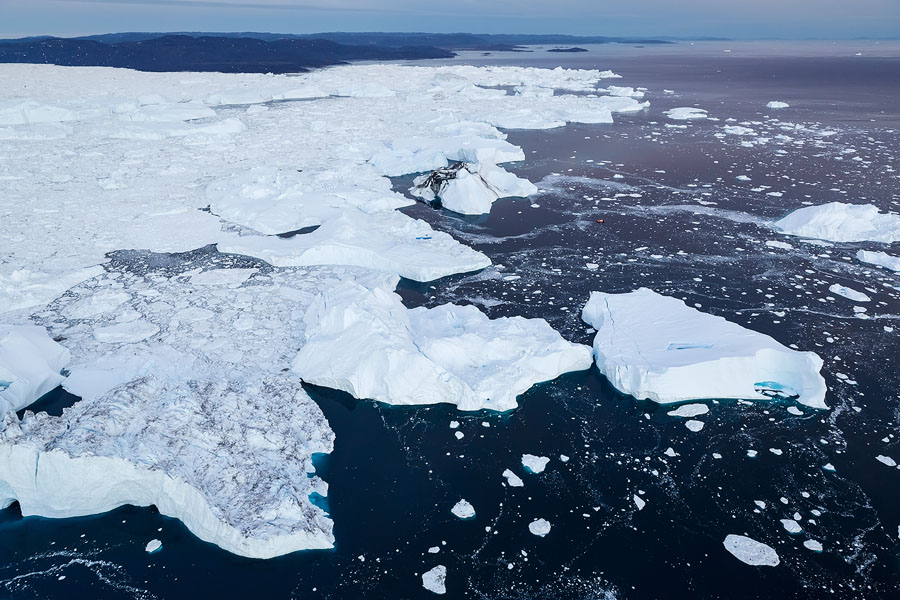 A Cessna with a large window you can open is a very different story. Shooting is much more comfortable and angle choice much less limiting. If you lean back (careful not to push against the poor pilot! I know I did that a few times...), no wind moves or sucks your lens and stability is quite good. I shot from such a Cessna in the Lofoten Islands and the experience was wonderful.

In the next article I'll discuss technicalities and parameter selection for aerial photography.