Article: Behind the shot - The Shadow Towers
Posted on 18th October, 2016 - Back to Blog Listings
In this article I'd like to take you on a nighttime adventure to the remote Torres Del Paine National Park in Chilean Patagonia. This highly photographed park has attracted many photographers, and for good reason: it offers incredible mountainous landscapes and wonderful weather conditions, making for very interesting photography. There are many hiking routes in the park, which range from relatively easy to hard. After visiting Patagonia in 2014 to scout, I regretted not being able to explore more of the hiking trails. I swore to go back and do some more hiking and shooting. I did just that earlier this year, just before guiding my groups. It was a bit of an adventure, and things didn't always go as I had planned, but I got a few results I'm happy with. This article is about one of them, entitled 'The Shadow Towers'.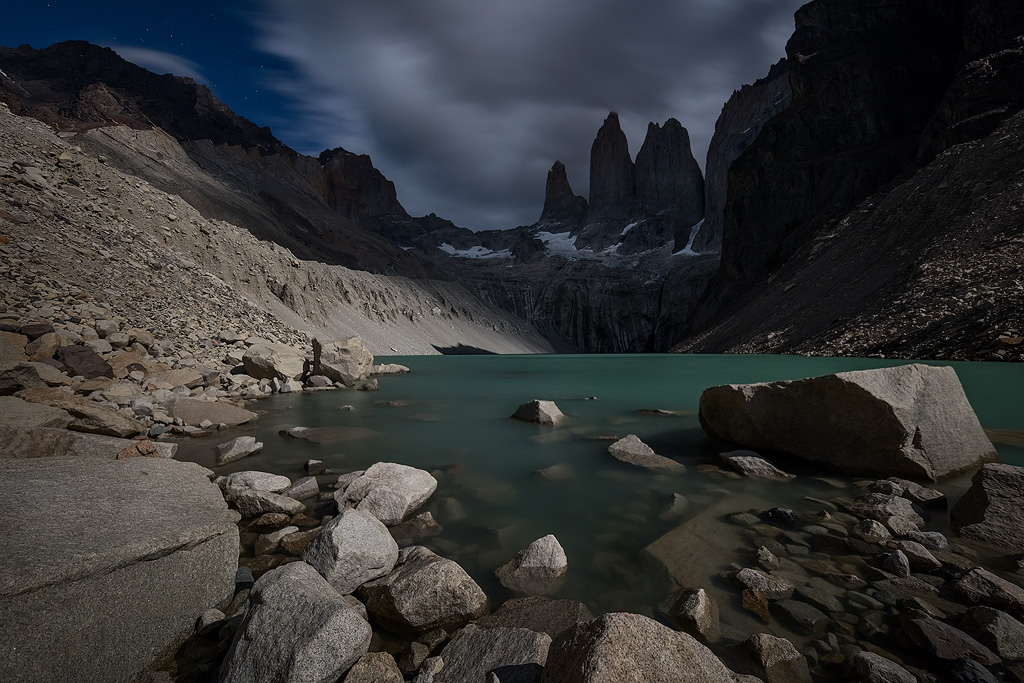 Getting There and Being There
The Torres Del Paine are the distinctive three granite peaks of the Paine Massif. They are visible from long distances away, but to truly appreciate them, you really need to hike closer. It's a day hike, taking a few hours to reach the base camp at the bottom of the Torres and another hour or two (depending on your fitness level) from camp to the lagoon from which I took the shot. This last leg is pretty tough with several hundred meters of elevation gain, along a path which is sometimes quite steep.
My planning went more or less like this: I had rented a car from El Calafate, Argentina, a few days before, and planned to drive all the way to Torres Del Paine and do the hike all in one go, if weather agreed. The moon was going to be full, and it was going to rise directly opposite the Torres, which I had hoped would illuminate the tops of the peaks and make for a very interestingly-lit shot. A couple of days beforehand the forecast indicated clear skies, and it seemed like everything was going as planned.
Back to El Calafate. I picked up my car early in the morning and made the 6-hour drive to the park. Upon reaching the start of the trail, I packed the necessities - tent, sleeping bag, some food and all my photography gear in a backpack (which weighed in at a not-too-comfortable 15+ Kg) and began hiking. The sun was shining strongly and I was wearing a light shirt and shorts for most of the hike, even though it was already autumn.
The hike to base camp wasn't too hard. It seemed long after all the driving but elevation gain was moderate, at least after the first several km. Beautiful sights were abundant throughout. After about 4 hours I reached camp in the late afternoon and set up my tent. I was a bit tired but I couldn't get any peace. I decided to climb to the viewpoint that same evening.
I left the tent - and everything else which wasn't crucial - in camp, and started the steep hike. It wasn't easy at all with the heavy weight on my back, but I made the effort and after 1 or 1.5 hours, I was standing on the rocky edge of the glacial lagoon at the Torres viewpoint - Mirador de las Torres. Last light was approaching and I used the remaining visibility to find a sheltered place to put my sleeping bag for the night. I had heard that there was a cave nearby but didn't have the time to find it, and so I settled for a spot surrounded by rocks, which would shelter me from strong winds. I did a bit of scouting around the lagoon before dark, to find a suitable composition.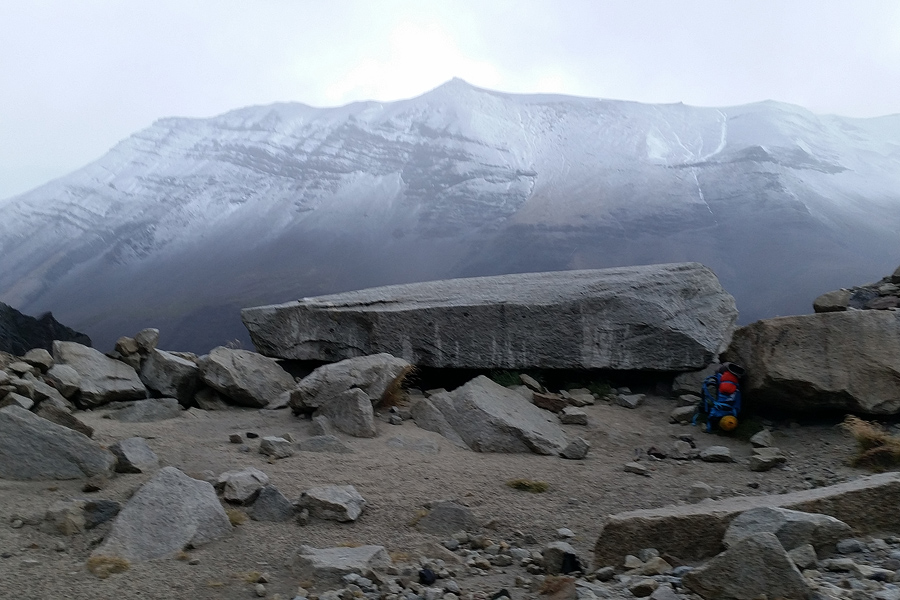 Darkness fell and I had to rest a bit from the long day and tough hike. I was waiting for the moon to rise when clouds began rolling in. I was very disappointed, since that meant I wasn't going to get the kind of light I was hoping for. I kept on waiting and viewing the movement of the clouds and moon. At some point the moon began peeking between the clouds and producing interesting patches of light on the lagoon and the mountains. It was then that I knew I had an opportunity to create a good shot.
The light was changing very rapidly at this point, and due to the strong moonlight, I could see very contrasty shadow moving over the lagoon, which was exceptionally beautiful and exciting. I took several shots in the changing light. At some point, the moon was strongly illuminating the lagoon and foreground rocks, while the Torres themselves remained in shadow. It was an awesome sight, and I tried to convey what I saw with my camera.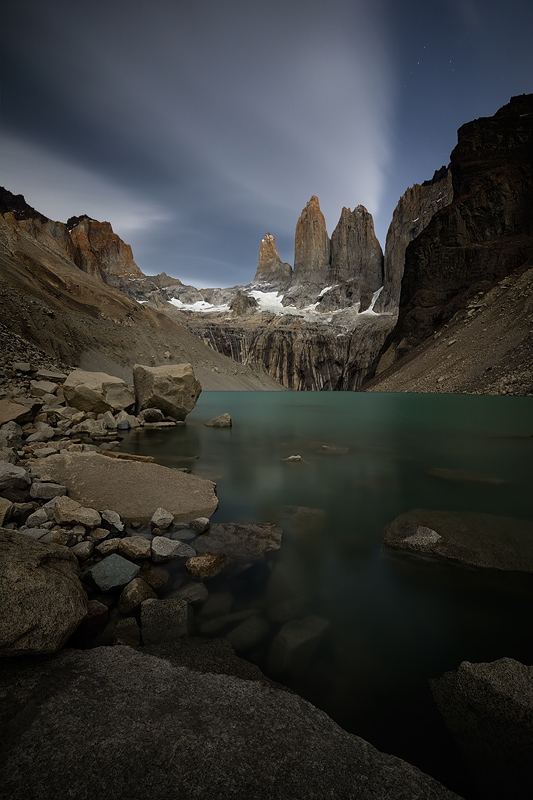 After finishing my shoot I went back to the sleeping bag and rested a bit, hoping to shoot some more later with different light. But as it often is with nature photography, things began to deteriorate quickly. More and more clouds came over and I decided to try to get some sleep before trying again. I got perhaps half an hour of bad sleep when it started to rain on me. This was an unexpected turn of events and I was afraid I'd have to sleep in a wet sleeping bag, which was really not how I had planned to pass that night.
Luckily I had a very good sleeping bag (thank you Feathered Friends!) which was highly water resistant, and apart from some dampness in the zipper area, kept me protected and dry. Still, I have to admit lying there, hiding in the sleeping bag under pouring rain, utterly alone at night, more than an hour's hike away from any other living soul, wasn't too much fun.
After a few hours or rain, the sun was about to rise. Sadly, the Torres were shrouded in fog by then, rendering them completely invisible. The hikers who were arriving to see the sunrise were disappointed. I packed my gear and hiked back down, all the way to the car. Even the 2-minute drive to the nearby restaurant was agony, but once I got my big, juicy hamburger I was a happy man.

Settings and Execution
I took this shot with my Canon 5DsR and Samyang 14mm F2.8 lens. The image is focus stacked from 2 exposures, since I used F2.8 and depth of field was quite small. One image was focused on the foreground rocks, the other on the mountains in the background. Since I used an ultra-wide angle lens, 2 images were enough to cover the depth range.
I used ISO 800 and a 13 second exposure. Here are the 2 original RAW files.


Composition
The main element in the composition is a virtual spiral running from the big rock on the right, through the foreground rocks and all the way to the mountains. Here's an illustration.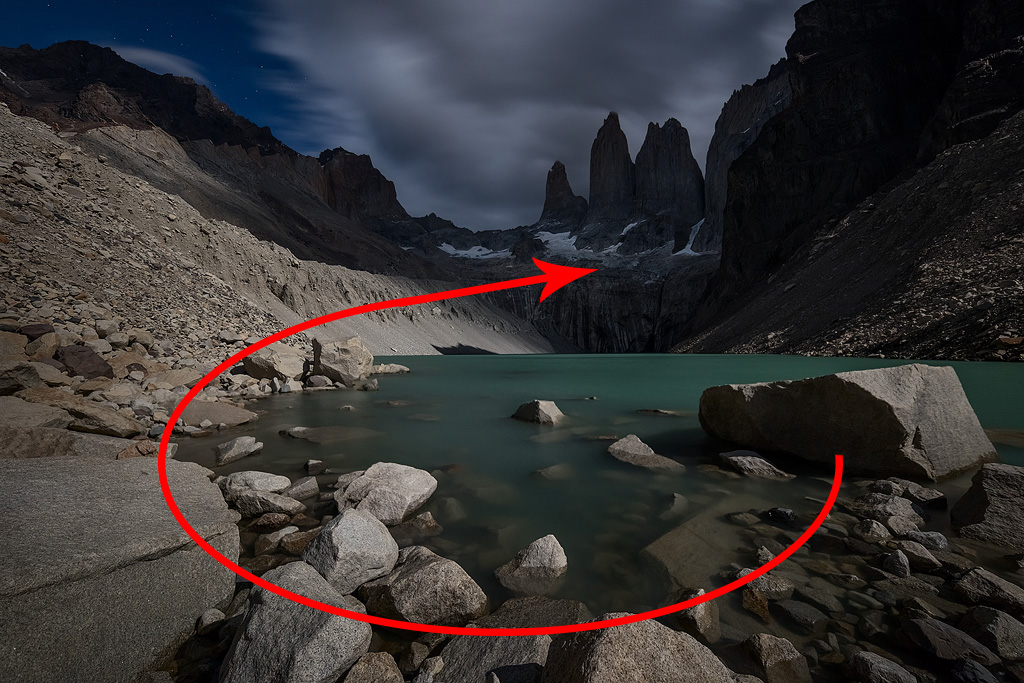 I decided to leave a relatively large space above the Torres to show some more of the texture and movement on clouds, and to leave some room above the left peak.
The most important part of the image is the obscure silhouette of the Torres - giving it its mysterious feel, and, of course, its title.

Post Processing
As time goes by, I tend to do less and less post processing. This is both an aesthetic decision and an ideological one. The main things I put an emphasis on here are maintaining fidelity to the actual scene as I saw it and making sure the final image still looked like a night shot, while still keeping details in the dark areas.
The first thing I did was correct the lens aberrations using ACR's profile correction. I also made a few global adjustments, shown below. No local adjustments were done.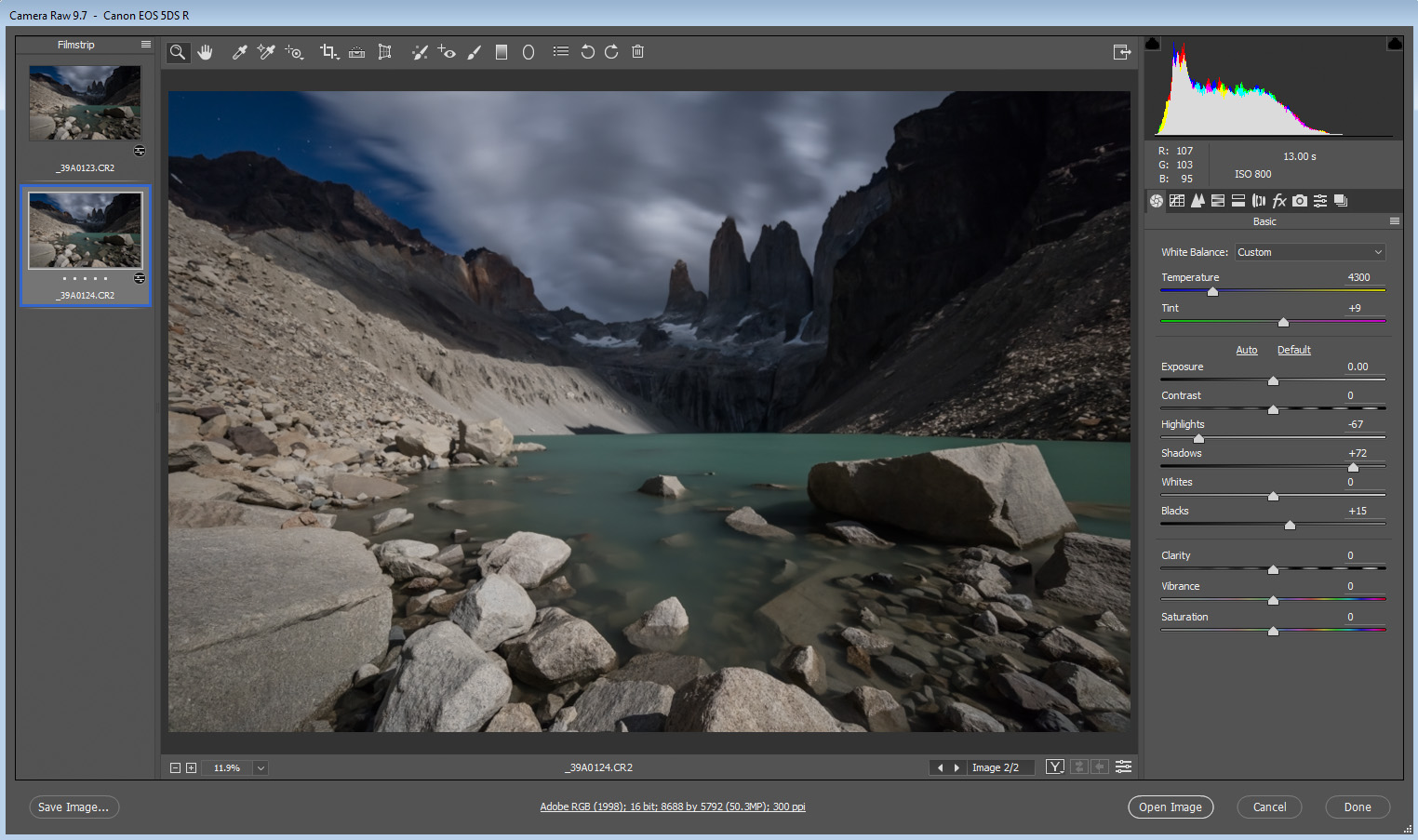 I then saved the 2 files as TIFFs and went on to Photoshop. I put the images as layers and used Edit > Auto Align Layers to align them. After aligning, I cropped the image a bit.
As to the focus stacking itself: to get the sharp parts from both images, I used the eraser tool to expose the right section of each of the shots. This was done by eye.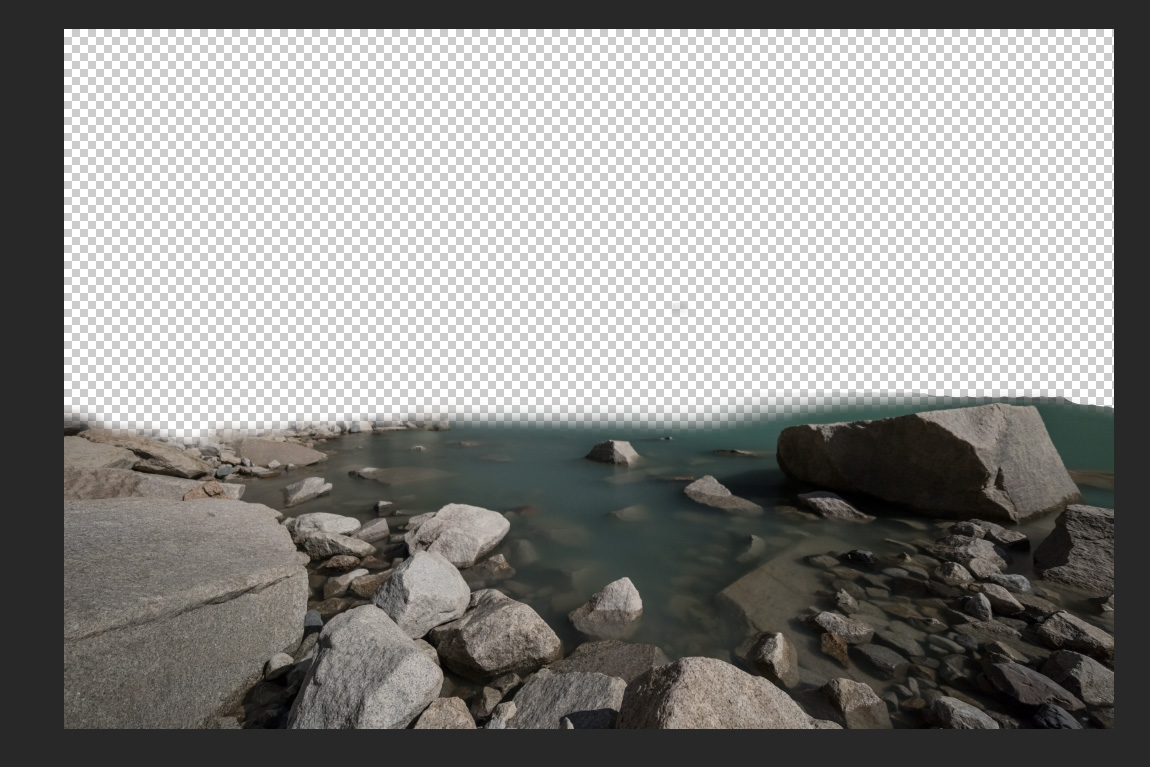 At this stage I had a focus-stacked, almost complete image, needing but a few last adjustments. Firstly, since the image was still too bright (as visible in the histogram), I used the curves tool to darken the image with more emphasis on the lighter parts. I wanted a darker result, to better convey the night atmosphere and to be more realistic, all that without losing detail in the shadows.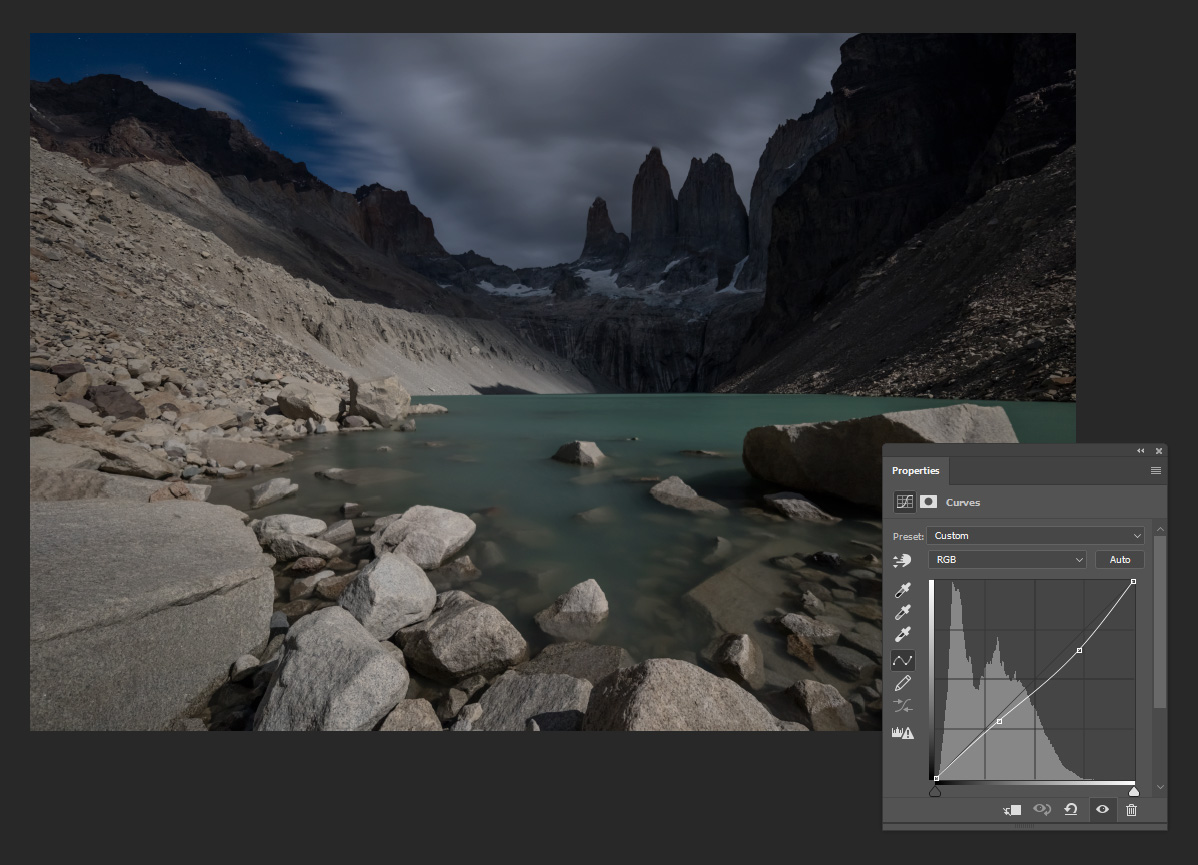 After taking the contrast down in ACR, I wanted to take it back up a bit in a controllable fashion. To do this I used luminosity selections. I selected a mid-range mask and applied a levels adjustment layer on it.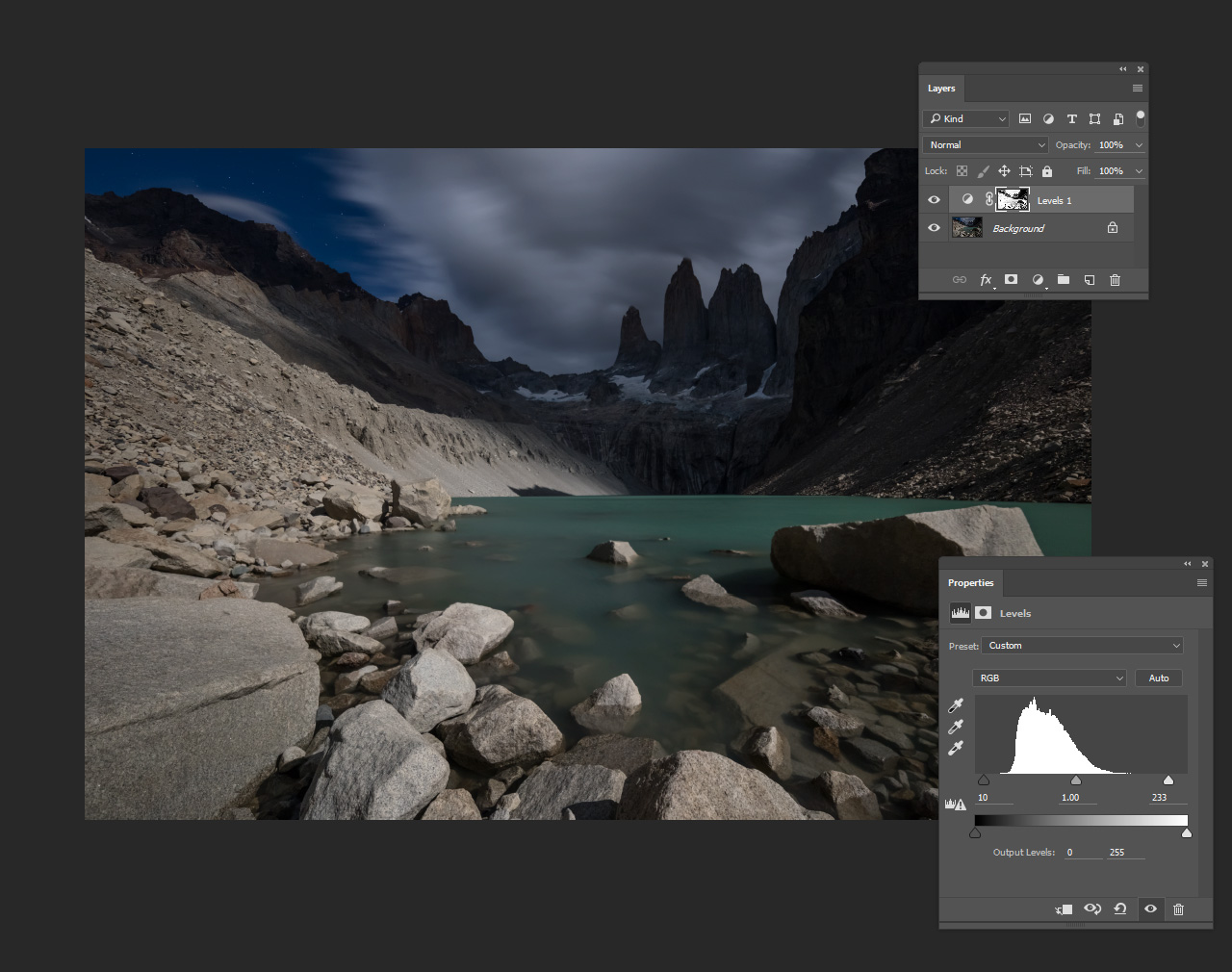 I also added a bit of local contrast using dodge and burn in LAB color mode, to avoid color shifts. I added some saturation, to bring out the natural colors in the lagoon and rocks, performed size reduction and some sharpening and I was done.