Mountain Magic: Shooting in the Lofoten Islands
Posted on 30th November, 2014 - Back to Blog Listings
The Lofoten Islands are a destination I've been dreaming of for a long time. Way up in Norway's Arctic northwest lies a small, yet incredibly beautiful and diverse archipelago, home to some of its most magical landscapes and a truly wonderful winter atmosphere. I visited the Lofoten Islands earlier this year to prepare for for my 'Northern Spirits' photography workshop, and it did not fail to excite me day after day. Pointy mountains rising above deep fjords, cracked frozen lakes, traditional red and orange fishermen's cabins, incredible beaches and much, much more - all of these can be found in this gem of the Arctic. In this article I'll survey some of the locations I visited there, and try to give you a taste of Lofoten's beauty.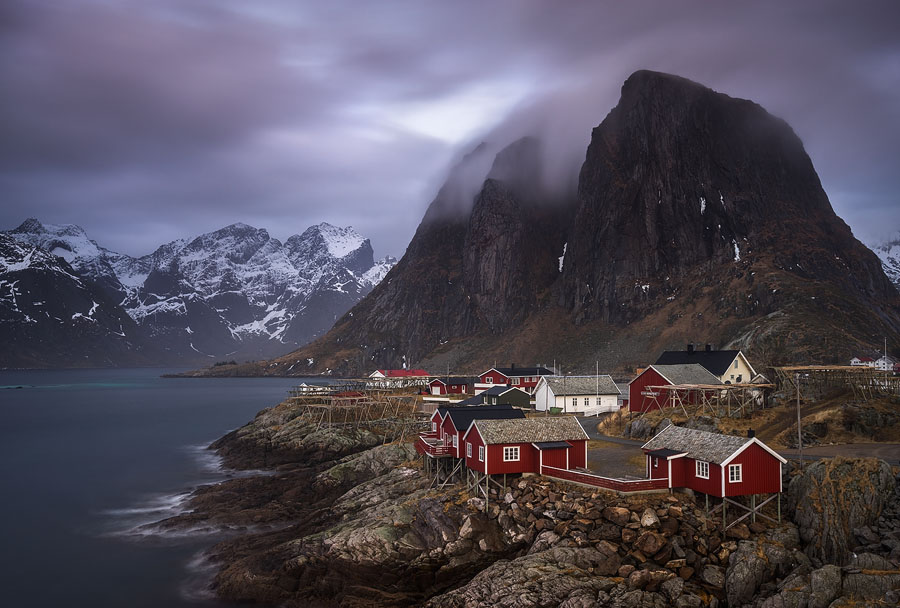 Lofoten is very accessible, even in winter. A relatively short flight from Oslo takes you to Leknes, where you are already quite near to the best locations in the archipelago. One downside is the prices - Norway is notoriously expensive, but with proper planning, high costs can be avoided to some extent. Another problem is the hazards: icy roads, walking on frozen surfaces and, well, everything else that comes with shooting in the Arctic, can be dangerous, and proper precautions have to be taken. With this in mind, shooting in Lofoten is an amazing and very rewarding experience.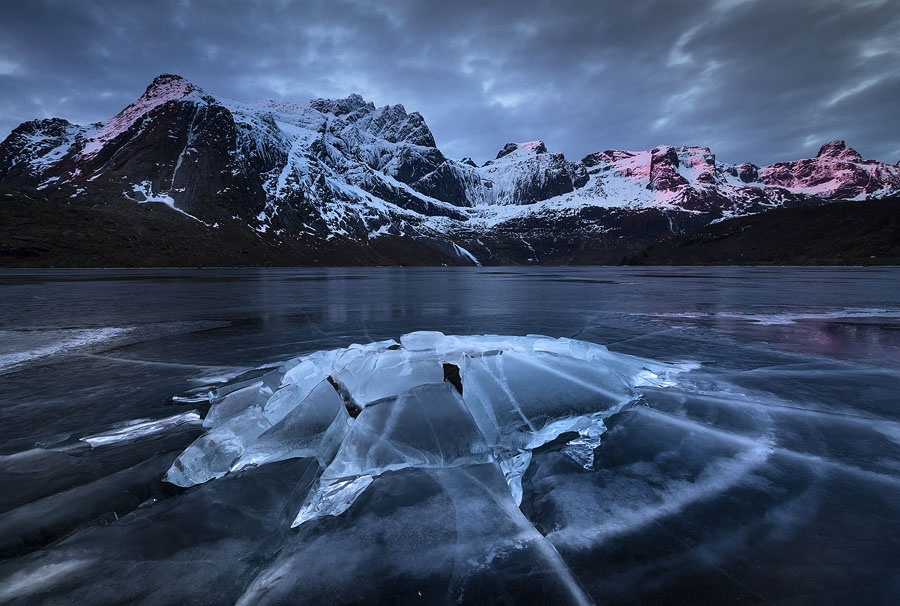 Reine
Perhaps the best known location is Reine, an old traditional fishermen's village. Photographers are attracted to the area primarily to shoot sunrises from famous vantage points such as those in in Reine itself and in Hamnøy, where you have magic light on the mountains and the villages, and with a bit more luck, a beautiful reflection on the lake below. But the Reine area offers much more than that: not only a beautiful variety of mountain-and-cabins sceneries, but access to many nearby secret and pristine locations. The Reine area is also home to other amazing mountainous landscapes. Perhaps the most iconic is Olstind, with its beautifully triangular shape. Several villages are situated near Olstind, and the mountain range can be shot with - or without - the iconic cabins.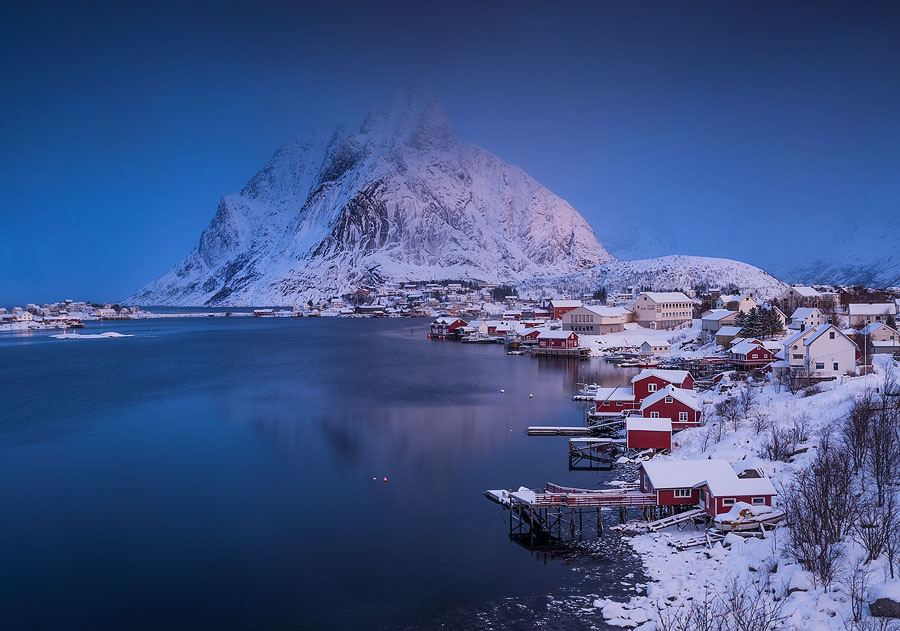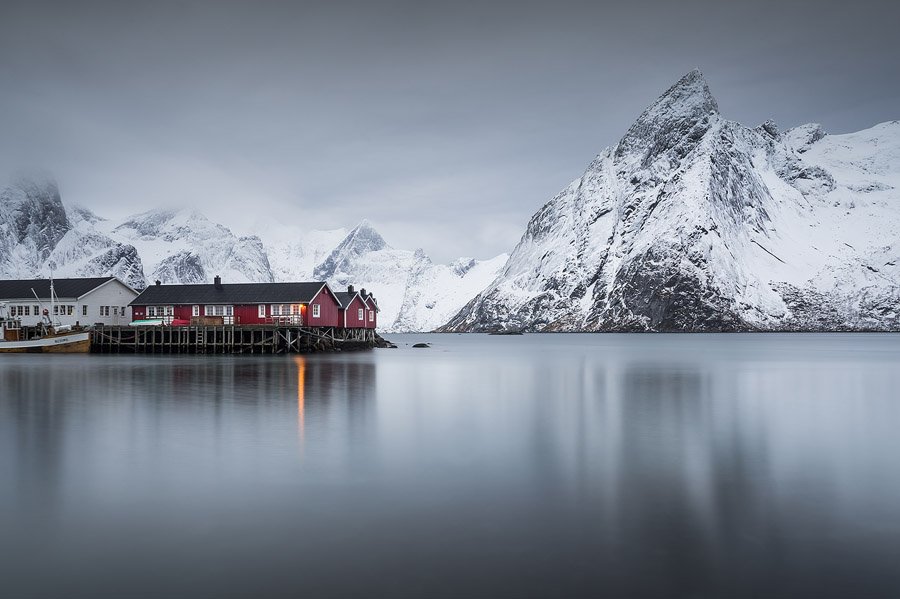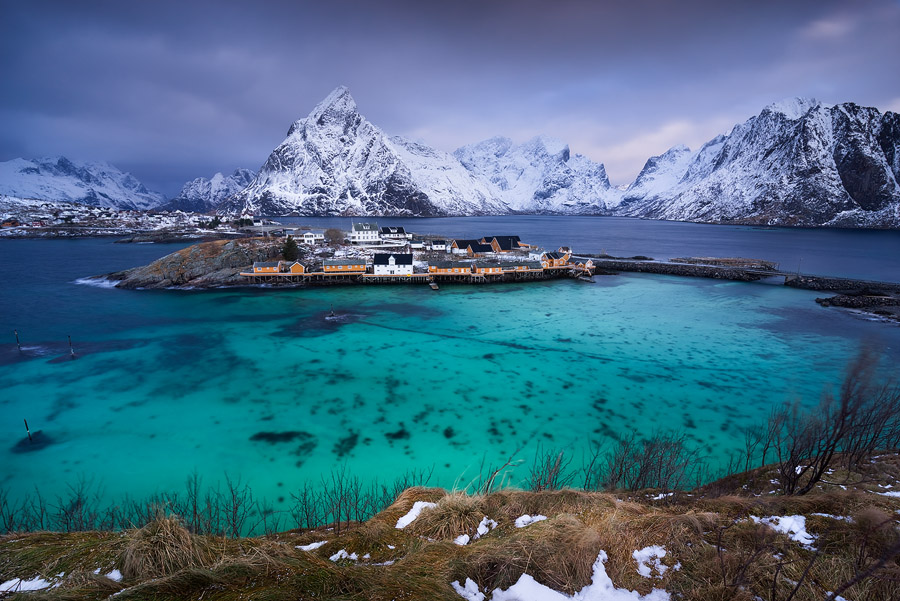 Between Reine and Leknes
There are many more photographic locations between Reine and Leknes. One of the most beautiful is Storvatnet lake. Even though Lofoten isn't usually as cold as one would expect, this lake is very likely to freeze over during winter. Even with the surface frozen solid, the water level changes constantly, and the ice goes up and down as time passes. When the ice is low enough to touch the boulders underneath it, the pressure breaks it and produces wonderful shapes and patterns. Not only that, but the lake is just below a chain of beautiful, jagged mountains. Talk about an epic location!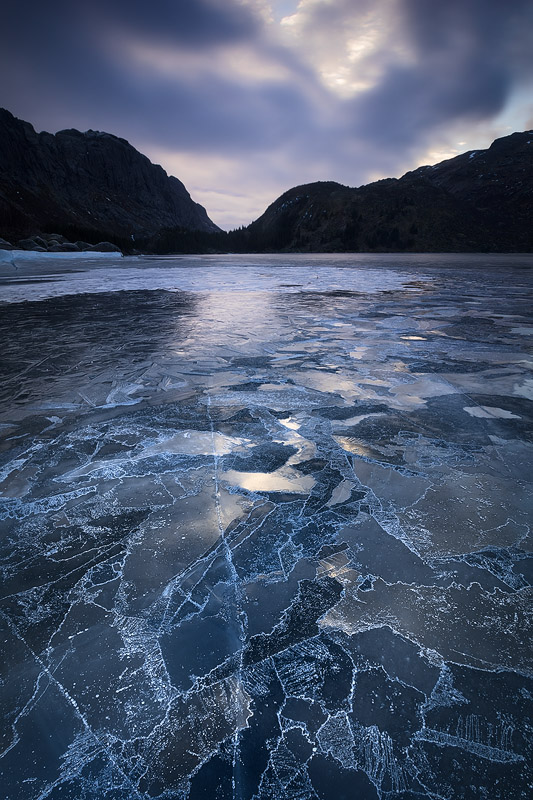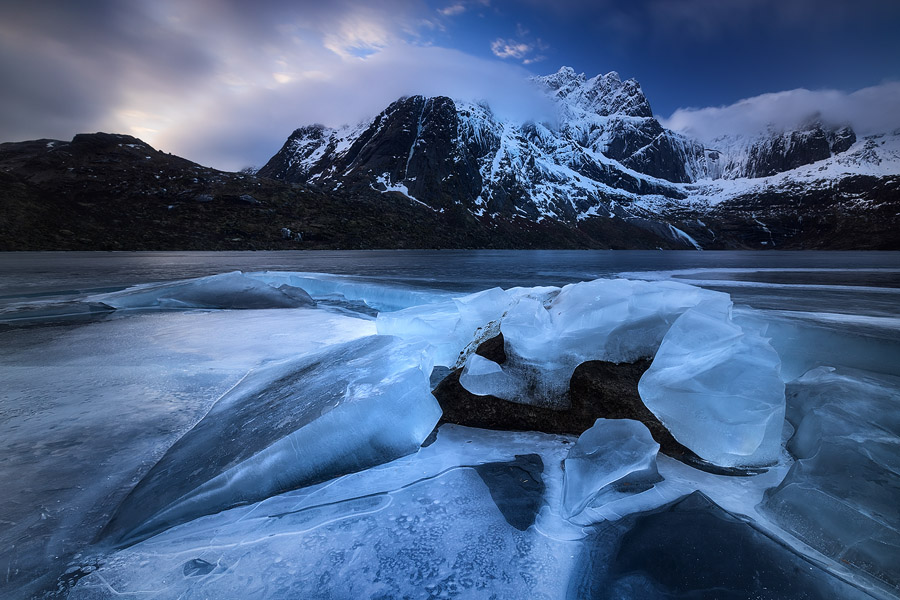 Legendary Beaches
As if the locations mentioned above weren't enough, the Lofoten Islands are home to a disproportionately large number of beautiful beaches. Names like Uttakleiv, Haukland and Skagsanden are familiar to many nature-lovers, but that's just the beginning. Many lesser-known beaches, such as Eggum, Myrland and Yttersand (among others) are fascinating as well, and offer a wonderful range of seascapes, each more special than the other. For brevity, I'll restrict myself to the most well-known beaches, but the curious reader can look up the others, too.
Perhaps the most well-known beach in Lofoten is Uttakleiv, and for good reason. This easily-accessible beach is a true natural gem. It is mainly known for its reddish boulders, sculpted almost into perfect spheres by millennia of pounding waves, and other rock formations, the most iconic of them being 'The Eye'.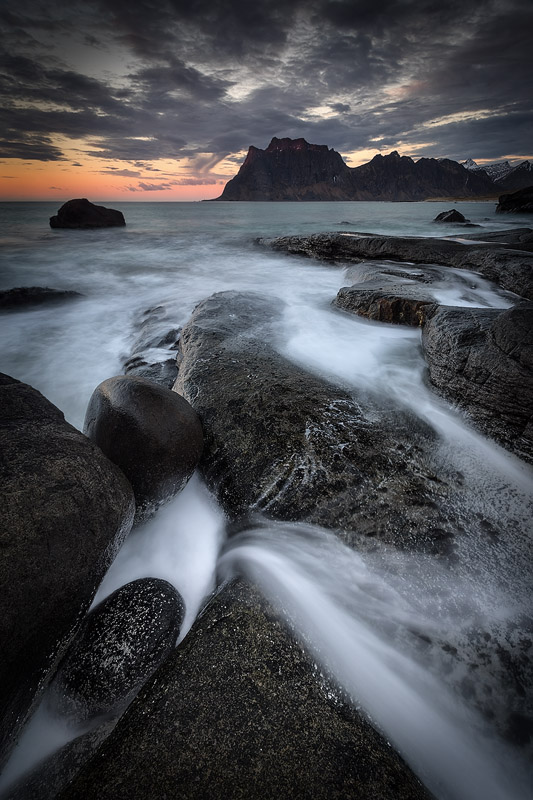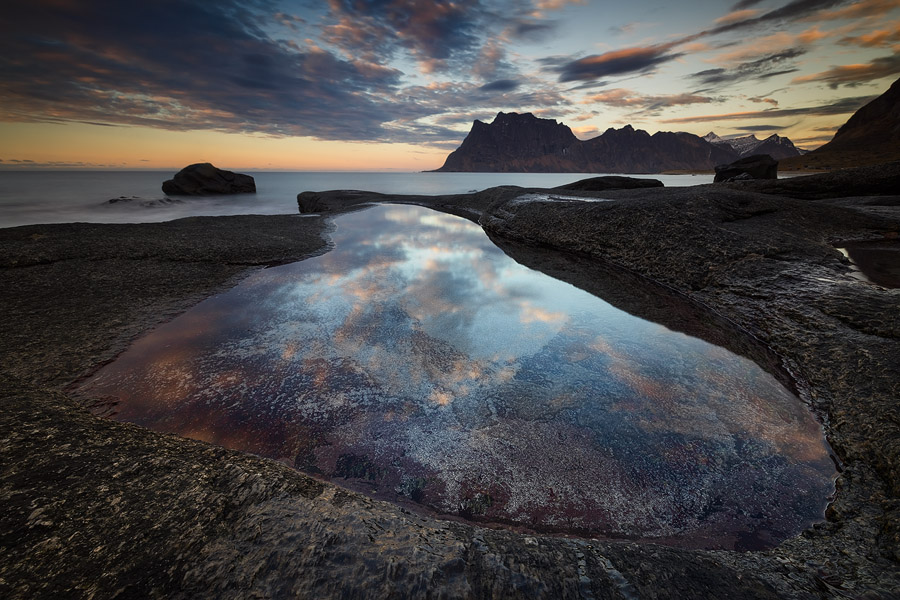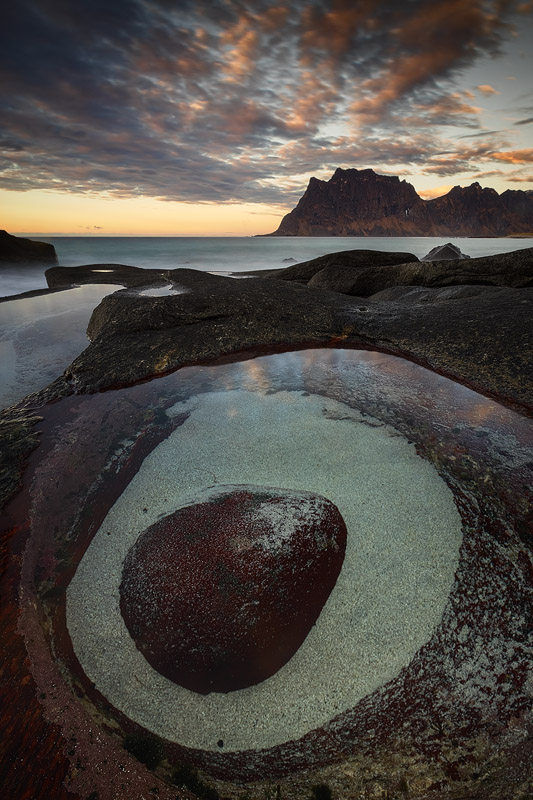 Another amazing beach is Skagsanden. Skagsanden offers a pretty amazing variety of foregrounds to choose from, and it changes constantly, so shooting it is a different experience every time. Its most beautiful feature, in my personal opinion, is the black/white sand textures, created by the streams that flow to the ocean from the surrounding mountains. The water mixes the different layers of sand from the sides, bubbles from below and creates complex geometric forms that make for gorgeous foregrounds. As if that wasn't enough, there are some hidden turquoise pools between the rocks on the beach. The combination of emerald water, red rock and sunrise or sunset colors is very hard to resist!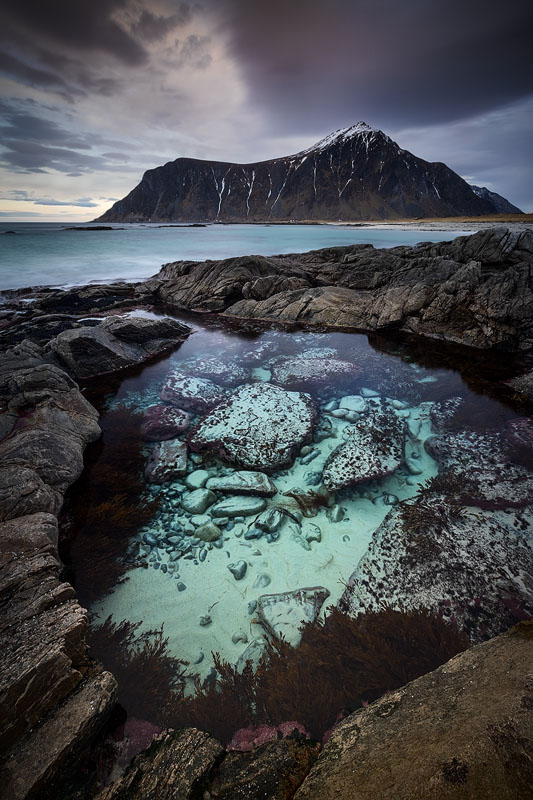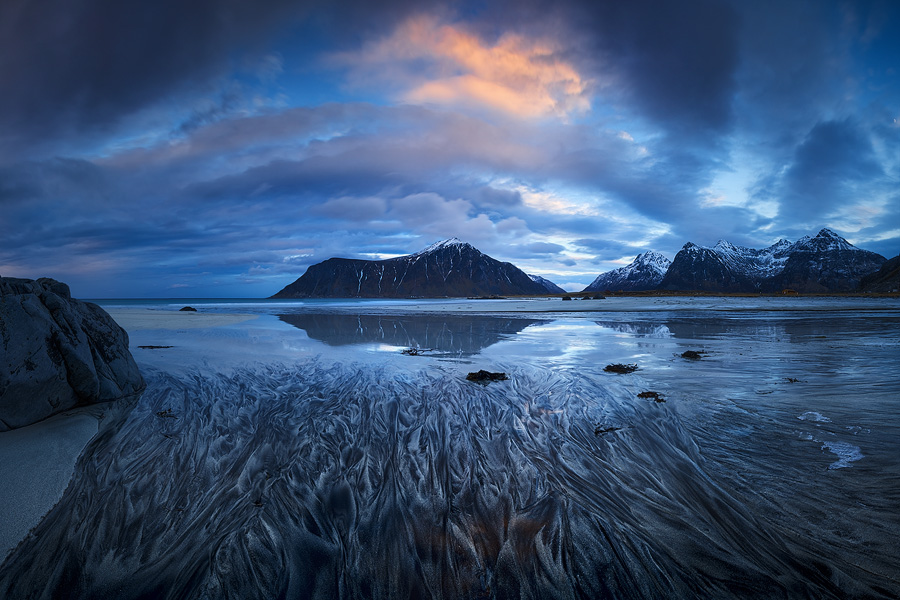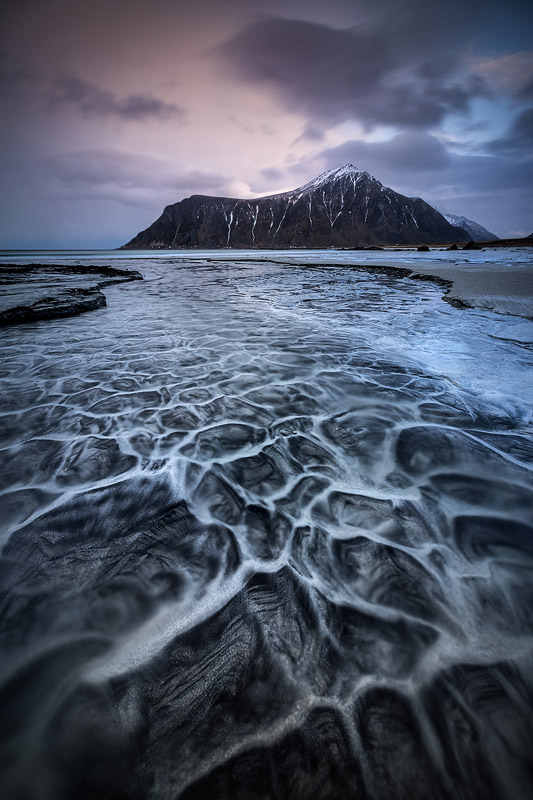 Aurora Borealis in Lofoten
Like other Arctic locations such as Iceland and northern Canada, the Lofoten Islands are a wonderful place to shoot the northern lights. The mountainous landscape complements the Northern light extremely well. I have written about shooting the Aurora Borealis extensively, so I'd only like to include two examples out of the infinite possibilities one has there.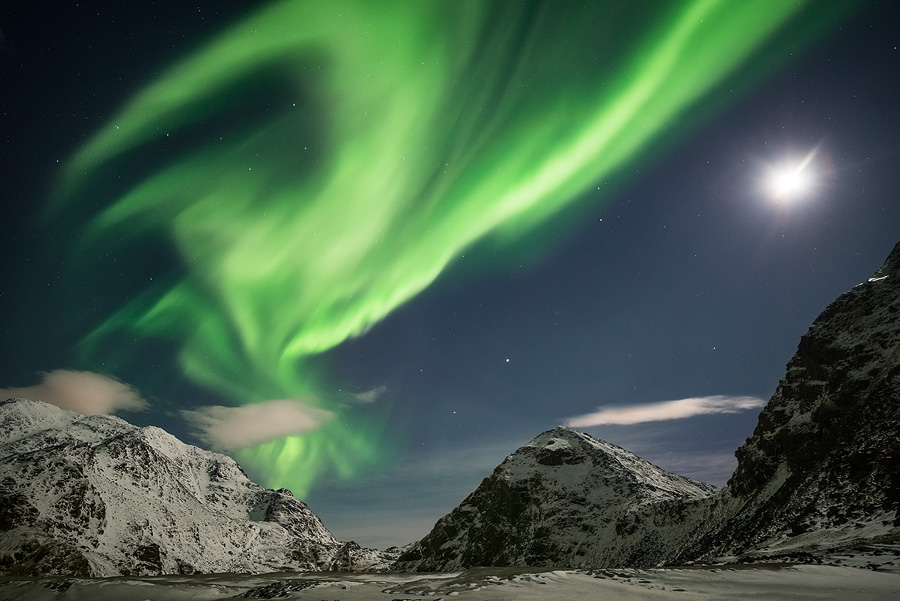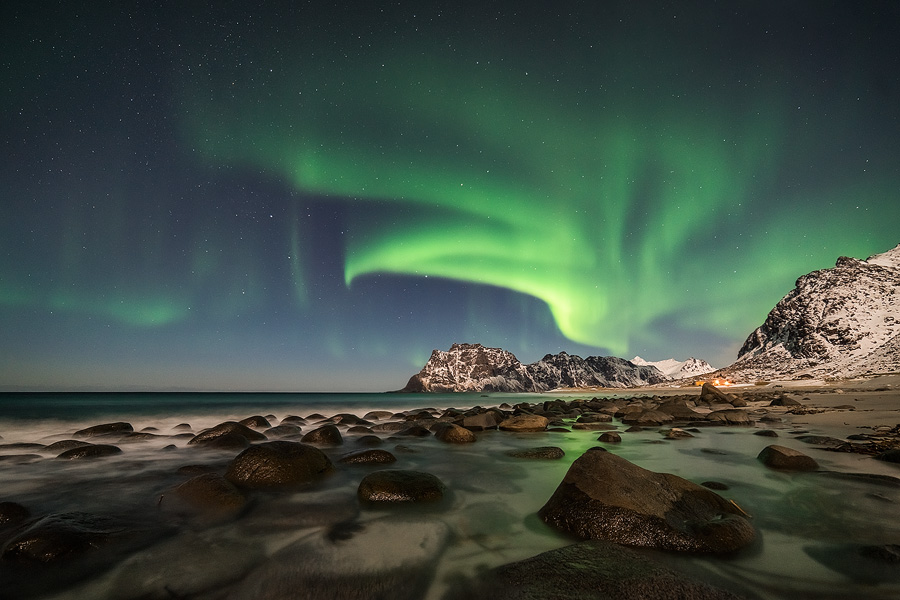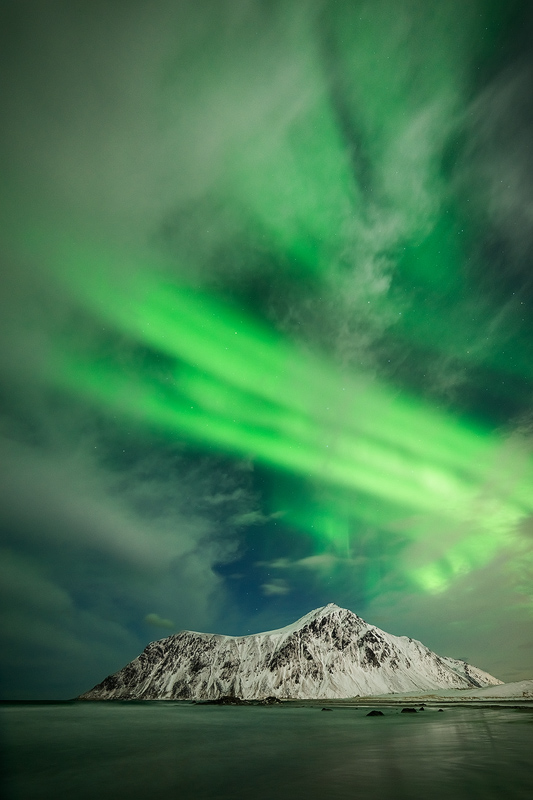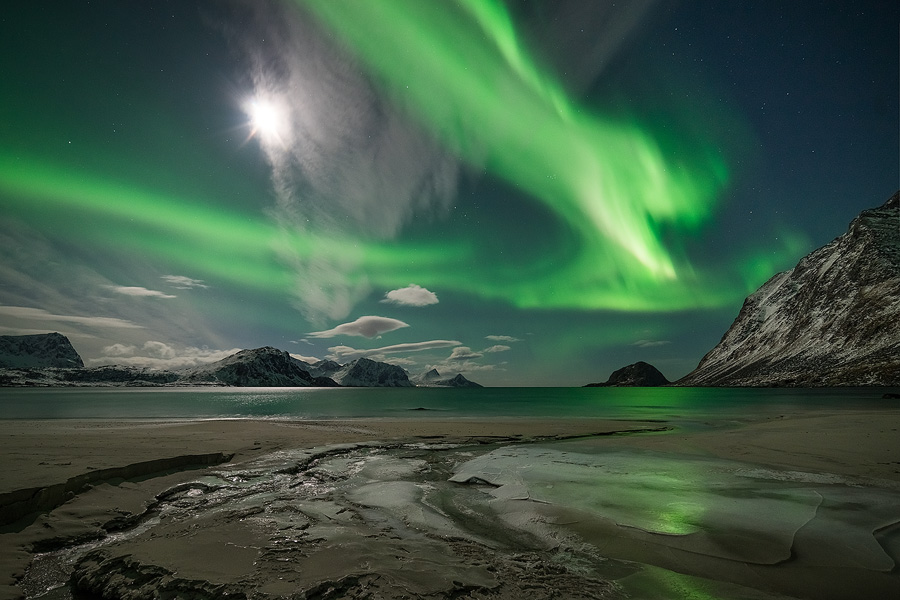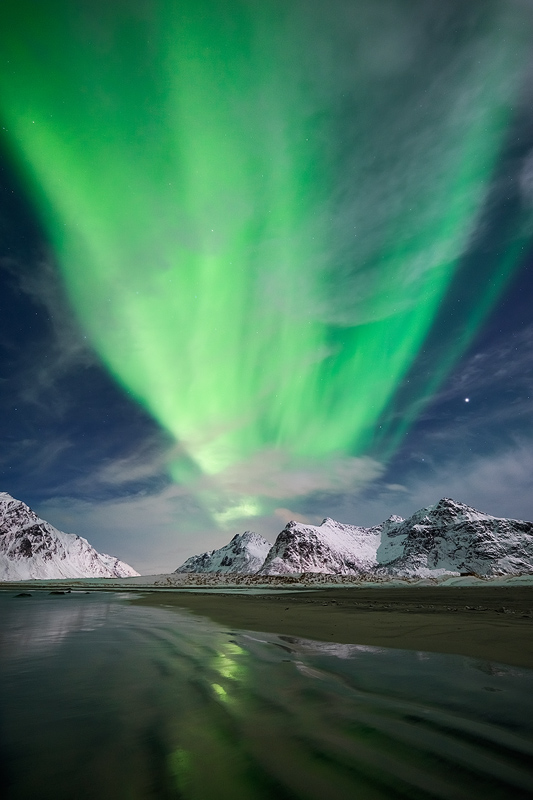 There is a lot more in Lofoten, much more than is discussible in one article. I urge you to look it up, as it's a wonderful photographic location for any season. It might be far in the arctic, but the Lofoten experience has warmed my heart, and it is a location I'm sure I will visit many times in the future, guiding my workshops there and shooting alone. It is more than worth it.