Spot the Shark Tutorial
One of my signature images, explained from start to finish with all-new post processing.
'Spot the Shark' was taken in Iceland in early 2013. It features stranded ice on the famous Breiðamerkursandur ice beach. This is probably my most successful image, and it's been featured in a National Geographic 2014 book release, as well as countless websites, magazines and newspapers. It also appears as a postcard throughout Iceland.
Shooting in Breiðamerkursandur requires special considerations and technique, in addition to a high degree of attention to the conditions. This tutorial explains all the considerations needed to achieve this shot, the sotry behind it and the post processing techniques I used.
Main subjects covered:
Techniques for shooting in Iceland's famous Breiðamerkursandur ice beach
Complete ACR (Adobe Camera RAW) workflow, from lens correction through sharpening, global and local adjustments
Local ACR methods for enhancing detail visibility
Photoshop tools for enhancing contrast without loss of information
Runtime: 44 minutes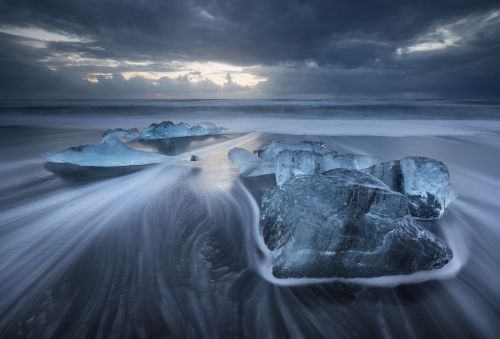 Once payment has been made this product will be available to download in your downloads area.