Nautilus Tutorial
One of my signature images, explained from start to finish with all-new post processing.
'Nautilus' was taken in Iceland, late in 2011. It features a spiraling ice cave and sunlight shining into it and reflecting off the cave's walls. This image has always been one of my most well-known and most successful images. It's been featured in Iceland Air's in flight magazine and in many others, and it's also sold as a postcard throughout Iceland.
Producing a natural-looking yet optimized image under contrasty light conditions isn't easy. In this tutorial I explain the way I achieved the unique look of the image, using basic Photoshop tools.
Main subjects covered:
Background and location
Shooting HDR multiple-exposure images in the field
Manual HDR blending in Photoshop
Using basic Photoshop tools for enhancing local contrast and selective-color saturation
Maintaining a natural look using selective processing and masking
Runtime: 35 minutes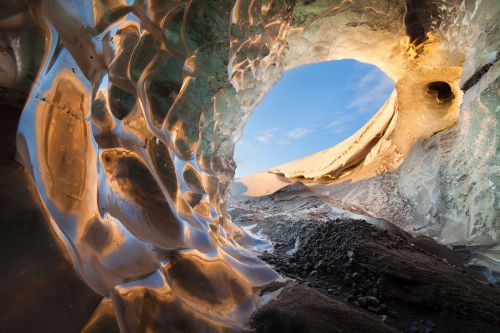 Once payment has been made this product will be available to download in your downloads area.